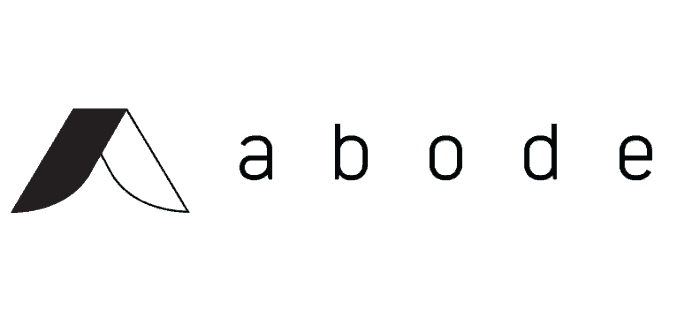 Abode Security System
Our experts tested out the abode Essentials Starter Kit, a minimalist security system with a ton of smart home integrations.
Flexible monitoring options
All-in-one CUE home automation
Extensive equipment offerings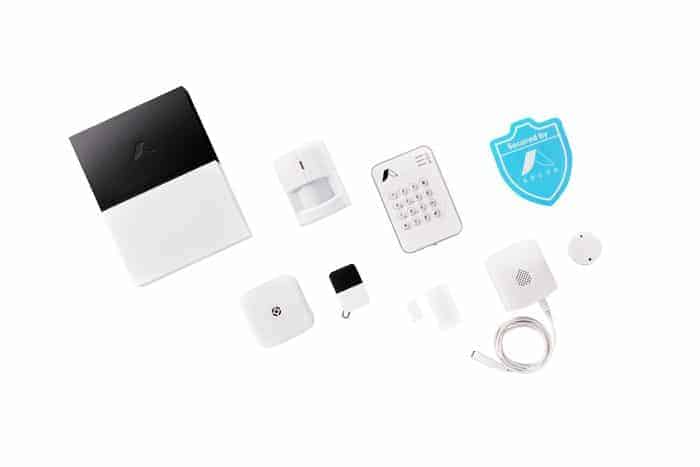 All of our content is written by humans, not robots.
Learn More
By

&

Last Updated
Nov 21, 2023
With the launch of its 2014 Kickstarter campaign, abode set out to create the future of home security. Sure, if you're like us, you're probably thinking this is the aim of every home security startup, and you'd be correct. What sets abode apart from the competition, however, is its focus on both customization and independence. Each of its systems promises a self-installed, professional-grade security system tailored to homes of any size, all without the burden of contracts. And if you prefer professional installation, that's an option as well. Nothing wrong with having a lot of options!
More than half a decade after their successful launch, abode is now in competition with the heavy hitters in DIY home security. In this page, we'll take a closer look at each of the packages offered by abode, in addition to the smart home integrations and monitoring options. We'll also examine how all of this stacks up to competitors. Does humble abode stay true to its mission? We'll let you know below.
How abode Impressed Us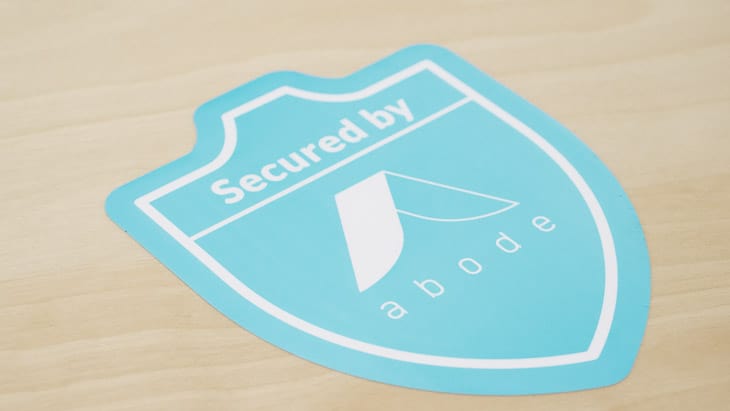 No Stress Installation
Having worked with many DIY security systems, we have high expectations when it comes to ease of setup. Each of our sensors and cameras, ready to use right from the box, were set up and synced to our Wi-Fi in less than half an hour. Abode also offers professional installation for a fee, but where's the fun in that?
Flexible Monitoring
Abode offers three different plans for professional monitoring, ranging from the free Basic plan to the Pro plan, the latter including advanced features such as cellular backup and 24/7 emergency protection through a monitoring center. Abode is also the only home security provider to offer on-demand monitoring. While going on vacation, we were able to book a week of professional monitoring and then return to our normal plan.
Smartphone Controls
With the help of abode's smartphone app (available on iOS and Android), we kept tabs on our home from the office, the coffee shop, and just about anywhere else with a cellular signal.
CUE Automation
With the help of CUE, abode's proprietary automation engine, we customized each of our smart devices to work in tandem with our security system. In no time, we had set our front door to lock when we left for work and our lights to turn on when the sun set.
To read our experts' experience testing out abode, check out our full abode review (including a video).
Is Abode Your Best Bet?
If you're looking to protect your property, abode is a solid choice — especially if you're looking for smart home integrations. It's not the most feature-rich option, but it'll definitely get the job done where it counts. That said, you should always shop around before making your ultimate home security decisions, and we recommend you start with our top picks here: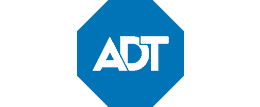 Abode's Equipment Pricing
Abode offers two different starter systems. First, there is the Smart Security Kit, which includes a gateway hub, a motion sensor, a remote key fob, and a mini door/window sensor, all for $231.99 with the fall sale. While this system does not include a camera, it provides a solid foundation, upon which we were able to build the ideal system for our home.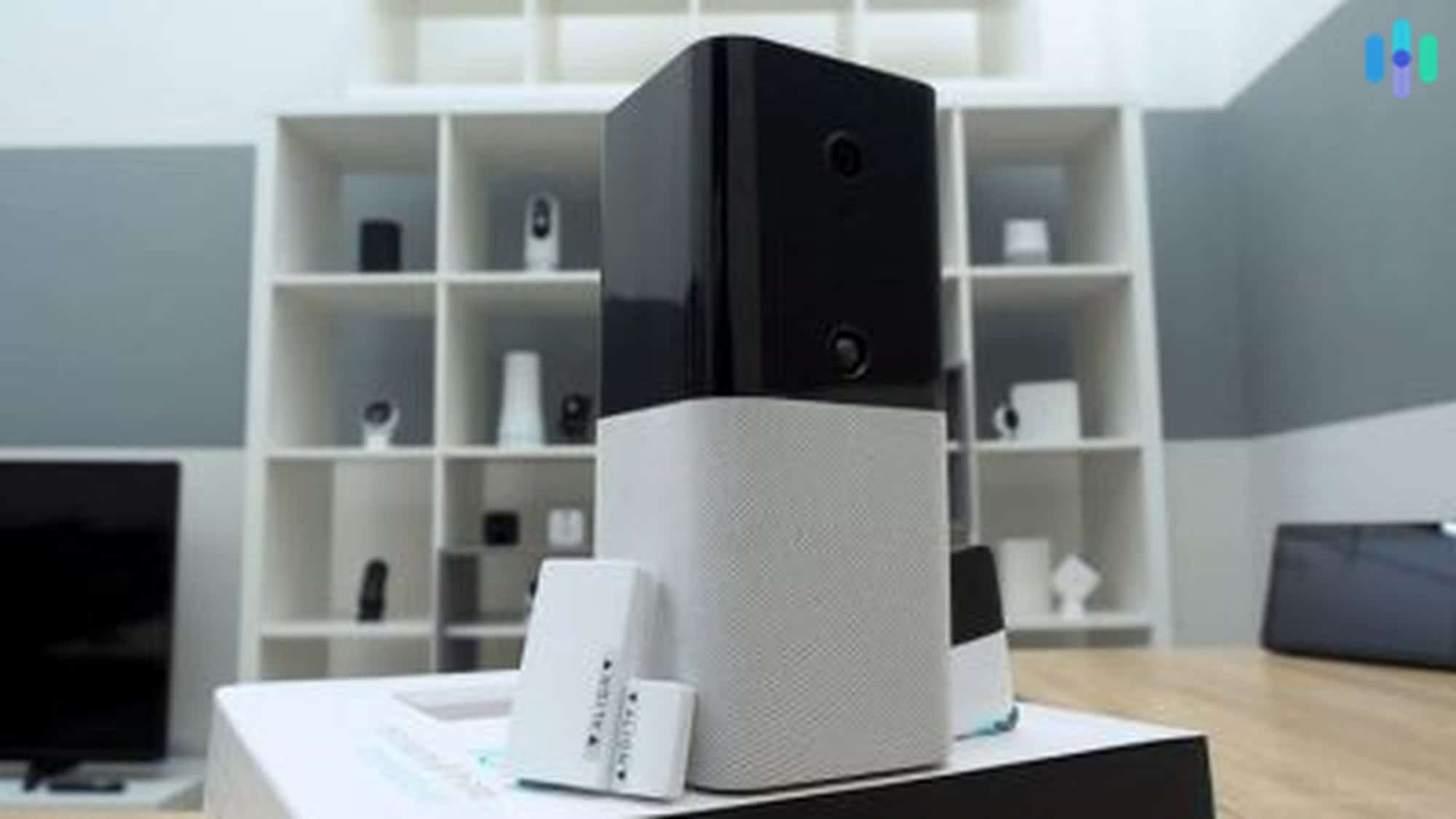 For those of us looking for a bit more of a visual component to our starter kit, abode also offers the iota Security Kit. For $279.99, this package includes a remote key fob, a mini door/window sensor, and an iota, which functions as the hub for your system in addition to being a 1080p HD camera, motion sensor, and a 93-decibel siren.
Abode Package Comparison
You can buy abode security system packages, or camera packages, listed below.
| Package | iota All-In-One Security Kit | Smart Security Kit |
| --- | --- | --- |
| What it includes | iota All-In-One Gateway, 1 mini door/window sensor, 1 key fob | Gen 2 Gateway, 1 mini door/window sensor, 1 key fob, 1 motion sensor, 1 sticker |
| Normal price | $329.00 | $249.00 |
| Price under first day of fall sale (15% off) | $279.99 | $231.99 |
Although both of the aforementioned packages provide everything we needed to get our home secured, we couldn't help but dig into some add-ons. Abode offers almost everything that we've come to expect from DIY security systems, devices such as cameras, door/window sensors, glass break sensors, keypads, sirens, signs, and decals. By the way, when it comes to preventing intruders, never underestimate the power of a home security yard sign.
Abode also offers several unique devices not commonly seen with other companies. For example, we loved the slim strip door/window sensor that fit in the gap of our door frame and practically looked invisible. We were also intrigued by the multi-sensor, a nifty little tool capable of sensing motion, temperature, humidity, and light. When paired with our CUE automations, this device triggered automations to activate our air conditioner, turn off lights, and lock our back door. Plus, we could have the A/C turn off when our abode system was disarmed, saving us a ton on utility bills.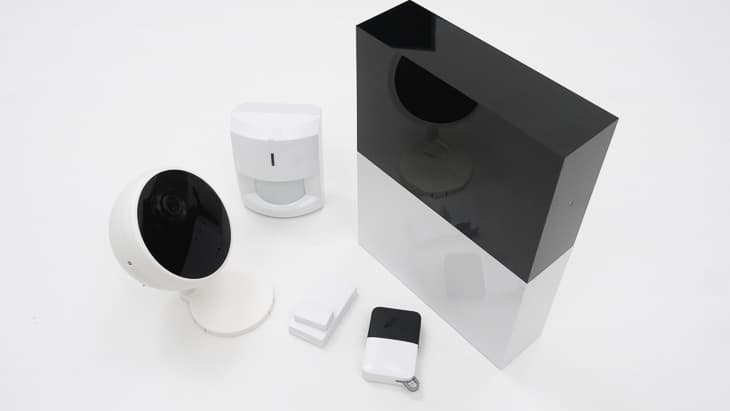 We couldn't help but notice a couple notable omissions from abode's lineup. Currently, there is neither a doorbell camera nor an outdoor camera (in stock, at least for the outdoor camera). For anyone concerned about monitoring packages and securing your doorstep, we'd recommend checking out Ring's outdoor cameras and Ring's video doorbells.
Abode Add-On Devices
| Component | Cost |
| --- | --- |
| abode Cam 2 | $34.99 |
| Door/window sensor | $20.00 |
| Glass break sensor (acoustic) | $51.99 |
| Glass break sensor (vibration) | $37.99 |
| Key fob | $25.99 |
| Keypad 2.0 | $94.99 |
| Mini door/window sensor | $27.99 |
| Motion sensor | $43.99 |
| Multi-purpose sensor | $45.99 |
| Panic button | $28.99 |
| Power switch | $44.99 |
| Recessed door/window sensor | $32.99 |
| Siren (indoor) | $55.99 |
| Siren (outdoor) | $89.99 |
| Slim strip sensor | $32.99 |
| Smart home power switch | $44.99 |
| Smoke alarm monitor | $39.99 |
| Sticker (forward or rear mount) | $3.00 |
| Water leak sensor | $54.99 |
| Yard sign | $24.99 |
Just So You Know: While it might be tempting to simply mount an indoor camera outdoors under cover of a patio, moisture is not the only concern. Bonafide outdoor cameras are built to guard against humidity and extreme temperatures.
Monitoring Pricing
With abode's no-strings-attached approach to home security, we expected a high degree of flexibility when it came to professional monitoring. With one free plan and two paid plans, both of which available on either a monthly or annual basis, we can safely say that abode lives up to its word.
First, there is the Basic plan. For the low, low price of nothing, this self-monitoring plan offered us access to live stream video feeds, one-touch arming and disarming, smart home integrations, and push notifications to our smartphone. What we missed most with this plan was cloud storage for our surveillance footage. While we were able to effectively tap into a live feed of our cameras, we could not save footage of those who entered our home, which would be a shame if we ever had an intrusion and wanted video evidence.
One step up from there is the Standard plan, which costs $6 per month or $60 per year, a savings of nearly twenty percent (see guys, sometimes long-term commitments are a good thing!). This plan comes with everything included in the Basic option in addition to email notifications, customized notifications, unlimited app users, seven days of cloud storage, and the ability to use geofencing. For those of us with spouses and kids, the ability to have unlimited users certainly came in handy. What's more, we could even adjust the privileges of each user. For example, we gave our partners full admin controls while only allowing our kids to arm and disarm our system.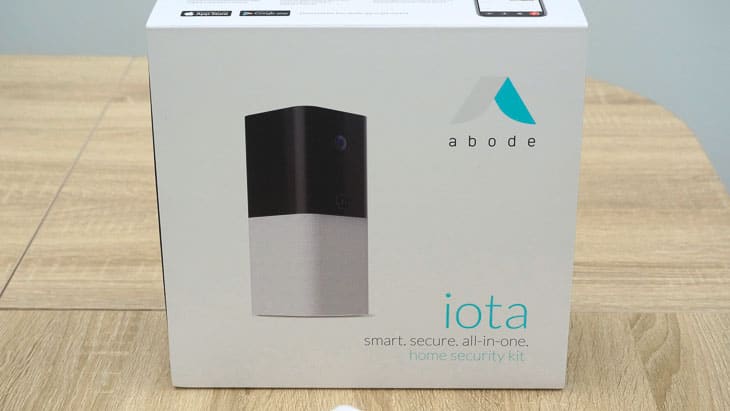 Finally, there is the Pro plan, which costs $20 per month or $100 for the first year, though this annual price shoots up to $180 after this introductory period (rats). With this plan, we got all that came with prior plans in addition to thirty days of cloud storage, cellular backup, 24/7 professional monitoring, and, since we subscribed to the annual plan, an unlimited warranty on our devices. Cellular backup allowed our devices to continue functioning even when we shut off our power and internet. 24/7 monitoring meant that in addition to our smartphones, there was also the help from one of abode's United States-based monitoring centers. In the event of a break-in or fire, we could rest assured that someone was watching over our home. This feature also protects against water damage. With the average insurance claim from water damage being over $10,000,1 it pays to be safe in this regard.
One of our favorite features of abode's monitoring is what they term on-demand monitoring. When leaving town for vacation, we called up abode and purchased a whole week of 24/7 professional monitoring with no long term contract involved, ensuring the safety of our home from afar.
Breakdown of Monitoring Features
Basic
Standard
Pro
Livestreaming
Yes
Yes
Yes
One-touch arm/ disarm
Yes
Yes
Yes
Smart home integrations
Yes
Yes
Yes
Push notifications
Yes
Yes
Yes
Email notifications
No
Yes
Yes
Customizable notifications
No
Yes
Yes
Unlimited users
No
Yes
Yes
Amount of Cloud Storage in Days
0
7
30
Timeline
No
Yes
Yes
Home automation
No
Yes
Yes
Geofencing
No
Yes
Yes
Premium support
No
Yes
Yes
Cellular backup
No
No
Yes
24/7 professional monitoring
No
No
Yes
Free shipping in continental US
No
No
Yes
Access to deals and discounts
No
No
Yes
Unlimited device warranty
No
No
Yes
*annual only
Discount on homeowner's insurance
No
No
Yes
Monthly Price
$0
$6
$20
First Year Annual Price
$0
$60
$100
Second Year On Annual Price
$0
$60
$180
Fun Fact: abode is the only home security company who offers on-demand monitoring that we've reviewed, so it's a fantastic option for those unsure if they want it or not.
The Smart Home with abode
When it comes to smart home automation, abode certainly had us covered. Our abode system was fully compatible with Apple Homekit, Google Assistant, Alexa, IFTTT, and Z-wave devices, among others. Here's how we made the most of this functionality.
Apple Homekit
Using Siri as our personal assistant, we set up a variety of voice commands. Saying, "Hey Siri, I'm home," triggered a plethora of customized automations, including the activation of lights, the disarming of our system, and the lowering of our thermostat. We also said, "Hey Siri, I'm leaving," in order to reset everything. Using a smart thermostat helped us save energy,2 which meant more money in our pockets.
Alexa
With abode's smart home skills and Alexa, we armed and disarmed our home, controlled lighting, and locked or unlocked our doors. By asking, "Alexa, is the front door open," or "Alexa, is the living room window open," we checked on the status of each of our secured fixtures, which was really nice at the end of the night when we were making sure everything was safe and sound.
Additional Devices
Okay, we admit it. We are huge suckers for a lighting plan. Thankfully, with abode's support for Philips Hue, LIFX, and Aeotec smart switches, getting the vibe right was simple as setting up a chain of commands through IFTTT. When the sun set, our patio lights were activated for a soothing atmosphere. Relaxation, here we come.
Here's are all of the brands that work with abode:
Nest
Hue
ecobee
LIFX
Yale
Kwikset
Z-Wave
First Alert
Zigbee
Linear
Danalock
Schlage
Aeotec
Leviton
How abode Stacks Up to the Rest
In terms of pricing, it's hard to beat abode. Each of its starter kits comes in at $230 to $280. Additional cameras cost $34.99, and additional sensors and devices are all priced at around $20 to $45 each. As far as monitoring goes, the range of prices and features also proves competitive. Throw in the ability to buy into a premium plan for only a week, and you've got a monitoring system that hangs in there with the best. All that's missing is the ability to pay for cloud storage on its own, as offered with SimpliSafe's pricing plans. However, SimpliSafe charges $24.99 per month for professional monitoring and cellular backup, while this only costs $20 a month with abode, which, over a long period of time, is not a negligible difference. To learn more, read our full comparison of abode vs. SimpliSafe.
The main area where abode lacks is in its range of cameras. Offering only one indoor camera and the wide-angle motion camera (which takes pictures, not video), there are certainly a few things left to be desired, particularly a doorbell cam and an outdoor camera. What's more, the abode's camera lacks some advanced features such as facial recognition, unlike cameras such as the Nest Cam IQ Indoor, now discontinued. So for those more advanced features, abode isn't quite there yet.
Compare abode To Other Home Security Systems
To help you dive even deeper, we've created in-depth comparisons of abode to other leading security providers.
Overall Value
In 2014, abode burst onto the scene as the first home security system with no contracts required. Even with the addition of contracts, both long and short term, it is clear that they haven't strayed from their roots. Although the lack of camera types leaves some room for improvement, we'd be hard-pressed to find a more solid home security system. Built to fit any type of home and capable of expanding to support up to 160 devices, abode offers an experience as simple as it is adaptable. If you appreciate the DIY ethos and you loath mandatory long-term contracts, then look no further than abode.
Frequently Asked Questions
There's no question that abode is disrupting home security as we know it. As a result, people have a lot of questions about this relatively new security option.