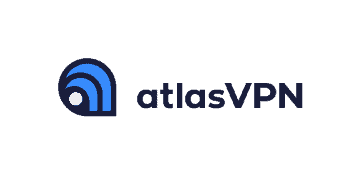 Atlas VPN Plans and Pricing
How will Atlas VPN affect your bottom line?
Affordable subscription options
Split tunneling available
Access to streaming services, including Netflix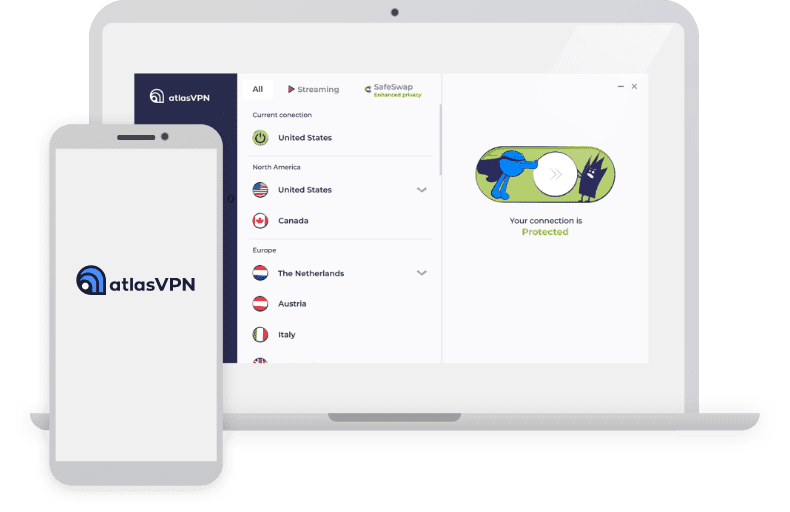 All of our content is written by humans, not robots.
Learn More
By

&

Last Updated
Dec 20, 2021
Atlas VPN is an up-and-coming VPN service that's beginning to make a mark on the industry. Founded just two years ago, the company already has over 6 million subscribers. As with most things, pricing can be the most important factor in deciding whether a VPN is the right fit or not. On this page, we take you through all the pricing options for Atlas VPN and explain exactly what you get for your money.
Atlas VPN Subscriptions Plans
Atlas VPN is priced at the lower end of the market, and that's true whether you're signing up for a single month of the service or taking the plunge for a full three years.
| Contract length | Total cost | Cost per month |
| --- | --- | --- |
| One month | $9.99 | $9.99 |
| One year | $29.89 | $2.49 |
| Three years | $49.99 | $1.39 |
These prices all compare favorably with companies on our list of Best VPNs. For instance, a single month of NordVPN costs $11.95, almost two dollars more than Atlas' monthly plan. Meanwhile, ExpressVPN's annual plan is $8.32 a month, nearly six dollars more than Altas VPN's annual plan.
What's Included in an Atlas VPN Subscription?
All Atlas VPN plans come with the same basic features, including:
AES-256 encryption
WireGuard protocols
Support for Windows, Mac, Android, and iOS
Unlimited simultaneous connections
750 servers in 37 locations
Automatic kill switch
Peer-to-peer torrenting options
Access to Netflix and other streaming services
Did You Know: WireGuard and OpenVPN are both open-source protocols. However, while OpenVPN uses over 70,000 lines of code, WireGuard uses only around 4,000.1
Free Version
If you've searched for free VPNs, you know that most come with serious downsides. Often there are data caps or speed limitations. Some especially unethical companies make their money back on free services by selling user data to third parties. In contrast, the free version of Atlas VPN is as close to a premium service as we've come across. Of course, there are some limitations. The free version only provides access to three servers. It doesn't include some services like SafeBrowse and Atlas' safety checkup. Still, there are no data caps on the free version and no speed limits, and you get the same privacy guarantees and the same great security as the premium plans.
Best of all, with the free plan, you don't have to provide any identifying information about yourself, so your browsing experience can be completely anonymous.
Looking for more great free VPNs? Check out our list of the best free VPNs.
Our Favorite Features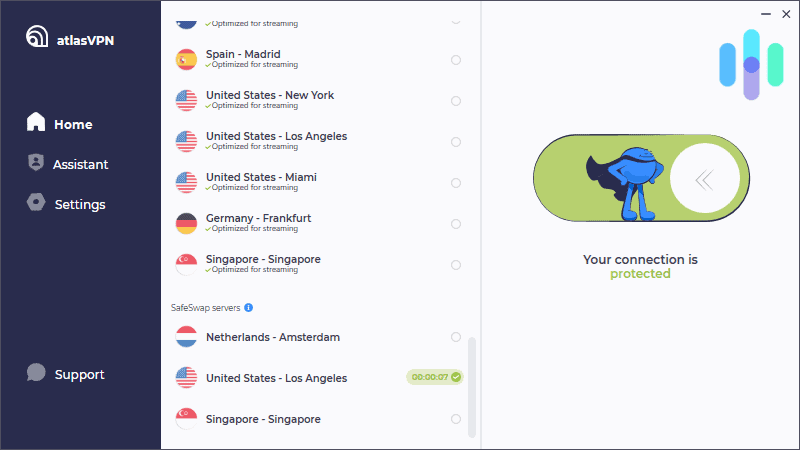 The Atlas VPN offers a lot of great features for the price. Here's a sampling of some of our favorites:
Unlimited simultaneous connections: With unlimited simultaneous connections we can connect all our devices through the Atlas VPN at one time. That's especially useful if you've got a large family.
Privacy policy: Atlas VPN maintains a strict logging policy. They never log anything that could connect us to our browsing behaviors. That means they don't log browsing activity, IP addresses, or time stamps. They do keep some data to help improve the service, but all of this is hidden behind random identifiers. They also collect payment information. It would be hard to run a business, though, without this kind of data. Overall, we feel entirely secure using Atlas VPN.
SafeSwap: When you sign on to a VPN, you're given an IP address that hides your actual address. That's what allows you to remain anonymous while you browse. Atlas goes further. Its SafeSwap service automatically rotates your address while you're signed on, so that every time you move to a new site you have a new address.
Protocols and encryption: Atlas VPN employs AES-256 encryption, the same encryption method used by the U.S. military. In addition, it uses the WireGuard protocol. WireGuard is open source so it's been thoroughly vetted. In addition, it uses fewer lines of code than most protocols so it's faster.
Best locator detector: With Atlas VPN, you have a choice of over 750 different servers in 37 different locations. You can save time, though, by simply letting Atlas pick the best location for you.
Streaming services: Atlas VPN provides access to Netflix in 13 different countries, including the U.K., Canada, France, Germany, and Japan. In addition, Atlas allows you to connect to many other popular streaming services including Prime Video, Disney Plus, and BBC iPlayer.
Torrenting: Atlas is set up specifically for peer-to-peer file sharing, so torrenting is a breeze.
Split tunneling: With split tunneling on Atlas VPN, we were able to use the VPN to transfer sensitive files but at the same time access the regular internet for our more mundane tasks.
Pro Tip: Netflix libraries in different countries offer different content. Because it hides your IP address, a VPN can allow you to access all that additional content.
Data Breach Monitor
One of the great bonus features of Atlas VPN is its data breach monitor. Basically, the company promises to scan leaked databases and let you know any time your personal information has been exposed. That's not quite as thorough as the best identity theft monitoring services, but it's nice that Atlas makes the extra effort to keep us safe online. You won't find this service with many VPNs.
Tracker Blocker
VPNs don't necessarily protect you from commercial trackers when you're online. Atlas VPN, though, adds this extra layer of protection. Not only does Tracker Blocker prevent third-party tracking, but it stops pop-up ads and keeps you from clicking on malicious links.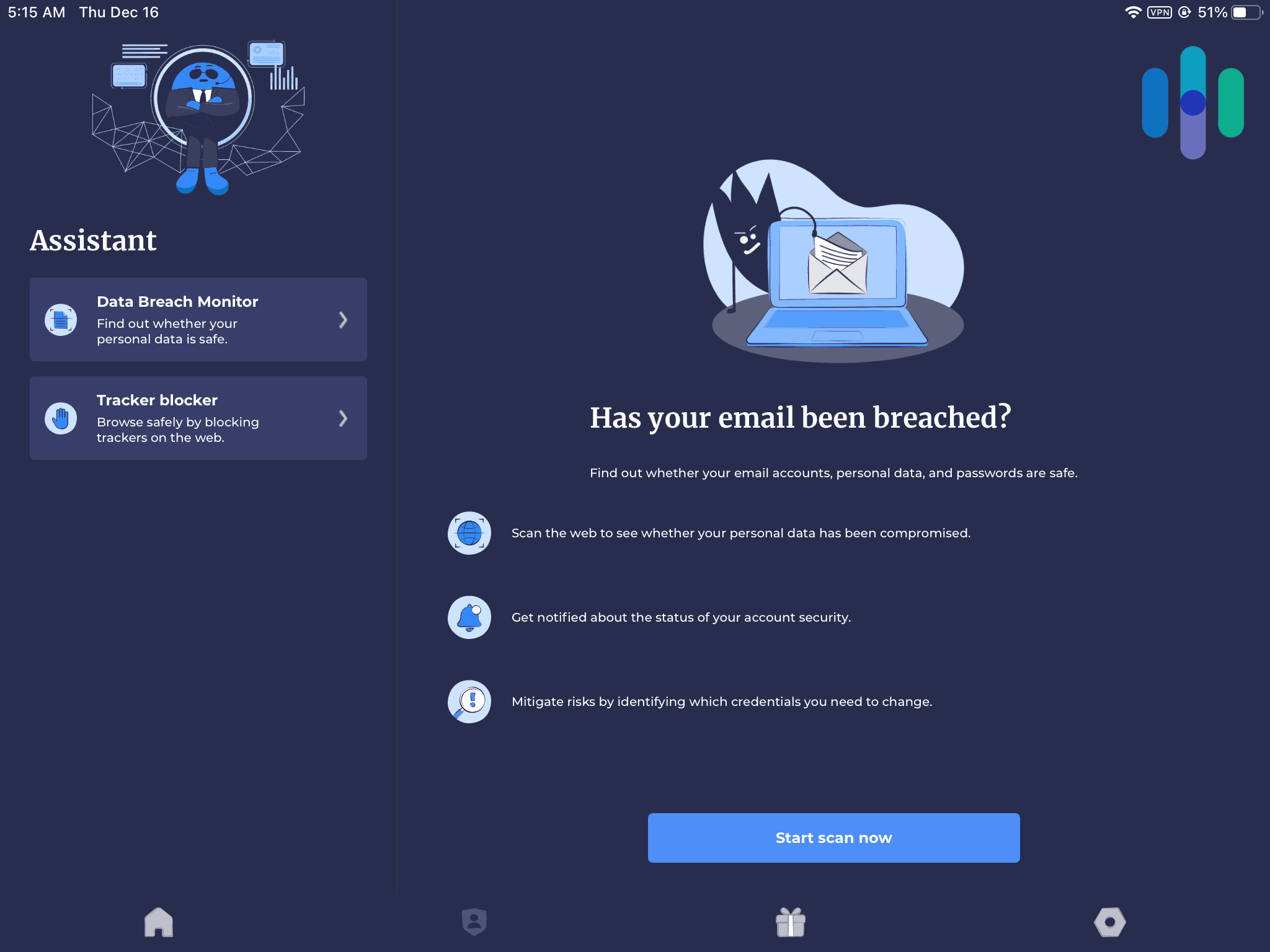 Deals and discounts
Atlas VPN's normal price is pretty good, and you can even get a decent version of their service for free. However, the company offers some great sales as well. For Black Friday and Cyber Monday 2021, for example, Atlas threw in an extra three months on top of their already great three-year subscription deal. That worked out to just $1.28 a month for 39 months.
We couldn't track down any discounts, such as those for students or military members. The truth is, though, that with lots of affordable options already on the table, we're not too disappointed.
Payment options
We'd like to see Atlas VPN offer Bitcoin and other cryptocurrencies as a payment option. After all, they care enough about privacy and anonymity to allow users to sign up for free plans with no personal information. Even so, the company offers a good range of traditional payment methods, including:
Visa
Mastercard
American Express
Discover
Paypal
Google Pay
Cancellation Policy
Atlas VPN has a full 30-day, money-back guarantee on all its paid plans. That means you can try the full service out without risk. To receive a refund, you simply email Atlas support.
In addition, canceling a recurring subscription is a fairly straightforward matter. Again, it just requires you to contact Atlas support.
Summary
Atlas is a solid choice when it comes to VPNs. With industry-standard encryption and protocols as well as a strict privacy policy, the service ensures your data is safe and secure. Atlas comes with great extra features as well though, like streaming and torrenting support, split tunneling, and unlimited simultaneous connections. Plus, Atlas throws in a data breach monitor and an ad blocker. All of that is available for just $9.99 for single-month plans and $1.39 a month with a three-year plan.
FAQ
We've compiled some of your most frequently asked questions and addressed them below. Read on to learn more.