Bitdefender VPN vs. NordVPN
Does Bitdefender have what it takes to best NordVPN?


A two-year plan costs just $3.49 per month.
Each plan comes with a 30-day money-back guarantee.
Students can receive a 15-percent discount for a two-year plan.

Available products include VPNs, antivirus protection, identity theft protection, etc.
The free plan covers 10 devices on one server with a daily data limit of 200 MB.
Monthly or yearly paid plans start at $3.33 a month.
It's not giving too much away to say NordVPN is among the best VPNs on the market. After all, we regularly put it at the top of our list of best VPNs. Nothing lasts forever, though, and you can never be sure when an industry disruptor may come along and claim the top spot for itself.
The most recent disrupter to emerge is Bitdefender. Calling it a disruptor feels a bit odd, though, since the company has been around for over 20 years. Bitdefender's expertise is in antivirus — we regularly feature it on our list of the best antivirus softwares on the market — so the company's no slouch when it comes to protecting digital assets.
What happens when these two heavyweights go head to head? Does Bitdefender have what it takes to be top dog in two industries, or would it be better off staying in its own lane?
We've taken an in-depth look at these questions, examining speeds, security features, prices, and server locations. We even considered where each company is located. After all that, we feel pretty confident that we've come up with a conclusive answer to the question of who's best. Want to know the answer? Read on.
Price Comparison
Let's start the comparison by looking at price. We're all interested in the bottom line, and it turns out it's one of the most important factors in deciding between Bitdefender and NordVPN.
If we're looking at price alone, Bitdefender is the clear winner. When it comes to single-month subscriptions, Bitdefender costs just $6.99. NordVPN is almost twice as much. When it comes to annual subscriptions, Bitdefender wins again. Per month, an annual Bitdefender subscription runs $2.50 a month, while an annual plan from NordVPN costs $4.99 per month. NordVPN offers a two-year subscription and Bitdefender doesn't, but Bitdefender's annual price is still less than NordVPN's two-year price.
Head-to-Head Pricing
| VPN | Single-month subscription | Annual subscription per month | Two-year subscription per month |
| --- | --- | --- | --- |
| NordVPN | $12.99 | $4.99 | $3.99 |
| Bitdefender | $6.99 | $2.50 | $2.50 |
Before you run off half-cocked, ready to sign up with Bitdefender, it's worth keeping in mind that price is just one factor when you're considering which VPN is right for you. It's a compelling factor, to be sure, but it's still just one among many. Plenty of free VPNs, for instance, are willing to sell your personal data to the highest bidder.
We would expect Bitdefender to be the cheaper option, since it's the newcomer. The big question is whether Bitdefender can protect you for that relatively lower price. Let's find out.
Safety Issues
Let's break this comparison down into two basic categories — two standards by which to compare VPNs — and see how they measure up.
First up: security. The whole point of using a VPN is to keep hackers and spies from gaining access to your information. A VPN, or virtual private network, is a secure tunnel connecting you to a remote server. That server then issues you an anonymous IP address to make sure no one can track your online movements.
Does Bitdefender keep you just as safe as NordVPN?
Encryption methods: Both companies employ AES-256 encryption in securing their VPN tunnels, which is a good start. AES-256 is the same encryption method used by American spy agencies, so we were impressed.
Kill switch: A kill switch shuts down your internet activity any time you lose your VPN. Maybe you're wondering why you would want all your internet activity to shut down. Isn't that inconvenient? Maybe, but it also keeps your browsing activity hidden. When your VPN goes down — as they all do from time to time — you don't want hackers or government agencies to see what you're up to.
Location: If you're new to VPNs, you may never have heard of Five Eyes, Nine Eyes, or 14 Eyes. They're alliances between countries that have agreed to trade surveillance information with one another, including surveillance information about their own citizens. The best VPNs are located outside those allied countries. Bitdefender is located in Romania. That's not an alliance country. NordVPN is located in Panama. That's not an alliance country either.
Did You Know: Five Eyes began during World War II, when American and British spy agencies began sharing intelligence. It now includes the U.S., the U.K., Australia, New Zealand, and Canada.
Convenience
Job No. 1 for a VPN is security. Both NordVPN and Bitdefender do a pretty good job on that front, but what other benefits do the two companies offer?
Plenty of servers: The more servers a VPN has and the more locations where those servers can be found, the more likely you'll be able to get a fast signal no matter where in the world you happen to be. NordVPN has over 5,500 total servers in more than 60 countries. Bitdefender's numbers aren't quite that high, but they're close. It has about 4,000 servers located in over 50 countries.
Fast speeds: Partly because they have so many servers, both VPNs offer fast speeds. Every VPN is going to slow your device down a little though. That's just the nature of security software. When we tested NordVPN on our MacBook Pro, though, our ping rate slowed by just 10 percent. Bitdefender's ping rate was even better at just 7 percent. You won't find numbers much better than that.
Lots of streaming options: Lots of servers and fast speeds make streaming a breeze, so it's no surprise both VPNs offer a ton of streaming options. Both unlock Netflix, Hulu+, Disney+, Max, and many more. That means you can log in to your U.S. account no matter where you're traveling, and you can access content from locales as exotic as Japan, Germany, and Canada when you're back home in the U.S.
NordVPN Strengths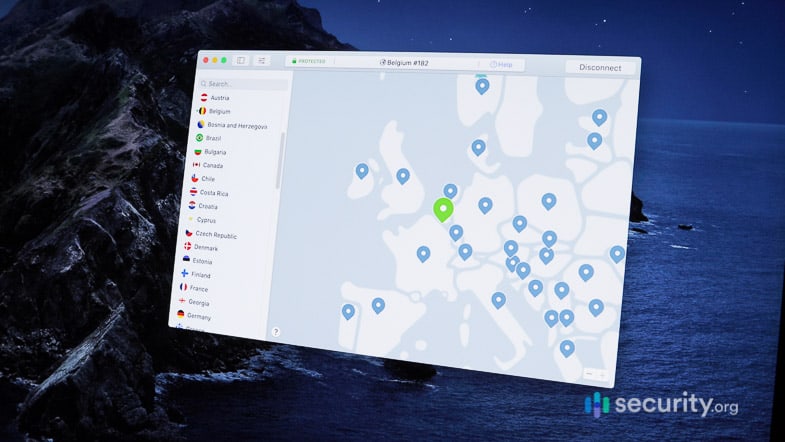 These two VPNs are different enough, and it's worthwhile to dig a little deeper into their differences. After all, it's the differences that will help you make your decision.
NordVPN has an awful lot of bonus features that Bitdefender — and, frankly, every other VPN — just can't match.
Multihop: NordVPN offers multihop technology — one of the newest technologies out there — to help you hide from hackers and government agencies. Basically, when you have multihop turned on, NordVPN routes your internet connection through at least two different servers. Each server uses its own encryption method, which means you're at least doubly encrypted. It's hard to imagine how you could get much safer.
OpenVPN: NordVPN also employs the industry-leading protocol OpenVPN. A VPN's protocol tells all the bits and pieces when to do what, and no protocol has been more tested and verified than OpenVPN. Bitdefender offers a protocol known as Hydra Catapult, and, as its name suggests, it's fast. It hasn't been tested like OpenVPN, though, so we can't say for sure whether it's as secure.
Camouflage mode: NordVPN also offers something called camouflage mode. A VPN conceals your actual IP address behind an anonymous address, but it doesn't necessarily hide the fact that you're using a VPN. Camouflage mode does, adding an additional layer of security. NordVPN has it; Bitdefender doesn't.
Split tunneling: NordVPN offers another handy feature known as split tunneling, which lets you log on to the regular internet at the same time you're logged on to the VPN. You may be wondering why you'd need to do that. Here's why: Not everything you do online needs to be encrypted. No one is spying on you to see what's on your Spotify list. Use the VPN for the tasks you need to and route more mundane tasks through unsecured networks.
A more complete privacy policy: Last, but certainly not least, NordVPN's privacy policy is just a bit tighter than Bitdefender's. A privacy policy tells you what data a company is keeping about you and your online activities. NordVPN's is pretty bulletproof. The company doesn't keep anything related to your online activities — no IP addresses, no record of your browsing, no time stamps. Unfortunately, Bitdefender can't say the same. It hangs on to your IP address, and hackers and government agencies can use that data to reconstruct everything you do online.
Digging Deeper: One reason OpenVPN is so trusted is that it's open source. That means it contains no hidden corporate back doors, but more importantly it means anyone can test it. As a result, you can count on it to be secure.
Bitdefender Strengths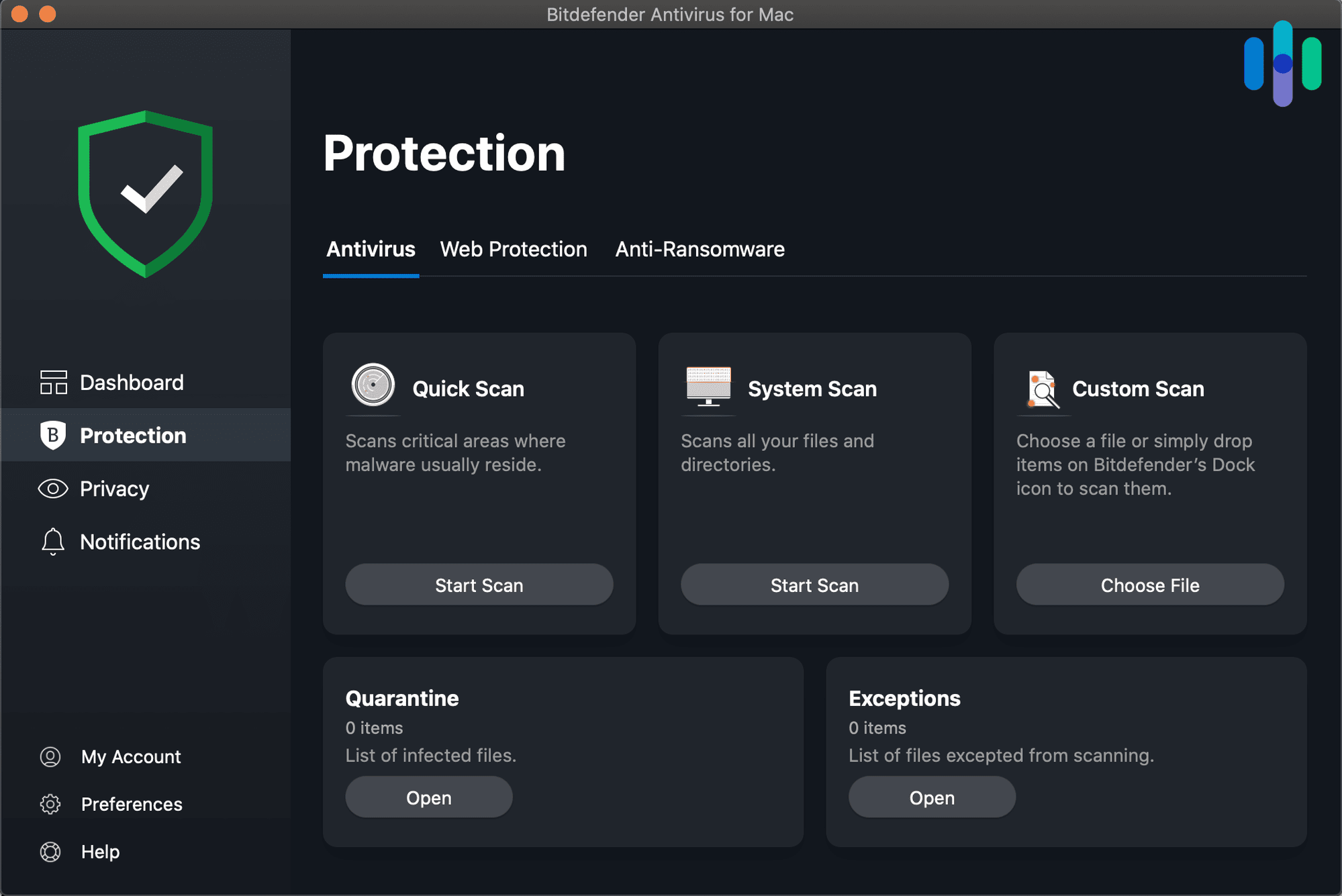 Bitdefender is no slouch. It has its own strengths, but perhaps not as many as NordVPN.
Seven-day free trial: Bitdefender is a known quantity when it comes to antivirus, but it still has some work to do to build its reputation with VPNs. One way to do that is to give everyone a chance to try the VPN for free and see what they think. To that end, Bitdefender offers a free seven-day trial, no strings attached. The trial is for the full version of the software — no data limits and no speed limits.
Free version: Here's something NordVPN doesn't offer: a free VPN. Unfortunately, Bitdefender's free version provides only 200 MB of data per day. Still, if you just need to upload one or two company documents, that may be enough to get by.
Dynamic IP addresses: NordVPN offers shared IP addresses, which are pretty secure. Basically, lots of users share one address, so it's difficult to know which user is doing what at any given time. Bitdefender, though, offers dynamic addresses, which are a bit safer. Dynamic addresses change at regular intervals, so you never have the same address for more than a few minutes.
Pro Tip: Before you sign up for a free VPN, it's crucial that you read the company's privacy policy. Many free services finance their operations by selling customer information. In other words, free isn't actually free.
The Bottom Line
This matchup played out pretty much the way we expected. There's a reason NordVPN is at the top of our list of best VPNs. Packed with security features such as multihop technology and camouflage mode, it's the safest VPN on the market. It also offers access to all the best streaming services, and it's fast enough that you won't notice you're running it.
That's not to say Bitdefender isn't a good deal. It certainly has the requisite security features to keep you safe in most circumstances, such as AES-256 encryption and a kill switch. We worry about the fact that it records IP addresses, but it's located in a country outside the reach of Five Eyes, Nine Eyes, and 14 Eyes, so the information is probably safe enough. Bitdefender also offers its VPN at a very competitive price point, and you can even get a free version.
Ultimately, we have to go with NordVPN, but Bitdefender is a solid choice if you're looking to save a little money. If you want to dig deeply into these two VPNs, you can always check out our Bitdefender VPN review and our NordVPN review.
Get NordVPN if:
You want top-of-the-line security
You prefer no one to know you're using a VPN
You're looking for an iron-clad privacy policy
Get Bitdefender if:
You need to save a little money
You like the added security of dynamic IP addresses
You're in the market for a free VPN
FAQs
Before you go, take a look at our answers to some of the questions we get asked most frequently. You may find an answer to one of your own questions.