Mullvad vs. NordVPN
Who wins in this VPN tug-of-war?

Best Security

A two-year plan costs just $3.49 per month.
Each plan comes with a 30-day money-back guarantee.
Students can receive a 15-percent discount for a two-year plan.
Best Single-Month Subscription Price

The Mullvad privacy policy is checked regularly by independent auditors.
A single-month subscription costs just $5.54.
Offers a choice of OpenVPN and WireGuard protocols.
You've probably heard of NordVPN. The company is pretty popular, and it produces a lot of ads and commercials. Plus, it regularly features at the top of our list of best VPNs. Mullvad? Despite the fact that they've been around since 2009, you don't hear as much about them. Nevertheless, they've made a reputation for themselves as a dependable, secure VPN.
So here's a question: Mullvad has made itself a contender in the VPN game, but is it good enough to match up with a heavyweight like NordVPN? What difference does it make? Well, you need to know if some new company has shown up offering better services, better prices, or both. How else are you going to decide which VPN is right for you?
We're taking a close look at these two companies and how they stack up against one another. They have some important aspects in common, but of course, they have a number of differences as well. Which one comes out on top? You'll have to read on to find out.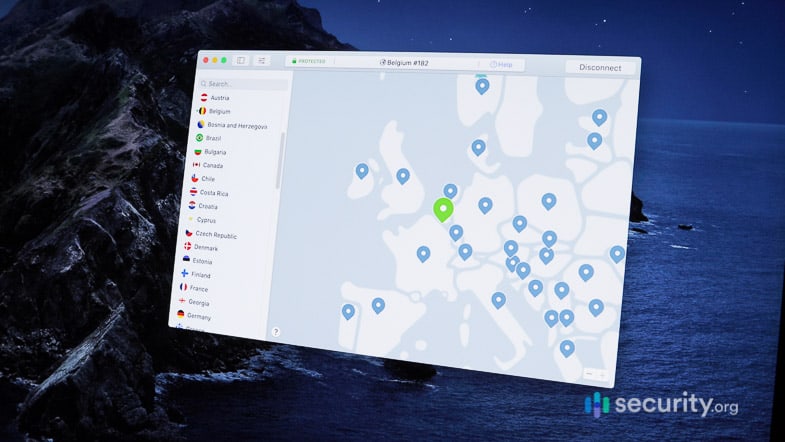 Pricing
Let's start this little comparison by looking at price. After all, if a VPN is outside of your budget, it doesn't matter what sort of features it may or may not have. It's also particularly useful to consider the price of these two VPNs because they take such a different approach to pricing.
NordVPN is fairly traditional when it comes to its subscription offers. Like most VPNs, it offers single-month subscriptions, but you can get deep discounts if you're willing to sign up for long-term subscriptions. A single month of NordVPN costs $12.99, while one month of a two-year plan runs $3.99. That's a savings of almost 70 percent.
In contrast, Mullvad offers a one-size-fits-all pricing model. That size is one month, and it costs $5.54. Now, if you're looking to sign up for a month or two of VPN service, or even 11 months, that's going to be a far better price than NordVPN. Less than half, in fact. And, even if you're going to sign up for a full year, the prices between the two VPNs are roughly comparable. But if you know you'll stick with your VPN for at least two years, NordVPN is going to be the better choice in the long run.
Price Per Month
| VPN | Single-month subscription | Annual subscription | Two-year subscription |
| --- | --- | --- | --- |
| NordVPN | $12.99 | $4.99 | $3.99 |
| Mullvad | $5.54 | $5.54 | $5.54 |
Pro Tip: If you're looking to compare these two VPNs yourself, start by signing up for a single month of Mullvad since, at $5.54, it's the cheaper option. If you like it, hang on to it. If not, sign up for a year of NordVPN.
A Few Important Commonalities
Price matters, of course. But you can't consider it in isolation. The real question is: what kind of value are you getting for your money? That comes down to the features each VPN offers.
If you're looking for top-tier security — and let's face it, security is the most important reason to invest in a VPN — both of these VPNs more than get the job done. Here's a list of what they've got going for them.
AES-256 Encryption: The heart of a VPN is its encryption. A VPN is literally an encrypted tunnel through which your internet signal travels. We're pleased to say that both of these companies use AES-256 encryption, the same encryption used by government spy agencies. That's good enough for us.
Choice of Protocols: A VPN's protocol is the set of instructions that dictate how it implements its various encryption strategies. Both Mullvad and NordVPN offer a choice of protocols between OpenVPN and WireGuard. OpenVPN is the industry standard. It's been around long enough to have been tested and determined safe. WireGuard is a little newer, but it's based on the same basic code as OpenVPN, and it's also faster. In the end, though, you can't really go wrong with either.
Multi-hop: This is a new technology, one that both Mullvad and NordVPN have chosen to implement. It routes your internet connection through not just one, but two or more secure servers. That means the connection has to travel through at least two separate encrypted tunnels. Basically, multi-hop technology raises your security into the category of: There's No Way Anyone's Getting Access To Your Information.
Tight Privacy Policies: Finally, it's always important to check a VPN's privacy policy before you invest. That policy lets you know just what information of yours they do and don't keep and what they do with it. Both of these companies maintain strict privacy policies. They keep as little information about you as possible — just enough to keep the services running — and they never share it with anyone. Of particular note: neither of them keeps any record of your IP address, your browsing history, or your time stamps.
Kill Switches: A kill switch shuts down your internet activity any time you lose your VPN. That eliminates the possibility that someone might accidentally gain access to your personal data or be able to spy on your internet activities. Both NordVPN and Mullvad include kill switches, standard.
As an added bonus, both VPNs offer split tunneling. While this isn't a security feature, strictly speaking, it can be pretty handy. In simple terms, it allows you to log on to the regular internet at the same time you're using the VPN. Why is that so useful? It means you can route sensitive activities through the VPN but run your Spotify connection through the regular internet. That saves you bandwidth, keeping both connections running faster and more smoothly.
In other words, when it comes to basic functionality, you can't really go wrong picking between these two. They'll both keep you safe, and they'll both do it for a reasonable price.
Some Key Differences
NordVPN and Mullvad are remarkably similar when it comes to basics, and basics matter. But what are the differences between these two VPNs, and are any of those differences significant?
Toss-Up Differences
With any two VPNs, you'll find one is better at some features than others, even if there's not many differences between them. That's the case with these two companies when it comes to servers and privacy policies.
For instance, NordVPN has a few more servers than Mullvad. Mullvad's numbers are healthy. The company reports that it operates nearly 700 servers in over 40 different countries. That's enough to ensure you should be able to get a fast, secure connection wherever you happen to be in the world. That number isn't close to NordVPN's numbers, though. NordVPN has over 5,000 servers in nearly 60 different countries!
On the other hand, Mullvad's privacy policy is just a little more airtight than NordVPN's. Again, NordVPN is no slouch in this department. It never collects any information that could be used to track your online activities. The company doesn't record IP addresses, or browsing histories, or timestamps. It's also taken the trouble to hire an independent auditing agency to verify its claims, most recently in January of 2023. In this case, though, it's Mullvad that goes the extra mile. Mullvad doesn't ask you to create a username or password. Instead, it assigns you a randomly generated user number. Furthermore, the company encourages users to sign up using cryptocurrency for maximum anonymity.
NordVPN's Real Strength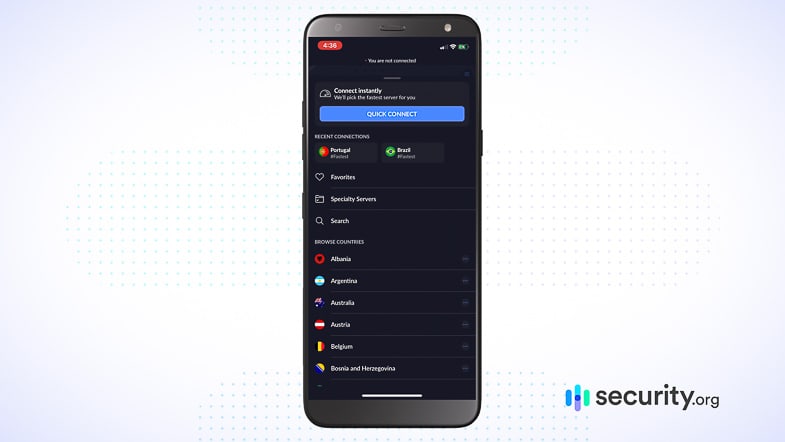 When push comes to shove, though, NordVPN has some features Mullvad just can't match.
First, it offers obfuscated servers. What are these, and why do they matter so much? A normal VPN, such as Mullvad, conceals your identity, so it's impossible for anyone to track your online activities. That's one of its most important functions. It doesn't conceal the fact that you're using a VPN. The trouble is a number of sites — especially streaming media sites — have begun to reject VPN connections. That means that while you're safe from detection, you may be limited in where you can go online. Obfuscated servers conceal the fact that you're using a VPN at all, which means websites have no way to screen out your connections.
A Word About Terminology: VPN obfuscation is also known as Camouflage Mode, since it camouflages the VPN itself.
Given that it's the only one of these two VPNs with obfuscated servers, it probably won't come as a surprise that NordVPN is also far better at providing access to streaming servers. It's at the top of our list of best VPNs for Netflix, for example. In fact, with NordVPN, you get reliable connections to Netflix, Hulu, Max, Disney Plus, and dozens of other entertainment sites. Mullvad's access to these sites is hit and miss, and far more often, more miss than hit.
Finally, as an added bonus, NordVPN is headquartered in Panama, a country outside the Five Eyes, Nine Eyes, and 14 Eyes surveillance alliances. Mullvad is located in Sweden, a member of 14 Eyes. Mullvad limits what information it keeps in order to hinder government subpoenas, but the bottom line is that a country outside these alliances is safer than one in it.
Want to read even more about NordVPN's many features? Check out our full NordVPN review.
Bottom Line
We like Mullvad a lot. We're especially drawn to their stated commitment to a free internet — free from mass surveillance, censorship, and big data. And without a doubt, the company offers some compelling features, particularly when it comes to security. We love the fact that they provide multi-hop technology, a kill switch, and encryption as strong as any VPN on the market. Plus, the company offers one of the lowest single-month subscriptions we've come across at $5.54.
In the end, though, we have to give the edge to NordVPN. It's got all the same security features Mullvad does, plus obfuscated servers. It provides access to all the best streaming servers, so you can log on to content libraries all over the world. And, while its single-month price is considerably higher than Mullvad's, if you're willing to sign up for a year or two, its price is actually lower.
You should certainly consider Mullvad if:
You're looking for a short-term subscription, anywhere between one and 11 months.
You want extra layers of anonymity.
You need a secure VPN but aren't as interested in entertainment options.
You'll probably prefer NordVPN if:
You want reliable access to Netflix, Max, Disney Plus, and other streaming services.
You want to conceal the fact that you're using a VPN.
You're planning to invest in a subscription of a year or more.
Frequently Asked Questions
Don't go just yet. We've taken the time to respond to some of the questions about NordVPN and Mullvad that we get asked the most. You'll find the answers below.