Private Internet Access vs. ExpressVPN

Most Affordable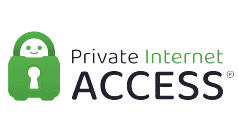 Doesn't keep websites accessed or IP addresses
Kill switch protects web traffic even if VPN fails
Torrenting allowed
Best Speed for Mac

Based in British Virgin Islands, so not subject to international surveillance alliances' jurisdiction
Over 2,000 servers in 160 locations
Split tunneling available
When you're not yet an expert on VPNs like we are, comparing two specific packages can be like that meme from The Office: corporate needs you to find the difference between these two pictures, but they're the same picture. But don't worry, that's where we come in. Both Private Internet Access and ExpressVPN are consistently in the top list of VPNs, so we've broken down here why one or the other may be better for you depending on your needs.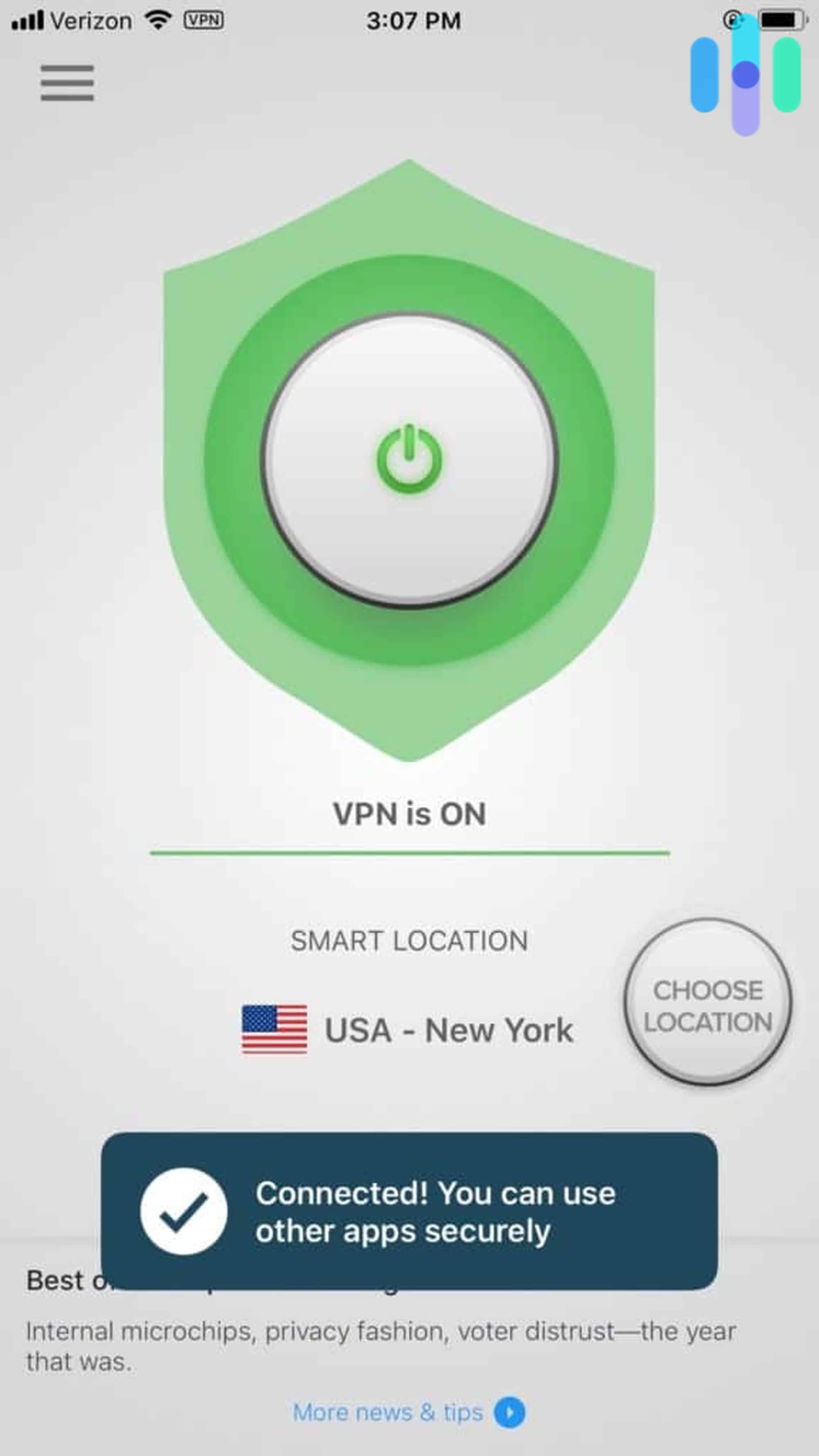 ExpressVPN vs. Private Internet Access: Similarities and Differences
Before we get into the nitty-gritty, let's do a brief breakdown of the absolute basics of each service and see where they stand.
| Features | ExpressVPN | Private Internet Access |
| --- | --- | --- |
| Number of servers | 2,000+ | 3,341 |
| Number of locations | 148 | 52 |
| Lowest cost plan | $8.32 per month (billed annually) | $2.69 per month (billed bi-annually) |
| Headquarters location | The British Virgin Islands | Denver, CO, USA |
| Encryption standard | AES-256 | AES-256 |
We're no strangers to tough decisions—we once ranked every Harry Potter film and agreed on every choice. Still, we already know this is a tough decision. Private Internet Access has about 1,000 more servers than the competition, but then again, ExpressVPN has three times as many unique locations for those servers. In addition, Private Internet Access's most affordable plan comes in a few dollars under ExpressVPN's, but you might rely on certain higher plan offerings, which we'll cover in a bit.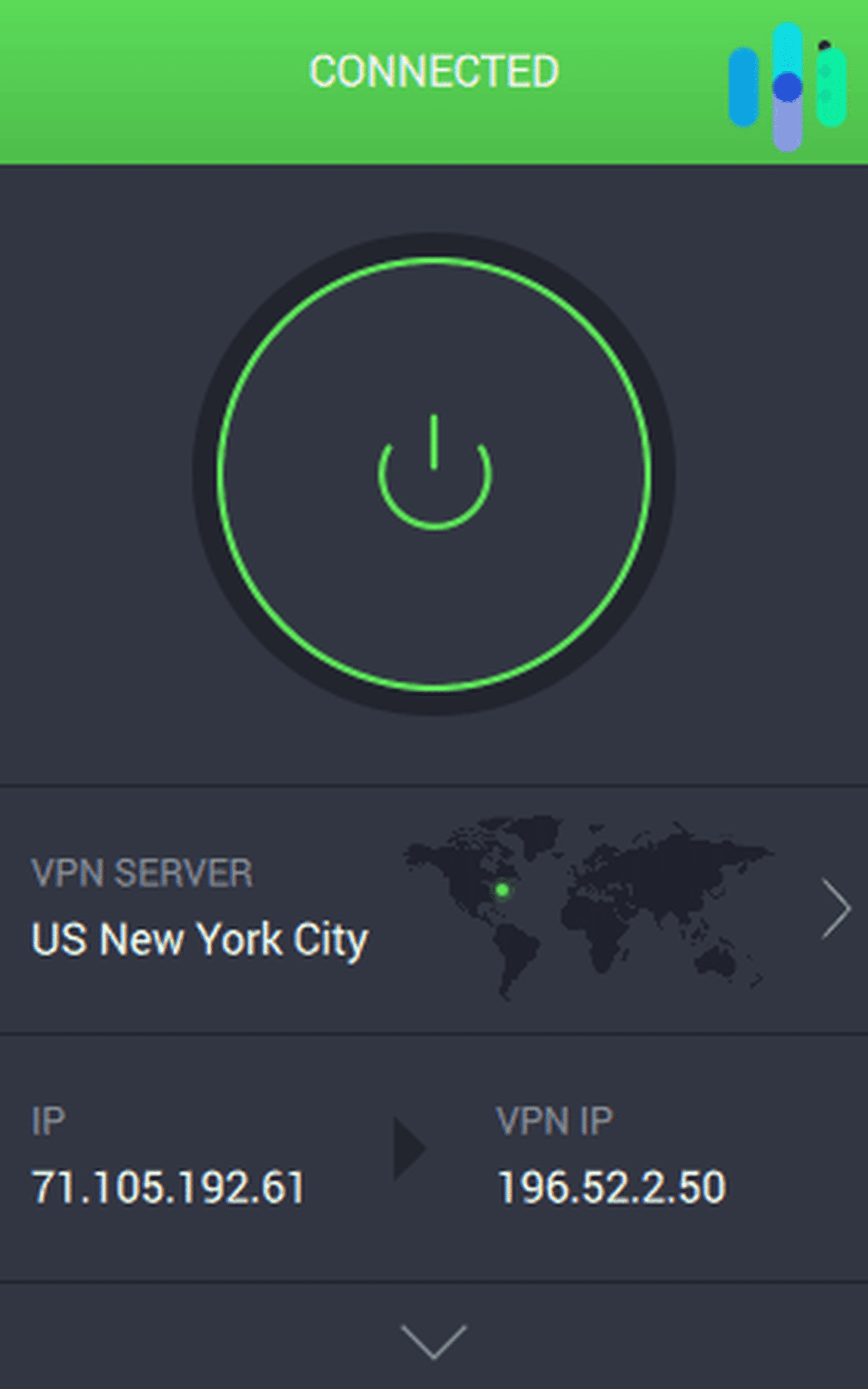 Tip: Most companies provide extensive lists of where their servers are around the world, so you can check out exactly where ExpressVPN1 and Private Internet Access2 have the most servers by going to their websites. Because at the end of the day, it doesn't matter if a VPN offers a million server locations if they're all on the other side of the world from you.
Another key difference that we want to point out right away is the headquarters location for each of these companies. And as much as we'd like to say that the headquarters location factored because of whether it's a good vacation destination, it matters for a very different reason. Because Private Internet Access is based in the United States, it's part of multiple international surveillance alliances, so they may be asked to hand over customer data to the federal government. Luckily, they get around that by logging only what they need for account information, like email, minimal payment information, and our state or territory. ExpressVPN, based in the British Virgin Islands, is not subjected to the same alliances. (And for what it's worth, Aliza prefers a Denver vacation but Gabe loves a good beach week.)
Two of a Kind
Both VPNs consistently rank in our top ten picks, so you can imagine that there's a lot they have in common. Here are all the offerings that both companies offer, so theoretically, you could do a Parent Trap switcharoo and nobody would notice the difference.
Logging policy: Both ExpressVPN and Private Internet Access have super strict logging policies, which we love. Neither service logs when we used their service, for how long, our IP addresses, browsing history or traffic on any websites. Of course, privacy is a major motivator to use a VPN in the first place, so we love this about both companies.
Kill switch: If the idea of a kill switch sounds way too sexy for something as dry as a VPN, we get it. This Bond-esque tool is a key part of what makes many VPNs fool-proof. Basically, if our network connection was ever lost, the kill switch automatically killed whatever software or websites we were using, so our privacy was protected. Of course, the really good VPNs don't even need their kill switches that often because they've got reliable connections, but we love having a back-up, just in case. Our moms were clearly the "better safe than sorry" types.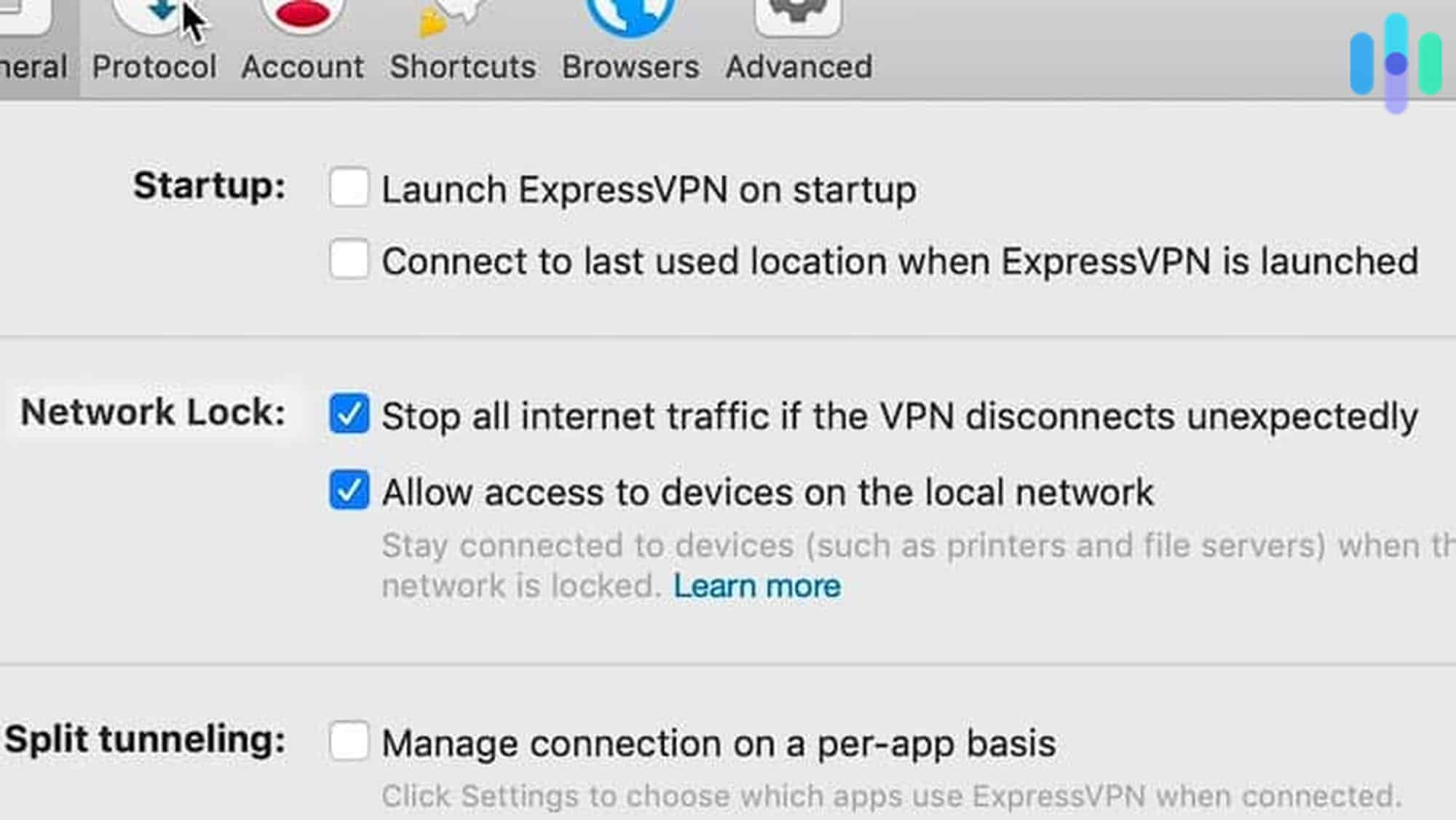 Netflix & streaming: You already know about us and streaming. Just this week, we finally felt brave enough to watch HBO's Lovecraft Country (with the volume on so low it was basically on mute), and if much as a buffering screen might have slowed down the horror, it definitely would have wrecked the mood. But luckily, both Private Internet Access and ExpressVPN were able to get around the VPN blockers that many streaming services try to use, with totally normal speeds to boot.
Torrenting: When streaming services don't cut it, we torrent while connected to our VPN in order to keep our entertainment for our eyes only. Torrenting is also a great way to be that girl watching an entire movie on her laptop during the morning subway commute. And it was easy with both services, thank goodness.
Split tunneling: Split tunneling means that we could be on a VPN and a local network simultaneously, a great way to lower bandwidth. Here's how it works: part of our traffic went through the ExpressVPN tunnel, while some traffic will connect directly with the Internet. It's awesome if, like us, you're often doing work on one half of a screen that needs a VPN's level of privacy, while watching a loop of ASMR YouTube videos that aren't quite as sensitive on the other half.
Dynamic IP addresses: Every time we connected to one of these VPNs, we got a new IP address, which the service assigned randomly, making us that much harder to track online. This is a simple service that the best VPNs can easily provide, so we're glad to see that both ExpressVPN and Private Internet Access made it a priority.
No multi-hop: Unfortunately, some similarities between the services are more disappointing than some of the highlights. Neither ExpressVPN nor Private Internet Access provides a multi-hop, or double hop option, which encrypts data multiple times through multiple servers. This is definitely a bummer, but not ultimately a dealbreaker for us. If you're interested in VPNs that do have a multi-hop option, check out our NordVPN review.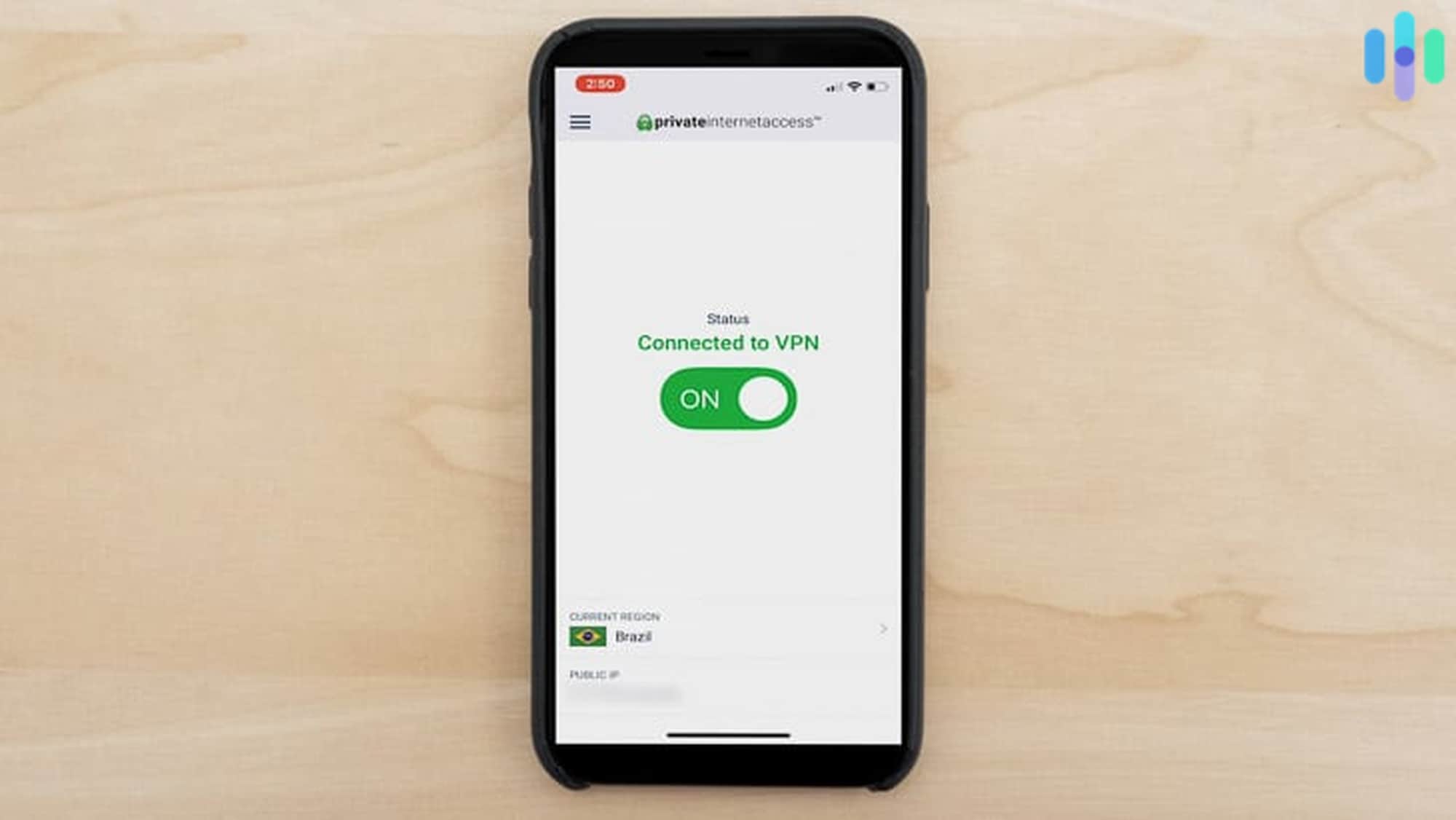 App: Both services get great reviews for their iOS and Android apps, with an average of over four out of five stars for ratings. There's just something relaxing about knowing we can easily navigate our security from our phones. What can we say, we're millennials.
Some of These Things Are Not Like The Others
No two VPNs are exactly alike, and our purpose here is to help you figure out which one will serve you best. Here, we'll highlight the key differences between Private Internet Access and ExperssVPN.
Speed: When we tested ExpressVPN and Private Internet Access on our Macbook Pro and Windows Vivobook, we found that generally, both services performed pretty well. But, if you look closer at the specific results below, you might notice some key differences.


ExpressVPN WebRTC Leak Test

Tests
ExpressVPN
Private Internet Access
Macbook Air- High Sierra Version 10.13.6
Ping without VPN (in ms)
14
14
Ping with VPN (in ms)
14
20
Ping Difference
0%
43%
Download Speed without VPN (in Mbps)
54.86
37.05
Download Speed with VPN (in Mbps)
12.93
22.7
Download difference
-65%
-38.73%
Upload Speed without VPN (in Mbps)
33.86
25.9
Upload Speed with VPN (in Mbps)
18.12
22.19
Upload difference
-30.04%
-14.32%
VivoBook (Windows)
Ping without VPN (in ms)
12
14
Ping with VPN (in ms)
16
19
Ping Difference
-33.30%
-35.70%
Download Speed without VPN (in Mbps)
72.48
62.88
Download Speed with VPN (in Mbps)
61.67
39.77
Download difference
-14.90%
-36.75%
Upload Speed without VPN (in Mbps)
41.37
40.61
Upload Speed with VPN (in Mbps)
39.13
30.95
Upload difference
-5.40%
-23.79%

Do you see it? Look closely. Okay, you're right—you're here for us to explain it to you! What is this, remote learning?

We always do our speed tests on both a Macbook and a Windows computer, as no two operating systems are the same, and we know we have readers in both tribes. First up in the chart, is the Macbook comparisons. In almost every category, ExpressVPN has Private Internet Access beat. Not only are the actual ping, download, and upload speeds just faster, but there's a smaller difference between the speeds without the VPN and with it. That means on a Macbook, you're less likely to notice a difference in speed with ExpressVPN than with Private Internet Access. And don't get us wrong, there's nothing to be ashamed about with those speeds, but there's a clear winner here. We're Macbook users ourselves day-to-day, and we can definitely vouch for the fact that ExpressVPN is most compatible.

ExpressVPN Privacy Policy

But then we get down to the Windows speed tests, and oh, how the turn-tables! Here, ExpressVPN wins out only when it comes to the ping speed. But Private Internet Access worked much faster hands down when it came to every other speed category, as well as in the difference between speeds with and without the VPN. So on a Windows computer, Private Internet Access is your best bet for fast speeds and seamless transition from when the VPN is off to when it's on.
Did You Know: The worldwide market for VPNs is expected to over double in size between 2016 and 2022, skyrocketing from $15 billion to over $35 billion.3 VPNs can provide security in obscuring a user's location and accessing geo-blocked or censored services. They're even useful for employees who may be working from home to access corporate intranets. If you haven't explored using VPNs now, we're sure you will be in the next few years!
Price: You didn't think we'd completely neglect one of the most important considerations when looking to purchase a VPN, did you? We know that everyone's got their own budgets for these things, so it's important to know what a service like this costs. We like to know ahead of time if we may have to cut down our monthly literary magazine subscriptions in order to find the funds for better security. So here's how ExpressVPN and Private Internet Access stack up at the cash register:

| Plan | ExpressVPN | Private Internet Access |
| --- | --- | --- |
| Billed monthly | $12.95 | $9.95 |
| Billed every six months | $9.99 per month ($59.95 per billing) | N/A |
| Billed annually | $8.32 per month ($99.95 per billing) | $3.33 per month ($39.95 per billing) |
| Billed every two years | N/A | $2.69 per month ($69.95 per billing) |

There's really no comparison to be made here. All around, Private Internet Access is cheaper than ExpressVPN. Whether you're looking to just try out a VPN month-to-month, or if you know what you need and want to pay for a longer-term subscription in order to save, Private Internet Access has better deals. Neither company offers free trials, but they do have 30-day money-back guarantees if it turns out it's not for you. If you want to dive even deeper, check out our Private Internet Access pricing and ExpressVPN pricing pages.
The Bottom Line: Which is better, ExpressVPN or Private Internet Access?
Okay, we know what you're thinking. This is all great, but what's the bottom line? At the end of the day, if you force our hand to choose one (though please note, neither Aliza nor Gabe do well with an ultimatum!) we'd have to choose ExpressVPN. However, as we've shown, they both have their own merits, so as a reminder:
To learn more about PIA, read our Private Internet Access review. ExpressVPN was our top VPN this year, but if you still feel like neither of these services are for you, there's even more to explore at our top VPNs list. We can literally feel our heart rates slow and anxiety decrease when we feel protected on the Internet with a VPN. So no matter what you choose, make sure to choose protection over unguarded risk.
FAQ
We love answering questions, so let's answer some FAQs about Private Internet Access and ExpressVPN.