WeVPN Review and Pricing Guide 2023: A VPN That's All About Privacy and Transparency
Is WeVPN the disruptor we need in the VPN industry? Let's find out in this review.
RAM-only servers
Worldwide P2P support
Intuitive and responsive apps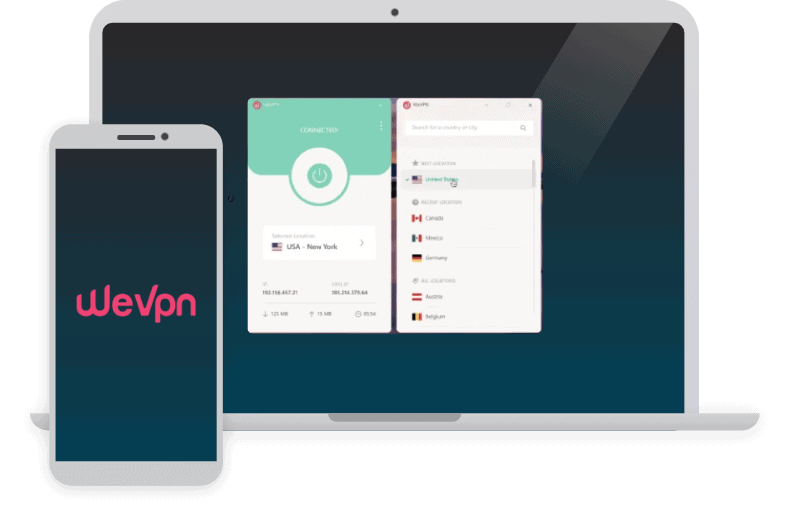 All of our content is written by humans, not robots.
Learn More
By

&

Last Updated
May 25, 2023
It's not an "I VPN" or "you VPN," it's WeVPN. Cheesy opening lines aside, we take online privacy very seriously, and so does WeVPN it seems. Although the company is just a couple of years old, the people behind WeVPN have decades of VPN experience under their belts. They've used their knowledge to build a VPN that prioritizes the user experience, especially in the privacy department. And with low prices to boot, it's starting to look like the industry disruptor we need in the oversaturated VPN industry.
But let's not get ahead of ourselves. In this review, we're focusing on exactly what WeVPN offers. Then, we'll break things down to you, feature by feature, so you'll know if this is the right VPN for you. Ready to get started? Let's dig in.
WeVPN Pricing and Subscriptions
WeVPN is an affordable VPN; we'll tell you that right off the bat. Subscriptions start at $9.95 with the monthly plan, but as the subscriptions get longer, the monthly cost drops as well. That's normal with any VPN. The lowest price you will pay for WeVPN is $2.59 per month and that's with the two-year plan with three months of free service. Check out the complete pricing breakdown below.
| Pricing Details | Monthly Plan | Yearly Plan | Two-Year Plan |
| --- | --- | --- | --- |
| Total amount billed | $9.95 | $49.95 | $69.95 |
| Average monthly cost | $9.95 | $4.16 | $2.59 |
| Special inclusions | N/A | N/A | 3 months free |
| Renewal price | $9.95 billed every month | $49.95 billed every 12 months | $69.96 billed every 24 months |
FYI: After the first 27 months of the two-year plan, WeVPN will renew at $69.95 every two years. The three months of free service applies to first-time subscriptions only.
Not to spoil anything, but WeVPN's features remind us so much of ExpressVPN's features (read our ExpressVPN review here), down to the RAM-based servers it uses. When it comes to pricing though, the two VPNs are worlds apart. Although it's one of the best VPNs we've reviewed, ExpressVPN is also one of the most expensive. It costs $12.95 per month to use, and even with the least expensive 12-month plan and all the free months of service, ExpressVPN costs at least $6.67 per month.
WeVPN's pricing is more reminiscent of Private Internet Access' pricing. That's a compliment because if you've read our Private Internet Access review, you know that we regard it as one of the best-value VPNs out there for its price. But does WeVPN provide the same or greater value based on its features? That's what we'll talk about in the next section.
WeVPN: Features That Don't Disappoint
As we've learned in our years of experience testing VPNs, the features they promise on their websites don't always reflect the actual features you'll get with their apps. That's why we spent hundreds of hours across several weeks testing WeVPN. We liked what we saw on its website; here's what we thought of its actual features.
Servers and server locations
WeVPN started off in 2020 with a relatively small network of servers. It had over 100 servers in 64 VPN locations spread across 42 countries. Those numbers haven't seen much growth over the past two years. In our latest testing, we counted a total of 69 server locations in 47 countries. Those aren't bad figures. However, just so you know, NordVPN — our top-rated VPN overall — has over 5,000 servers in 60 countries all over the world. If server count and locations are a top priority for you, there are much better VPNs than WeVPN out there.
Fact: The server location plays a significant role in a VPN's quality of service, as it influences your speed, privacy, and ability to access geo-restricted content. Check WeVPN's server locations before buying a subscription to see if the contents you want to unblock are available in countries where WeVPN has servers.
RAM-Only servers
Instead of increasing the number of its servers, it seems that WeVPN focused on improving them. One way the company has done that is by using RAMDisk on all of its servers. RAMDisk is a secure third-party software that converts a machine's Random Access Memory (RAM) into a temporary disk drive. That means that all of WeVPN's servers store data on RAM and when they are power-cycled, all the stored data is wiped.
This setup has unique advantages. For one, even in smaller applications like on personal computers, RAMDisk writes and reads data faster than typical hard disk drives. In VPN servers, that translates to faster processes, which result in better internet speeds. We've proven that in our speed tests (more on that later). Another advantage is security. Should WeVPN ever get hacked, or if the government seizes its servers (that sort of thing has happened before to other VPNs1), simply turning off the servers will wipe out their data. So kudos to WeVPN for thinking ahead.
Auto-Connect
Regarding WeVPN's app features, we've found several useful ones, but we'll start with the most basic: Auto-Connect. As the name suggests, Auto-Connect lets the app connect to a VPN server on its own without your input. It can do so when you start the app, when it detects that you're on an unsecured Wi-Fi network, or when you're connected to a network you don't trust, as defined by you.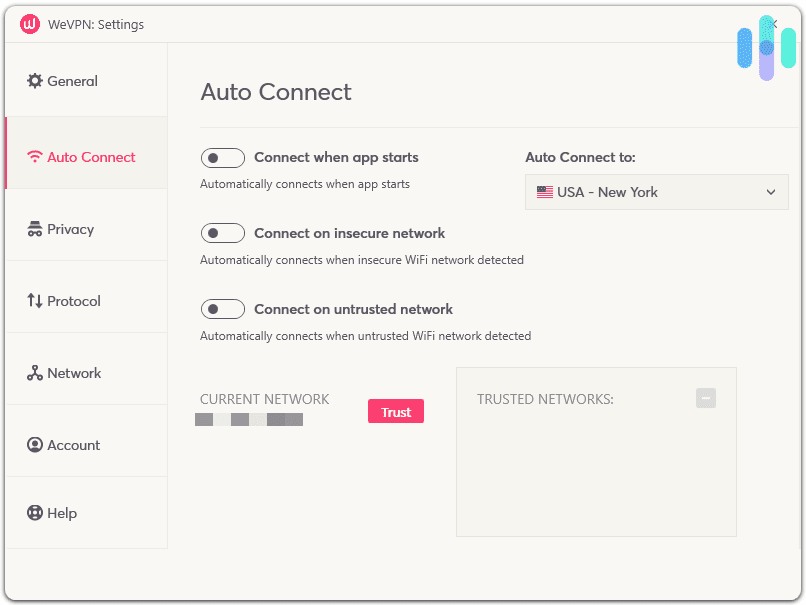 It's a really simple feature, but highlights WeVPN's user-friendliness well. We're living in a fast-paced, busy world, so automations like this Auto-Connect feature are always welcome.
VPN App Enforcement
Here's another nifty feature: VPN App Enforcement. Basically, this feature prevents you from connecting an app to the internet without WeVPN's protection. For the purpose of this review, we set up the VPN App Enforcement feature to block Chrome's internet connection.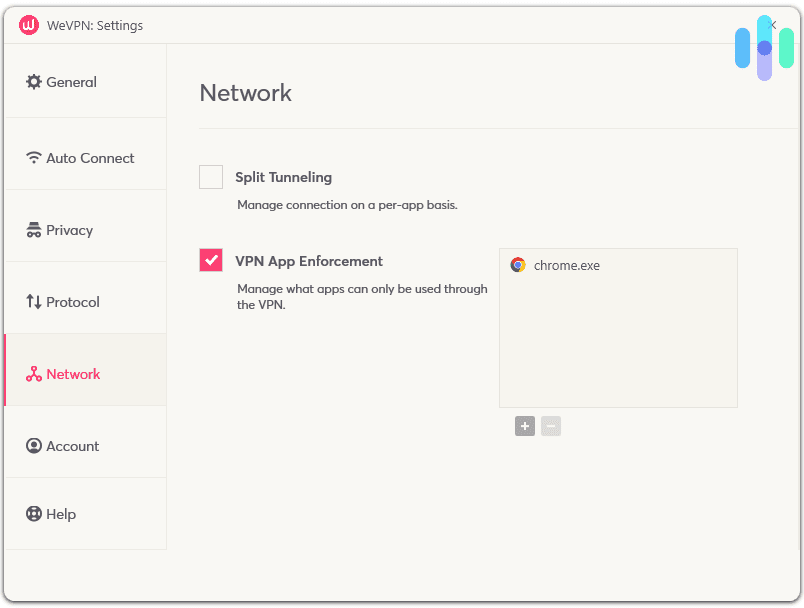 We could still open Chrome, but no matter what we did, we couldn't open any web pages until we connected to WeVPN. We think the VPN App Enforcement feature works really well if you have high-risk apps that you must only use with a VPN. Torrent clients come to mind, for instance. We'd definitely consider adding WeVPN to our list of the best VPNs for torrenting because of this feature.
Worldwide P2P access
Speaking of torrent, we've found WeVPN to be great for torrenting and peer-to-peer (P2P) file sharing because all its servers support P2P connections. Usually, torrenting with a VPN requires trial and error in finding a server that works. When we tested WeVPN, all the 10 servers we connected to allowed for torrenting. Some were fast and others were slow, but that had to do with the server location and the P2P network we were using at the time. However, the bottom line is that WeVPN is P2P-friendly and thus torrent-friendly.
Netflix, Prime Video, and other streaming sites
Netflix began aggressively blocking VPNs in 2016, in an effort to prevent users from using them to unblock geo-restricted content.2 Fortunately for us content-seekers, there are still many VPNs that work with Netflix. One of those VPNs, as we found during our tests, is WeVPN. Not only did it work with Netflix, it also worked with other streaming platforms that are as aggressive as Netflix in blocking VPNs, including Prime Video. As you can see below, we were able to stream Bones on Prime Video, which was removed from the U.S. library but is still in the Canada library.
Kill switch
There are two mainstay features in most VPNs that we like to see in every VPN we test: the kill switch and split tunneling.
WeVPN's kill switch works on two levels. When set to Auto, the kill switch blocks any traffic outside the VPN tunnel when the VPN is on. This effectively prevents IP address and DNS request leaks. The second level, Always, prevents all traffic outside the VPN tunnel regardless of whether the VPN is on or not. This forces you to connect to WeVPN in order to use the internet, much like the VPN App Enforcement feature. While we found the Auto level useful, we think the Always level is a bit much.
Split tunneling
The service's split tunneling also works on two levels, but either way, it lets you split your connection into two. This allows for some apps to use the internet via WeVPN, while others continue to use a normal connection.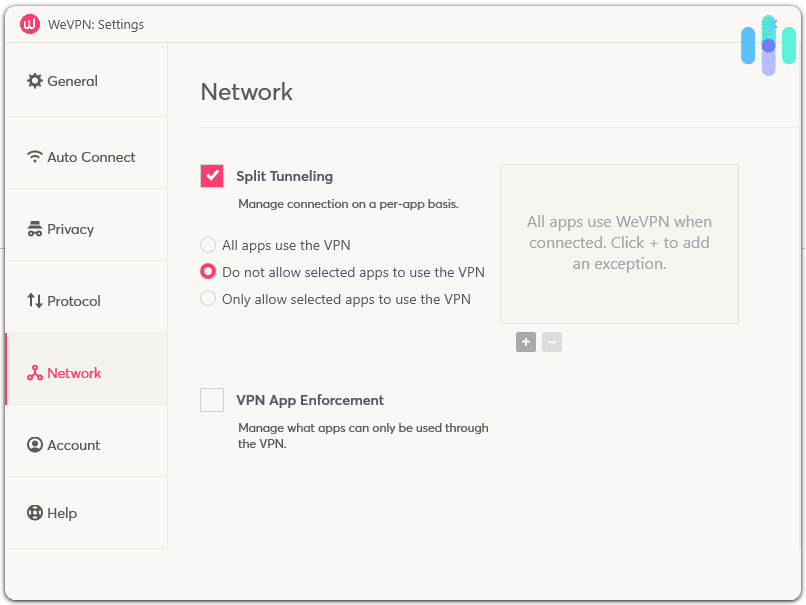 Your first option is to select which apps can bypass the VPN connection. If you want your whole device to connect to WeVPN except for some apps, this is the option you should choose.
The second option is to define only which apps should connect to the VPN. If you want your whole device to use the internet normally, but want VPN protection on just a couple of apps, this one's for you.
Encryption
Now we're entering the more technical side of testing VPNs, starting with encryption. WeVPN uses the 256-bit AES encryption technique to provide end-to-end encryption to any device. This level of encryption is the highest there is in the VPN industry. In short, it's the gold standard.
On top of that, WeVPN utilizes Linux Unified Key Setup (LUKS) encryption to encrypt its servers and disks, so that no one, not even its own technical staff, can access users' information (such as account credentials) on WeVPN's servers.
VPN protocols
In addition to encryption, WeVPN uses several VPN protocols to enable its servers to establish secure VPN tunnels between themselves and our computers. We currently consider OpenVPN the gold standard, as it provides a good balance between speed and security. However, recently, WireGuard has been quickly catching up, even besting OpenVPN in terms of speed. Whichever of the two protocols you prefer, WeVPN works with both. WeVPN automatically selects the best VPN protocol for your connection by default, but if you want to play with your settings and see what works best, you can easily change the protocol in the settings.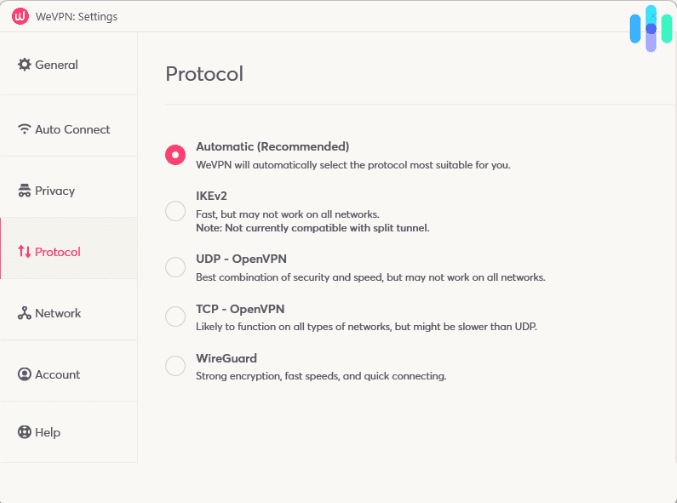 Privacy
Lastly, let's talk about how WeVPN treats its users' privacy. We've touched on a couple of privacy-related features earlier; namely, WeVPN's RAM-only servers and LUKS encryption. This time, let's look at WeVPN's privacy policy.3
The policy clearly states that WeVPN does not log or collect data about its users' traffic, DNS requests, connection status, connection timestamps, IP addresses, and bandwidth. It's fair to say that that's what we want in a VPN. However, it does collect an aggregate sum of the amount of data a user has transferred through its servers. So while it may not know what you did, it knows how much data you've consumed. This isn't a big deal, since there's no way to tell what websites you visited based on that information alone.
Did You Know: Some VPN companies ask third-party auditing firms to audit their privacy policy and practices to give users assurance that they're following their privacy policies. IPVanish was one of the most recent to do this, as you can read about in our IPVanish review. WeVPN hasn't had its privacy policy audited yet, but on the bright side, it hasn't been involved in any privacy-related controversies.
WeVPN: Performance and Speed
After thoroughly digging into WeVPN's features, we spent the rest of our review process testing WeVPN's performance, particularly in the speed and security department. Check out our findings below.
WeVPN speed tests
We tested WeVPN's speed on Windows, using Ookla's speed test tool. We performed three tests in total at different hours and different days, but we made sure to connect to the same Wi-Fi and the same WeVPN server location. We compared each result to our internet speed measured prior to each test, so that we'd know if any slowdowns could've been caused by our own connection. Here are the results.
Tests
Without VPN

(upload speed/download speed/latency)

With WeVPN

(upload speed/download speed/latency)

First test
42.31 Mbps / 44.15 Mbps/ 3 ms
38.70 Mbps / 44 Mbps / 116 ms
Second test
44.13 Mbps / 46.66 Mbps / 4 ms
41.45 Mbps / 42.48 Mbps / 118 ms
Third test
37.21 Mbps / 41.74 Mbps / 4 ms
33.91 Mbps / 36.09 Mbps / 112 ms
All VPNs we've tested have affected our internet speed somehow, but WeVPN had a much less noticeable effect. Considering that we connected to servers in Australia, which is pretty far from New York where we live, those are commendable speeds.
WeVPN leak tests
In our years of testing VPNs, we've come across VPNs that were "leaky," meaning that they weren't secure, resulting in some traffic breaking out of the VPN tunnel. When these leaks happen, your IP address could be compromised, or cybercriminals could track your moves despite being connected to a VPN.
We're particularly wary of WebRTC and DNS leaks, since these types of leaks are common but often overlooked. WebRTC leaks can compromise your IP address through your browser, while DNS leaks can reveal your DNS requests to your internet service provider, essentially revealing to them what you're doing online.
We tested WeVPN for both types of leaks using trusty online tools that we use on every VPN we test, and fortunately, we didn't find any leaks. As you can see below, WeVPN hid our IP address so well that the DNS leak test tool we used thought that we were in Australia, while in reality, we were in New York.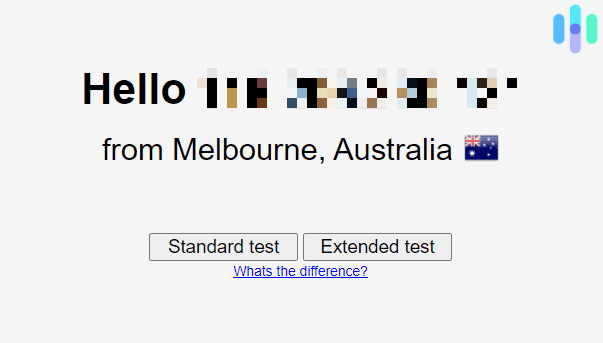 The WeVPN Experience
To cap off this review, let's talk about our overall experience with WeVPN's apps, website, and customer support.
WeVPN apps
We downloaded and fiddled with WeVPN's apps for Windows, Android, and iOS, and we found these apps to be well designed, responsive, and intuitive. Aesthetically, the desktop app reminded us of the Mac interface back in the 2010s, with its off-white background and soft, curved edges.
If we were to have one gripe, we'd say that the Windows app opens too many windows. A separate window pops up when you try to select a server location, and even after connecting, the "locations" window stays open. The same is true when you open the settings, and these extra windows got in our way sometimes.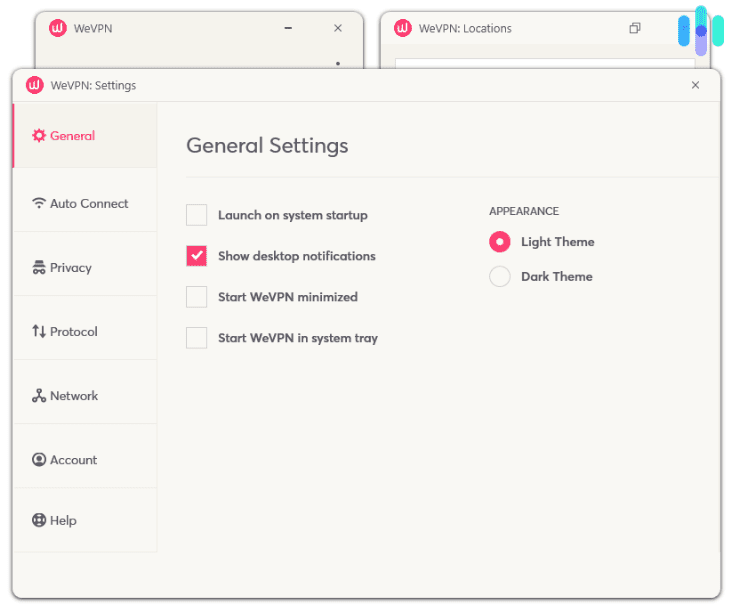 On mobile, though, the app was flawless. It adapted to our phone's current theme (light or dark), and the controls were right where you'd expect them to be. There's even a section at the bottom that shows you your real IP address, your VPN IP address, and your current upload and download speeds.
Buying a WeVPN subscription
We spent a lot of time browsing WeVPN's website as well, but we interacted with it the most when we bought our subscription.
The buying process was seamless. First, we selected a plan, which brought us to a landing page where we entered our email address, created a password, and entered our payment information. It processed our payment quickly since we used a credit card, but you have other payment options such as PayPal, Amazon Pay, and even cryptocurrencies. Finally, it redirected to a page with instructions on how to set up WeVPN on different platforms, including download links to its apps. That's just one of the little things that show how much thought the WeVPN team put into building its product and website.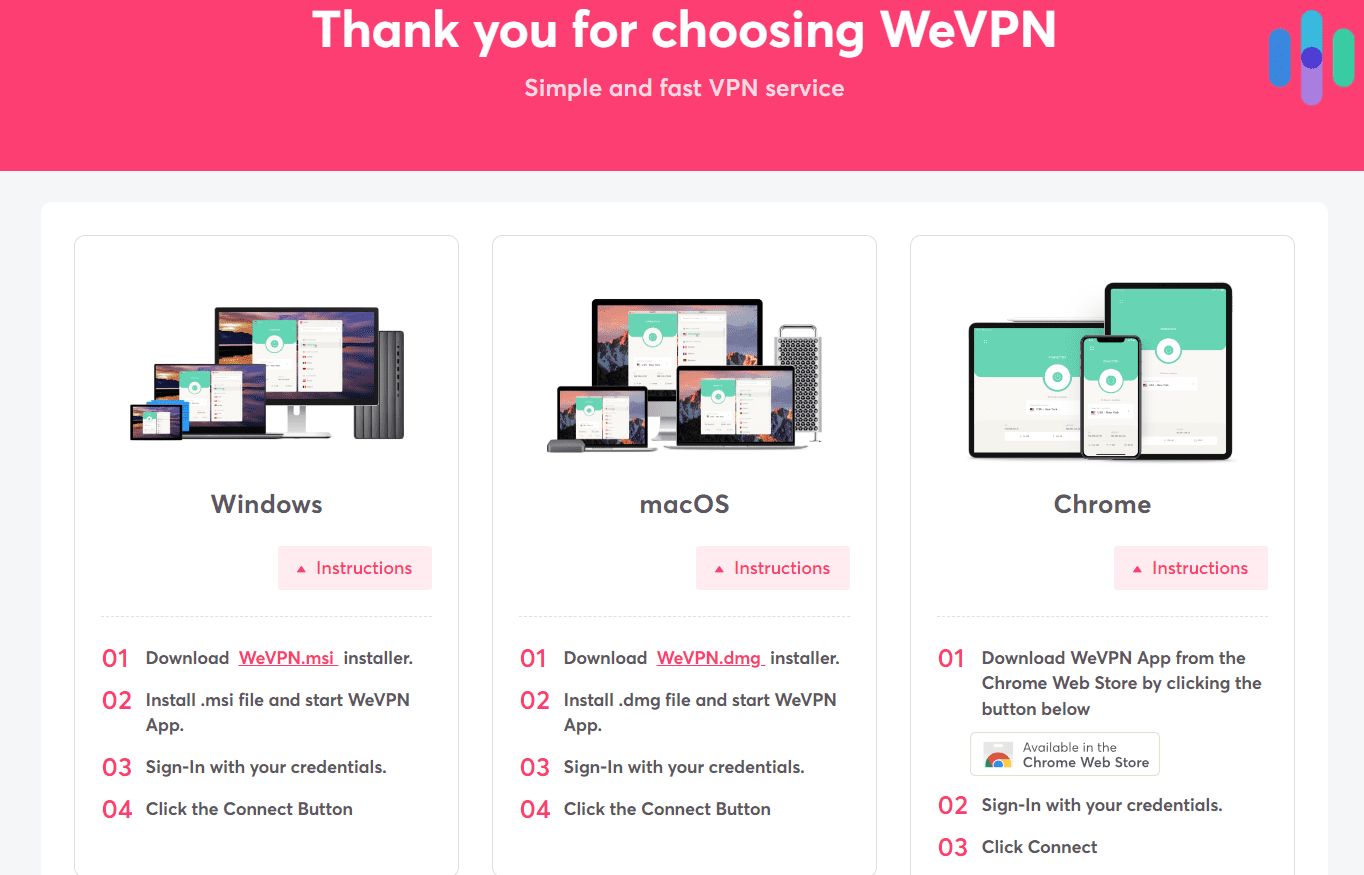 WeVPN customer support
Finally, we didn't need to ask WeVPN for support as we didn't run into any issues during our tests. However, we did reach out once to ask a couple of questions. We conveniently used the live chat feature on its website, which, by the way, is open to everyone, not just subscribers.
We started with a simple question: "How many devices can we use the VPN on?" We immediately got a response from Vincent, who told us that we can connect 10 devices to the VPN simultaneously. We then followed up to clarify if we could download the VPN onto more than 10 devices, but only connect 10 simultaneously. It took Vincent a little longer to respond. But eventually, he told us that yes, we could download WeVPN onto more than 10 devices as long as we only connect up to 10 at once.
Our interaction with WeVPN's live chat support was limited, but based on that, it seems that WeVPN does a good job at providing customer support as well.
The Verdict: Is WeVPN Any Good?
Overall, we'd say that WeVPN has lots of potential. It's a solid VPN with lots of good features to offer, great apps, good speeds, and other positive elements we'd expect in a VPN — a strong users' privacy policy, ability to create a more open internet, and securing people's personal information. So here's the bottom line …
We hoped after reading our review of WeVPN that you were as impressed by the service as we were. We'd like to leave you with one final piece of advice: Getting a VPN is something you shouldn't delay. The internet is full of dangers that can threaten your privacy, so if you see a service that you think will work for you, grab it.
WeVPN FAQs
Learn more about WeVPN in our frequently asked questions section below.