Kaspersky Antivirus Review
Kaspersky is the cream of the crop when it comes to malware detection, but here's a closer look at its full offerings to determine if it's the right antivirus software for you.
What We Like
Best performing virus scans on the market
Greater level of control over the timing and details of scans
Affordable pricing
What We Don't Like
Risk of data exposure to foreign governments
Contracts start at a year long
Bottom Line
Antivirus prices change all the time, but one thing remains constant about Kaspersky: It's always good at detecting malware. It detected all five malware we hid in our computers, and independent antivirus tests also show Kaspersky's excellence in isolating and detecting even the newest types of malware.
Recent Update: 2 weeks ago
Kaspersky released a report recently focusing on cyberattacks on online video games. The report shows that Minecraft is the most-used online video game to lure users for distribution of malicious or unwanted software. If your child plays Minecraft, Kaspersky recommends using strong antivirus software. We also recommend taking these five Minecraft safety tips for extra protection.
Malware and viruses continue to be a huge problem in today's digital landscape, and even worse, they seem to always find ways to evolve and "improve." That's why our best line of defense against these pesky computer viruses is antivirus software capable of catching the newest, sneakiest, and most advanced types of malware.
Kaspersky has been at the forefront of malware protection for decades, and our most recent testing shows that it's still a strong antivirus software. That being said, controversies and allegations have marred Kaspersky's reputation in recent years, particularly, because it hailed from Russia originally.
If you're wondering if Kaspersky is still safe to use in 2023, and whether or not it's really a good antivirus, we'll unpack everything about Kaspersky in this review. Read on to find out what we think about this controversial antivirus brand.
Kaspersky Antivirus Features
| | |
| --- | --- |
| Malware scans | Yes |
| On-demand scans | Yes |
| On-access scans | Yes |
| Scan options | Quick, full, and selective |
| Quick scan duration | Around 7 minutes |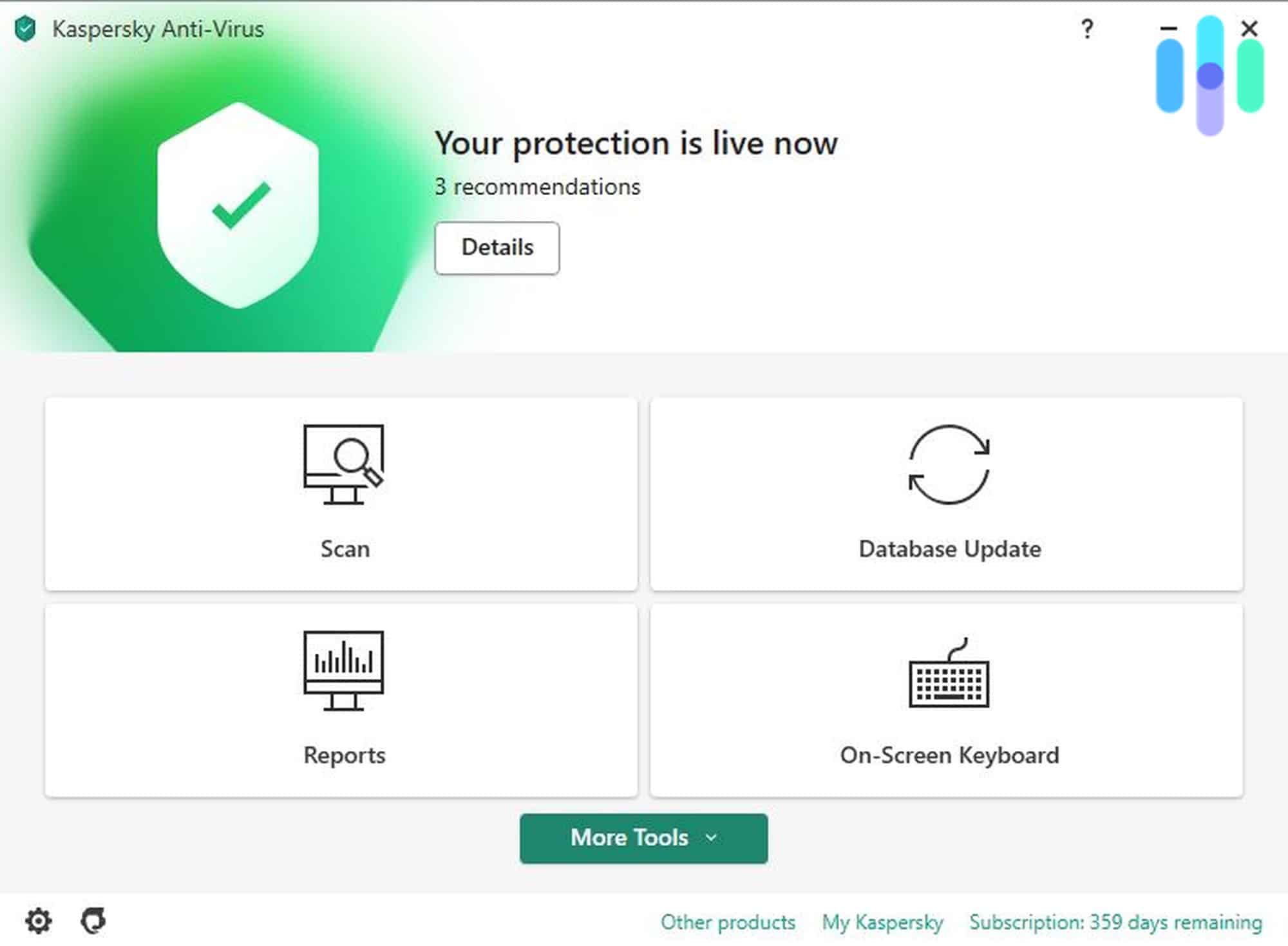 Editor's Rating
30-day money-back guarantee
Coverage for up to five devices
Free antivirus software available for Windows, Android and iOS devices
Company Background: Security Concerns?
First things first—let's address the elephant in the room. Kaspersky was founded in Russia in 1997, and it quickly emerged as a global cybersecurity leader. It even helped identify hacking plots run by governments.
In recent years, however, we've seen disturbing allegations of ties between Kaspersky and the Russian government, of which the U.S. government is not a big fan. This brought a lot of heat onto Kaspersky, not just from the U.S. government, but from other world leaders as well.
Kaspersky's Alleged Russian Ties
Rumors about Kaspersky started spreading back in 2012 when Bloomberg pointed out a pattern of new hires with connections to the Russian military establishment.1 In 2017, the U.S Department of Homeland Security banned the use of Kaspersky software by any federal agency, and Britain followed suit shortly after.2 Twitter has banned Kaspersky Lab from advertising on the site, and Best Buy even stopped selling the company's products.3 And the U.S argues that Kaspersky hacked into an NSA contractor's laptop through its software back in 2015.4
Kaspersky has denied ties with the Russian government and claimed that the bans are the result of U.S-Russia tensions. While that point is hard to prove, we found it reassuring that starting in 2018, Kaspersky started moving its data centers holding non-Russian data from Russia to Switzerland. It finished the relocation in 2020.
Exposure of User's Browsing Data
In 2019, journalists pointed out that the way Kaspersky protects users online, by injecting a snippet of code into URLs, could allow other companies to track a computer's browser traffic for advertising purposes.5 We don't think this is a reason to shy away from Kaspersky, though—advertisers work hard to find our data wherever they can. And more importantly, Kaspersky updated its code so that individual computers can't be tracked. If it still makes you nervous, you can adjust your settings to opt out of the code insertion.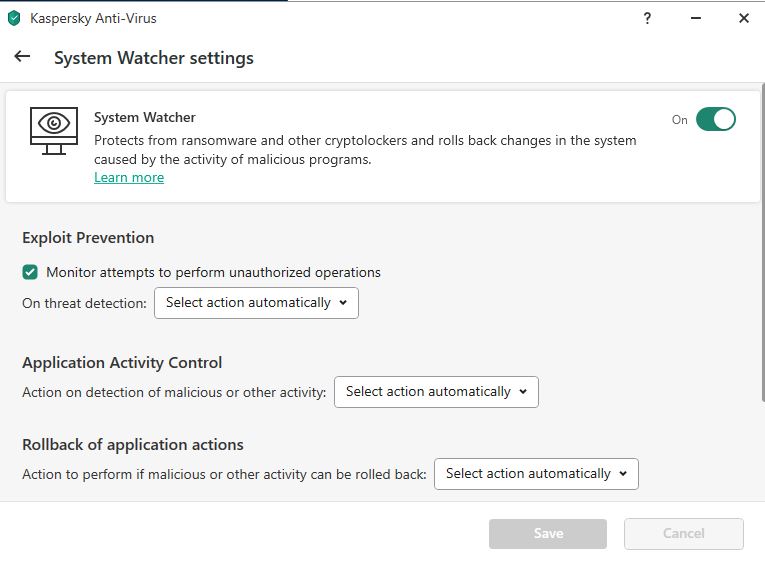 More Allegations About Kaspersky's Russian Ties
In April 2022, The German Federal Office for Information Security, known as BSI, urged the public to avoid using Kaspersky due to its ties to the Russian government. The BSI alleges that the firm could be implicated in hacking incidents related to Russia's war against Ukraine.
Around the same time, the United States Federal Communications Commission blacklisted Kaspersky from buying services, parts, and components from U.S. companies. The use of Kaspersky products, however, remains legal in the United States except on government computers.
Kaspersky responded with a statement reiterating its commitment to maintain the integrity and trustworthiness of its products. Kaspersky also reassured that data from non-Russian clients are sent to its Switzerland servers, a move the company made in 2018 after the first series of allegations about its ties to the Russian government.
What Malware Did Kaspersky Find?
Setting aside those allegations and concerns, the Kaspersky antivirus software itself has a strong reputation for being reliable at detecting potential threats. After all, with all the allegations about the company, Kaspersky wouldn't have lasted as long as it has if it's not good at doing its job.
Filled with curiosity, we signed up for a Kaspersky subscription to test exactly what makes Kaspersky a popular choice. After installing the software, we immediately checked what types of threats Kaspersky protects against and found that it can keep us safe from these threats:
Viruses (including complex botnets and bootkits)
Malware
Ransomware
Keyloggers
Network attacks
Phishing emails
Next, we ran a quick scan to see if any of those threats were present on our computer, and fortunately, Kaspersky turned up nothing.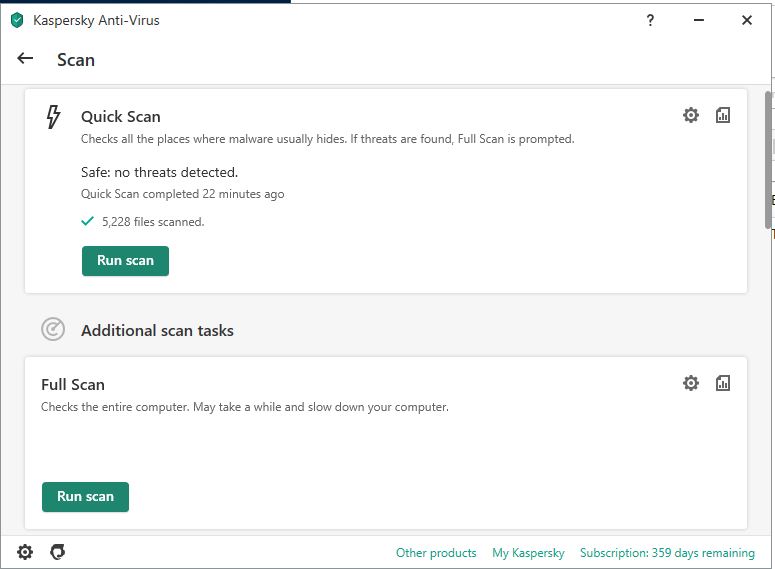 We'd like to note that we focused our tests on Kaspersky's virus protection, so we purchased the cheapest subscription available, which was Kaspersky AntiVirus. This software doesn't offer a firewall, child controls, or password storage, which are all useful in fighting other types of online threats.
Should you wish to add those features to your Kaspersky subscription, we recommend either the Kaspersky Plus and Kaspersky Premium plans. Those subscriptions offer all-in-one cybersecurity features that go beyond just malware detection.
Testing Kaspersky for Viruses
Going back to our tests, since Kasperksy didn't detect anything from our computer, we wanted to test how Kaspersky reacts if it does indeed detect malware and if it's any good at finding well-hidden viruses.
First, we created a sandbox of our computer system just to be safe, and then we downloaded five different virus files. They were all dangerous viruses pretending to be different files, like Word documents, spreadsheets, and .zip archives. We wanted to see if Kaspersky can detect all five viruses, and the result? It did, and as soon as it did, it quarantined the files so the viruses wouldn't spread.
We performed the same test on several other antivirus software, and out of all of them, only one other software earned a 100% detection score. This proves that Kaspersky really is one of the best software for detecting viruses.
And by the way, the other antivirus software that detected all five viruses was Bitdefender. You can read about our virus detection test in our in-depth review of Bitdefender.
Third-Party Tests Corroborate Our Results
Five viruses is a pretty small sample size, we must admit. To make sure we're on the right track, though, we looked to an independent antivirus testing initiative that publishes their results online.
AV-Test's most recent test of Kaspersky in June 2022 shows that on Windows, Kaspersky was able to detect 100 percent of widespread and prevalent malware detected within the last four weeks from the date of the test. It also shows that Kaspersky detected 99.4 percent of zero-day malware attacks. The results of their macOS and Android tests showed similarly excellent results.
Clearly, Kaspersky is more than decent when it comes to its core functions of detecting viruses and malware.
Purchasing and Installing Kaspersky
We thought purchasing Kaspersky was straightforward, and its sales tactics were certainly less aggressive than some competitors'. The company's website lists a number of options for computer security for both home and business, following the upsell model that so many companies share these days. It highlights three options—Kaspersky Standard, which we picked; Kaspersky Plus; and Kaspersky Premium. Unsurprisingly, the most expensive option (Kaspersky Premium) is "recommended."
For our purposes, though, Kaspersky Standard offered plenty of functionality, so we went ahead and purchased the product at an introductory offer of $29.99 for a year. We were pleasantly surprised to see that Kaspersky also offers a 30-day free trial that—rare in the world of subscriptions—doesn't require a credit card. While we were ready to go ahead and buy the software, we thought that was a compelling offer for a customer on the fence.
Once we purchased the license, the download went right through and took under a minute, even on our laggy computer. Unlike some other tiered-price software, we were glad to see that Kaspersky did not immediately try to upsell us. Best of all, there wasn't a pop-up in sight.
Our Experience Using Kaspersky Anti-Virus
Kaspersky Anti-Virus has a simple, clean interface focused mainly on its primary job of checking for viruses. It's broken into four main sections: scan, database update, reports, and on-screen keyboard, and it also has links to settings and additional tools. We'll run through them from the most simple to the most complicated.
On-Screen Keyboard
The on-screen keyboard feature may seem trivial — unnecessary even. But to those familiar with the keylogger method of hacking, this is a nice addition.
Hackers use programs that record keystrokes (a.k.a. keyloggers) to steal personal information, account passwords, and other data we type on our keyboards. It's a sneaky way to steal data and it's often left unnoticed.
With the on-screen keyboard, you can enter sensitive information onto your devices without using a physical keyboard, thus bypassing any keyloggers you might have on your devices.
Reports
Just as it sounds, Kaspersky's Reports section showed us details on the software's scans of files, web traffic, network threats, and more. That's also where we found data from one of Kaspersky's more advanced features, System Watcher. While we thankfully weren't the victims of a malware attack while testing the product, System Watcher provided us the ability to roll back the impact of a malware attack, like remote file locks.
Database Update
The Database Update section was just as straightforward. It let us know that the software was up to date with all of the latest information about threats, and was set to automatically update at regular intervals. We had the option to set it to refresh at certain times, but we thought it was best to leave the recommended auto updates in place. It's also possible to run a manual update.
Scans
Onto the most important part! The scans section is the meat and potatoes of this software. The scan menu offered a host of features, the most prominent of which is the Quick Scan. This scan, which we ran right away, took seven minutes. It focused on the areas on our computer most susceptible to viruses and malware. If it found anything troubling, the software would run a full scan of every single piece of information on the machine.
While our quick scan didn't find anything on our computer, we decided to run a full scan manually, even though Kaspersky noted that it "may take a while and slow down your computer." In our experience, that's putting it mildly—the full scan took hours (we started it in the mid-evening and were in bed before it finished) and our computer, which was already on the older and slower side, basically ground to a halt. This was definitely disappointing, though we can't say Kaspersky didn't warn us. Surprisingly, everything came back clean!
Our Advice: Starting full scans at night minimizes disruption from a slowed-down computer.
Other scanning options include Selective Scan, which we used to check out individual folders and files, and a removable drive scan to protect against any dangers on a USB or hard drive. We set each type of scan to run on a schedule of our choice (options included every hour, every week, or every time the application is launched). After our experience with the full scan, we appreciated that Kaspersky offers the option to set the software to only run when the computer is idle so it won't slow down important work. We ultimately set the software to run a Quick Scan every day and a Full Scan once a month at a time when the computer wasn't being used.
Despite the ease of changing the settings, we were surprised that the default setting on download was for manual (on-demand) for both basic and full scans. Though a warning stated that Kaspersky didn't recommend leaving it set to manual, we wouldn't have found that information had we not checked the settings. We found this strange. A number of other settings are enabled by default (like deletion of malicious tools and automatic launch of the software at computer startup). We did notice, however, that the "Background scan" mode, which scans sections of the computer like the system memory every six hours, was switched on by default. That's a start, but it's not enough for total protection. Kaspersky should probably make the scheduling settings more clear so that newer anti-virus software users don't inadvertently leave their computers unprotected.
As a whole, we found Kaspersky Anti-Virus to be very customizable. We especially loved the fact that there is a setting called "Gamer Mode". This mode automatically postpones scheduled scans if the computer is running an app like a game in full-screen. As avid gamers, we hate being interrupted by pop-ups or slowed down by programs running in the background, and we can report that we weren't interrupted at all during our test period.
Tip: Click the gear icon at the bottom of the app or the icons next to each of the scan options to customize the scan schedule.
We also appreciated that the software automatically postponed its tasks when the computer was running on battery or when the disks were running at high loads, reducing slowdowns. And we were grateful that Kaspersky allowed us to easily opt out of seeing special offers or receiving advertising from the company within the app. All in all, the app provided an experience that we found straightforward and customizable, and we appreciated the simple, easy to navigate design.
Kaspersky Anti-Virus Pricing
While Kaspersky offers several different levels of protection that combine antivirus with capabilities like VPNs and child settings, here we're focusing on the straight antivirus offering (but if you want to learn more about VPNs, read our VPN guide or our list of the best VPN options).
FYI: Kaspersky has several antivirus packages, including Kaspersky Plus and Kaspersky Premium. Kaspersky Premium, as the name implies, offers overall protection, including a GPS child-locator, which you can install on your kids' smartphones, and a password management tool.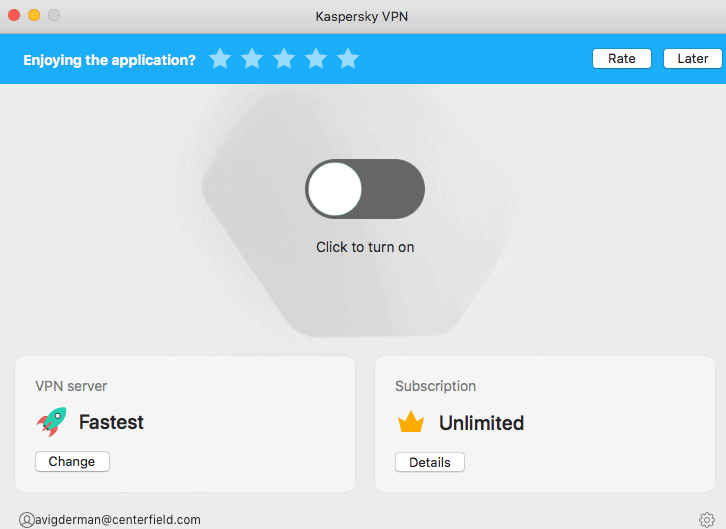 We paid $27.99 for one year of Kaspersky Standard (formerly Anti-Virus), which covered both our Lenovo ThinkPad and two other Windows computers. That price is a first-time customer deal, though, so we'll be sure to keep an eye on the renewal, which costs $56.99.
| Number of devices/ Duration of plan | Price |
| --- | --- |
| 1 year/3 devices | $27.99 |
| 2 years/3 devices | $55.99 |
| 1 year/5 devices | $31.99 |
| 2 years/5 devices | $64.99 |
| 1 year/10 devices | $43.99 |
| 2 years/10 devices | $87.99 |
As you'll see on our Kaspersky pricing page, this price is a little below several major competitors, which, combined with Kaspersky's skill at detecting viruses and malware, makes it a compelling choice.
Note: Kaspersky offers a 30-day free trial of each of its security packages—no credit card required!
Kaspersky Anti-Virus Customer Support
While we didn't have any real problems with our software, we did have some questions about how to maximize its effectiveness on our computer, so we checked out their online support page. Like many companies, Kaspersky first asked us to review their FAQs before moving further. The page also linked to a robust customer discussion section, where we found questions and answers about all sorts of viruses and problems. But we were glad to find that, unlike some products, Kaspersky did offer a way to reach an actual human being if necessary.
Kaspersky offers three options for this kind of help: online chat, support tickets, and phone support. All three are available 24/7, though Kaspersky asks that non-time-sensitive items go to a ticket and the phone is reserved for real emergencies. Since our curiosity probably didn't meet that bar, we didn't call—but we were glad to know it was available.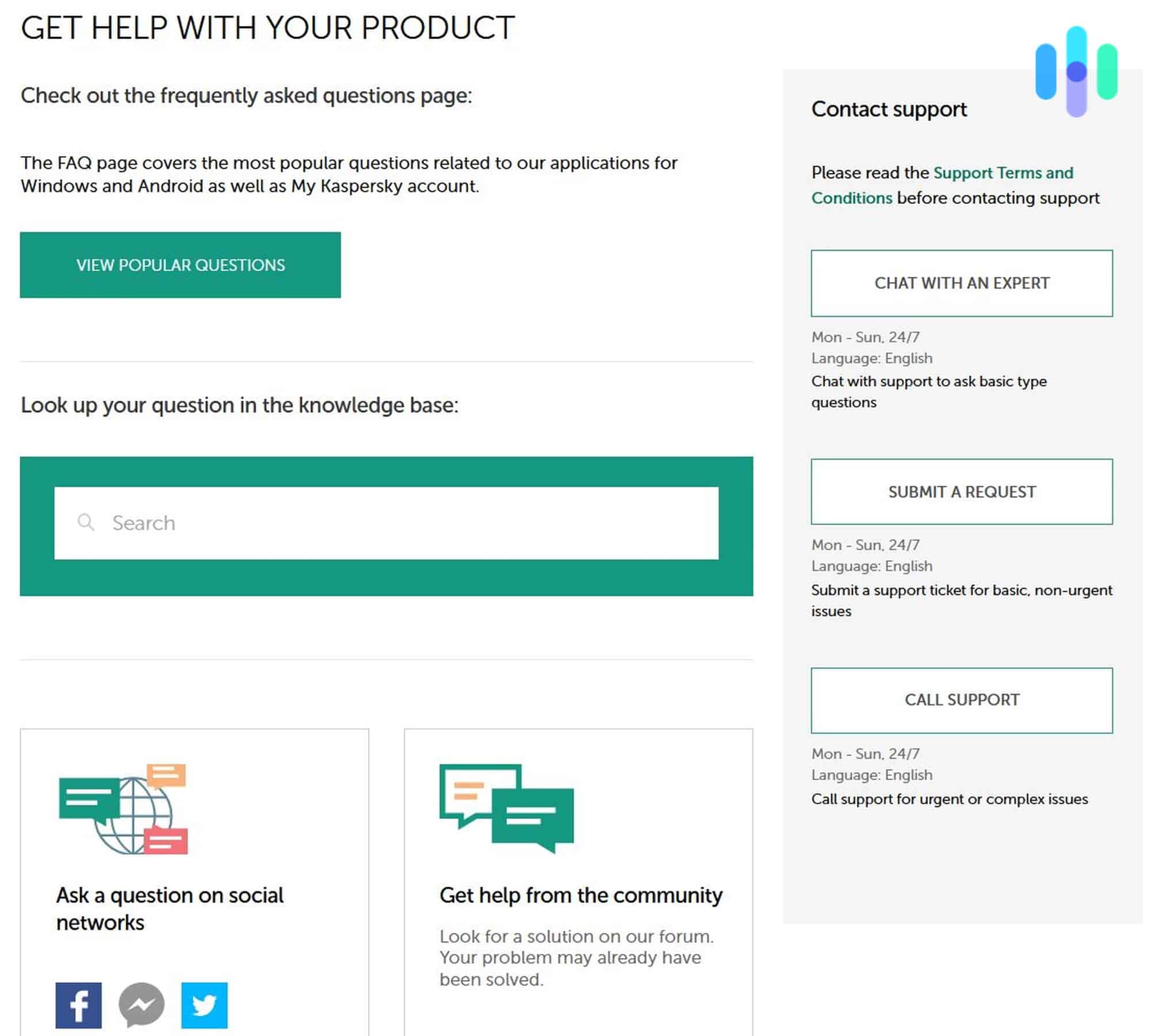 Kaspersky Anti-Virus App
While we tested Kaspersky's Windows app for this review, it's also available for Android and iOS devices, although they weren't included in the Kaspersky Anti-Virus package we purchased. In the Google Play Store, it's listed under Kaspersky Mobile Antivirus: AppLock & Web Security, alongside a shiny 4.8 customer rating. With a 4.7 rating, the iOS app can be found under the name Kaspersky Security Cloud & VPNWare on the App store. While we only tested the desktop app, those reviews are certainly a strong sign that the phone versions are also well-designed.
How Much Information Does Kaspersky Collect?
Given the concerns about Kaspersky's ties to Russia, we were eager to see what data the app is collecting. Here's what they collect, as revealed by their privacy policy:
Name
Email
Phone number
License information
Product stats (length of scans, etc)
Threats detected
Information about installed programs
Information about devices
URLs visited
Emails (all content)
Wi-Fi data
Operating system alerts
Information provided to Kaspersky tech support
Expiration date and last four digits of the credit/debit card used for purchase
Statistical information about browser type
Interactions with Kaspersky website
Stolen device data
Several other items may come onto this list in certain situations; for example, the app will track location data for users who purchase a package that includes the child GPS feature. We know this seems like a lot of data, but it's par for the course for antivirus software. Since the software needs to access all of our files and URLs to check that they're not carrying malware, this information is a necessity. However, Kaspersky's privacy policy does explicitly state that they do not sell user data. Note that this privacy policy refers to the desktop version we reviewed and may not be the same on Android or iOS.
Be prepared: Kaspersky Anti-Virus needs at least one RAM of memory and at least 1,500 MB of storage space on a PC.
Recap
We won't lie; we continue to have concerns about Kaspersky's potential ties to the Russian government, though that isn't as likely to affect individuals as it is companies or governments. But it's hard to argue against Kaspersky's performance. It outdid nearly all its competitors in testing, and its ability to roll back damage from malware is certainly attractive.
Want to know what else is out there? Check out our compilation of the best antivirus software, or to learn more about antivirus software in general, read our antivirus guide.