Best Antivirus Protection for Business
If you're deciding what antivirus is best for protecting your business, we've got you.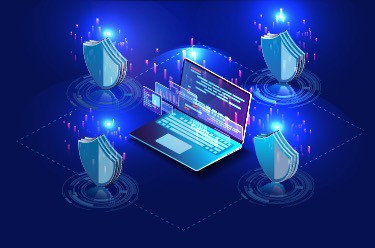 1,500+ research hours
40+ antivirus tested
200+ malware removed
20+ hours of total scan time
5 antivirus recommended
We all know that cybersecurity is important, especially when it comes to your business. The problem is, there's so much information out there and not nearly enough time to look through it all, especially when you've got a company to run and grow. Well, we've got some great news: we did the heavy lifting, and by that, we mean actually tested dozens of antivirus software for businesses, so that you don't have to. Let's, if you'll excuse the pun, get down to business and take a look at the best antivirus protection.
Features We Prefer
| | |
| --- | --- |
| Malware detection | Behavior-based |
| Malware scans | On-demand |
| Customer service | 24/7 phone |
| Malware definition updates | Continuous |
While Norton and Kaspersky were the crème de la crème in our batch, that's not to say we weren't impressed with the other contenders. Bitdefender, Avast, and McAfee also performed well when put to our very rigorous test. We know there are lots of variables when making decisions like these for your business, like customer service, data privacy, and the number of devices that can be connected, so we've laid out the basic information of each software below.
The Best Business Antivirus Software at a Glance
| System | Kaspersky Antivirus | Norton Antivirus | Bitdefender Antivirus | Avast Antivirus | McAfee Antivirus |
| --- | --- | --- | --- | --- | --- |
| Ranking | 1st | 2nd | 3rd | 4th | 5th |
| Ratings | 9.1/10 | 9.5/10 | 8.7/10 | 8.5/10 | 8.8/10 |
| Business subscription details | Starts at $99.99 for five devices for one year | Starts at $335.00 for 10 devices for one year | Starts at $100.00 for five devices for one year | Starts at $56.99 for one device for one year | Starts at $110.99 for three devices for one year |
| Free trial option | Yes, for seven days | Has a free version with limited features, and a 30-day free trial | Yes, for one device | Has a free version, but with limitations | Yes, 14-day free trial for Windows app, 30 day trial for iOS app |
| Money-Back Policy | 60 days | 30 days | 30 days | 30 days | 30 days |
| Virus Detection | Yes | Yes | Yes | Yes | Yes |
| Malware Detection | Yes | Yes | Yes | Yes | Yes |
| Firewall | Yes | Yes | Yes | Yes | Yes |
| Malware scans | On-demand and on-access scans | On-demand and on-access scans | On-demand and on-access scans | On-demand and on-access scans | On-demand and on-access scans |
| Behavior-based detection | Yes | Yes | Yes | Yes | Yes |
| Operating Systems | Windows, Mac, iOS, Android | Windows, Mac, iOS, Android | Windows, Mac, iOS, Android | Windows, Mac, iOS, Android | Windows, Mac, iOS, Android |
| Maximum Number of Devices that can be Connected | 20 | 100 | 20 | 100 | 100 |
| Ways to Reach Customer Service | Phone, live chat, FAQ database, social media channels | Email, phone, live chat, ticket system, FAQ database | Email, phone, live chat, FAQ database | Ticket system, FAQ database | Email, live chat, FAQ database |
| Read Review | Kaspersky Antivirus Review | Norton Antivirus Review | Bitdefender Antivirus Review | Avast Antivirus Review | McAfee Antivirus Review |
Summary: The Best Antivirus for Businesses
A Closer Look At Our Favorite Business Antivirus
1. Kaspersky Antivirus - Best Free Antivirus

Product Specs

| | |
| --- | --- |
| Virus Detection | Yes |
| Malware Detection | Yes |
| Firewall | No |
| On-demand Scanning | Yes |
| On-access Scanning | Yes |
| Behavior-based monitoring | Yes |

Pros

Aced our virus detection test
Additional features password manager and Kaspersky VPN available
Affordable pricing options
Can cover up to three devices

Cons

Accusations of ties to the Russian government
History of data breaches

1

Poor customer service options for free version
Only long-term contracts available

Streamlined User Experience

Kaspersky delivered on its promise of successfully detecting viruses. However, we really enjoyed the user-friendly interface. Kaspersky would be great to rollout across a group of employees because it's quite simple to navigate. The interface is divided into four quadrants for scanning, accessing the database for updates, viewing reports, and accessing the on-screen keyboard. As people who tend to have dozens of tabs open at once, we appreciate when software design doesn't overcomplicate things further.

Kaspersky Antivirus App Home Screen

Decent Free Option

They say that in business, there's no such thing as free lunch, but with Kaspersky, there's free antivirus protection. Typically, free versions of antivirus services are very watered down, usually to the point where it's just worth it for us to spring for the paid version. However, we were pleasantly surprised with Kaspersky Security Cloud Free, which aced our virus detection test. One user can protect all their devices, a particularly useful benefit in the age of remote working when employees increasingly use their personal devices for work. We also learned that the free version had on-demand and on-access malware detection and behavioral detection, and even some bonus features, like a password manager for up to 15 passwords and a VPN for up to 200 MB of usage each day. It's not much, but it should be able to defend your business computers from common malware. That being said, we recommend upgrading to a premium business antivirus plan if you want protection from more advanced threats, such as ransomware and Distributed Denial of Service (DDoS) attacks.

2. Norton Antivirus - Best for Business Overall

Product Specs

| | |
| --- | --- |
| Virus Detection | Yes |
| Malware Detection | Yes |
| Firewall | Yes |
| On-demand Scanning | Yes |
| On-access Scanning | Yes |
| Behavior-based monitoring | Yes |

Pros

Seamless mobile app experience
Perfect malware detection
Can easily bundle with other services like the Norton Secure VPN, credit monitoring, and NortonLifeLock, an identity monitoring service. Learn more in our NortonLifeLock review.
Customer support available via phone

Cons

History of data breaches
Costs only remain low for the first year
Subpar desktop experience
Parent company embroiled in legal disputes

Superior Mobile Experience

Norton goes above and beyond in two areas we care a lot about: customer service and the mobile experience. When we're on the go, we're pretty much glued to our phones, and we know that business owners often control their whole operation from their devices. The mobile app has a 4.7-star rating on both iOS and Android and passed a third-party audit with flying colors.

Norton App Home Page

Top-Notch Customer Service

Norton also set itself apart by having a customer service phone line. The representative we spoke to was knowledgeable and patient when answering our many questions about malware scans, and we appreciated it. Though it might be a bit old-fashioned, sometimes we just want to talk about our technical problems over the phone, with another real-life human being. When issues spring up, the last thing we want to do is spend time sifting through FAQs or talking to a bot. And when we're feeling anti-social or aren't dealing with something super time-sensitive, we can always default back to Norton's live chat or their database of resolved support tickets.

Pro Tip: We recommend conducting a full scan of your computer each month to ensure nothing has gone awry. We'd also employ quick scans each time you log on; these can run in the background and won't disrupt your device's performance.

3. Bitdefender Antivirus - The Best Antivirus Software for Business' Mobile Devices

Product Specs

| | |
| --- | --- |
| Virus Detection | Yes |
| Malware Detection | Yes |
| Firewall | Yes |
| On-demand Scanning | Yes |
| On-access Scanning | Yes |
| Behavior-based monitoring | Yes |

Pros

Scored 100 percent on our virus detection test
30-day free trial
Offered a wide range of options for pricing and subscription lengths
Can cover up to 20 devices

Cons

Must connect devices within the same household, which may be challenging for a business with multiple offices or remote workers
Logs an excess of data
Free version is extremely limited
Has a history of data breaches

Stellar Protection

Bitdefender got top marks on our antivirus software test, which is no cakewalk. In fact, it successfully detected all five virus-infected files, and we have to say, we're impressed.

Flexible Subscription Options

While protecting your business from viruses is the name of the game, we were also big fans of other features of the service, namely its affordability and menu of options so that we could find what fits our needs best. Bitdefender offered us contracts ranging from one to three years, and we could also select if we wanted to connect just one device, or up to 20. The cheaper end of the spectrum with a three-year contract costs $19.99, while a three-year contract across 20 devices was the most expensive at $499.99. We go through the entire menu of pricing options on our Bitdefender costs page.

Bitdefender – Connected on Mac Alert

Connect Up To 20 Devices

The ability to connect up to 20 devices at the same time was a total gamechanger. These days, our team is spread far and wide; some of us are going into the office and others are working remotely. We felt doubly safe knowing that no matter where we wanted to work from, we knew Bitdefender's antivirus reached us, and on our multiple devices, too! Not only that, but we were able to protect even our personal devices, which is always a plus.

Watchout: Bitdefender Antivirus for Mac also comes with a Bitdefender VPN to encrypt your web traffic and IP address. Getting a VPN is another crucial step to protecting your business, so this bundle makes a lot of sense to us.

4. Avast Antivirus - The Best Antivirus Software for Businesses that Use Mac

Product Specs

| | |
| --- | --- |
| Virus Detection | Yes |
| Malware Detection | Yes |
| Firewall | Yes |
| On-demand Scanning | Yes |
| On-access Scanning | Yes |
| Behavior-based monitoring | Yes |

Pros

Straightforward user interface
Can connect an unlimited number of devices
Successfully identifies malware and ransomware
Free version available

Cons

Cost will increase after first year
Limited customer service options
Has a history of selling user data to third parties
Logs an excessive amount of information

A Wide Range of Protection

Avast did a great job of scanning our Macbook Pro for all types of viruses, including malware and ransomware. We conducted tests on both the free and paid versions of the service, and found that they both performed well. The service's performance gave us the confidence to deploy the software across our team. And, did we mention we were able to connect an unlimited number of devices? That's quality and quantity.

Avast Antivirus – Scan Finished

Stay alert: Breaches involving web applications and unsecured cloud storage nearly doubled in 2019 compared to 2018.2

Flexible Money-Back Guarantee

While we didn't take issue with our Avast experience, we understand that there's never a one-size-fits-all solution, especially for businesses. We also felt that it was a less high-stakes decision, since Avast offered a 30-day money-back guarantee on its antivirus software (and all of its products). All we would have had to do is request a refund within 30 days of purchase.

5. McAfee Antivirus - The Most Affordable Antivirus Software for Business

Product Specs

| | |
| --- | --- |
| Virus Detection | Yes |
| Malware Detection | Yes |
| Firewall | Yes |
| On-demand Scanning | Yes |
| On-access Scanning | Yes |
| Behavior-based monitoring | Yes |

Pros

Affordable starting price
Can customize firewall protection
Detects threats in real-time
Extra protection for internet browsing

Cons

Takes a long time to scan
Slowed down our devices
Collects a significant amount of data
Too many notifications

Antivirus Protection on a Budget

When you're running a business, every cost matters. McAfee, with its $110.99 per year fee for three devices, offers quality protection for small businesses without breaking the bank. Considering the fact that this even includes access to the McAfee VPN, identity theft protection, and web protection features, we aren't sure how the deal could get much sweeter.

McAfee Web Protection Menu

Constant Scanning

The last thing we would want is to have to add "schedule virus scan" to the heap of tasks to get done. McAfee came in handy with real-time scanning, constantly checking our devices for anything suspicious. When we downloaded our test files containing malware, a notification sprung up notifying us that McAfee had identified and halted the virus from reaching our computer. We liked that we didn't have to do anything to stay protected, and we appreciated the ping to let us know that the service was doing its job.
Methodology
When making big decisions regarding cybersecurity and implementing those policies for your business, the devil is usually in the details. Given that investing in business antivirus software is a high-stakes choice when it's done on behalf of your company, we wanted to take you step by step through our thought process, and how exactly we evaluated each service. We don't rush our tests, in fact, our team evaluated each antivirus software for six months at minimum. This is going to be a long-term investment for your company, after all. We paid attention to how each product impacted our devices, and the process of making updates, such as, if they are automatic, or we have to follow a long and complicated process to get the most up to date firmware.
We looked at how each brand performed in virus detection, scans, behavior-based detection, price, and privacy policy. We also made sure to test every software across different operating systems, like Mac, iOS, Windows, and Android, so that everyone on your team can reap the benefits of each product, regardless of what their device preference is. Lastly, we take into account features that would make life as a business owner easier, like the ability to implement the protection across multiple locations, users, and devices. We also check what customer service resources are available in the event that problems spring up down the road.
Virus Detection
While bells and whistles are always nice, we start with the basics of what these services are supposed to do, which is, of course, detect viruses in files coming onto our devices. We perform a test where we download five files, each with a different type of virus or malware.  Some examples are spyware, computer worms, and trojans. Then, we scanned the files with the antivirus software and saw which most successfully detected the viruses. While most of the time, the programs detected at least three out of the five, every now and then, something slipped through the cracks. It's important that we know which services missed what types of threats, because in reality, it only takes one security breach to lead to a really big problem. We don't recommend trying these tests yourselves. While we're experts on properly testing virus detection without negatively affecting our devices, it's a delicate process, and the last thing we would want is for you to unleash malware on your devices.
Scans
The next thing we looked for is services' scanning capabilities. Services that scanned on-access search for threats whenever the software was running, even if only in the background. Otherwise, those with on-demand scanning perform scans only when we requested it or scheduled a scan. We personally prefer on-access scanning because it stops viruses and malware immediately, and we don't need to remember to scan our computers. However, it's also satisfying to be able to double-check that everything is running as it should with on-demand capabilities. In an ideal world, a software would offer both. It's our preference to do a full scan each month, and then perform quicker checks each time we log in to our device.
Behavior-Based Detection
Traditional antivirus software programs detect threats by comparing programs and files to a database of all known malware, a process called signature-based detection. The files get flagged as a threat if they share similar characteristics or code base. While that works great for detecting threats that we already know about, it's not so effective on malware that might not be included in the database. Given that tens of thousands of pieces of malware are created each day, it's crucial that antivirus software is able to detect newly-created threats on the fly.
Behavior-based detection, as opposed to signature-based detection, monitors suspicious behaviors of files. For example, one of the companies we tested used behavior-based detection to isolate a Trojan virus masquerading as a Word file, because the .doc file tried to get into our system's files. That's not typical for a Microsoft Word file, and it was flagged immediately. The behavior-based detection was perfect for detecting this possible threat because it wasn't in the databases of malware yet, so signature-based detection would have missed it completely.
Price
A tool can have everything your heart desires, but if it breaks the bank, it's just going to lead to the deprioritization of cybersecurity. For us, we want to make sure that there are options for everyone, and we are very well aware that you've probably got a long list of other business investments to make that are more fun than antivirus software.
Typically, an antivirus software subscription starts at $100 a month for three to five users, and increases in price as more users are added. Some services like Avast offer the option to purchase 100 memberships on the same plan for a $7,778 three-year contract.
We tend to provide cost for the year subscription option to make it easier to compare software prices apples-to-apples, but if there's a variety of pricing options, we'll be sure to point that out, too. We checked the maximum number of devices that can log on to one subscription, in the event that your team has grown and you don't feel like having to keep track of multiple logins.
We also checked if they have a free trial or even a free antivirus version. Free trials are the best way to take the softwares for a test run, in our opinion, because we get the full range of capabilities. The downside is that most only last 30 days, and protecting our devices from viruses is something we need to happen on an ongoing basis. A few of the companies also promote a free version of their service. In our opinion, they are not suitable for a business to deploy across employees, but they can still come in handy during the decision-making process, especially if you're more of a hands-on learner.
While the free options are enticing, we do find that they lack extra features like password managers or VPNs. While antivirus protection is the most important, many companies offer bundles that include antivirus protection along with a VPN service or identity theft protection.
Privacy Policy
And now, the grand finale. When we download any type of software onto our devices, we grant access to a lot of our information. While some of the information is necessary for the tool to function and do its job, a lot of it isn't, and when we click "I accept," on terms and conditions, we are essentially giving companies the right to our information. We take the time to actually read through antivirus companies' privacy policies to comb through what they're really gathering from their users. Some examples of acceptable data collected is payment information, contact details, and usage statistics, but when we find out that companies are tracking their users' browser activity or geolocation, that's a different story. We also see if companies are selling your information to third parties, a common practice. We give brownie points to companies that resist the urge to profit from their customers' information.
In addition to the privacy policy itself, we also investigate each company's history. We do some sleuthing on Google to see if there were any data or security breaches, and in general, if the company has been caught up in bad behavior. That includes providing customer data to the government, or even collaborating with foreign powers. Though it is never acceptable for a cybersecurity company to fail protecting their own customers' data, we do offer the chance for redemption. We're sure to check what the companies have done to rectify their past issues.
Frequently Asked Questions
In case that wasn't enough information, here are the most common questions we receive about antivirus software for businesses.