Ring Video Doorbell 3 Review and Pricing
Ring was the first company to bring video doorbells to the masses, and recent entries to their product lines continue to bring more innovations to this area.
What We Like
5GHz network for a faster and more reliable connection
Adjustable "near" motion zones with a five to 15-foot range
Compatibility with Alexa and Amazon devices such as Echo Show
What We Don't Like
Limited faceplate options
Artificial intelligence isn't included
Can't zoom in on camera
Before its acquisition by Amazon, Ring was known as Doorbot and appeared on Shark Tank with its flagship product, the video doorbell. Since then, Ring has produced a plethora of video doorbell options, along with security systems and cameras.
Rather than the traditional doorbell, video doorbells provide real-time footage of who's at the door and live communication via the two-way audio feature. We'll be taking a look at the Ring Video Doorbell 3 and its core features.
So without further ado, let's delve into the review and find out if Ring's next-generation doorbell is the right video doorbell for your home.
Ring Video Doorbell 3 core features
| | |
| --- | --- |
| Alexa integration | Yes |
| Motion alerts | Yes |
| Doorbell ring alerts | Yes |
| Motion zones | Yes |
| Live streaming | Yes |
Editor's Rating
Two-way audio with noise cancellation
Integrations with Alexa and Google Assistant
Works on 5 Ghz Wi-Fi networks
Is The Ring Video Doorbell 3 A Good Buy?
Video doorbells from Ring tend to be good-value purchases, and the Ring Video Doorbell 3 is no exception. It improves upon the technology of previous Ring doorbells, and it's relatively affordable. However, its limited faceplate options and lack of artificial intelligence is a turn-off for some. So if you're looking for more options, check out these other brands we've tested:



How's It Look?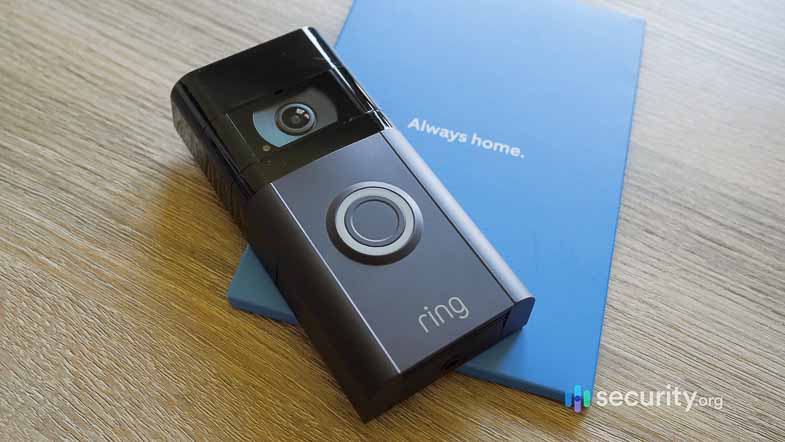 Design-wise, Ring Video Doorbell 3 sticks to what the Ring video doorbell family knows best: rectangles. We were limited to two faceplate colors, Satin Nickel and Venetian Bronze, both of which were included in the box. While we could go for a few more color options like the Ring Video Doorbell Pro, the sleek and modern design with a light blue rim around the button was aesthetically pleasing.
Beyond appearances, the Ring Video Doorbell 3 operates in temperatures from negative five to 120 degrees Fahrenheit. That worked for us, as we live in New York which is well within that temperature range. There were two options for installation: hardwiring into an existing doorbell system or inserting the rechargeable, quick-release battery pack into the Ring Video Doorbell 3. We go into more detail about our installation experience below, but having options is always a plus for us.
What's Great and Not so Great About Ring Video Doorbell 3
One huge improvement from the Ring Video Doorbell 2 to 3 is that it works on a 5GHz network. What does this mean? We received notifications a lot faster than when we hooked up the video doorbell to the 2.4GHz network. We could also set up adjustable motion zones in areas just five to 15 feet in front of our apartment. This spared us the headache of false notifications whenever our Ring Video Doorbell 3 detected motion in areas we didn't want to focus on, like the busy Brooklyn sidewalk and street in front of our building. Other core features that we liked included 1080p HD video, two-way audio, a 160-degree field of view, infrared night vision and an Alexa integration.
However, the Ring Video Doorbell 3 wasn't all positive. There's no artificial intelligence feature where the camera can discern people from other moving objects such as the neighbor's cat or passing cars, so did receive some false alarms, even with the motion zones. Plus, storage wasn't included so instead, we had to sign up for one of the Ring Protect plans. Finally, at $199.99, the Ring Video Doorbell 3 isn't the lowest priced doorbell camera from Ring, so it's not the best option for someone on a super tight budget.
The Setup Process
Like we mentioned earlier, installing the Ring Video Doorbell 3 could go two ways: hardwiring it to our existing doorbell setup or simply relying on the rechargeable quick-release battery pack. We went with the latter since we live in an apartment and don't have an existing doorbell system. First things first, we downloaded the Ring — Always Home app on our phones. Next, we inserted the battery pack into the Ring Video Doorbell 3 before tapping on "Add Device" on the app. After following the on-screen instructions, we were ready to mount it up on our front door with the provided screws before clicking its faceplate into place. And voila — our Ring Video Doorbell 3 was good to go.
If we needed to recharge the battery, we only had to remove the faceplate, press the release tab to take out the battery and then charge it with the micro-USB charger that was included in our box. Recharging took anywhere between five to 10 hours before the battery was ready to reinsert in the Ring Video Doorbell 3.
Pro Tip: If you don't want any downtime while the battery is charging, you can purchase a second battery pack.
Life With the Ring Video Doorbell 3
Here is where we break down our experience with the Ring Video Doorbell 3.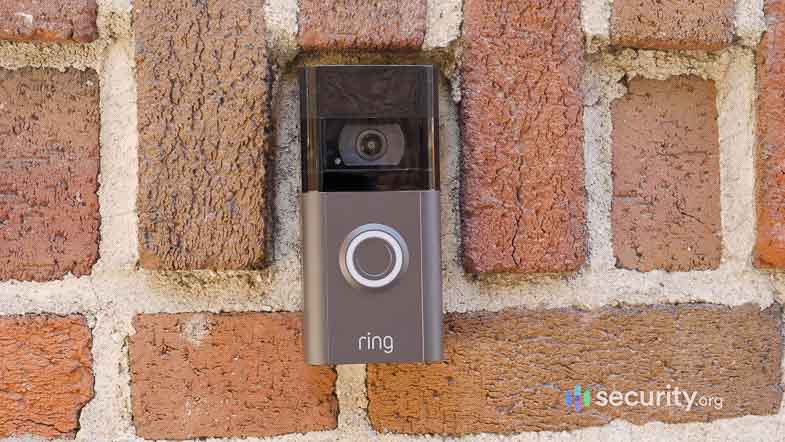 Video: 1080p HD is the standard among video doorbells and security cameras alike. However, we couldn't zoom in, so that was a little frustrating; we would've liked to control the camera rather than keeping it still. With 1080p HD and a 160-degree field of view, though, the Ring Video Doorbell 3 allowed us to clearly see the friends and family who visited our apartment, so it wasn't entirely a lost cause.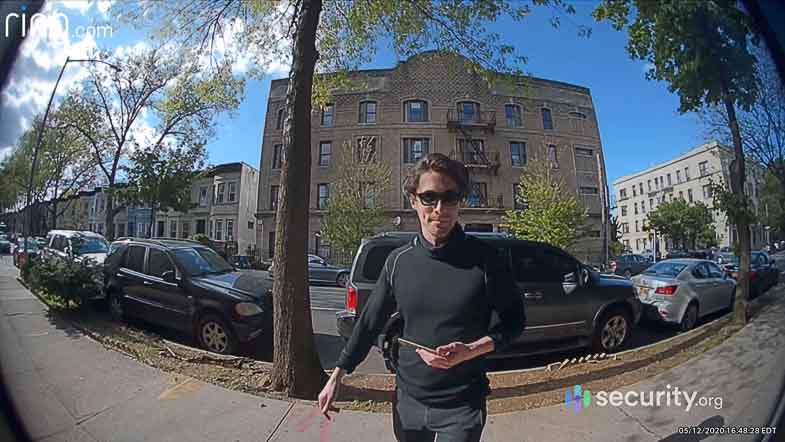 Audio: The two-way audio feature is essentially a speaker and microphone built into the 3. Whenever we were away from our apartment and expected packages to arrive, we'd let the delivery folks know that they could just leave them at our front door, talking to them directly through the Ring app. The surprise and confusion from some of the delivery guys when we first greeted them gave us a good chuckle!
Night Vision: Among our group of friends, we have a few who are night owls and love to drop by our apartment late at night (with permission, of course). The Ring Video Doorbell 3's infrared night vision gave us a clear view of our visitors' faces as shown in the picture below.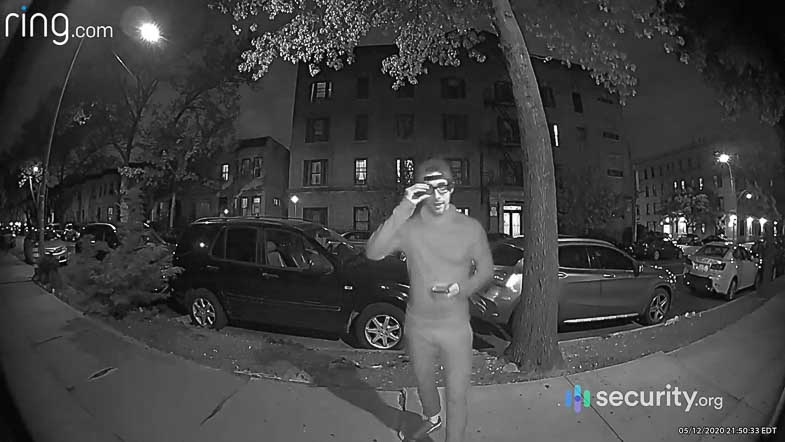 Storage: To access our video history, we signed up for the Ring Protect Plus plan, which gave us 60 days of cloud storage. Sadly, local storage isn't an option, so we had to download the videos from our cloud storage and transfer them to one of our many micro-SD cards.
Motion Detection: As stated previously, one of the very few improvements of the Ring Video Doorbell 3 is the adjustable motion zone which was a godsend to us apartment owners living in a very busy neighborhood. We adjusted the range of these motion zones within 15 feet of our front door so we didn't receive unnecessary notifications from cars or bicyclists passing by. We mentioned that artificial intelligence could reduce these notifications even further by detecting people only, but motion zones can help as well.
Video Review
We made a video to show our readers the footage from the Ring Video Doorbell 3, day or night! Watch below to see it in action.
A Closer Look at Ring's Monitoring & Storage
If we had to choose a company that offers the most affordable monthly subscriptions in the market, it would have to be Ring. There are two Ring Protect plans: Basic ($3 per month or $30 per year) and Plus ($10 per month or $100 per year). For both plans, 60 days of cloud storage is included. We chose the Protect Plus plan because we could never say no to cellular backup, which would keep our Ring Video Doorbell 3 up and running in case our Wi-Fi connection went out. We also couldn't turn away from 24/7 professional monitoring; a team of responders would dispatch local authorities on our behalf if the situation calls for them. We should mention that the Basic plan only activates video recording for one device while Plus activates video recordings for all devices at one location. Here's a detailed overview of our Ring monitoring and pricing page.
In short, we would recommend the Protect Plus plan for those who are constantly busy throughout the day and would feel more assured with a professional monitoring team to back them up. For either of Ring's plans, no contracts are required if you sign up for the monthly option. We liked that we could cancel at any time without worrying about paying early termination fees or even cancellation fees. None of that mumbo jumbo here!
Money Saver Alert: If you sign up for Protect Plus, you can save 10 percent off select Ring products. If you opt for annual payments, you can save $6 per year on the Basic plan or $20 per year on the Plus plan.
Introducing the Ring — Always Home App
We'd like to note that the Ring — Always Home app's ratings actually improved ever since they launched a new generation of products. Currently, ratings are 4.1 for iOS and four for Android.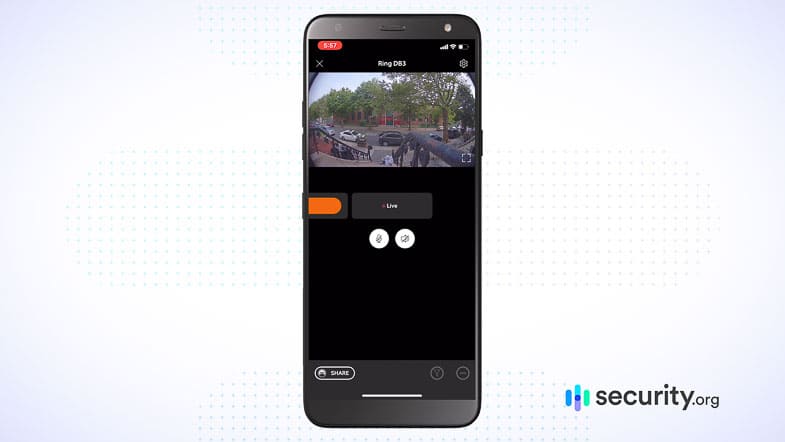 Like we mentioned before, when we began setting up our Ring Video Doorbell 3, we installed the app on our phones. That way, we could activate the device and follow the on-screen instructions to complete the process. When we played around with the app, we noticed a few things. First, we could connect other Ring devices and control them all at once without having to create separate accounts for each device. In addition to that, every time our Ring Video Doorbell 3 detected motion or someone pressed the doorbell, we received notifications at almost lightning speed on our phones, thanks to the 5GHz network. We could also adjust motion zones if we wanted a farther reach than 15 feet as well.
Who could forget the two-way audio feature and live footage? Whether or not we were at home, we could easily talk to visitors through the app and check to see if there was any activity throughout the day. We also had access to our video recording history and device activity, which was super convenient. Even more convenient was when the professional monitoring team analyzed suspicious activity and dismissed it as non-threatening — we could later check this activity on the app. It was nice to be connected with the 3 even when we were on the other side of the world on vacation!
Our Time With Ring's Customer Support
Whenever we encountered issues, we could always rely on Ring's website to supply guides, video tutorials and FAQs. We also communicated with Ring's customer support team via live chat by sending a quick question about mounting the Ring Video Doorbell 3 on our front door. From our experience, live chat provided us answers at a faster rate than emails or calling, but for troubleshooting that can't be found on the website, you can never go wrong with a phone call. We're just as reluctant as everybody else when it comes to calling customer support, but sometimes a direct conversation with a human being is better than three dots in a thought bubble.
Alexa and Google Assistant Integrations
| Alexa capabilities | Google Assistant capabilities |
| --- | --- |
| Show footage on Fire TV Stick, Echo devices | Talk through two-way audio |
| Stop Ring feed | Start a new recording |
| View cloud storage | Get a health update of device |
| Get notified when doorbell rings, there is motion or people detected | Review last notification |
It's obvious by now that Ring devices work with Alexa, being an Amazon-owned company and all. Google Assistant is also compatible with the Ring Video Doorbell 3 along with third-party devices such as EcoLink, Leviton, and Dome, to name a few. Personally, we named the video doorbell "Front Door" so we could save our breath from uttering a few extra words. With our Ring Video Doorbell 3, we could have Alexa perform a few actions, paired with our Echo Show:
"Alexa, show Front Door."
"Alexa, stop [live feed]."
"Alexa, show me the last activity from Front Door."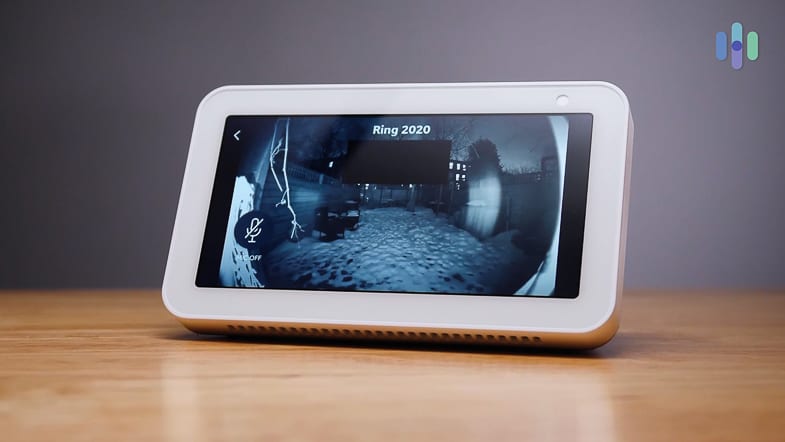 Although Alexa's skills are smaller in number with the Ring Video Doorbell 3 alone, we've tested and discovered more skills from other Ring devices. A recent report revealed that Alexa's skills have grown from 130 since its launch in 2013 to over 100,0001 in 2019. We're not sure whether we should praise Alexa or be afraid of just how capable the voice assistant can be. Nevertheless, Alexa helped us out when we didn't feel like lifting a finger.
Tip: It's important to rename your Ring devices if you have more than one — that way, Alexa can discern which device you're talking about. We recommend naming each device after its location, i.e front door, kitchen, backyard, etc.
See how Ring measures up in the industry
Ring is a great choice, but there may be better options out there. See how Ring compares to our favorite security systems.
In Other Words…
For the price of $199.99, the Ring Video Doorbell 3 has all the essential features that we needed from a video doorbell: 1080p HD video quality, two-way audio, infrared night vision and 160-degree field of view. The very few improvements were a step forward in the right direction.
It's no question that video doorbells are becoming homes' first line of defense as damaging or removing doors is considered the most common type of forcible entry in burglaries.2 We recommend the Ring Video Doorbell 3 for those who prefer a reliable connection via the 5GHz network. It's a good middle-ground for when you want upgraded features from the Ring Video Doorbell 2 but could go without the extra $30 investment for a fancy feature in the 3 Plus.
Ring's list of video doorbells is extensive, to say the least, so you'll have to heavily consider your choices. From what we experienced, the Ring Video Doorbell 3 provided the protection we needed to feel assured, and Ring's affordable monthly plans cannot be beaten. Check out our general Ring Doorbell review for an in-depth look at all of Ring's video doorbell offerings.