Zmodo Greet Pro Video Doorbell Review
We love that the Greet Pro works with Alexa and Google Assistant for hands-free commands.
What We Like
Excellent video: With a super-wide field of view, zoom, and 1080p HD, there's very little I could ask for regarding the Zmodo Greet Pro's video quality.
Two-way audio: A staple of any video doorbell, the Zmodo Greet Pro comes with a speaker and microphone for two-way audio.
Infrared night vision: Whether your guests are visiting at night or during the day, you'll be able to see them clearly through the Zmodo Greet Pro.
What We Don't Like
Low-rated app: In general, customers were not liking the Zmodo app and said that the doorbell has some serious functionality issues.
No connectivity other than Wi-Fi: Your ability to use the Zmodo Greet Pro's smart features will depend on your Wi-Fi connection, so if your Internet goes down, so does your video doorbell.
Limited temperature range: Those who live in climates that get colder than 14 degrees Fahrenheit should probably not invest in the Zmodo Greet Pro.
Bottom Line
1080p HD video, a 180-degree field of view, and infrared night vision. Those are just some of the features we loved about the Zmodo Greet Pro, not to mention its two-way audio and integrations with Alexa and Google Assistant.
I remember one of my first apartments was super long and narrow, and my bedroom was at the very back. Whenever anyone rang my doorbell, I had to literally run to answer it, and sometimes, I was too late.
That problem is solved with video doorbells. Video doorbells connect your doorbell with your phone so you can be notified whenever you have a visitor. On top of that, you can also see and speak to your visitor through your doorbell's camera. This is a great way to greet your guests or shoo away annoying salespeople; whatever the day calls for.
In this Zmodo doorbell review, I'm taking a look at the Greet Pro, specifically. Now, Zmodo may not be the best-known smart home brand in the world, but they have over a decade in business and have sold almost eight million products around the world. Of course, just because something is popular doesn't make it right, which is why I'm doing a deep dive on the Zmodo Greet Pro. Let's see if it fits my very-high standards.
Key Features
| | |
| --- | --- |
| Installation | Hardwired |
| Wi-Fi compatibility | 2.4 GHz and 5 GHz |
| Video resolution | 1080p HD |
| Viewing angle | 180 degrees |
| Zoom | 4x digital zoom |
Editor's Rating
Hardwired setup requires existing mechanical doorbell
Adjustable infrared night vision
Works with Alexa and Google Assistant
More Security.org Recommendations
Check out more of our favorite doorbell cameras.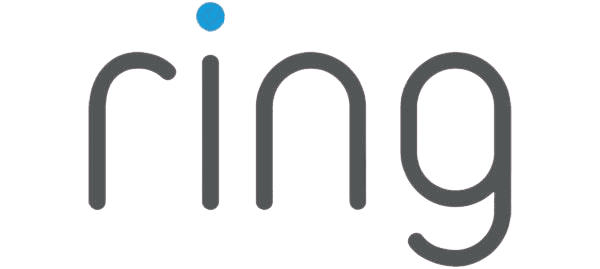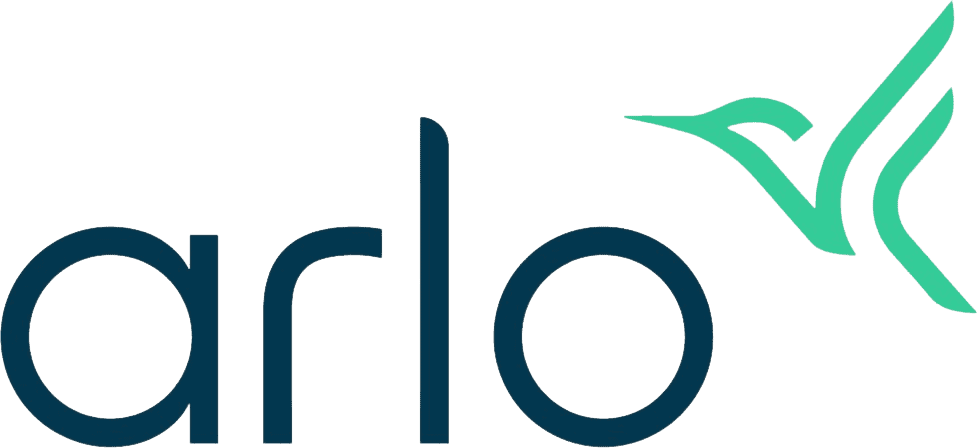 Zmodo Greet Pro Pros and Cons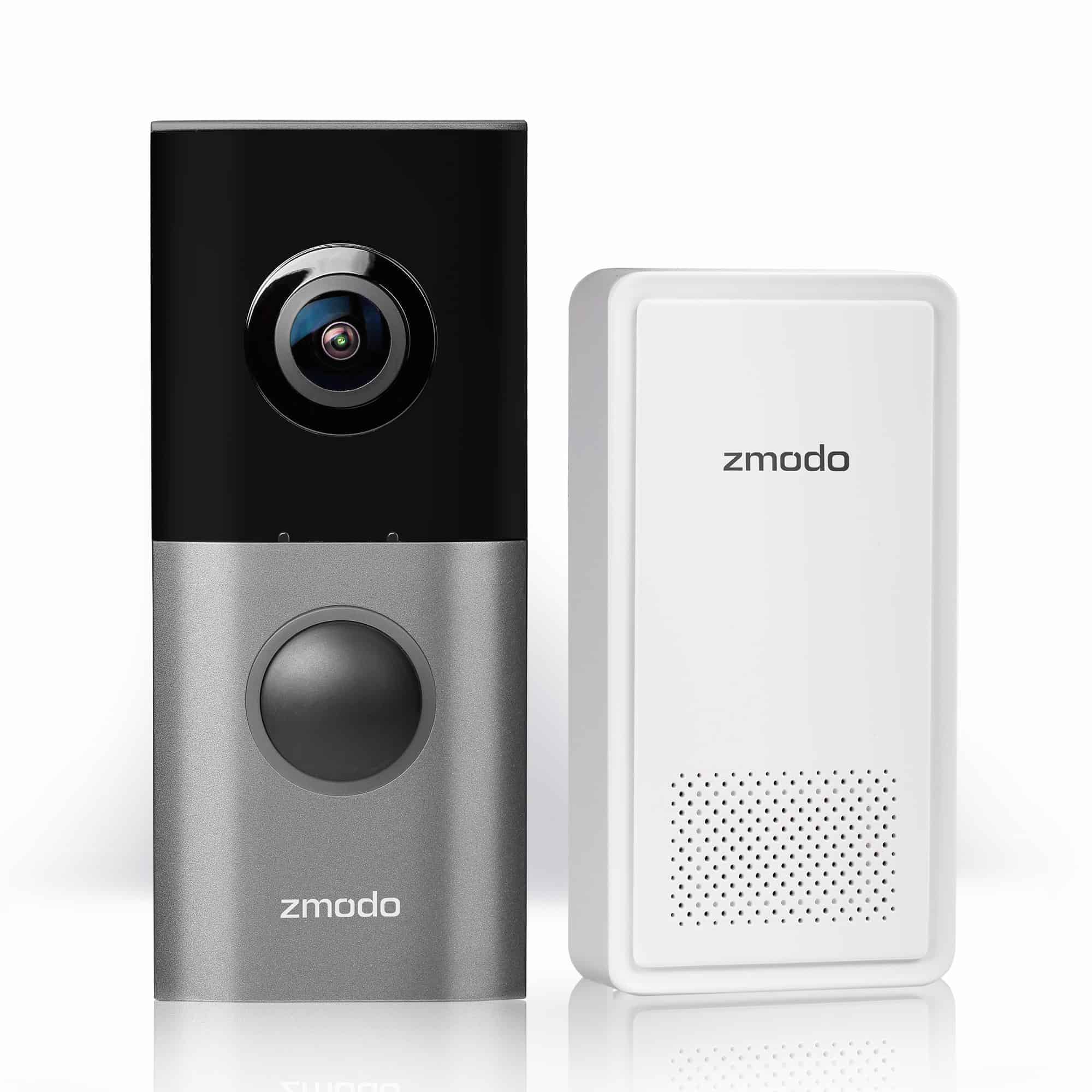 Before I go too far into detail, let me tell you about the key pros and cons of the Zmodo Greet Pro.
I like that the Zmodo Greet Pro has 1080p HD video display, a 180-degree field of view, and infrared night vision.
What I'm not loving is its temperature range of 14 to 122 degrees Fahrenheit, which makes it a poor choice for those in cold climates. It also lacks person detection, and the Zmodo app has really low ratings from both iPhone and Android users alike.
Zmodo Greet Pro Design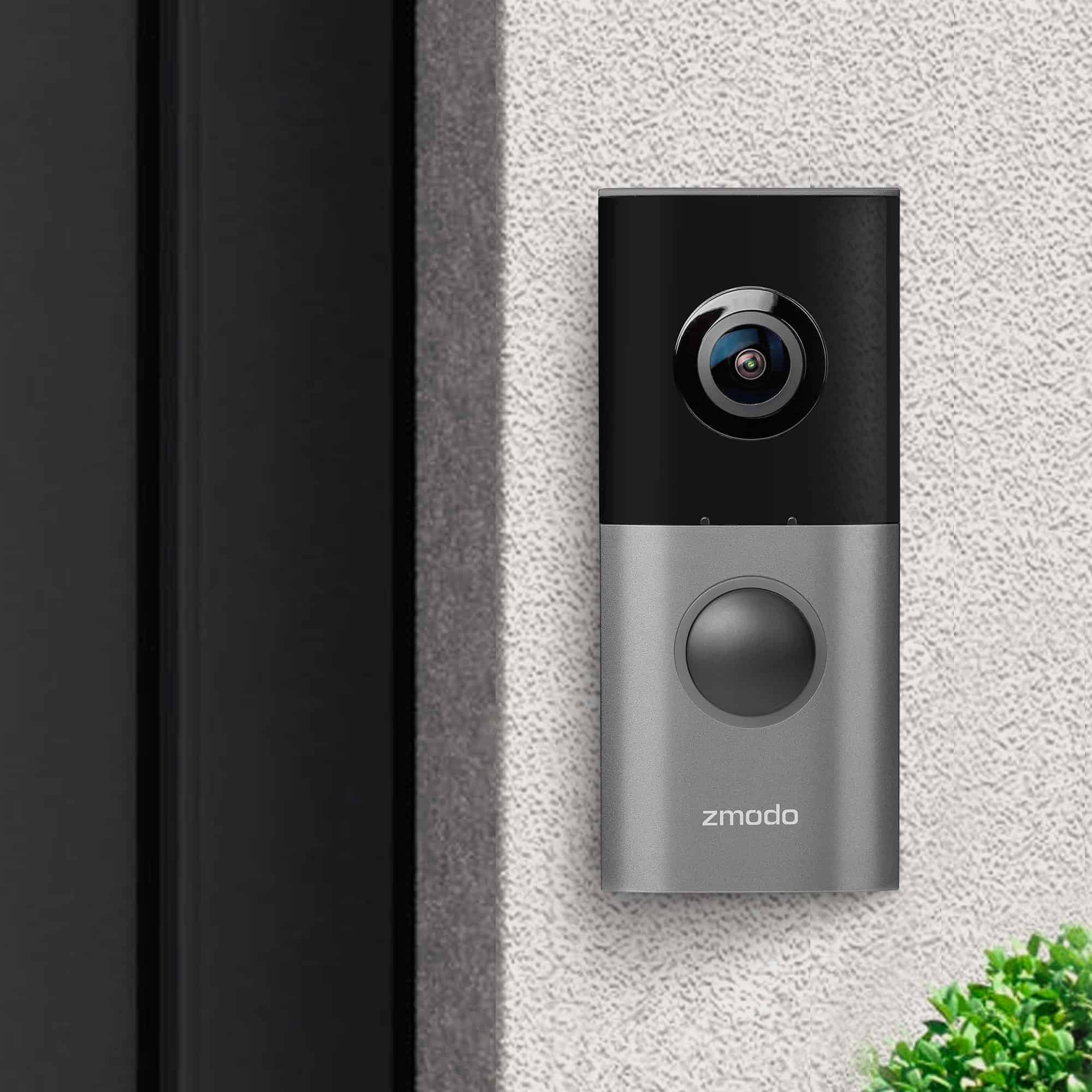 Minimalist. Sleek. These are the words that come to mind when I think about the Zmodo Greet Pro. Shiny silver with a black face, it's a very simple design in a classic rectangle shape. The doorbell camera works in temperatures from 14 to 122 degrees Fahrenheit, which may not work for some of the colder places (and even some East Coast places during the winter). Of course, it depends on where you live, and I'm sure most places in the continental U.S typically stay within this range.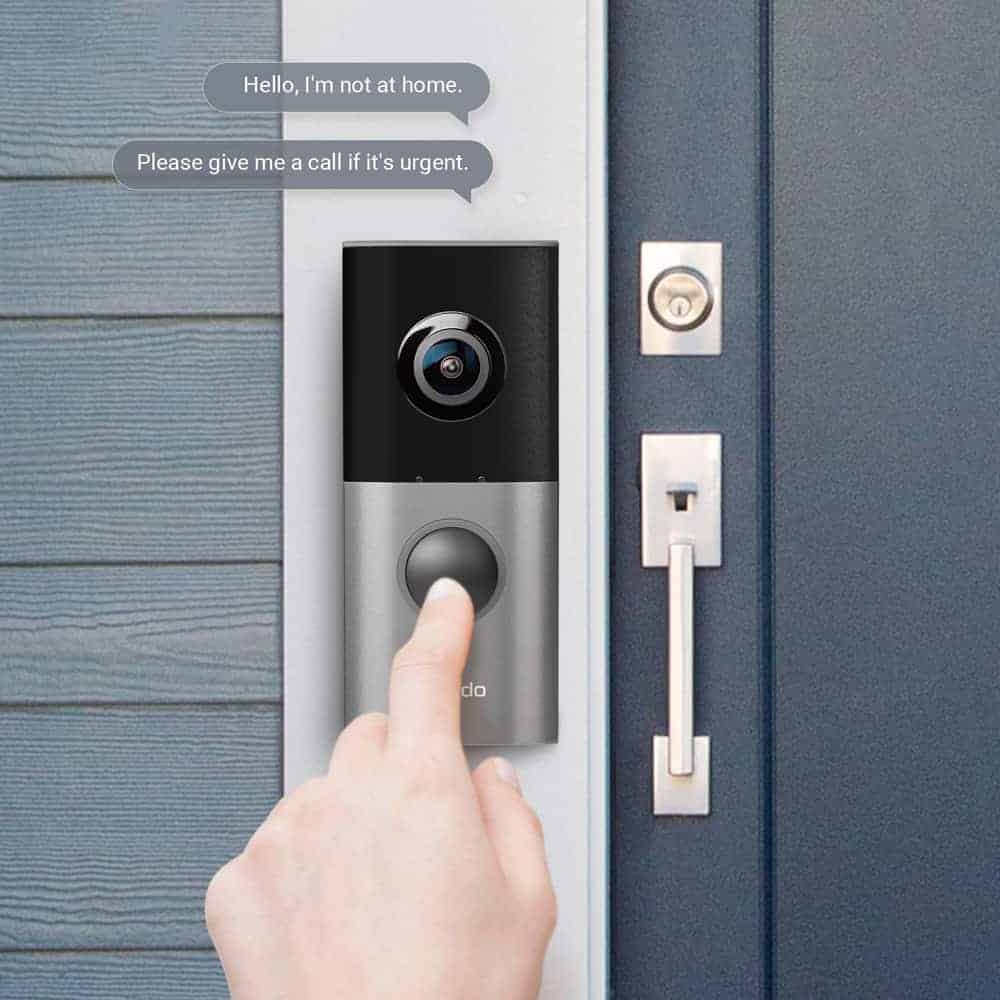 One of the best things about the Zmodo Greet Pro is that it's hard-wired into your home and uses power from your existing doorbell, so you'll never have to worry about changing the battery. The camera will record either all the time or whenever it picks up on motion— it's your choice. To connect to the Zmodo app, the Zmodo Greet Pro will need Wi-Fi, so make sure your connection is strong. Remember, if the Wi-Fi goes down, so does your new video doorbell.
Zmodo Greet Pro Features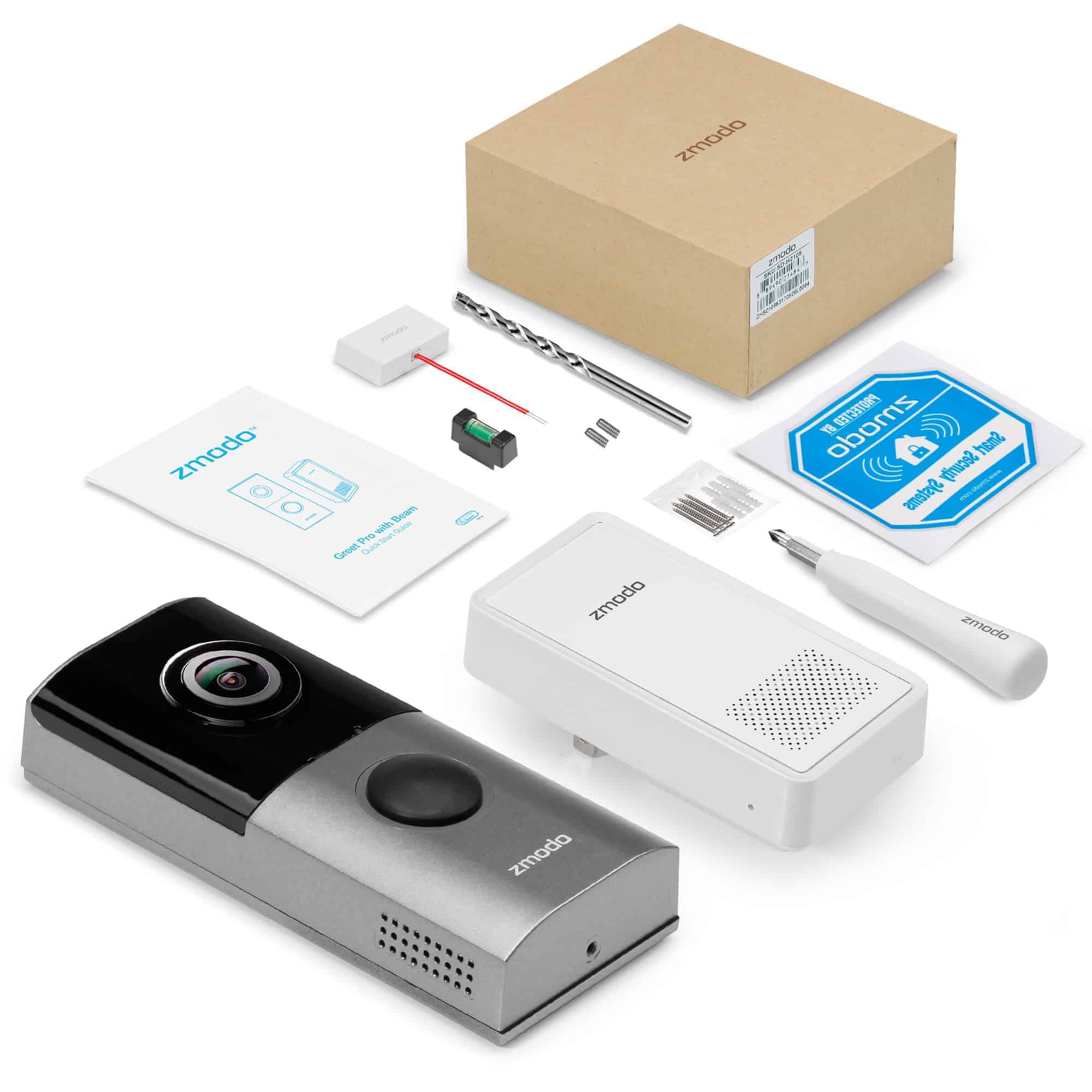 Whether you're reading my reviews for the first or the fiftieth time, you've probably figured it out that I'm a huge stickler when it comes to technical specifications. In fact, I use our Necessary Features Test on all my video doorbells, because after all, they have cameras too! Will the Zmodo Greet Pro be able to keep up?
Video
In terms of video, the answer is a resounding yes. Not only does the Zmodo Greet Pro have the industry standard of 1080p HD, but it also lets you zoom in four times digitally, and it has a field of view of 180 degrees. In case you missed geometry class, this is the widest possible viewing angle, so overall I'm incredibly pleased with the Zmodo Greet Pro's video quality.
Audio
No video doorbell would be complete without two-way audio! Fortunately, the Zmodo Greet Pro has the speaker and microphone necessary to make that happen. Tell your guests to come inside, ask the mailman how his day is going, or say nothing at all— the choice is yours, wherever you may be.
Night Vision
On another positive note, the Zmodo Greet Pro has infrared night vision, which I prefer over color night vision. Why do you hate colors, you may be thinking. The truth is, I don't. But I'm not a huge fan of the bright white light that enables color night vision in the first place. Not only will it blind your visitors, but it also makes the camera incredibly noticeable, and I prefer my home security to be on the stealthy side. The bottom line? I'm very pleased with the Zmodo Greet Pro's night vision.
Storage
| Storage Option | Basic | 7 Day Plan | 30 Day Plan |
| --- | --- | --- | --- |
| Alert clips for past 12 hours | Yes | No | No |
| Days of alert clip storage | No | 7 | 30 |
| Pay per Camera (additional camera subscriptions 50% off) | No | No | Yes |
| Monthly Cost | $0 | $4.99 | $9.99 |
| Yearly Cost | $0 | $49.90 | $99.90 |
| Yearly Savings | $0 | $10 | $20 |
You're going to want to keep the footage that you take with your Zmodo Greet Pro, which is why I'm glad that they offer cloud and local storage. You can either download footage straight to your phone or use cloud storage (but I recommend doing both for backup). If you want more than 12 hours of cloud storage, however, it's going to cost you. However, the prices are really reasonable, so overall I'm happy with the Zmodo Greet Pro's storage options.
Smart Platform Integration
Are you in the Amazon or Google smart home ecosystems? Then you'll love commanding the Zmodo Greet Pro using only your voice. It works with Amazon Alexa and Google Assistant, making it a great addition to your smart home.
Artificial Intelligence

Unfortunately, the Zmodo Greet Pro doesn't have person detection or facial recognition, so you're going to receive some unnecessary notifications from movement from pets, cars, and other inanimate moving objects.
Installing the Zmodo Greet Pro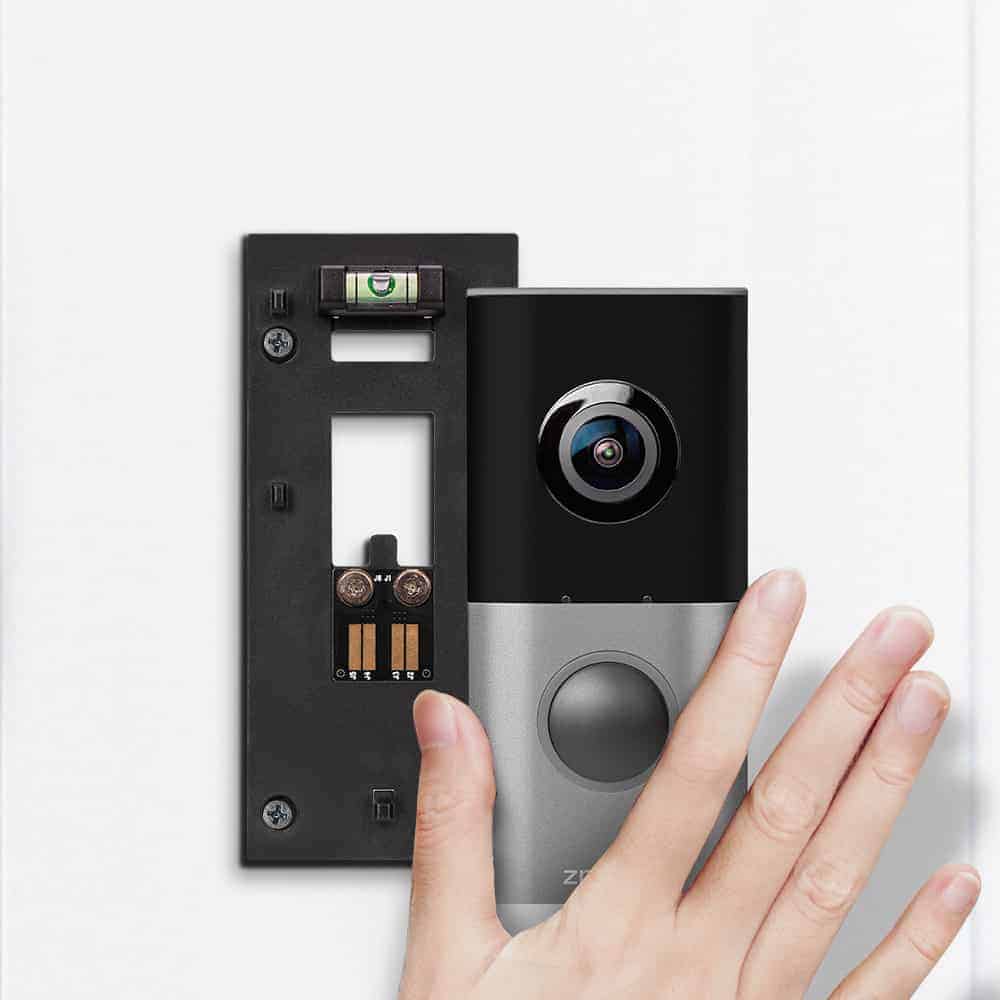 Installing the Zmodo Greet Pro requires a mechanical doorbell, but it's something you can do yourself.
Zmodo Greet Pro Extras
Those are the basics of the Zmodo Greet Pro, but they also offer a couple of extras that I'd love to tell you about.
Activity Zones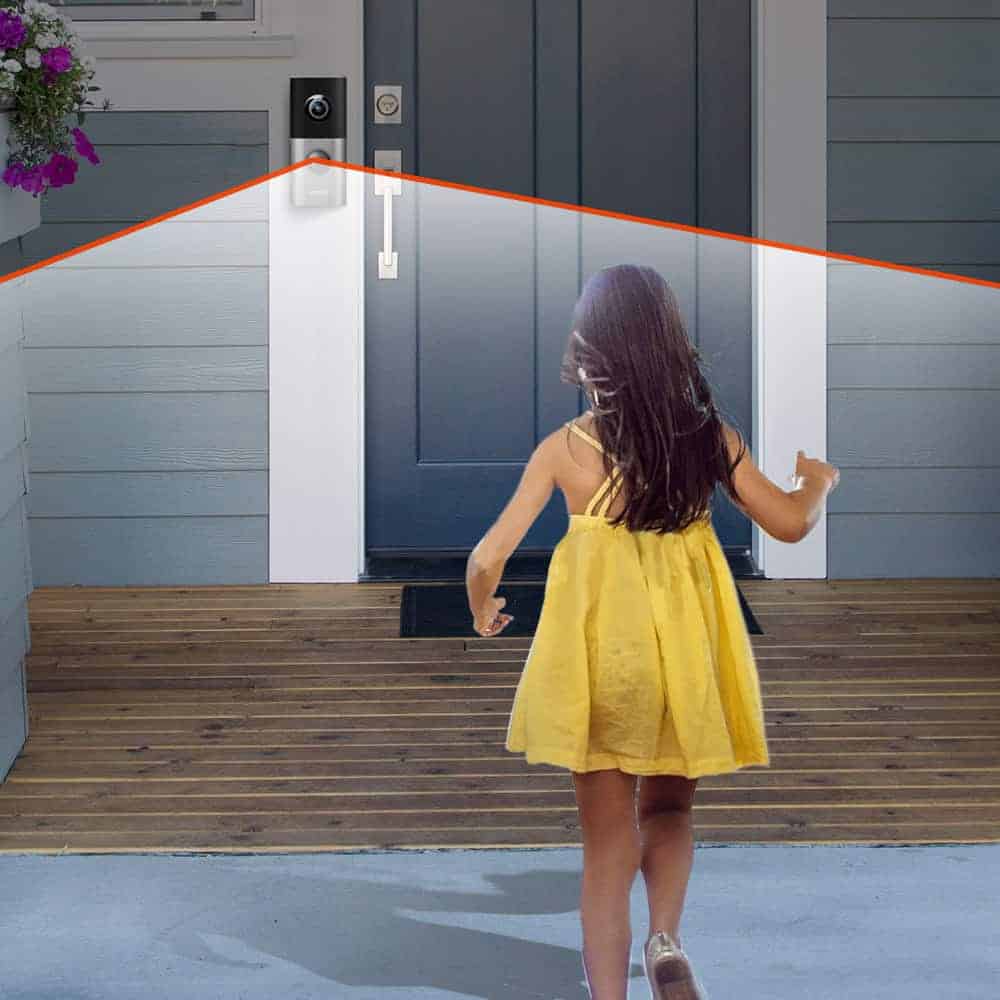 Activity zones let you tell your camera which areas to focus on, which is especially important with a video doorbell. I like to set my activity zones so the camera focuses on my property and ignores the street. That's going to give me more important notifications that actually matter, which simplifies my life a little bit.
Voice Messages
What happens if you don't answer your door? Maybe you're home, maybe you're not, but you're definitely otherwise occupied. Well, Zmodo lets you leave a voice message for your guest, sort of like a voice mail but for your home. Talk about a smart home!
The Zmodo App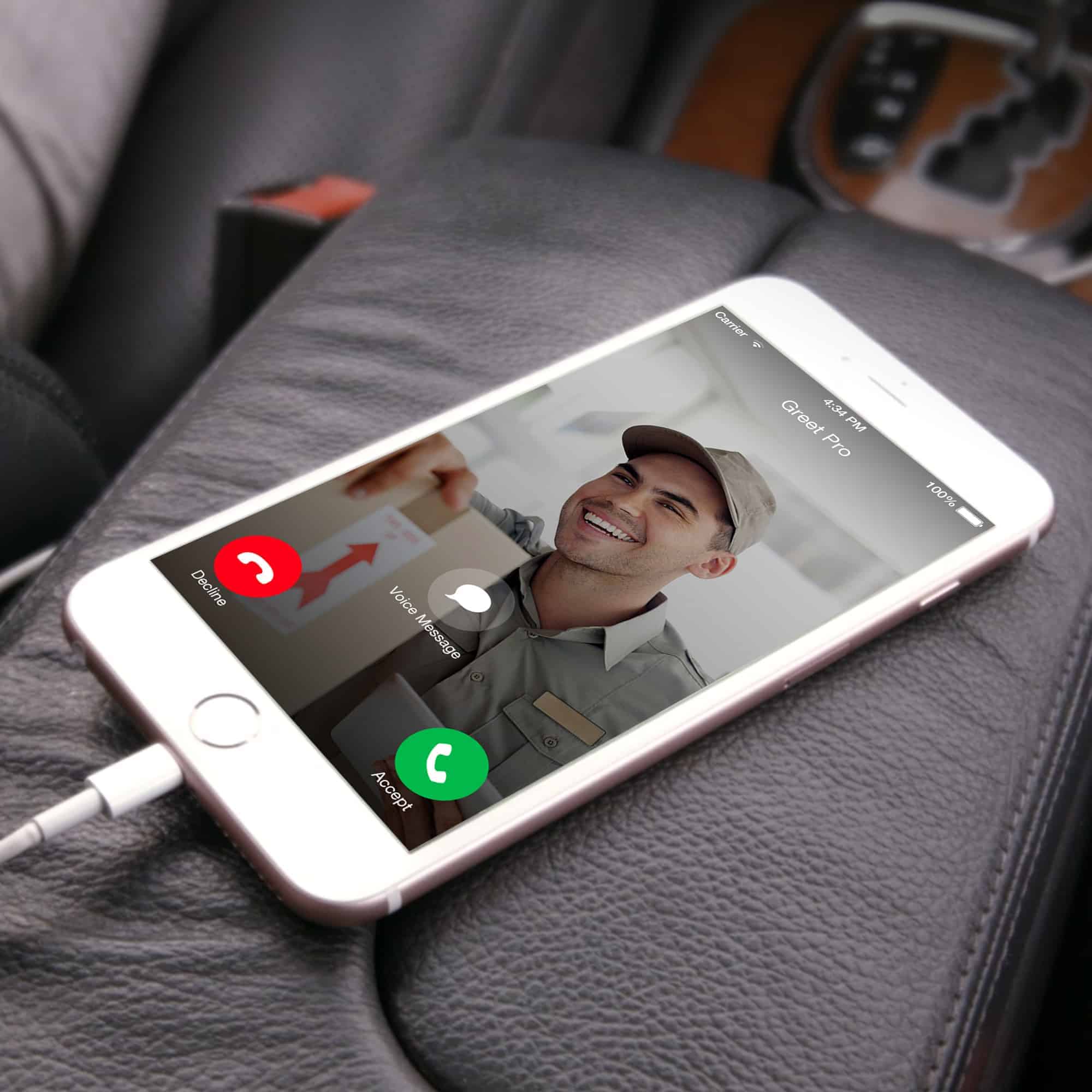 The Zmodo app is where you'll livestream footage, receive notifications, and actually speak to your visitors. It's also where you'll set up those handy activity zones and record voice messages. Unfortunately, the app has pretty dismal ratings, a 2.8 from the Google Play store, and only a 2.4 from the Apple store! After such great features, I'm disappointed at the app's ratings. But why did people seem to dislike it so much?
Many reasons, as it turns out. Some people had trouble connecting the video doorbell with the Zmodo app, while others had delays in notification and struggles to record events. Even though Zmodo Support replied to every complaint, this is definitely a huge red flag.
"Extremely slow and times out. When it does work the cameras are clear. Lately I cannot watch live feed, and definitely cannot watch recordings or items in the past. That used to work, but stopped suddenly,"
wrote Android-user Jessie C in a recent two-star review.
Recap of the Zmodo Greet Pro
While the Zmodo Greet Pro sounds amazing on paper, I was pretty taken aback by their app reviews. Without a user-friendly app, a smart video doorbell is just a doorbell, and that's definitely not worth $179. So until Zmodo makes some major upgrades, I don't think the Zmodo Greet Pro is the best choice of video doorbell.