Lorex Video Doorbell Review
What We Like
160-degree field of view
Black and white night vision up to 33 feet
Local storage options up to 64 GB
What We Don't Like
No smart home integrations
Only one app login at a time
Installation requires electrical work
Bottom Line
The Lorex video doorbell offers 1080p video of your front door. This Wi-Fi enabled doorbell has local storage, so you don't have to pay any additional fees.
There is no room to mess around when it comes to the safety of your home and the people inside of it. Each time the doorbell rings, you should be certain about who is on your doorstep, what they are doing while they wait, and what kind of food they brought with them, naturally. With the purchase of the Lorex video doorbell, all of this and more becomes a real possibility. In this review, we will be going over the setup, use, and cost of the Lorex video doorbell product. Let's jump in!
Doorbell specs
| | |
| --- | --- |
| Dimensions | 4.7"h x 1.7"w x 1"d |
| Field of view | 160 degrees |
| Resolution | 1080p HD |
| Night vision | Infrared black and white |
| Storage | SD card |
Editor's Rating
Hardwired into power
1080p HD video
Infrared night vision
Video Review
We recorded our footage from the Lorex Video Doorbell so you could see how well it works during the day as well as the night. Watch our video below and don't forget to subscribe to our Youtube channel!
What Is In the Box
When the Lorex arrived at our doorstep, we were surprised at the number of things that came along with the box. We not only received the doorbell, but also a mounting bracket, screwdriver, chime kit and cables, four mounting screws and anchors, three door frame screws, two power port screws, three wire caps, two wire connectors, and a starting kit. If you choose to upgrade your storage from 16 GB to 64, you may also find a micro-SD card. For our test, we stuck with the 16 GB card. All of this came in a smaller-than-expected box that makes identifying each part of the kit easy, even for the most technologically inept.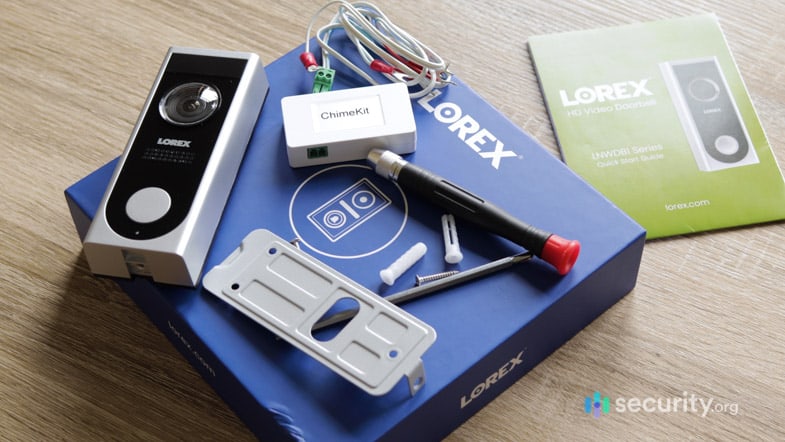 Lorex Features
The sleek, simple exterior design was one of the first things we noticed when we placed our order for the Lorex doorbell. The black and silver contrast created a high-tech, industrial look. It even made our houses, which are truly nothing special, look more modern and up with the times. The doorbell itself is 4.7" by 1.7" and only 1" wide, which took up very little space on the outside of our homes. The camera offers an ultra-wide 160-degree field of view, video quality of 1080p HD, and infrared, black and white night vision of up to 33 feet, making for crisp recordings at any time of day or night.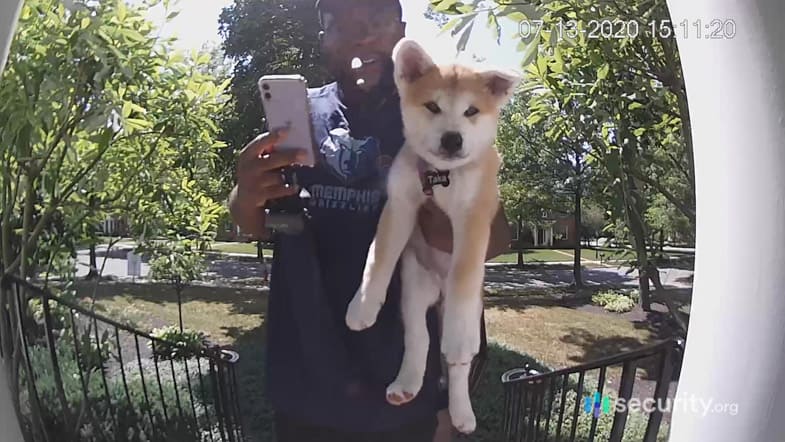 The Lorex lacked any ability to integrate with any smart platforms, which we found to be disappointing. This is a feature that has become increasingly common in the doorbell industry. For example, the Nest Doorbell offers easy voice assistant integration allowing for hands-free commands. Overall, though, we were happy with the features that Lorex provided.
Of course, our main focus was on the ability to keep our houses safe since in 2019, nearly 1,500,000 burglaries occurred in the United States, resulting in an estimated $3.4 billion in property losses.1 Doorbells with a video camera, however, had reduced neighborhood burglaries by as much as 55% in just seven months.2 As a result, homes with video doorbells like this device from Lorex can potentially obtain discounted rates for insurance or homeowner's associations, so make sure to check with your insurance provider before completing your purchase!
Tip: In addition to the doorbell itself, plenty of companies like Lorex offer signs and stickers to notify the outside world that your home is equipped with a security camera. With Lorex, you can spend anywhere between $2.99 and $24.99 to jumpstart your home's security.
Additionally, video doorbells like the Lorex protected our home from package theft, which is becoming a more prominent problem as more and more people shop online (ourselves included). Over 87 billion packages and parcels were shipped in 2017 alone!3 That is a lot of opportunity for theft. With video doorbell surveillance, however, we had an extra layer of protection over our homes to keep these porch pirates and other harmful heathens away from our most valuable treasures. The last thing we want is for our precious Amazon packages to be swept away.
Lorex Home App
In addition to our purchase, we were instructed to download the free Lorex Home App. We needed this app first thing when it was time to scan our doorbell during installation. This is also where we accessed all recordings and communicated through the two-way speaker system.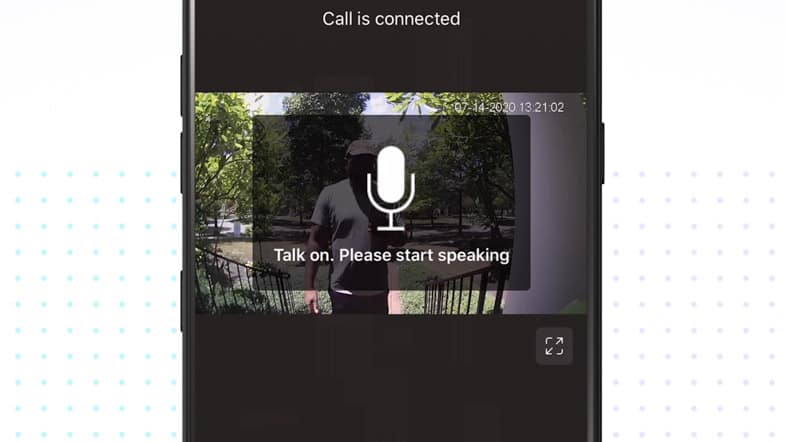 While the app allowed us to view the video recordings in high quality, there were many areas that could use some work. For example, it was not the most reliant in recording sound and oftentimes took a while to load content. Additionally, only one person could be logged into the app at a time, making it difficult for homes with multiple members (or multiple security experts, for that matter).
For our singular household, however, we thoroughly enjoyed the ability to check our house feed from wherever we were located. When we went out of town for a few days and had a neighbor knock at our door, we spoke to him directly through the Lorex Home app, thanks to the video doorbell's built-in speaker and microphone. Being able to see and speak to our visitors remotely was really cool, so even though the Lorex Home app has its drawbacks, it definitely performed its basic duties.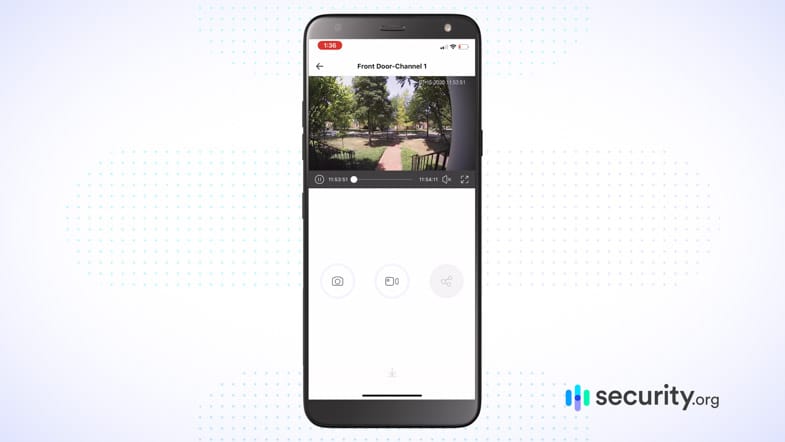 Setting Up Our Lorex
If you did not guess from the box description, the real work of setting up our Lorex started when the box arrived at our doorstep. The Lorex device required us to connect our new device with our existing doorbell setup through some mild electrical work. While there was a comprehensive, step-by-step video that helped us through the process of disconnecting our archaic doorbell, rewiring the system, connecting to the app, and powering on our newly purchased Lorex, the task was not for those looking for a quick and easy installation process.
We have done this process a handful of times throughout our careers, yet we still had to rewatch the video to make sure we were doing the steps correctly. Preferably, there would have been an option to pay for installation directly from Lorex or, even better, have the system come with a battery pack for wireless installation, which no doubt would have been easier. This somewhat complicated setup process was the main disadvantage of purchasing a video doorbell from Lorex.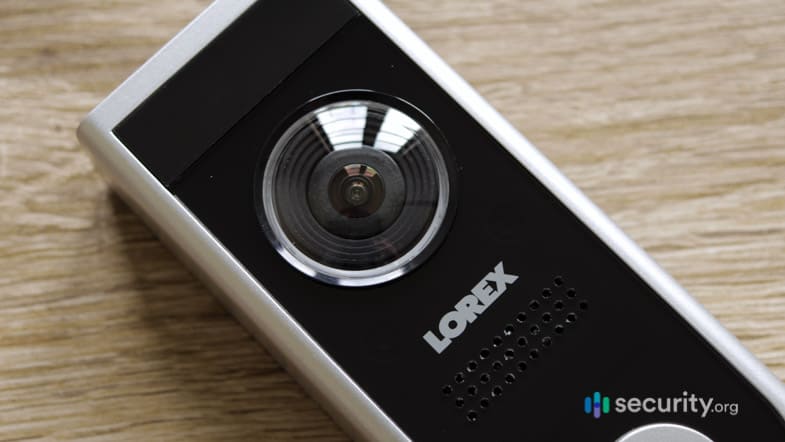 At the end of the day, though, after our doorbell was wired into our old system and we could watch ourselves on phone through our Lorex doorbell, we were filled with an overwhelming sense of accomplishment; however, the task is definitely not something we wanted to do more than once. For those not too keen on re-wiring, we'd recommend checking out the SkyBell Slim Line Doorbell Camera or the Ring Video Doorbell 2, both of which have wireless options.
Tip: Before you purchase your Lorex, do a quick look around your house and determine what kind of doorbell system you have and where the chime box is located. If you are unable to easily access your box, you may want to consider hiring third-party professional help to set up your doorbell.
Getting Notified
Once our system was set up, the Lorex video doorbell essentially operated on its own. We were notified through the Lorex Home App when either someone rang the doorbell or set off the motion detection. When someone rang our Lorex doorbell, we talked instantly (or avoided instantly) the person at our doorstep through the two-way audio, a.k.a a speaker and microphone built into the video doorbell itself. We were also able to see the individual through the Lorex's lens, which was really cool, especially when we were traveling internationally.
The motion detection feature, on the other hand, was slightly less reliable. The doorbell lacked person detection and picked up any movement on our doorstep –– human or otherwise. While there were general customizable motion detection ranges, there was not an ability to adjust the motion sensitivity. Therefore, we were notified the majority of the time there was movement on our doorstep. This resulted in a lot of notifications, some helpful, some not. For example, the Lorex helped us figure out that it was raccoons that were tipping over and chowing on our garbage every night, but it also recorded a soccer ball that got kicked up our doorstep. See, not all motion information is as useful as others.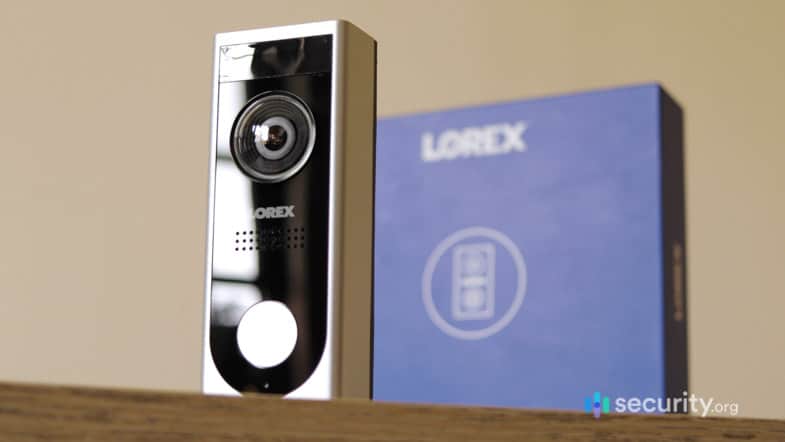 Storage
The Lorex came with a built-in slot for a 16 GB micro-SD card. There was an option to upgrade to a 64 GB micro-SD card for those who experience more motion activity; however, we did not choose this option since we wouldn't be using it for too long of a time period. But by the end of our time with the Lorex we could definitely see that the extra storage would be optimal for our urban location. Because storage was local, there were no costly monthly cloud storage fees and all data was kept privately in our own hands, which is a huge plus in our eyes. It is important to note that there is no cloud option available for the Lorex. Therefore, when our micro-SD card was full, it simply rewrote old material. We could also not delete individual videos. In our experience, this did not pose any problems. We did not have any videos that we wanted to keep for any particular reason, so it was actually convenient to be able to delete everything at once. However, it could pose a problem to someone looking for a particular video; you'll most likely have to download everything on the card and go through it manually.
The Lorex worked better on iPhones rather than Androids when it came to storage. We tested both, and found we could not download or export videos onto our Android devices, much to our dismay. The only way to review our storage was to unmount our doorbell from our walls and access the micro-SD card directly. Because of the experience setting up the doorbell in the first place, doing this repeatedly was not something that fit our fancy, so the Lorex video doorbell may not be the best option for Android-users.
Customer Support
One of the best features of the Lorex is exceptional customer service. When we had the Lorex, we also had access to the great team of customer service representatives that were ready to help us out as well as a handful of useful guides, such as Troubleshooting Tips and Frequently Asked Questions. This is key for video surveillance technology. Having a team that was able to quickly respond to our questions or problems is something that we appreciated a lot. For example, when we had a question about accessing storage for our Androids, Lorex customer support was available with a helpful answer after just a few rings.
Pricing of the Lorex
| Name of Lorex doorbell camera or package | Price |
| --- | --- |
| 2K QHD Wi-Fi Video Doorbell with Person Detection (Wired) | $179.99 |
| Home Monitoring Kit (Floodlight Camera, 1080p HD Video Doorbell) | $279.99 |
| 1080p HD Wi-Fi Video Doorbell | $129.99 |
The price of the Lorex video doorbell lands at $129.99. This is not the most affordable product we have ever seen, but it does land on the less-expensive end of things. For example, while the original Ring Video Doorbell costs just $99.99, the Nest Doorbell costs $229, so the Lorex fits in right down the middle. There are also no hidden fees when it comes to Lorex, so there is no need to worry about unknown installation, maintenance, storage or professional monitoring costs. When they say $129.99, they mean $129.99.
We also appreciated that the Lorex offered free shipping on orders all order over $100 (luckily for us, the Lorex cost $129.99) and free 30-day returns on purchases made directly from Lorex.com. On top of this, our Lorex doorbell came with an exclusive two-year warranty that guaranteed replacement or repair on any product found defective. This made us feel confident and secure with our purchase.
With all footage stored in an included hard drive, you can avoid monthly fees completely with Lorex. Learn more.
Lorex At a Glance
Now that we have covered the basics of what the Lorex doorbell has to offer, here is a quick overview of our favorite features and the features that we thought could use a bit more improvement.
Can Lorex stand toe-to-toe with other brands? Find out below.
Wondering if Lorex is right for you? We squared it up with the best systems available to help you make a smart decision.
In Conclusion
So there you have it, all there is to know about what the Lorex video doorbell offers. While we found nothing extremely innovative about this particular video doorbell, Lorex is a well-established company with nearly 30 years in the security industry, so we definitely trust it to protect our home. The Lorex is great for those who want a secure, local storage device with up to 64 GB of memory to record what is happening in front of their homes. With the mobile app, users can check on their homes and answer their doorbells from anywhere with Internet. Last but not least, the Lorex video doorbell is the perfect fit for the individual looking to get a video doorbell for under $150, a rarity in the industry.
However, the Lorex is not fit for those who prefer a super easy installation process or who are reliant on voice assistants such as Alexa or Google Assistant. For additional information about Lorex, read our review on their security cameras. And remember: stay safe out there.
The Lorex Video Doorbell is a small price to pay for home security, especially with no monthly fees. Install it on your door today.