SimpliSafe Video Doorbell Pro Review
Find out if the SimpliSafe Video Doorbell Pro lives up to SimpliSafe's reputation for quality.
What We Like
Artificial intelligence: The SimpliSafe Video Doorbell Pro uses artificial intelligence to ignore motion from cars and animals, while keeping person detection on point.
1080p HDR quality: A 1080p HD resolution is standard among video doorbells, but the SimpliSafe doorbell stands out because of HDR that keeps videos glare-free.
162-degree field of view: With a wider scope of our neighborhood street, we saw cars parking, joggers passing through, and lots of other events going on beyond our front door.
What We Don't Like
No smart home integration: Although SimpliSafe works with Alexa and Google Assistant, the video doorbell itself is not as smart home-friendly as other top options.
Hardwiring required: The SimpliSafe doorbell doesn't have a battery, so it's strictly hardwired-only. An existing doorbell setup is required.
Bottom Line
Like the rest of their security system, SimpliSafe impressed us when it came to their Video Doorbell Pro. Our favorite features? The camera's 1080p HD video, 162-degree field of view and clear infrared night vision, to name a few.
Recent Update: 1 week ago
For Black Friday 2023, SimpliSafe is giving customers 60-percent off on security system packages (including custom packages) plus a free wire-free outdoor camera. With the discount, the SimpliSafe Video Doorbell Pro is down to $67.60 from $169.99.
In its almost 20 years in the security industry, SimpliSafe was able to do what many old-timers in the industry can't: Create high-quality equipment with an easy DIY setup. That's one of the main reasons why we nominated SimpliSafe as one of the best security systems all-around.
Not all SimpliSafe equipment requires the entire system, though. Some, like the indoor cameras and the SimpliSafe Video Doorbell Pro, can work on their own. Today, we're going to take a closer look at the latter – both as a standalone security device and as the device that anchors SimpliSafe's front door security. Is the SimpliSafe Video Doorbell Pro worth it?
Key security features
| Key security features | SimpliSafe Video Doorbell Pro |
| --- | --- |
| Motion detection | PIR |
| Doorbell ring alerts | Yes |
| On-demand video streaming | Yes |
| Two-way audio | Yes |
| Night vision | Infrared |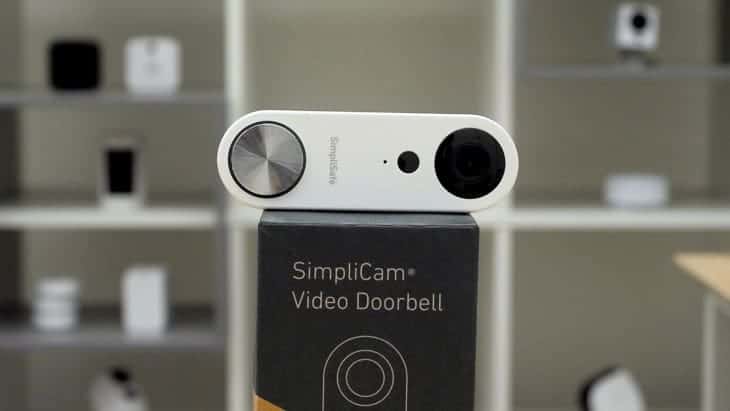 Editor's Rating
Impressive 1080p HD image resolution
Two-way audio for an extra layer of safety
Simple DIY setup requires no handy skills
A Look at Design
Generally, we love SimpliSafe's design. The Video Doorbell Pro wasn't any different. It features the same simple, minimalistic aesthetic we've come to love about SimpliSafe's equipment. This capsule-shaped video doorbell offers a clean and neat off-white finish, highlighted by a blue LED light around the doorbell button.
Mind you, the SimpliSafe doorbell may look stylish, but it's fairly rugged and durable. It's housed in a weatherproof case with an IP 65 rating. Essentially, that rating means that it's dust-tight and water resistant. Don't go submerging it in water, though. It's only resistant to water splashes, but that makes sense for video doorbells. More importantly, it's as tough as advertised. Though it rained while we were testing the SimpliSafe doorbell, it had no issue keeping up a live stream and recording clips through a downpour.
Adding to its durability, the SimpliSafe doorbell has an official operating temperature range of 14 to 104 degrees. Now, this could be a problem if your state experiences below-zero temperatures during winter. And be warned: you could void your warranty if you use it beyond the recommended working conditions. If you live in an area that gets frigid winters, check out our Lorex video doorbell review. That one can live in sub-zero temperatures.
Back to SimpliSafe, since the doorbell requires hardwiring, you must check that your home has the right setup before buying. SimpliSafe's doorbell works in homes with an eight- to 14-volt AC transformer, which fortunately is the most common doorbell setup in the United States. At least for us, that means we don't need to buy extra hardware to set up the Video Doorbell Pro.
If your home doesn't meet the wiring standards, don't worry. SimpliSafe sells adaptors that can bridge the connection to different wiring setup or even let you plug the doorbell directly into a wall outlet.
In any case, be prepared to do some light wiring work, because as stated earlier, the SimpliSafe Video Doorbell Pro isn't as plug-and-play as other SimpliSafe products.
Pro Tip: Features matter a lot, but so does hardware and design. We tested a video doorbell that claims to offer smart, AI-powered features, but the hardware was so bad that it made our list of the worst security cameras. Fortunately for SimpliSafe, its video doorbell is off to a good start hardware-wise.
Hooking up the SimpliSafe Video Doorbell Pro
You're probably wondering why SimpliSafe didn't just make a battery-powered doorbell, especially since those are commonplace now in the home security scene. Ring, one of the best video doorbell brands right now, recently launched the Battery Doorbell Plus. It has advanced features, superb video quality, and (you guessed it!) a battery that powers the whole setup.
Well, SimpliSafe has very good reasons for opting for a wired design, but before we talk about that, let's discuss the setup procedures. First off, we hardwired the doorbell to our existing doorbell setup. Thankfully, our home's wiring was supported, but if yours isn't compatible, you'll need a 16-volt AC transformer to hook up SimpliSafe Video Doorbell Pro to your home.
The process was painless. We followed the instructions step by step, and within minutes, the video doorbell was on. Next, we downloaded the SimpliSafe app and connected the doorbell. All in all, it took us about five minutes to connect the doorbell to the app, and the entire setup process lasted about 15 minutes.
Pro Tip: The SimpliSafe app plays a big role in monitoring the SimpliSafe Video Doorbell, so when setting it up, make sure to use a strong account password.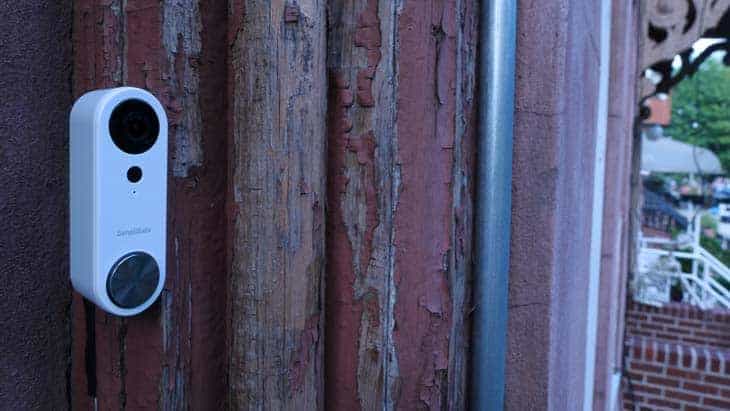 The setup process would have been a lot simpler if SimpliSafe had used a battery-powered doorbell, so why did it not? There's a pretty good reason. Battery-powered doorbells are easier to set up, but their batteries need to be replaced or charged every few months or so. With the SimpliSafe doorbells, it's a one-and-done process.
Despite the slightly more complex setup process, the SimpliSafe Video Doorbell Pro is in line with SimpliSafe's goal of simple home security. And if you're really worried about setting up the system, keep in mind that SimpliSafe offers optional professional monitoring on-the-cheap.
Did You Know? Wired security systems and cameras are less susceptible to interference from wireless signals such as radios, which prevents lost Wi-Fi connection. What's more, wired video doorbells are harder to steal than wireless!
SimpliSafe Video Doorbell Pro on the Daily
One key advantage of the SimpliSafe Video Doorbell Pro is that it works seamlessly with the SimpliSafe security system. We went over all the system's components in our SimpliSafe security system review, but as for the video doorbell, it works in conjunction with the security sensors. Any time one of our sensors was triggered, the Video Doorbell Pro would immediately start recording.
That's one of the advantages of going with a video doorbell that integrates with a security system rather than a standalone video doorbell. Because it can detect signals from other sensors, the SimpliSafe doorbell is able to use cues from them to decide when to record. With a standalone doorbell, your recording options are limited to when someone presses the doorbell or when the camera detects motion.
Let's take a closer look at the key features of the SimpliSafe Video Doorbell Pro and how it improved our home security and daily lives.
Video: As we said, 1080p is the standard among security cameras and video doorbells. The SimpliSafe Video Doorbell Pro has HDR as well, so the footage looked better lighting-wise. Plus, with the pan and zoom feature, we pinned down the smallest details. Finally, the 162-degree field of view gave us a wider vision of our street, which is usually jam-packed with cars and people.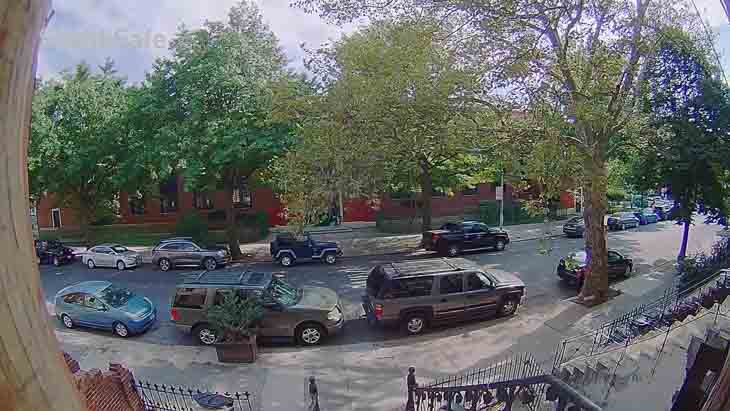 Audio: Two-way audio is vital to any video doorbell. It means you can hear the person at your front door, and you can talk to them through the doorbell's speakers. Basically, two-way talk allows video doorbells to function as intercoms, and that's exactly what the SimpliSafe doorbell did.
Night vision: SimpliSafe uses infrared night vision. It doesn't emit blinding white lights to see at night; instead it uses invisible infrared lights from IR LEDs. That helps keep the video doorbell inconspicuous, while also providing clear nighttime videos. We also found that it's not prone to glare – our chief editor was wearing glasses but there was minimal glare coming from them.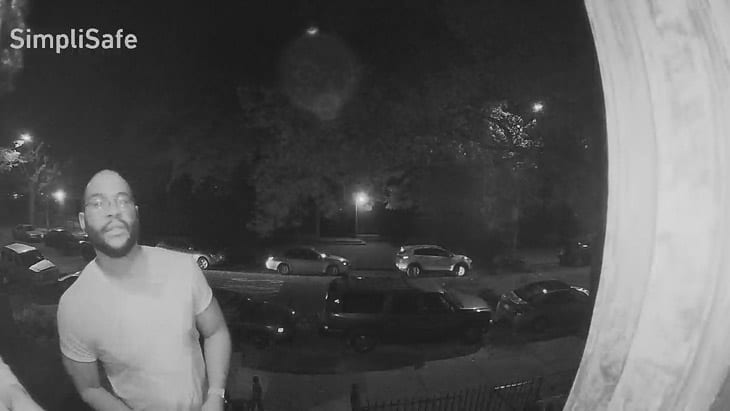 Storage: One downside of the SimpliSafe doorbell (and any SimpliSafe camera, for that matter) is that they don't record footage unless you buy a cloud subscription. With SimpliSafe, that's $4.99 per month if you're buying for only one camera or $9.99 to accommodate up to five. That's on par with many cloud solutions, but just know there are cheaper options. Ring, for starters, offers a $10 per month plan that supports any number of Ring cameras and doorbells.
Person detection: Suffice to say, we love video doorbells that have artificial intelligence. We don't want to be bombarded by useless notifications alerting us of cars passing by. Also, we don't want to know every time one of the neighborhood cats strolls by.
The SimpliSafe Video Doorbell Pro features two sensors for person detection: a heat signature to distinguish people from animals and a sensor to detect human forms rather than animal and car forms. That means that we got notified only when our doorbell detected people, which freed us from pointless notifications.
Pro Tip: Medium sensitivity for person detection is optimal as it's the default setting. High sensitivity enables more notifications, meaning the video doorbell is more hyper-aware of human forms. Low sensitivity gives fewer notifications. We recommend testing each sensitivity level after setup.
Monitoring & Storage Breakdown
SimpliSafe offers two storage and monitoring plans.
As mentioned earlier, SimpliSafe offers two video storage options: $10 per month for up to five cameras or $4.99 per month for one camera. Well, you could also use the video doorbell without a cloud plan and monthly fees. However, with this, the doorbell won't record, so it essentially becomes a two-way intercom you can access via the app.
That's why we recommend buying a cloud subscription, because you never know when you might need event recordings.
For example, during our testing, there happened to be a minor fender bender in the street in front of our place. No one was hurt, fortunately, but one of the drivers involved noticed our doorbell camera and asked if we could share with him a video of the incident for insurance purposes. Lucky for him, the ruckus triggered the doorbell's motion sensor and it got the whole incident on tape.
Can The SimpliSafe Video Doorbell Pro Be Monitored?
Now, if you're using a SimpliSafe security system, there is one more option available to you, and that is the Fast Protect plan that costs $29.99. That's a huge jump from the $10 cloud recording plan, but hear us out. The Fast Protect plan includes professional monitoring of the SimpliSafe security system (but not the doorbell camera). That means it will alert SimpliSafe's monitoring facility to any emergencies picked up by the security system.
Additionally, the Fast protect plan includes cloud storage for up to 10 cameras, plus it has video verification. Whenever there's an alert, as long as you're on the Interactive plan, SimpliSafe will use your cameras' live feed to verify the alarm and speed up police response.
Things get even better if you have a Smart Alarm indoor camera, a newly-released camera from SimpliSafe. If you have both the camera and a Fast Protect plan, live agents from SimpliSafe's monitoring center can use the camera's two-way audio to drive burglars away. You won't have to do anything; SimpliSafe will detect and deter the intruder for you.
| Information | Free plan | Camera recording only | Professional monitoring plan |
| --- | --- | --- | --- |
| Price per day | $0.00 | $0.33 | $0.83 |
| Price per month | $0.00 | $9.99 for 5 cameras; $4.99 for 1 camera | $29.99 |
| Livestreaming | Yes | Yes | Yes |
| 24/7 professional monitoring | No | No | Yes |
| Fast Protect™ Technology | No | No | Yes |
| Cellular connection | No | No | Yes |
| Environmental monitoring | No | No | Yes |
| Remote control | Yes | Yes | Yes |
| Notifications | Yes | Yes | Yes |
| Secret alarms | No | No | Yes |
| Video verified alarms | No | No | Yes |
| Live Guard | No | No | Yes |
| Unlimited cloud storage | No | 1-5 cameras | Up to 10 cameras |
| Smart home integrations | No | No | Yes |
Are There Local Video Storage Options?
One potential downside of SimpliSafe is that it lacks local recording. It won't be able to send anything to the cloud when your internet is down. And even though SimpliSafe's security system has cellular backup, the doorbell can't use this to send clips to the cloud. That's one thing to keep in mind.
Another thing to note is that SimpliSafe's cloud plans tend to run a bit pricier than some of the top options like Ring. Roughly $10 per month from SimpliSafe only gets you cloud storage for up to five cameras, while a similarly-priced subscription from Ring will get you cloud storage for unlimited cameras.
Still, SimpliSafe's pricing isn't bad at all. And if you're an existing SimpliSafe security system user with a subscription to the Interactive plan, you can add the video doorbell and enjoy cloud recording features at no additional cost.
Money Saver Alert: If you've already signed up for the professional monitoring plan from SimpliSafe, unlimited cloud storage is included for free.
SimpliSafe Customer Support
We dread contacting customer support for any reason, but connecting with SimpliSafe representatives wasn't as bad as we thought. Before that, though, we should mention that there are a number of ways we sought answers for any questions or issues we ran into while using our SimpliSafe Video Doorbell Pro.
The company offers phone support, forums, email contact forms, user manuals, and a help center. All of these provided useful information. A quick Google search also helped us navigate around SimpliSafe's website with links that directed us to its support pages.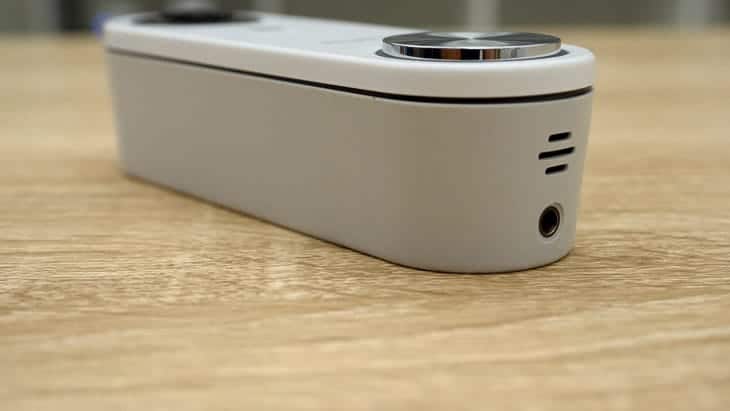 What we found most helpful when we called a SimpliSafe customer service representative was the extended hours, which lasted until midnight EST. For those late nights when we'd come home and needed immediate responses, we were grateful for SimpliSafe's late hours of operation.
The representative we spoke to, Dave, answered our questions — like why the SimpliSafe Video Doorbell Pro stopped streaming one time. Dave clarified that if the LED color was yellow, it meant that a firmware update was in progress. That explained everything. He communicated patiently and didn't sound the least bit tired during our 11:15 PM phone call.
While it took some time to get connected with Dave, we were satisfied overall with our experience.
SimpliSafe Home Security App Experience
Recent data reports indicate that people use mobile apps 90 percent of the time over mobile sites,2 so it's no surprise that many home security brands have created their own mobile apps to complement their products.
With the SimpliSafe Home Security app, we saw live footage of our front porch. While there was a little bit of lag, we panned and zoomed in, and the video quality remained crisp. There were two simple features with the live video: record and microphone. We recorded and saved our footage to the event history to review later. As for the microphone, we just had to tap on the little icon to speak to any visitors or delivery folks at our front door.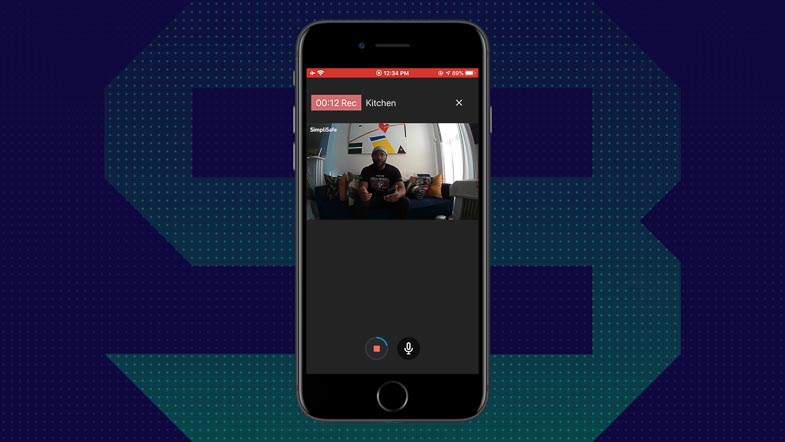 One little qualm we have with the app was that it wasn't very robust. There were very few settings we could play with, although we were able to adjust the motion detection sensitivity, check the Wi-Fi signal on our video doorbell, and adjust a few other settings.
On the bright side, it was the same app we used to control and access our SimpliSafe home security system. It certainly made it easier to manage our home security.
Video Review
Need a visual of our experience with the SimpliSafe Video Doorbell Pro? Check out our SimpliSafe Video Doorbell Pro video review below.

Find out how SimpliSafe compares to other doorbells
SimpliSafe is a great choice, but there may be better options out there. See how SimpliSafe compares to our favorite doorbells.
The Last Word
| Number of SimpliSafe Video Doorbell | Cost |
| --- | --- |
| 1 | $169 |
| 2 | $338 |
| 3 | $507 |
| 4 | $676 |
To sum everything up, the SimpliSafe Video Doorbell Pro served its purpose for the $169 price tag. We enjoyed a handful of features, including the 1080p HD video with HDR, person detection, and 162-degree field of view. Whether it was better visuals or artificial intelligence that reduced the number of notifications on our phones, we applaud SimpliSafe for keeping our frustrations to a minimum.
That said, we were disappointed in the lack of smart home integrations and the lack of a wireless setup. Not to mention that the monthly monitoring subscriptions are kind of expensive in our book, although the cloud storage only plans are reasonably priced.
SimpliSafe has become a household name in the home security industry, which is expected to be worth $2.05 billion by 2023.3 We've come across our fair share of video doorbells, and while the SimpliSafe Video Doorbell Pro didn't receive a perfect score from us, it did check off a lot of our boxes.
We're especially keen on how affordable SimpliSafe is compared to other security brands. All in all, the SimpliSafe Video Doorbell Pro kept us in the loop of visitors whenever we weren't home without becoming too overbearing with false notifications. Aside from the absence of smart home integrations, the SimpliSafe Video Doorbell Pro is affordable, is simple to use, and complements the SimpliSafe security alarm system.
SimpliSafe Video Doorbell Pro FAQs
Still have questions about the Simplisafe Video Doorbell Pro? You're in luck. We've taken the time to answer some of the ones we hear most frequently.
Does SimpliSafe offer a video doorbell?

SimpliSafe does offer a video doorbell, the SimpliSafe Video Doorbell Pro. It features 1080p HD resolution, a 162-degree field of view, and infrared night vision. You can purchase it for $169.

How do I install the SimpliSafe Video Doorbell Pro?

Installing the SimpliSafe Video Doorbell Pro requires an existing doorbell setup and a Phillips head screwdriver— that's it!

Turn off the electricity to your doorbell.
Remove the existing doorbell.
Thread the video doorbell wires through the mounting bracket.
Screw the mounting bracket to the wall.
Connect the wires to the mounting bracket.
Slide the doorbell into place.
Turn the electricity back on.
Test the doorbell connection by pressing the button.
Open the SimpliSafe app and follow the instructions to connect your device to your Wi-Fi.

What is the best video doorbell?

The best video doorbells are the Ring Video Doorbell 2, the Nest Doorbell, the Wyze Video Doorbell, the Logitech Video Doorbell, and the Lorex Video Doorbell.