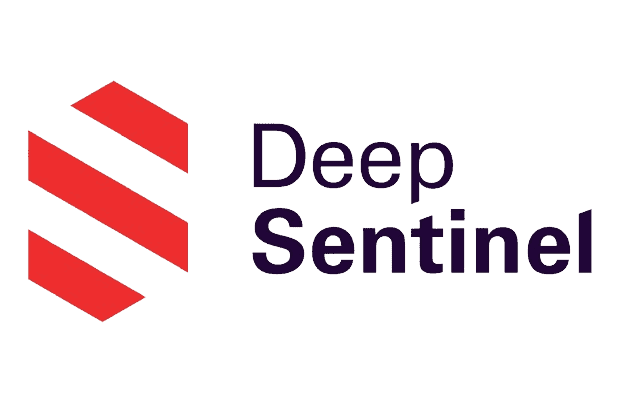 Deep Sentinel Home Security System
With powerful artificial intelligence, Deep Sentinel's Live Guards prevent crimes before they happen.
Predictive AI surveillance
24/7 human monitoring
Fast response times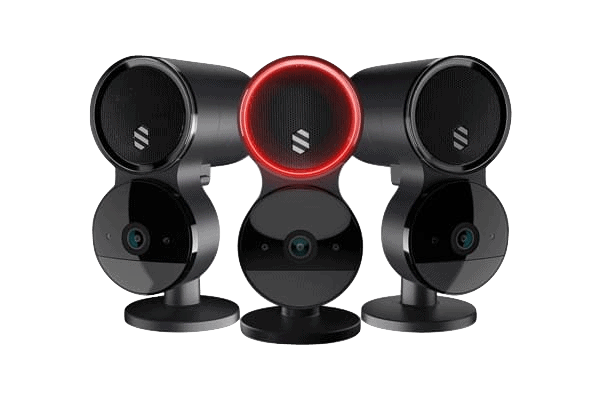 All of our content is written by humans, not robots.
Learn More
By

&

Last Updated
Mar 24, 2023
Founded in 2016 by David Selinger and Winston Chen, Deep Sentinel is a camera-based security system that combines state-of-the-art AI technology and live human guards, which offered us home protection as well as prevention from crime. That's good because, in 2018, there were 685,766 home burglaries,1 and out of these, 346,312 took place during the day (most likely when residents were at work or school) and 218,028 took place at night (when it's dark and residents are probably sleeping). While a few things have changed since 2018, one factor remains the same: property crimes are more likely to happen when no one is looking. With Deep Sentinel, we had eyes on our home 24/7, 365. Let's explore our favorite things about this security system, its pricing, and how it stacks up against its competitors.
Smart Home Integrations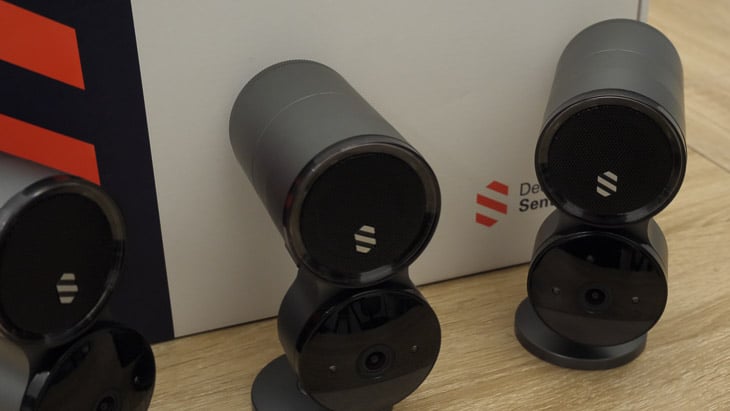 We have a lot of really great things to say about Deep Sentinel (feel free to check out our Deep Sentinel review for more info!), but if you're specifically interested in a security system that offers smart home integrations, Deep Sentinel may not be what you're looking for. However, we wouldn't be surprised if the company's reasoning changed your mind. Selinger, the company's CEO and Co-Founder, explains that they left out integrations with voice assistants and Internet of Things devices as they are more susceptible to being hacked. The company is interested in integrating with these appliances, but not until they find a secure way to do so.
Voice assistant compatibility
| | |
| --- | --- |
| Voice assistant | Deep Sentinel compatibility |
| Alexa | No |
| Google Assistant | No |
How Deep Sentinel Compares
Deep Sentinel is a unique home security solution. It relies heavily on outdoor security cameras, unlike typical security systems that use a combination of cameras and sensors. The problem, though, is that it can be pricey. So if you're looking for less expensive but high-quality alternatives, these three are the best security systems for the job: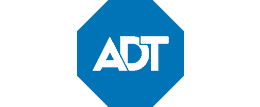 Here's what we like the most about Deep Sentinel:
Easy DIY Setup: All we needed to install Deep Sentinel was a smartphone, a screwdriver, and a ladder. The app offered us clear and simple instructions, and the single-screw mounts were easy to install. The entire process took us about 30 minutes.
Camera Quality: Since Deep Sentinel's system relies on its cameras, we were happy with how high the quality is. The cameras shoot in a crystal-clear 1080p HD, with 16 infrared LED sensors, and a 130° field of view—meaning our home had full coverage, day and night.
Camera Functions and Live Guards: The cameras also have formidable security features that act as visual and audible deterrents. The other week, while we weren't home, our system was activated by someone trying to steal a package from our front door. When the potential threat was detected, the cameras lit up with a bold red ring, which made the thief hesitate but continue to walk towards the package. But before they could reach it, a Live Sentinel Guard greeted them through the camera's two-way speaker with a simple "Hello," causing them to back off and walk away.
Smart AI Technology: Deep Sentinel's hub stores the system's artificial intelligence capabilities, which helps the system differentiate potential threats from ordinary activity. In other words, the system didn't notify us because a squirrel ran across our driveway or because our kids were playing in the backyard.
Mobile App: The mobile app made it easy to access our Deep Sentinel security system from anywhere. It offered a clear overview of our home security, and we used it to view and speak through any camera, access security clips, and adjust our notification and privacy settings with ease. Speaking of privacy, be sure to check out Deep Sentinel's latest privacy report.
Pricing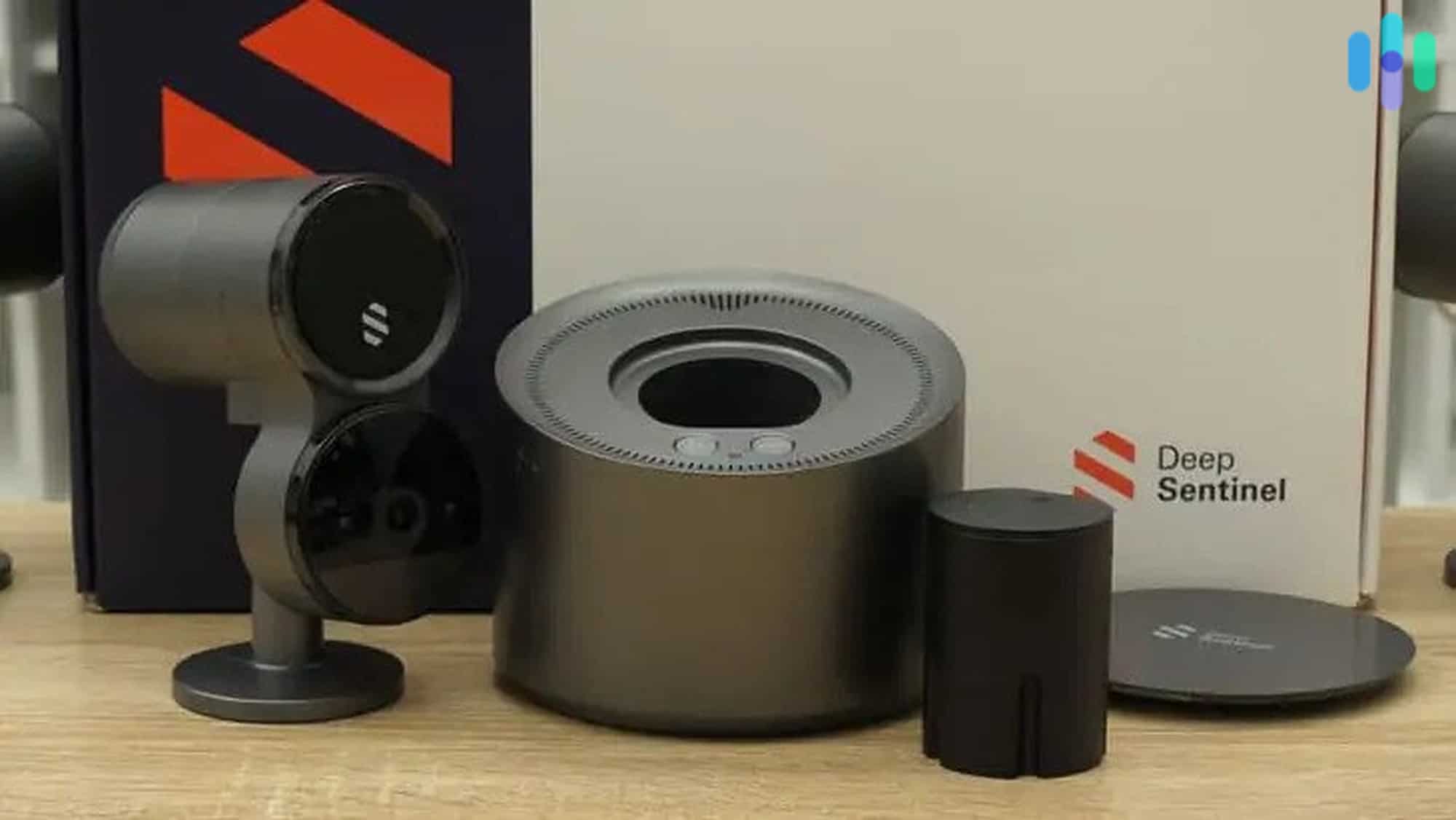 In 2017, a property crime was committed every 4.1 seconds. Larceny-thefts2 occurred every 5.7 seconds and every 22.6 seconds for burglaries. While those statistics are alarming, we were impressed with how Deep Sentinel made top-of-the-line security so accessible for us.
Packages
With its different packages to choose from, we chose the right package for our home (the 3-Cam Kit), although there are other options for homes of all sizes.
Package Pricing Matrix for Deep Sentinel
Package
Price
Includes
6-Cam Kit
$1,149
1 hub,
6 cameras,
6 camera mounts,
7 batteries
Front Door Kit (1-Cam)
$399
1 hub,
1 camera,
1 camera mount,
2 batteries
Build Your Own Kit
Will Vary
Can choose from 1 to 6 cameras
Currently, you can choose from the Front Door 1-Cam Kit ($399) or the 6-Camera Kit ($1,149), but we could also create a customized kit if we wanted to, the price of which would depend on the equipment we end up going with.
Add-On Equipment
Deep Sentinel also offered us add-on equipment:
Add-on Item
Price
Includes
Additional Camera
$150
1 camera,
1 camera mount,
1 battery
Extra Standard Battery
$29
1 standard battery
WiFi Range Extender
$30
1 WiFi range extender
USB + Extreme Temperature Battery
$59
1 weather-proof battery with USB port
Solar Charger & USB + Extreme Temperature Battery Kit
$88
1 weather-proof battery with USB port,
1 solar charger
We had the option to add an additional camera (including battery and mount) costing $150, and additional batteries and $29 for standard. Some other accessories we considered getting included a WiFi Range Extender ($30), a USB + Extreme Temperature Battery ($59), and a Solar Charger & USB + Extreme Temperature Battery Kit ($88).
Hot Tip: Is Deep Sentinel a bit pricey for your wallet? 0% APR, $0 down financing is available through Affirm, for those who qualify.
Monitoring
Since the entire system is built on the idea of having live guards available to monitor your home, Deep Sentinel didn't let us avoid monthly fees and self-monitor through our app on our own. If you're interested in lower-cost professional monitoring, consider looking into a package from Cove, which charges $27.99 a month for monitoring with smartphone access, video monitoring, and smart home integrations. Similarly, SimpliSafe's costs start at $17.99 a month, making it a highly affordable option in terms of monitoring and equipment.
But with Deep Sentinel, we absolutely love the security that live 24/7 monitoring offers. Regardless of where we are or if we're available to check our phones for notifications, we know that between Deep Sentinel's AI detection and the Live Sentinel Guards' interaction, our home is in the best of hands!
| | Front Door (1 Cam) Kit | 6 Cam Kit |
| --- | --- | --- |
| Equipment price | $399 | $1149 |
| Monthly cost | $60 | $160 |
Now, depending on the kit, the price of a monitoring subscription will vary at $60 a month for the 1-Cam Kit and $160 for the 6 Camera Kit. However, we were able to save two months' worth of professional monitoring services by paying for the year upfront. Neither of these choices affected the one-year contract we agreed to, however.
FYI: With Deep Sentinel, there's no need to worry about memory storage. Between the 64GB of cloud storage and 64GB of flash memory, there's plenty of space for all our security clips!
How Does Deep Sentinel Compare to Its Competitors?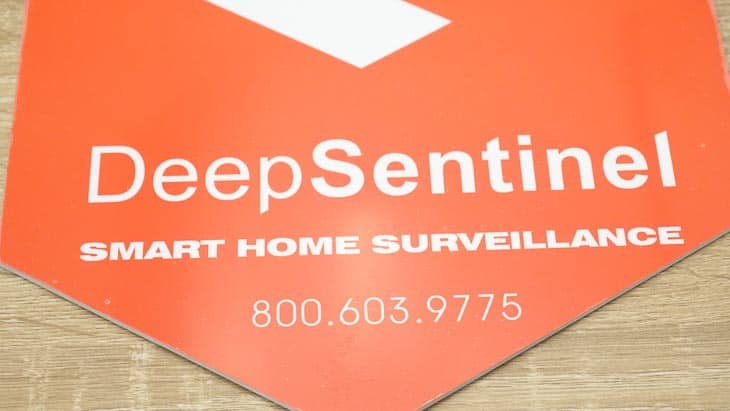 While cameras from Arlo and Nest offer AI, with person detecting and facial recognition, Deep Sentinel's AI is more advanced and can differentiate between threatening and non-threatening behaviors, which you can read about below. Plus, all Deep Sentinel systems come with monitoring, while it's optional with Arlo and no longer available from Nest, as their system, Nest Secure, has been discontinued. If you want to self-monitor and avoid monthly fees, these might be better options for you.
| | 30 Seconds | 60 Seconds | Not Covered |
| --- | --- | --- | --- |
| Robbery attempt | Yes | No | No |
| Burglary involving break-in of door or window | Yes | No | No |
| Auto theft or burglary | Yes | No | No |
| Violent behavior or assault | Yes | No | No |
| Package theft attempts | Yes | No | No |
| Suspicious behavior or vandalism | Yes | No | No |
| Customer initiated greeting to test system | No | Yes | No |
| Confirm package delivery | No | Yes | No |
| Person standing at entrance door | No | Yes | No |
| Person standing at car with doors closed | No | Yes | No |
| Police on property | No | Yes | No |
| Monitor or supervise private parties or events | No | No | Yes |
| Supervise children in or near pools | No | No | Yes |
| Respond to non-violent domestic disputes | No | No | Yes |
| Monitor pets or repetitive contractor activity | No | No | Yes |
On the security system front, Deep Sentinel's monthly fees are pricier than packages from Vivint, ADT's alarm kits, and Frontpoint's monitoring plans, which range from about $40 to $60 a month, but again, Deep Sentinel's cameras are far superior in terms of AI. However, while Deep Sentinel can address the crime and contact the authorities sooner than these alarm brands, ADT, Frontpoint, and Vivint offer entry, motion, and glass break sensors while Deep Sentinel doesn't (yet).
Overall Value
Deep Sentinel is a great option for someone who is interested in crime prevention and someone who doesn't mind the price tag that goes along with it. We enjoyed the system's high-quality, 1080p HD cameras with wide fields of view and infrared night vision, its use of artificial intelligence, the availability of real people to watch over our home and to de-escalate situations when needed, and its user-friendly mobile app. We look forward to seeing when (and if) the company adds smart home integrations and sensors later down the line. All in all, we think that Deep Sentinel can possibly make the difference between being a part of the statistics or stopping a crime before it has the chance to happen but again, you pay for what you get.
FAQ
Deep Sentinel is in a league of its own, so we wouldn't be surprised if you have additional questions about it. Let's answer those in this FAQ section.