Nest Cam Review 2023
A look at Google Nest's revamped lineup of security cameras
What We Like
130-degree field of vision on all cameras
Three hours of free cloud video storage
Facial recognition with paid plans
What We Don't Like
No local video storage options
Cameras are only weatherproof rated to IP54
No professional video monitoring options
Bottom Line
Nest has rolled out an all-new Google Nest cams lineup that includes an indoor/outdoor Nest Cam, a wired Nest Cam, and a Nest Cam with Floodlight. If you want to save some money, go with the Nest Cam, but if you want powerful, long-range night vision, try the Floodlight.
Nest is a giant in the smart home space. Owned by Google, who we assume you've heard of, Nest began in 2011 with the Nest Learning Thermostat,1 a smart thermostat that can learn people's heating and cooling schedules within a few days. After the company acquired Dropcam three years later, the Nest Cam Indoor2 was born, followed by the Nest Cam Outdoor, the Nest Cam IQ Indoor, and the Nest Cam IQ Outdoor.
In 2021, after discontinuing the IQ cameras, the company released a new Nest Cams lineup that included a battery-powered camera, a floodlight camera, and a plug-in indoor camera. The new Nest Cams have similar features to previous generations, but also, they include some crucial differences you should be aware of. Fortunately for you, our experts have tested each Nest camera, and here's what we thought in our Nest cameras review.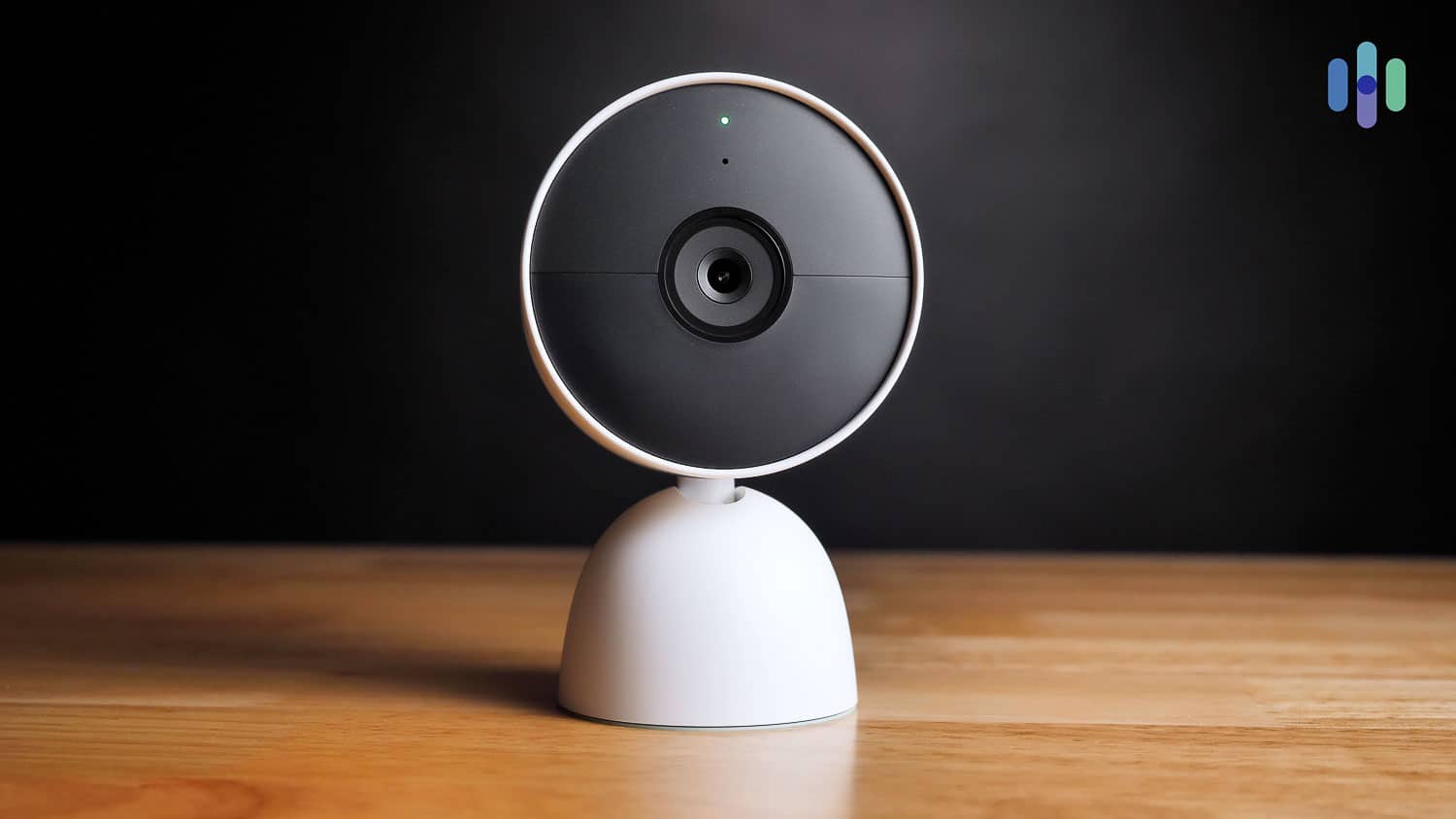 Common features of new Nest cameras
| | |
| --- | --- |
| Field of vision | 130+ degrees |
| Infrared night vision | Yes |
| Two-way audio | Yes |
| Local storage | No |
| Facial recognition | Available with Nest Aware |
Editor's Rating
Individual cameras range from $99.99 to $279.99
Discounts on multi-camera packs with two to four cameras from $189.98 to $596
Nest Aware subscriptions cost either $6 or $12 per month, or $60 or $120 per year
How Nest Cam Measures Up
We've spent thousands of hours testing various security camera brands, and we can confidently say that Nest belongs up there with the best. One of Nest's shortcomings, however, is that it requires a subscription to access its best features. If you'd rather not pay for a Nest Aware subscription, or if you simply want more camera options to choose from, check out the brands below: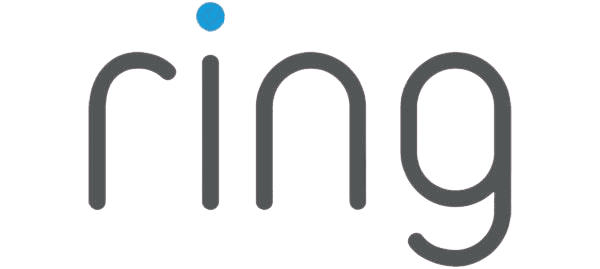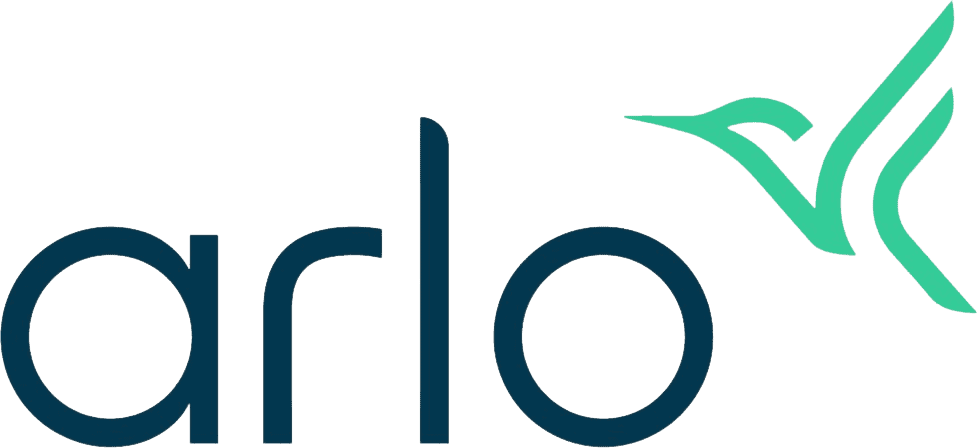 Nest Camera Comparison
| Camera | Nest Cam | Nest Cam Indoor | Nest Cam Floodlight | Nest Cam Indoor (first generation) | Nest Cam Outdoor (first generation) |
| --- | --- | --- | --- | --- | --- |
| Video quality | 1080p HD with HDR | 1080p HD | 1080p HD | 1080p HD | 1080p HD |
| Indoor or outdoor? | Both | Indoor | Outdoor | Indoor | Outdoor |
| Records during Wi-Fi outage | Up to 1 hour | No | Up to 1 hour | No | No |
| Field of view in degrees | 130 | 130 | 130 | 130 | 130 |
| Color night vision | No | No | Yes | No | No |
| Infrared night Vision | Yes | Yes | Yes | Yes | Yes |
| Two-way audio | Yes | Yes | Yes | Yes | Yes |
| Local storage | No | No | No | No | No |
| Cloud video storage | 3 hours free, or 30-60 days with Nest Aware subscription | 3 hours free, or 30-60 days with Nest Aware subscription | 3 hours free, or 30-60 days with Nest Aware subscription | 3 hours free, or 30-60 days with Nest Aware subscription | 3 hours free, or 30-60 days with Nest Aware subscription |
| Included alerts | Motion, people, animals, vehicles | Motion, people, animals, vehicles | Motion, people, animals, vehicles | Motion alerts only | Motion alerts only |
| Intelligent alerts with Nest Aware subscription | Facial recognition | Person, sound detection | Person, sound detection | Person, sound detection | Person, sound detection |
| Price | $179.99 | $99.99 | $279.99 | $129.99 | $199 |
Key Similarities
After extensive testing, we detailed here the main similarities that we've found in Nest's cameras. If you want the full info, check out our Nest Cam Indoor review, Nest Cam Outdoor review, Nest Cam IQ Indoor review, and Nest Cam IQ Outdoor review. You can also find our review of the new Nest Cam Battery here.
Advice: We recommend placing your Nest camera in the corner of a room instead of flat on a wall for maximum visibility.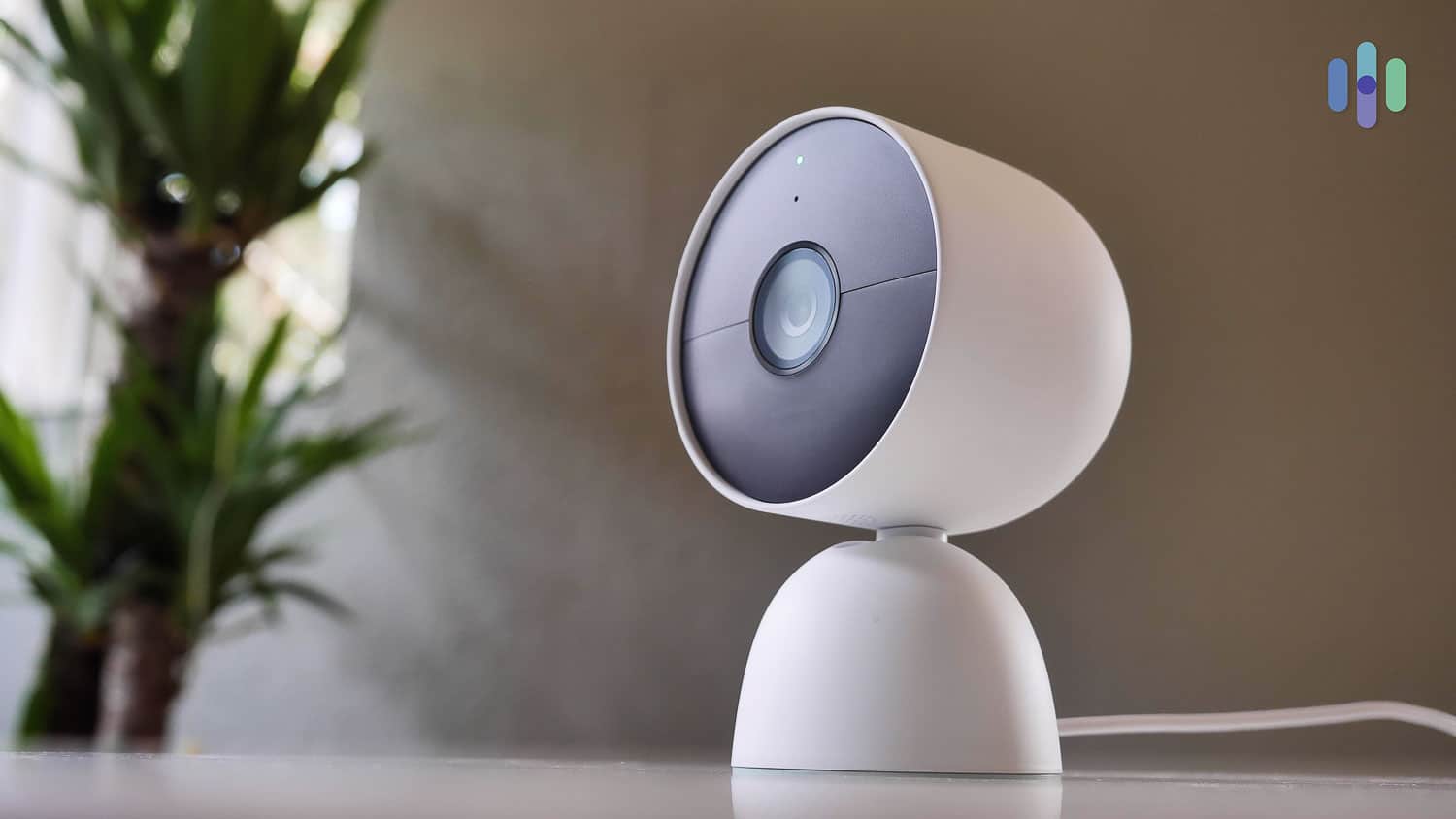 Storage
We were a bit disappointed that none of the Nest cameras have local storage, which typically comes in the form of a micro-SD card. Instead, we used Nest's cloud server, which we could access through the Nest app with ease. Nest gave us three free hours of cloud storage, but we ended up buying more through Nest Aware. As you can see below, the prices are pretty affordable, which was not always the case with Nest. We ended up buying 30 days of cloud storage for only $6 per month, although we could've saved some money and signed up for a year for $60. If we ever wanted to add more cloud storage, 60 days would cost $12 a month or $120 a year, which doesn't exactly break the bank.
| | No plan | Nest Aware | Nest Aware Plus |
| --- | --- | --- | --- |
| Event video history | 3 hours | 30 days | 60 days |
| 24/7 video history in days | No | 0 | 10 |
| Facial recognition | No | Yes | Yes |
| Activity zones | No | Yes | Yes |
| Create and share clips | No | Yes | Yes |
| Free Nest Mini | No | With Annual Plan | With Annual Plan |
| Monthly Price | $0 | $6 | $12 |
| Yearly Cost | $0 | $60 | $120 |
| Yearly Savings | n/a | $12 | $24 |
All of our Nest cameras can sense motion, so we set our cameras to notify us every time they saw something move. Motion-activated notifications like this are standard in smart security cameras, but we opted to set ours up differently. With motion-activated recording only, we got many unnecessary notifications from cars, pets, and other moving objects that weren't people, so we made some helpful adjustments to reduce the deluge. More on that in our artificial intelligence section below.
Smart Platform Integrations
In addition to controlling our Nest Cams through the Nest app, we controlled them using Google Assistant4 and Alexa. What commands did we use, exactly? Using Alexa, we cast our Nest cameras' footage on our Echo Show devices and our Fire TV. It was cool to see our family on our big-screen TV, and being able to make this happen using our voices alone made us feel like superheroes. If we wanted to get the footage off the screen, we could do that through Alexa.
Google Assistant worked similarly; we streamed our Nest footage on our Chromecast. In addition to the voice assistants, we set up our Nest Cams to work with Philips Hue smart lighting. We have a ton of smart light bulbs and fixtures in our home, so we set our lights to dim when we wanted to stream footage from our Nest cameras without glare. No matter which Nest camera we went with, we noticed that the smart home features were exactly the same.
Digital Zoom
When we wanted to take a closer look at a specific area of our live footage, we used the Nest app to digitally zoom up to eight times on all of our Nest Cams. We also set up one of our cameras to stay zoomed-in on a particular spot all the time. Digital zoom in the Nest app was particularly helpful when we departed for a trip and were worried we left the oven on; it was easy to go into the Nest app and zoom into the oven's digital display by pinching the screen.
The Nest App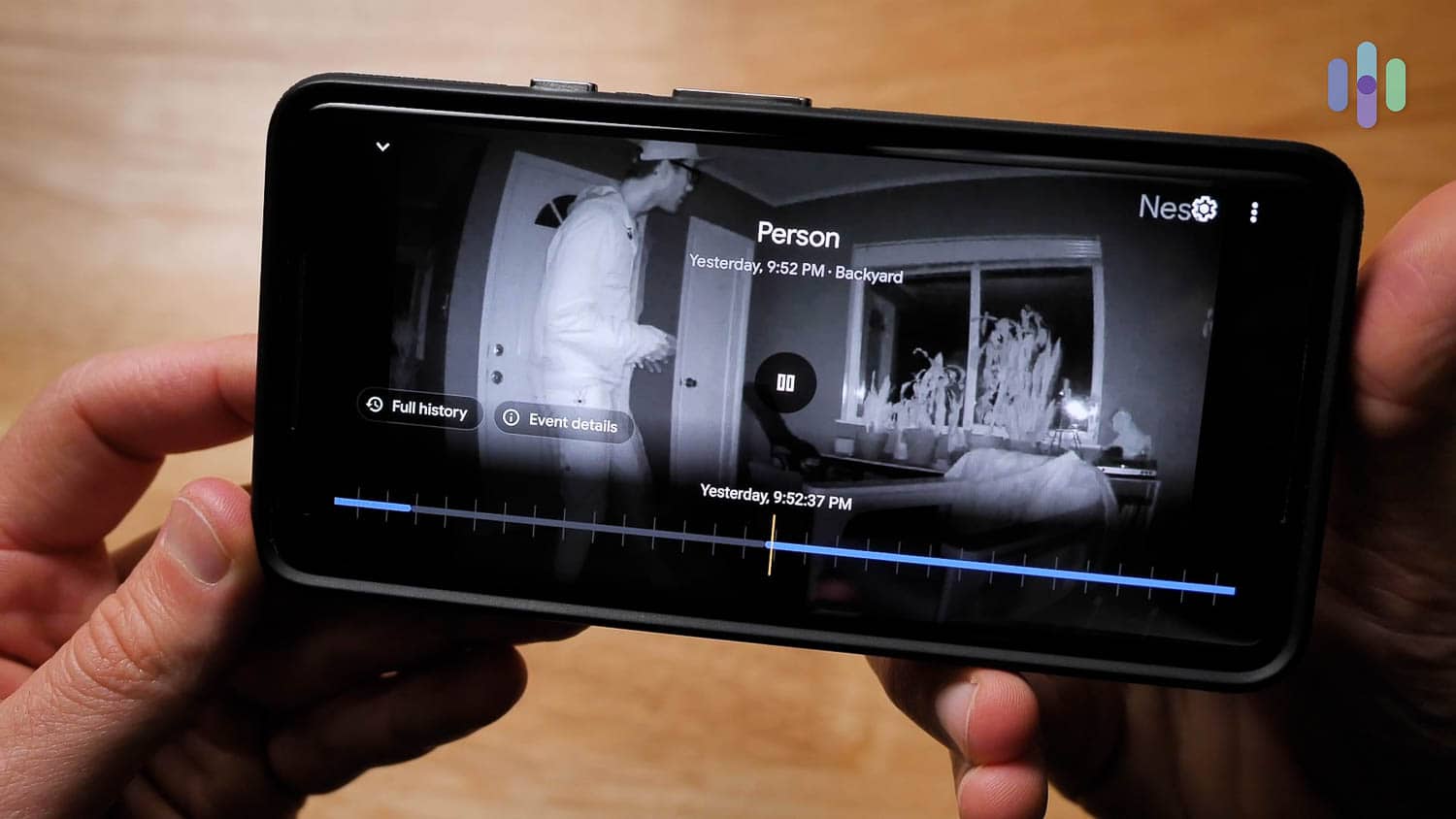 With all of the Nest cameras, we used the same Nest app whenever we were away from home. The app was where we viewed live footage, spoke to loved ones through two-way audio, rifled through cloud storage, received notifications, set up smart platform integrations, named people for familiar face alerts, and more. It was super easy to use, and we loved how it integrated all of our Nest products under one virtual roof, from our Nest Learning Thermostat to our Nest Protect smoke and CO detector. Other Nest customers seemed to agree with us, as the app has a 4.7 on the Apple store and a 4.2 on the Google Play store.5 Since we last reviewed the Nest cameras, this app has gotten a lot less buggy, so thank you to Nest for making some vast improvements!
| Common features of Nest Cams | Details |
| --- | --- |
| Field of vision | 130 degrees |
| Infrared night vision | Yes |
| Two-way audio | Yes |
| Local storage | No |
| Cloud storage | 3 free hours, 30 or 60 hours with Nest Aware subscription |
| Smart platform integrations | Alexa, Google Assistant, Phillips Hue light bulbs |
| Person detection | Standard with Nest Cams (second-gen); Nest Aware subscription required for first-gen Nest Cam Indoor and Outdoor |
| Facial recognition | Available on new Nest Cams only (subscription required) |
| Price | $129.99-$279.99 |
Video Review
Watch our video review to see us test out the Nest Cam Battery, Nest's latest smart security camera.
Key Differences
Of course, we also found a ton of differences between the Nest cameras, such as:
Video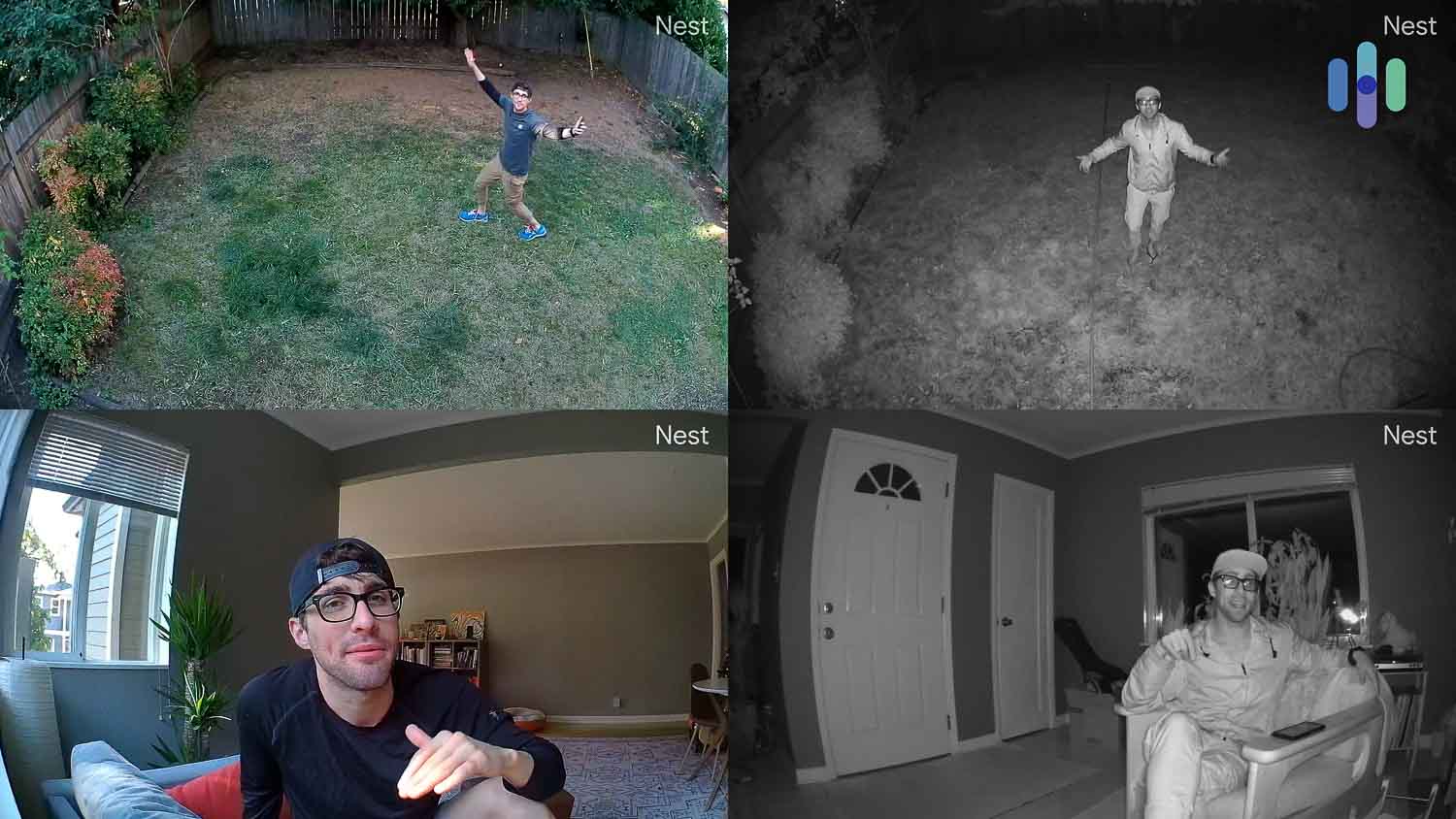 In live-streaming our Nest Cam footage, we saw that the cameras have the industry standard of 1080p resolution, making for a crisp image no matter which camera we were testing. The new Nest Cam, however, had one advantage over the originals: it recorded in 1080p HD resolution with high dynamic range (HDR), which sharpened our live stream in high-contrast situations, making for super clear live video. It helped us avoid glare or distortions from outside lighting, too.6 Nest's other cameras didn't have HDR, though, so they may not be a great choice for a particularly sunny yard, just the living room.
Of course, we didn't just test for high video quality; we also looked for wide fields of view because we wanted maximum visibility for our home security, especially for our outdoor cameras. Luckily, we enjoyed the Nest cameras' 130-degree fields of view, which certainly let us see enough of our home to monitor it properly.
Power
We plugged all of the cameras into power. That meant that we didn't have to worry about the batteries running out any time soon, although some people may prefer wireless home security cameras. The second-generation Nest Cam, however, offers both battery and plug-in use, so that was a nice discovery. If you recall, the first-generation Nest Cams all required power cords and had no battery backup.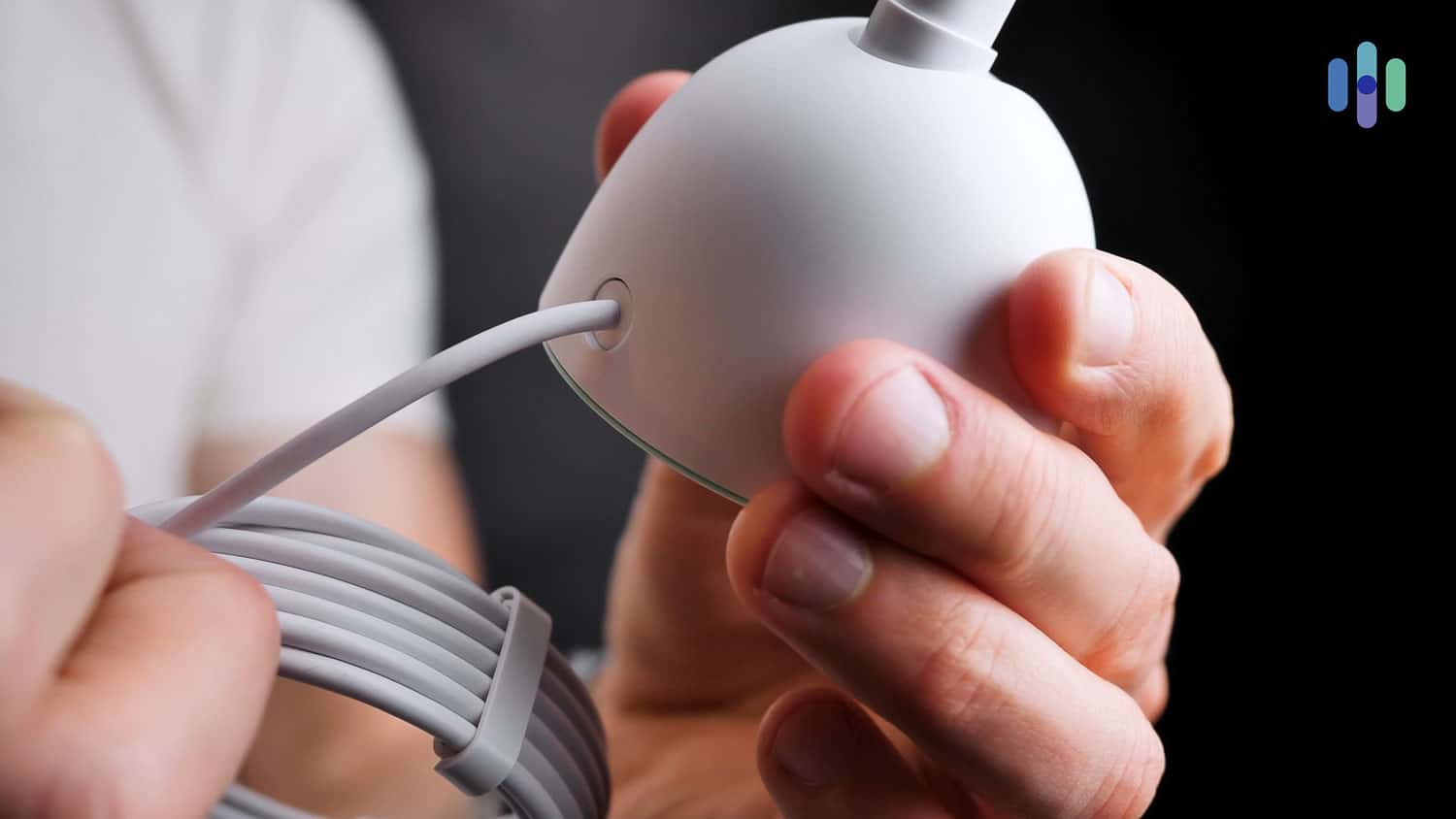 Cost
The new Nest Cam costs $179.99 and is available for pre-order. That's around the same price as a Ring Spotlight Cam, for comparison's sake. (Read our full Ring camera cost breakdown for more help comparing brands and prices, or check out our comparison of Ring vs Nest.)
Nest's website lists the new floodlight and plug-in-only Nest Cams as "coming soon." These new, lower Nest Cam prices were a pleasant surprise, as we had a pretty modest budget to work with. Below is a quick breakdown of Nest's latest camera pricing and availability. For ways to save on these cameras around the holidays and big sales events, visit our lists of Nest Cams' Black Friday and Cyber Monday deals and Nest Cams' Prime Day deals.
| Camera | Cost | Availability |
| --- | --- | --- |
| Nest Cam | $179.99 | Pre-order (ships Aug. 24) |
| Nest Cam Indoor (2nd gen) | $99.99 | Coming soon as of August 2021 |
| Nest Cam with Floodlight | $279.99 | Coming soon as of August 2021 |
| Nest Cam Indoor (1st gen) | $129.99 | Available |
| Nest Cam Outdoor (1st gen) | $199.99 | Available |
Money-Saving Tip: If you want Nest on a budget, buy the first-generation Nest Cam Indoor for only $129.99.
Two-Way Audio
When we spoke through the cameras' speakers, we noticed that the next-gen Nest Cams had very clear audio, a slight improvement over the original Nest Cam Indoor and Outdoor cameras. We had to repeat ourselves to the dog sitter a few too many times for our liking with the originals, so it was nice to have more straightforward communication in the new devices.
Infrared Night Vision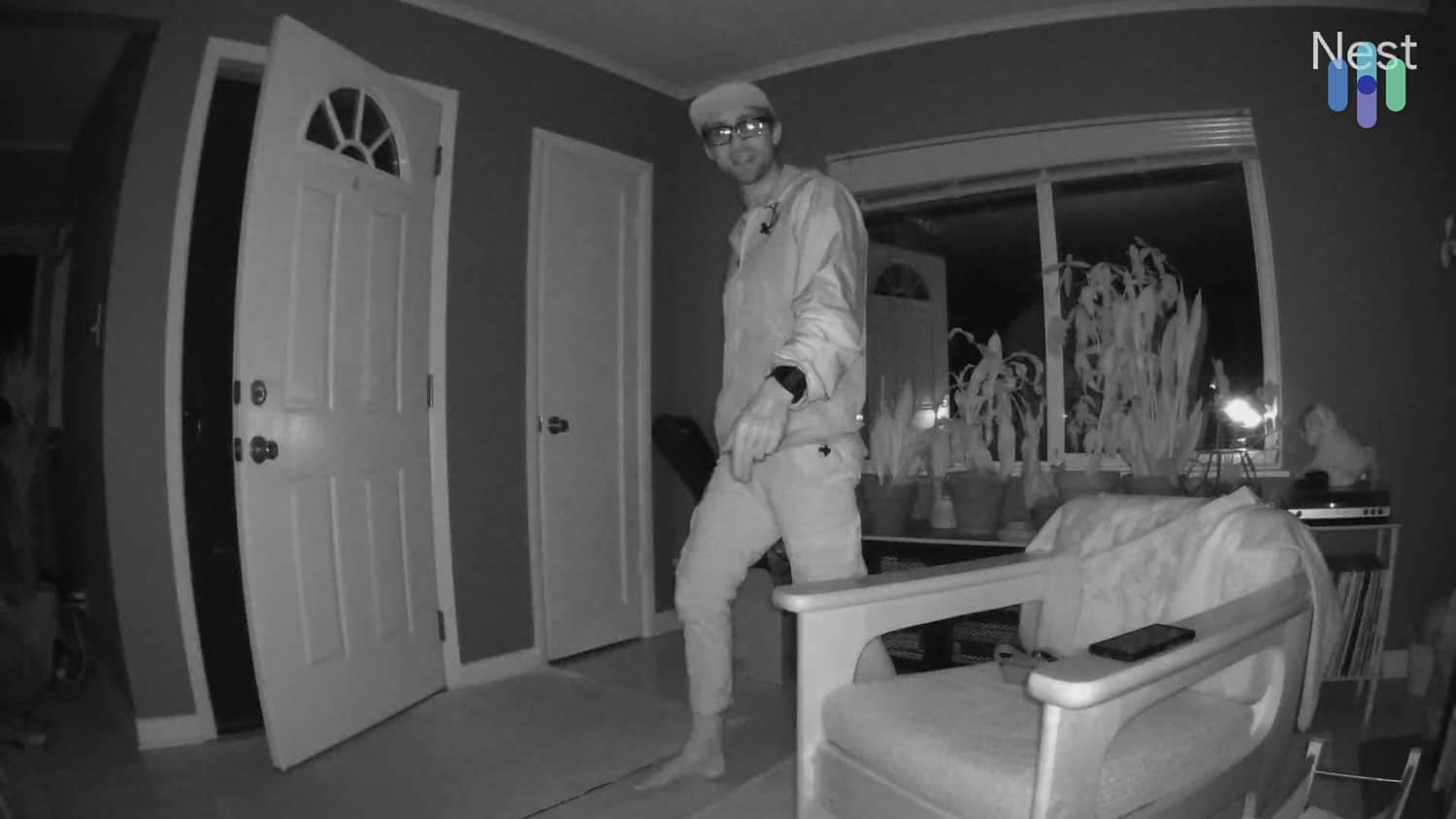 We didn't just test out our Nest cameras during the day; we also tested them out at night and were pleased with the black and white footage made possible by the cameras' six high-power infrared LED sensors. That being said, we're waiting to get our hands on Nest's new floodlight camera so we can see all that brilliant footage in color.
Artificial Intelligence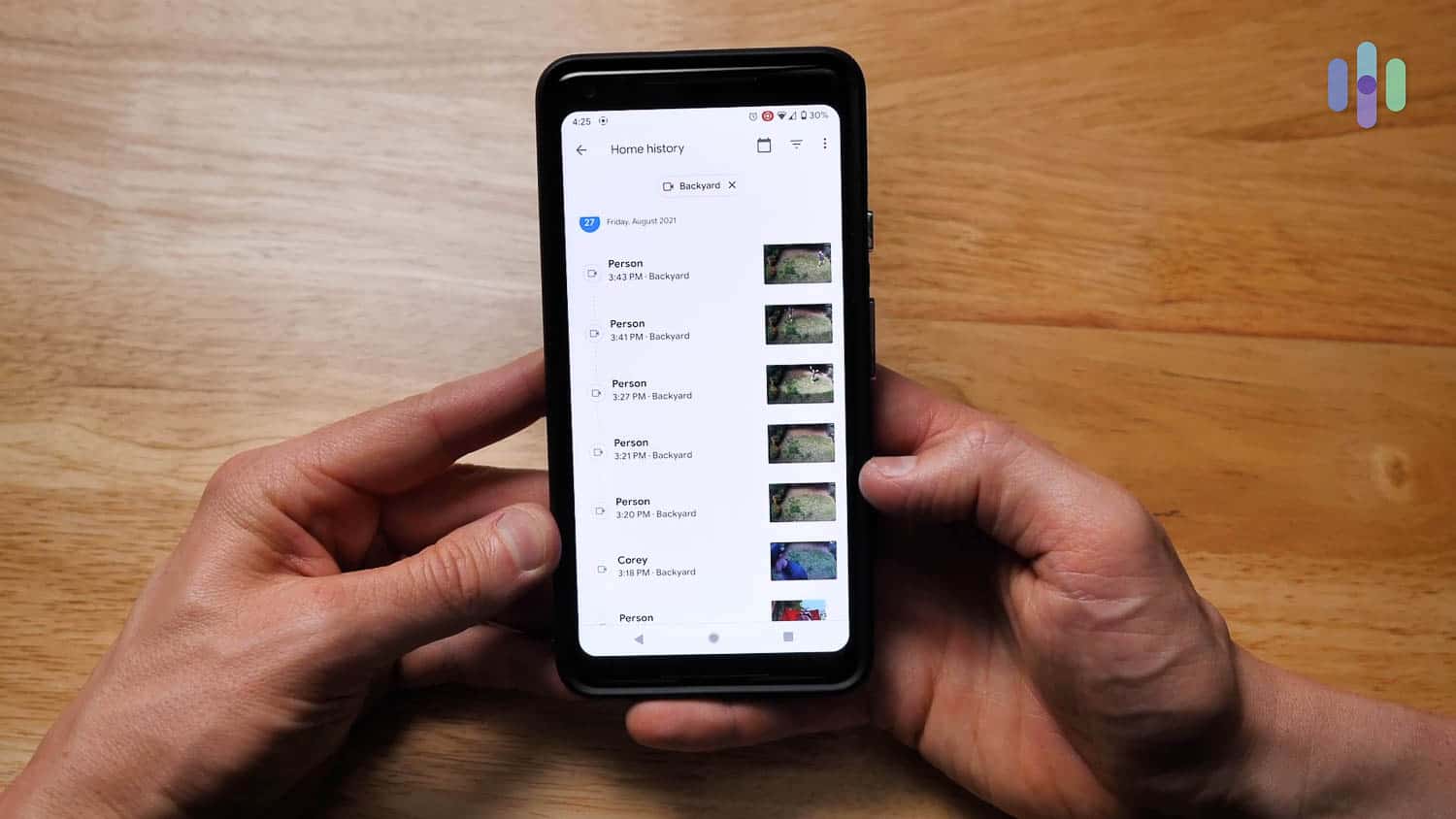 Remember when we said we'd come back to motion detection? So, when it came to customizing when we wanted our cameras to record, the possibilities were a bit different depending on the camera. Nest's facial recognition, included in our Nest Aware subscription, allowed the cameras to learn and remember the facial features of people in or around the house. When the camera detected a person, our app asked us if we knew them. If we did, we said yes, and wrote their name in the Nest app. Nest alerted us to people who weren't familiar, too. It was super convenient when we wanted to keep tabs on our kids while we were at work, making sure they didn't open the door for strangers.
Durability
The best way to determine a camera's durability is by looking at its IP rating. The IP standard measures degrees of protection against solids and liquids. The measurement helps us, as product testers, understand the details of our camera beyond vague marketing terms like "waterproof."
One thing we noticed about the newest Nest Cam is that the company says it's usable indoors and outdoors, but the camera's IP rating is only IP54. An IP54 rating means the device is not dust-tight and is protected from water splashes, but it falls short of being fully waterproof. The lower IP rating made us wary about using the new Nest Cam outside, so we avoided it. Fortunately, the original Nest Cam Outdoor's IP rating is IP65, just like the Arlo Ultra and the Ring Stick Up Cam. Most outdoor security cameras are rated IP65, meaning they're dust-tight and safe from water projected from a nozzle. We felt much safer placing the first-gen Nest Cam outside than we did with the newer version.
Installing Our Nest Cameras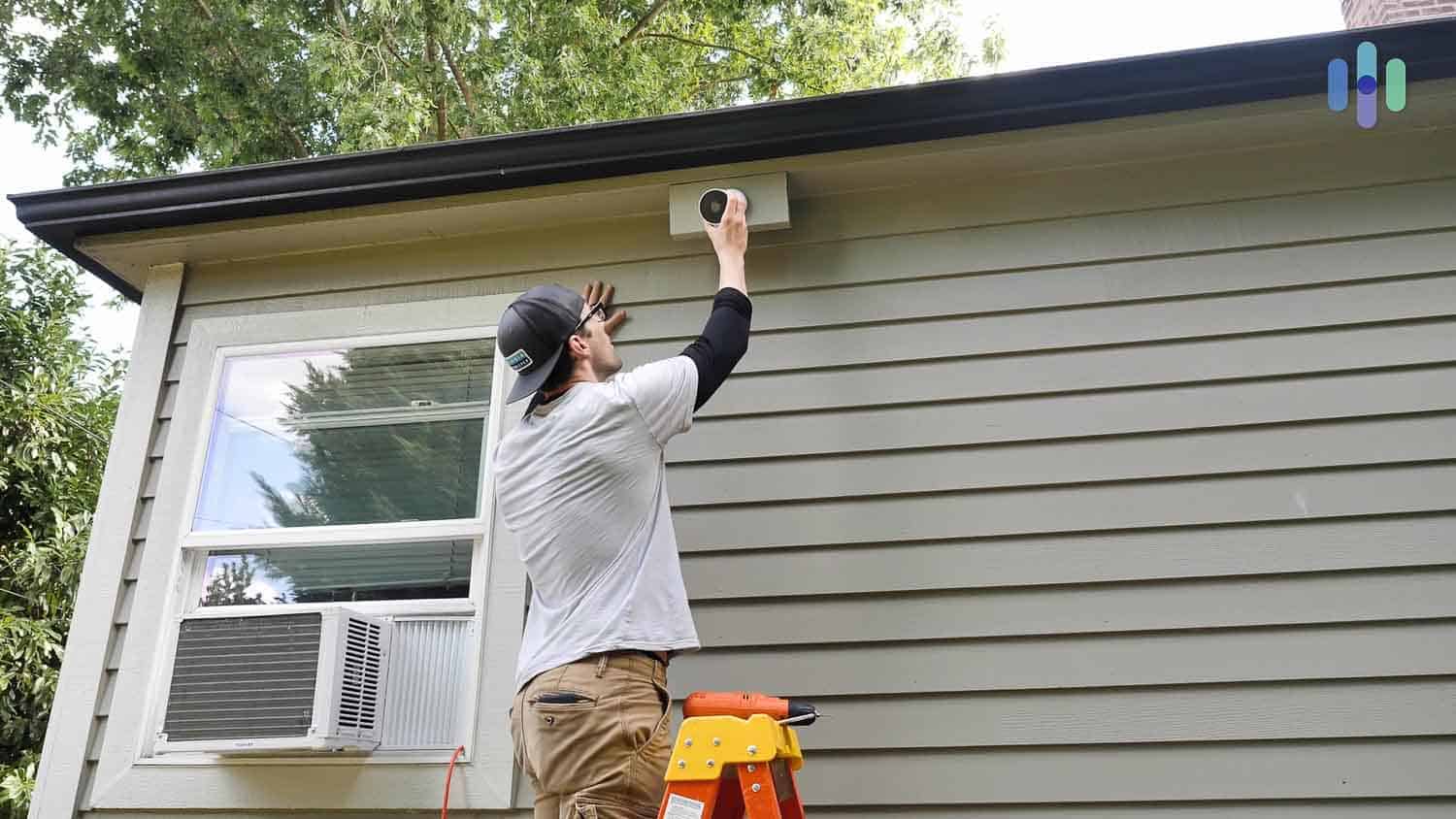 Like 60 percent of all security systems,7we had to install our Nest cameras all by ourselves. When it came to setting everything up, the app guided us through the process step-by-step, and we had our Nest Cams set up in only a few minutes each. If we wanted to mount them, that would take a bit more time and a little elbow grease, so we simply placed our cameras on flat surfaces and called it a day. And as far as the upcoming Nest Floodlight, that installation will involve some hardwiring, which we'd recommend leaving to a professional installer. The good news is, a Nest Pro can come to your home and install your Nest Cam for $99.
Monitoring Options
In addition to its IQ cameras like the Nest Cam IQ Indoor, Nest also discontinued Nest Secure, the brand's home security system that offered professional monitoring as an add-on. The only option for us with Nest subscriptions, then, was to self-monitor our Nest Cams. If you want professional monitoring, it might be wise to look at a fully monitored security system instead of individual cameras. A classic company like ADT won't let you down, though ADT's monitoring costs are a bit steep at $60 per month. Also, we suggest looking at a package from SimpliSafe, which offers 24/7 monitoring starting at $14.99 per month.
Recap
In our extensive testing of each, we found that Nest's cameras are some of the highest quality on the market today, especially in terms of video and artificial intelligence capabilities. We got the same high-quality equipment and low-cost cloud storage with the company's latest-generation Nest Cams. However, we weren't thrilled with the Nest Cam's IP54 rating, though, because it meant the camera is not dust-tight and can't handle more than a few splashes of water. Also, we noted that the new Nest Cam is $179.99, which is cheaper than the original Nest Cam Outdoor at $199. The latter also has an IP65 rating, so we'd recommend sticking to the first-gen Nest Cam for outdoor use. In the end, though, all of our Nest Cams worked really well for us and made it easy to stay on top of our home's security. And if you want a video doorbell, read our Nest doorbell review for more information.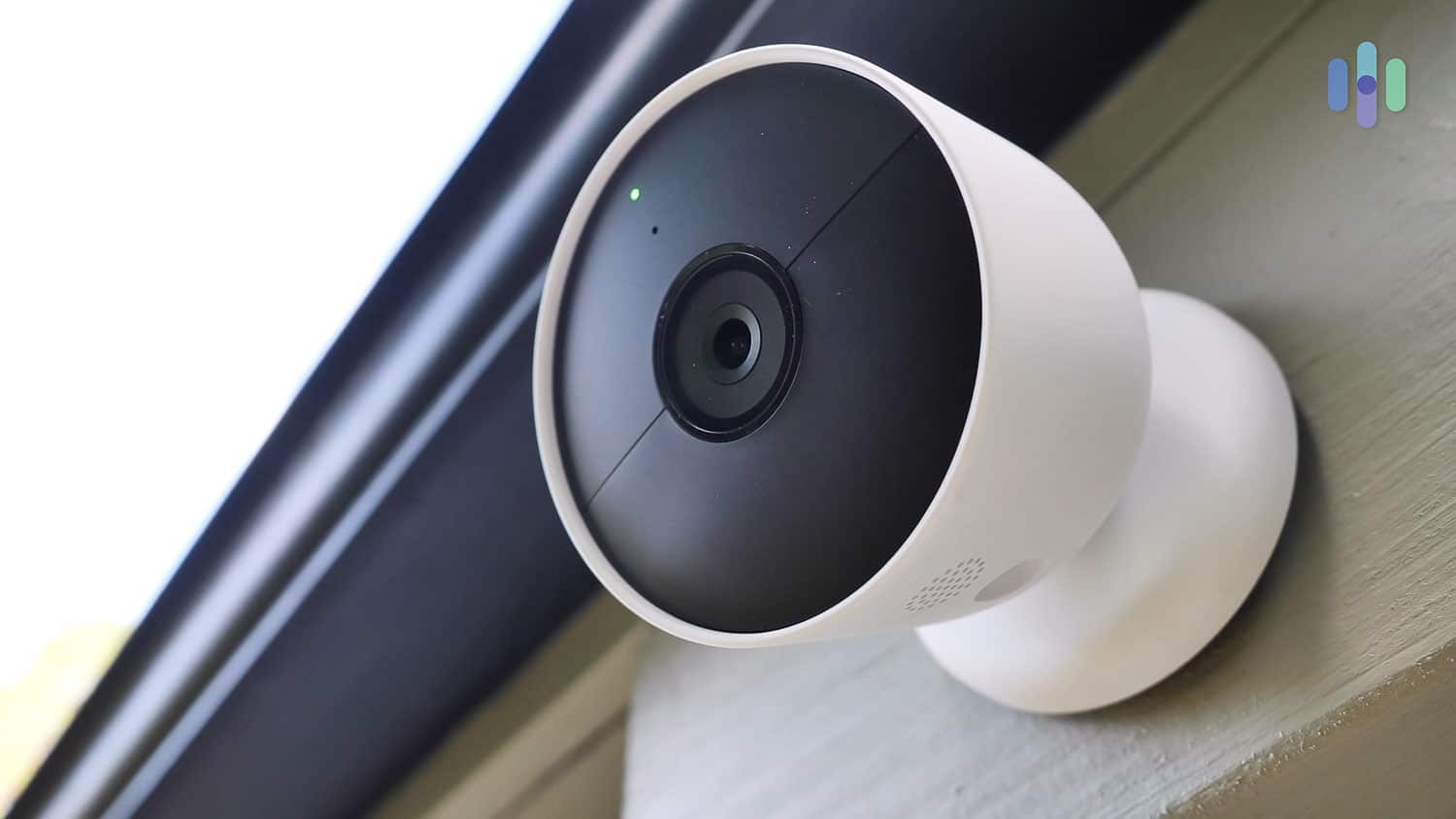 Nest never fails to impress us with the smart home technology and its cameras are no exceptions. Discover which one is the right fit for your home on Amazon.