ID Watchdog: Your Payment Options
Secure two-factor authentication
Outstanding credit monitoring features
Complete identity theft restoration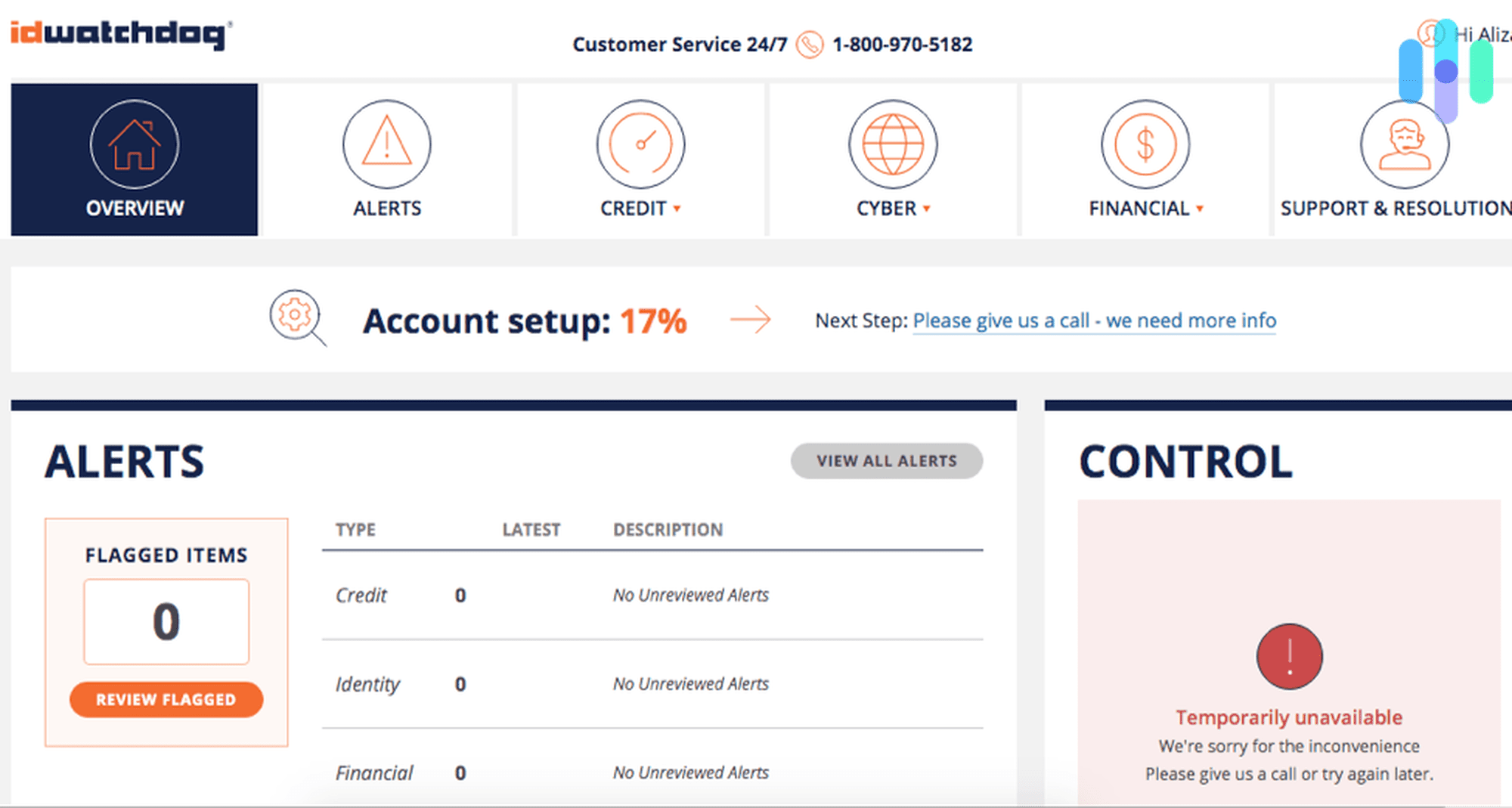 All of our content is written by humans, not robots.
Learn More
By

&

Last Updated
Apr 12, 2023
Identity and credit monitoring services are inseparable. It's nearly impossible to safeguard your credit without identity monitoring, and your credit score is essential to protecting your identity. That's why it's no surprise that most of the major credit institutions offer an identity monitoring service. ID Watchdog is the premier identity and credit monitoring service from Equifax. Yep, the same Equifax that makes up one-third of the major credit bureaus in the US and suffered one of the most infamous data breaches in history. Curious to see what they offer? We'll cover all that and more below.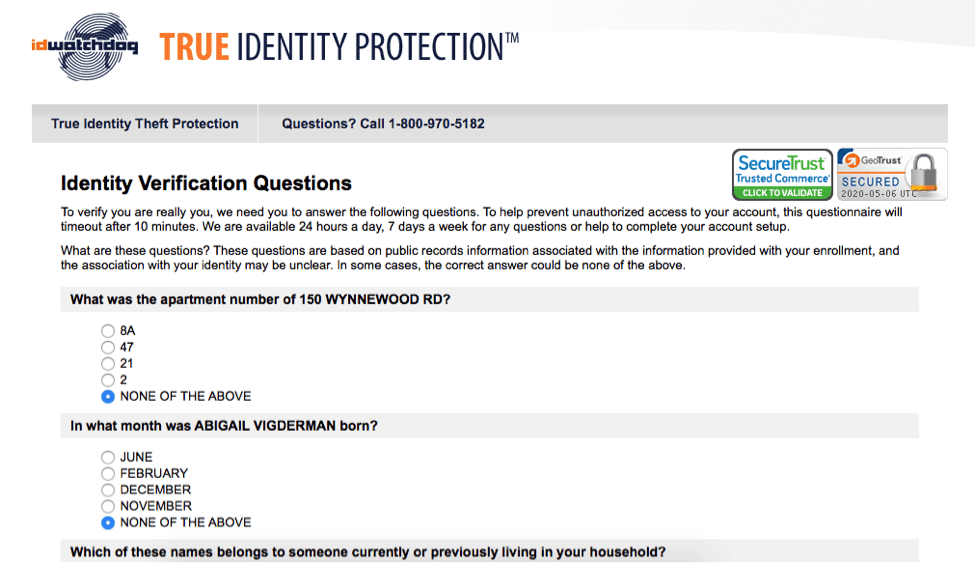 Pros and cons
| Pros | Cons |
| --- | --- |
| Affordable | Based in the U.S. |
| Daily credit reports | Poor iOS app |
| $1 million reimbursement maximum | Data breach |
Our Favorite Features
ID Watchdog offers a competitive package compared to companies like myFICO that can charge up to $49.95 per month for identity and credit monitoring. Although they may be missing some of the more niche or luxury amenities of a more expensive package, they provide a great service for the money. Now, we know the importance of getting credit monitoring results from multiple credit bureaus and since that is only available through ID Watchdog's Premium subscription, we decided to go for the upgrade. Without any more fanfare, let's jump right into our favorite features of ID Watchdog.
Credit score tracking: We were sent daily credit score reports from the owners of ID Watchdog, Equifax. This was helpful in making sure there were no sudden dips in our score that we needed to attend to.
Credit reports: We were happy to learn monthly reports were delivered from all three credit bureaus: Equifax, Experian, and TransUnion.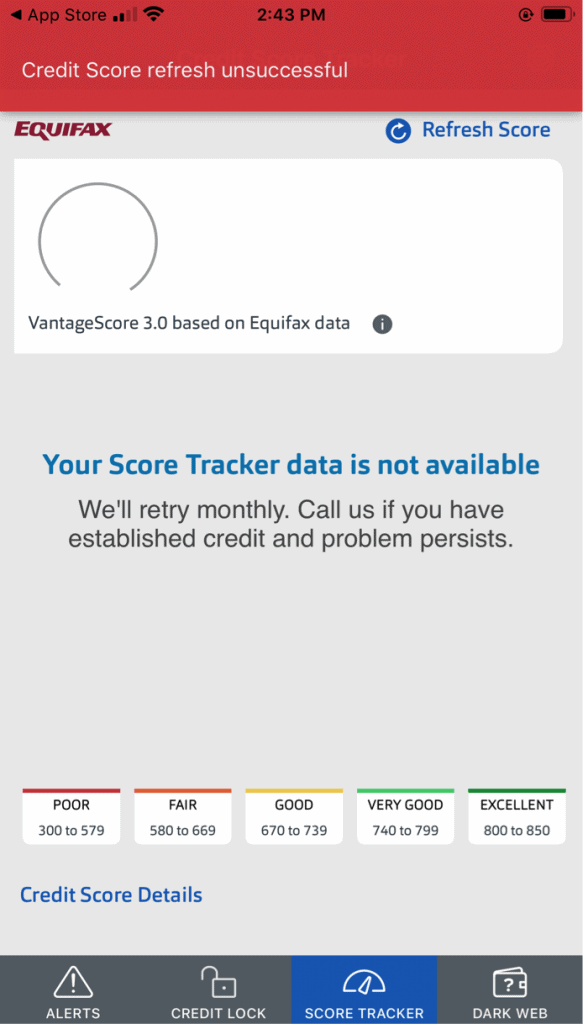 VantageScore Credit Scores: VantageScores (like FICO scores) are an estimate of many factors: your number of open accounts, total levels of debt, and repayment history, etc. Unlike your FICO score, VantageScore was developed and is owned by the three major credit bureaus

1

and it can also be used to determine if you get a loan or not.
Lock Credit Reports: If we found something fraudulent after using the tools above to check our credit score, we could lock our credit reports from any or all of the three bureaus.
Identity monitoring: ID Watchdog monitored the world for our personally identifiable information. What areas did it cover? Well, that included the dark web, high-risk transactions, subprime loans, public reports, change of address requests through USPS, and even the national sex offender registry. Since "high-risk transactions" is a pretty broad description, we did some research and found that they are categorized as dealings we (or an identity thief) would enter into where there is a large chance of loss. Examples would be buying junk bonds, payday loans, or online gambling.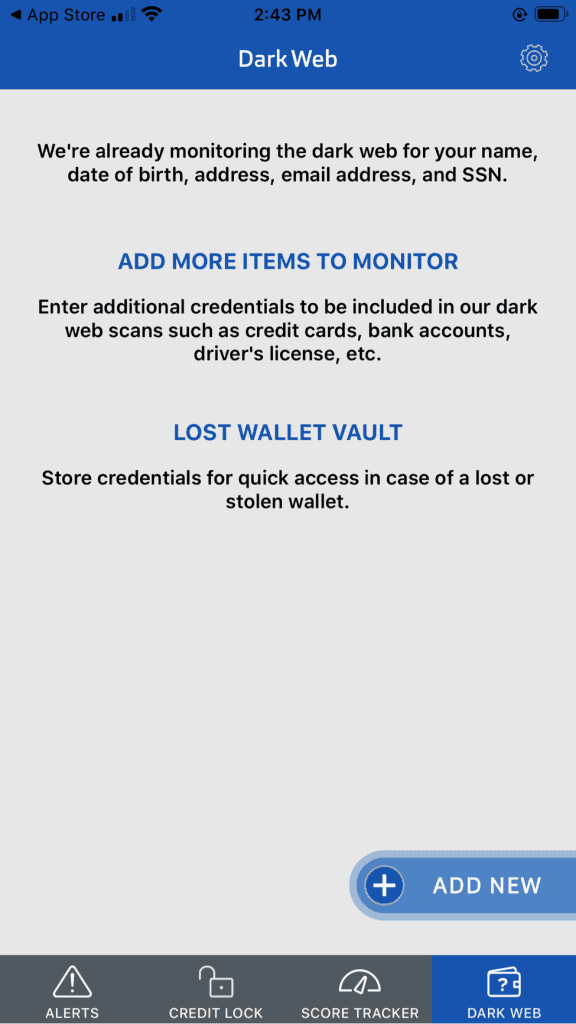 Financial accounts monitoring: After entering all of our information, ID Watchdog monitored our credit cards, investment, and savings accounts for any potential fraud. This tool is really helpful, because there's nothing we like better than keeping our paychecks in our pockets.
Assistance for lost wallets: As people who would forget our heads if they weren't attached, we were happy to see ID Watchdog had a robust lost wallet recovery program. We put it to good use after a rainy bike ride home that resulted in a lost wallet. The team at ID Watchdog helped us cancel cards and retrieve a gym membership! Thank God, because it is summer and we want our beach bodies to be ready.
Assistance for fraud alerts: Some folks aren't identity monitoring experts like us, but with ID Watchdog, that's no big deal. Customer service reps are available to help users set up fraud alerts with all three bureaus.
Assistants for credit freezes: Thankfully, we didn't see any fraudulent charges on our credit scores while using ID Watchdog, but if we did, their dedicated experts would have been able to help us freeze our credit reports with Experian, Equifax and Transunion.
Solicitation reduction: Another day, another mailbox stuffed with credit card offers, and endless telemarketing calls to boot. One of our absolute favorite features of ID Watchdog was that they put our phone number on the national Do Not Call registry to reduce the junk mail sent to our address. There's nothing more beautiful than an empty mailbox!
Resolution specialists: From the point of fraud detection to getting our identity back, a real person was just a phone call away if our identities were stolen.
Identity theft insurance: We always recommend going with an identity monitoring option that has identity theft insurance. ID Watchdog meets the industry standard of up to $1 million in reimbursement if our identities were stolen.
401(K) HSA Stolen Funds Reimbursement: This was a surprising, unique and welcomed feature. If money was stolen out of our 401(K) or HSA funds, ID Watchdog would reimburse us up to $1 million! We were glad to see ID Watchdog had our savings protected as well.
If you're interested in seeing how ID Watchdog stacks up, we did an even deeper dive on all of ID Watchdog's features, and their in app experience in our ID Watchdog review.
Did You Know: An easy way to add an extra layer of defense to your identity is by using VPN to access public WiFi services. As the first line of defense, a reliable VPN. service can strengthen your security profile AND protect your data.
More Security.org Recommendations
Check out more of our favorite identity theft services.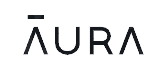 Can I Try It For Free?
Unfortunately, ID Watchdog does not offer a free option. You can, however, get a free credit report from ID Watchdog's parent company, Equifax, on their website.2
Pricing and Packages
ID Watchdog made things really simple with only two subscription options and family plans that extended to two adults and four children. Considering most family plans protect two adults and up to ten children, this feature was a little disappointing. Other services from LifeLock and Identity Guard offer several different plans for adults and children, which is nice for folks who like variety, though it can be confusing to figure out what you get with each plan. Read our Identity Guard pricing page and our LifeLock pricing page for more options.
We opted to go with the Premium subscription for $21.95 per month. Although we could have saved $43.40 by going with an annual subscription, we prefer the flexibility of a month to month plan.
| | ID Watchdog Select | ID Watchdog Premium |
| --- | --- | --- |
| Number of Credit Bureaus Monitored | 1 | 3 |
| Credit Score Tracker from 1 Bureau Frequency | Daily | Daily |
| Credit Reports from 1 Bureau and VantageScore Credit Scores from 3 Bureaus Frequency | No | Daily/ Annually |
| Number of Credit Bureaus With Reports That Can Be Locked | No | 3 |
| Monitoring for dark web, high-risk transactions, subprime loans, public reports, change of address, sex offender registry | Yes | Yes |
| Assistance for lost wallets, fraud alerts, credit freezes | Yes | Yes |
| Solicitation Reduction | Yes | Yes |
| Financial Accounts Monitoring | No | Yes |
| Equifax Child Credit Lock with Family Plan | No | Yes |
| Identity Theft Resolution Specialists | Yes | Yes |
| Identity Theft Insurance up to $1 Million | Yes | Yes |
| 401(K)/ HSA Stolen Funds Reimbursement up to $1 million | No | Yes |
| Individual Monthly Cost | $14.95 | $21.95 |
| Individual Annual Cost | $150 | $220 |
| Individual Annual Savings | $29.40 | $43.40 |
| Family Monthly Cost | $23.95 | $34.95 |
| Family Annual Cost | $240 | $350 |
| Family Annual Savings | $47.40 | $69.40 |
Although ID Watchdog's Select plan gave users a great baseline for monitoring, their Premium plan was the only one that included 401(K)/HSA and identity theft insurance. When it came to protecting our identities and bank accounts, those two services were essential.
FYI: No identity protection or monitoring services are bulletproof. That's why to make sure we could bounce back from the worst-case scenario, by going with a subscription option that includes identity theft insurance.
Safety and Security of ID Watchdog
After going through everything ID Watchdog had to offer, one of the biggest questions we had ringing in our heads was, "After the Equifax breach in 2017,3 can we trust ID Watchdog?" Following a lot of research, we decided that yes, we could trust them with our data. However, it is up to each individual how much and to what companies they are comfortable disclosing their information to.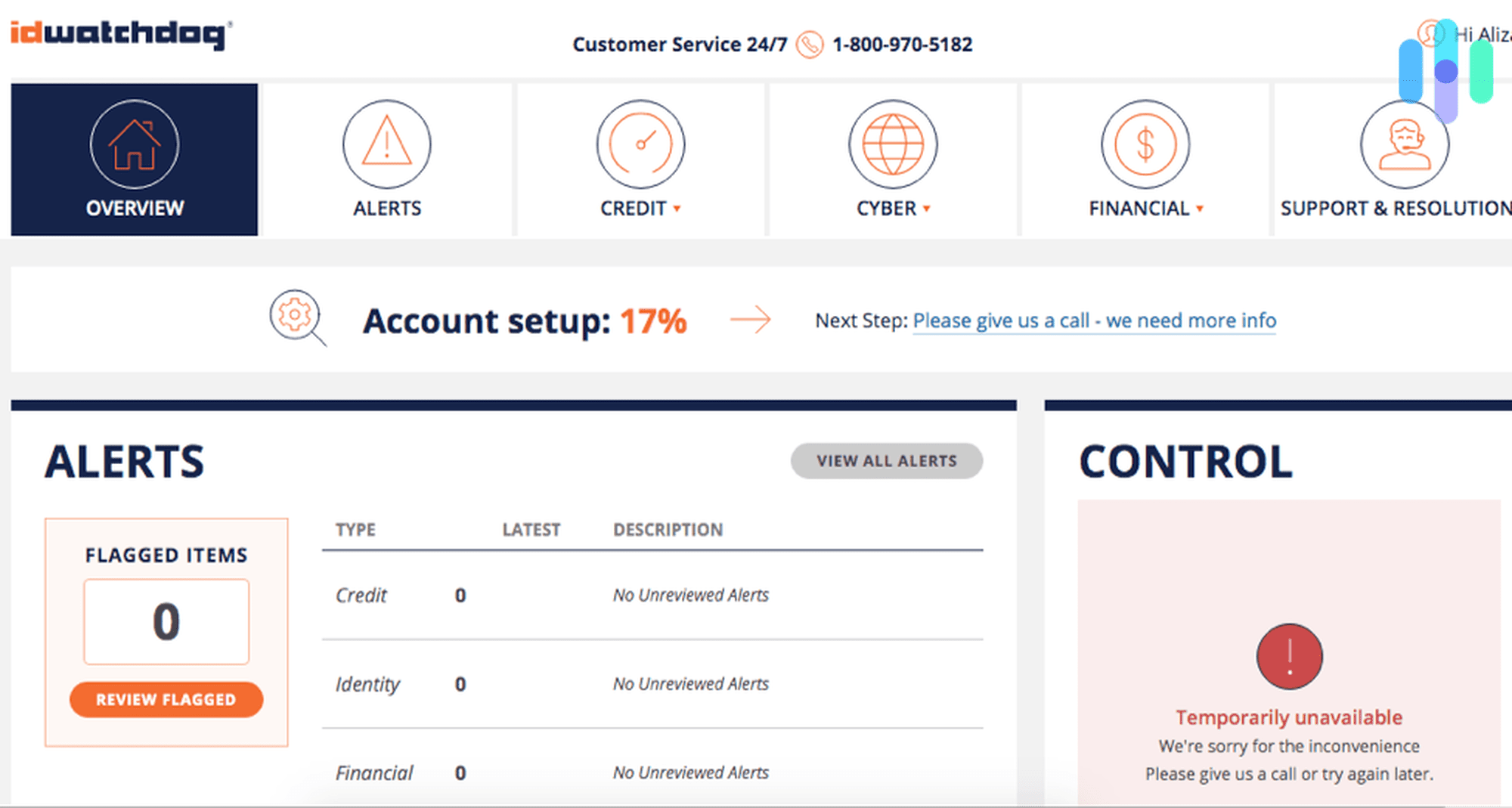 Here are the facts: ID Watchdog encrypted our data using a TLS system. TLS stands for Transport Layer Security. This allowed ID Watchdog to authenticate our sessions and make sure our connections were secure. Unfortunately, there is a provision that allows ID Watchdog to keep our personal information and data, even if we cancel our subscription. On the flip side, they refuse to share our data with third parties for marketing purposes.
If you're very protective over your data, and not so quick to forget about the 2017 breach, ID Watchdog might not be for you. Considering major companies like, Amazon's Ring,4 and most recently, the GPS and wearable company Garmin,5 have been victims of data breaches, it seems like this is a regular part of operating a large business that consumes massive amounts of data. The best defense against these attacks is an identity monitoring program, and we think ID Watchdog's is reasonably priced, with great service.
Cancellation Policy
Thankfully, ID Watchdog made it really easy for us to cancel our account. While other identity monitoring services made us jump through hoops with call forwarding, email confirmations, and specific opt-out dates, ID Watchdog was straightforward. We cancelled our ID Watchdog account by calling ID Watchdog Customer Care at 1800-970-5182. They are available 24 hours a day, 7 days a week, 365 days a year, a welcome and honest approach to cancellation.
Conclusion
Equifax data breach aside, we have nothing but good things to say about ID Watchdog. Their service and coverage proved comprehensive; with all parts of the web monitored, a great insurance policy for both your savings and high risk accounts for fraud, we were really pleased. Not to mention all of this was provided at a reasonable price! Although we never had to use it, their customer service was available at all times and their cancelation policy didn't give us a headache. Overall, ID Watchdog is a great option to both avoid fraud and resolve fraudulent issues if they should occur.
Frequently Asked Questions