IdentityIQ Review
We took IdentityIQ for a spin to see if it has what it takes to protect our identity.
What We Like
Enhanced credit monitoring: IdentityIQ monitored our credit records daily based on our scores from the three major credit bureaus (Equifax, Experian, and TransUnion). The Secure Max plan even included monthly credit reports from the same bureaus.
Free family coverage: Our plan gave qualifying family members identity theft insurance coverage up to $25,000. That's in addition to the $1 million coverage for the account owner, one of us.
Customer support: Whether we had questions about our account or concerns regarding possible identity theft, IdentityIQ provided help through its customer support teams in the U.S.
What We Don't Like
No social network monitoring: While IdentityIQ comprehensively monitored our credit, it didn't monitor social networks for accounts impersonating us.
No mobile app: We had no problem checking our IdentityIQ dashboard on a desktop browser, but the lack of a mobile app made it hard for us to access the dashboard on a smartphone.
Data sharing: Not only did IdentityIQ collect personal data, it also shared it with third parties.
It may not be one of the biggest names in identity theft protection, but IdentityIQ has outstanding features that caught our attention.
IdentityIQ, a decade-old identity theft protection company, is perhaps best known for its affordability. But does it offer enough features to shield you from credit and identity fraud? That's exactly what we tried to find out. We signed up for IdentityIQ's premium plan, Secure Max, and after a year of testing, the verdict is in!
IdentityIQ privacy issues
| | |
| --- | --- |
| Collects Social Security numbers | Yes |
| Collects birthdates | Yes |
| Headquartered in U.S., a founding member of Five Eyes, Nine Eyes, and 14 Eyes | Yes |
| Shares customer data with third-party vendors | Yes |
| History of breaches | No |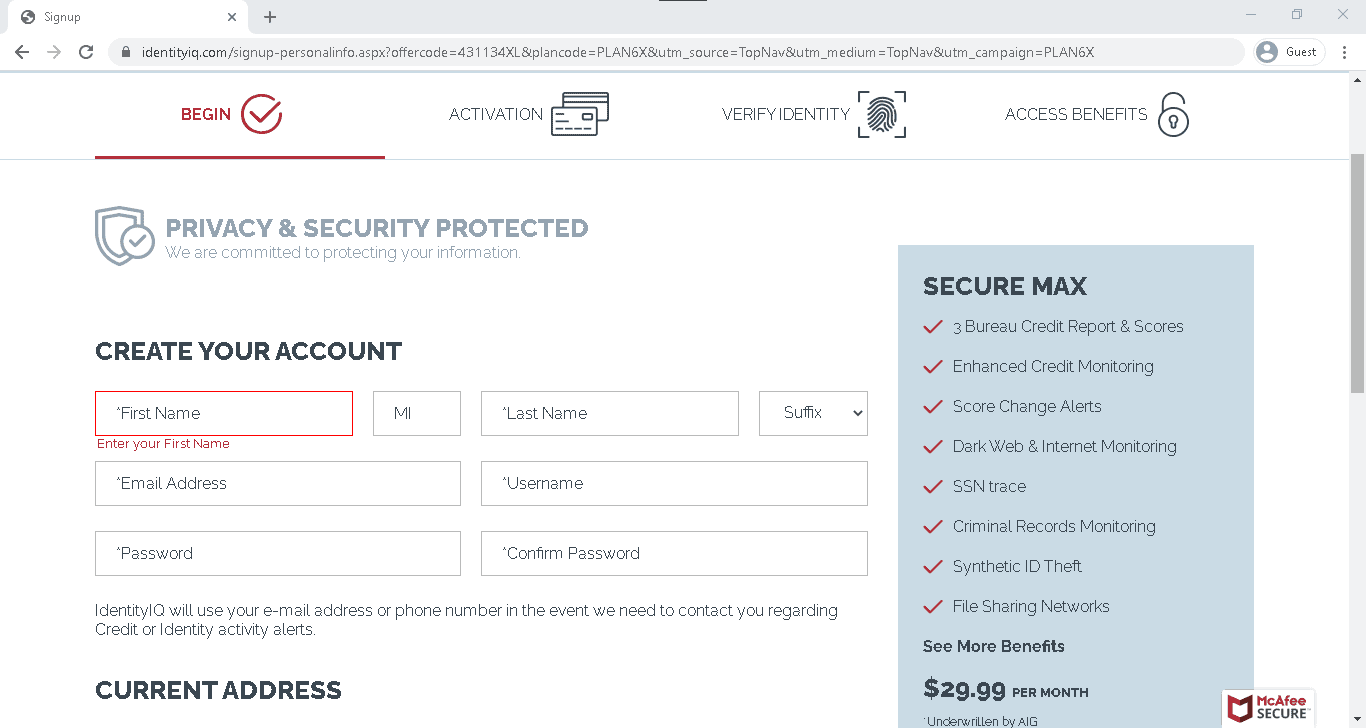 Editor's Rating
$1 million fraud insurance available on all plans
Four different plan options, including a "Max" family plan that includes up to four minor children
Credit score simulator
More Security.org Recommendations
Check out more of our favorite identity theft services.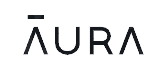 Features
IdentityIQ looks like a formidable identity theft protection service so far, so let's take a closer look at its features and see if it can hold up.
Credit Monitoring
IdentityIQ's credit monitoring covered all the three major credit bureaus — Equifax, Experian, and TransUnion. It monitored our credit on a daily basis, alerting us of unexpected changes and activities that were out of the ordinary. It's worth mentioning, though, that three-bureau credit monitoring is only available with the Secure Pro and Secure Max plans. Those in the lower-tier plans only get one-bureau monitoring.
On top of that, IdentityIQ checked for signs of credit fraud, such as:
Change of personal information or address
Delinquent credit accounts
New inquiries, public records, and court judgments involving our account
New loans and credit lines
Credit monitoring of such extent is, of course, normal for an identity theft protection service. However, IdentityIQ's enhanced credit monitoring also alerted us to less obvious changes that might indicate credit fraud. For example, we got an alert when we added a new authorized user to our credit card, just in case a fraudster made the change. IdentityIQ also kept track of changes in collection balances, closed trade lines, and retail and bank cards that were above their limits, among other things.
It's necessary to point out at this juncture that in order for IdentityIQ to monitor our credit accounts as comprehensively as it does, we had to provide a lot of our information. Not only does that require trust in the service, but it's also time-consuming and tedious to do. However, if you want the best possible protection, we recommend that you go through with it.
Identity Monitoring
IndentityIQ looked into non-credit-related areas and data points for signs of fraud, such as the dark web and public records.
Dark web: It scoured the dark web, which is where criminals usually sell stolen personal data, for information related to us. It looked for signs of our Social Security number, name, address, etc. being leaked or sold.
Criminal records: It monitored national and international criminal records for arrests and convictions connected to our names and birthdays. This would help us clear our names if someone posing as us was arrested or convicted, which happens more than you might think.
SSN trace: It alerted us whenever someone used our Social Security number every time, not just when it was used with a wrong name or address. So if someone already got hold of our personal information, we'd still know if they used it to commit fraud.
Change of address: It monitored change of address requests, both with credit reporting agencies and the National Change of Address registry.
Did you know?: According to Javelin Strategy & Research, 31.7 percent of data breach victims fall prey to identity theft later on1. In many cases, the breached data was sold on the dark web. This is one reason why dark web monitoring is a must-have feature.
Identity Restoration
As you can probably tell, IdentityIQ focuses on detecting identity theft, which means by the time it alerts you of a possible issue, your identity has already fallen into the wrong hands. That's where the second part of the service comes in. In case you experience identity theft, IdentityIQ will help you restore your life in order. A dedicated case manager will help you put together an action plan and help you see it through. Plus, IdentityIQ's restoration team is based in the U.S., so you can trust that you'll get high-quality service.
Insurance
Identity restoration requires legal help, and with attorney fees in the U.S. ranging from $100 to $400 per hour, seeking legal help certainly isn't cheap2. That's where IdentityIQ's $1 million identity theft insurance coverage comes in, which would cover direct and indirect losses such as:
Funds stolen through electronic fund transfers from our bank account
Legal fees and expenses
Miscellaneous expenses
Up to $1,500 weekly up to five weeks for wages lost
While the best identity theft protection services we've reviewed also offer up to $1 million insurance coverage, not all of them cover legal fees. That's one of the best things we liked about IdentityIQ.
Family Coverage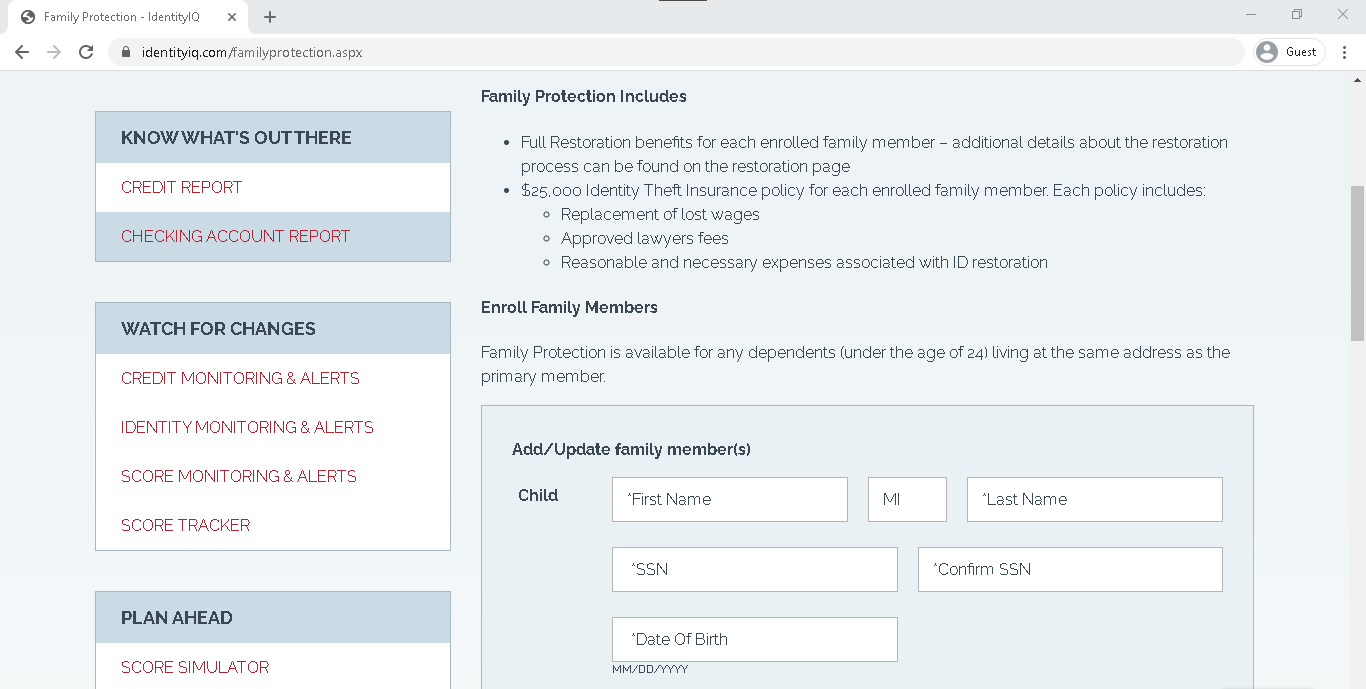 According to research, more than 1 million minors fell victim to child identity theft in 2017.3 So if you think identity theft is only an adult problem, think again. Fortunately, IdentityIQ offers free family insurance coverage up to $25,000 to Secure Max plan accounts. This insurance covers the children of the account owner for as long as they are living at the same address. The age limit is 24 years old, so even young adults benefit from this provision.
While this insurance doesn't count as a full identity theft protection for families, it's certainly a nice addition. IdentityIQ does offer a comprehensive subscription option for families, in case you want more protection.
Our IdentityIQ Dashboard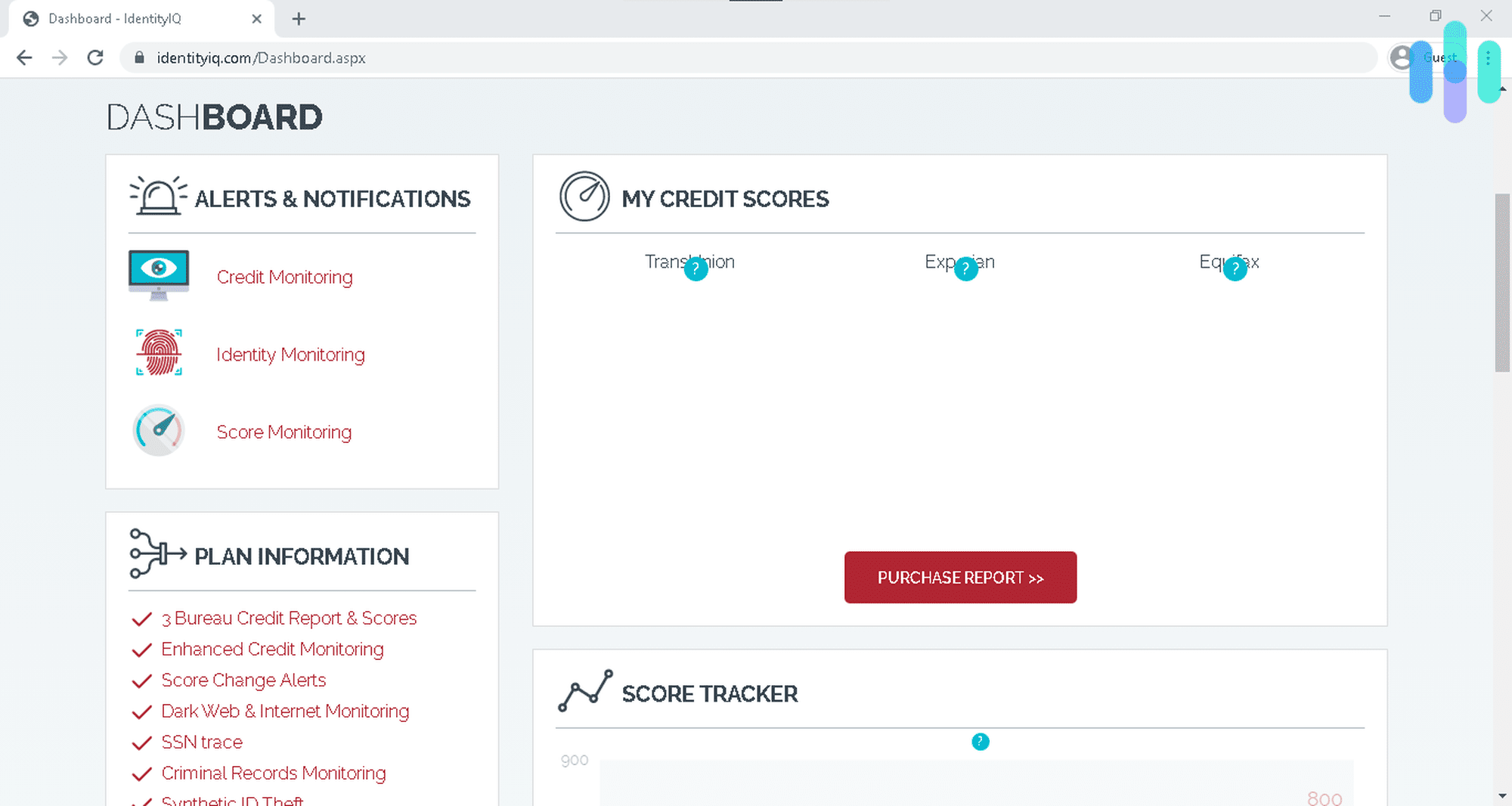 Moving on from the features, let's talk about our actual, day-to-day experience with the IdentityIQ dashboard. We accessed our dashboard through the IdentityIQ website. It offered a quick summary of our credit, identity, and score monitoring alerts. It also featured a report of our current scores from the three credit bureaus. To the side, there's a list of all the features in our plan, which we occasionally checked to see in which areas we needed more protection (social network fraud, for instance).
On the account details page, we easily updated our personal information, password, and security questions as well as managed our plan. The page also gave us easy access to our monthly credit report, monitoring and alerts, and other features to strengthen our identity protection. For example, if we had children (which we don't), we could click on the "family protection" link to add them to our family coverage.
Overall, the dashboard was easy to use and very intuitive— on a computer, that is. IdentityIQ lacks a mobile app, so whenever we wanted to check our dashboard on a smartphone, we had to use our mobile browser. It's still fairly easy to use, but the smaller screen made it harder to navigate.
The Cost of IdentityIQ's Protection
IdentityIQ's pricing model was easy to understand. As the price increases, so does the number of features and benefits. The Secure Max plan, which is what we tested, offers the most features, while the Secure Plan offers only the basics. Take note that there are two types of subscriptions from IdentityIQ. The first one offers identity theft protection only, while the second one offers identity theft protection and malware protection for a few extra bucks a month. The malware protection is courtesy of Bitdefender, which you can read about in our Bitdefender antivirus review.
Additionally, you can opt to pay for the service on a yearly or monthly basis. Choosing a monthly plan awards you with the flexibility to cancel anytime. If you stop paying this month, you'll stop getting service. It's that simple. On the other hand, the yearly plan offers discounts. Yearly plans are about 15-percent cheaper than the monthly plans, so if you're planning to use the service for at least a year, go with the yearly plan.
| | Secure Plan | Secure Plus | Secure Pro | Secure Max |
| --- | --- | --- | --- | --- |
| Monthly price | $6.99 | $9.99 | $19.99 | $29.99 |
| Monthly price with Bitdefender | $8.99 | $11.99 | $21.99 | $32.99 |
| Number of credit bureaus monitored daily | 1 | 1 | 3 | 3 |
| Frequency of 3-bureau credit reports | No | Annual | Biannual | Monthly |
| Credit score change monitoring | No | No | Yes | Yes |
| Credit score movement tracker (graph) | No | No | No | Yes |
| Enhanced credit report monitoring | No | No | Yes | Yes |
| Credit score simulator | No | No | No | Yes |
| Checking account report | Yes | Yes | Yes | Yes |
| Dark web monitoring | Yes | Yes | Yes | Yes |
| Change of address alerts | No | Yes | Yes | Yes |
| SSN usage alerts | Yes | Yes | Yes | Yes |
| Criminal record alerts | No | No | Yes | Yes |
| Insurance coverage | Up to $1 million | Up to $1 million | Up to $1 million | Up to $1 million |
| Free family insurance coverage | No | No | No | Yes |
| Identity restoration assistance based in the U.S. | Yes | Yes | Yes | Yes |
| Identity restoration with limited power of attorney | No | No | No | Yes |
| Legal fees coverage | Yes | Yes | Yes | Yes |
| Personal expense compensation | Yes | Yes | Yes | Yes |
| Lost wallet assistance | Yes | Yes | Yes | Yes |
| Opt-out IQ (junk mail/DNC lists) | Yes | Yes | Yes | Yes |
Tip from the experts: We recommend the Secure Plus and Secure Max plans, as they monitor all three credit bureaus as opposed to just one. Three-bureau monitoring increases the service's chances of catching fraudulent activities.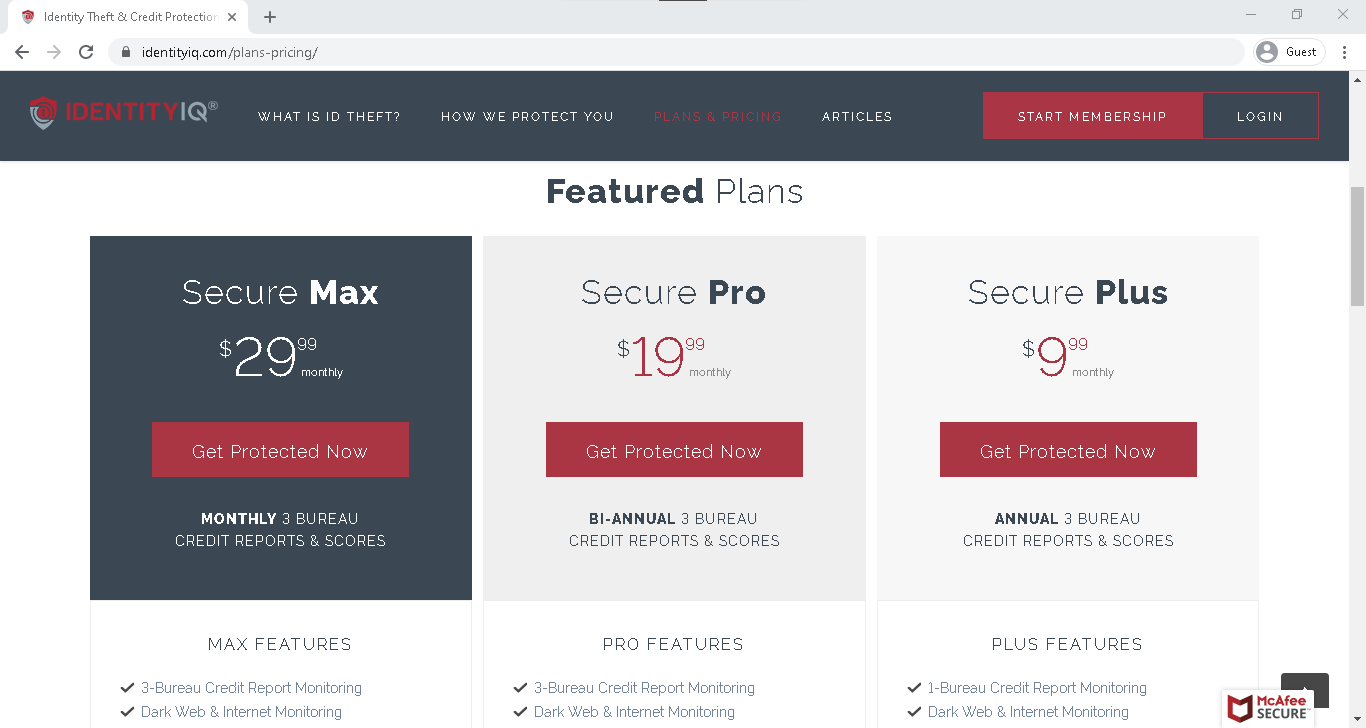 Privacy and Security
When we signed up for an IdentityIQ subscription, the first step required us to provide basic personal information like our name and billing address. Later on, it asked us to provide our SSN, birthdate, and payment information. Those are all sensitive pieces of data, so before we completed the process, we checked IdentityIQ's privacy policy. First, we learned that it collects and stores all personal data customers provide. The name, address, birthdate, SSN, credit card numbers, everything! Of course, that's understandable because IdentityIQ also uses that information for credit and identity monitoring.
Next, we moved on to how it protects our data. The privacy policy is vague about this. It mentions that IdentityIQ uses its "best efforts to protect and restrict access" to our data, but it didn't mention how. The only solid information we got was that the company uses SSL encryption technology on its website.
Last but not least, we checked how IdentityIQ uses the information it collects. As expected, it shares personal data of customers with service providers necessary for IdentityIQ's purposes. These service providers are under a written contract with IdentityIQ. On top of that, since it's based in the U.S., IdentityIQ may be required by law to share customer data with the government. That's because the U.S. is part of the Five Eyes alliance. However, we were disappointed to learn that IdentityIQ also shares customer information with third parties for promotional purposes.
On the bright side, we looked into IdentityIQ's past records and didn't find any privacy-related controversies or breaches. That's a good sign, but it doesn't necessarily mean that our data is secure, so we advise you to proceed at your own risk.
Recap
IdentityIQ stands out as an affordable option with lots of data protection features. The three-bureau credit monitoring and monthly credit reports are a real winner for us, and we're sure many would love the free family insurance coverage. However, it's not the best at handling customer data. It shares customer information with third parties, so if that's a red flag for you, you might want to go back to the drawing board.
Choose IdentityIQ If you want:
Comprehensive credit monitoring: IdentityIQ monitors credit scores and provides credit reports from Equifax, Experian, and TransUnion.
Insurance: You'll get up to $1 million identity theft insurance coverage and your children will get up to $25,000 coverage as well with the Secure Max plan.
Identity restoration assistance: IdentityIQ's identity restoration team in the U.S. will help you through the entire ordeal if your identity is stolen.
Steer clear if you want:
A mobile app: IdentityIQ is yet to launch a mobile app, so it's harder to access the dashboard on a smartphone.
Social network monitoring: With no social network monitoring, you'll need to take extra measures to protect your identity online.
A stricter privacy policy: IdentityIQ shares customer data with third parties.
If IdentityIQ isn't for you, a good place to start is our list of the best identity theft protection services.