Is Your Teen Hiding Something? Content-Hiding Apps Every Parent Should Know
Photo- and video-hiding apps can be a real menace to parents, so here's how to nip them in the bud.
"We've all got something to hide." We've all heard that clichéd movie line a few times, but as parents, we shudder to think our teens may be hiding something from us. It's not that we're snoopy parents. We just want to protect our kids from the dangers of the real world and prevent them from making bad decisions.
Unfortunately, there are many apps that make it easy for kids to hide photos, videos, files, conversations, and whatever it is they don't want their parents to see. Is your kid hiding something? There's a good chance they are if they have these apps on their phone.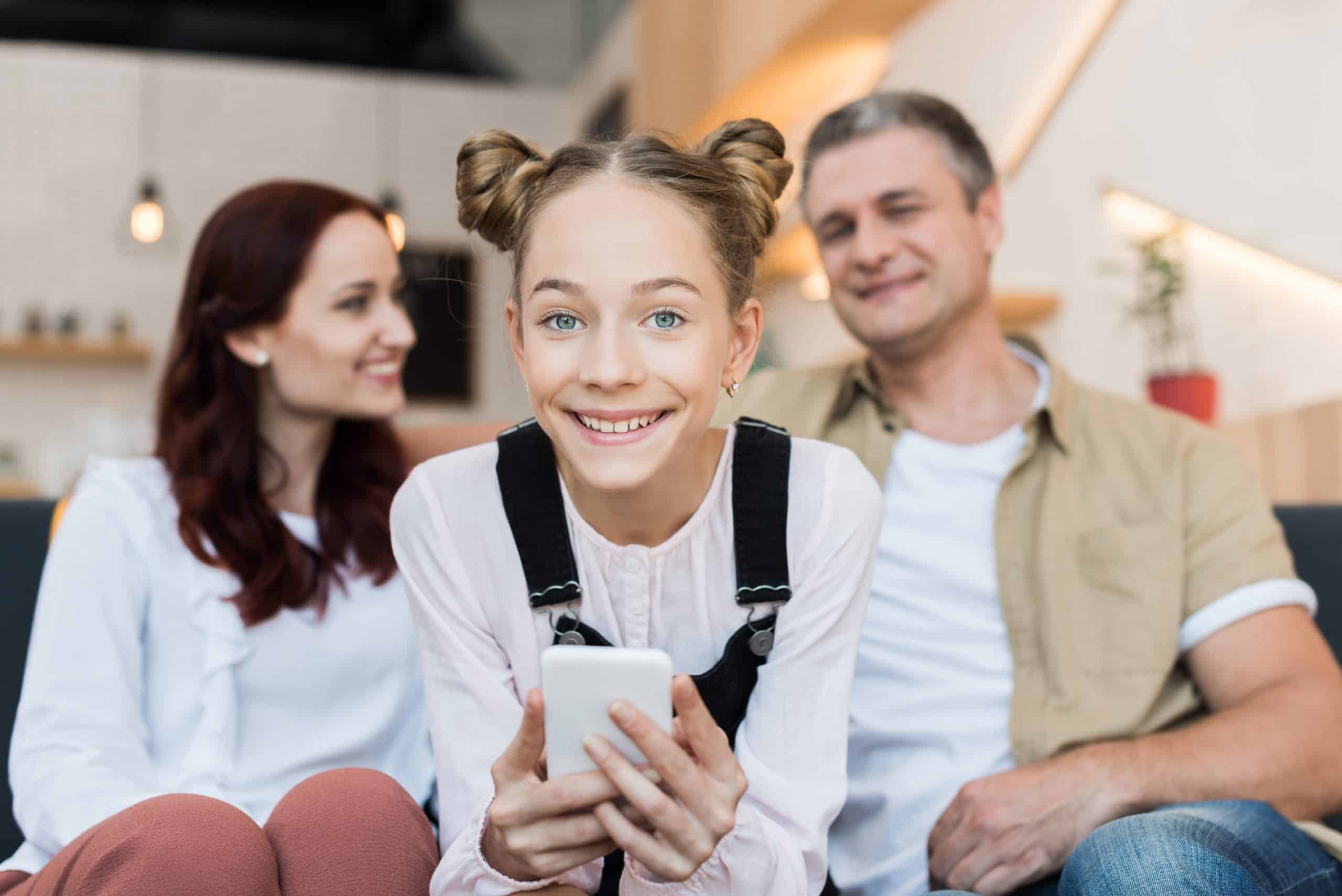 The Most Downloaded Photo- and Video-Hiding Apps
Where's a good place to hide something? In plain sight, which is exactly what these hiding apps do. They create a password-protected vault where you can store anything from photos and videos to text messages and even apps. They then conceal the fact that they're a hiding app by camouflaging as a calculator, flashlight, camera, or any other utility app, or by simply being inconspicuous. You could imagine why they are so popular among people who have something to hide, including teenagers.
If you are worried your kid is hiding stuff from you, check their phone for these popular hiding apps.
AppLock by DoMobileLab: With over 100 million downloads on Android alone, AppLock is easily one of the most popular hiding apps. It lets users store photos, videos, and files in a vault — you know, the usual — but it can also password-protect other apps. If your teen's phone asks for a passcode every time you try to open their Facebook Messenger, look for AppLock and its unmistakable vault icon.
HideU: Calculator Lock: This one hides pretty well. It turns into a working calculator app once downloaded, but by entering a numeric passcode and holding the equal sign, it opens a vault. The app icon looks almost exactly like the default calculator app on Android, and it won't show up even if you search HideU from the list of apps.
App Hider: This one does things a little differently. It creates a sandbox Android system — basically a second system where your kid can install apps that won't show up on their phone's app drawer. They can even have the same apps installed on both the real Android system and App Hider, meaning they can easily hide a second Facebook account without raising suspicions.
Private Browser: From the developers of App Hider, Private Browser disguises itself as a calculator app. Press the right buttons and you'll gain access to a secret browser that always seems to be in incognito mode. It stores browsing history, but the inconspicuous calculator app is probably the last thing you'll open if you're checking what your teenager searches on the internet.
Vaulty: Vaulty is one of the old guards of photo- and video-hiding apps, and it's still popular today. It cleverly disguises itself as either a calculator app if you prefer a numeric passcode or a stock lookup app if you prefer using a password. It's so popular that if your child looked up "hiding apps" and downloaded the top result, they probably downloaded Vaulty.
That is just the tip of the iceberg. The Google Play Store and App store both have hundreds of hiding apps, and many of them put their own clever twists on hiding files, photos, videos, and apps.
Even some of the mainstream social media apps teenagers may already have on their phones can be used to hide secrets. Snapchat has disappearing messages that self-destruct once seen, perfect for hiding conversations. Facebook Messenger has private conversations that are viewable only from one device. Even under close monitoring, teens can hide messages from their parents using those features.
How to Spot Hiding Apps
Seeking out these hiding apps is a tedious game of hide-and-seek, except it's not a game. Our kids' reputations, futures, and online safety are on the line. As parents, it's our job to protect our kids from online dangers and from themselves. We know teenagers are hardwired to make bad decisions. We've all been there.
So how do you spot hiding apps that are so good at hiding? We'll give you a few pointers.
Let's start with the obvious: Check each and every app on your kid's smartphone. If you're lucky, they're using a hiding app that doesn't camouflage as a different app. If not, check the usual suspects: utility apps, such as calculator, calendar, notes, and flashlight. If they have two of the same app, one may be a decoy.
Another place to check is your credit card statements. It seems far-fetched, but many hiding apps charge a premium for advanced features. If your kid paid for it using your credit card or a secondary credit card tied to yours, you'll find it on your card statement.
There are more technical methods to go about seeking these hiding apps. On an Android phone, for example, you can check the built-in file explorer to look for suspicious folders. Some decoy apps change their app icon once installed, but they usually use their real name when creating folders within the system.
On an iOS device (iPhone), go to Settings, then General, and then Storage. You'll see a list of apps and how much storage space they take up. Calculator, flashlight, and other utility apps don't normally use more than 50 MB of storage, so a calculator app that takes up more than 100 MB is probably hiding something else.
With a little bit of investigative work, you can find out if your kid is using a decoy app.
Photo-Hiding Apps Aren't All Bad
Why do teenagers use these hiding apps in the first place? It's easy to assume the worst. Maybe they're hiding racy conversations or sharing and downloading inappropriate media. Perhaps they're a victim of cyberbullying and don't want you to know, or, worse, they're bullying someone else. Maybe they're just hiding a game app from you because they don't want you to know they're spending way too much time on it rather than studying.
It's important to remember that these hiding apps and decoy apps aren't made to outsmart parents. They hide stuff — plain and simple. They're actually pretty useful if you think about it, especially now that hacking and identity theft cases are so rampant. Instead of keeping a digital copy of your bank statement or other documents with sensitive information on your phone, why not use a password-protected vault?
It just so happens that teens have found a use for decoy apps to hide things from their parents. We have to be aware of those hiding apps, but we should also not assume the worst if we find out our kids are using them. They may have downloaded a hiding app for good reasons, like to hide their birthday present for you (hey, it could happen!), or even to protect their privacy when their peers borrow their phones.
Finding out your kid uses a hiding app isn't the end of the world. Talk to them about it and don't overreact.
But They're Not All Good
That said, there may be danger that stems from using decoy apps — and we're not just talking about how these apps can provide an opportunity to expose, persuade, or lead teens to make bad decisions. We're talking about their potential privacy implications.
Here's an example: We tried downloading a number of hiding apps, and all of them requested permission to access all our files and media. That's necessary for them to do their jobs, but think about how easy it would be to slip spyware into those apps. We don't know what the apps are doing in the background, and it's a safe bet that neither do our teenagers.
Researchers also found even more shocking discoveries about hiding apps. In one study, cybersecurity researchers found that many of the top 30 vault apps request dangerous permissions, including access to the camera, GPS location, and contact lists. One, they said, even requested the ability to read body sensors that measure things like heart rate and steps. At least four of the developers of the apps have been publicly identified for data theft.1
It's hard even for us adults to know which apps to trust, so open communication is necessary if you find out your teenager is using a hiding app. You may be able to steer them away from apps that will put them in harm's way.
The Takeaway
We know parenting in the digital age is tough — we're going through it ourselves — and photo- and video-hiding apps, decoy apps, and vault apps make things a little harder to keep tabs on our teens.
If you suspect your teen is hiding something from you, talking to them is always a good step. They may view checking their phone for hiding apps as an invasion of their privacy, but it's our job as parents to make them realize we have nothing but their best interest at heart. It's our job to protect our children.