Last Updated: June 29th, 2020
By Gabe Turner and the Security.org Research Team
Even though versions of Virtual Private Network (VPN) technology have been around since the mid-1990s, it hasn't been until recent years that use of VPNs has become more mainstream, particularly for non-work-related purposes. Personal use has been attributed in part to the increase and awareness of cyber-attacks, of which 110 million Americans were victims in 2019 alone.
Interest has surged even further in the second quarter of 2020, likely due to COVID-19. According to Google Trends data, average global search volume for the term rose by about 16 percent during the 12 weeks starting March 15, 2020, compared to the preceding 12 weeks. The jump was even more dramatic in the U.S., with average search volume rising by more than 22 percent between the two time periods.
How widespread is awareness of VPN technology, why do people use it, and what is the general perception of the value of adopting these services?
Key findings:
49 percent of adult U.S. internet users claim to use some type of free or paid VPN, either at work or for personal use.
General security (49 percent), general privacy (40 percent), and public Wi-Fi use (31 percent) are the three most commonly cited reasons for using VPNs.
Specific reasons for privacy, such as activism or whistleblowing (eight percent), bypassing office or school restrictions (nine percent), or bypassing government censorship (nine percent) are less common, but notable cited uses for VPNs.
Those between 45 and 60 were the most likely to say their job pays for their VPN (38 percent), while only 14 percent of those 18-29 said the same.
Nearly all current VPN users (96 percent) rated their service as either very or somewhat effective.
What is Awareness of VPNs?
Most U.S. adults (72 percent overall) are familiar with VPNs. Awareness skews younger as about half of adults age 60 or over recognize what a VPN is.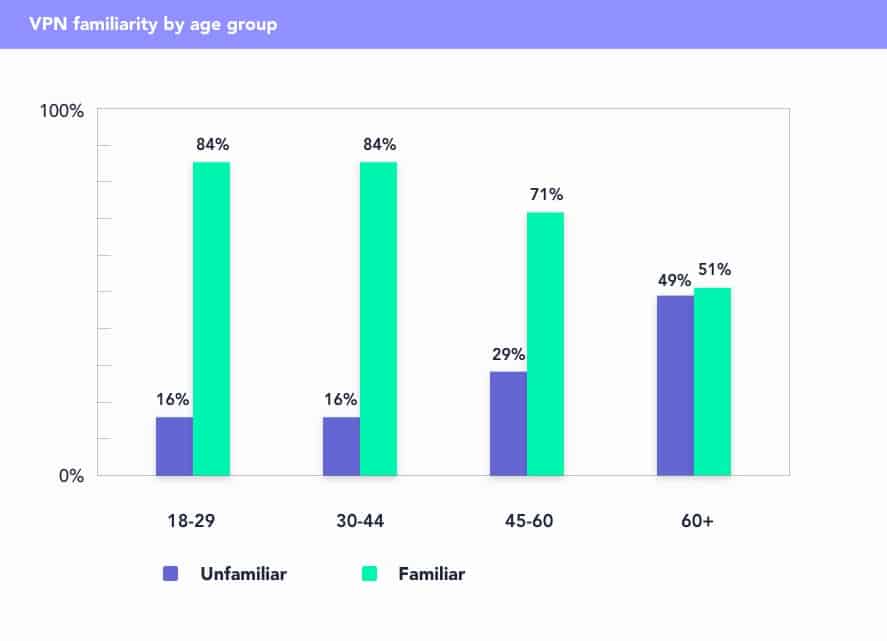 FYI: Want to see how well two of the bigger VPN brands did when we tested them? If so, read our review of ExpressVPN as well as our review of NordVPN to see how they stacked up against the competition.
Who's Using VPNs and Why?
What did we find about who uses VPNs and for what purposes? Among all respondents, including those unaware of VPNs, about half don't use the technology. But among those familiar with VPNs, about 68 percent use them.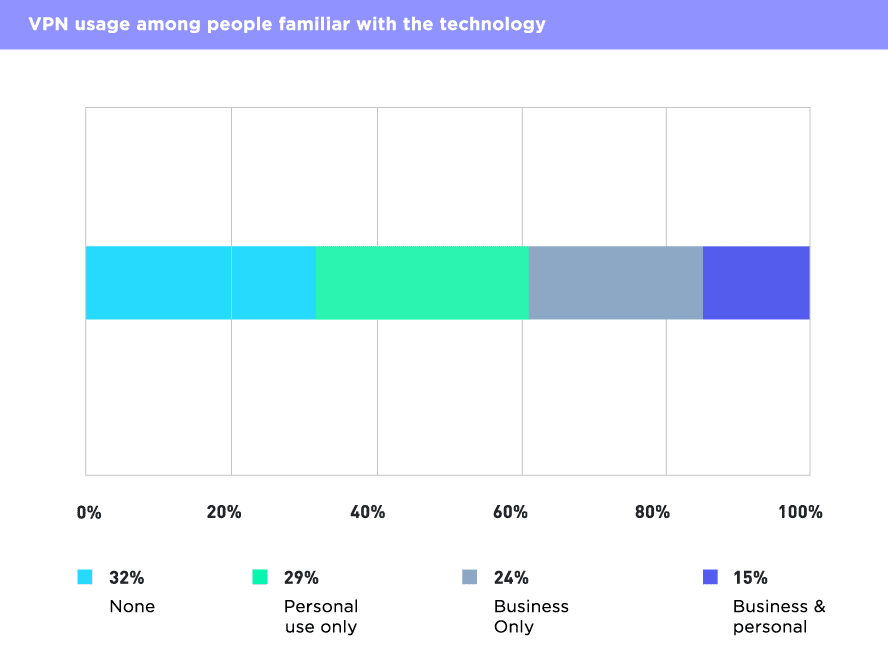 Focusing on only those respondents who were familiar with VPN technology, male respondents were more likely than women to report using a VPN service.

Broken down along age lines, those between 45 and 60 were the group most likely to report using a VPN, followed by those between 18 and 29, but the two groups differ quite a bit in how they use the technology.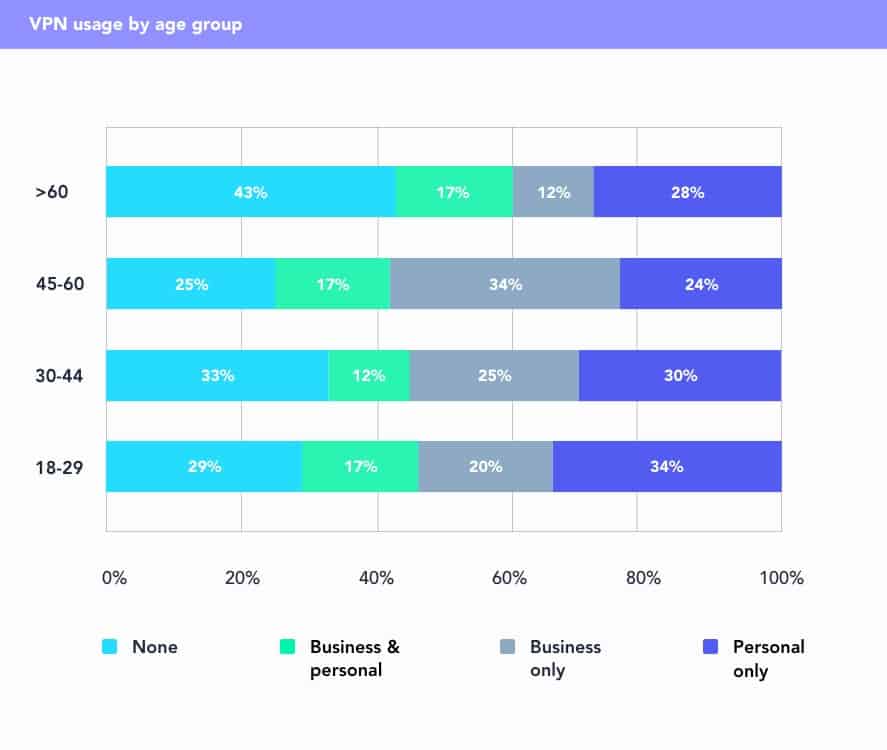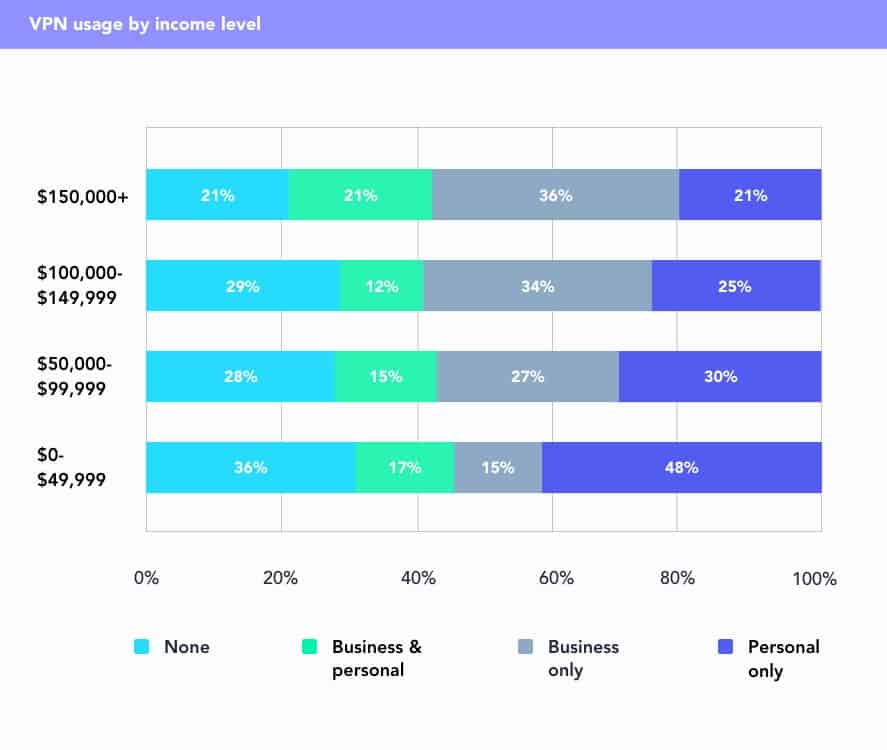 The most common broad use for VPN is personal use, but what specific tasks are people using VPN for? Security and privacy are by far the biggest reasons. Nearly one in five are hoping to hide activity from Google or an ISP, whereas nearly one in 10 wants to use one for bypassing restrictions or engaging in activism or whistleblowing.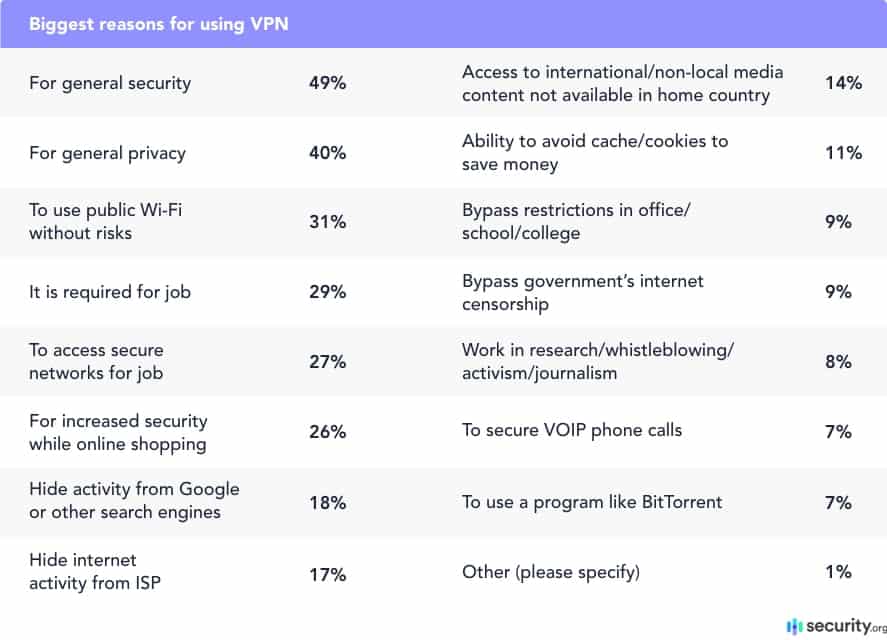 Across all age groups, security and privacy were the biggest uses for VPN technology, but some interesting differences appeared. For example, those between 18 and 29 were the group most concerned with public Wi-Fi, while respondents between 45 and 60 were the group most concerned with accessing secure networks for their jobs.
Who's Buying & What Are They Paying?
So, who is picking up the tab for the billions of dollars spent for VPN services every year? Nearly one in three VPN users in our study employ free VPN services, while more than one in four pay for their own personal VPN.

The youngest and oldest respondents in our survey were most likely to use a free VPN, while nearly 40 percent of those between 45 and 60 said their employer or organization picks up the tab.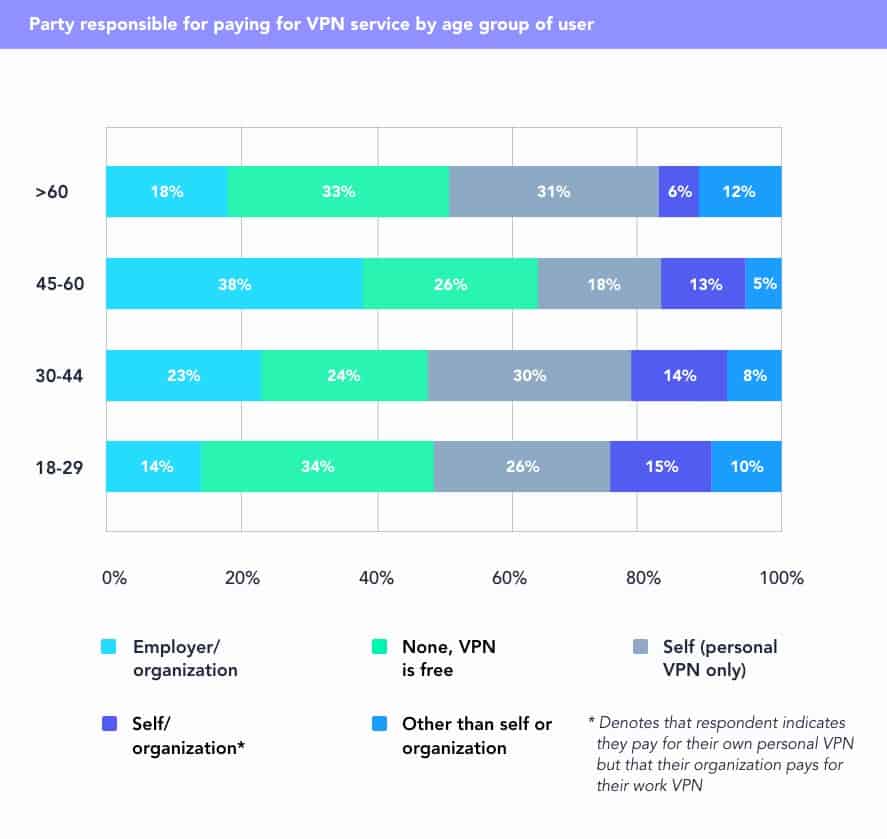 Despite the use of free VPNs being the most common payment setup, few respondents in our survey said they expected a typical VPN to be free, but one in five said they weren't sure what the average cost was for VPN services.

VPNs got very high marks for effectiveness in our survey. Among those who use VPNs, they are perceived as being quite useful, with half of VPN users saying their service was very effective.

Notably, those using free VPN service were far more likely than others to say their VPN wasn't effective, though it's important to note that the vast majority of that group still labeled their service as useful.

What's the Potential Future Market for VPN Services?
Our survey indicates that hurdles to VPN adoption could stunt the growth of these services in the U.S. In fact, half of those who don't currently use a VPN service don't plan to. Conversely, about one in four non-users aren't sure, and more than one in five said they would begin using a VPN in the right situation.

Lack of need, whether for business or personal use, was by far the most oft-cited reason for not having a VPN, meaning that the vast majority of non-users aren't sufficiently convinced of the necessity yet.

Most non-users in our survey seem to be open to the idea of using a VPN, judging by their general opinions of the morals of people who use VPNs. Very few people in that group indicated that they believe VPNs are used for negative purposes.

Notably, though, 72 percent of those who say VPNs are usually used for ill intent said they would not get one in the next six months.
Conclusion
Signs are clearly pointing to massive increases in the adoption of VPNs over the next several years, and our research indicates that most internet-using adults in the U.S. are open to using VPNs in the right situation. If you're one of the people that's looking for a VPN, we have resources, from our list of the best VPNs to our article comparing ExpressVPN vs. NordVPN. To learn more about VPNs in general, read our VPN guide.
Methodology
We asked 700 U.S. adults in June 2020 about their knowledge level regarding the use of virtual private networks, or VPNs, as well as whether they'd used them and for what purpose. Data from this report also comes from Google Trends and PCMatic. Security.org's research team focuses on physical safety, digital safety, and identity theft. What it means to be safe has expanded beyond just home security and means protecting our personal and financial data and digital footprint. We study the issues facing modern society and partner with organizations and research institutions to broader America's understanding and awareness of digital safety.