What We Like
Excellent video: Between the camera's 1080p HD resolution and its infrared night vision, we could easily see what was happening day or night.
Wireless: The Argus 2's rechargeable battery made for a much more simple installation process, and we loved the fact that they offer a solar panel for continuous charging, as well.
Durable: With an IP rating of 65, the Argus 2 kept on trucking through snow, sleet, sun and rain.
What We Don't Like
Hard to download clips: While we didn't have a burglary during our testing, thankfully, we did have some clips we wanted to save long-term, mainly of a beautiful rainbow that appeared one spring morning. However, downloading clips was a bit of a hassle, as we could only download them in 30-second bits.
Bad for colder climates: If you live in a place that gets under 14 degrees Fahrenheit like us, the Argus 2 isn't a great option; we took it down in the winter when things got really chilly.
No optical zoom: We enjoyed zooming in six times in the Reolink app, but we wish the Argus 2 itself had a mechanism allowing for optical zoom, which would be higher quality.
Security Cameras to Consider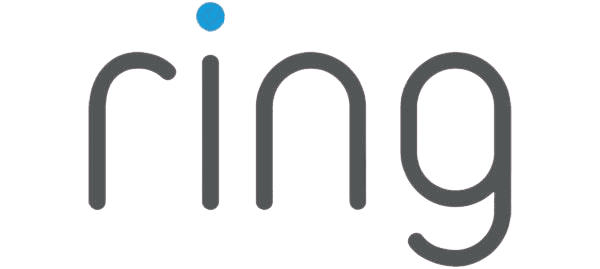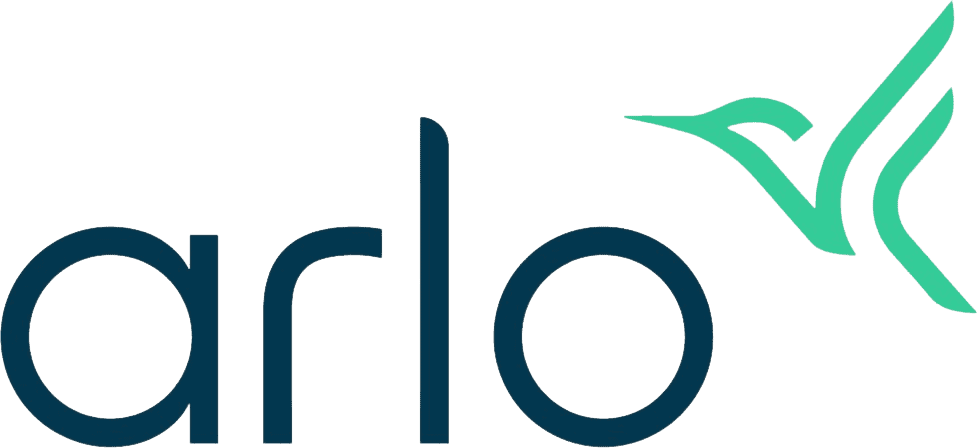 Do you have a detached shed you'd like to monitor, but it's outside of your Wi-Fi zone? Maybe you don't have any Wi-Fi whatsoever but want to participate in smart home security. Whatever the reason, the Reolink Argus 2 is one of the few cameras that doesn't require WiFi. At less than $100, this indoor/ outdoor camera promised us excellent video and night vision, two-way audio and person detection, but can we really get all that for only $95? We investigated.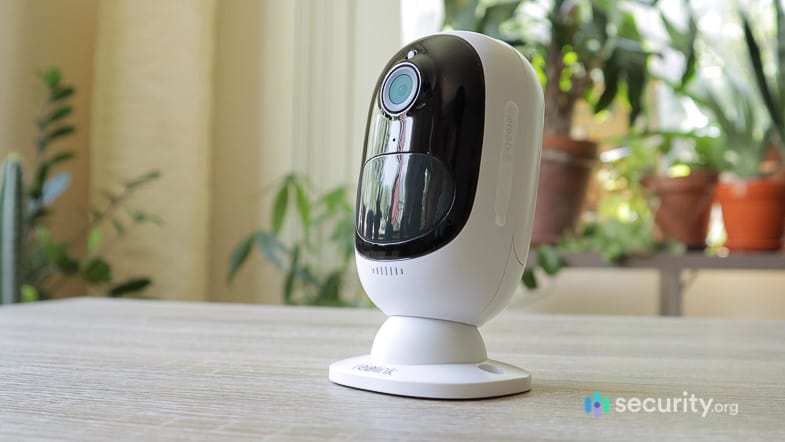 Reolink Argus 2 Features in a Nutshell
| | |
| --- | --- |
| Power options | Battery or wired |
| IP rating | 65 |
| Video quality | 1080p HD |
| Viewing angle | 130 degrees |
| Zoom type | 6x digital |
Pros and Cons
We tend to get deep into the nitty-gritty when testing security cameras, so if you're looking to get the gist of our experience with the Reolink Argus 2, check out our pros and cons below.
Design
The Argus 2 looked almost like a pill capsule, in a sleek and shiny white. Right away, we could see how solid the camera was, so we weren't surprised to learn of its IP rating of 65, which makes it dust-tight and resistant to low-pressure water jets. This would've been great for all seasons, except for the fact that the camera only works in temperatures from 14 to 131 degrees Fahrenheit. That's fine for the summer months, as Brooklyn rarely gets over 100 degrees, but we have some pretty cold winters, so the Argus 2 is better for someone in a warm climate.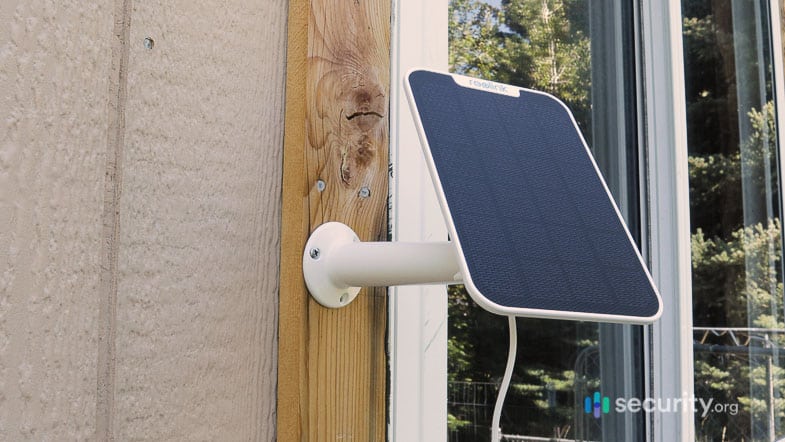 Now let's talk power. The Argus 2 is wireless with a rechargeable battery, but one thing we loved is that we could charge it while the battery was still connected so we never had any downtime. The other option, which we didn't test out, was adding a solar panel so the camera would charge 24/7; pretty cool, especially for someone eco-friendly.
Finally, the Argus 2 came with some helpful accessories: a magnetic wall mount, an outdoor security mount, a tree mount and a skin for more weather-resistance. We're not used to getting so many mounts when we buy security cameras, so Reolink was pretty generous in this way, and we had fun installing it outside with the tree mount. Climbing a tree gave us childhood flashbacks; all positive, of course.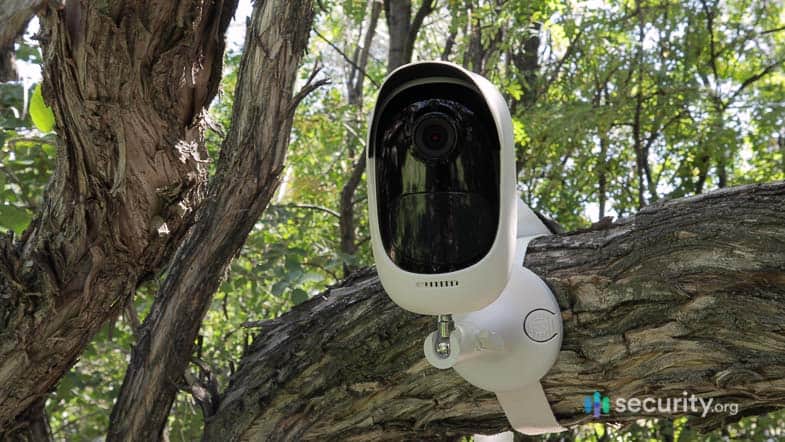 Features
When we actually used the Argus 2 to monitor our backyard, we were more than impressed with its features.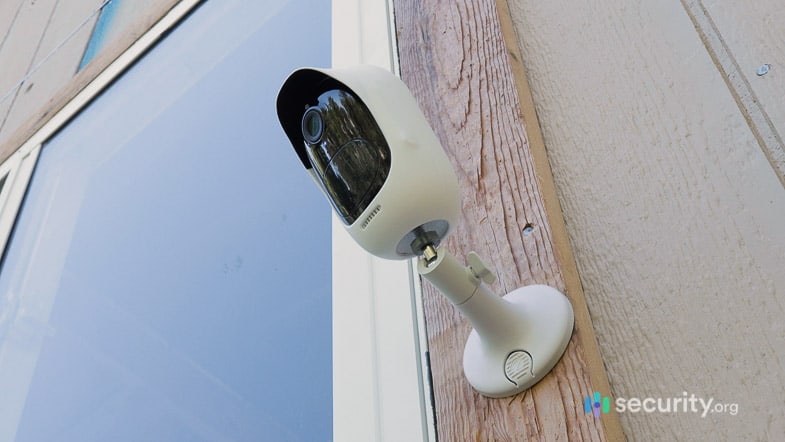 Video
Video-wise, we got that 1080p HD resolution we look for in security cameras, with a sufficiently wide 130-degree field of view. And when we wanted to see what kind of bird was resting on our back porch, we just zoomed in six times on the Reolink app; although the video got a little pixelated, we like the option for more detail. And it was a Robin, just so you know.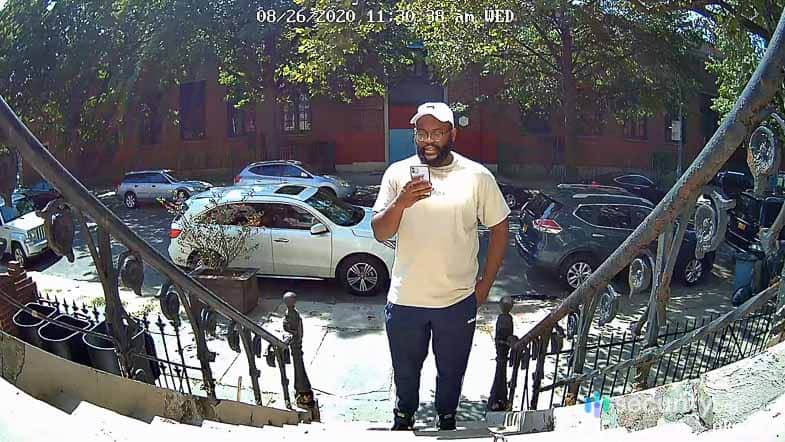 Audio
We don't want to scare anyone…unless it's funny, of course. We gave ourselves some laughs using the Argus 2's speaker when our sibling was in our backyard soaking up the sun. She had no idea where the voice was coming from, which was a hoot to watch, and you better believe we downloaded those clips. Since the camera also had a microphone, our sister could even speak back to us, chastising us for making her jump in her lawn chair. Ah, the joys of two-way audio.
On top of that, we could even record voice alerts for different situations; we made one for all the delivery people that show up at our door, giving them directions on how to hide our packages and avoid porch piracy. And we know we're not alone in being package theft victims; some research says that over a third of people have been victims, too. That's pretty alarming, especially considering that Amazon Prime members like us get an average of 51 packages a year.1 That's a lot of opportunities for stealing!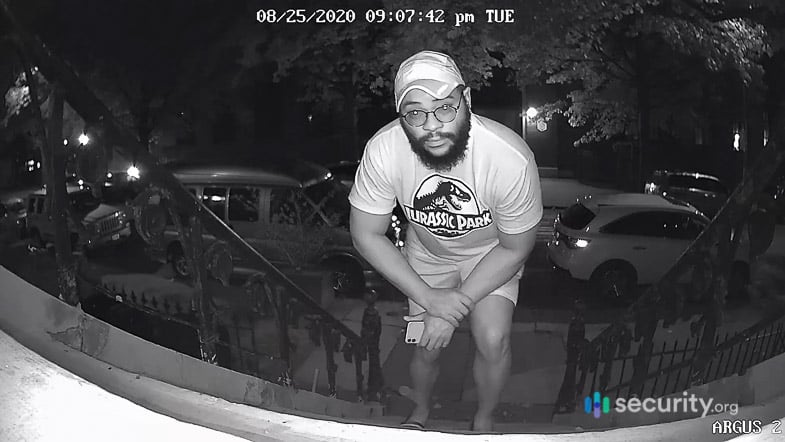 Night Vision
We'll admit it: even in our adulthoods, we're still a bit scared of the dark, but the Argus 2 helped with that. Its six infrared LED sensors let us see clearly even in total darkness; however, the camera worked better for long distances. If someone was less than six feet away from the camera, we had trouble seeing their face, a bit of a concern.
Storage
Over the testing period, the Argus 2 captured a lot of moments we wanted to hold onto, from that pretty rainbow to our sibling nearly falling off her lawn chair. When it came to storage, we backed up our footage in two different ways: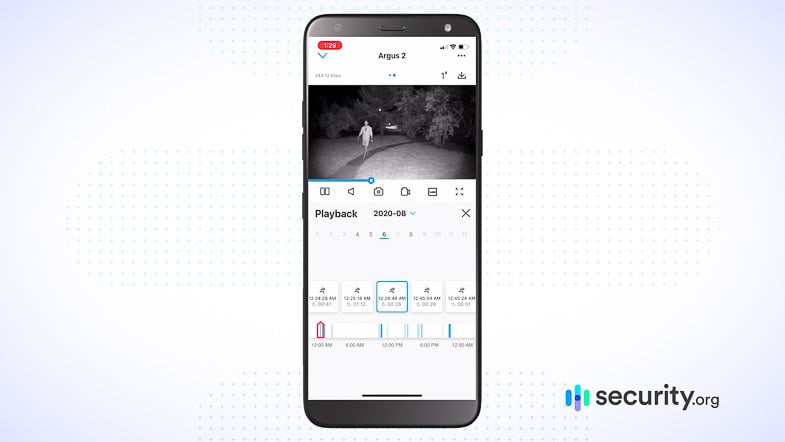 Local: Since the Argus 2 had a slot of a micro-SD card, we had everything stored there automatically, for up to 64 GB of video.
Cloud: For free, our recorded events also saved to cloud storage for seven days, with one GB total worth of space. Our clips were eight seconds long. If we wanted more storage, 30 days was an option for personal use, either for five or 10 cameras. A week was fine for us but if you're interested, see the chart below or check out our Reolink pricing page.
| | Basic | Standard | Premier | Business |
| --- | --- | --- | --- | --- |
| Learn More | View Packages | View Packages | View Packages | View Packages |
| Video History in Days | 7 | 30 | 30 | 60 |
| Maximum Number of Cameras | 1 | 5 | 10 | 30 |
| Cloud Storage in GB | 1 | 10 | 50 | 100 |
| Monthly Cost | $0.00 | $3.49 | $6.99 | $10.49 |
| Annual Cost | $0.00 | $34.99 | $69 | $104 |
Artificial Intelligence
The Argus 2's PIR, or Passive Infrared motion sensors meant that it could differentiate people from other moving objects like pets or leaves blowing in the wind, so we only got notified when it detected people when armed. Compared to cameras without person detection, we got much fewer unnecessary notifications, and we could even adjust the sensors' sensitivity from one to 100. And when we were in a conference call or in some other scenario where we wanted to keep distractions at a minimum, we'd simply schedule our motion alerts around it; the camera would still be armed, but we got to stay focused.
Smart Platform Integrations
As of our testing, we only used Google Assistant to control the Argus 2, although Reolink says an Alexa integration is coming. Regardless, we had Google Assistant:
Show us the footage from our Argus 2, either cloud storage or real-time, on our Nest smart displays, specifically our Nest Hub Max; read our Nest Hub Max review to learn more.
Ask if the Argus 2 was on.
Turn the camera on or off.
Tip: In the Reolink app, name the Argus 2, or any of their cameras, based on its location in your home; that'll make voice commands much easier.
Hopefully that Alexa integration is coming soon. If you're interested in home security that works with Alexa, check out our list of the best security systems with Alexa.
Siren
Remember when we made one of our siblings jump in her lawn chair? We forgot to mention one other thing we pulled, which was sounding off the Argus 2's built-in siren. It's 75 decibels loud, which is about as loud as a vacuum cleaner,2 so while it definitely couldn't be heard by neighbors, it was definitely enough to scare people, which could come in handy mid-burglary, God forbid.
Privacy Mask
In being around the home security and digital security spaces, we've seen our fair share of security breaches, and with home security cameras, they're even more frightening. That's why we were pleased to see the Argus 2's "privacy mask", which blocked out specific areas of the screen so that the camera wouldn't capture them. For our setup, we blocked out our neighbors' property, as we only wanted to surveil our own. While we have seen this feature before, namely from the Ring Stick Up Cam Battery, it's not super common, so it's great the Reolink is keeping our privacy in mind. Learn more about another option with privacy zones in our Ring Stick Up Cam Battery review.
Did You Know: Under the Fourth Amendment of the U.S Constitution, it's illegal to record footage of other people's property without their permission, which is what makes the Argus 2's privacy mask so useful.
Setup
Setting up the Argus 2 only took a few minutes, after we popped in the battery and downloaded the Reolink app. Once we were in the app, we clicked add device, and then the app walked us through the rest of the setup process, step by step. After we named the camera and added it to our Wi-Fi network, we installed it outside using the included tree mount. Sure, installing security cameras has become second nature to us, but we think you'll have no issues getting the Argus 2 up and running.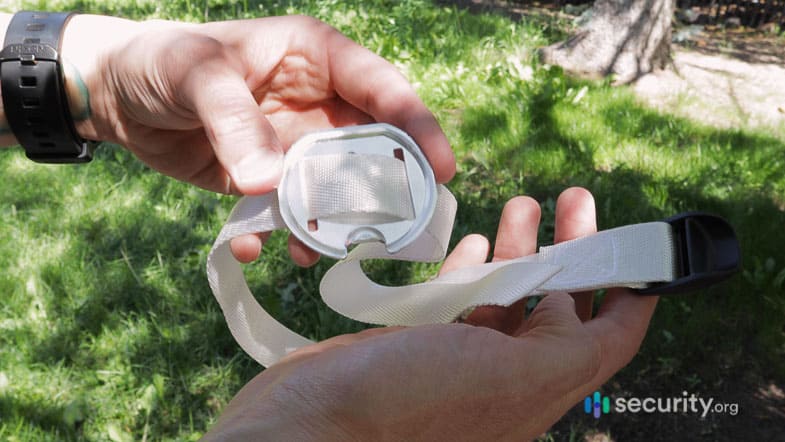 Video Review
If you haven't seen our Youtube channel, now is your chance. We made a video review of the Argus 2 so you can see how its video really looks.
Also, be sure to check out our latest Reolink Argus 2E video review. The Argus 2E is a weather resistant, battery- or solar-powered outdoor security camera. It offers 1080p video quality and motion detection. You can also mount it pretty much anywhere.
The Reolink App
What's a smart security camera without a mobile app to match? We ran into a few issues with the Reolink iOS app, although its rating is less than ideal at 3.1. The app fared better in the Google Play store with four out of five stars, fortunately. To see us actually using the app to livestream footage, get person-activated notifications, view old footage and set up our Google Assistant integration, check out our video embedded above.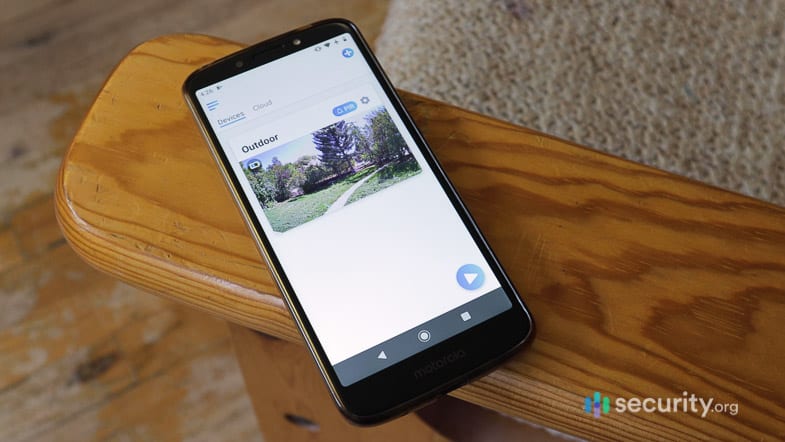 Can Reolink stand toe-to-toe with other brands? Find out below.
For a closer look at how Reolink performs, we compared it with other popular security cameras.
Recap
Overall, we were quite happy with the Argus 2, which provided us with great audio, video, night vision, storage, and AI at a fraction of the cost of competitors. While most people will appreciate this wireless outdoor camera, it won't work for everyone, though.
The Argus 2 is for you if you want…
Great day and night vision
Weather-resistant design
Affordable price
But don't get the Argus 2 if you are interested in…
Louder siren
Wired camera
Durability for temperatures under 14 degrees Fahrenheit
If Reolink seems like the right company for you, read our Reolink GO review for another option.