The Best Outdoor Wireless Security Cameras of 2023
Without wires, these weather-resistant cameras are easily to install outdoors.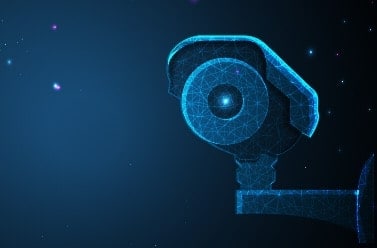 5,000+ research hours
100+ cameras tested
250+ simulated break-ins
50+ devices reviewed
5 cameras recommended
When we first started thinking about home security systems, we wanted to make sure we had protection outside our homes. But placing cameras outdoors can be challenging because not all houses have easily accessible outdoor outlets. That's where wireless outdoor security cameras come into play. These weather-resistant, battery-operated cameras are a great choice for anyone looking to up their outdoor security. Read on to find out our favorites after testing!
Best Outdoor Wireless Cameras: Key Features
| | |
| --- | --- |
| Minimum IP rating | 65 |
| Power | Battery |
| Minimum video resolution | 1080p HD |
| Night vision | Infrared |
Comparing the Top Outdoor Wireless Security Cameras
| System | Lorex 4 Super HD 2K Camera System | Blink Outdoor | Ring Stick Up Cam Battery | Arlo Pro 3 | Ring Spotlight Cam Battery |
| --- | --- | --- | --- | --- | --- |
| Ranking | 1st | 2nd | 3rd | 4th | 5th |
| Ratings | 8.2/10 | 8.4/10 | 9.5/10 | 9.0/10 | 9.5/10 |
| Prices | $349.99 for a two-camera system | $99.99 ($149.99 with Blink sync module) | $199 | $199.99 for an add-on camera | $100 |
| Video quality | 2K | 1080p HD | 1080p HD | 2K HDR-2560p HD | 1080p HD |
| Field of view (in degrees) | Unlisted | 110 | 140 | 130 | 130 |
| Temperature Range | Unlisted | -4° to 113° F | -5° to 120° F | 14° to 113° | -5° to 120° F |
| Night Vision | Color | Infrared | Color or Infrared | Color or Infrared | Infrared |
| Two-way Audio | Yes | Yes | Yes | Yes | Yes |
| Local Storage | Yes, through included micro-SD card | None | Yes, with Ring Protect Plan | You can connect USB to the Arlo base station, but the local storage can't be used on its own without cloud recording | Yes, with Ring Protect Plan |
| Cloud Storage | None | Up to a year-two hours per account | 60 days with Ring Protect Plan | Arlo Smart plan offers 30 or 60 days for an additional cost | 60 days with Ring Protect Plan |
| Smart Home Integration | Alexa, Google Assistant | Alexa | Alexa, Google Assistant | Alexa, Google Assistant, Apple Watch | Alexa, Google Assistant |
| Artificial Intelligence | Person | None | None | Person, packages, vehicles, animals, and activity zones with Arlo Smart home | None |
| Extras | LED warning light, siren, privacy zones | Temperature monitoring, needs sync module, activity zone, doesn't work through glass | Built-in 110-decibel siren, black or white color options, built-in LED light strips | Spotlight, manual or motion-activated, magnetic mount, built-in siren, 3-month Arlo Smart free trial | Siren, 24/7 professional monitoring with Ring Protect Plan, Privacy Zones |
| Battery Life | Unlisted | 2 years | 6-12 months | 3-6 months | 6-12 months |
| Read Review | Lorex 4 Super HD 2K Camera System Review | Blink Outdoor Review | Ring Stick Up Cam Battery Review | Arlo Pro 3 Review | Ring Spotlight Cam Battery Review |
Best Outdoor Wireless Cameras of 2023
Why These Are The Best Outdoor Wireless Cameras
1. Lorex 4 Super HD 2K Camera System - Best Outdoor Wireless Camera for the Smart Home

What We Love

Integrations with Alexa and Google Assistant
Person detection
Included local storage
Light and siren

What Needs Improvements

No infrared night vision
Expensive
Requires hub
Poorly-rated Android app

Smart Home Integrations

Smart home integrations are big here at Security.org, so we prefer cameras, like this Lorex 2K wireless camera, that work with Alexa and Google Assistant. Here are the commands we could use with Alexa:

Alexa, show me the living room camera.
Alexa, turn on the 2K camera's light.
Alexa, turn off the outdoor camera's siren.
Alexa, go home.

We told Google:

Hey Google, show me my backyard.
Hey Google, go back.
Hey Google, turn on the front yard siren.
Hey Google, turn off the bedroom light.

Aside from these easy, hands-free commands, we could also watch the footage from our Lorex 2K on our Chromecast, Fire TV Stick, and Apple TV. It was exciting to see what was happening in our backyard from our big TV, definitely better than looking at it from a phone.

Lorex Color Night Vision

Color Night Vision

Since the Lorex 2K has a motion-activated LED warning light that turned on whenever the camera detected a person, our night vision was in full color. Now, we actually prefer infrared night vision to color night vision, as it's less conspicuous. However, if you're okay with the potential burglar knowing about your camera, you'll appreciate the high quality of Lorex's 2K footage, in full color even in the dead of the night.

Person Detection

Speaking of person detection, we liked that this camera could differentiate between people and other moving objects like cars, pets, or even bushes blowing in the wind. We don't need to be notified every time a ball flies into our yard, so we liked that Lorex only notified us when it mattered. Plus, we set up what is normally called privacy zones, although Lorex doesn't use this vernacular. This meant that we drew a line around our property so that we wouldn't be notified of any people outside of what we own. When our neighbors walk their dogs in the morning, for example, we weren't notified. Lorex truly is a smart camera that knows what's necessary to alert us about and what isn't. We get enough dings from our iPhones throughout the day, so it was nice that Lorex didn't contribute to our endless barrage of notifications. Thanks, Lorex!

2. Blink Outdoor - Most Affordable Outdoor Wireless Camera

What We Love

Affordable Price
Temperature Monitoring
Free Cloud Storage
Battery Life

What Needs Improvement

No Person Detection
Narrow Field Of View
No Local Storage
Only Works With Amazon Alexa

Affordable

The Blink XT2 was one of the more affordable outdoor cameras making it a great choice for anyone on a tighter budget. Considering how durable and weather resistant this camera was, we thought we got a serious bang for our buck, especially if we needed more than one outdoor wireless security camera. That's because Blink offers a package deal of two cameras and the hub for $179.99, which is just $10 more than companies like Canary charge for one camera. And that was just one of the many packaged deals we found at Blink that resulted in discounts. Essentially, the more cameras you buy from Blink, the better the pricing. So, if you're anything like us and want to set up a camera at your front and back doors, that bundle is the way to go.

Money Saving Tip: Blink offers a bundled package of two Blink XT2 cameras for $179.99, so if you are looking to buy more than one camera, this is a better deal than buying them individually.

Temperature Monitoring

One of the more unique features of the Blink XT2 was the built-in temperature sensors that kept track of the weather. The temperature varies pretty significantly in Brooklyn, so we loved being able to monitor the temperature directly from our security camera app. While we do have the weather app on our iPhones, we've noticed the monitoring system on the camera app was a bit more reliable. Aside from the Canary Pro camera, Blink is the only other camera we've reviewed that has this option.

Gabe and the Blink XT2

Battery Life

This camera runs for approximately two years on just two AA batteries. That's the longest battery life we've seen on any outdoor wireless camera. When looking for an outdoor wireless camera, battery life is an important feature. Outdoor wireless cameras are usually placed in high, hard-to-reach places, so we don't want to constantly worry about replacing the batteries. So having a camera with a really long-lasting battery was an exciting feature for us!

3. Ring Stick Up Cam Battery - Best Installation for Outdoor Wireless Camera

What We Love

Flexible Mounting Options
Privacy Settings
Two-Way Audio
Smart Platform Integrations

What Needs Improvement

No Person Detection
No Free Cloud Storage
History of Security Breaches
Hard to Use Android App

Flexible Mounting Options

When it comes to an outdoor wireless camera, we really wanted something that was easy to install. The Ring Stick Up Cam Battery can be placed anywhere since it comes with multiple mounting options. There are two mounting options, one that's attached to the camera on the back or one that's attached to the camera on the bottom. We were also able to rotate the camera while on the mounts when we needed to adjust our views. For outdoor purposes, having this camera mounted higher was better, but because there is the option of using this indoors, we liked having the option of sitting it on a table or desk.

Ring Stickup Cam

Privacy Settings

Even though we have a security camera, there are some things we don't want people seeing and Ring gave us the ability to set privacy zones. When those zones were set, the camera only recorded video around those zones; the privacy zone footage is depicted by a black square. We set up this feature for the zone near our mailbox as we didn't want anyone being able to see our house number. We felt having the privacy zone for this area gave us peace of mind that our address would remain private. Because Ring's had some hacking issues in the past, the company set up this privacy zone feature to put us at ease and prove they were working to protect their customer.

Two-Way Audio

Two-way audio made it possible for us to speak to the person outside through our security camera. Living in Brooklyn, there is a lot of background noise from sirens and trucks, so we loved that the Ring Stick Up Cam Battery not only offered two-way audio but also noise cancellation. The feature meant we clearly heard who was talking, instead of the unnecessary, distracting background noise.

4. Arlo Pro 3 - Highest Quality Video for Outdoor Wireless Camera

What We Love

High-Quality Video
Impressive Night Vision
Smart Platform Integrations
Artificial Intelligence Options

What Needs Improvement

Battery Life
Needs Arlo Hub
Cloud Storage Capabilities
No Free Person Detection

High-Quality Video

The Arlo Pro 3 brings an element of sophistication to the outdoor wireless camera game with its 2560p HD video quality plus 2K HDR. Compared to the industry standard of 1080p HD, the Arlo Pro 3 gave us clear, crisp videos over and over again. The high-quality video combined with the 2k HDR feature meant we got a glare-free outdoor video even when there was a lot of sunshine.

Arlo Pro 3

Impressive Night Vision

With both color night vision and infrared night vision, the Arlo Pro 3 gave us the option of clear night video in color or black and white. With the camera's spotlight, we could see what was happening on our block in color even when it was dark. But if we didn't want to have the spotlight on, we could rely on the infrared LED lights to see what was happening at night; we just got that video in black and white instead. City living often means evening commotion, so it was comforting to have multiple nighttime video options. And with the idea that one in three1 violent crimes happen in or near a person's home, having grain-free day and night video made us feel that much safer.

Smart Platform Integrations

The Arlo Pro 3 worked with multiple smart home platforms including Amazon Alexa, Google Assistant and Apple Watch. Many security systems we found worked with Alexa and Google, but Arlo is one of the few that worked with our Apple Watches too. We loved this because we were able to receive motion detection alerts on our watch, so we never missed a thing even if we forgot our phones at home. We were also able to talk to the person on the other side of the camera right through our watch, so we didn't have to always walk around the house with our phones in hand!

You Should Know: When you buy the Arlo Pro 3, you automatically get a three-month free trial of Arlo Smart Home. The Arlo Smart Home subscription allows you to personalize notifications and specify whether or not you want alerts about packages, pets, people, vehicles or animals.

5. Ring Spotlight Cam Battery - Best Solar

What We Love

Solar Panel Option
Rechargeable Battery
Works with Alexa and Google Assistant
Professional Monitoring Options

What Needs Improvement

No Free Local Storage
No Free Cloud Storage
No Person Detection
No Optical Zoom

A Green Camera

We love that this camera had an eco-friendly option via the solar panel. While it cost extra to get the solar panel, we thought it was worth the price. Why you may ask? Because with the solar panel, this camera was charging constantly with the sun, meaning we never had to deal with changing the batteries. Plus, this camera cost $199.99 per camera and when you threw in the solar panel the cost comes out to $229.00, an extra $30 we wanted to spend.

Rechargeable Batteries

If you don't want to shell out the extra money for the solar panel, the Ring Spotlight Cam Battery has an easy to use, rechargeable battery option. The rechargeable battery lasted between six and twelve months on a single charge, four months for us with our frequent motion events, and popped out once it died so we didn't have to dismantle the camera completely. What was unique to this camera were the two battery slots, which meant that when one battery died the other kicked in. This doubled the length of time that the Ring Spotlight Cam Battery lasted.

Ring Spotlight Camera

Professional Monitoring Options

One of our favorite features when it comes to home security systems is the professional monitoring option. We work full time and like to enjoy a fun night on the town here and there, so we aren't always monitoring our systems as closely as we should. When we were in a work meeting or having dinner, we may not have our phones on us, so having this professional monitoring option gave us peace of mind there would always be eyes on our property. For an extra $10 a month or $100 a year, Ring offers 24/7 professional monitoring so there was always a person who could respond to an emergency.

Tip: 24/7 professional monitoring means your system is connected to a call center where people other than you can see what's happening. This means your home will always be protected, a great option for those who don't always have access to their phones or security camera systems.
Best Outdoor Wireless Camera Video Review
Do you prefer to watch reviews instead of reading about the products? Look no further, because we made a video review of the best outdoor wireless cameras.

Outdoor Wireless Camera Methodology
When reviewing outdoor wireless cameras, there are a handful of factors we look into before picking our top choices. With outdoor wireless cameras, in particular, we paid close attention to battery life, ease of installation and the IP rating,2 a number that lets you know how the product holds up against liquids and solids.
Ideally, we want our outdoor cameras to IP ratings of 65 or higher, because the higher the rating, the more durable the camera. With a camera's IP rating at 65 and up, our devices are totally dust-tight and even resistant to getting sprayed by a powerful jet or soaked by a heavy rainstorm. It's also imperative that our outdoor cameras can withstand a wide range of temperatures because in Brooklyn we have hot, humid summers and below-freezing winters. Here is a quick look at what goes into IP ratings:
| IP Ratings | Solids | Liquids |
| --- | --- | --- |
| 0 | Not Protected | None |
| 1 | A large body surface like the back of a hand, but no intentional contact with a body part | Dripping water falling vertically |
| 2 | Fingers of similar objects | Dripping water falling from 15-degree tilt |
| 3 | Tools, thick wires, etc. | Spraying water |
| 4 | Most wires, screws, etc | Splashing water |
| 5 | Dust protected | Water jets 6.3mm and below |
| 6 | Dust tight | Powerful water jets 12.5mm and below |
| 7 | N/A | Immersion up to 1m |
| 8 | N/A | Immersion over 1m |
Besides looking at how to handle outdoor elements, battery life was another major sticking point for us when it came to outdoor wireless cameras because who really wants to worry about changing batteries every other month? We sure don't! Most of the cameras had battery lives that lasted between six and 12 months, but there are some on our list that lasts up to two years. And we love Ring's solar panel option because it meant we never had to worry about changing the battery again.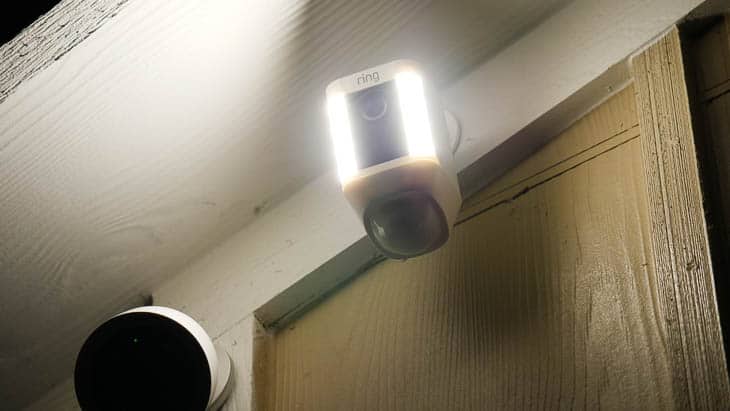 We also look at ease installation; most of the cameras on our list take only a few minutes to put up. Because they are wireless, there's no wall cutting needed to hide wires and very little drilling. We were basically up and running after installing the camera mount, downloading the app, adding it to our Wi-Fi network and syncing the camera with the app. And speaking of the apps, we look for cameras that have apps that send movement notifications and allow us to customize those notifications, so we don't get unnecessary notifications all day long. Person detection is one of the top features we look for when it came to custom notification options. When available, we program our camera to only send notifications when a person moves and to ignore movements from pets, packages or branches.
Finally, most of us have smart devices that are voice-activated and we want to be able to connect our cameras to all of our devices. For voice assistants, we use both Alexa and Google Assistant, so cameras that are compatible with both rank highly in our books. That being said, there are some cameras like the Blink XT2 that only work with Alexa, which would work for someone in the Amazon ecosystem. We know people can be privy to one platform over another and some cameras are better for those who prefer Alexa, some cameras better for those who use Google Assistant.
Frequently Asked Questions
Buying a security camera is a big investment, so it's understandable that you may have a handful of questions even after reading our review. Below are some of the most asked questions we've received when it comes to outdoor wireless security cameras.