Google Nest Hub Review
Google's original smart display comes with Google Assistant for hands-free commands.
What We Like
Easy to use:: You'll love asking your Google Home Hub questions hands-free. The device is a breeze to set up as well.
Integrated YouTube:: As Youtube is the largest video streaming service, having it so easily accessible through Google Home Hub certainly makes accessing video easier.
Display of Smart Home Functions including security:: Especially if you're already in the Nest ecosystem, you'll be able to easily control your smart home devices and home security systems using Google Assistant.
What We Don't Like
No Camera:: Not a huge deal, but this issue could be fixed by physical shutter.
No G-Suite:: Amazon did it, so why not Google Home Hub? Adding G-Suite compatibility would open up a world of possibilities.
No Chromecasting:: It's a bit odd to me that I can't Chromecast from my Google Home Hub, considering my Chromecast is also manufactured by Google.
Bottom Line
The Google Nest Hub is an affordable smart display that has a decent screen size (7 inch) and comes in a variety of colors. If you're looking for a sleek-looking device with plenty of features, and you can get by with so-so audio, then the Google Nest Hub is a sure bet.
A smart home hub is the nucleus of a smart home. It is the component responsible for coordinating every device's action. Google's version of a smart home hub is the Google Home Hub, which now goes by the name "Nest Hub."
As a smart home hub, the Nest Hub connects with thousands of smart home devices and controls them through Google Assistant, Google's voice AI and Alexa's fiercest competitor.
In this review, I'll tell you all about the Nest Hub's best and worst qualities, its design, installation, features, and of course, Google's customer support. Let's get started!
Video Review
Pros and Cons of the Google Home Hub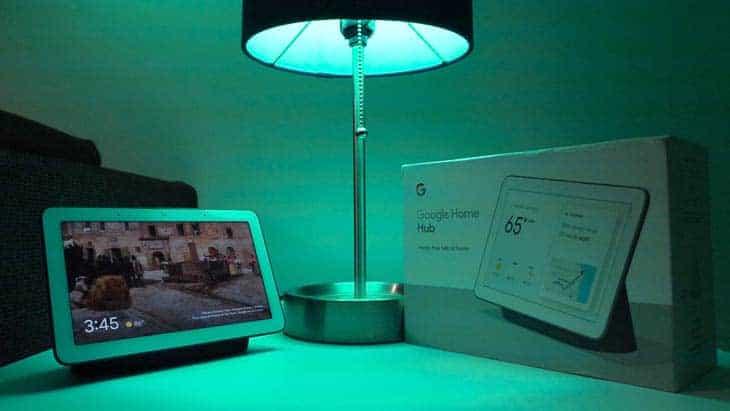 Design of the Google Home Hub
The Google Home Hub plugs in via a 1.5-meter power cable. It's available in sand, mist, chalk, or charcoal, which is a nice little array of options. It'll connect to the Internet via Wi-Fi or Bluetooth, and its screen is seven inches, making it a fine addition to your nightstand, but not really a substitute for even a laptop when it comes to actually watching content.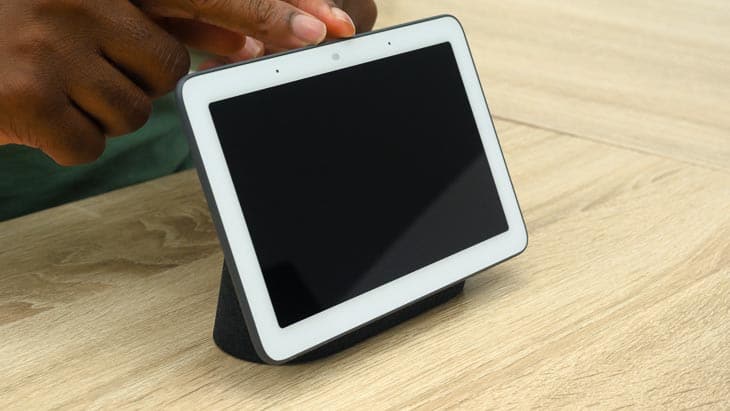 The ambient light sensor at the top automatically adjusts the screen to suit the brightness in your room, which is cool. There are two microphones enabling two-way audio, as I said, but if you want to turn the mics off, you can do so through a physical control on the back of the hub. The back also contains a button to control the volume, an up switch and a down switch. If you hold down both, you can easily reset the device. Finally, on the back of the Google Nest Hub you have the power port. As the hub connects over Wi-Fi, you won't need an ethernet adapter. The bottom of the Google Nest Hub is made out of rubber, preventing it from sliding around.
Installing the Google Home Hub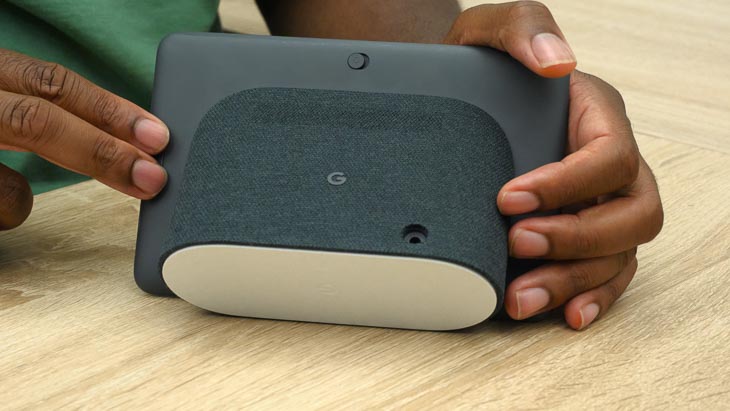 Installing the Google Home Hub is super simple. All you need to do is plug it in, download the Google Home app, and follow the setup instructions. From the outset, I will state that it takes fewer than 10 minutes to go through the entire Google Home Hub installation process, but the real time will be spent in setting up your home routines and ensuring your connected objects are well…connected.
Features of the Google Home Hub
One of the biggest draws of the Google Home Hub is that it comes with Google Assistant. Just say "Ok Google" to ask your assistant to perform one of 4,235 actions. Now, of course I can't talk about every single action that the Assistant can do but let me give you a general overview of what it can do in terms of digital features.
Music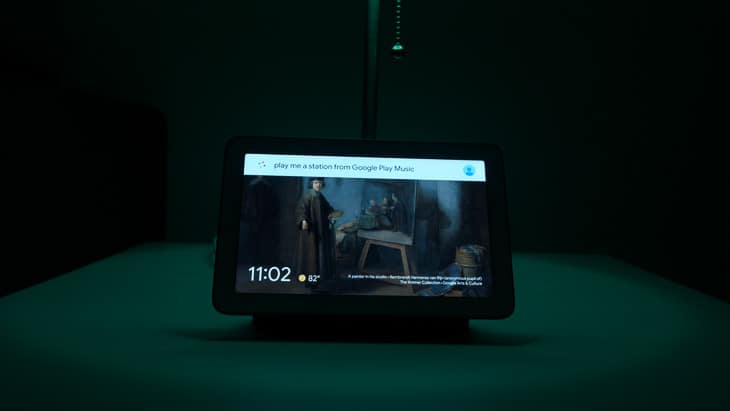 Play music on the Google Home Hub through Google Play Music, Youtube Music, Spotify, Pandora, or iHeartRadio. The number of services it connects are sure to keep you entertained for hours, and if you use YouTube Music, you can sing along to your favorite songs with the Home Hub's on-screen lyrics.
Video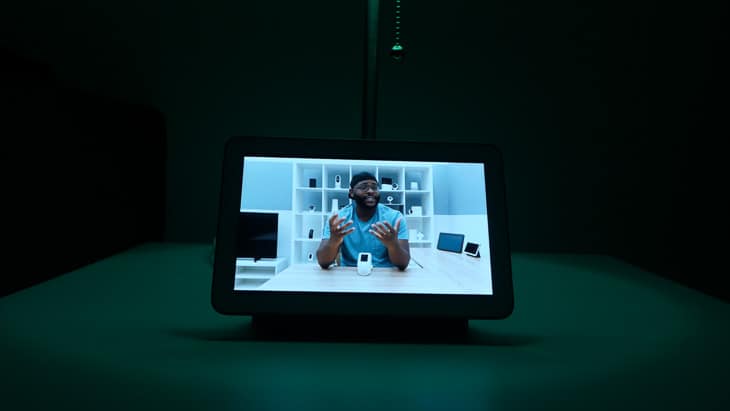 Watch TV or movies through Youtube, Netflix, HBO NOW, CBS All Access, Amazon Prime, Hulu, HGTV, and more. You can also make video calls on Google Hangouts.
Now, granted, it doesn't have the largest screen. If you want a smart display dedicated for streaming, then the Nest Hub Max is much better suited for you. Read our Nest Hub Max review here. The Nest Hub is fine for casual viewing, though, like watching YouTube recipes while cooking or one of our video reviews while cleaning the house.
Shopping
Who doesn't love some online shopping? Now, you can do it with your voice alone with Google Express. You can also manage shopping lists, find stores, test products, and more.
Cooking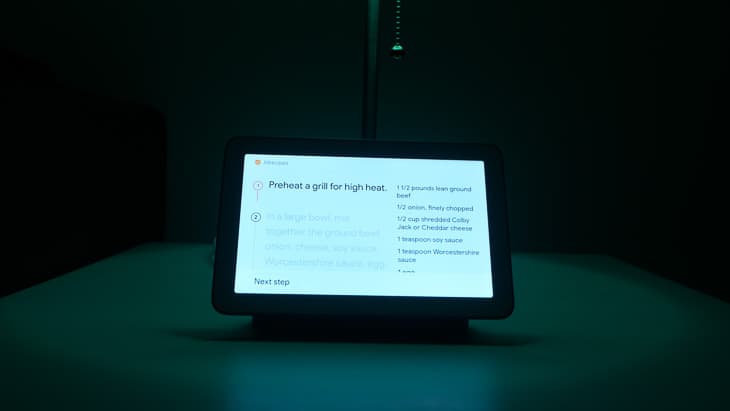 Google Assistant is a real help in the kitchen. You can use it to find recipes by course, ingredients, or dietary restrictions, depending on what you're looking for.
Of course, you can also browse the web using Chrome, my personal favorite web browser.
Google's Customer Support
If you need help with your Google Home Hub, check out their online help center first. But if you want to talk to someone, you can do it over the phone, through Facebook messenger, Twitter, or live chat. I like that they have so many ways to contact them, but let's see what customers had to say.
On Google (where else?), the Google Mountain View headquarters has a 4.3 rating. Now, there are 7,386 reviews as of writing, so of course I can't read them all, but the reviews are really varied. Some are about the campus itself, some are from business owners who are angry that Google won't take down their negative reviews, and some are about customer support. Also, Google has such a wide variety of products and services, so this wasn't the best place to look for customer support reviews.
Unfortunately, the Google Home Hub isn't sold on Amazon, so I couldn't look there either.
Recap of the Google Home Hub
I imagine that most consumers will appreciate the Google Home Hub in their kitchen or workspace. It has a lot of convenient capabilities, plus it's cheaper than the Amazon Echo Show 8  which costs about $130. However, it definitely doesn't have audio and video equal to that of the Amazon Echo Show, so that choice boils down to your personal preferences.