Google Nest Mini Review
This smart speaker from Google is a great way to get started in the Google ecosystem.
All of our content is written by humans, not robots.
Learn More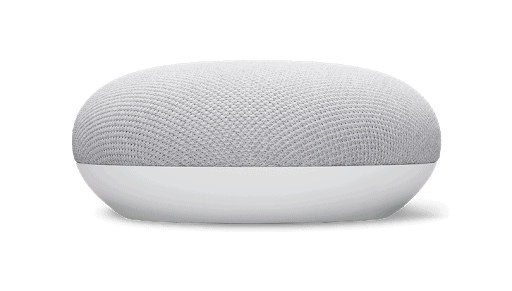 This smart speaker from Google is a great way to get started in the Google ecosystem.
Looking to get started with your smart home powered by Google? At $49, Google's smallest and cheapest smart speaker is a great starting point.
As small as it may be, the Google Nest Mini has tons of capabilities, from music and shopping, to answering even the most trivial questions. In fact, we have one in the office that reminds us when it's time to clock out. We gotta say, the Google Nest Mini is a pretty convenient device.
In this review, we'll go over the device's best and worst qualities, its design, features, installation process, and of course, Google's customer support team. By the end of this review, you'll have a great idea of whether or not the Google Nest Mini is the right smart speaker for you. Let's get started!
Nest Mini features
| Get the Nest Mini if you want: | Don't get the Nest Mini if you want: |
| --- | --- |
| Chalk, coral, charcoal or aqua smart speaker | Access to Amazon Prime |
| $49 price tag | Screen |
| Access to Spotify, Google Express, YouTube Music, etc. | Alexa compatibility |
Video Review
Pros and Cons of the Google Nest Mini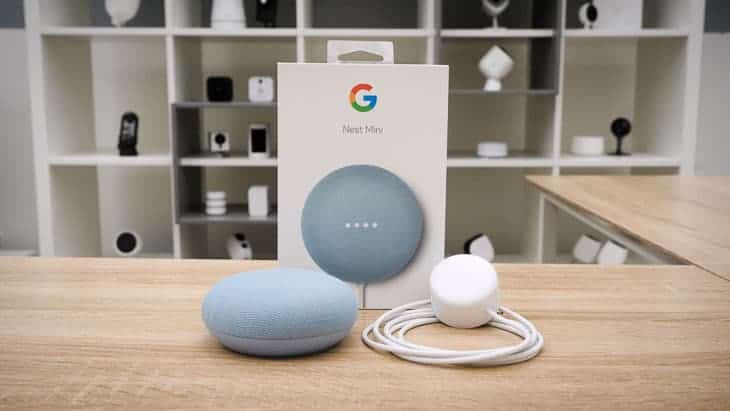 In a hurry? No problem. Here are the key pros and cons of the Google Nest Mini.
What We Like
Affordable: For under $50, you can begin building your smart home.
Access to Youtube Music, Spotify, Pandora, Google Express, etc: Google has a lot of impressive partnerships, especially if you're into music.
Excellent sound quality: With three fair field microphones and 360 degree sound, the Google Nest Mini's audio quality is top-notch.
What We Don't Like
No screen: Of course, you won't be able to use the Google Nest Mini for watching movies and TV or video chatting.
No Amazon Prime: Although Google provides shopping through Google Express, some people may prefer to do their online shopping on Amazon.
Less functions than Amazon smart speakers: The Google Assistant has a fraction of the actions/ skills of Alexa, which reigns supreme when it comes to voice assistants.
Google Nest Mini Design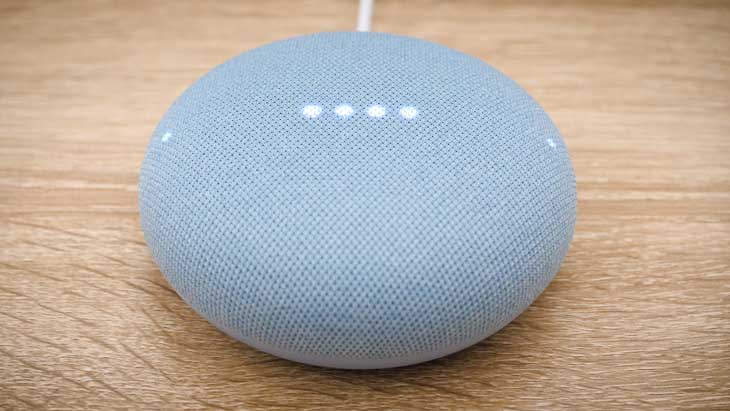 If you look at Google's products — whether it's their phones, laptops, cameras, and speakers — you'll notice that they are all well-designed. We won't go as far as to call them beautiful, but they're aesthetically pleasing. The same applies to the Nest Mini. The fabric top blends well with any interior design, not to mention that it comes in chalk, charcoal, coral, and aqua color schemes.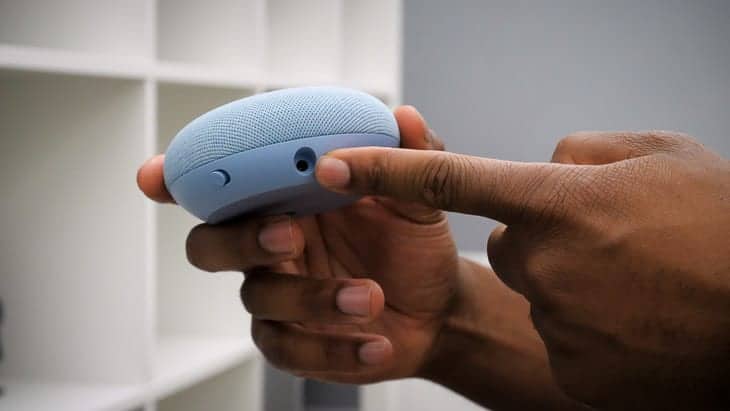 The Google Nest Mini must be plugged into an outlet via a 15 W power adapter, which shouldn't be an issue when it comes to installation. The speaker itself is 3.85 inches in diameter and only 1.65 inches tall, so it won't take up too much prime real estate on a shelf or table.
Now, we're talking about a smart speaker, so high quality sound is essential. Fortunately, the Google Nest Mini provides 360 degree sound from three fair field microphones and a 40 mm driver, creating crisp and clear audio. Whether you're using your Google Nest Mini to listen to your favorite true crime podcast or having it tell you the name step to poaching an egg, you can rest assured that you'll be able to hear the audio clear as day.
Installing the Google Nest Mini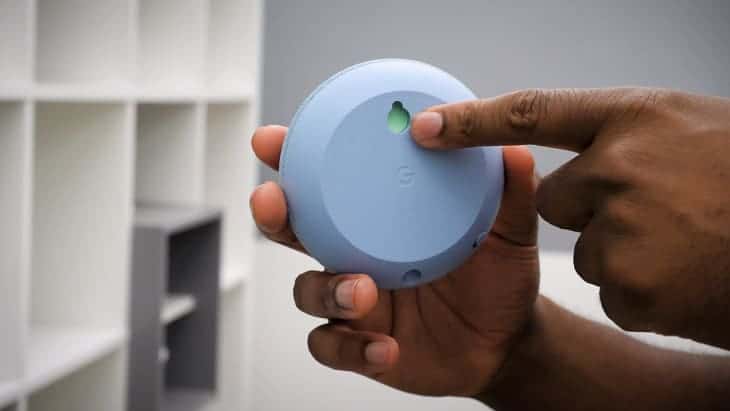 Setting up the Google Nest Mini is a very straightforward process thanks to the Google Home app. But before you get to that, plug in the speaker and give it about half a minute to boot up. Next, go into the app and add the device by clicking the plus sign in the left-hand corner. Then, you'll choose a home for the device, sync it with the app, and do a sound test to make sure it's all connected. After that's done, you name the Google Nest Mini and connect it to Wi-Fi.
The next step is setting up Google Assistant, the voice AI that "lives" inside the Nest Mini. It's actually a fun process. You'll start with voice matching, wherein you'll say "Okay Google" in a number of different ways. Once it knows your voice, it won't respond to anyone else saying the wake word.
The last step is, of course, setting up your services. In order to play music, shop, place calls, and more, you'll need to link the relevant account to the Home App. That usually involves logging in to your existing accounts with, let's say, Spotify or Audible. Once that's done, you're good to go.
Google Nest Mini Features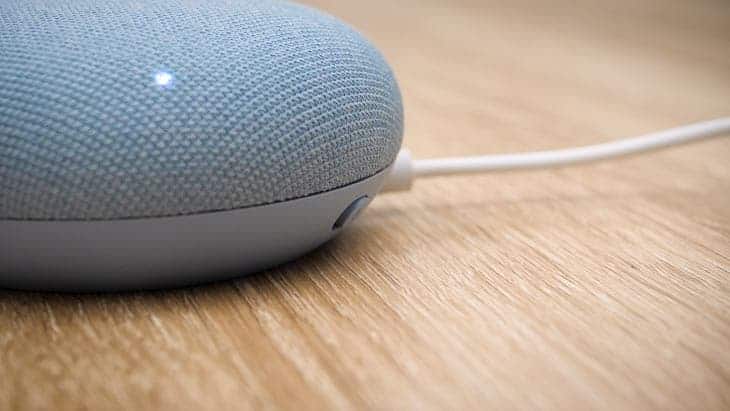 To begin using the Google Assistant on your Google Nest Mini, simply say "Ok Google". You'll get access to over 4,000 actions which range from music to shopping to cooking and more. Let's take a closer look.
Music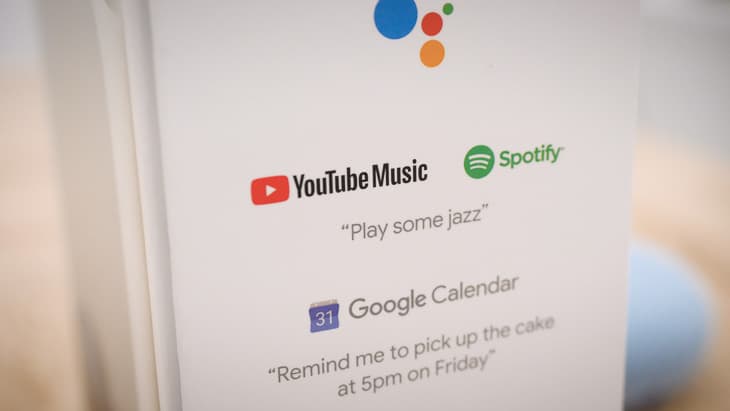 Being the restless millennial that I am, I usually never listen to full songs, switching back and forth between my favorite artists whenever my heart desires. But of course, I try to limit the amount of time I spend staring at screens, which is why I appreciate the convenience of voice commands with the Google Nest Mini. Using my voice alone, I can request the speaker to play music from the following platforms:
Google Play Music
Youtube Music
Spotify
Pandora
iHeartRadio
However, if you use Apple Music, then the Google Nest Mini probably isn't for you.
Shopping
As far as shopping goes, you can use the Google Nest Mini to manage shopping lists, buy products on Google Express, find stores near you, and even get test products sent directly to your door! Personally, I prefer shopping on Amazon over Google Express, although some people might feel differently. Still, it's super convenient to add to my shopping list without getting bogged down by too many devices and tabs.
Cooking
As any amateur chef knows, it can be hard to flip the pages of a recipe book when your hands are covered in flour, or when you're sautéing food on three different burners. Fortunately, with the Google Nest Mini, I can have recipe directions read out loud to me, step by step. I can also search for recipes by course, ingredient, or even dietary restrictions (which, let's be honest, are becoming more and more common these days). Basically what I'm trying to say is that the Google Nest Mini is a godsend in the kitchen in particular.
The User Experience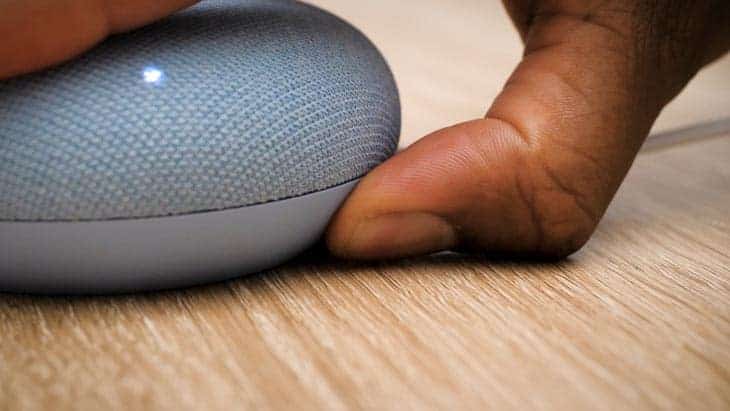 Google Nest Customer Support
Like any IoT device, the Google Nest Mini won't always work perfectly, which is why it's important to have a strong customer support team behind you. I'll say that when my Google Nest Mini was malfunctioning, I spent 40 minutes on the phone with a lovely representative who was very helpful and patient with me, ultimately fixing my connectivity issues.
Aside from a phone line, Google Nest also offers support over Facebook messenger, Twitter, and live chat. If you're not feeling super in the mood to talk to someone, you can simply check out their online help center. No shame in needing some alone time, just you and your Google Nest Mini! All in all, I was very impressed by the customer support I received for my Google Nest Mini.
Recap of the Google Nest Mini
All in all, I think the Google Nest Mini is a fantastic option to either start your smart home ecosystem or add to it. But of course, no product is for everybody, so let me break it down for you even further.
If you want to explore a similar option with a screen, definitely check out the Google Nest Hub. Or, if Google doesn't seem like the right smart home ecosystem for you, be sure to read my review of the Amazon Echo Show. Got more questions that I didn't answer? Leave a comment below and I'm sure to get back to you soon.