Avast VPN vs. NordVPN
Avast is well known for its antivirus software. Is its VPN good enough to rival NordVPN?


A two-year plan costs just $3.49 per month.
Each plan comes with a 30-day money-back guarantee.
Students can receive a 15-percent discount for a two-year plan.

Can be set up to connect automatically when you need it
Provides 24/7 phone support, a rarity among VPNs
Offers a seven-day trial of its full service
NordVPN is a titan in the VPN industry, so much so that it usually sits atop our list of the very best VPNs. Avast is a titan as well, but up to now it hasn't been associated with VPNs. Avast is a titan in the antivirus industry, a regular entry on our list of the best antivirus software. Then the company went and developed SecureLine, its own VPN service.
So here's the question: Is Avast's VPN, developed by a company known for great antivirus software, good enough to unseat NordVPN from its position as king of the VPN mountain?
The answer to a question like that is never simple. When it comes to choosing the right VPN, there are dozens of issues to consider, from features to price. Don't worry. We've done all the research for you and organized it so it's easy to understand, but you'll have to consider all the factors if you really want to know which VPN is the better deal.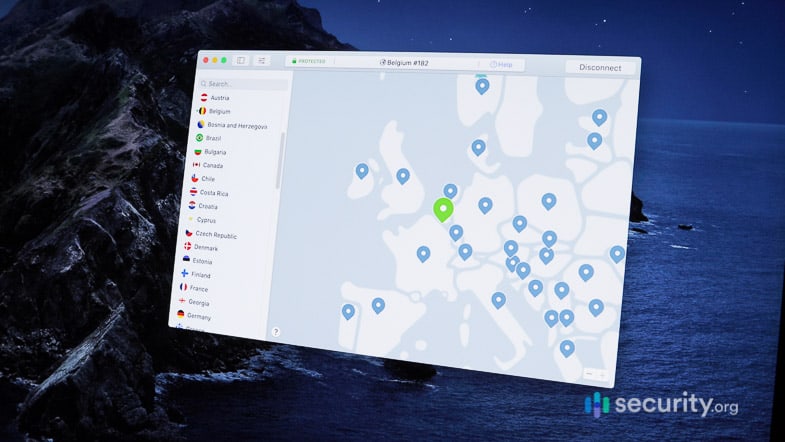 Pricing
On the surface, NordVPN and Avast look remarkably similar in price. A year's subscription to Avast costs $4.59 per month. A year of NordVPN costs $4.99 per month, a difference of just $0.40. If you'd rather invest for two years, the tables turn: NordVPN is $0.40 cheaper than Avast. But hey, what's $0.40, really? The two companies are roughly equivalent when it comes to price.
Per Month Price Difference
| VPN | 1-month subscription | 1-year subscription | 2-year subscription | 3-year subscription |
| --- | --- | --- | --- | --- |
| NordVPN | $12.99 | $4.99 | $3.99 | n/a |
| Avast | n/a | $4.59 | $4.39 | $4.39 |
If you dig a bit deeper, though, you'll find one key difference between the two. NordVPN offers a one-month subscription, and Avast doesn't. It's pricey compared to the company's long-term offerings, but sometimes you just need a month of service — and you can't get that from Avast.
On the other end of the spectrum, Avast offers a three-year plan, something NordVPN doesn't offer. There's no real price benefit to signing up for three years, however, since Avast's two- and three-year plans ultimately cost the same per month.
Digging Deeper: NordVPN actually offers three levels of protection. In addition to the Standard plan, you can get data-breach monitoring with the Plus plan and cloud storage with the Complete plan.
A Few Similarities
Let's turn to features, where there are also some commonalities. Both companies offer solid security, which, after all, is the whole reason to have a VPN in the first place.
Both VPNs, for example, provide:
AES-256 encryption: Your VPN is only as good as its encryption. Luckily, both of these VPNs use AES-256, an encryption method that is essentially impervious to brute-force attacks.
OpenVPN protocol: If encryption is the heart of a VPN, the protocol is the brains. Think of it as the instructions the VPN follows to implement all the encryption it needs to function. A poor protocol — one with holes — can leak your data. Both Avast and NordVPN use OpenVPN, the gold-standard protocol. It's open source, and it has been around long enough to have been put through and passed every imaginable test.
Shared IP addresses: We favor shared IP addresses since they conceal your actual IP address behind an address shared by hundreds — maybe even thousands — of other users. That means even if someone is tracking your address, they won't know who it actually belongs to. Both companies offer shared addresses.
Solid privacy policies: All the encryption in the world won't help you if your VPN is collecting data about you and then selling it to someone else. NordVPN and Avast both have strict privacy policies. Neither collects any information related to your browsing experience, which means no IP addresses, no timestamps, and no record of your browsing history.
Kill switches: Kill switches offer a bit of insurance when you're using a VPN. They ensure your browsing will shut down the moment you lose your VPN connection. That way, there's no chance of your data leaking if you unexpectedly switch to the regular internet. Kill switches are pretty standard, but we're pleased to report that both of these VPNs have one.
FYI: Not only do NordVPN and Avast have strict privacy policies, but they also commission regular audits of those policies from independent auditing agencies.
In addition to these fundamental security features, both Avast and NordVPN offer some bonus features designed to improve your browsing experience.
Split tunneling: Both of these VPNs come with split tunneling. We do a lot of our work at the corner coffee shop, and we like to stream our tunes while we do it. With split tunneling, we can make use of our VPN's secure connection to communicate with the office and route our music through the coffee shop's open Wi-Fi at the same time. Our data is absolutely safe, but we get faster connection times.
Bonus antivirus protection: Many companies have begun offering extras with their VPNs, such as free cloud storage. As you may expect, Avast offers free malware detection as part of its VPN package. After all, antivirus is what Avast does as its day job. Turns out, though, you can get good basic antivirus from NordVPN as well, at no extra cost.
Some Pretty Big Differences
Here's where the rubber meets the road, as they say. It's in the differences that you can really get a sense of which VPN will be better for you — and there are some significant differences. These companies are different enough that they need to be discussed separately.
NordVPN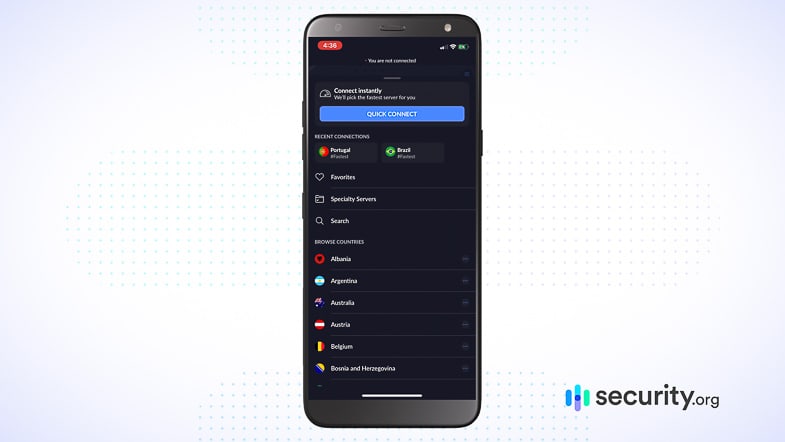 Let's start with NordVPN, since it's the more established of the two companies. What are NordVPN's main features?
Multihop: NordVPN offers a couple of security features that Avast doesn't. The first is multihop technology. When you activate multihop, NordVPN routes your internet activity through not just one but two or more remote servers. Each server provides different encryption, so your connection is encrypted multiple times for a safer online experience.
Camouflage mode: The second security tool NordVPN has that Avast doesn't is obfuscated servers. This allows you to use the VPN in camouflage mode. Not only is your actual IP address hidden behind the VPN's address, but also no one can tell you're using a VPN.
Streaming access: Camouflage mode gives NordVPN an advantage in another area: access to streaming services. One side benefit of using a VPN is that you can log on to servers in other countries. When Netflix, Disney+, and Max think you're in the U.K., they let you access content that's only available in the U.K. The thing is, streamers have begun to catch on to this trick, and many reject any address that's associated with a VPN. Camouflage mode ensures NordVPN has more access to more streamers.
More servers: NordVPN maintains over 5,300 servers. That means you have choices all over the globe, and there's always one that's close enough to give you a fast connection. Avast has a healthy number of servers at 700. Last time we checked, though, 700 is less than 5,300.
Better location: NordVPN is located in Panama. So what? Panama operates outside the Five Eyes, Nine Eyes, and 14 Eyes surveillance alliances. Companies in Panama can't be forced to turn over customer information to government agencies. Avast is located in the Czech Republic, which is also not a member country. The Czech Republic, however, has a history of cooperating with Five Eyes, which makes companies there more vulnerable than those in Panama.
Meshnet: NordVPN has recently gone one step beyond the traditional VPN with its proprietary Meshnet software. Meshnet allows you to create a VPN network, linking multiple devices directly together. It's like having your very own secure LAN network, and you can use it on devices no matter where they are in the world.
Avast VPN
We mentioned this already, but it bears repeating: Avast is a relative newcomer to the VPN market. The company has a long, sterling reputation, but as a maker of antivirus software rather than VPNs. It needs to establish itself as it moves into the VPN market, so for now it's working hard to disrupt the industry where it can. That means there are definitely benefits to signing up.
More devices: Avast offers more simultaneous connections — up to 10. That's perfect for customers who use a large number of devices. You can install Avast on all of them with just one subscription, saving you money. In contrast, NordVPN offers just six simultaneous connections.
Smart VPN: Avast also has a Smart VPN feature. It's smart enough to know which server will work best in your particular situation, and it can make the decision for you automatically. You can also set up Avast to engage automatically in particular situations. We set it up to come on any time we log on to our bank site, for example.
Torrenting (P2P servers): Avast struggles when it comes to accessing streaming services, but it does quite well in another entertainment category: torrenting. With lots of specially dedicated P2P servers, you can download all the content you want and watch it at your leisure.
Seven-day free trial: Industry disruptors need a way to get you to try their products. Avast's solution: a full seven-day trial for absolutely no cost. There are no data or speed limits. This is the full version of the VPN. That means you can check out Avast without making any sort of commitment.
First 60 days free: If you decide to sign up with Avast, you'll get another perk: the first 60 days of service are free.
Better customer service: If you have worked with VPNs in the past, you know very few of them offer customer support by phone. Avast didn't start out as a VPN, though, so the company doesn't work like other VPNs. You can get customer support 24/7, and you can choose between live online help or a phone connection.
Pro Tip: You'll want to take note not only of how many devices you can install a VPN on, but also how many devices you can use it on at the same time — a feature known as simultaneous connections.
The Bottom Line
There's a reason established VPNs are established VPNs. They have the most customers, and they got all those customers by providing a stellar product. That's NordVPN to a T. You won't find a more secure VPN on the market. NordVPN not only offers standard security features such as AES-256 and the OpenVPN protocol, but it also provides extra layers of protection with multihop and obfuscated servers. As a bonus, it offers access to all the best streaming services around the world — it's at the top of our list of best VPNs for streaming. Of course, it's not a perfect VPN, but it's hard to pass up NordVPN when you have a choice.
That's not to say Avast VPN doesn't have its good points though. After all, disrupters have to work harder to get market attention. Avast definitely offers a few features you won't find with NordVPN, such as its Smart VPN feature and some tempting pricing offers.
We would recommend NordVPN, but we recognize that some of you may benefit from signing up with Avast. In the end, it comes down to knowing your particular needs.
Go with NordVPN if:
You need extra security features like multihop.
You're looking for a VPN that will give you the most streaming options.
You want a VPN that will allow you to connect multiple devices over a single network.
Go with Avast if:
You want a VPN that can make some decisions automatically.
You have more than six devices.
You like having the option of 24/7 customer service by phone.
FAQs
We get so many questions about the similarities and differences between Avast and NordVPN that we thought it would be worthwhile to answer a few here.