FastVPN by Namecheap: Is This VPN Really Fast?
Namecheap is banking on its reputation as an affordable but reliable web service brand with FastVPN.
What We Like
Affordable plans: FastVPN costs $1 per month in the first year, which is one of the lowest prices we've seen for a VPN.
Well-dispersed servers: FastVPN has servers in 50 countries, including countries in North and South America, Europe, Africa, and the Asia Pacific region.
Fast download and upload speeds: True to its name, FastVPN is a fast VPN, particularly for downloading.
What We Don't Like
Questionable permissions: FastVPN asked permission to access our apps and resources, even when we're offline.
No split tunneling: None of the FastVPN apps offer split tunneling, which is an essential VPN feature for multitaskers.
High latency and slower speeds on offshore servers: When we connected to servers farther away from us, we started seeing significant drops in speed and latency.
Bottom Line
FastVPN is a fast VPN with decent security and privacy features. It's not a top-tier VPN by any means, but its affordable pricing makes it a good option for students and VPN buyers on a budget.
The perfect VPN is one that is fast, secure, easy to use, and affordable. We judge the VPNs we review based on those four criteria, and this time, it's FastVPN's turn to go under our microscope.
With "fast" right in its name, we expect FastVPN to be speedy. And as a product from Namecheap, the popular domain name registrar, we wouldn't be surprised to see that the VPN is both easy to use and affordable. Of course, since it's a VPN, there's no question that security and privacy are its top priorities.
That said, we want to see what FastVPN is all about. We want a look at its strengths and weaknesses, its most important features, and the things that potential VPN buyers need to know. By the end of this review, you'll know if FastVPN is the right VPN for you. Let's get started.
Editor's Rating
Affordable plans
Well-dispersed servers
Fast download and upload speeds
Getting to Know FastVPN by Namecheap
Namecheap started in 2000 as a domain name registrar, but after a successful few years, it forayed into other web services, including web hosting, email services, and web security. One of its latest products is FastVPN, a rebranding of its former VPN service called NamecheapVPN.
Considering that it's new, FastVPN has a well-distributed server network. Currently, it has servers in 50 countries. That's a pretty good number even compared to other, more established VPN providers. For example, NordVPN, one of the top VPNs right now, has only about 10 more server locations than FastVPN.
Quick Note: As we noted in our NordVPN review, even though NordVPN has only about 60 server locations, it has a fleet of over 5,000 servers in those locations. In comparison, FastVPN has just over 1,000 servers. This disparity in server count shows that FastVPN still has a lot of room to grow.
Despite its commendable server fleet, one of the first things you should know about FastVPN and Namecheap is that they operate in the United States, which means they're under the jurisdiction of the U.S. government.
The United States is a member of the Five Eyes Alliance, a surveillance alliance where all member countries have the legal power to obtain sensitive information from companies to aid in criminal investigation or to prevent acts of terrorism. Five Eyes countries don't exercise this power on a daily basis, but it's something you should know if you're a stickler for privacy like we are.
Features: What You'll Get From FastVPN?
Speaking of privacy, protecting one's internet freedom and privacy is one of the main reasons why folks use VPNs. To gain those protections, however, a certain set of features is required. Does FastVPN have those? Let's break down FastVPN's features.
FastVPN's Privacy Policy: No-Logs, But…
First and foremost, a VPN needs an airtight privacy policy that doesn't leave room for any potential privacy implications.
FastVPN claims to have a "no-logs" policy, which, in the VPN industry, means that they don't record usage logs that can be used to track traffic back to specific users. They don't record originating IP addresses and browsing histories, for example. That's apparent even from the start, because this prompt showed up right after we signed in.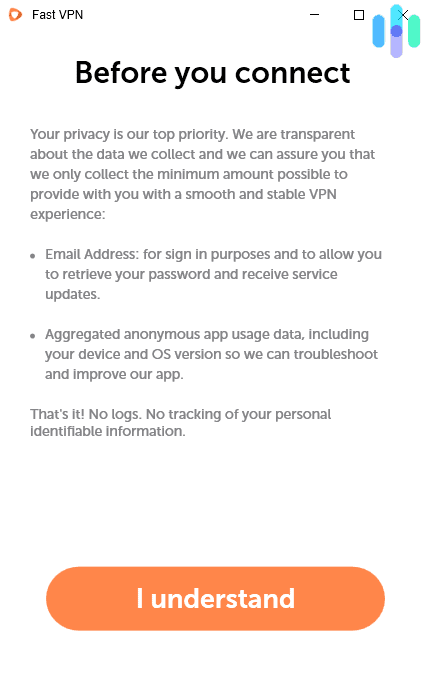 Digging further, however, we found something that made us raise our eyebrows. It was a permission prompt that popped up during the subscription process, in which FastVPN asked permission to access our "applications and resources, even when [we] are offline." No other VPN we've reviewed asked for such permissions, and we're not sure why FastVPN even needs them.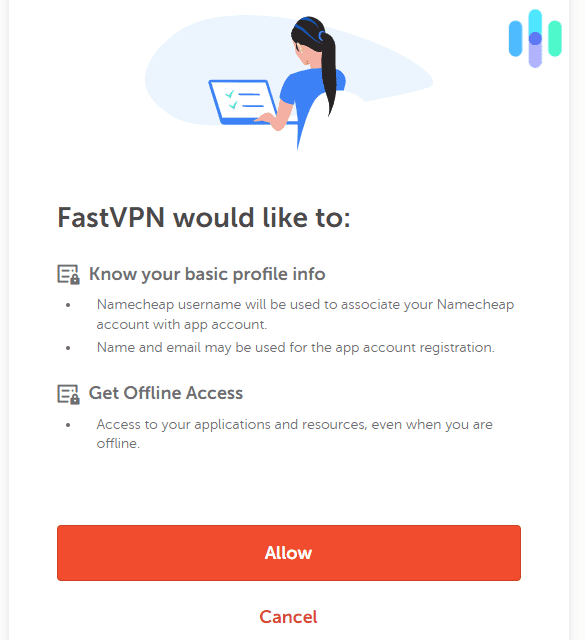 Of course, we granted FastVPN's request (reluctantly) in order to proceed with our tests, but if you care about your privacy, keep in mind that other VPNs don't need as much access as FastVPN is requesting. Is this a deal-breaker? Not really. But it's something you should know.
FYI: The best VPNs protect your privacy from ISPs, government tracking, and bad actors, but they also protect your data from themselves. With a strict "no-logs" policy, the best VPNs ensure that their users' personally identifiable information, IP addresses, and browsing history are not tracked, logged, and shared.
FastVPN Kill Switch
A VPN kill switch is a critical feature that prevents users from accessing the internet when they're not connected to a VPN. It's like an automatic braking system that halts your car when it detects an obstacle ahead, except it doesn't wait for obstacles to appear. As soon as you turn off your VPN, or it disconnects unexpectedly, the kill switch activates automatically.
The kill switch is often undervalued, but it's one of the most important features for a VPN. It forces you to use a VPN whenever you go online, thus ensuring that your online privacy is always protected.
The kill switch also protects you when your VPN goes offline unexpectedly, which is something that happens even to the best VPNs. With a kill switch, even if your VPN disconnects unbeknownst to you, your network will never be compromised.
FastVPN Encryption and VPN Protocol
Lastly, in order to protect your data, a VPN needs solid encryption and VPN protocols. What are those? Well, in a nutshell, they make up your VPN's packaging and delivery process.
VPNs use encryption to "package" your online traffic so that no one else sees what you're doing online. Think of encryption like a secure container into which your web traffic is placed before being sent out to the dangerous digital world. The stronger the encryption is, the better.
Right now, 256-bit AES is the gold standard in VPN encryption, and it's exactly what FastVPN uses.
On the other hand, the VPN protocol is the "route" your encrypted traffic takes. It details which network port it will pass through, how the VPN server should handle your traffic, and a lot of other information necessary to make the data transport possible.
Unlike with encryption, where security is the top and only priority, a VPN protocol needs to find the perfect balance between speed and security. Some of the most well-balanced protocols are OpenVPN1 and the newer-but-quickly-growing WireGuard.2 FastVPN does not yet offer WireGuard, but OpenVPN is available.
Besides OpenVPN, FastVPN also offers IKEv2. It provides decent security, but IKEv2's biggest advantage is that it's fast and agile in the sense that it handles network changes well. For instance, if you switch Wi-Fi networks while connected to FastVPN via IKEv2, it can reconnect to the VPN automatically. This makes IKEv2 a good VPN protocol for mobile devices.
Other FastVPN Features
The majority of VPN users choose to use VPNs for general security and privacy reasons. That's one of the things we learned in our study of VPN usage in the United States. However, VPNs serve other purposes as well. They can help you circumvent school, office, or government restrictions, for example. They can also give you access to entertainment options that are not normally available to you.
In this section, we'll talk about FastVPN's miscellaneous features that can prove useful as well.
Netflix and Streaming Access
It's no secret that a lot of folks use VPNs to access Netflix and other streaming libraries outside their country. If you're in the U.S., for example, connecting to an Australia server gives you access to Netflix Australia.
Obviously, Netflix and other streaming platforms don't want their users doing that, and that's why they're banning VPN IP addresses.
At the time we tested FastVPN, the Australia, Japan, and U.K. servers all still worked with Netflix. The same goes for Prime Video and Disney+. Unfortunately, Hulu detected that we were using a VPN, and it asked us to disconnect first. If you're looking for a VPN to use for the streaming platform, check out our lists of the best VPNs for Hulu and the best VPNs for streaming in general.
Torrenting
Torrenting provides people everywhere another means to access digital content, including movies, music, files, and software. The problem is, torrenting in the U.S. can be risky. The U.S. government frowns upon the use of torrenting, especially for pirating copyrighted content.
Of course, we want you to stay on the good side of the law, so we recommend torrenting noncopyrighted content only. Even if you do that, however, the government or your ISP may still see your activity as questionable, which could result in piracy notices or ISP throttling. That's why we recommend torrenting with a VPN.
Torrent networks can be complicated though, and not all VPNs are equipped to handle torrenting. As for FastVPN, torrenting is very much possible. Better still, because of its good download speeds, which we'll discuss below, it's a solid VPN for torrenting.
What's Missing?
One feature that's missing from FastVPN's arsenal is split tunneling. This VPN feature lets you create two networks for each device. One network uses your normal traffic pathway — from your device, then ISP, and then the internet. The other network uses the VPN's route, which starts with encryption and bounces on a VPN server before reaching the internet.
Split tunneling is useful for multitasking, but it's not a necessary feature for everyone. If you're looking for a VPN with split tunneling, check out our review of Surfshark, a VPN with an almost complete feature set.
Testing FastVPN
Now that you have a general idea of what to expect from FastVPN, let's talk about our experience with this VPN from Namecheap. Pay close attention, as there's a lot to note here.
Is FastVPN Fast?
Wouldn't it be weird if FastVPN, which has "fast" right in its name, isn't fast at all? Well, we still tested FastVPN's speed, and we made some interesting discoveries.
For our speed test, we used Ookla's speed test tool to compare our current internet speed to our internet speed when connected to FastVPN. Here are the results.
| Speed test results | Download speed | Upload speed | Latency (ping) |
| --- | --- | --- | --- |
| Without FastVPN | 14.42 Mbps | 6.83 Mbps | 11 ms |
| With FastVPN (closest server) | 8.33 Mbps | 5.33 Mbps | 83 ms |
| With FastVPN (Australia server) | 2.36 Mbps | 3.29 Mbps | 717 ms |
First, we connected to the server closest to us. Your distance from the VPN server affects your internet speed, so the closest server offers your web traffic the most optimal path.

True to that, our download and upload speeds while connected to the nearest server held up pretty well against our baseline internet speed. The download speed dropped by about 40 percent, which is the average speed drop we see with VPNs. The upload speed, on the other hand, dropped by 22 percent, which is also pretty decent.
FYI: In a study we conducted recently, we found that the fastest VPNs are capable of maintaining download speeds without significant loss. The top 12 VPNs all had download speed loss of less than 10 percent.
Next, we connected to a server in Australia to see how FastVPN fares when the VPN server is farther away. We're about 10,000 miles away from Australia, which caused FastVPN's speed to drop significantly.

FastVPN retained less than 20 percent of our baseline download speed, and our upload speed was cut by half. The most worrisome, however, was the latency, or the time it takes for data packets to reach their destination. From 11 milliseconds without FastVPN, it shot up to 724 milliseconds. This leads us to conclude that FastVPN is far from the best VPN if you're intending to connect to a server location that is far from you.
Is FastVPN Secure?
Short of trying to hack into our own VPN network, the best way to test a VPN's security is by doing IP address leak tests. These tests show whether a VPN is leaking IP address information when certain vulnerabilities are exploited; namely, DNS leaks and WebRTC leaks.
Both types of leaks stem from necessary internet and browser features. A DNS leak is a flaw that allows ISP DNS servers to see a user's IP address despite the use of a VPN, while a WebRTC leak lets third parties see a user's IP address by exploiting the WebRTC feature of browsers.
We used online tools that tried to exploit those flaws to see our IP address, but fortunately, they discovered our VPN IP address only and not our real IP address.
FastVPN Apps: Do They Work?
So far, we've discussed FastVPN's speed and security. Next, let's talk about the app user experience.
First of all, FastVPN has native apps for Windows, macOS, Android, and iOS devices. It's also possible to set up FastVPN on a Linux device, but that requires a bit more technical expertise. Nonetheless, if you use any of those platforms, you can use FastVPN.
We downloaded FastVPN for Windows directly from the website, and the setup process was straightforward. It was ready to work fresh off the installation.
The interface was laid out neatly. To the right is an informative panel that details your current connection, the amount of data you've uploaded and downloaded, and your VPN IP address. The leftmost panel is where all the settings are, and the middle panel is dynamic depending on which setting you're on.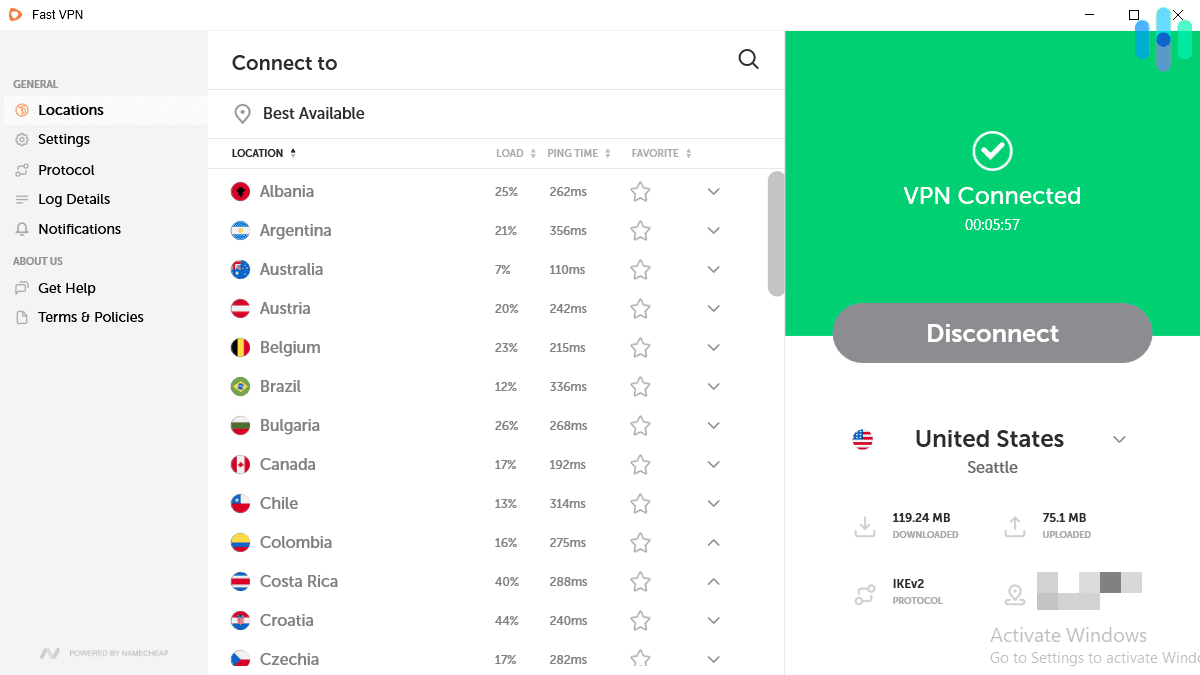 Overall, we've had no problems with the Windows app. It's one of the better VPN apps we've tested in terms of UX design, ease-of-use, and interface.
The interface on the Android app is similar, and it's just as easy to use. However, there is one thing to note: There are many VPN apps in Google Play and the Apple App Store with the name "FastVPN," so be sure to download the FastVPN by Namecheap app.
How Much Does It All Cost?
Last but not least, let's talk about FastVPN's pricing. You can get either a yearly plan or a monthly plan, with the yearly plan being more affordable and the monthly plan being more flexible. Either way, getting a subscription entitles you to use FastVPN on as many devices as you own.
| Subscription information | Monthly plan | Yearly plan |
| --- | --- | --- |
| First-term price | $0.99 | $12 ($1 per month) |
| Renewal price | $5.88 | $34.56 ($2.88 per month) |
Namecheap is known for its affordable, almost-too-good-to-be-true pricing, and FastVPN is no exception. Most VPNs cost about $10 to $15 per month, but FastVPN costs only $0.99 for the first month. So what's the catch? Well, that price is only for the first month. After that, it renews at $5.88 per month, which is still very much affordable, but significantly higher than the advertised price.
As for the yearly plan, you'll pay $12 for a whole year of VPN service. Again, that's just the introductory price. The renewal price after the first year is $34.56 annually, or about $2.88 per month. Very cheap!
As with most VPNs, FastVPN has a 30-day money-back guarantee. If you cancel the service within 30 days, you're entitled to a refund, so with either the monthly or the yearly plan, your purchase is risk-free.
Tip: With a $0.99 first-month introductory price, you can test out FastVPN for a month for next to nothing. Better still, you can get back your $0.99 subscription fee if you cancel within 30 days. This is for first-time subscribers only.
Is FastVPN Worth It?
We've talked about its security, speed, ease of use, and cost. Before we end this post, let's answer one more question: Is FastVPN worth it?
Let us start off by saying that FastVPN by Namecheap is one of the most affordable VPNs we've ever tested. Beyond its extremely low introductory pricing, FastVPN's standard pricing is lower than that of most of the VPNs we've reviewed.
Because of that affordable pricing, however, we weren't too surprised to discover that FastVPN isn't a top-tier VPN. Is it a good VPN? Sure. It has servers all around the globe, it's secure and leak-free, it's fast, and it has good apps. Is it the best VPN? Far from it. Its speed declined the farther we were from its VPN server, it's not very customizable (it doesn't offer WireGuard protocol, for example), and it's missing a useful feature: split tunneling.
We've given you the pros and cons. Now it's your turn to decide if it's worth it for you.
FastVPN FAQs
One last thing before we leave, let's answer some frequently asked questions about FastVPN.