How To Clear Your YouTube History: A Step-by-Step Guide
Clear your YouTube search, and watch history with these easy steps

All of our content is written by humans, not robots.
Learn More
You know what makes YouTube stand out from the sea of video sharing platforms available today? It knows us like no one else. We search and watch videos that interest us, and YouTube curates a selection of related content for us to devour. It also knows to tailor our search results based on our watch history.1 YouTube simply gets us and what we want to see on the screen.
That's all great, but let's be real. There are times when you don't want the world to know what you've been watching. Perhaps it's a guilty pleasure or something downright embarrassing, or maybe,you just don't want a tech conglomerate like Google profiling you based on what you like to watch in your downtime.
Whatever your reason for wanting to get rid of your YouTube history, we have you covered. Here's a detailed, step-by-step guide on how to clear your YouTube history. As a bonus, we'll also show you how to make your YouTube history disappear automatically from time to time and how to keep YouTube from logging your history.
Further Reading: To learn more about the data logging practices of commonly-used online services, as well as how to opt out of those, check out this internet and data privacy guide our digital security experts curated.
Clearing Your YouTube History: How To Do It on Your Browser, iPhone, or Android
Just as you can access YouTube on your desktop's browser or smartphone, you can also clear your YouTube history using the same devices. Just make sure your Google account is signed in.
Ready? Let's go!
Clear Your YouTube Watch History on a Browser
Whether you're using Chrome or Edge on a Windows PC or Safari on a Mac, the steps for clearing your YouTube watch history using a browser are the same.
First, you need to access your watch history. Here's how:
Go to www.youtube.com.
Make sure you're signed in. Your account profile photo should appear in the top right corner. If you're logged out, sign in with your Google account first.
Click the hamburger menu (≡) in the upper left corner of the page.
Click History.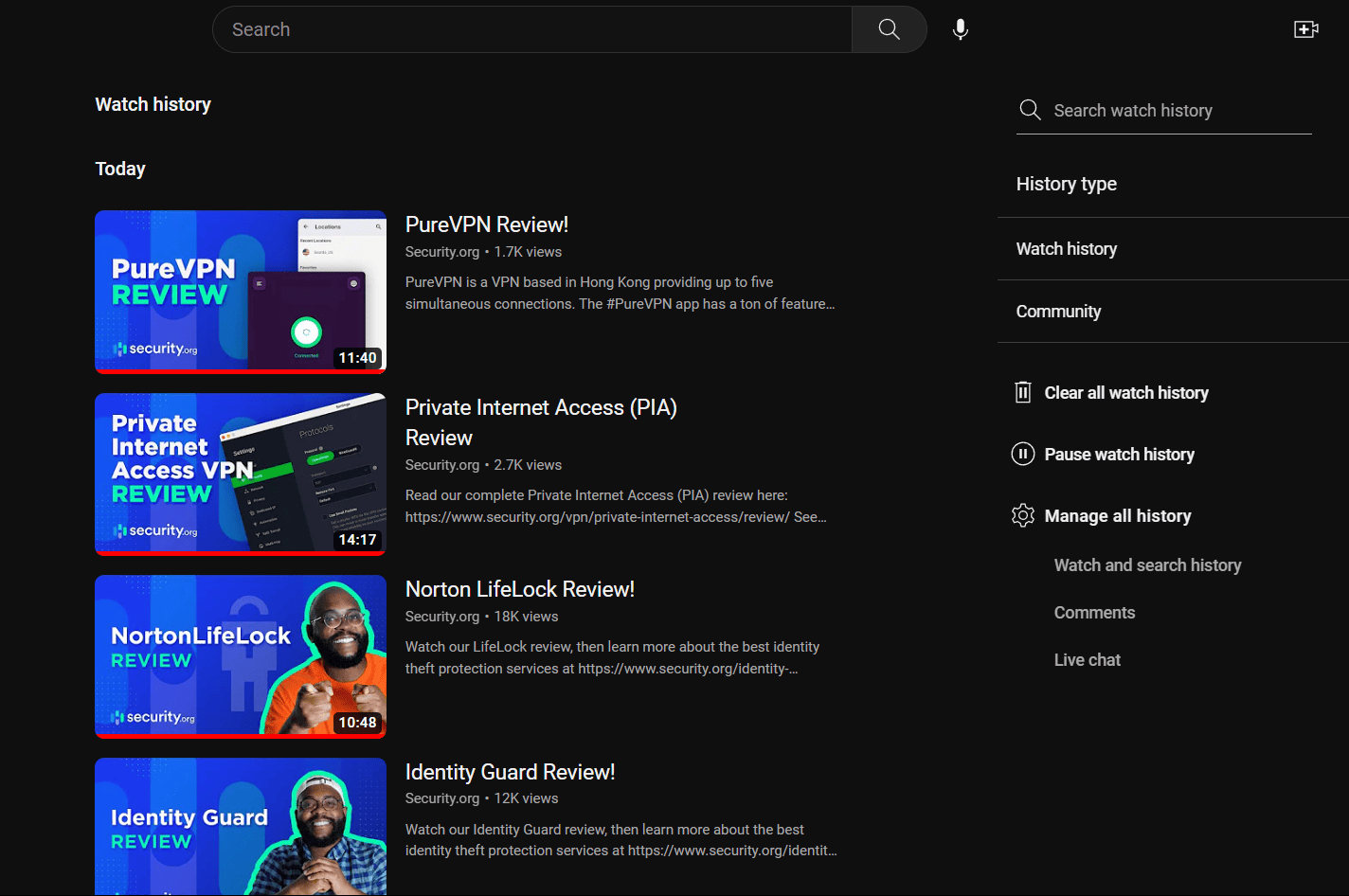 Now you can see all the videos you've watched in the past. Next, you can either remove one video at a time or clear the entire list.
Hover your mouse over the video you want to remove.
Click the X icon to remove the video.
To clear your entire history, click on the "Clear All Watch History" button in the pane to the right of the list.
That's it! While you're there, though, you may want to modify your history settings so you don't have to keep coming back to clear it.
Your first option is to pause watch history, which means YouTube will stop logging your video history until you turn it back on. To do so, just click the "Pause Watch History" button right below "Clear All Watch History." Keep in mind that pausing your YouTube history also means that what you watch moving forward will no longer affect your video recommendations. New videos from channels to which you're subscribed will still appear on your YouTube homescreen, though.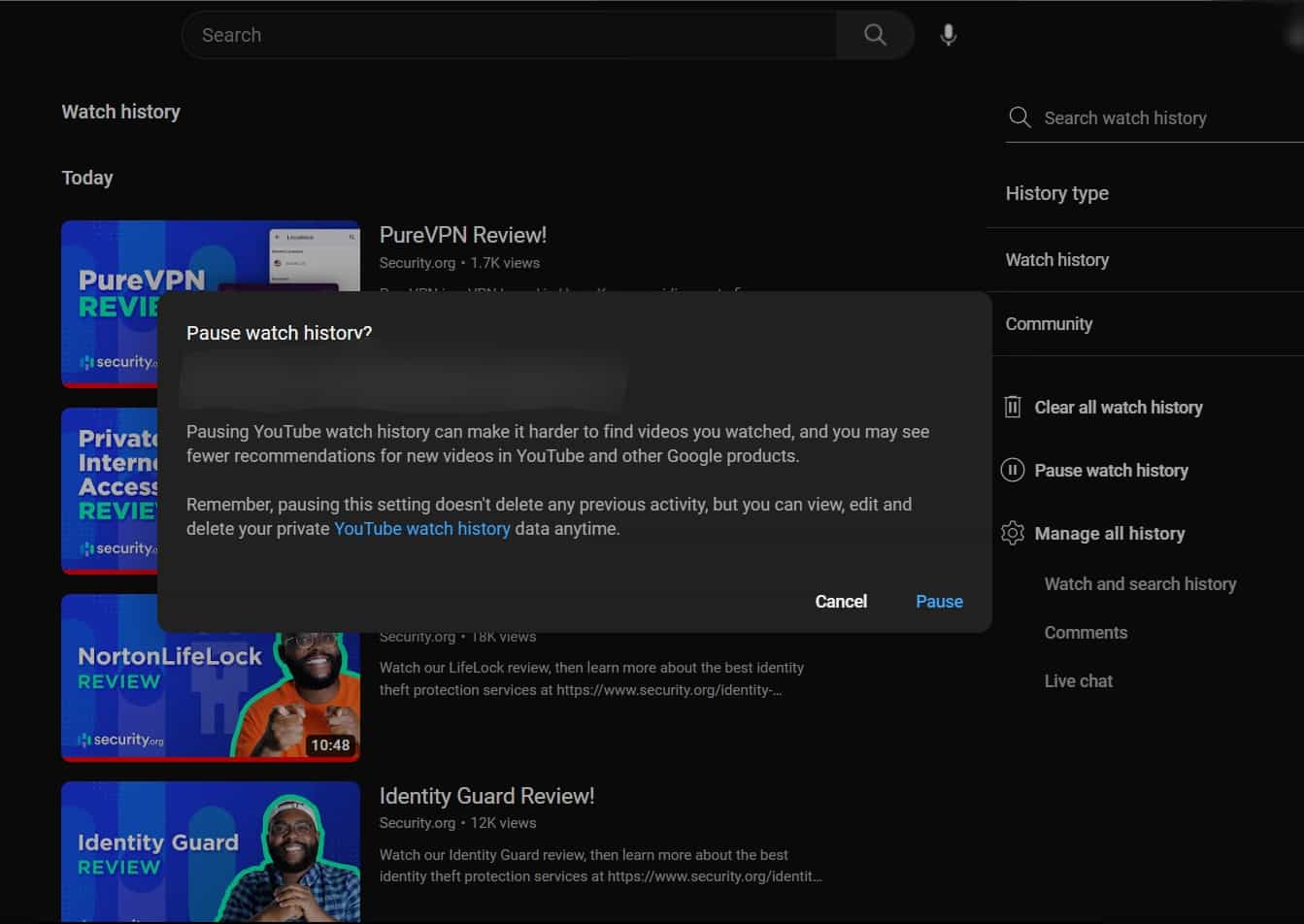 Another option is to set YouTube to clear your watch history automatically from time to time — either every three months, 18 months, or 36 months. To do that, follow these steps:
Click "Manage All History."
In the "My Activity" tab, click "Auto-delete." This setting is turned off by default.
Select "Auto-delete Activity Older Than."
Select the frequency from the dropdown menu.
Clearing Your YouTube Watch History From the YouTube App
You can access all of the same settings from your iPhone or Android's YouTube app.
To see your watch history from the app:
Open the YouTube app.
Tap your Google account profile photo in the upper right corner.
Go to Settings.
Scroll down and select "Manage All History."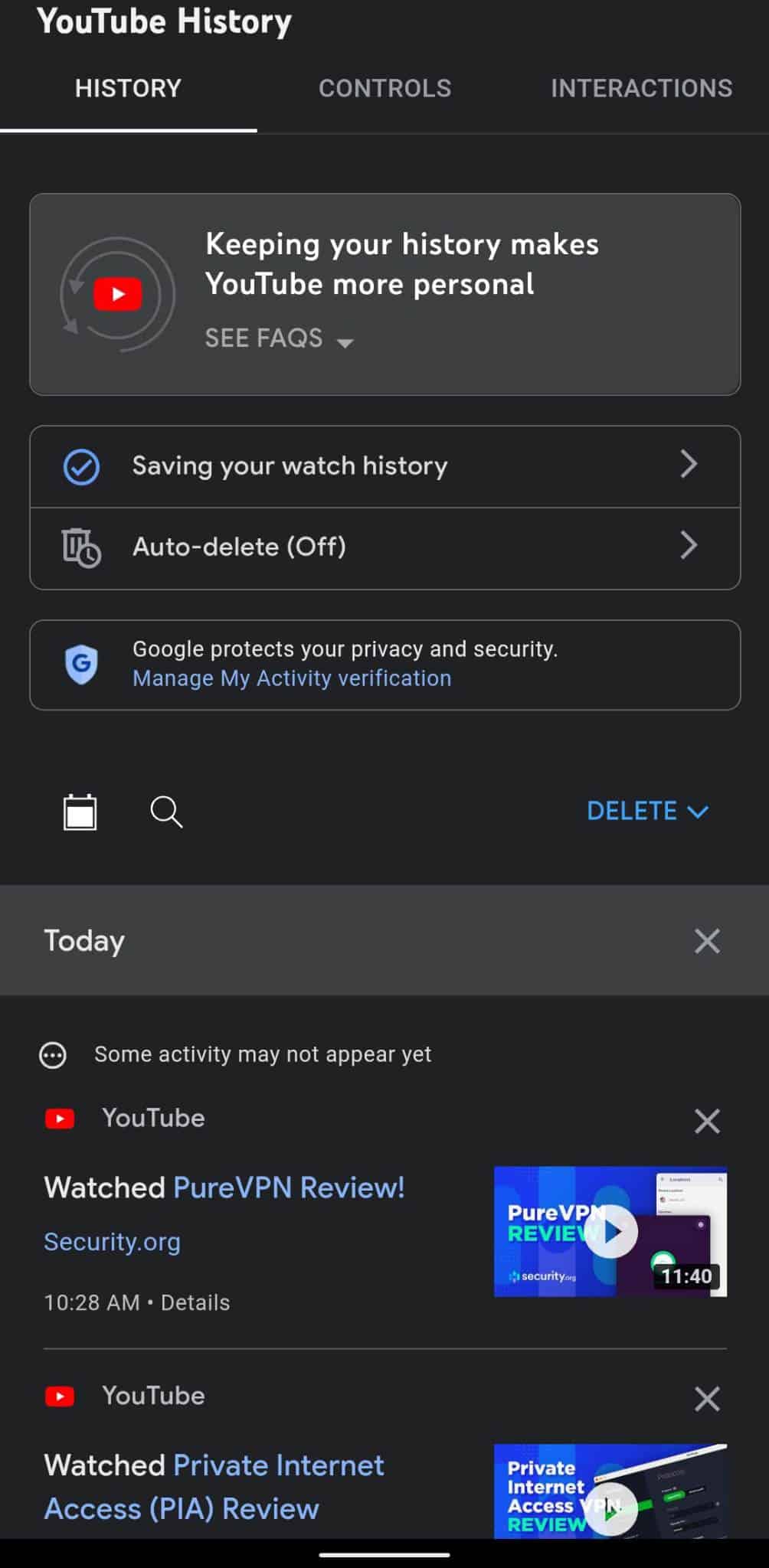 The YouTube smartphone app actually offers more options for clearing your video history. You can, of course, remove videos one by one from the list or clear the entire list ("Delete All Time"), but you can also delete your watch history from today ("Delete Today") or between certain dates ("Delete Custom Range").
You can remove one video at a time by tapping the X button above the video thumbnail.
You can clear your entire watch history by selecting the Delete dropdown menu and selecting "Delete All Time."
You can clear just your watch history from today by choosing "Delete" and then "Delete Today."
You can clear your history from dates of your choosing by tapping "Delete," then "Delete Custom Range," and then selecting the start and end dates.
Now, if you also want to turn off your YouTube watch history or set it to auto-delete, just scroll to the top of the history page and press "Saving Your Watch History." Doing so will take you to the YouTube History Controls page, and from there, you can manage how your history is saved and deleted like you would on a browser.
Are There Benefits to Deleting Your YouTube Watch History?
So you've removed the videos you don't want to appear in your history, or maybe even cleared your entire watch history. Now, you're probably wondering if there are privacy benefits to doing that. Let's discuss.
Who Can Access Your YouTube Watch History?
The first thing you should know is that your YouTube watch history is private. Other users can't see what videos you've watched, liked, or commented on, unlike with TikTok where others can see your liked videos unless you adjust your privacy to make TikTok safer.
With YouTube, only you and the platform itself have access to your watch history, so clearing it won't make much of a difference for your privacy. Of course, there are some exceptions.
For one, we all know that Google is in the advertising business. And like most social media platforms that collect (and sell) information about their users, Google uses data from YouTube for its own gain. Specifically, it uses gathered information to target users with paid ads.
That doesn't necessarily mean that Google will sell your data to advertisers. Rather, it uses the information to choose which ads to show you in between videos. If you don't want YouTube doing that, then clearing your watch history (and pausing it) might help.
You can adjust your ads-related privacy settings in the My Ad Center of your Google account.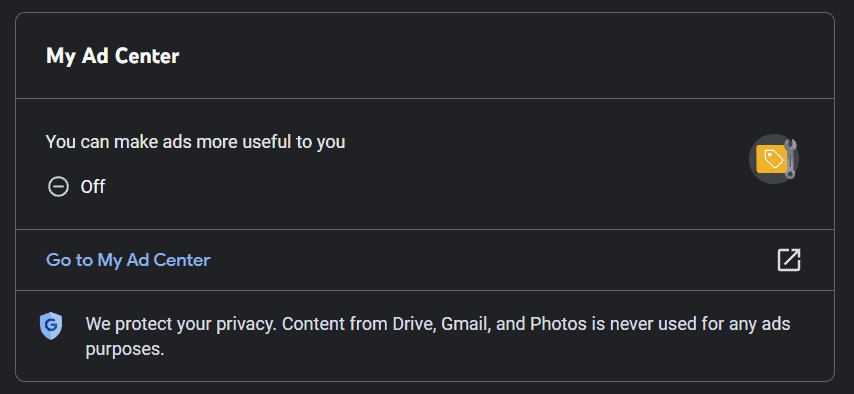 Another scenario where clearing your YouTube history might come in handy for your privacy is if you suspect someone — a snoopy roommate, a hacker, or even a stalker — is accessing your devices or account to snoop on you. That's unlikely to happen, but if you're ever in that scenario, the safest things to do are to clear your watch history, log out from all your devices, and change your password to a secure one.
Conclusion: How To Enjoy Greater Privacy When Using YouTube
Although your YouTube watch history has little to no bearing to your overall digital safety and privacy, that doesn't mean your YouTube activities are private. Rather than worry about your watch history, you should be more concerned about the digital footprint you leave behind when using the internet to visit sites like YouTube.
Tracking is baked into your daily online use, so Google and YouTube aren't the only ones that know what you've watched. A report from the FTC shows that internet providers in the United States amass large pools of sensitive data from their consumers, and they use such data in ways that can be harmful to us and our privacy2. So, what can we do to protect ourselves?
One of the most effective solutions is to use a virtual private network or VPN. VPNs encrypt our online traffic and route it through secure servers, ensuring the privacy of our online activities and making us untrackable. Learn more about VPNs in our VPN guide.
Security.org's VPN Recommendations
Check out our favorite VPNs.
FAQs
Learn more about your YouTube watch history here.