Privado VPN Review and Pricing Guide 2023: This VPN Deserves a Second Look
A closer look at Privado proves why it has the potential to become a great VPN.
Privado VPN is available as a free or paid-for VPN and is listed as one of the best free VPNs of 2023
Privado VPN subscriptions start at $7.99 monthly or $59.88 yearly
Privado VPN maintains its own physical servers for optimal data security.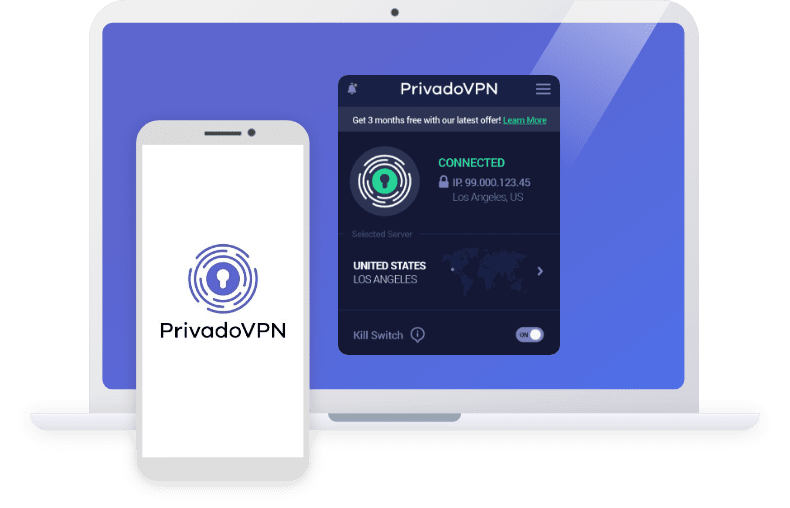 All of our content is written by humans, not robots.
Learn More
By

&

Last Updated
Mar 21, 2022
If our Spanish teacher was right, privado means private, which is exactly how we want our browsing data to remain. A virtual private network (VPN) could help us with that, and interestingly, there's a VPN called Privado.
Privado is one of the newer, smaller VPNs; nonetheless, we tested it to see if there's any truth to its claim that it's secure and fast. Furthermore, we checked if the price was right and if its plans offered good value for your money. Let's dive right in!
Privado VPN's Free VPN
Let's start with what we've come to know as one of Privado's best selling points — its free VPN. Privado topped our list of the best free VPNs for two reasons. First, it offers just as much data security and speed as Privado's paid plans. Second, there's no time limit to the free VPN. As long as you can live within its limitations, which we'll explain below, you'll never have to pay for the premium service.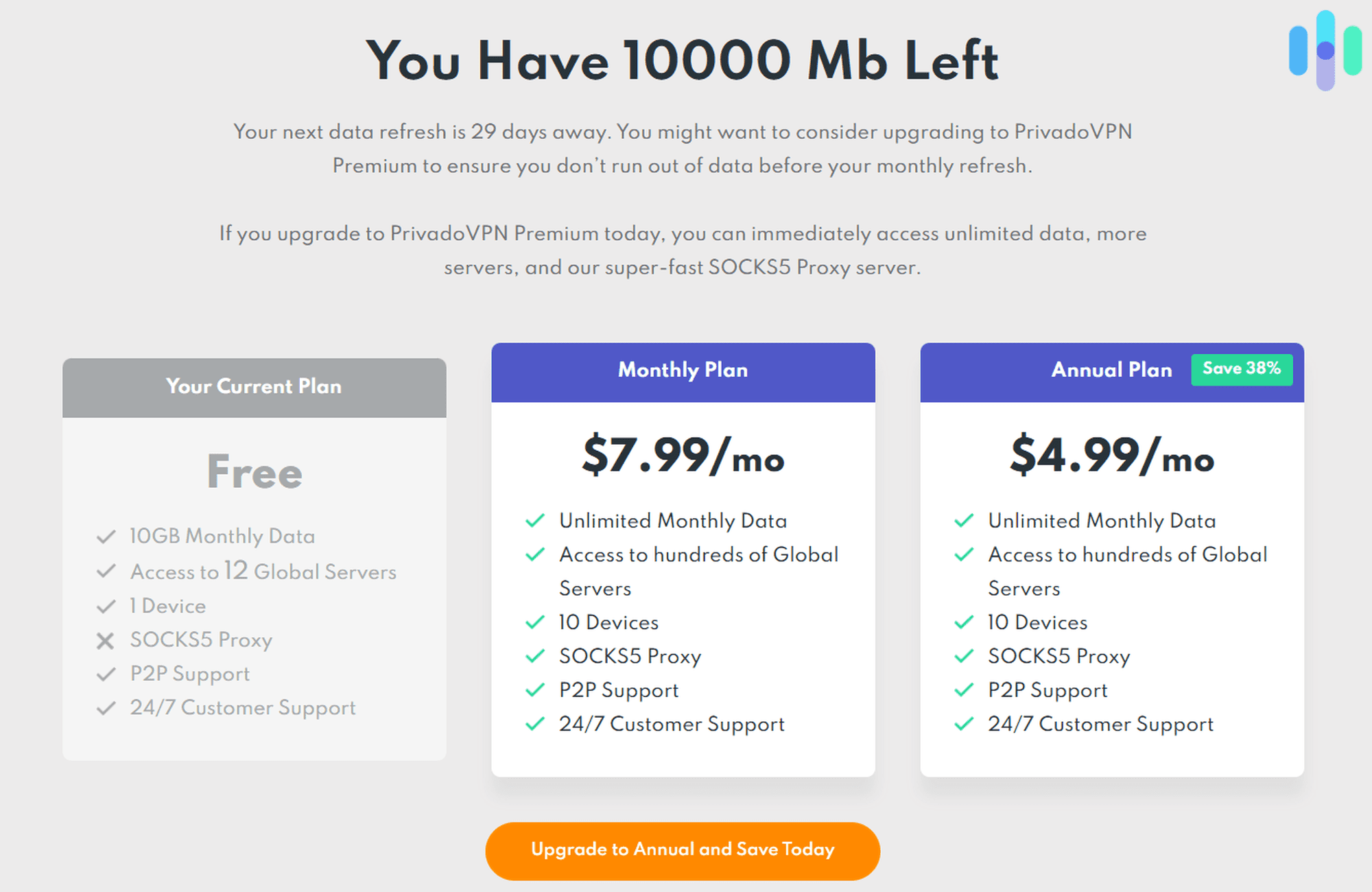 With respect to limitations, here's what you have to look out for:
Number of servers: Privado has servers in 45 countries, but if you use the free version, you'll only be able to access nine locations — the U.S., the U.K., Mexico, Germany, France, Switzerland, Canada, the Netherlands, and Brazil.
Data usage: To avoid abuse of service, Privado limits the amount of free data that can pass through the VPN tunnel. Each free user gets 10 GB of data per month, which is more than enough for light browsing, but not enough for streaming and downloading.
Number of devices: Free users also don't get to connect as many devices as paying users. Each free user can only connect one device at a time.
These limitations are pretty normal with free VPNs. As a matter of fact, Privado has some of the most lenient limitations. Other free VPNs limit the length of time you can use the free version, or even throttle down speeds or remove necessary features. In comparison, Privado's limitations to free users are kept to a minimum.
How Much Does Privado VPN Cost?
According to one report, the average monthly data usage on smartphones now exceeds 10 GB.1 That's on mobile data alone, not including Wi-Fi data and traffic on computers and other devices. If you tested and liked Privado, but would like to use it more freely, you're bound to upgrade to a paid-for plan. How much will that cost you? Here's a pricing breakdown.
| Privado Pricing | One Month | One Year |
| --- | --- | --- |
| Average monthly cost | $7.99 | $4.99 |
| Total amount billed to you | $7.99 | $59.88 |
Relative to the industry average, Privado is affordable. Most VPNs cost upwards of $10 on a monthly payment basis, so Privado's $8-per-month pricing is a great deal. In fact, if you look at ExpressVPNs packages, you'll see that Privado's monthly plan is cheaper than ExpressVPN's yearly plan.
Privado becomes more affordable still if you pay yearly rather than monthly. At $59.88 per year, you'll save $36 with the yearly plan as opposed to paying $7.99 a month (or $95.88 total) over the course of a year.
Of course, the annual plan is more affordable only if you're in for the long haul. Once you pay the fee, you only get 30 days to change your mind and request a refund. After that, you can't cancel your subscription. So if you're not sure if you'll use Privado for a whole year, we suggest going with the monthly plan.
What Features Does Privado VPN Offer?
In our years of testing VPNs, we've learned that cheaper isn't always better. There are a lot of VPNs that are cheap — free even — that lack the features necessary to secure their users' browsing data. Privado is affordable, but does it have the right features?
Privacy Practices and Policy
First things first: privacy. We use VPNs to protect our privacy, but in turn, we entrust our browsing data to the VPN we're using. To give their users peace of mind, many VPNs promise not to log any service usage data, including IP addresses of users, websites visited, content of downloaded files, and more. Privado makes the same promises, and though its privacy policy is yet to be audited by an independent auditing firm, it claims that:
It doesn't log data about what a user does online while connected to a VPN.
It can't tie browsing activity from its servers to an individual user's activity.
It encrypts all data transfer over its VPN servers.
It doesn't log browsing history, DNS requests, traffic destination, IP addresses, etc.
It will never sell your data to third parties.
Overall, we're satisfied with Privado's privacy policy. It's well laid out, so that even a layperson can understand its content. It pretty much covers everything, from which types of data Privado collects to who has access to that data.
Kill Switch
Next up is one of our personal favorite features, the kill switch. Although this feature sounds a bit threatening, it's actually crucial to every VPN. No VPN is perfect, and we can't tell you how many times we've had VPNs disconnect unexpectedly during our tests. Whenever that happens, not only do we temporarily lose our protection, but our activities while connected to the VPN are also revealed to our ISP. That is, if we didn't have the kill switch turned on. With the kill switch on, all our internet traffic halts the moment the VPN disconnects to prevent any data leakage.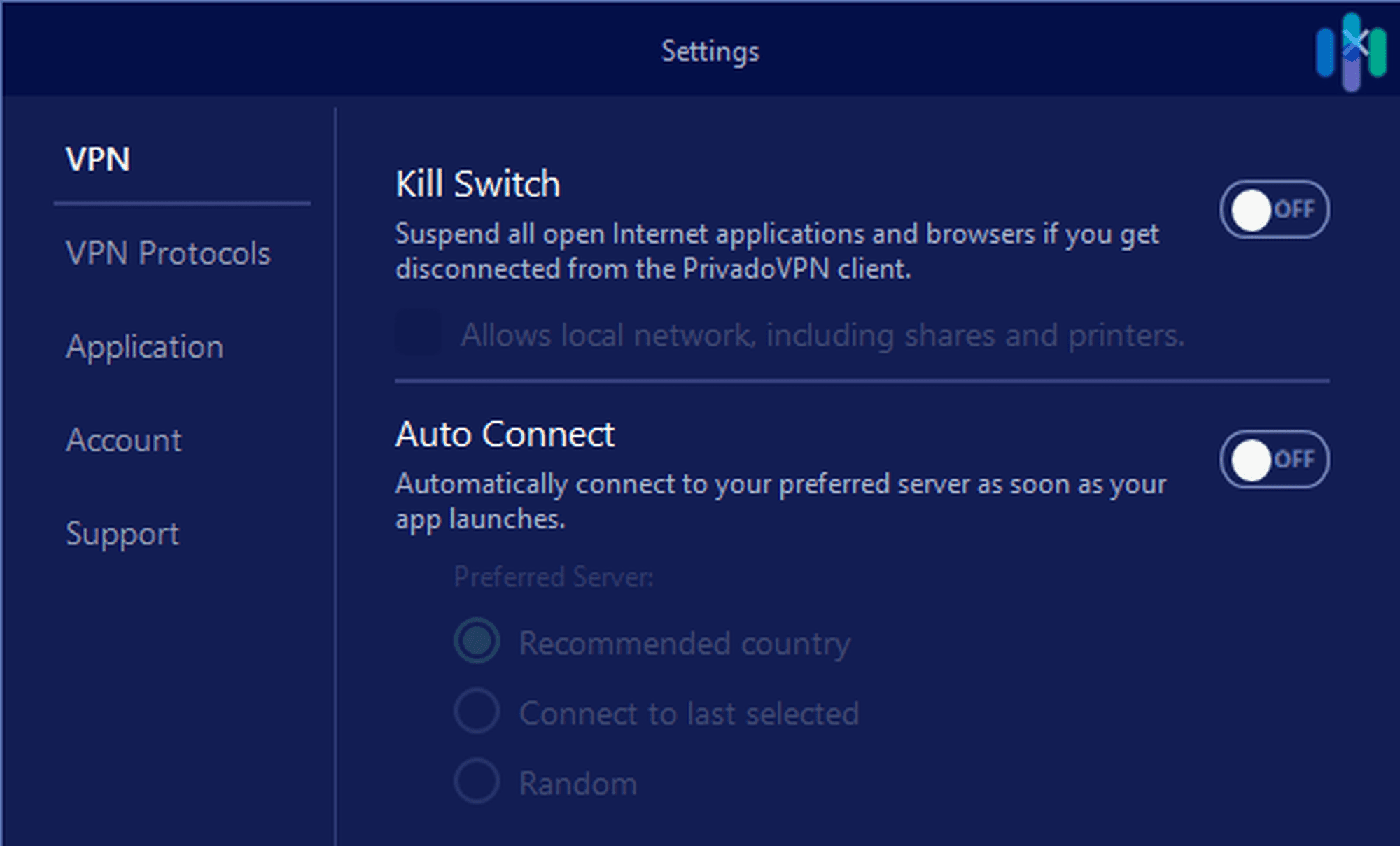 Split Tunneling
Privado also offers split tunneling, which is a feature that lets you exclude apps from using the VPN. This is useful if you have apps that don't work well with VPNs, which in our case, includes mobile banking and weather apps. It's worth noting, though, that split tunneling is available on Android only. It's not included in Privado's Windows, Mac, and iOS apps, but it might be in the future. We'll let you know.
Physical Servers
At first, we were disappointed by Privado's number of servers. It claims to have hundreds of servers, which is meager in comparison to NordVPN, our top-pick VPN, which has over 5,000 servers. (You can find our NordVPN review here.)
But then, upon further digging, we were reminded of the phrase "quality over quantity." Privado's servers may be few, but it uses physical servers instead of virtual servers.2 Physical servers tend to have better security and speed than virtual servers. However, physical servers are more costly to install and maintain, which is why Privado has fewer servers than most VPNs. But when it comes to performance, physical servers benefit us, the users, more.
Did You Know: VPNs use virtual servers to offer virtual locations in countries with regulatory issues (such as China) or poor internet infrastructure.
Netflix, Torrent, and More
While Privado is great at keeping browsing activities private, it's also good for accessing entertainment content. First up, we tried it on Netflix. With Privado connected to a server based in Japan, we were able to stream anything from the Japan library without problems. It worked whether we were watching on our Windows app, through the Netflix desktop app, or our Android and iOS devices.
Next, we tried it with Prime Video. That's when we ran into problems. Prime Video detected that we were connected to a VPN, so even though we were trying to watch "The Marvelous Mrs. Maisel," which is available in the U.S., it didn't let us through. We tried a handful of other servers, and none of them worked.

Lastly, we tried torrenting while connected to a VPN. Although we were able to torrent successfully, the download speed was less than optimal. It took us almost two hours to download a two-gigabyte file, which we've been able to download in less than an hour using the best VPNs for torrenting.
VPN Protocols
We saved the most technical for last — the VPN protocols. If you're an average VPN user, you're probably not going to care much about them. After all, by default, Privado automatically chooses the best protocol for every connection. If your eyes glaze over tech terms and jargon, feel free to skip to the next part, where we talk about Privado's performance.
If you're interested to learn about Privado's VPN protocols, here is what it offers.
IKEv2: IKEv2, short for Internet Key Exchange version two, is an encryption protocol responsible for encrypting with high-security ciphers. It's an encryption mechanism, meaning there are lots of moving pieces, protocols, and forwarding techniques, and hash generators involved in the process. IKEv2 is known for being fast and stable, but when it comes to security, there are stronger VPN protocols.
OpenVPN: OpenVPN is a widely-used protocol and because it's open-source, the latest iterations of OpenVPN have vastly improved security as compared to older protocols like IKEv2. OpenVPN is widely considered unbreakable, so we recommend using it for accessing sensitive data. However, because of the security measures it implements, it's slower and uses more bandwidth than IKEv2.
WireGuard: WireGuard is the impressive new kid on the block. It's new and still improving, but it already has advantages over IKEv2 and OpenVPN. It balances speed and security well, so even though it's not as fast as IKEv2, it offers better security. And while it's not proven to be as secure as OpenVPN, it's definitely faster and more lightweight.
Privado VPN: Fast and Secure?
No VPN review of ours is complete without a performance test. We put Privado through a series of tests that objectively measured its speed and security.
Is Privado VPN Fast?
In our book, a fast VPN doesn't just mean a VPN capable of reaching certain download or upload speeds. Most VPNs can reach hundreds of Mbps with the right internet connection. To us, a fast VPN is one that doesn't slow down our current internet speed significantly. So, to test Privado's speed, we compared it to our raw internet speed when not connected to a VPN.
| Speed Test Results | Latency (ms) | Download Speed (Mbps) | Upload Speed (Mbps) |
| --- | --- | --- | --- |
| Test 1: No VPN | 6 | 45.12 | 39.78 |
| Test 1: With VPN | 112 | 51.07 | 44.84 |
| Test 2: No VPN | 4 | 48.39 | 41.22 |
| Test 2: With VPN | 125 | 36.24 | 33.34 |
| Test 3: No VPN | 4 | 47.19 | 42.05 |
| Test 3: With VPN | 148 | 29.36 | 36.81 |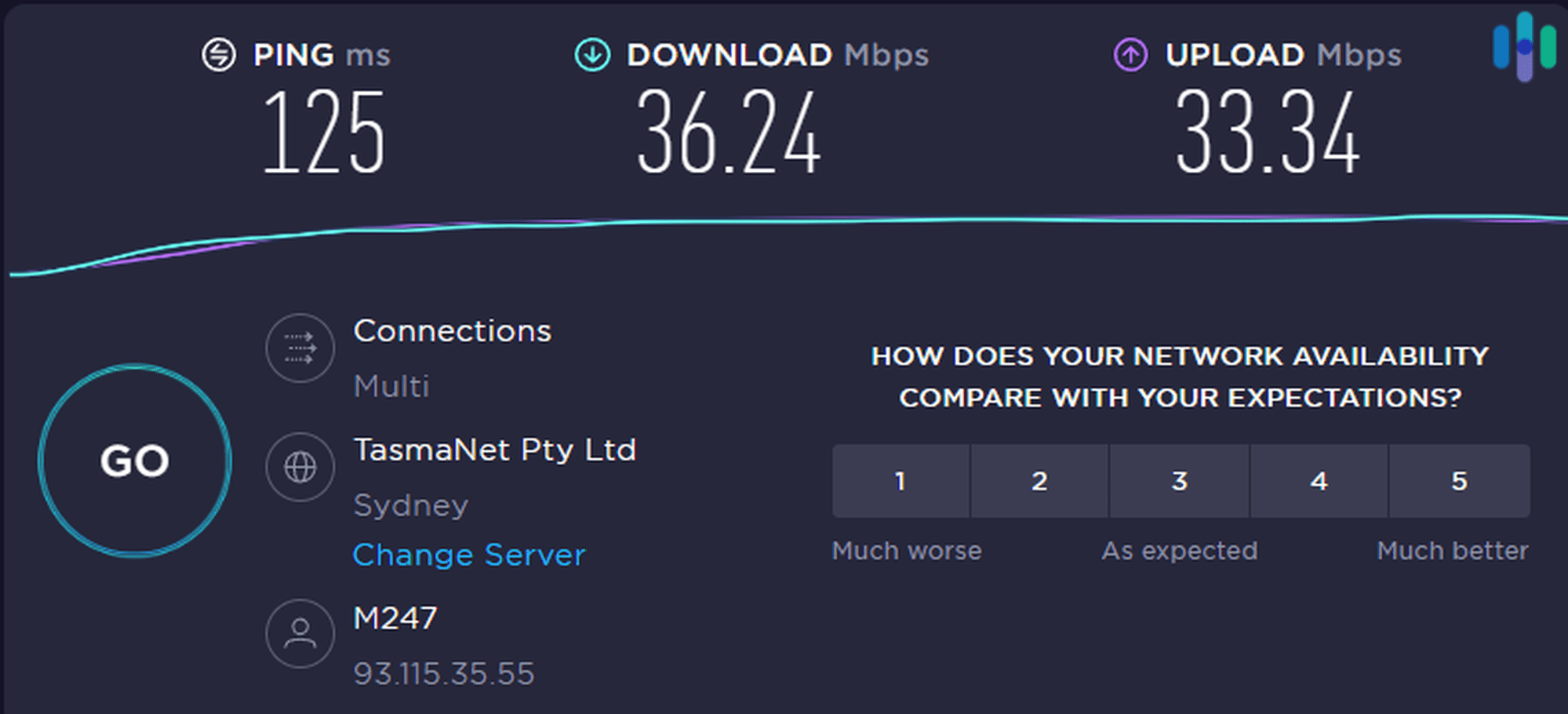 Based on these results, Privado is indeed fast. The difference in download and upload speed between each test shows a drop of no more than 40 percent. Furthermore, the latency when connected to Privado, although high, is manageable. In fact, we were able to play games online with little to no lag.
Is Privado VPN Leak-Free?
For our security tests, we tried to detect if Privado is "leaky"; that is, we wanted to determine if it leaked our IP address through our DNS requests or our browser's WebRTC function. The short answer is no, it's not leaky. However, to learn the meaning of DNS and WebRTC leaks and how we detected them, read below.
DNS leaks happen when DNS requests breach the VPN tunnel and go through normal, unencrypted networks. This usually happens when a VPN doesn't have its own DNS server, which results in your device using the default DNS server – usually from your ISP.
To test for DNS leaks, we used an online tool from DNSleaktest.com.3 This tool detects your IP address as determined by your DNS requests. If the IP address matches your VPN IP address and location, your VPN is leak-free. But if the tool detects your real IP address, it might be time to consider changing VPNs.
As you can see below, the detected IP address is in Australia, but our real IP address is in Brooklyn. Privado passed the first test.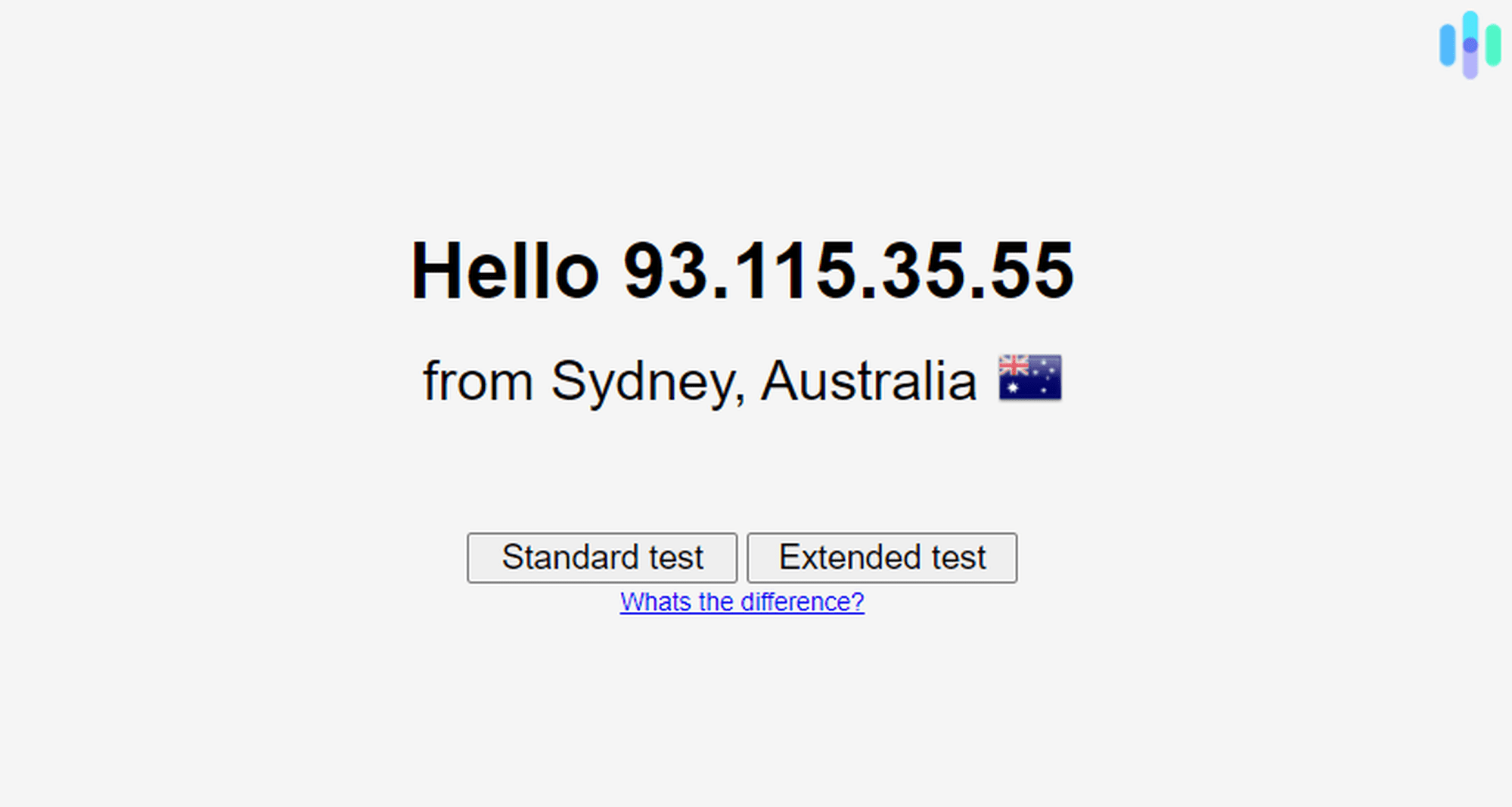 For the second test, the WebRTC leak test, we used yet another online tool. The concept is the same, but instead of inspecting DNS requests, the tool inspected our browser's WebRTC feature. WebRTC is an open-source framework that enables browsers to use real-time communication features such as live audio and video streaming. It's necessary for some services, such as Google Meet, to function. At the same time, it has vulnerabilities that could expose anyone's IP address if their browser has WebRTC turned on.
The WebRTC leak test tool detected our IP address through WebRTC, and instead of our real IP address, it detected our VPN IP address. Another test passed by Privado.
Privado VPN: Is It Easy to Use?
Lastly, we'll talk about our experience with Privado's apps. We tested Privado mainly on our Android phones and Windows computers, but upon checking the iOS and Mac apps, we'd say that the interfaces are largely similar.
When it comes to using the apps, we found good things about Privado as well as inconsistencies. Let's start with the positives.
Well designed: The app's interface made us feel like we were using a professional cybersecurity software. That said, it's easy to navigate. A quick connect button, server selection menu, and kill switch toggle are on the home page, while the settings page provides access to the more technical side of the VPN. From there, we were able to select VPN protocols, activate auto-connect, and more.
Server information: When selecting servers, Privado displays a three-bar signal icon. Three bars mean the server is closer to you, and thus, faster. Two bars mean it's farther away, but still usable. And one bar means that the server is slow due to distance or traffic congestion.
No pesky notifications: Some VPN apps we've tested constantly send us notifications reminding us to connect to the VPN whenever we're browsing VPN-free. We appreciate the thought, but frequent notifications can be annoying and distracting. Fortunately, Privado didn't bother us.
As for Privado's downsides, there aren't many. In fact, our biggest gripe, if you can call it that, is its occasionally slow connection times. There were times when it took the VPN 30 seconds to connect after we pressed the connect button. Other than that, our experience with Privado's apps was smooth and bug-free.
Final Thoughts: Is Privado for You?
It's easy to chalk up Privado as just another small VPN company that will probably be gone in a few years, but our review of Privado shows that it's more than that. It's not one of the best VPNs (yet), but it's also not half bad. Quite the opposite, in fact. It's fast, consistent, and secure, and most importantly, it works. It's not for everybody of course, but if you're shopping for a VPN, it deserves a second look, at least.
To summarize, here are Privado's pros and cons.
Pros
Physical servers: Privado operates and owns its physical servers, which usually translates to better speed, security, and reliability.
Affordable: At $7.99 monthly or $59.88 yearly, it's one of the more affordable VPNs we've tested, and its features didn't disappoint.
Free VPN: You can use Privado as a free VPN as long as you keep your data usage below 10 GB per month and you connect only one device at a time.
Cons
No split tunneling: Split tunneling is available only on Android, so if you're a Windows, Mac, or iOS user, you won't find the feature.
Inconsistent streaming support: While Privado worked with Netflix, Prime Video was able to detect it.
Long wait times when connecting: Sometimes, it takes Privado 30 seconds or more to connect.
We found Privado to be a good VPN, but if you want to expand your options, check out our VPN buying guide.
FAQs
Now let's answer the frequently asked questions about Privado.