UltraVPN Review and Pricing Plans 2023
UltraVPN is promisingly simple. Can it deliver on its promises?
1,000+ servers in over 100 locations
Offers Hydra Catapult (Hydra) protocol
$1.99 per month with 2-year contract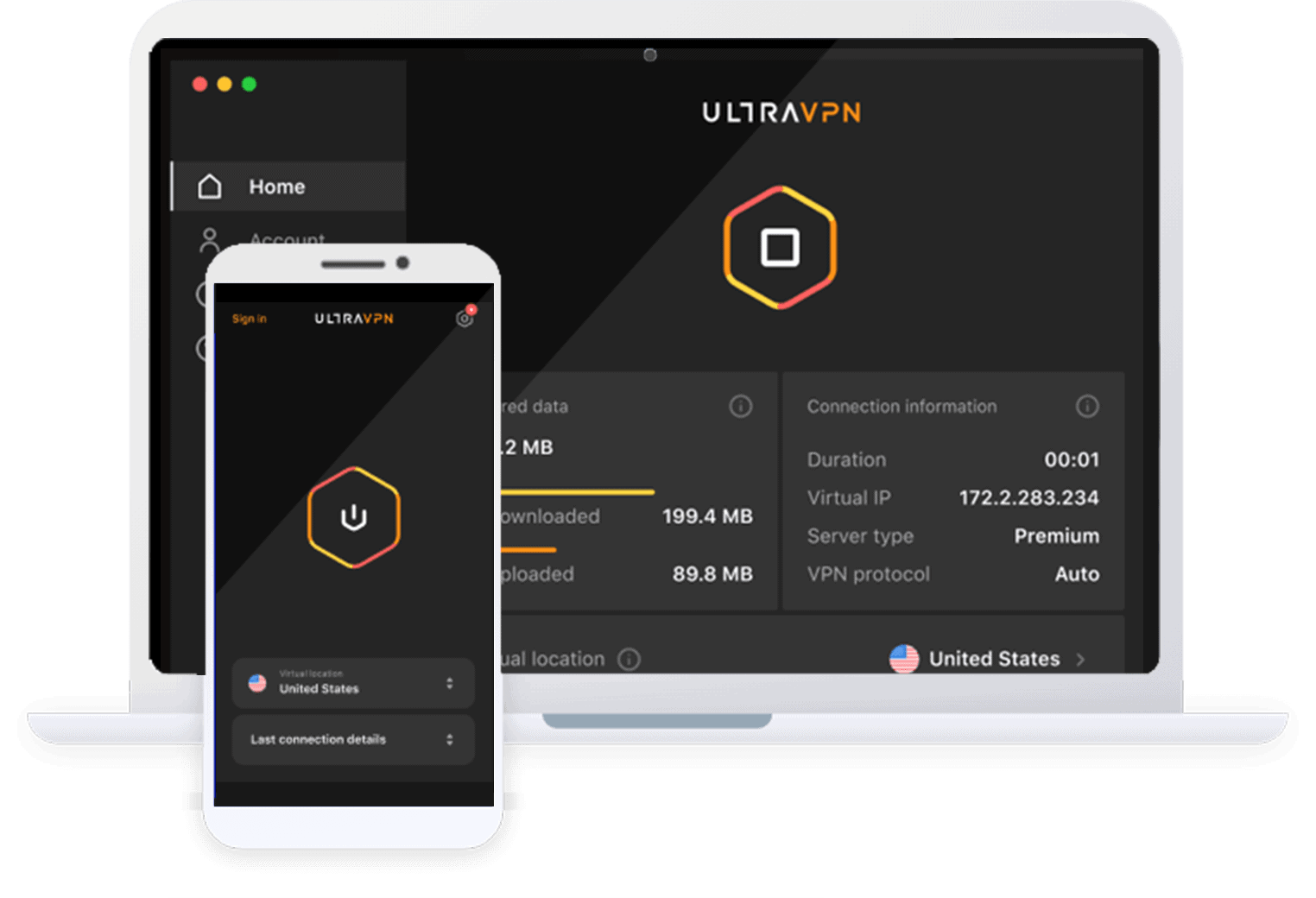 All of our content is written by humans, not robots.
Learn More
By

&

Last Updated
Mar 15, 2023
The VPN market is undergoing interesting progress. The top-tier VPNs are off to the races to create the next big thing in VPNs — whether that's a new proprietary protocol or an innovative feature that will further enhance security.
Meanwhile, those that aren't trying to innovate are working on improving their services. They are expanding their server networks, implementing faster configurations, and switching over to RAM-only servers, just to name a few examples. Needless to say, the virtual private network industry looks promising.
Speaking of promising, on this page, we'll be taking a closer look at an up-and-coming VPN called UltraVPN. With a strong set of core features, UltraVPN promises buffering-free and fast connections, uncrackable encryption, and unrestricted access to the open internet. Can it deliver those promises?
We took UltraVPN for a quick spin, and this review details what we found out about this VPN.
What to Look For: Fast speeds, a wide server reach, and formidable encryption are all markers of a good VPN. We saw those when we reviewed NordVPN and when we tested Surfshark, both top-tier VPNs, but we also see them from VPNs that fly under the radar. Pay close attention to how UltraVPN performs in those areas to see if it's a good VPN.
UltraVPN 101: A Quick Overview
We'll let you in on a little trade secret: Although most VPN brands appear independent, many of them are actually owned by the same companies. Take UltraVPN for example. It belongs to the Pango group of cybersecurity brands, of which the Hotspot Shield VPN we reviewed is also a member.
Never heard of Pango? Perhaps you'd be more familiar with Aura, the company that owns Pango. We have experience using Aura's identity protection service, and from what we can tell, this is a company that takes cybersecurity and privacy seriously. Given that, we expect nothing less from UltraVPN.
On paper, UltraVPN offers a rock-solid VPN experience. It has over 1,000 servers spread out evenly throughout Asia, Australia, North and South America, Europe, and Africa. All in all, it has servers in over 100 locations, 25 of which are in the United States.
Why Server Location Matters: When using a VPN, you get the fastest speeds if you connect to the closest servers. It reduces the travel time of your online traffic significantly, resulting in faster loading times, downloads, and uploads, as well as improved latency.
It's also notable that UltraVPN offers the same VPN protocol as its sister brand, Hotspot Shield: the Hydra Catapult protocol, better known as Hydra. This protocol promises blazing-fast speeds over a secure connection, and as we confirmed in our VPN speed tests, Hotspot Shield is indeed a speedy VPN. In fact, it ranked fifth overall and first in terms of download speed.
Getting Started: UltraVPN Subscriptions and Pricing
UltraVPN is a promising VPN indeed, but let's see how it performs in the real world. To get started, we purchased an UltraVPN subscription.
UltraVPN's pricing is simple: There's only one plan, but you can choose to pay monthly, yearly, or two years at a time. A longer commitment means bigger savings, while a shorter one means more flexibility.
UltraVPN Plans and Pricing
| Duration | Total cost | Average cost per month |
| --- | --- | --- |
| 1 month | $7.99 | $7.99 |
| 1 year | $35.88 | $2.99 |
| 2 years | $47.76 | $1.99 |
UltraVPN accepts both credit card and PayPal payments.
Sadly, there are no free trials, but since UltraVPN offers a 30-day window in case you change your mind, we chose the monthly subscription. The $7.99 monthly price isn't bad, considering that most VPNs charge more than $10 per month. That being said, if you're looking for a VPN you can use over a longer period of time, it pays to get a one-year or two-year subscription. This way, you can lower the cost to $1.99 or $2.99 per month.
But how does UltraVPN's pricing compare to other VPNs we've reviewed? NordVPN subscription plans cost $4.19 per month over the course of two years and $11.99 if you pay monthly, while with Surfshark's pricing, the minimum price is $2.49 per month (if you commit for two years) and the maximum price is $12.95 if you choose to pay monthly.
UltraVPN is right in the middle, and we found that to be true compared to other VPNs as well. The price of the monthly subscription is quite affordable, but we've seen VPNs with lower long-term pricing than UltraVPN.
That being said, we should note that any UltraVPN subscription comes with free access to PassWatch, a password management tool, and Dark Web Scan, a tool that monitors the dark web for your personal information. These features add value to UltraVPN's subscription, and they are essential if you want to keep your online data safe and secure.
UltraVPN Features At A Glance
What exactly does an UltraVPN subscription give you? We'll talk about our experience with UltraVPNs features below, but first, here's a summary of all its features.
Servers: UltraVPN has over 1,000 servers in 120 cities and counting.
Kill switch: The UltraVPN mobile and desktop apps offer a kill switch, which protects users from accidentally leaking their online traffic when the VPN disconnects unexpectedly.
Split tunneling: UltraVPN lets users decide which traffic to route through the secure VPN tunnel and which traffic to let pass without encryption.
VPN protocols: UltraVPN offers two types of protocols: the Hydra protocol, which is proprietary to Hotspot Shield, and IKEv2, which is an older but still useful VPN protocol.
Encryption: UltraVPN uses bank-grade AES 256-bit encryption for online traffic and its VPN tunnels.
Now, let's dive deeper and discuss how those features work on mobile and desktop.
The UltraVPN App on Mobile
With an UltraVPN account ready to use, we went ahead and downloaded UltraVPN's apps on our devices, starting with an Android smartphone. We're always on the move, so we wanted to see how agile the VPN is when we're switching from one Wi-Fi connection to another. Here's what the app looked like.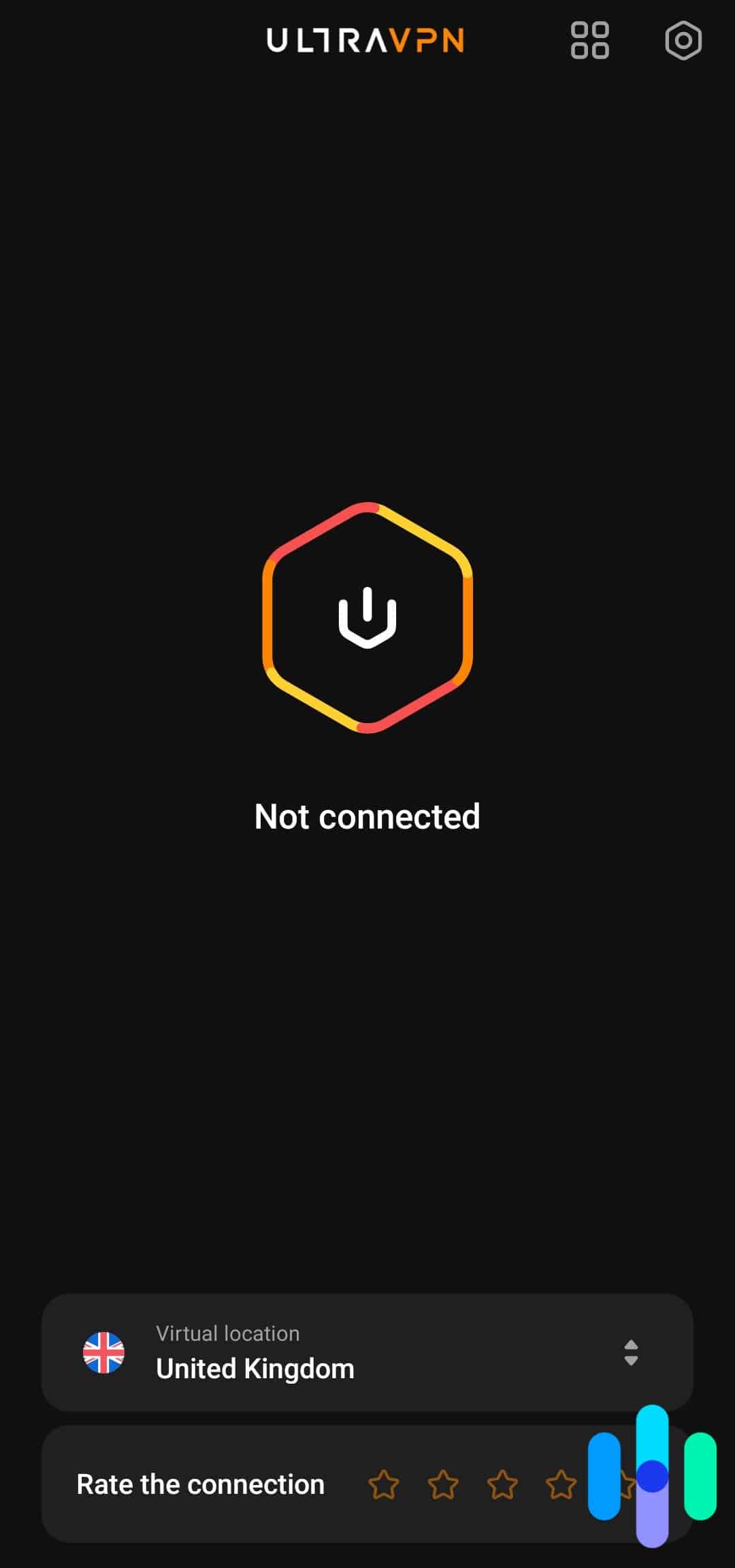 You see that hexagonal button right at the center? That's the quick connect button. Pressing that will connect you to UltraVPN's server in the location specified at the bottom part of the screen. You can change location by tapping the "Virtual Location" button and selecting one from the server menu. It's that easy to use UltraVPN.
But before we connected for the first time, there's a crucial feature we had to check first: the kill switch. The kill switch is a backup measure. In case your VPN connection drops while browsing, it stops all internet access on your device so you don't inadvertently expose your browsing activity.
UltraVPN's kill switch isn't built into the app; rather, it uses Android's VPN settings. To activate, we first had to turn on "Always-on VPN" in the phone's settings and then toggle on "Block connections without VPN." Unfortunately, that meant not being able to connect to the web at all without UltraVPN.
We pushed ahead and turned on the makeshift kill switch, but if you prefer a kill switch that turns off your internet access only when the VPN connection drops, check out our Private Internet Access review.
Back to the app, we found it very simple and easy to use, but that comes at a cost. Because it's so simple, some features were notably missing.
For example, the app didn't let us customize our VPN connection settings. Usually with VPNs, you'll find several protocol options, such as OpenVPN, WireGuard, and IKEv2. Not with UltraVPN. It's either Hydra or IKEv2, and the app chooses the best protocol automatically.
On the bright side, the Android app does offer split tunneling, a feature that lets certain apps and websites of your choosing bypass your VPN connection. This is useful if you're using services that don't play along well with VPNs, such as mobile banking apps.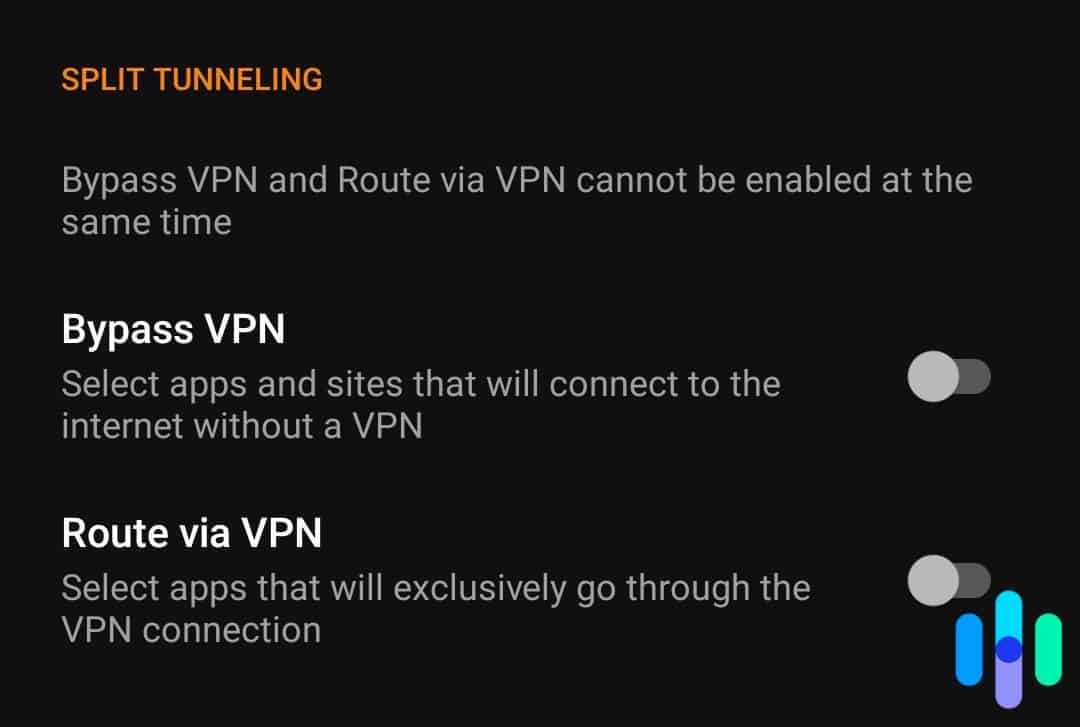 Other positive feedback we have on UltraVPN's Android app is its flexibility. We change Wi-Fi networks several times a day. Sometimes we even switch back and forth from Wi-Fi to cellular data. We noticed that when we change networks while connected to UltraVPN, it reestablishes its secure tunnel automatically. This meant our device stayed private and protected no matter where we roamed.
All in all, the UltraVPN mobile experience feels streamlined. It doesn't stand out in terms of features, and it even lacks customizations that we normally see in other VPNs, but the app experience is as good as it gets. It's a frills-free app with simple controls, making it great for VPN novices and daily users.
Customizable Android VPNs: Android is one of the most VPN-friendly operating systems, and as such, many Android users expect customizability from their VPNs. We've tested dozens of Android VPNs, and by far, Private Internet Access offers the best customizations for advanced users. Check out other Android VPNs we recommend in our guide to the best VPNs for Android.
The UltraVPN App on Desktop
The desktop experience with UltraVPN isn't that much different from the mobile experience. In fact, the desktop app looks identical to the mobile app, but there are a couple of notable changes.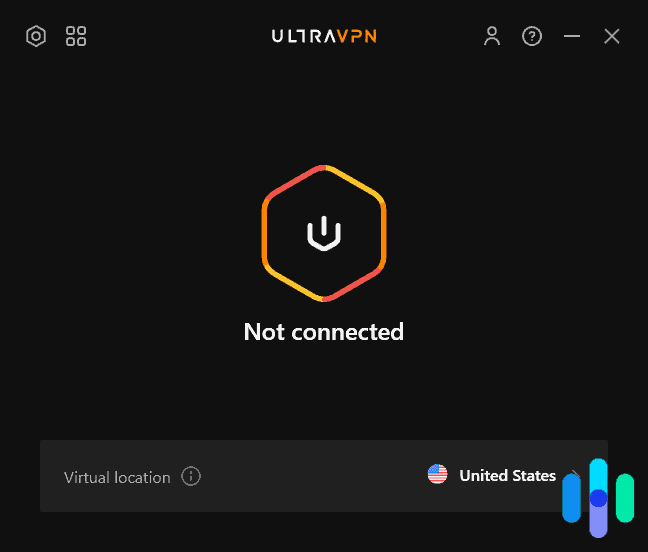 First is the kill switch. It has a real kill switch, unlike the mobile app, which relies on the phone's built-in settings. With this, UltraVPN halts internet traffic when the VPN connection drops, but not when you launch your PC without turning on the VPN.
The Windows app also lets users pick a VPN protocol from two options: Hydra and IKEv2. The former, as we explained briefly above, is a proprietary protocol made by Hotspot Shield. It's fast and secure, and it's actually based on OpenVPN, one of the more popular open-source VPN protocols. IKEv2, on the other hand, is a speedy protocol that offers less security. It's also starting to become obsolete, although it's still a good option for activities that don't require that much privacy, such as streaming and online gaming.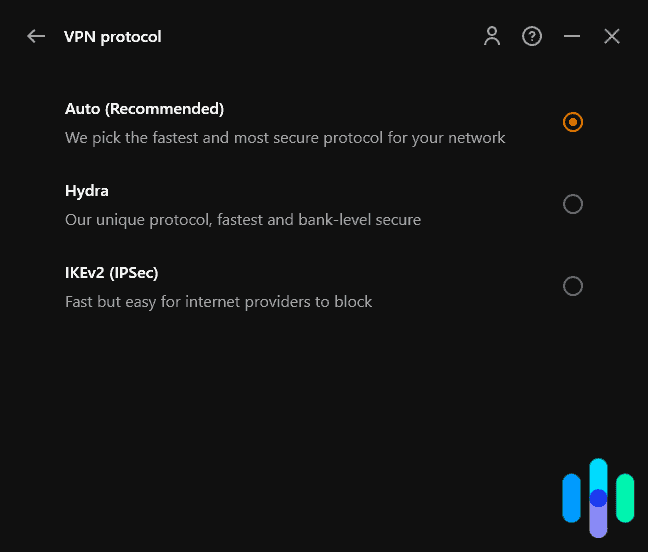 Those are great additions to UltraVPN's feature set, but unfortunately, some features are still missing. For example, most VPNs have an option that turns on the VPN automatically as soon as your PC boots up. That's not available from UltraVPN.
Overall, though, if you like the simplicity of UltraVPN's mobile apps, then you'll like the desktop apps as well. It's simple, functional, and has zero learning curve — a great VPN for first-timers.
UltraVPN Privacy and Security
With UltraVPN set up on our mobile devices and desktops, we peeked under the hood to see how secure this VPN really is. Our two main areas of focus were its logging policy and IP address protection. Let's discuss how it fared.
Does UltraVPN Log Data?
All VPNs log data; let's get that out of the way first. It's just that some VPNs log more data than necessary, and in certain situations, that extra information they have on you can turn around and bite you. For instance, if a VPN logs your IP address, it can tie your browsing activity back to you, defeating the purpose of using a VPN for privacy and anonymity.
Fortunately, UltraVPN expressly states that it doesn't collect or record any information related to your browsing activity.1 You remain private and secure for as long as you're connected to UltraVPN.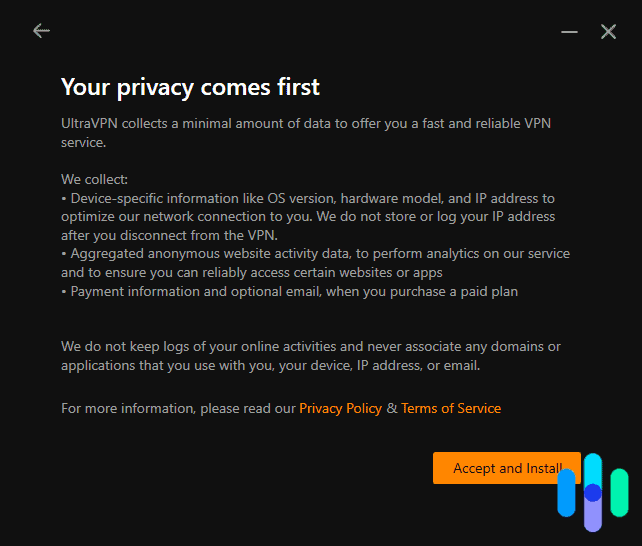 Of course, we have no way of knowing for sure that UltraVPN doesn't keep logs of online activities, but we found some reassurance in the most unlikely place: the server menu.
Last year, the government of India passed a controversial law requiring VPN providers operating in India to log online activities. This caused an uproar that resulted in many trustworthy VPNs abandoning their physical servers in India.2
UltraVPN was one of those VPNs. We know because even though UltraVPN still offers India as one of its locations, it's only a virtual server. The physical server is located in Singapore. While that's not definitive proof of UltraVPN's "no logs" policy, we see it as an assurance of the company's commitment to online privacy.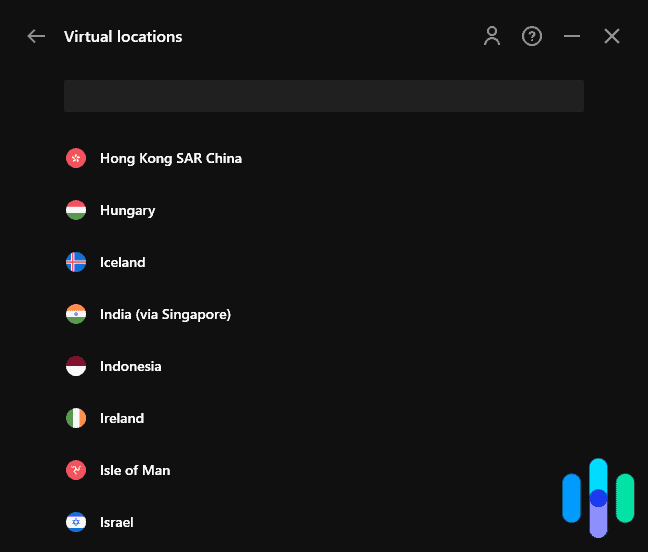 Does UltraVPN Protect Against IP Address Leaks?
Aside from data logging, IP address leaks pose the greatest threat to our online privacy. That's because these leaks could happen even when we're connected to a VPN.
There are two types of leaks we particularly look out for: DNS leaks and WebRTC leaks.
A DNS leak results from a security flaw that happens when VPN providers fail to properly encrypt DNS requests, which include your real IP address. This causes your requests to be sent to your internet provider's DNS server instead of the VPN's, exposing your IP address.
We use an online tool to detect DNS leaks. It's a simple tool that mimics a DNS leak attack and shows us what IP address it detects. If it detects the VPN's IP address instead of our real one, then there's no leak. And as you can see from the screenshot below, the tool detected an IP address in Australia (the virtual location we're connected to) instead of our real, New York-based IP address.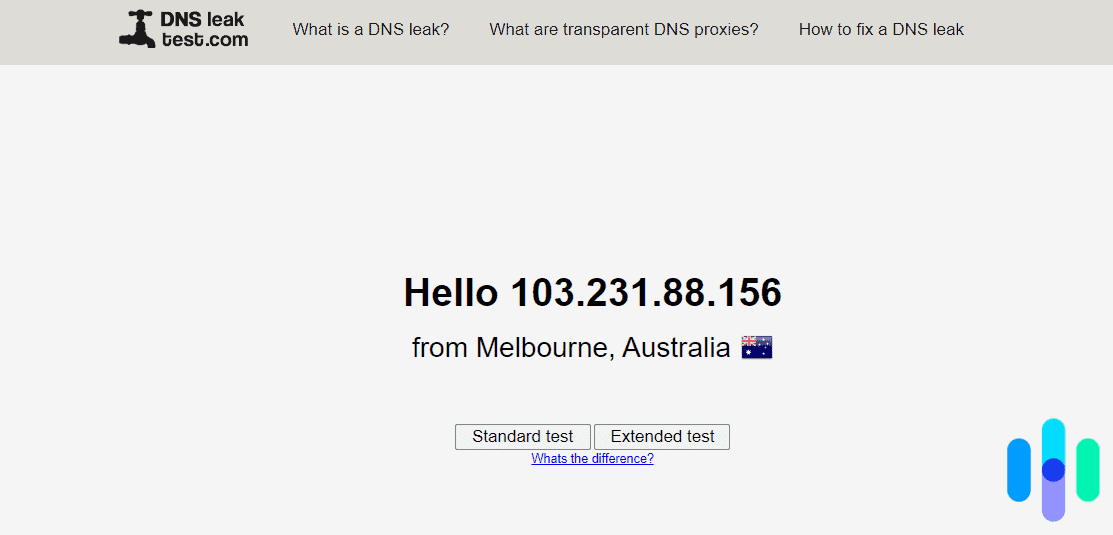 Next, we tested for WebRTC leak. WebRTC is a browser feature that enables real-time communication (i.e., video chatting) and live streaming. It's a useful feature, but if you're using a VPN that is not secure, your IP address could leak out and become visible to others via WebRTC.
We also used an online tool to test if UltraVPN was "leaky"; fortunately, it was not. Ignore the "potential leak" warning in the screenshot below; that shows up every time we run a test. The IP address it detected was one of UltraVPN's IP addresses in Australia, which is, again, the virtual location we selected.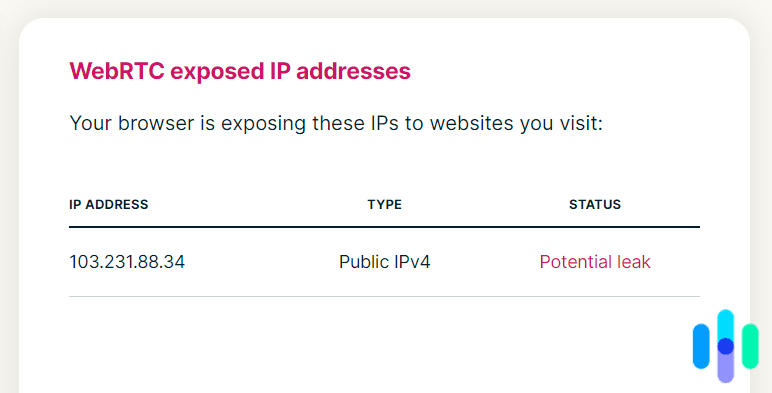 All in all, we felt confident that UltraVPN's systems are secure, leak-free, and properly encrypted.
UltraVPN Performance
There's one more thing we wanted to test: UltraVPN's performance. It promises a buffering-free experience, but let's see how it actually does in real-world speed tests.
First, we tested our network speed when not connected to UltraVPN to set a benchmark. Our download speed clocked in at 439 Mbps, and our upload speed was 231 Mbps.

Next, we connected to the closest UltraVPN server and let the app choose the optimal VPN protocol. This way, we could measure UltraVPN's top speed. Here's the result.
Download speed: 142 Mbps
Upload speed: 96 Mbps
As you can see, both our download and upload speed dropped by around 60 percent. The "Wednesday" series we're binge watching won't necessarily buffer with those speeds, but still, it's a significant speed loss that we'd feel if we were uploading our YouTube reviews or downloading large files.

The Verdict Is In: Did UltraVPN Deliver What It Promises?
After testing UltraVPN for over 100 hours and exploring every feature it has to offer, we've finally come to the conclusion that UltraVPN is a good day-to-day VPN that, for the most part, delivers what it promises.
We tested it for leaks, and it passed our tests with flying colors, which shows that its encryption is formidable. It might not be completely uncrackable, but it's more than sufficient for normal, day-to-day use.
UltraVPN also offers unrestricted internet access thanks to its wide-reaching server network. It has servers in 85 countries and in over 100 cities around the world. Although it doesn't have as many servers as our top VPNs, its server menu is enough to give you unrestricted access to online content.
And lastly, while UltraVPN didn't prove to be lighting fast, it wasn't abysmally slow either. Of course, if you want speed-focused VPNs for streaming or gaming, there are other options available. (Check out the best VPNs for Netflix and the best VPNs for gaming, for example.) But for daily use and normal browsing, UltraVPN didn't disappoint.
All things considered, there are a few key areas that need improvement. We would have loved to see more VPN protocol options, for example. Hydra was great, but it didn't deliver as much speed as we experienced with Hotspot Shield, another VPN that uses Hydra. And as we mentioned several times in this review, we would have loved to see more options for customization. If UltraVPN can deliver those, that would take this promising VPN to the next level.
UltraVPN FAQs
Have some more questions about UltraVPN? Let's try to answer them in this FAQs section.