McAfee Identity Theft Protection Review 2023
Identity protection from a reputable antivirus company
What We Like
Robust device protection: Identity theft protection coupled with antivirus software and a virtual private network (VPN) provides protection against identity theft.
All-in-one pricing: All identity and device protection features are covered in McAfee's comprehensive Total Protection Advanced plan.
Personal data removal: McAfee scans for your personal data in risky data broker sites and removes it to limit your data exposure, thus reducing the risk of identity theft.
What We Don't Like
Lacks credit monitoring: McAfee doesn't monitor credit scores or credit reports, which is an important identity theft protection feature.
Auto-renewal is needed: By default, McAfee monitors only email addresses found on the dark web. To activate other types of monitoring, such as Social Security number and health ID monitoring, you need to sign up for auto-renewal.
Customer support: McAfee's customer support is trained to respond to antivirus-related queries, making it a bit more difficult to get more information about identity protection.
Bottom Line
McAfee backs up its identity theft protection with comprehensive device and network protection. It is a solid mid-tier service, but there are still some things lacking, such as credit monitoring.
McAfee joins the growing list of antivirus and VPN providers dabbling in identity theft protection. To us, that makes sense; protecting your device from malware and hackers goes a long way in protecting your identity. But that doesn't mean you should just go for the next antivirus company that offers identity theft protection. Like every other identity protection service, you need to take a closer look at the identity monitoring features before diving in. We did just that for you with McAfee, so read on to see if McAfee's identity protection service is worth it.
Editor's Rating
Personal data cleanup
$1 million identity insurance
Extra features like VPN and password manager
Getting Started With McAfee
As we noted in our McAfee antivirus pricing guide, choosing and buying products from the company can be overwhelming because of its seemingly endless combinations of products and prices. Fortunately, that's not the case — or at least not anymore — with its identity protection service.
If you go to McAfee's website, you will see two plans under the "Identity & Privacy" tab that offer identity protection. These are Advanced and Premium, which are actually the same as McAfee's Total Protection Advanced and Premium plans. So whether you're searching for an antivirus subscription or identity protection, as long as you go with the two top-tier plans, you'll get the best of both worlds.
That being said, there are other ways to get identity protection from McAfee, particularly if you already have an active account with them. You can either log in to your online dashboard and activate identity protection from there, or open your McAfee device client on macOS or Windows and sign up from there. Prices will vary depending on your active subscription.
More Security.org Recommendations
Check out more of our favorite identity theft services.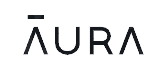 McAfee Identity Protection Features
Since our Total Protection subscription from when we reviewed the McAfee antivirus just expired, we decided to create a fresh account. That way, we could take advantage of the lower introductory prices for new customers. We got the Total Protection Advanced plan, which gave us access to all McAfee identity protection features, including identity monitoring, data removal, identity restoration, and identity theft insurance.
Identity Monitoring
Identity theft protection starts with identity monitoring, wherein the service provider monitors for any possible signs that your personally identifiable information may have been stolen.
McAfee starts by requesting your personal information. One quick note: When we first logged in, we were able to input only email addresses to the personal information monitored by McAfee. We had to turn on auto-renewal to add other types of personal information to be monitored, including the following:
Social Security number
Phone numbers
Passport
Driver's license
Tax ID
Date of birth
Health IDs
Usernames
Credit cards
Bank accounts
That's a comprehensive list, but that doesn't mean that McAfee's protection is comprehensive. You see, McAfee doesn't look through criminal and court records, postal service records, or high-risk transactions like payday loans. It monitors only if your personal information pops up in data breaches and on the dark web.
Did You Know: Stolen credit card information sells on the dark web for as low as $0.50 each.1
That makes some sense; a study shows that 31.7 percent of data breach victims later become identity theft victims2, and the dark web is where most stolen identities end up, where they are sold to the highest bidder. Essentially, McAfee is monitoring two of the most potent drivers of identity theft. However, skipping other types of identity monitoring, like change of address monitoring and home title monitoring, leaves you open to other types of identity theft. That means that, for example, if someone changes the address registered under your USPS account to intercept your mail, McAfee won't even know.
Overall, we're impressed by how much personal information McAfee monitors, not so much with its method of detecting identity theft. If you're looking for a more robust identity monitoring service, we recommend our top pick, Aura, which you can learn more about in our Aura review.
Personal Data Cleanup
The next feature included in the Advanced McAfee identity protection service is personal data cleanup, a feature we rarely see offered by similar services. There are companies that live off of people's personal data. They are called data brokers, and what they do is that they scrape data from various online sources, compile it, and sell it to advertising companies. They are the reason that you receive robocalls, spam emails, and junk mail. Aside from that, data brokers also pose risks to your privacy. In 2020, for example, a database compiled by a data broker was left unencrypted and without a password. This resulted in over 200 million YouTube, Instagram, and TikTok profiles being exposed, which contained sensitive information.
McAfee's personal data cleanup feature scans the database of the riskiest data broker sites, and if it finds your personal information there, it will automatically remove it. That is, if you're on the Advanced plan. If you're on the lower-tier Premium plan, it will alert you and tell you how to get your personal data removed. Again, this is a rare feature. So far, we've seen this offered only by some of the best identity protection services, such as Aura and NortonLifeLock. And even then, when we reviewed NortonLifeLock, we found that it only scans data broker sites and doesn't actually help you get your data removed.
Identity Restoration
No identity theft protection service can absolutely guarantee protection against identity theft. That's why it's important for a service to offer identity restoration assistance. With McAfee Advanced, if your identity is stolen, you'll have access to expert identity theft support. They will help you plan the next steps to take after falling victim to identity theft. That might include reporting the crime to the proper authorities, freezing your credit, canceling credit cards and blocking debit cards, and changing your passwords. Fortunately, we've never had our identity stolen, but after talking to those who have, we know that simply having someone to guide you through the process is extremely convenient.
Identity Theft Insurance
Aside from identity restoration, McAfee can help you recover from identity theft through identity theft insurance, which covers you up to $1 million. This is another feature available exclusively to Advanced subscribers. With this insurance, McAfee will reimburse you for any qualifying recovery costs, which may include funds directly stolen from your account, lost wages, and legal fees.
Did You Know: According to one study, 21 percent of identity theft victims report that they lost more than $20,0003. While the average cost of identity theft is below $1,000, you could lose so much more depending on the severity of the crime. That's why having identity theft insurance from your identity protection service is critical.
Extra Features
Beyond the identity protection features, McAfee's Advanced and Premium plans will get you other useful features. Let's take a closer look at them.
Lost wallet remediation: Losing your wallet can be stressful. You could lose cash, credit and debit cards, and your ID. It could also lead to identity theft, since your ID contains some of your most sensitive personal information. If you do lose your wallet, McAfee will provide you with a dedicated case manager who will help you replace nearly everything you carry in your wallet.
Antivirus: McAfee is primarily an antivirus company, so it makes sense that its Advanced and Premium plans include access to its world-renowned antivirus software. With either plan, you'll get access to McAfee Total Protection on an unlimited number of devices. This can also help you stay protected from identity thieves that use malware to steal information.
VPN: A VPN protects your online privacy by encrypting all your online traffic and hiding your IP address, allowing you to browse the internet with fewer worries. Both top-tier plans from McAfee include access to a VPN on five devices.
Password manager: McAfee's password manager stores all your online passwords securely. This is much safer than simply saving your passwords on Chrome or other browsers.
Digital file shredder: In the same manner that we shred important documents to destroy sensitive information, McAfee's digital file shredder destroys files that contain personal information. This is better than simply sending files, such as account statements, to the recycle bin.
The McAfee User Experience
With that many features, we were surprised to see how streamlined the user experience was with McAfee. Everything we needed to know about our identity protection was neatly laid out in the McAfee Protection Center dashboard.
On the home screen are the various protections that McAfee provides as well as their statuses. As you can see, identity protection is active, but we hadn't yet set up privacy protection — personal data cleanup and web protection engine in the form of McAfee Safe Search — when we took this screenshot.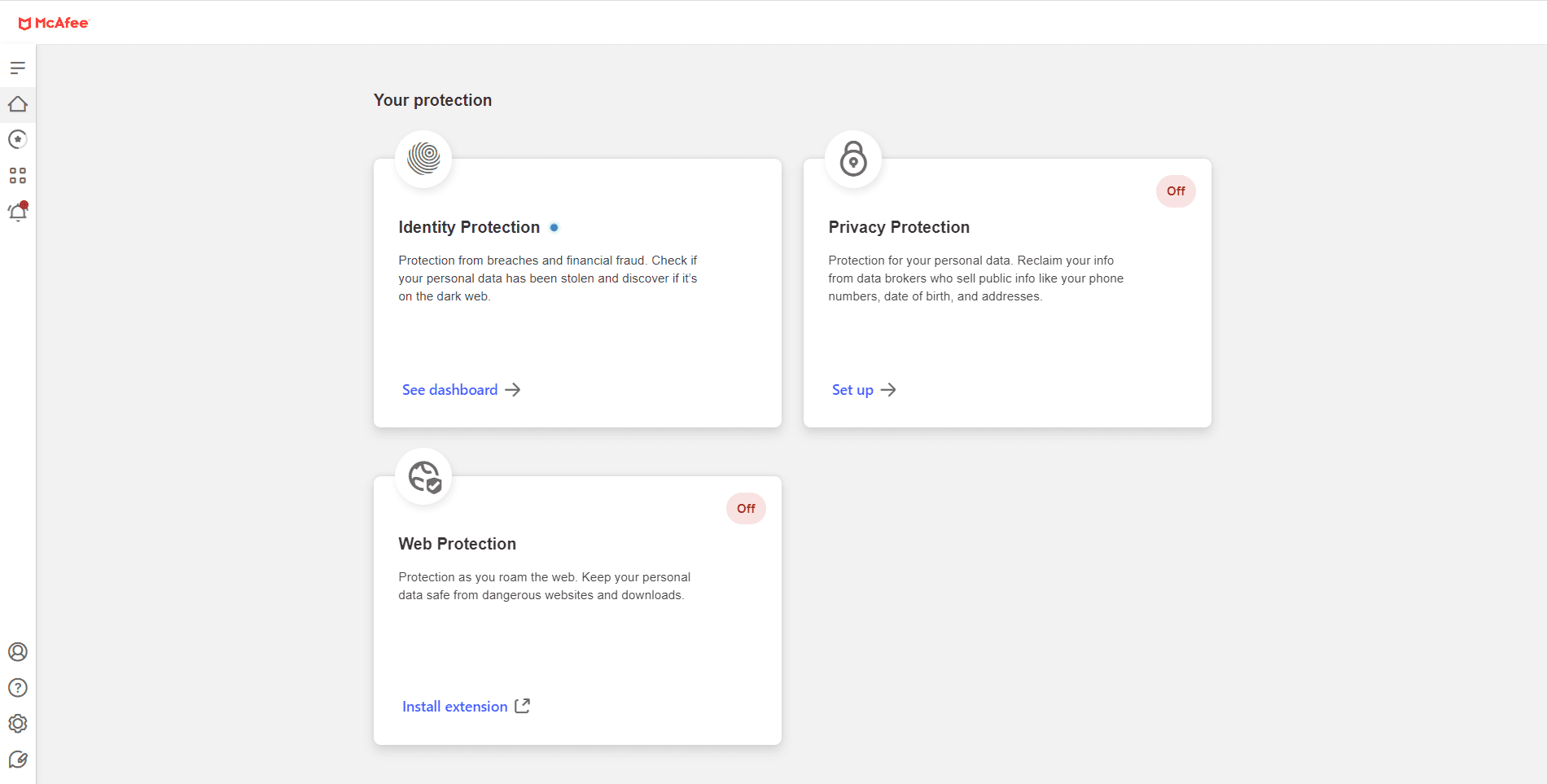 The next page shows our Protection Score, which McAfee calculates and updates based on how we use its services. When we took this screenshot, our Protection Score was 427 out of 1,000, which is low, but only because we hadn't yet set everything up. By the time we had added our personal information to monitor, our score increased to the high 600s.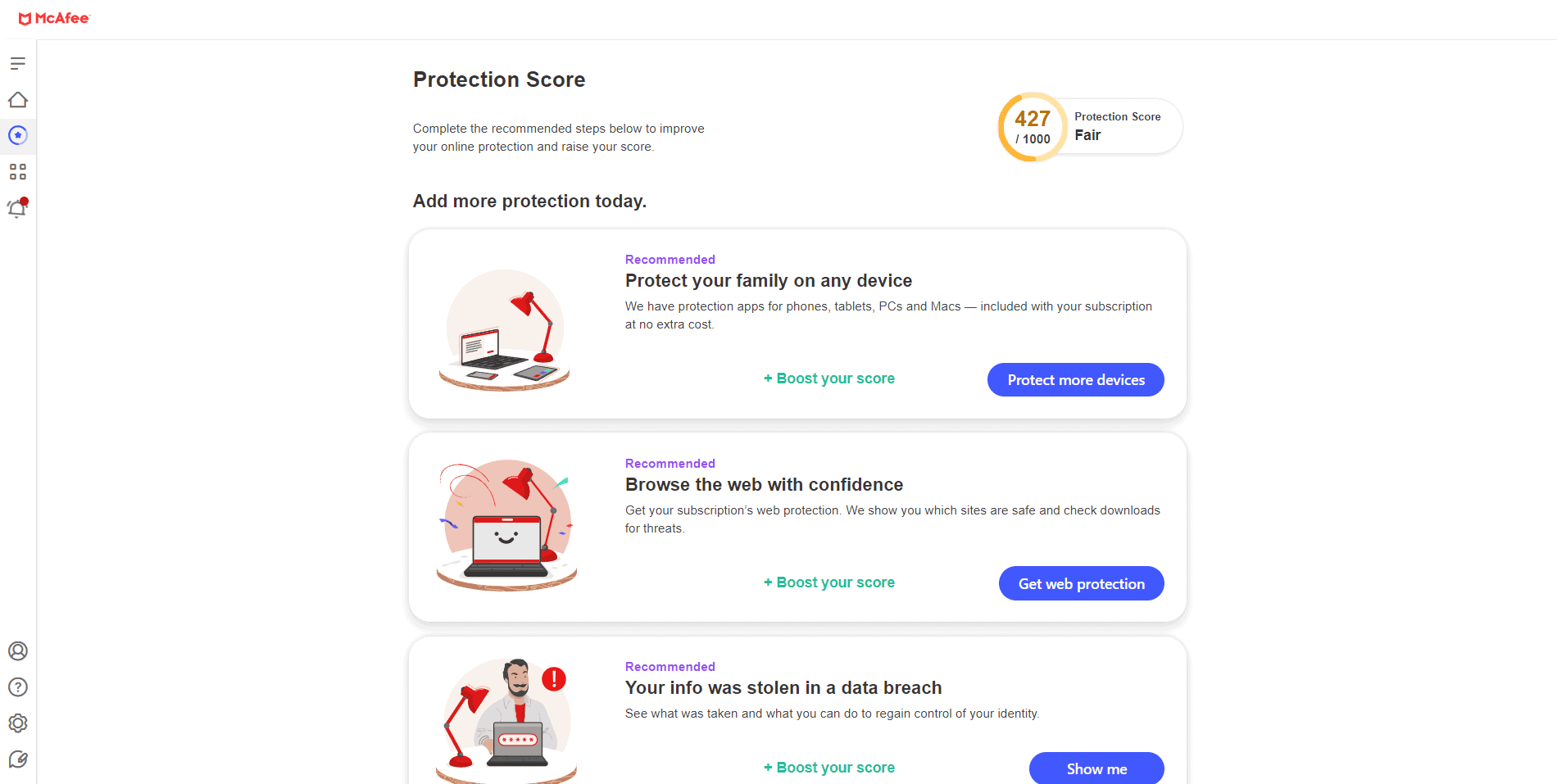 The next page is a much more detailed dashboard for identity monitoring, where we added personal information to monitor and took action to resolve issues detected by McAfee. For example, McAfee detected that one of the email addresses we added was part of five data breaches. We clicked on each breach to see what we could do, and after taking action — mainly by changing the password — McAfee cleared them. Our Protection Score also increased after that.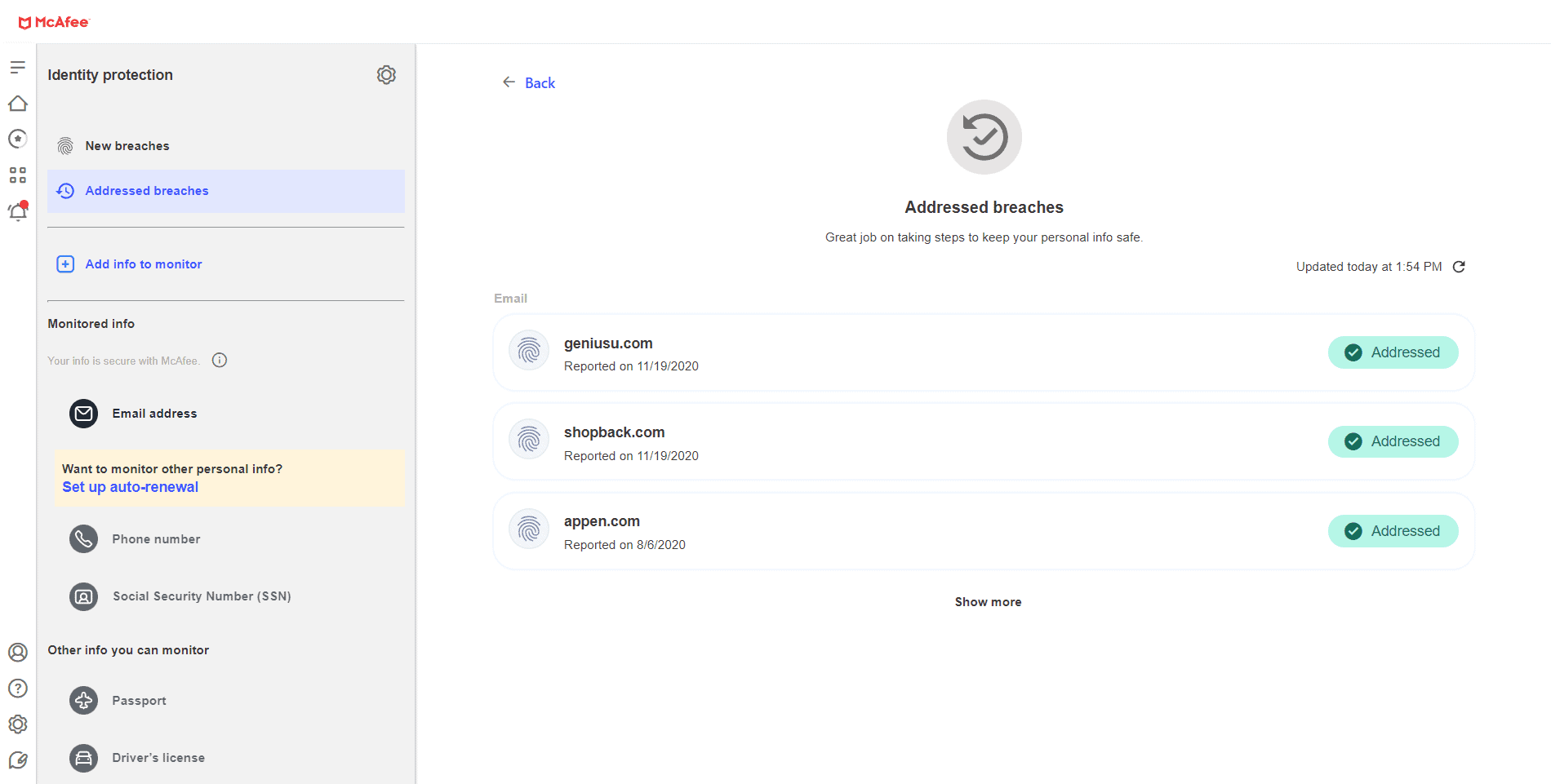 Lastly, the notification page shows important alerts, as well as tips on how we can improve our Protection Score. Mainly, our notification page showed additional services from McAfee that we could use to increase our protection.
Overall, we'd say that McAfee's identity protection dashboard complements its service well. It's informative and easy to navigate, even though it feels like it's trying to convince us to buy more McAfee products at times. That notification page was an example, but at least it points out why we would benefit from the services it offers rather than just showing us distracting ads.
FYI: Beyond the online dashboard, there is currently no smartphone app for McAfee's identity protection service. If you're looking for a service with solid apps, check out our Identity Guard review.
How Much Does McAfee's Identity Protection Service Cost?
After taking a close look at the service, we thought that it's a good mid-tier service, and the price really reflects that. As mentioned, there are two plans: Advanced and Premium. The Advanced plan costs $89.99 for the first year, and then the price jumps up to $179.99 per year. As for the Premium plan, the first-year price is $49.99, and the renewal price is currently $129.99. Those on a budget might be more inclined to choose the cheaper plan, but before you decide on anything, check out this breakdown of each plan's features.
| Features | Premium | Advanced |
| --- | --- | --- |
| Identity monitoring | Yes | Yes |
| Personal data cleanup | Scans only | Scans and removal |
| Expert identity theft support | No | Yes |
| $1 million of identity theft coverage | No | Yes |
| Antivirus software | Yes | Yes |
| VPN | Yes | Yes |
| Lost wallet remediation | No | Yes |
| Password manager | Yes | Yes |
| Digital file shredder | Yes | Yes |
| First-year price | $49.99 | $89.99 |
| Yearly renewal price | $129.99 | $179.99 |
As you can see, some of the most important aspects of McAfee's identity protection aren't included in the Premium plan. While the identity monitoring features are the same, you won't get insurance coverage, identity theft support, and automatic personal data removal, which are all highlights of McAfee's service. If you plan on going with McAfee, we urge you to choose the Advanced plan. Besides, that $40 to $50 difference between the two plans breaks down to about $4 per month, a trivial amount compared to the extra protections and features you'll enjoy with the Advanced plan.
That being said, there are identity protection services with comparable pricing but more robust protections. Take Aura, for example. As we mentioned earlier, it monitors more areas when it comes to your identity, including criminal and court records and USPS records. It also offers credit monitoring, giving you access to credit scores and reports from the three major credit bureaus: Experian, Equifax, and TransUnion. All the while, it provides the same insurance coverage as McAfee, and it has antivirus and VPN software as well. Aura costs $15 per month, or as little as $12 per month if you pay yearly. In comparison, if you break down the renewal prices of McAfee, the Premium plan will cost you about $11 per month, while the Advanced plan will cost you $15 per month.
Our Final Thoughts on McAfee
Overall, McAfee is a solid service. The company has been around for long enough to build an unquestionable reputation, and because of its intuitive software and knowledgeable customer support, it's not a bad identity protection service at all. Its lack of credit monitoring may be a deal-breaker for those looking for all-around identity and credit protection. But if identity monitoring plus device and network protection is what you're after, you should put McAfee high on your list.
To summarize, McAfee is good for those who are looking for the following:
Device protection to go with identity protection: McAfee is a well-established antivirus company that offers proactive protection against malware used as vectors of identity theft.
Personal data cleanup: If you're getting calls from telemarketers, junk mail, and spam emails, McAfee can help you remove your personal and contact information from the databases of data brokers.
Extra features: The Advanced subscription is chock-full of useful extras, such as lost wallet remediation, antivirus software, VPN, and password manager.
But there are better services than McAfee in terms of the following:
Credit monitoring: The biggest downside of McAfee is that it doesn't monitor your credit score or reports from any of the three major credit bureaus.
Comprehensive identity monitoring: Since it monitors breaches and the dark web, McAfee misses important areas that need monitoring, such as court and criminal records and bank account and credit card transactions.
Subscription terms: To fully take advantage of McAfee's features, like expanded identity monitoring, you need to activate auto-renewal.
If you're looking for other identity protection services to consider, check out our identity theft protection guide, which will help you look for the right features and give you an idea of the prices of various identity protection services.
FAQs
Looking for more information? Check out our answers to the frequently asked questions regarding McAfee's identity theft protection service.