3 Ring Video Doorbell Alternatives
If Ring's video doorbells aren't for you, here are three great alternatives.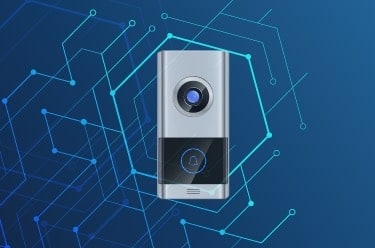 Ring Video Doorbell Alternatives
1. Lorex Video Doorbell

Lorex is a good alternative to Ring if you're looking for ultra-high video quality. That's because some of Lorex's video doorbells offer video resolutions up to 2K HD, whereas Ring's highest-resolution doorbell, the Ring Video Doorbell Pro 2, delivers a 1536p HD video quality. Another advantage of Lorex is its lower price. Its cheapest 2K video doorbell costs only $150, while the Pro 2 from Ring costs $100 more.

So what are the drawbacks of Lorex? For one, its doorbell cameras don't offer a lot of smart features. For example, they can't distinguish pets from humans, which could result in more false positives. They are also not as smart home-friendly as Ring cameras. While they can connect to Alexa and Google Assistant, Lorex doorbells don't integrate that well with other smart home platforms.

FYI: Without person detection, you'll get alerts for movement of any kind, including movement from animals, cars, and other inanimate objects.

Lastly, you'd be hard-pressed to find a Lorex doorbell with cloud recording, as they record locally either to a microSD card or NVR. The disadvantage of that is that you get backup footage in case the intruder steals your doorbell or smashes your recorder.

2. Vivint Doorbell Camera

What did we get when we ordered Vivint's $229 doorbell camera? For one thing, we got the widest possible field of view, 180 degrees. We also got two-way audio, and digital pan and zoom. The camera included two LED sensors for infrared night vision — clear enough to make out the two raccoons helping themselves to our trash cans.

While older video doorbells from Vivint had a 720p HD resolution, all its newer modes are 1080p HD capable. That makes them as good as Ring cameras in terms of video quality.

On top of that, Vivint is great with home automation. Its security system and components can communicate with Alexa and Google Assistant, enabling voice control. Plus, since they come with a Vivint security system, Vivint doorbells work incredibly well with security sensors.

You should know that the Vivint Doorbell Camera requires professional installation, as you can see on our Vivint pricing page.2 Leaving that aside, we felt that the Vivint Doorbell Camera gave us more options than a lot of other doorbell cameras on the market.

3. SimpliSafe Video Doorbell Pro

The SimpliSafe Video Doorbell Pro is a great low-priced alternative to Ring doorbells. For just $169.99, we got a high-quality camera with a number of useful features.

Not only was the resolution (video quality) 1080p, the industry standard, but it was HDR rather than HD. HDR eliminates shadows and glare for a sharper image. In addition, the field of view was a healthy 162 degrees, so we could see packages on our porch even when the delivery person left them in unusual places.

We also had optical zoom, two-way audio, and clear infrared night vision. We signed up for the Interactive Plan, which costs $24.99 a month, and got 24/7 professional monitoring and 30 days of cloud video storage. Otherwise, we could have paid $4.99 per camera per month for 30 days of cloud storage.

NOTE: Infrared night vision creates black-and-white video.

The SimpliSafe Doorbell Pro probably isn't for everyone. It requires a hardwired connection, for example, so it's not particularly easy to install.

Also, this isn't a doorbell for cold climates. Its lowest temperature rating is 14 degrees.

On the plus side, the SimpliSafe Video Doorbell Pro is a fantastic investment for Apple users like us. We found the Apple version of the app intuitive and incredibly responsive. It's no wonder users have rated it 4.8 out of 5.1 The SimpliSafe Pro gave us everything we needed and more.
Recap
Just because Ring's video doorbells are the most popular doesn't mean that there aren't other fantastic options available. The three doorbells above are good choices for different needs and preferences.
Go with the SimpliSafe Video Doorbell Pro if you'd like …
Sharp HDR resolution
A great iPhone app
Optical zoom
Go with the Lorex Video Doorbell if you'd like …
Low price
Local storage
1080p HD resolution
Go with the Vivint Doorbell Camera if you'd like …
A 180-degree field of vision
Smart home integration with Google Assistant or Alexa
Professional installation
If none of these sound like the right option for you, have no fear! We recommend reading our review of the year's best video doorbells. You'll be answering your door remotely in no time. While you're at it, check out the best security systems as well.