ADT vs. Ackerman: Home Security System Comparison
Our experts weigh in on which security system is better: ADT or Ackerman

Best Professional Installation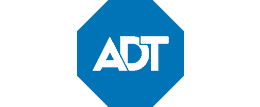 Professional installation on all systems
24/7 monitoring centers nationwide
145+ years of home security innovation
Affordable Plans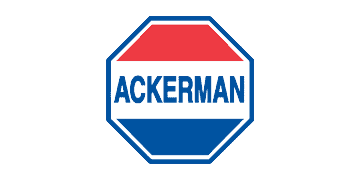 Cellular and landline connections
Plans starting at $19.95 a month
Medical alert systems and smart thermostats available
If you live in the Metro Atlanta area, ADT and Ackerman are two alarm companies you probably hear a lot about. ADT is one of the largest alarm companies in the U.S., and it's also the oldest. Ackerman, on the other hand, is local to Atlanta and offers ample home security options. If you had to guess which is better, which would you pick?
You actually won't have to guess, because we're comparing ADT and Ackerman for you. Our comparison covers everything from home security installation to after-sales customer support. By the end of this article, you'll have a pretty good idea of which alarm company offers better equipment, features, and apps. Let's get started!
ADT and Ackerman: Birds of a Feather
Both ADT and Ackerman are traditional home security businesses, so the two alarm companies have a lot in common. From a high-level perspective, here are Ackerman and ADT's most striking similarities.
Custom packages: Both companies give their customers the option to create custom home security packages for their homes. ADT also has pre-existing package options.
Professional monitoring: Ackerman and ADT offer monitored security systems, which generally don't work without a monitoring plan. With professional monitoring, their respective security monitoring centers will notify you if your system detects a breach.
Professional installation: Both security systems require professional installation to ensure that every system is installed correctly. That means a technician will come to your house to install the system for you.
Renter-friendly: Traditionally, home security systems that require professional installation aren't renter-friendly, but ADT and Ackerman made efforts in the past to ensure their systems are suitable for homeowners and renters alike.
Home automation: ADT and Ackerman both updated their security systems to offer home automation features. They each have a touch-screen control panel from which you can control your system, and the same panel connects to home-automation devices such as smart thermostats, smart locks, smart lights, and more.
Indoor and outdoor video surveillance: Both companies offer video surveillance solutions for indoor and outdoor use. Like their security systems, you can customize your video-monitoring solution with both companies.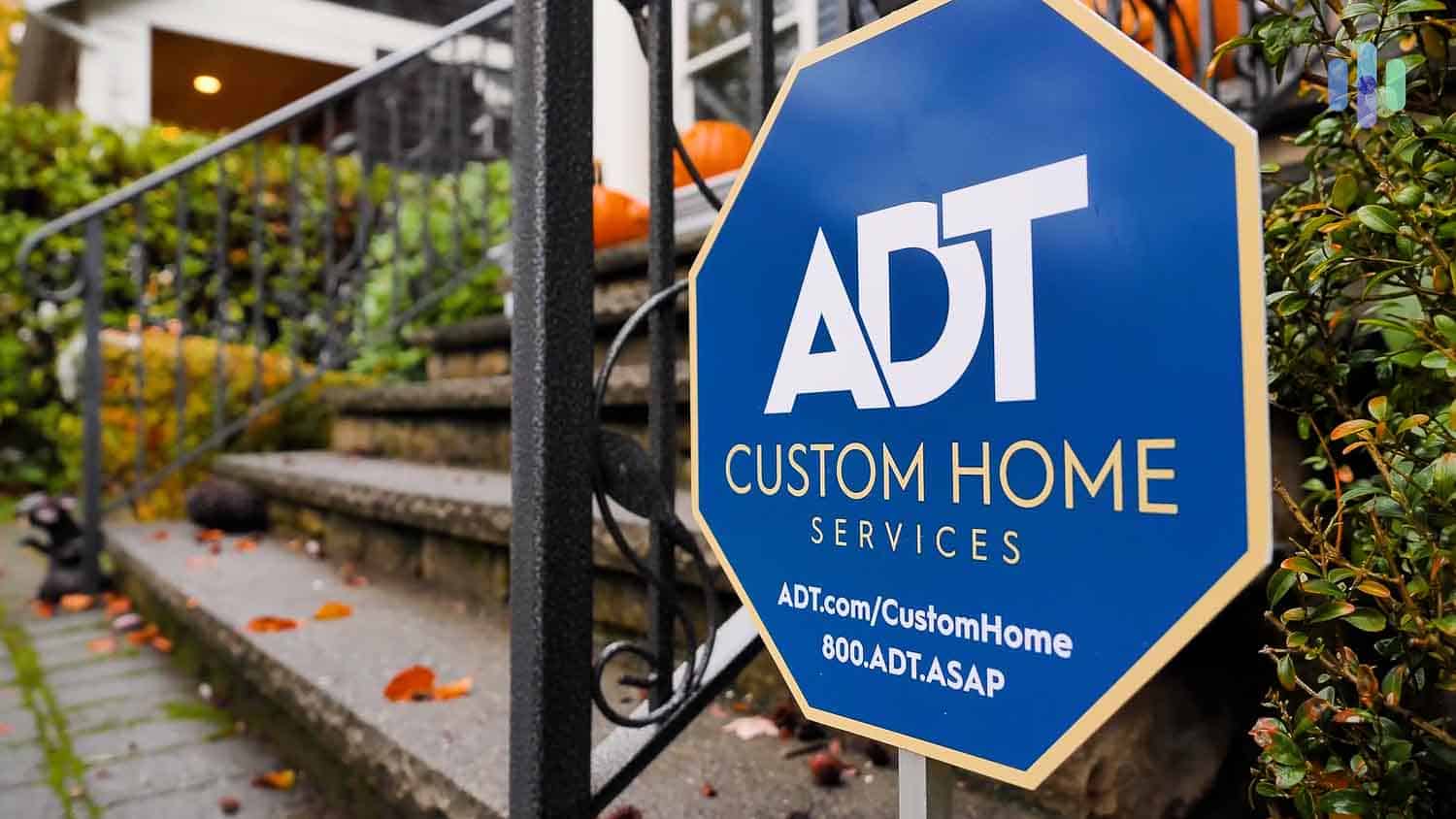 ADT and Ackerman: What Sets Them Apart
Of course, ADT and Ackerman aren't exactly alike. Pay close attention to these differences, since they will most likely be the biggest deciding factors.
Monitoring cost: ADT systems generally start at about $30 per month, while Ackerman's monitoring costs start at just $20.
Local presence: Ackerman has an in-house monitoring center located in Atlanta. ADT, on the other hand, has nationwide coverage and monitors security systems from its six monitoring centers spread across the United States.
Theft protection guarantee: Ackerman takes pride in its No Theft Guarantee — if you've been burglarized with an armed security system, the company will pay your insurance deductible in full and give you the exact same amount in cash. ADT has a similar guarantee — the Theft Protection Guarantee — but it will pay only up to $500 in insurance deductibles.
Money-back guarantee: ADT prides itself in its industry-best money-back guarantee. Most companies, including Ackerman, will give you 30 days to try its system, but ADT gives users up to six months.
Voice control: Both systems offer voice control through third-party smart assistants, but ADT works with Alexa and Google Assistant, whereas Ackerman works only with Alexa.
ADT vs. Ackerman In A Nutshell
| ADT | Ackerman |
| --- | --- |
| Nationwide coverage | Local to Metro Atlanta |
| Over 100 years in business | Around 50 years in business |
| Professionally installed | Professionally installed |
| Professionally monitored | Professionally monitored |
| Customize security systems online or through phone | Customize security systems through phone |
| 3-year contracts | 3-year contracts |
| Theft Protection Guarantee | No Theft Guarantee |
| Smart home with Alexa or Google Assistant voice control | Smart home with Alexa voice control |
Which Has Better Equipment?
Armed with a general knowledge of ADT and Ackerman's similarities and differences, let's zoom in and talk about what they offer — starting with the equipment.
ADT Equipment
Every ADT security system starts with a control panel, which is usually a touch-screen device that pairs with sensors wirelessly and connects your home to ADT's monitoring centers.
The control panel that came with the ADT system we reviewed was a tablet-like device that housed controls that allowed us to arm and disarm the system conveniently, create home-automation scenes and schedules, and manage the system's overall operation. It also paired with third-party smart speakers for voice control.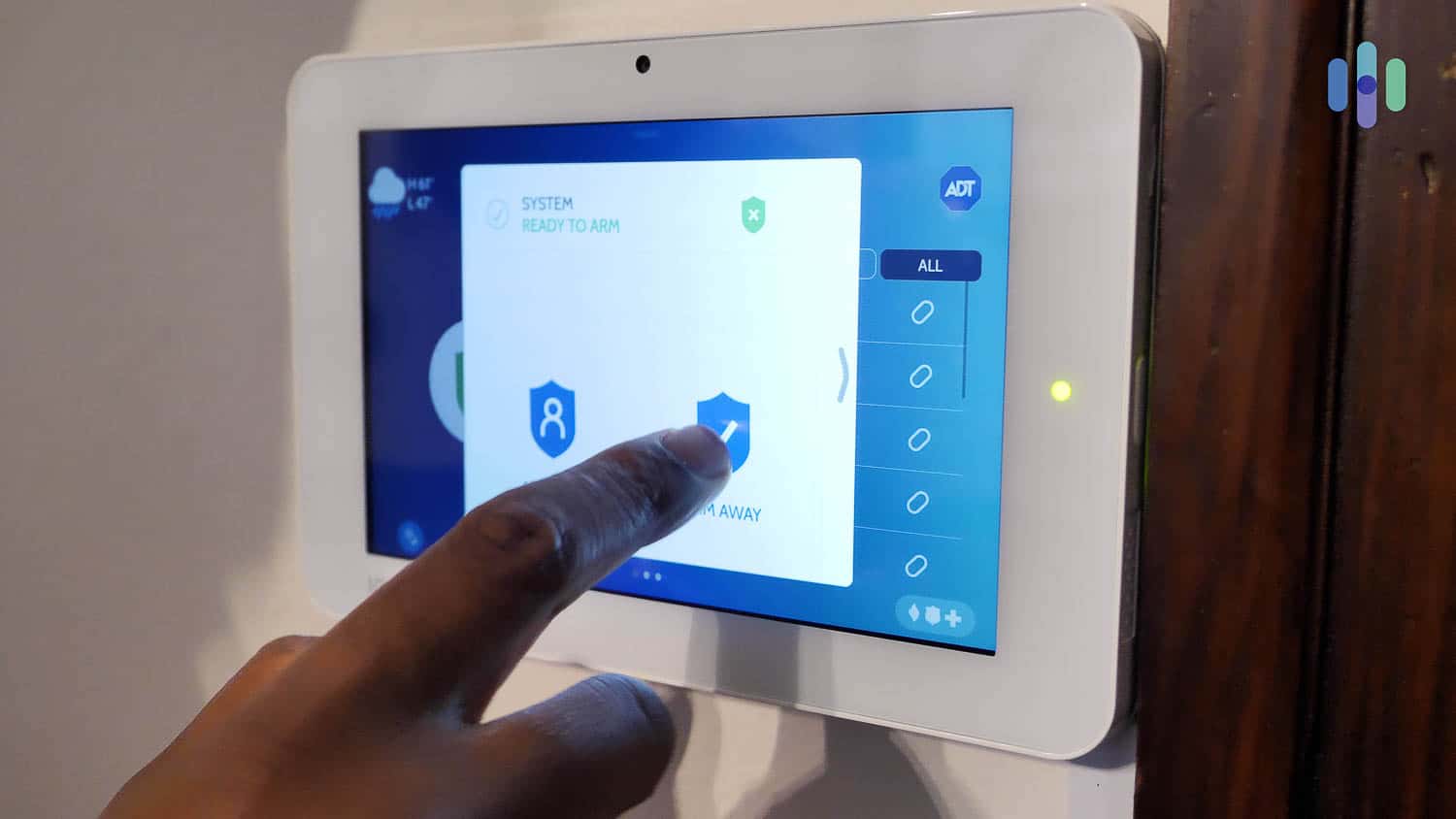 From there, we added door sensors, motion sensors, and glass-break sensors that would notify us in case of a break-in. ADT also installed monitored fire and carbon monoxide sensors, as well as flood and freeze sensors that we monitored ourselves.
FYI: ADT sensors are pet-friendly, and ADT is one of most pet-friendly security systems around. Its motion sensors, for example, can ignore your pets so you don't receive a ton of false alarms.
ADT offers several security camera options. There's an indoor security camera with 720p HD resolution, an outdoor security camera with 1080p HD resolution, and a wired video doorbell for front door security. ADT also seamlessly paired with our existing Nest Video Doorbell.
ADT's equipment is well built, hardy, and sleek. ADT's software is also great, since all the system's parts connected to each other seamlessly and we were able to control them in numerous ways, including with our voice.
Ackerman Equipment
Ackerman security systems are also built around a touch-screen control panel. It's different from what ADT offers, but the idea is the same: It connects to sensors and smart-home devices, and then controls them.
Ackerman offers roughly the same types of equipment as ADT, including security sensors, security cameras, and environmental detectors.
One notable aspect about Ackerman's equipment is that the control panel uses a combination of GSM and IP alarm monitoring. The latter means it connects to your home Wi-Fi to generate alerts. The former, also known as cellular monitoring, is more of a backup. If your internet is down, the Ackerman system will use its integrated cellular chip to alert emergency services.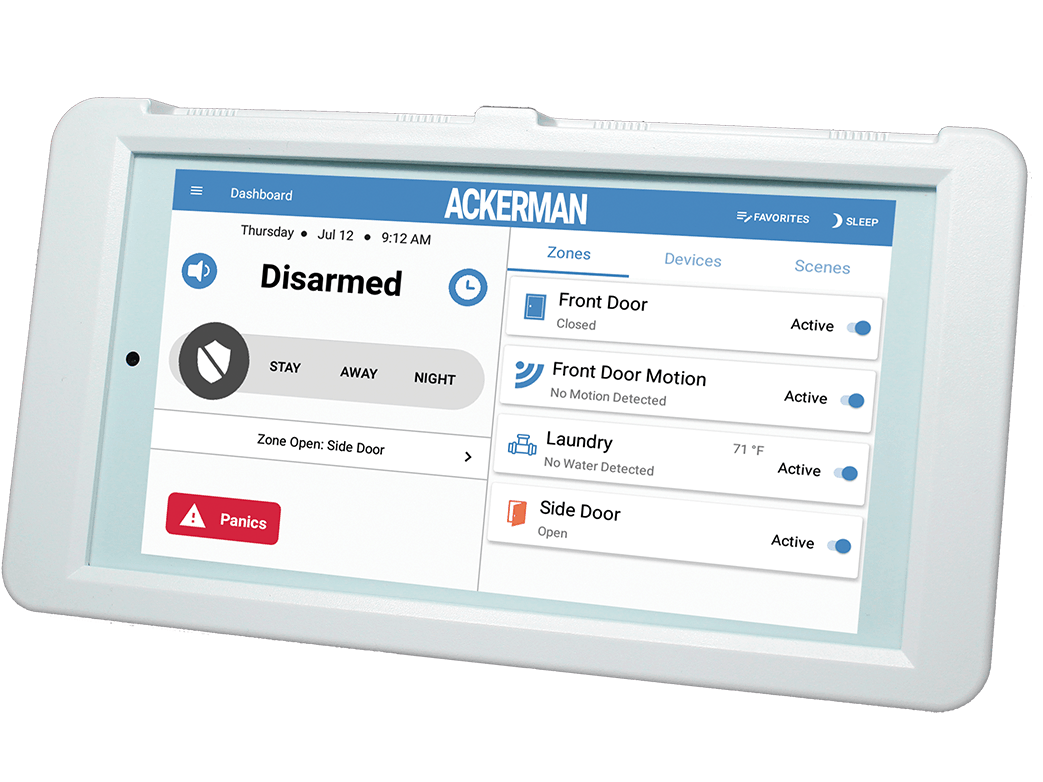 Not many local companies have cellular monitoring, but this feature is crucial. With it, Ackerman can monitor your home for emergencies whether the system is connected to Wi-Fi or not. Add that to the integrated battery backup and you get a system that works 24/7, 365 days a year.
Winner
Both systems are remarkable, but ADT takes the prize for better equipment. ADT offers a wider range of options. It also updates its equipment lineup more frequently, so you're likely to get more modern and high-tech equipment from ADT. We also like that its equipment is backed by a six-month money-back guarantee.
Who Monitors Security Systems Better?
ADT and Ackerman both require professional monitoring, but which does it better?
ADT Monitoring
ADT stands out for having security monitoring redundancy. It has several monitoring centers spread out across the country. Why does that matter? All system alerts go to these monitoring centers, which are like call centers with operators trained to handle alarm response protocols. Each facility is equipped with backup servers and generators. ADT, however, takes it to the next level by setting up redundancies.
Each monitoring facility is a mirror of the others. If a natural disaster strikes and one of the facilities is unable to operate, for example, the other facilities can take over. That allows ADT to continue its monitoring services through thick and thin. It also guarantees continuous protection for customers.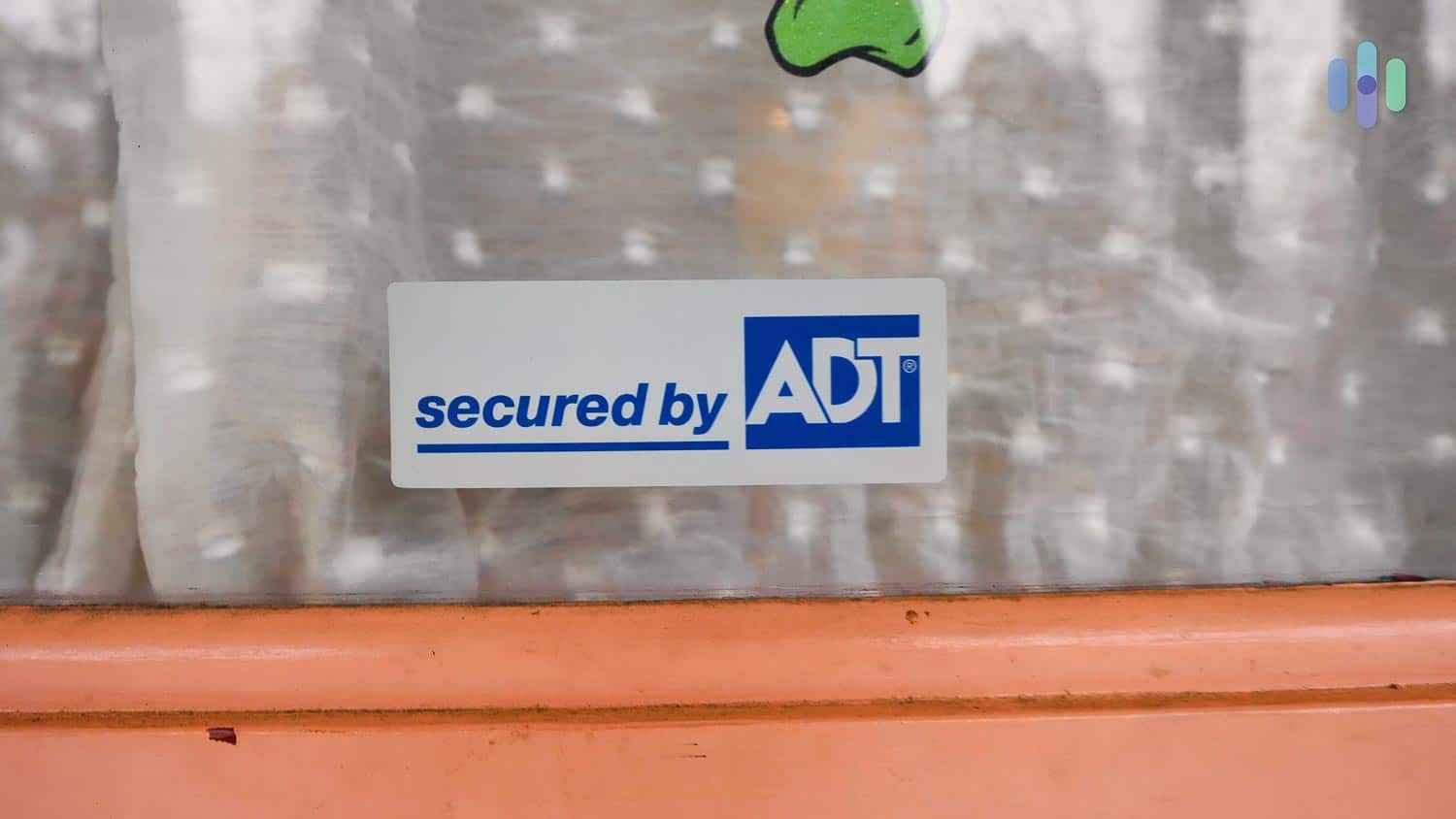 Ackerman Monitoring
Ackerman's strongest asset is its local presence. It operates an in-house monitoring center in a local location, which means the monitoring agents are more likely to be familiar with the local terrain. You simply don't get that from an alarm company with national coverage.
Ackerman's monitoring center is a designated Five Diamond center by the Monitoring Association (formerly CSAA).1 That designation certifies that Ackerman's monitoring center meets TMA's high standard of monitoring proficiency down to the operator level. Only a handful of monitoring centers in the U.S. have gained a Five Diamond designation, making Ackerman part of the elite few.
The Winner
Overall, ADT shows more promise because of its redundancy. Ackerman may have the local edge, but nothing provides more peace of mind than knowing several monitoring facilities have your back in case of an emergency.
Which Professional Installation Service Is Better?
Both ADT and Ackerman offer — or, rather, require — professional installation. A technician from the company will visit your home to install the system themselves. It requires an extra fee, which is usually around $100, but you're getting top-notch service and the assurance that your system is installed properly.
Normally, we'd say you're more likely to get better service from a local company, but that doesn't apply to ADT, which is the best professionally installed security system. ADT operates a franchise business, so it has local dealerships that handle the installation. Even though ADT is a national corporation, its dealers are able to provide a localized service much like Ackerman. The experience you'll get from local ADT dealers may vary, however.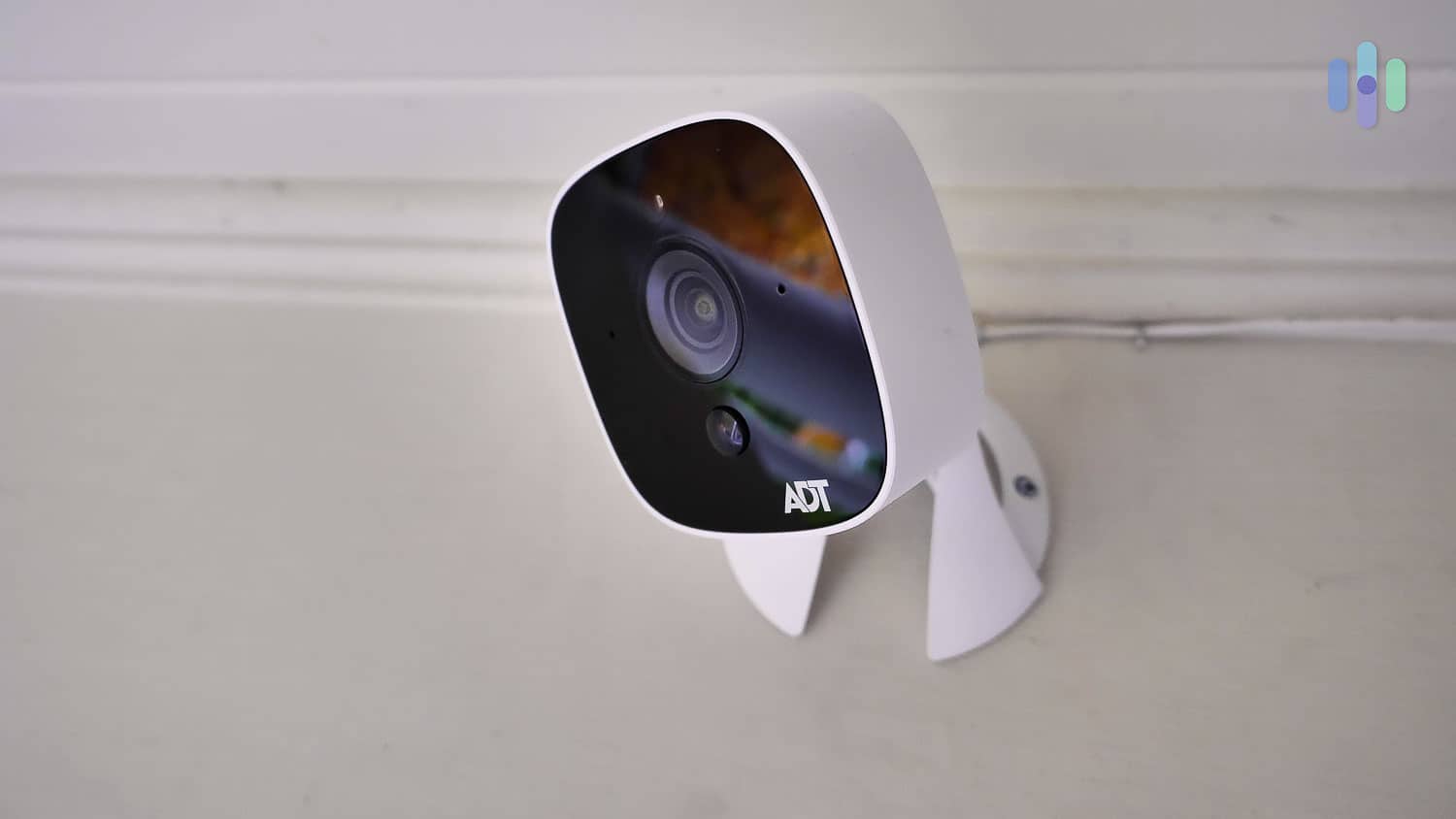 It's pretty much a tie between ADT and Ackerman in terms of professional installation, but your chances of getting a more consistent installation service quality is higher with Ackerman. On the other hand, ADT's nationwide coverage means its technicians can help you transfer your system if you move outside Atlanta. Are you staying put or moving in the future? Your answer will determine which installation service is better.
Which Is More Budget-Friendly?
The cost is one of the biggest deciding factors when choosing a home security system. It often includes the costs for equipment, installation, and monitoring.
Equipment Cost
ADT and Ackerman both offer customized security packages. The downside is that you usually won't find out the final equipment cost until you've gone through the purchasing process.
ADT recently allowed customers to buy packages online. On its website, ADT packages cost $400 and up. The best part is that you can still customize your security system and see its total cost while doing so. Because of that transparency, ADT is the clear winner.
Installation Cost
ADT wins on installation cost too — also because of its transparency. A typical installation costs $99, but the fee may increase as you add more components to the system. There are usually ADT deals, however, that can help you offset the installation cost.
With Ackerman, you won't find out the installation cost until you've customized your security system. It's simply much more practical to know how much the installation will cost you before investing your time customizing a security system.
Monitoring Cost
Ackerman gets the edge on monthly monitoring costs, which start at just $19.99 per month. The starting cost for a standard ADT security system is $45.99 per month.
That's a stark difference, but you'll see why when you look at the features. Ackerman's most basic monitoring plan includes landline monitoring (not cellular) and supports only basic equipment. With ADT, the $45.99 monthly monitoring fee covers features such as smartphone app control, cellular backup, and more.
Ackerman is simply the more practical choice if you're going for a basic security system. If you want a system with advanced features, however, you'll get more value from an ADT monitoring plan.
Which Has the Superior App?
ADT and Ackerman have both adopted smartphone controls to allow users to monitor and control their security systems from anywhere. Whether you're in the bedroom, at the office, or halfway across the globe, you can manage your home security.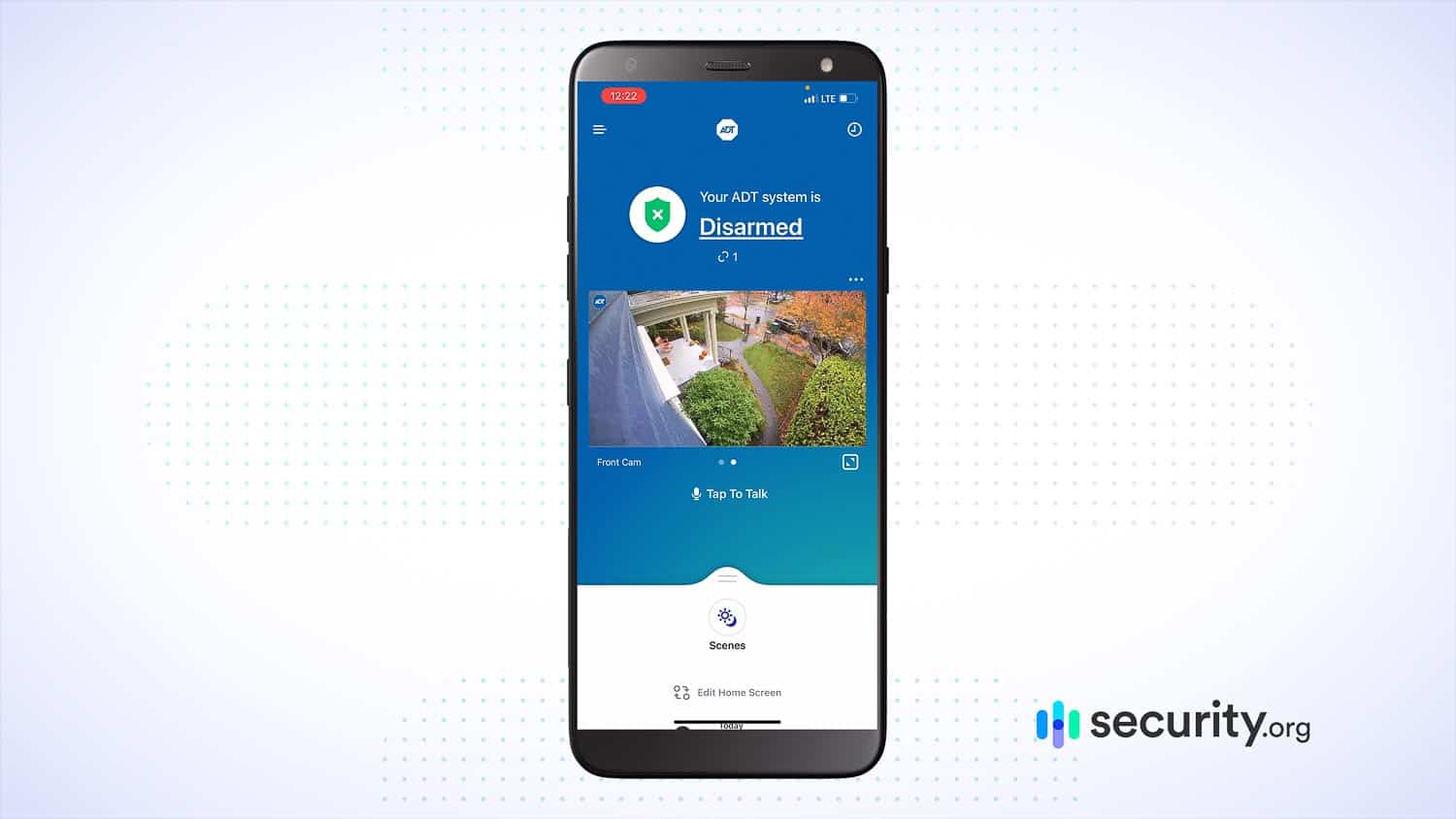 ADT has numerous apps, but you'll most likely use the ADT Control app if you're a new customer. The app has a 4.8 out of five stars on both iOS and Android, and it offers the same controls and functionalities as the ADT control panel. Simply put, it is an ADT control panel you can take with you anywhere you go.
In our experience, the app is easy to use. The controls are intuitive, with easy-access arm and disarm buttons on the home screen, widgets for iOS and Android, and voice-control integrations.
Ackerman's app has solid 4.1-star and 4.2-star ratings on iOS and Android, respectively. It's intuitive and laid out nicely. Quick controls and insights are available on the home screen, and extensive customizations are available through the comprehensive settings page. One nice feature is that you can see the battery level of each connected sensor, which shows how much thought went into building the app. For a local alarm company, that's impressive.
Ultimately, though, ADT's app is slightly superior, which is also reflected in its near-perfect app rating.
ADT or Ackerman: Which One's for You?
Each home is unique, and neither ADT nor Ackerman is a universal choice. ADT won in most areas, but your final decision will depend on your preferences and security needs. What we can do for you is lay out each company's strongest selling points.
Have you made a decision? If not, we recommend that you give our review of the best security systems a read. It will give you more options. After all, ADT and Ackerman aren't the only alarm companies offering services in the Metro Atlanta area.
FAQ
Have some more questions? We have answers!