ADT vs. Bay Alarm: Comparison of the Bay Area's Most Trusted Security Providers
An in-depth look at the features, equipment, and monitoring of ADT and Bay Alarm.

Best Nationwide Service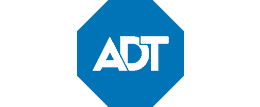 Professional installation on all systems
24/7 monitoring centers nationwide
145+ years of home security innovation
Best 24/7 Professional Monitoring

Home security consultations for new customers
Starts at $30 monthly for 24/7 monitoring
Serves states in the West Coast
ADT and Bay Alarm are both reputable Bay Area home security providers with decades of experience under their belts, but which alarm company should you trust to protect your home and family? We've tested both systems, and we're covering which has better features, equipment, after-sales customer service, monitoring, and costs, so buckle your seatbelts and get ready for our expert take.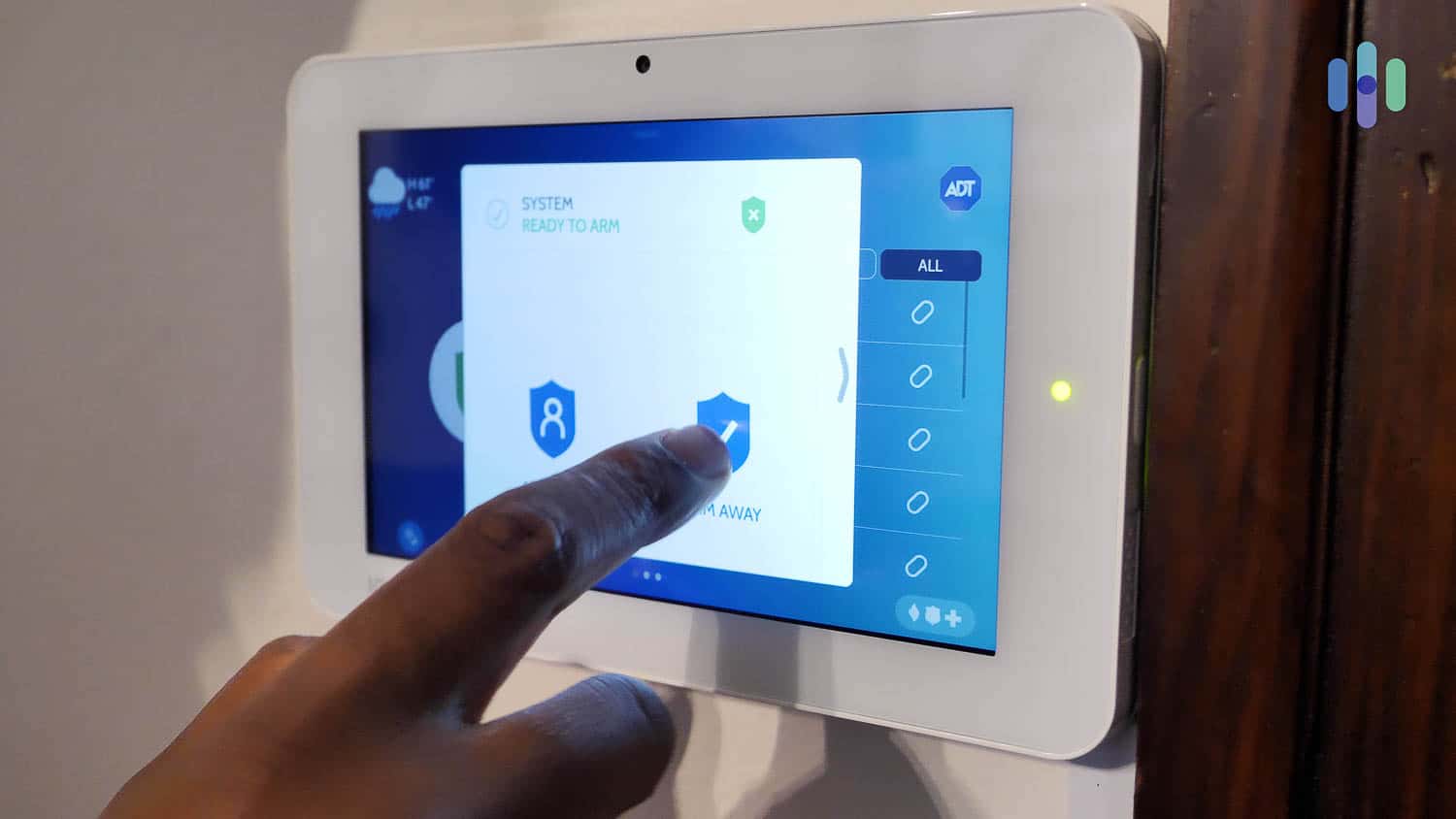 Overview of ADT and Bay Alarm
Trust is an important factor when choosing a security system. You want a company to which you can entrust your and your family's safety and security, and both ADT and Bay Alarm fit the bill.
ADT has been around for over a century; it's actually the first alarm company to offer monitored home security. It's one of the largest alarm companies in the United States, and it offers its services in all 50 states.
Bay Alarm, on the other hand, has been providing services to the Bay Area for over 75 years. It recently expanded its service area to include Phoenix and areas surrounding North Sound, Washington, but its base of operations remains in California.
Longevity adds a few points to their resumes, but it's what they offer now that matters most. Both ADT and Bay Alarm offer customized home security systems with 24/7 professional monitoring, intrusion detection, home automation, and video monitoring.
Let's take a closer look at those features to see which of the two old guards does it better. Before that, though, here's an overview of how ADT and Bay Alarm stack up side by side.
| Home security specs | ADT | Bay Alarm |
| --- | --- | --- |
| Coverage | Nationwide | San Francisco Bay Area; Phoenix; and North Sound, Washington |
| Years in service | Over 140 | Over 75 |
| Installation type | Professional | Professional |
| Monitoring type | Professional | Professional |
| Wired or wireless | Wireless (wired systems are also available) | Wireless |
| Intrusion detection | Yes | Yes |
| Environmental hazard monitoring | Yes | Yes |
| Contract length | 3 years (2 years in California) | 3 years |
| Security system pricing | $400 and up | Custom quote for every customer |
Similarities of ADT and Bay Alarm
It's not unusual for alarm companies to have lots of similarities, especially those with similar business models like ADT and Bay Alarm.
Customized systems: With both ADT and Bay Alarm, you can customize your security system to fit your unique security needs. You can select from a wide variety of security sensors, hazard detectors, and home-automation equipment.
Security cameras: ADT and Bay Alarm use security cameras to maximize your protection. The cameras detect intruders using sensors and record valuable video evidence.
Monitoring contract: Professional monitoring is a must for both companies, and customers need to sign a monitoring contract that typically runs for two or three years.
Professional monitoring: ADT and Bay Alarm offer professional installation services. All systems are installed by trained technicians who will come to your house and lay out the security system to offer optimal security and protection.
Home automation: A staple feature of home security systems, home automation from ADT and Bay Alarm let you control smart-home devices such as thermostats, lights, and locks using a smartphone app.
Key Differences Between ADT and Bay Alarm
ADT and Bay Alarm differ in several areas, and the differences could heavily influence your decision-making.
Coverage: ADT services the entire United States, so you can take ADT with you wherever you move. That's not possible with a regional alarm company like Bay Alarm, which is available in only California, Phoenix, and North Sound, Washington.
System customization: You can customize your security system with both companies, but Bay Alarm takes a more hands-on approach. A representative will review the layout of your home and recommend strategic placement for sensors and cameras. With ADT, you can place your order online or via phone.
Customer support: ADT's customer support is available 24/7. You can reach them via phone, live chat, or social media. Bay Alarm's technical support team is available only on weekdays between 8 a.m. and 5 p.m.
Comparing the Equipment
It has become standard for alarm companies to offer a wide range of equipment options, and ADT and Bay Alarm are prime examples. Both systems are customizable. They allow the addition of security sensors, environmental hazard sensors, security cameras, and home automation equipment.
Security Sensors
Security sensors are responsible for monitoring for break-ins: door sensors, window sensors, motion sensors, garage door sensors, and glass-break sensors, among others. Both ADT and Bay Alarm offer all those types of sensors.
With ADT, you can shop online and customize your security system. You can also contact ADT by phone if you need help picking the sensors for your setup.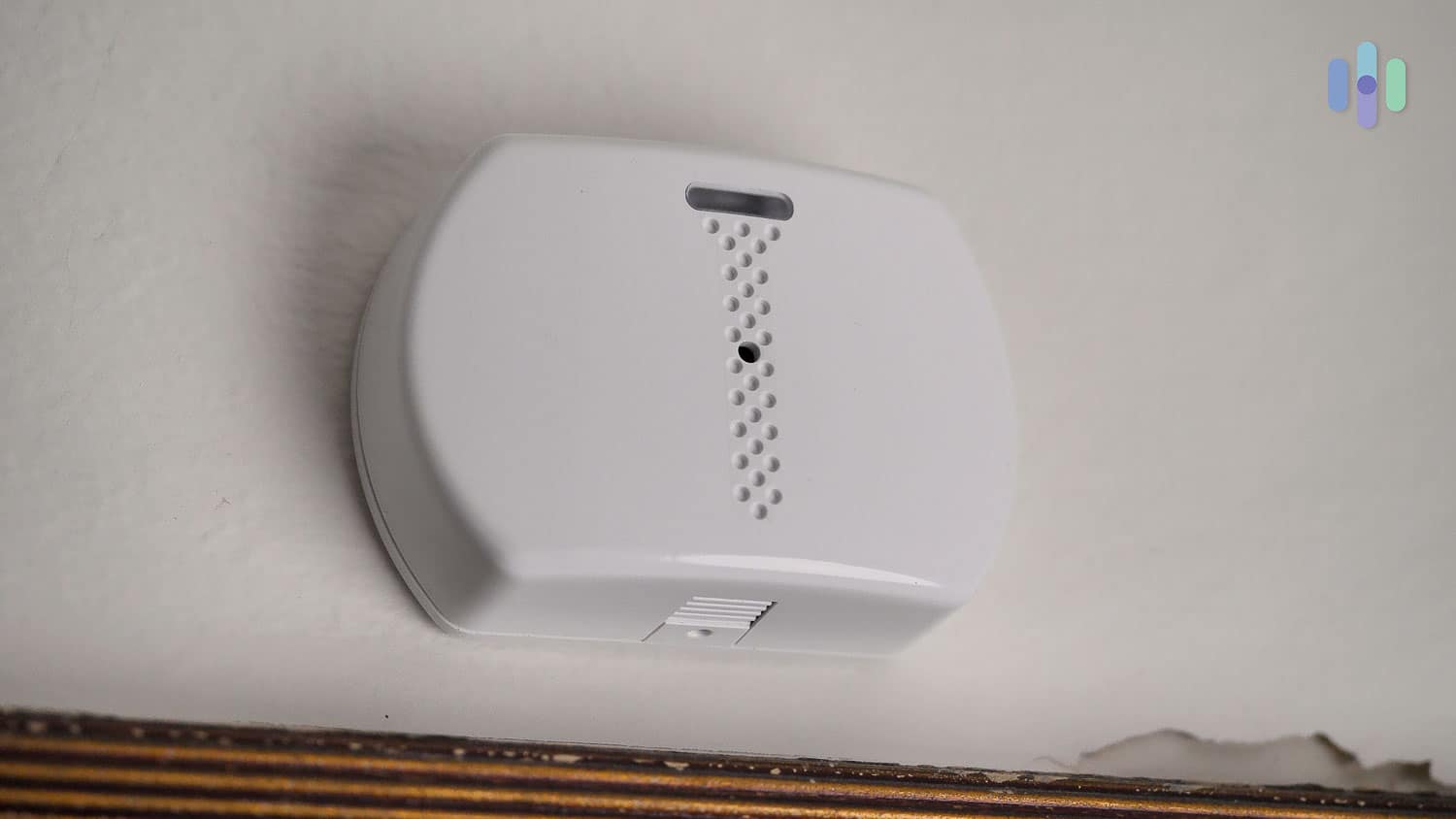 With Bay Alarm, you'll schedule an appointment for a representative to do a walk-through of your home and recommend a setup. You can take their recommendation as is, or make final changes before installation.
Either way, you'll get a security system designed to meet your unique home security needs.
Did You Know? Until recently, ADT sales were done by phone or in person. The addition of ADT's online store makes it easier to purchase and customize a security system without pressure from sales reps.
Environmental Hazard Sensors
Aside from keeping intruders out, ADT and Bay Alarm offer security system peripherals that can help you stay safe from home hazards such as fire and gas leaks. These environmental hazard sensors can also help you avoid costly repairs by notifying you as soon as something goes awry.
These sensors are typically:
Smoke detectors
Carbon monoxide detectors
Flood sensors
Freeze sensors
ADT and Bay Alarm both monitor smoke and carbon monoxide detectors, since fires and gas leaks pose life-threatening dangers. As soon as your sensors go off, ADT and Bay Alarm's respective monitoring centers will be notified and will contact emergency services. Controls for those sensors are integrated into the burglar alarm system for convenience.
Flood and freeze sensors don't pose immediate threats that require an emergency response, so they are self-monitored. You will receive a notification on your smartphone, and you can respond accordingly at your own convenience.
Home Automation
Even though ADT and Bay Alarm are two of the oldest alarm companies, they upgraded their systems to keep up with the newer brands that offer advanced features. One feature they adopted is home automation.
Home automation lets you remotely control smart devices such as smart thermostats, locks, and bulbs that are integrated into the system. You can also automate them by scheduling them to take actions at certain times, creating scenes to control multiple devices at once, or setting up automated tasks to respond to your actions.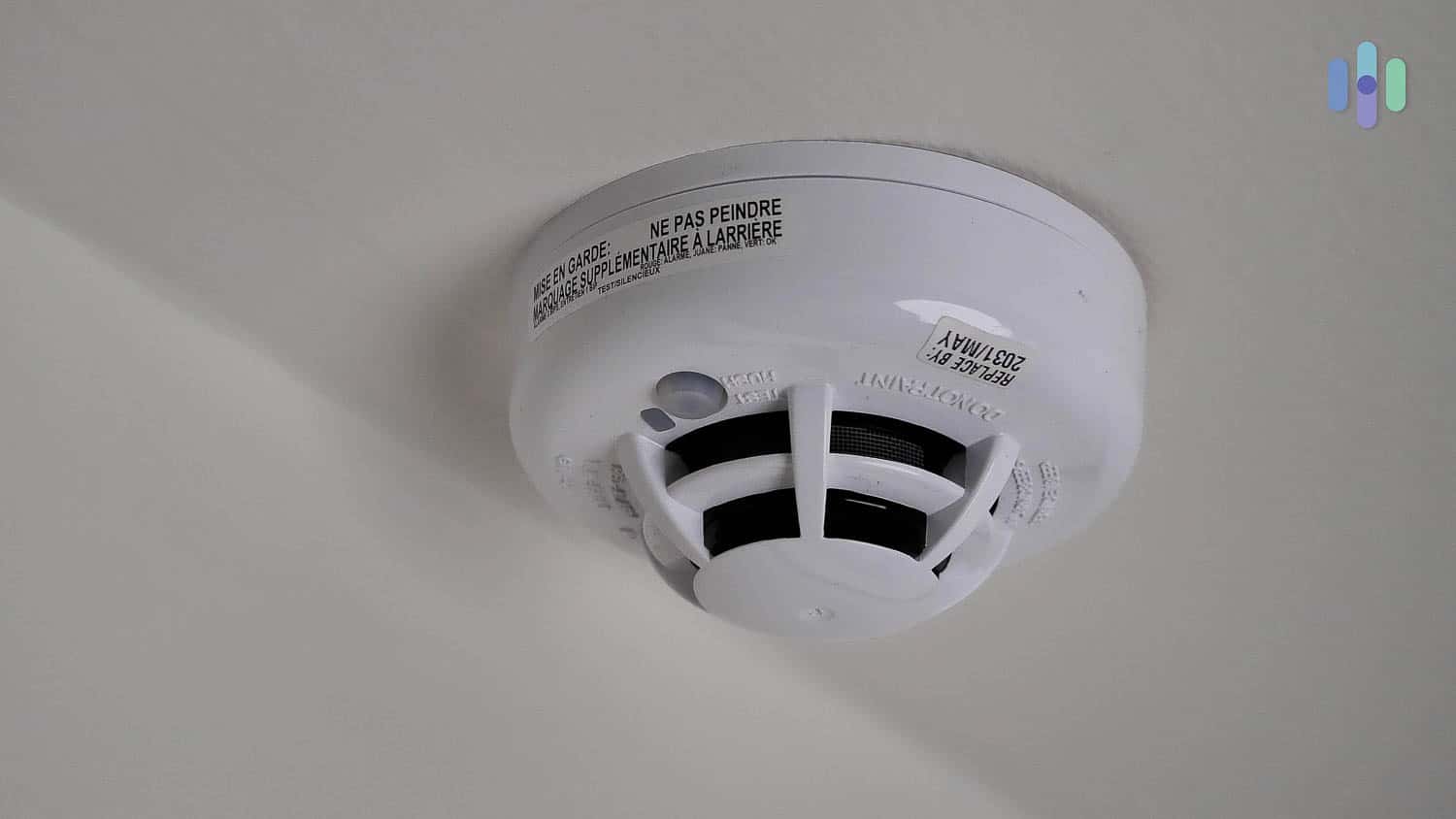 ADT has a slight leg up on Bay Alarm in terms of automation simply because its automation tool is more advanced. With Bay Alarm, scheduling automated actions is your primary tool, but with ADT, you can customize scenes, rules, and schedules. In terms of equipment, however, ADT and Bay Alarm offer roughly the same smart-home products.
Security Cameras
Security cameras play an important role in home security. ADT and Bay Alarm both know that, which is why they offer a selection of indoor, outdoor, and doorbell cameras.
We're not going into too much detail about each company's security camera lineup, but we can tell you that ADT and Bay Alarm each have advantages in this regard.
For ADT, it's that its systems are compatible with Google Nest cameras. Google Nest cameras are some of the most advanced security cameras around, with features such as person detection and facial recognition. The integration allows you to upgrade from the security cameras offered by ADT, which, as we discuss in our ADT review, are a little lackluster in video quality with 720p HD resolution.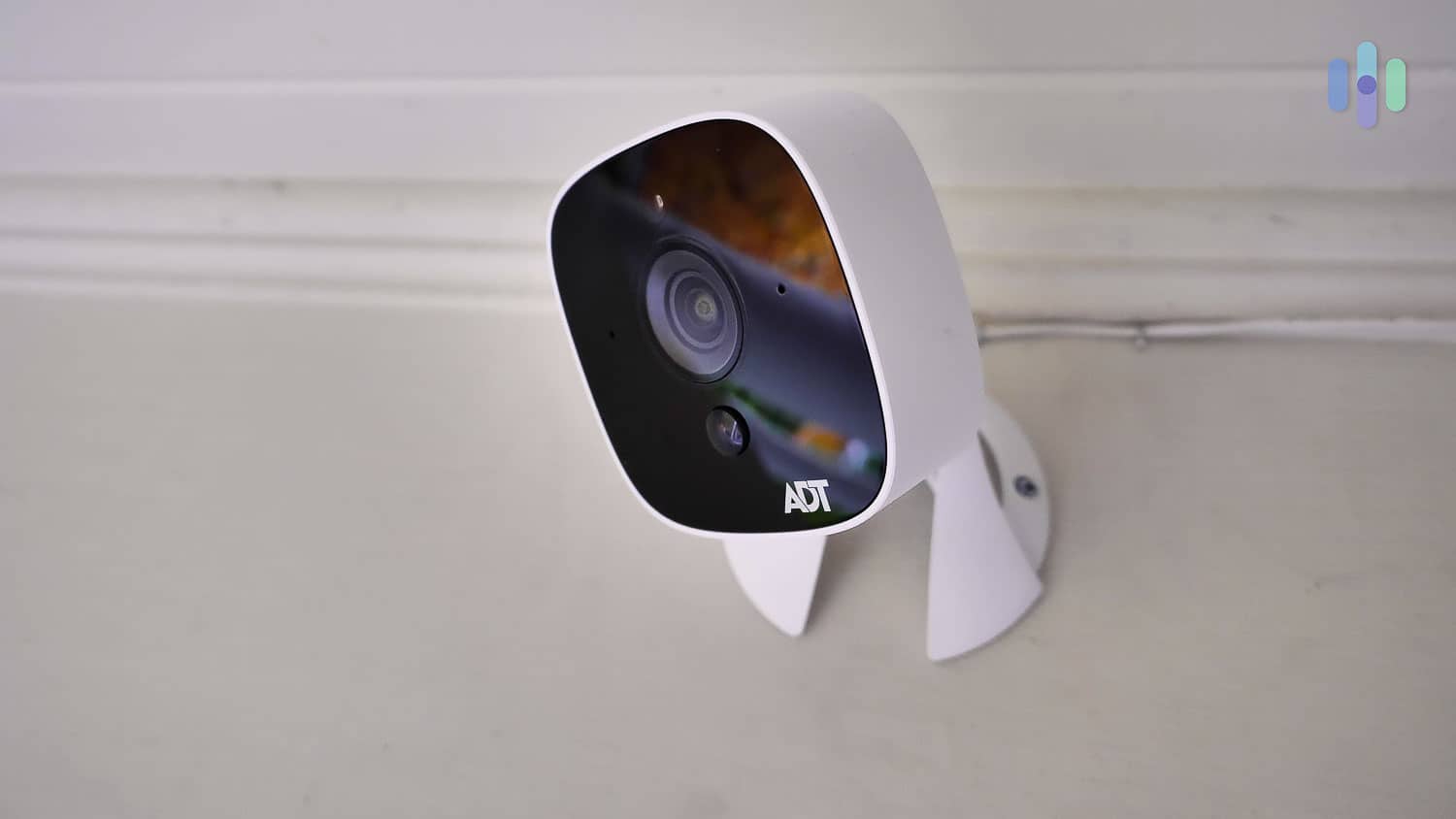 Bay Alarm's advantage is that it uses cameras for video verification.1 Bay Alarm has been working with local law enforcement for a long time, and it has built trust with local jurisdictions through video verification, wherein they check security camera footage before sending dispatch requests. That allows for faster police response and a lower false alarm rate.
FYI: ADT also uses video verification, but so far we've seen it only with the company's business security offerings and not residential security systems.
Comparing Monitoring Features
Beyond equipment, you'll need a monitoring plan to use either ADT or Bay Alarm. The plan will be included when you sign up, but it will require a monthly fee. A contract is also necessary, binding you to the service for a certain number of years.
Monitoring Features
The features of both ADT's and Bay Alarm's monitoring plans scale with your security system. If you go with a basic system without home automation and security cameras, for example, you'll pay the lowest monthly fee available. If you go all in and buy at least one product from each type of equipment, you'll be enrolled in the highest monitoring plan.
The typical features of monitoring plans from ADT and Bay Alarm include:
Professional monitoring: Operators from the company's monitoring centers will monitor your system around the clock for possible security and environmental hazards.
Smartphone control: You'll be able to control your home security system from your smartphone using each company's respective smartphone app.
Home automation: With the right plan, you can also control smart-home devices and create automated schedules, scenes, and rules. ADT offers more advanced controls in this area.
Video monitoring: This includes event recording, as well as livestreaming camera feeds on your smartphone.
Video verification: Bay Alarm plans with video monitoring also include video verification.
Cellular backup: By default, ADT and Bay Alarm systems use your home Wi-Fi to send alerts. If that's unavailable, however, they can use cellular signals similar to what our phones use to call or text.
One thing to note is that ADT operates nine monitoring facilities around the country, each capable of monitoring homes from anywhere in the U.S. These facilities are fully redundant, meaning they're equipped to compensate for the others in case some facilities are affected by natural calamities and are unable to operate. That ensures continuous operation no matter what.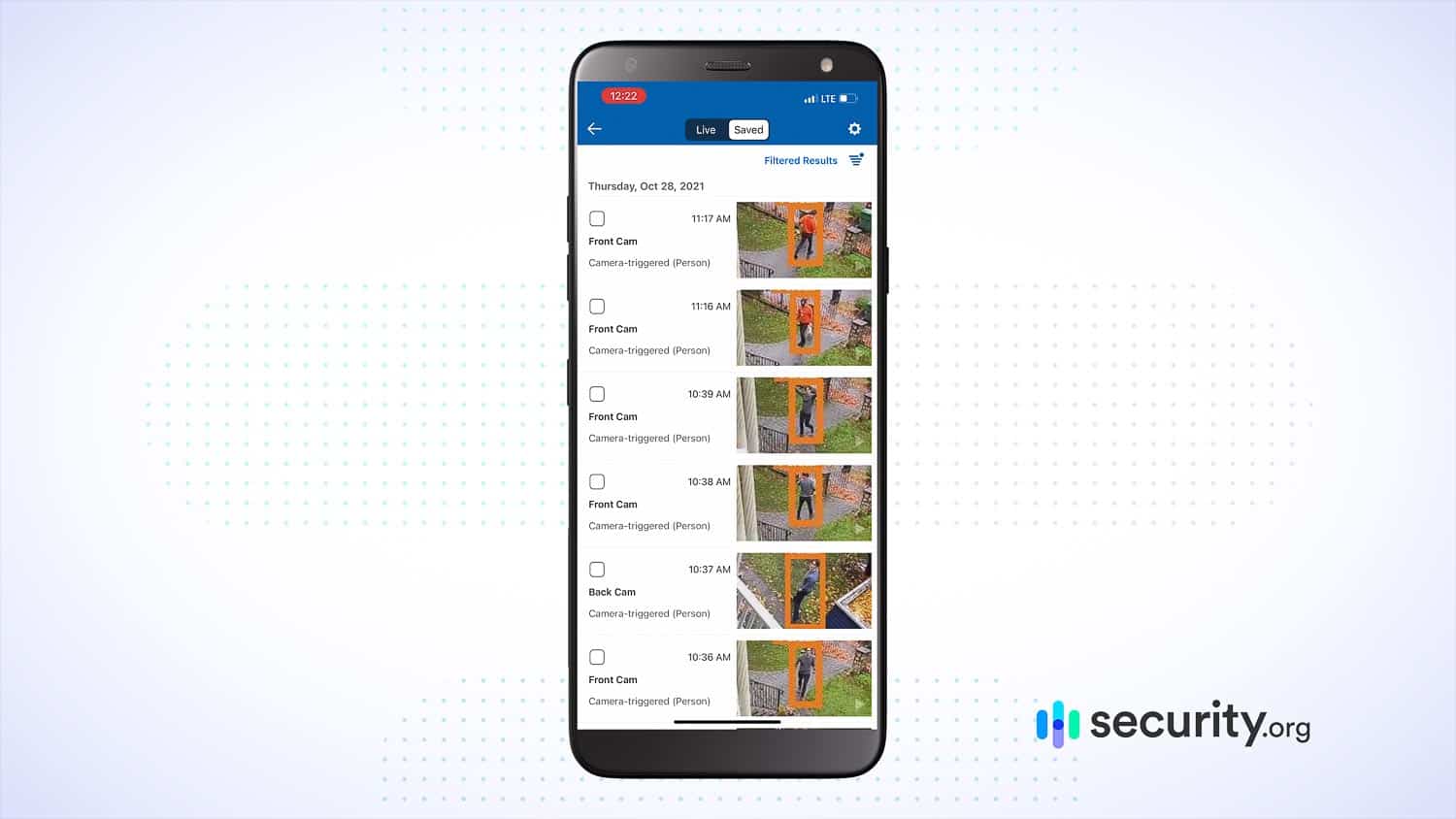 Bay Alarm has only one monitoring center. It's staffed 365 days a year and it has backup measures such as generators and extra servers, which are formidable in their own right, but it doesn't come close to the assurance ADT provides.
Monitoring Cost
ADT's pricing is transparent. You can see the cost of each of the three plans offered on ADT's website, which ranges from $45.99 to $59.99 per month. The most expensive plan includes everything from security monitoring to cloud storage for cameras, and it's designed for ADT's Video package.
Bay Alarm isn't as transparent, so you'll find out the cost only once you've customized a security package.
Monitoring Contract
This is another vital piece of information. Before starting the service, ADT and Bay Alarm will have you sign a contract that details your rights and responsibilities as a customer.
The contract term is usually three years for both companies, which means you'll have to pay for the monitoring service for the next three years. Otherwise you could be subjected to hefty early cancellation fees.
One thing to note is that ADT's contracts for California residents are shorter — only two years instead of three. If you're not sure if you can complete the three-year contract, ADT may be the better option to avoid cancellation fees.
Comparing After-Sales Service
After picking out your equipment and signing up for a monitoring plan, the next step is installation. ADT and Bay Alarm offer professionally installed security systems, which means a technician will visit your home and install the system themselves.
ADT has national coverage, but it uses local dealers for installation. That allows ADT to provide localized customer service. Installation services are backed by ADT's six-month money-back guarantee. If there's any problem with the installation or hardware and ADT can't fix it within the first six months, you'll be allowed to cancel and request a full refund of the installation and monitoring fees. Because of that guarantee, ADT is one of the best professionally installed security systems around.
The installation warranty for Bay Alarm systems is 90 days, during which repairs due to faulty installation are free. The equipment also comes with a one-year service warranty.
Another concern is whether the company is easy to reach. You can reach Bay Alarm's customer support via phone Monday through Friday between 8 a.m. and 5 p.m. With ADT, you have more options. You can use its website's live chat feature or call in by phone. ADT's customer support is available 24/7, so ADT has better after-sales service and support.
Our Take: Which Is Better, ADT or Bay Alarm?
It's a close match between ADT and Bay Alarm. They offer roughly the same equipment and monitoring options, and their features match at almost every turn. If you look closely at the monitoring service, contract, and after-sales service, however, you'll notice that ADT has a leg up on Bay Alarm. It's these smaller things that can make a huge difference in your experience, so ADT is the clear winner. It's one of the best security systems we've tested.
Bay Alarm, however, is also a solid option. It has all the markings of a great alarm company. If not for its limited service area, it would likely make our list of the best security systems as well.
FAQs
For an even closer look, check out these FAQs and our answers to them.