ADT Self Setup Review and Cost
ADT Self Setup is ADT's latest venture into DIY home security. What do our experts think of it?
All of our content is written by humans, not robots.
Learn More
By

Aliza Vigderman
, Senior Editor, Industry Analyst
Last Updated
on
Nov 28, 2023
What We Like
Easy DIY setup
Award-winning professional monitoring
Google Nest Cam integrations available
What We Don't Like
Limited smart home automations
Somewhat pricey monitoring costs
Limited third-party product integrations
Bottom Line
With an easy self-setup process, an expertly designed smart home security app, and ADT's renowned professional monitoring service, ADT Self Setup is one of the best DIY security systems yet. Plus, it works seamlessly with cameras from Google Nest, some of the smartest cameras around, for all-around home security.
"Improvise, adapt, and overcome" is an unofficial slogan of the U.S. Marines, and it's one that applies well in the tech industry. Technology evolves rapidly, and so companies need to improvise on their approach and adapt to evolving market demands to be able to stay ahead of the industry.
ADT, the longest-standing home security company in the U.S., recently showed its adaptability amid the rising number of competition offering DIY security systems. With options like SimpliSafe, Frontpoint, and abode in the market, ADT decided to launch ADT Self Setup, a DIY security system that offers more flexibility than its professionally installed classic ADT system. Does it have what it takes to rival the top DIY players?
At first glance, it's a security system with wireless sensors, a wide selection of security cameras and smart home equipment, and an app that ties all of its features together. Of course, that's just our first impressions. There's a lot more to learn about the ADT Self Setup, so keep reading for our expert take on ADT's shiny new security system.
ADT Self Setup vs. Blue by ADT
Before we talk about ADT Self Setup, let's address the elephant in the room. As you may know, ADT Self Setup isn't ADT's first venture into DIY home security. It has had a DIY security system since 2020 called Blue by ADT. So what happened?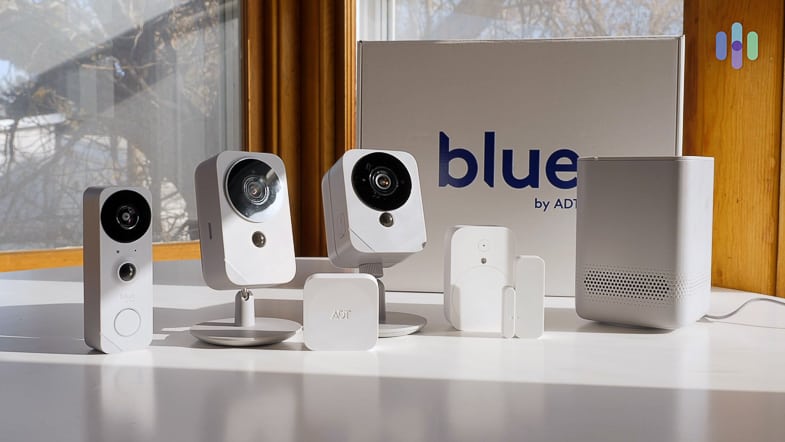 In 2019, ADT acquired a startup called LifeShield. It had a DIY security system, which ADT adopted to become Blue by ADT. So Blue by ADT was technically a rebranding of LifeShield, but as of 2023, it's no longer being offered by ADT.
That's where the ADT Self Setup comes in. While it can be seen as a rebranding of the same LifeShield system, ADT Self Setup is so much more. This is a DIY security system built from the ground up by ADT using ADT's resources and to reflect ADT's ideals in home security. It has a new and better app than Blue, it offers a more promising selection of cameras from ADT's partner, Google Nest, and it has a deeper reach into home automation. It's a completely new DIY security system, so without further ado, let's take a closer look at it.
FYI: ADT will continue to support and monitor existing Blue by ADT security systems. Moving forward, however, security system shoppers who want to DIY the installation will have to purchase an ADT Self Setup system.
ADT Self Setup: How's The Setup Process?
As the name very clearly implies, the ADT Self Setup system is a DIY security system. You'll have to set it up yourself, but just like SimpliSafe and abode, two of the best DIY security systems we've tested, setting up Self Setup was a breeze. The ADT+ app that was released together with the system guided us through the whole process. It took us 10 minutes from unboxing to "all clear."
After pairing all the sensors to the main hub, our next step was to place them. The entry and motion sensors came with a peel-and-stick adhesive backing so there's no drilling required, making the ADT Self Setup a solid security system for renters.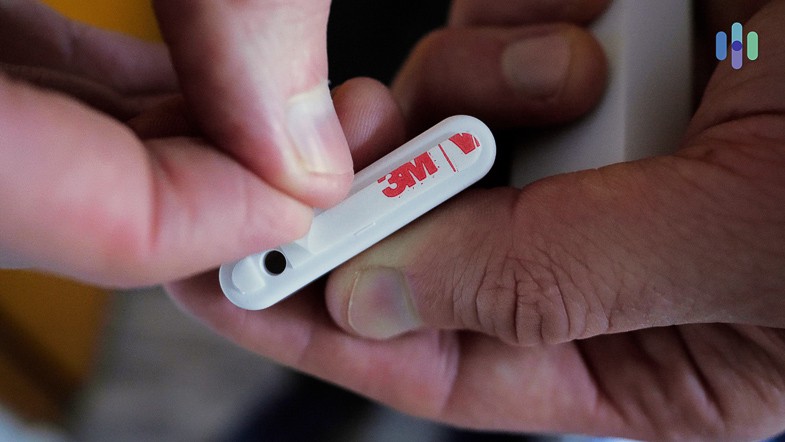 ADT and Google Nest have actually been working closely together since 2021. In fact, Google Nest supplies all of ADT's security cameras now, even for the professionally installed ADT Control system.
In our experience reviewing the Google Nest Cam lineup, the smart cameras fit in nicely with the ADT Self Setup system. Installing a Nest Cam takes less than five minutes – in most cases, you just turn them on and connect them to your Nest App.
Normally, Google Nest Cams are standalone devices. They don't pair with security systems – at least not anymore since Nest scrapped the Nest Secure system it had a few years ago. With ADT Self Setup, though, we've been able to easily integrate the cameras with the security system. All we needed was the ADT+ app, the new app that ADT released alongside Self Setup, and our Nest App login info.
After pairing, we were able to access our Nest Cams using the ADT+ app – and yes, that includes using two-way talk and viewing live video. That's one of the great features of the ADT+ app: It ties everything together so you only use one app to manage your smart home and security system.
>> Read more: The Security Systems With The Best Apps
ADT Self Setup Equipment: A Closer Look
The ADT Self Setup security system offers a robust selection of equipment. Unfortunately, there aren't as many components as the professionally installed ADT Control system we reviewed, but ADT Self Setup still covers good ground. Here's a look at some of the top equipment options.
The Base Station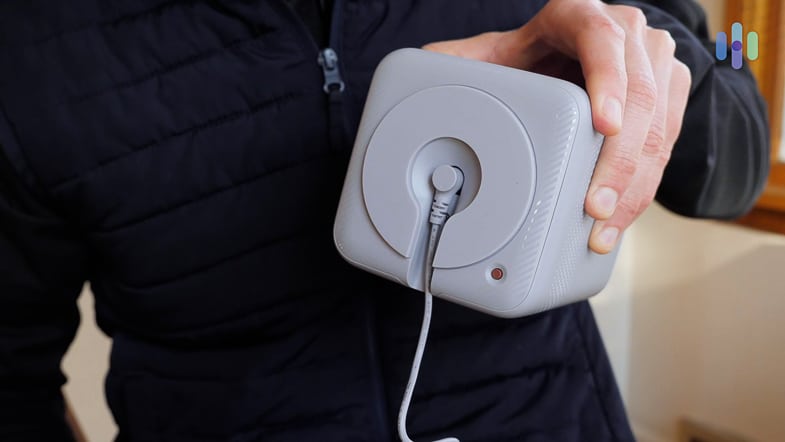 The base station is sturdy and discrete, about the size of a modem. It connected to our Internet through either Wi-Fi or ethernet cable, serving as the hub for all of our ADT Self Setup devices.
Despite its size, we still think the base station looks stylish enough to be displayed. It's not as pretty as the SimpliSafe base station – that one even glows and functions like a night light – but we didn't mind displaying the ADT base station on a counter. It helps that it's off-white, so it blended nicely with our interior decor.
The Door/Window Sensors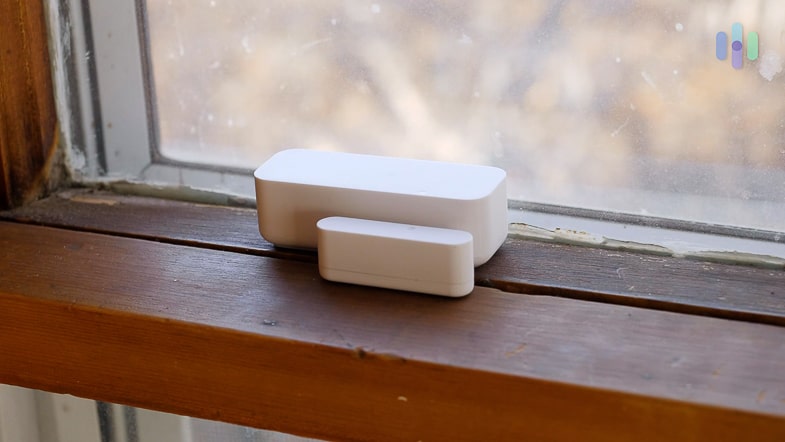 The door and window sensors feature a slim profile, allowing them to be placed discreetly on doors and windows, both interior and exterior. They can also be used on closets or doors. Like any of ADT Self Setup devices, these sensors can be monitored and managed through the ADT+ app. We placed the door/ window sensors on the doors and windows on our ground floor, as those are where intruders are most likely to enter.1
The Motion Sensors
When purchased as part of a kit, the motion sensors come pre-registered with your system, which makes setup as simple as putting in a battery and placing the sensor in an appropriate area. We placed it in the corner of our front hallway for maximum coverage.
The motion sensor's sensitivity was on point. If placed correctly, it can monitor an entire room (or hallway in our case) and alert you of any movement it notices. When it does detect motion, it sends a signal to the base station, which in turn alerts you via the smartphone app.
The Smoke Detector
Besides guarding your home from intrusion, ADT Self Setup offers a couple of sensors for life and home safety. The first one is the battery-powered smoke detector. It sounds a loud alarm when it detects smoke or a rapid rise in temperature.
It's more than just an alarm, though. The smoke detector can also trigger home automations. For instance, it can turn on your lights (provided that you have smart lights compatible with ADT+) to make it easier for you and family members to find your way out in case of fire.
The Flood & Temperature Sensor
The other home safety sensor from ADT Self Setup is the flood & temperature sensor, which protects your home from water leaks and frozen pipes. It's also wireless and battery-powered, so you can place it in hard-to-reach places like under your sink or in flood prone areas in your basement.
The Google Nest Cam (battery)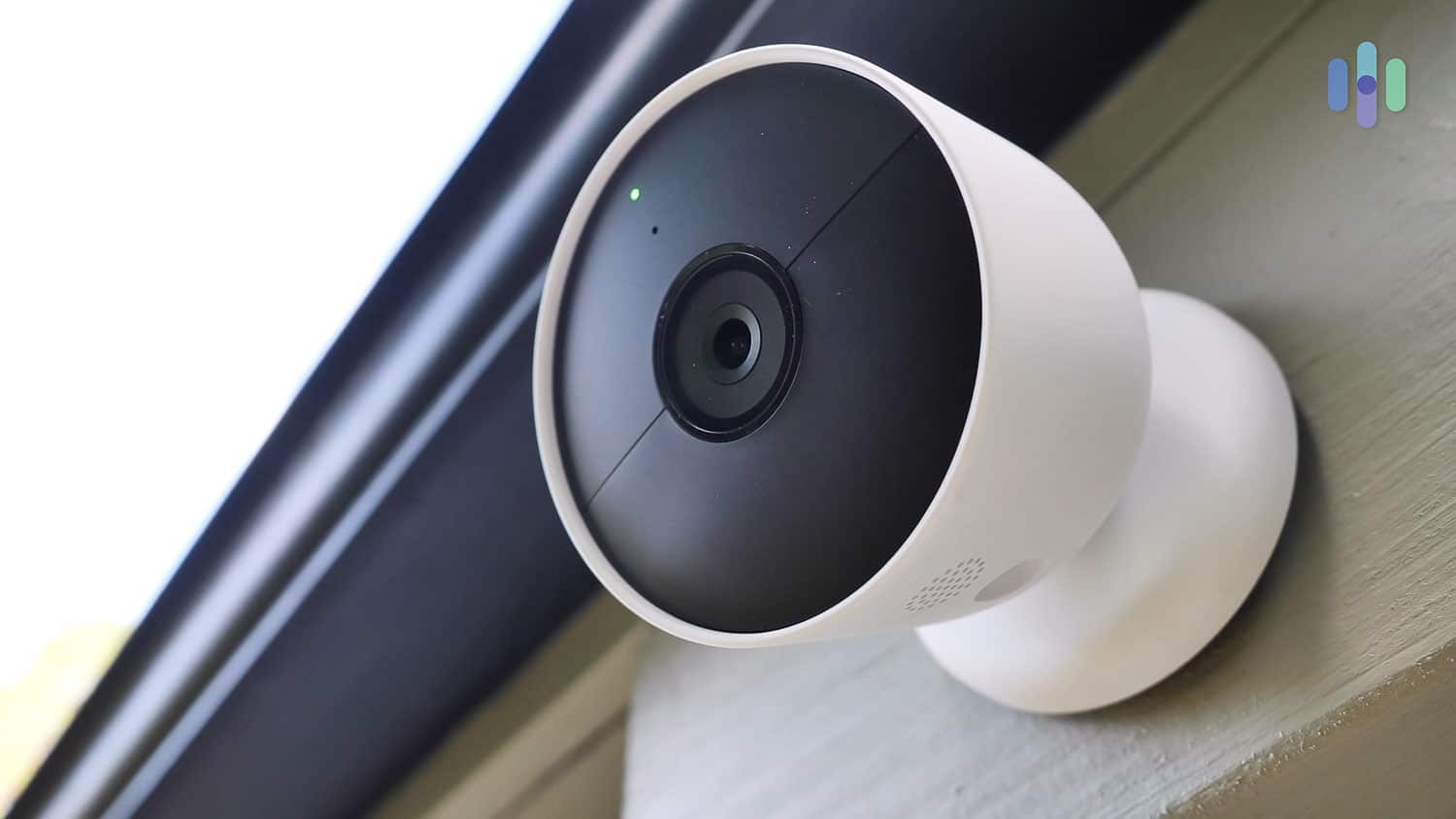 That ends the sensor part of the ADT Self Setup system. Next are security cameras, headlined by the Nest Cam (battery). We reviewed the Nest Cam (battery) as a standalone security camera, so head over there for a more detailed look at its features and specs. To summarize, it's a battery-powered weatherproof camera that has a 1080p resolution with HDR, impressive night vision, person detection, and facial recognition (a.k.a. Familiar Face alerts).
When paired with ADT Self Setup, though, it unlocks a new feature: video verification. ADT's professional monitoring service can use Nest Cam footage to review alerts and verify them with emergency responders. For instance, if your Nest Cam footage shows that there really is an unwanted guest in your house, you're far more likely to get a priority response from the police.
The Google Nest Cam (wired)
For indoor video monitoring, ADT Self Setup offers the more affordable Google Nest Cam. It shares almost the same specs as the battery-powered version, but it's a plug-in camera that is for indoor use only. It's sleek, discreet, and powerful. It also has a wide diagonal field of view (135-degrees), so if the security camera is well-placed, it can monitor an entire room by itself.
The Nest Cam (wired) can also record up to one hour of backup footage in case your Wi-Fi goes out, ensuring that you're always covered.
The Google Nest Doorbell (battery)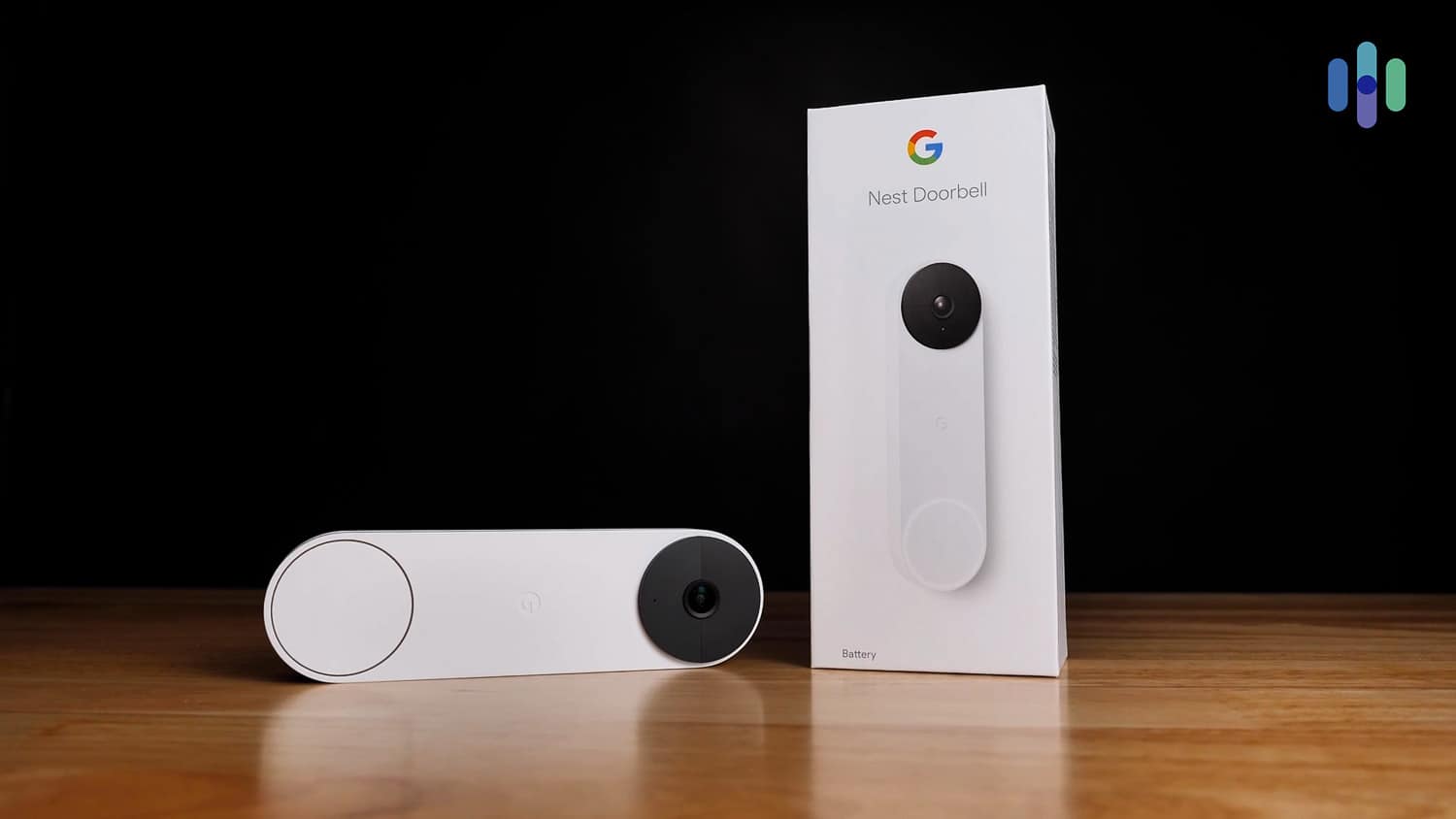 For front door security, ADT Self Setup offers the Google Nest Doorbell (battery) we reviewed here. Since it doesn't require wiring, it goes with the theme of ADT Self Setup's easy-to-install DIY equipment. It takes only a few minutes to install, and it comes with all the mounting accessories you'll need.
Feature-wise, the Google Nest Doorbell is a knockout. It has HDR night vision for crisp, clear videos at night, a tall viewing angle that offers a head-to-toe view of guests, and it can differentiate between people, animals, vehicles, and packages.
Like all the other Google Nest cameras offered by ADT Self Setup, footage from the Google Nest Doorbell can be used for video verification.
ADT Self Setup and Home Automation
One key advantage of ADT is its deep reach into home automation, and that's thanks to the ADT+ app and the Google Nest home automation products that ADT Self Setup offers.
Starting with voice control, ADT Self Setup sells Google Nest smart speakers and displays, such as the:
Google Nest Mini (2nd gen)
Google Nest Hub (2nd gen)
Google Nest Hub Max
With those devices, you can control your home with your voice. And we're not just talking about ADT Self Setup equipment. You can control pretty much anything that works with Google Assistant, whether or not they are compatible with ADT Self Setup.
Next, ADT Self Setup offers the Google Nest Thermostat, the OG smart thermostat that put Nest on the map. It controls your home's temperature and offers energy-saving features.
Lastly, to power your Wi-Fi connected smart devices, ADT Self Setup offers Google Nest Wifi router and point, which is a mesh-type router system with a decent range and bandwidth. Plus, Nest Wifi points have built-in smart speakers, so you can access Google Assistant through them as well.
ADT Self Setup also works with Z-Wave devices, and ADT plans to further expand its smart home capabilities in the near future, with Matter integration on the roadmap. Matter is a widely-used, open-source smart home standard. And once the integration is implemented, ADT Self Setup will be able to connect with, control, and automate a wide range of smart home products.
The ADT+ App
Of course, ADT Self Setup needs a capable app to tie the system together. That's where the ADT+ app comes in.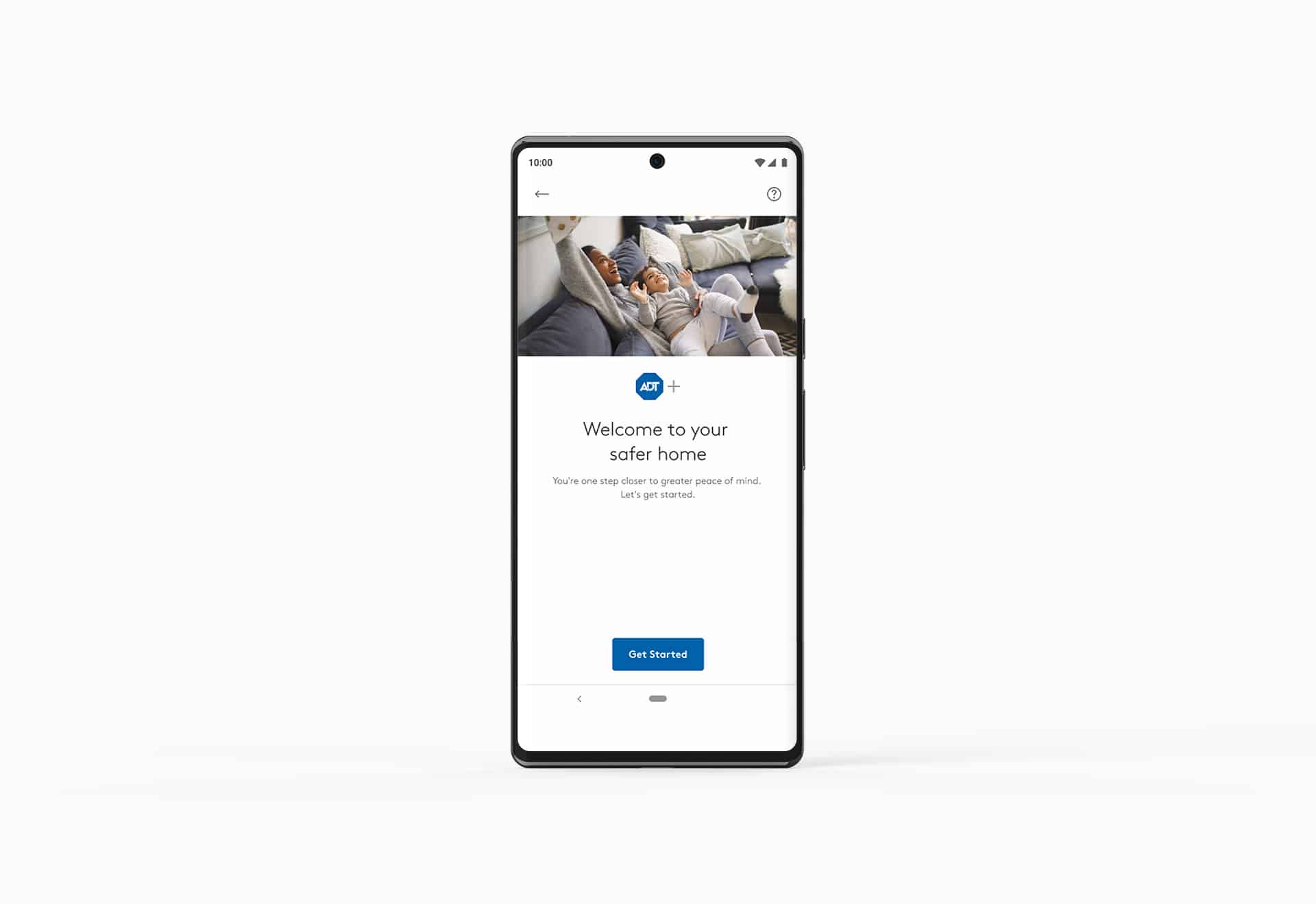 When we tested the original Blue by ADT system, we saw potential in its app, but noticed less-than-ideal execution that resulted in long loading times and laggy video streams.
The ADT+ app improves on the Blue by ADT app's features. For starters, it offers native controls of Google Nest equipment. You probably won't even need the Nest app on your phone, as you can view your cameras, review recordings, control your thermostat, and more using just the ADT+ app.
If you have other home automation devices paired with ADT Self Setup, you can control them too using the app. You can set up home automation with rules, schedules, and scenes. Turn up your HVAC when someone comes home, or turn on your perimeter lights when someone trespasses.
In short, it's a step forward when compared to the Blue by ADT app.
ADT Self Setup: How Much Does It All Cost?
How much is it going to cost to set up an ADT Self Setup system? There are two factors here: The equipment cost and the monitoring cost.
ADT Self Setup Equipment Cost
For the equipment, expect to spend at least $125.99 to get started. That's for the Build Your Own system, which includes just the base station. From there, you're going to purchase additional components that suit your security needs.
| ADT Self Setup equipment | Price |
| --- | --- |
| Entry sensor | $10.49 |
| Motion sensor | $17.49 |
| Smoke detector | $27.99 |
| Flood & temperature sensor | $24.49 |
| Keypad | $62.99 |
| Keychain remote | $13.99 |
| Google Nest Cam (battery) | $125.99 |
| Google Nest Cam (wired) | $69.99 |
| Google Nest Doorbell (battery) | $125.99 |
| Google Nest Wifi router and point | $188.30 |
| Google Nest Mini (2nd gen) | $34.99 |
| Google Nest Hub (2nd gen) | $69.99 |
| Google Nest Hub Max | $160.30 |
| Google Nest Thermostat | $90.99 |
Another option is to buy a premade package. You can choose between the Starter package or the Premium package.
| Included components | ADT Self Setup Starter package | ADT Self Setup Premium Package |
| --- | --- | --- |
| Smart Home Hub | 1 | 1 |
| Door/window sensors | 4 | 4 |
| Motion sensors | 2 | 2 |
| Google Nest Doorbell (battery) | 1 | 1 |
| Google Nest Hub (2nd gen) | n/a | 1 |
| ADT yard sign | 1 | 1 |
| ADT window stickers | 4 | 4 |
| Price total | $335.97 | $405.96 |
FYI: All prices listed reflect a current 30-percent discount that ADT is offering.
ADT Self Setup Professional Monitoring Cost
Now, after spending more than $300 on equipment, how much will ADT Self Setup cost you per month?
ADT professional monitoring for the ADT Self Setup system starts at $24.99. That includes 24/7 professional monitoring plus access to the ADT+ app and all its home automation features.
It's worth noting that because ADT provides the monitoring service, you'll get to enjoy ADT's 24/7 monitoring, including SMART Monitoring features, which is an alerting system designed to cut down on false alarms and improve reaction times. Customers of ADT professionally installed systems pay close to $40 per month for those.
That being said, if your ADT Self Setup system includes security cameras, you'll pay an additional $10 per month (for a total of $34.99). That extra fee covers cloud storage via Nest Aware and video verification, which as explained earlier, can further improve response times.
And since the monitoring plan includes Nest Aware, you're getting more than just cloud storage. You'll also be able to unlock the smart features of your Google Nest cameras, such as AI detection, Familiar Face Alerts, and more.
Find out how ADT Self Setup compares to other home security systems
We tested ADT Self Setup and compared it side-by-side with other brands to give you the full picture.
The Verdict: Does ADT Self Setup Have Any Downsides?
As far as DIY security systems go, ADT Self Setup is one of the top options right now. We especially like that it has ADT's backing, which means it can offer high-quality service similar to that of professionally installed security systems.
The selection of equipment is great: ADT Self Setup uses hardware from ADT and Google Nest, two smart home and home security powerhouses. And the ADT+ app? It's simply the cherry on top.
That said, it does have a few downsides. One is its limited equipment options. We didn't see more nuanced security sensors from ADT Self Setup, such as glass break sensors, garage door sensors (otherwise known as tilt sensors), or even a carbon monoxide detector. Those types of sensors are usually available from professionally installed security systems.
Additionally, its monitoring prices are on the higher end for a DIY security system. For comparison, SimpliSafe professional monitoring costs $17.99 to $27.99 per month. But considering that ADT provides the monitoring service, and that the higher-tier plan includes a Nest Aware subscription, ADT Self Setup's pricing is still pretty attractive.
The last potential downside is that ADT Self Setup hasn't matured yet. ADT's DIY offering was at its infantile state during the Blue by ADT days, and now, as ADT Self Setup, it's a teenager. It holds great promise and high potential, but it's still under development and it remains to be seen whether it will succeed or not.
Overall, it's a great security system, but if the downsides we mentioned are deal-breakers for you, take a look at our top-rated SimpliSafe DIY security system review. SimpliSafe has been around for over a decade, it offers more equipment options in terms of sensors, and it has more affordable monitoring plans.
ADT Self Setup FAQs
Now let's answer some Qs about the ADT Self Setup security system.