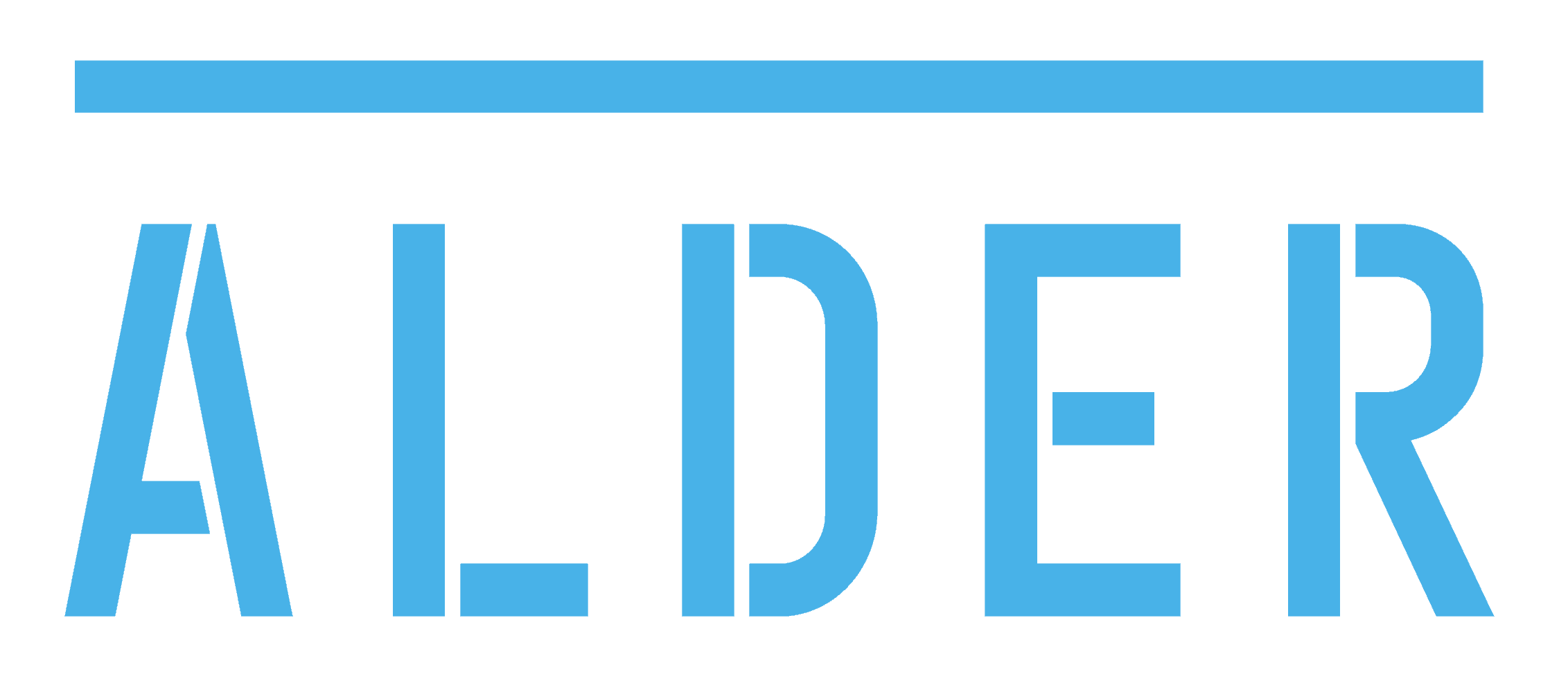 Alder Security System Pricing and Packages
Fast response rate
Easy, DIY installation
Free equipment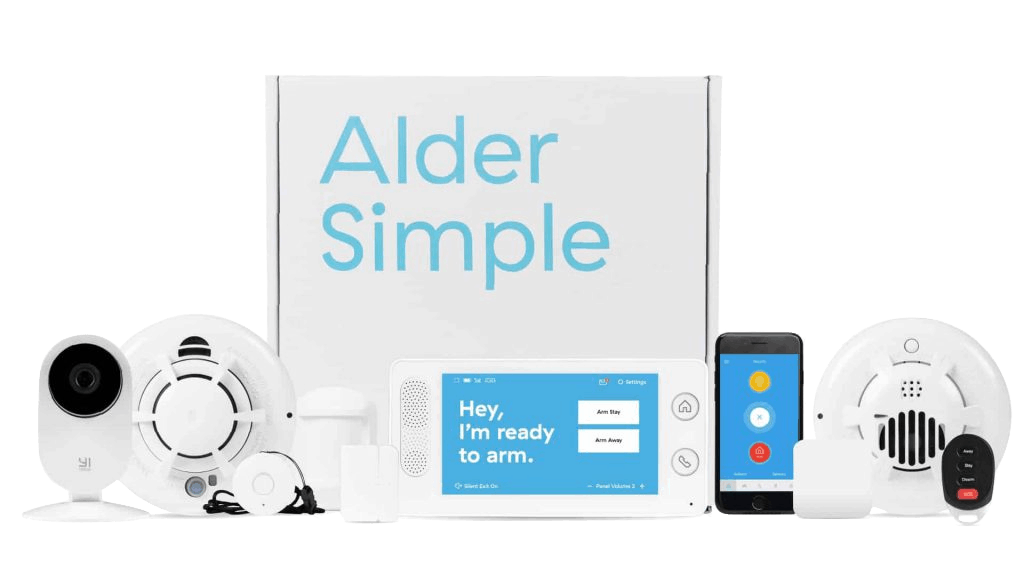 All of our content is written by humans, not robots.
Learn More
By

&

Alder fits the bill of a traditional security company, but it offers modern security systems with cutting-edge home automation. It's traditional in the sense that it requires customers to call for a quote in order to get a price point, and once the system is ready to install, customers must sign a contract.
Instead of old-school, clunky pieces of equipment, though, Alder offers wireless security systems you can install yourself or pay technicians to install. The system even includes a touchscreen control panel.
If you're wondering what a system like that costs, you came to the right place. We tested Alder ourselves to provide an insider's look at the company's equipment and monitoring. Though we can't give you a price list — you'll need to call Alder for that as they prefer giving customers a customized quote and prices may vary by region — we can explain how their pricing model works, what the contract entails, and other things you should know before making a call. We have a lot to share, so let's get to it!
Monitoring contract details
| | |
| --- | --- |
| Contract length | 3 years |
| Equipment cost | Free base system with a 3-year contract |
| Estimated monthly monitoring cost | $40-$55 |
| Installation type | DIY or professional installation |
| Professional installation cost | Free |
The Best of Alder's Features
To give you an idea of what to expect from Alder, we listed the five things we liked best about the company and its offerings.
Free professional or DIY installation — We opted to install Alder ourselves, but they actually offered us free professional installation. We don't see that kind of offer every day.
Touchscreen tablet controller — We felt like the Jetsons using Alder thanks to the futuristic, tablet-like control panel. The voice prompts were a nice touch, too!
100 percent cellular with battery backup — Alder wasn't just wireless; it was cellular, one of the most reliable forms of communication in the alarm industry. Cellular monitoring makes the system impervious to line-cutting and internet downtimes. And during power interruptions, the 24-hour battery backup had our backs.
Free base system with a three-year contract — We received a touchscreen control panel, two door/window sensors, and a motion sensor. How much did it cost us? Nada. The base system was free. We only paid for the additional equipment we purchased, but more about that later.
Proprietary equipment — Alder makes its own equipment now, which is awesome! That means their support team and technicians can troubleshoot, maintain, and repair Alder systems faster and more efficiently than anyone else.
This list barely scratches the surface, so if you want a complete evaluation, check out our Alder security system review; it has all the juicy details about our experience with the system.
The Flip Side of The Coin: What Alder Lacks
We also noted a few things where Alder can improve, mainly, its insufficient equipment options. We didn't get a lot of options besides the basic components you normally see in an average security system. The good news is, we have Alder alternatives that make it a lot easier to customize a security system by giving you options. Here they are: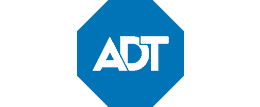 Is the Equipment Really Free?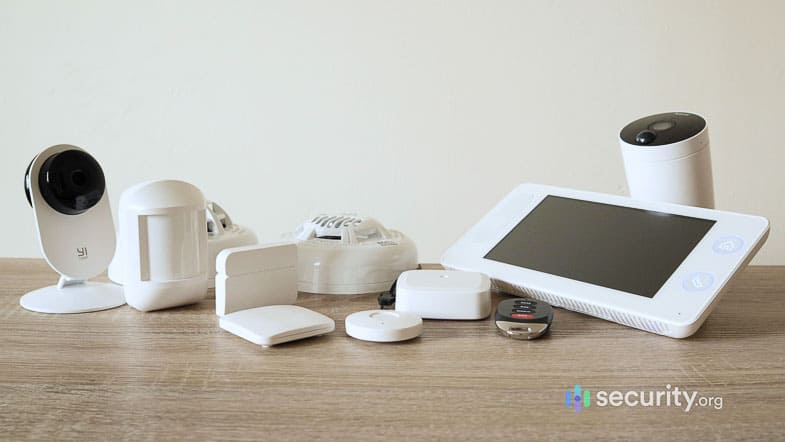 About that free equipment that we mentioned, Alder charged us nothing for the base package consisting of a touchscreen control panel, two door/window sensors, and one motion sensor. That's what we got for signing a three-year monitoring agreement with a $40 monthly fee. Had we agreed to a higher monthly rate, we would have gotten more components. Here are the options:
| Costs & Equipment | Basic | Standard |
| --- | --- | --- |
| Estimated Monthly Price | $40 | $55 |
| Touchscreen Control Panel | 1 | 1 |
| Door/Window Sensors | 2 | 3 |
| Motion Sensors | 1 | 2 |
| Key Fob | 0 | 1 |
| Indoor Camera | 0 | 1 |
Sounds like a good deal, no? Well, the equipment wasn't really free. Alder had us sign a contract, which basically meant that the package cost was spread out and added into the monthly fee. That approach is great for those who aren't ready to spend hundreds on home security equipment at the time of purchase. Without paying anything upfront, we got a basic security system and professional monitoring for a reasonable monthly rate. On the other hand, we did the math and found that it makes more sense for those who have the budget to buy from a company that requires an equipment purchase. Such companies often have lower monthly fees so the savings are greater in the long run. SimpliSafe and Ring Alarm come to mind, as they have exceptionally low rates for professional monitoring at $17.99 and $20 a month, respectively. Read more in our SimpliSafe pricing and Ring Alarm pricing pages.
Did You Know: Unlike some alarm companies, Alder serves homeowners and renters alike. On top of that, they don't check credit scores, so Alder is worth considering if you're having trouble getting approved with other traditional alarm companies.
Additional Components
Other than home security components, Alder offers equipment for medical emergency response and environmental monitoring that promote life safety. Experts agree that the early detection of incidents such as gas leaks, falls, medical emergencies, and fires can save lives1, which is why Alder offers components like medical emergency buttons, smoke alarms, and CO sensors. But what's the cost? Well, Alder offers such devices as add-ons that must be purchased and paid for upfront. The same goes for security cameras, extra door/window sensors, extra motion sensors, and key remotes. All in all, we spent about $400 on cameras and a smoke alarm.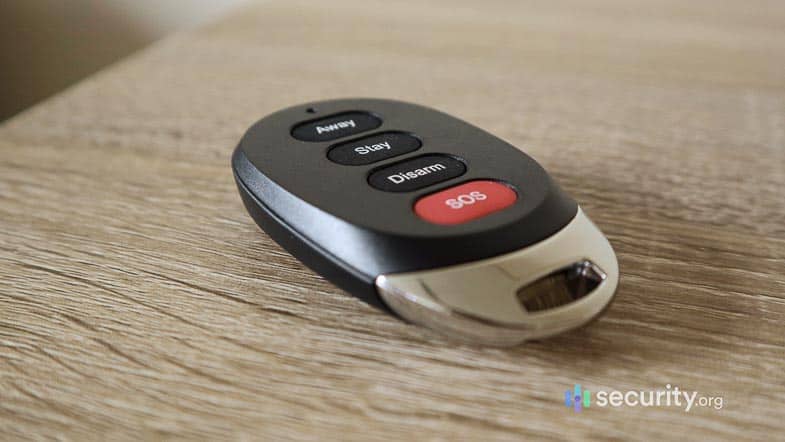 Once again, we don't have a price list for you — sorry, Charlie! You can contact Alder if you want to find out — or even haggle — the price of the components you are looking to get. What we do have is a list of the add-on components offered by Alder:
Extra Door/Window Sensors
Extra Motion Sensors
Key Remotes
Indoor Cameras
Outdoor Cameras
Arlo Audio Doorbell
Smoke Alarms
CO Detectors
Medical Buttons
Yard Signs and Window Stickers
Pro Tip: Before calling Alder to shop, prepare a list of components and devices that you need. Doing so will help you avoid getting upsold by sales reps.
Free Installation: DIY & Professional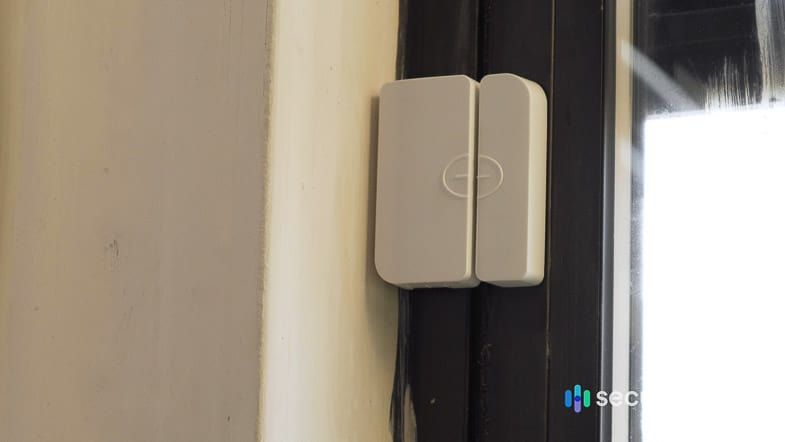 After rounding up all the components we needed, we proceeded to the installation. Alder can either be self-installed or installed by a technician. Either way, there's no installation fee. That offer is hard to come by. Although DIY systems are often free to install, most alarm companies we've tested charged a fee for professional installation, usually around $100 to $200. If you're not fond of paying for installation, Vivint happens to include professional installation with any security system purchase, and monthly plans start at $39. For more, read our full Vivint cost and package breakdown.
Monitoring Costs: Contracts, Policies, and More!
Now, for some bad news, there's a lock-in period — otherwise known as a monitoring contract — that lasts for at least three years. During that period, canceling the service will incur an early termination fee equivalent to 90% of the contract balance.
Just looking at the numbers made our heads spin, but we soldiered through and made this chart as a sample. Note that this is only an estimate based on the quote Alder gave us. Alder sales reps give customized quotes, so actual prices and fees may vary depending on where you live and whether or not Alder is running promotions at the time of your purchase.
| Plans | Basic | Standard | Premium |
| --- | --- | --- | --- |
| Estimated Monthly Rate | $40 | $50 | $60 |
| Key Features | Basic Home Security | Advanced Home Security + Life Safety | Advanced Home Security & Life Safety + Video |
| Total Cost in 1 Year | $480 | $600 | $720 |
| Total Cost in 3 Years | $1,440 | $1,800 | $2,160 |
| Early Termination Fee if canceled after 6 months | $1,080 | $1,350 | $1,620 |
| Early Termination Fee if canceled after 12 months | $864 | $1,080 | $1,296 |
| Early Termination Fee if canceled after 18 months | $648 | $810 | $972 |
| Early Termination Fee if canceled after 24 months | $432 | $540 | $648 |
As you can see, the early termination fee can be pretty high, so it's best to sign with Alder only if you're sure you can finish the contract. Fortunately, Alder has a couple of customer-friendly policies that can lessen the burden.
First, there's a 30-day, money-back guarantee. All customers have 30 days to cancel after activating their systems. Alder will refund all payments made and cancel the contract without termination fees, provided that the customer can return all the equipment, including accessories, manuals, and boxes. The customer will shoulder the return shipping costs.
Second, Alder has a price-lock guarantee that locks in the rate once you sign the contract. This policy takes away Alder's right to increase the rate for the first three years. Once the contract expires, though, Alder will once again be free to increase their rates as they like.
Hot Tip: It's always a good idea to read contracts thoroughly before signing them. If you have any questions about Alder, don't hesitate to clarify things with your sales rep.
Does Alder Integrate Well With Others?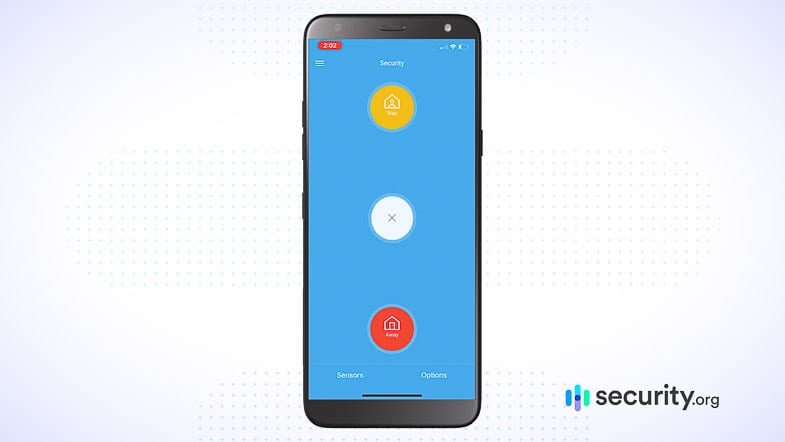 As part of our value assessment of Alder, we also looked at all the possible integrations of Alder with third-party smart home and security voice assistants and brands. Alder integrates well with both Alexa and Google Assistant, the two most popular smart home voice assistants. Both integrations allow for hands-free voice control, as long as you have smart speakers that use either of the two voice assistants. You can use voice commands to check up on your security system status, arm or disarm your sensors, or check your alert history. We'd like to note, though, that while the Alexa integration is well-received by Alder customers, the newer Google Assistant integration only has a two-star rating from Alder users.
That wasn't always the case, though. In previous years, Alder offered a touchscreen control panel made by 2Gig. That control panel connected to Z-Wave3 smart home devices, so home automation was very much a possibility back then. But with Alder's switch to using proprietary equipment, most home automation features were scrapped, at least for now.
Is Alder Better Than Others?
Finally, let's look at how Alder compares to the competition. Although most security systems seem alike on the surface, we know for a fact that each system is unique. For Alder, its uniqueness is thanks to the company's fast response rate. According to them, in 2017, they recorded an average response time of 3.4 seconds. That's more than three times faster than the likes of ADT, which took 15 to 30 seconds to respond to new activity when we took a deeper look at the system in our full ADT review.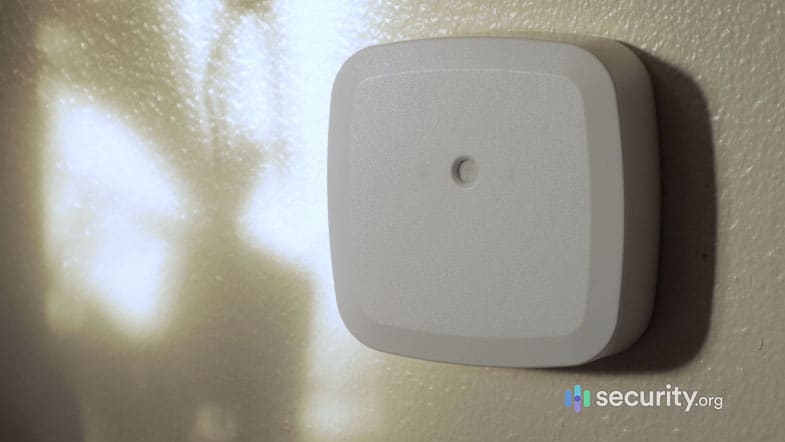 When it comes to technology, though, Alder is still a long way from becoming the best. Alder's lineup of security sensors, life safety sensors, cameras, and medical emergency buttons is meek in comparison to ADT's well-developed product line. And in the smart home vertical, Vivint is way ahead. Although Vivint uses proprietary equipment like Alder, they offer a smart thermostat, and their systems work with the two most popular voice assistants, Alexa, and Google Assistant. Plus, we were able to use a lot more commands to control Vivint with our voices than we could with Alder.
Still, Alder does a lot of the little things right. The system itself is simple, which is more than can be said for ADT and Vivint. Alder also doesn't have installation fees, while ADT and Vivint both require professional installation with fees of around $100 or more, depending on how well you negotiate. These small things make Alder a formidable rival to both ADT, Vivint, and other traditional alarm companies. And if the last five years are any indication, Alder will likely become a force to be reckoned with. They were named one of the fastest-growing in the state of Utah in 2016, after all.
So What's the Bottom Line?
Alder is a simple system thanks to its easy setup process and touchscreen controller, but it's also fast and reliable because of Alder's exceptional response rate and cellular backup. Plus, we appreciated their lack of upfront costs and willingness to serve homeowners and renters regardless of their credit scores. With that being said, Alder does have some shortcomings. Our biggest concerns are Alder's limited equipment options and lack of rich smart home features. The long-term contracts and cancellation fees were quite off-putting as well. But if you could live with those things, Alder is surely a strong candidate to protect your home.
FAQ
We hope that answers all your questions about Alder, but if you have more, check out these FAQs!