Alder Home Security Review
Does Alder have the fastest emergency response ever?
What We Like
15-Minute Installation — The system was as easy to install as advertised. Although Alder offered to provide a technician for professional installation, we're glad we chose to self-install as it only took us about 15 minutes to get the system set up.
Touchscreen and App Controls — While we were home, we used the touchscreen panel to control our Alder system. Whenever we were outside, the Alder app provided us a means to control and monitor our security system.
Free Base Equipment Package — You read that right! We didn't pay for the base package, which included a control panel and some sensors. The catch? Well, we had to sign a three-year contract. That said, Alder is a great option if you have a limited budget to work with.
What We Don't Like
Unclear Pricing — We didn't find any pricing information on Alder's website, so we had to phone their sales department to request a quote. On the bright side, the sales rep helped us work out a good deal.
Long-Term Contract — A long-term contract was required, especially since Alder doesn't require upfront equipment payments for base systems. Still, three years is a long time to be locked into a service.
Limited Equipment Options — On one hand, we were glad to see life safety and medical emergency components in Alder's lineup. However, its smart home game was quite limited. Alder didn't offer as many security components as Vivint, a system with a dedicated Vivint Doorbell Camera and Vivint Outdoor Camera Pro. Also, Vivint's prices are higher than Alder's, for the most part.
Bottom Line
From installing it in 15 minutes to using the touchscreen panel or app to control it remotely, we had a lot of fun testing out and using our security system from Alder. The 30-day money-back guarantee didn't hurt, either!
While many alarm companies struggle to stand out, Alder piqued our interest with their promise of a simple security solution and speedy emergency response. In particular, Alder claims to have recorded an average response rate 10 times faster than other monitored alarm companies. Color us intrigued!
If you have never heard of Alder, you're not alone. They flew under our radar for a large part of the last decade. We only started noticing them thanks to their zealous marketing campaigns. Well, that and Alder's rocky past with ADT. But we're not here to judge Alder's past. Rather, we are here to share our experience with their security system, monitoring, and customer service. So, without further ado, let's get started.
Alder Home Security Features
| | |
| --- | --- |
| 24/7 professional monitoring | Required with all systems |
| Length of contracts | 3 years |
| Cellular backup | Yes |
| Return policy | 30 days |
| Estimated monthly cost | $40- $50 |
Editor's Rating
Fast response rate
Easy, DIY installation
Free equipment
Where Alder Stands
Alder cracked our top 10 list of the best security systems of 2023, so it's certainly a company to watch. In fact, only the best of the best security systems (listed below) managed to outscore Alder.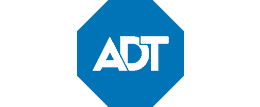 How Well Did Alder Work?
Simplicity is one of Alder's key selling points, and it showed during our tests. Alder was incredibly easy to install. We didn't need special tools or a computer to set it up. We simply followed their Quick Setup Guide and got finished in about 15 minutes, just in time for the pizza we ordered!
Once we set up the system, we controlled it using the tablet-like control panel whenever we were home and using the Alder app while we were away. We liked that the panel had a touchscreen interface with large buttons, as it made it easy for our clunky fingers to control the system. The interface wasn't complicated at all, either, which we appreciated whenever we were running late for work. The control panel was always ready to arm with just one touch.
Although we didn't have any break-ins while testing Alder (thankfully!), we accidentally set off the alarm a couple of times. The emergency response was speedy and straightforward; the central station checked on us immediately through our registered phone number as well as directly through the alarm panel itself. We explained how we forgot to disarm the system after entering, and they were very understanding. They waived the alarm soon after, but not before they confirmed our identity using the safe word we set up when buying the system.
The Alder Components We Tested
Now let's talk about the individual components we received. We purchased a base system, which was free with a three-year monitoring agreement, as well as equipment upgrades to test out Alder's cameras and other components. The equipment upgrades cost us about $400, but the sales rep was reluctant to share the breakdown of their price list.
Touchscreen Control Panel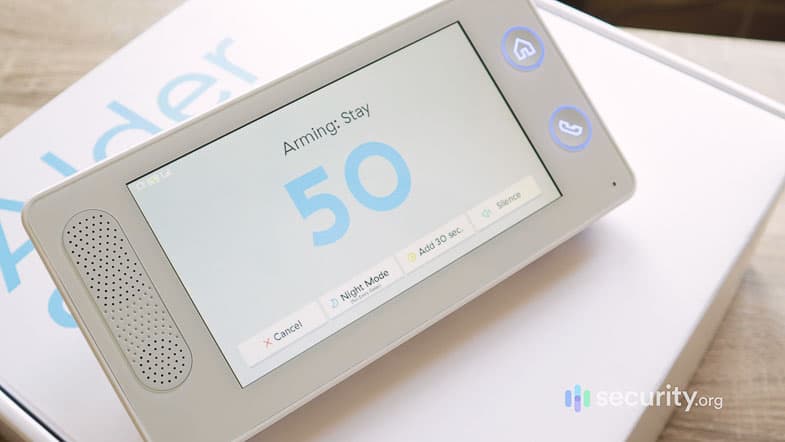 Is it a tablet? Intercom? Keypad? Well, the touchscreen control panel is all those in one. In a nutshell, we used this device to control our security system. It didn't need a landline connection or even Wi-Fi. Rather, its connection was 100% cellular, so it was reliable and ran even when our internet went out (which happens all too often). And because the control panel also had backup batteries, at night, we placed it on our bedside table for easy access. During the day, we plugged it into a wall outlet to keep it powered and to recharge its batteries. We were told it could last for up to 24 hours on a single charge, which should be enough to weather typical blackout.
As for the intercom part, we mentioned earlier that the central station contacted us through the touchscreen control panel. Well, it also worked the other way around. The control panel had a Call button so we could initiate a call to the central monitoring station in case of an emergency. Just don't use the call feature for any other purpose. No one likes a boy (or girl) that cries wolf!
Door/Window Sensors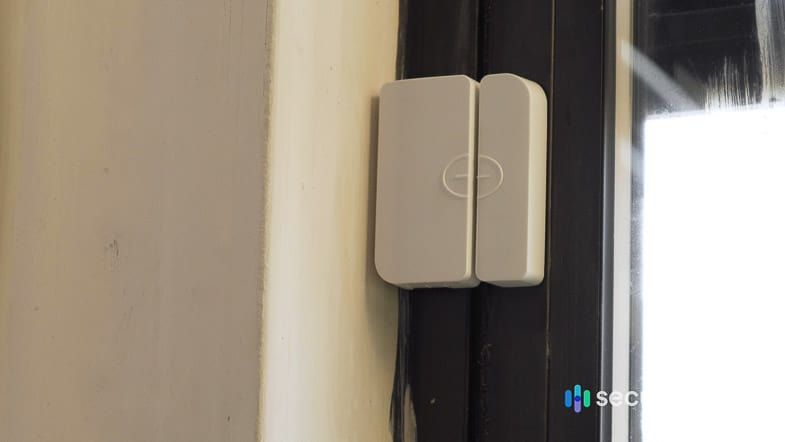 Studies show that over 66% of burglars enter homes through doors and windows,1 so it's not safe to rely only on plain old locks anymore. We decided to use door/window sensors as our second line of defense, attaching the sensors on our front and back doors. The sensors alerted us whenever those doors were opened while Alder was armed. They also alerted Alder's central monitoring station, so when we forgot to disarm the system after entering, the monitoring center called to check on us. We felt safer knowing that someone was watching our doors for us even if a burglar picked our locks or we forgot to lock our doors, which has happened before. Hey, we're not perfect!
Maintenance Tip: Alder recommends testing sensors at least once a month. You can do so on the touchscreen panel under Settings > System > Test System > Sensor Signal Walk Test.
Motion Sensor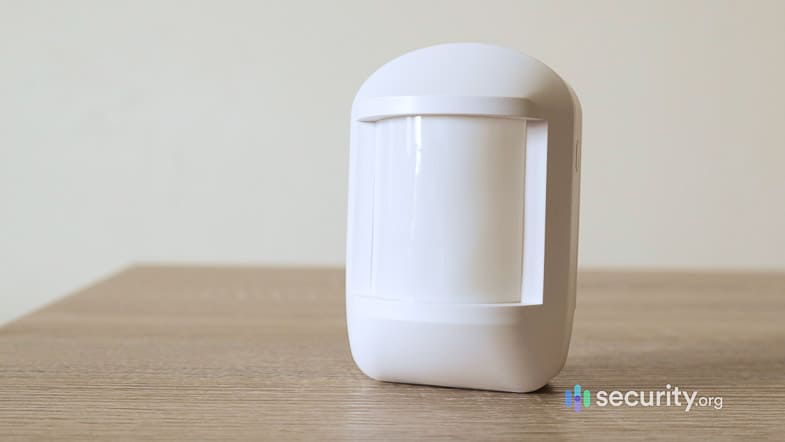 The package only came with two door/window sensors, which we used on the front door and the back door, leaving our windows unprotected. Rather than buying additional door/window sensors, we opted to be creative and use the motion sensor instead. We placed it in a central hallway in between the entrances to our kitchen, living room, and bedrooms. That way, if a burglar crept in through any window and walked around our house, the sensor would go off.
Alder's motion sensor can monitor an area up to 45 feet away from the camera. It has a 90-degree field of vision, which is a bit narrow, but should provide enough coverage if you place it in a high corner facing about 45 degrees downward. That way, if someone walks past, the sensor has a high chance of picking up the movement.
Life Safety Sensors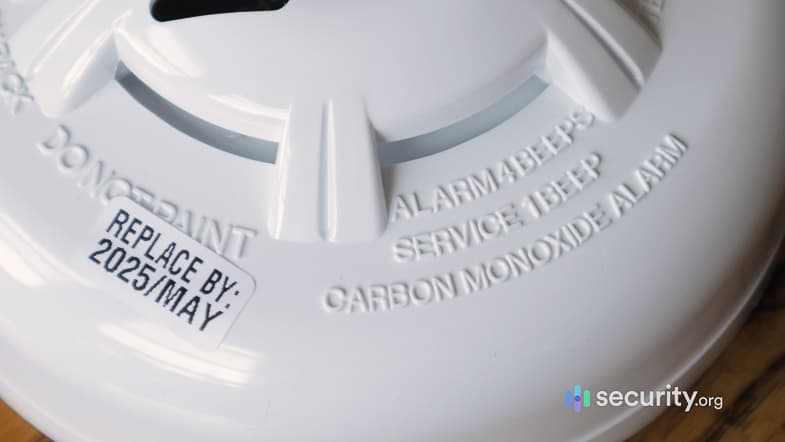 To further increase our home security, we decided to purchase equipment upgrades. Under life safety, the Alder sales rep made sure to offer us smoke alarms and medical emergency buttons. We passed on the medical emergency button, but we purchased their smoke alarm, which was a little different than our existing ones. Instead of waiting for smoke to appear, it alerted us as soon as a rapid increase in the temperature was detected. During our controlled tests (don't worry, we didn't burn down our house), Alder's smoke alarm alerted us faster than our traditional smoke alarms three out of three times.
Security Cameras
All the components we discussed so far are proprietary, which means Alder is the only one using them. Security cameras were the only exceptions. For indoor video monitoring, we purchased a YI indoor camera, which we've also seen packaged with Cove home security systems. For outdoor use, we bought the Kami outdoor camera, both products by YI Technology. We took a closer look at YI cameras' privacy stats to get some background. Now, let's see if they're up to snuff!
YI Technology Indoor Camera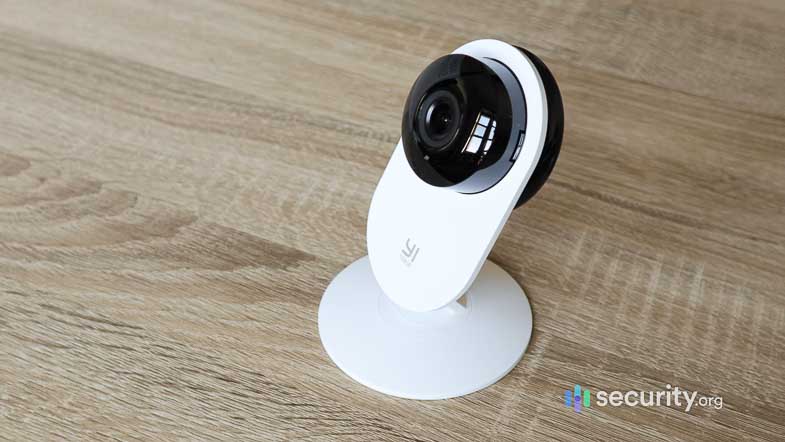 With a minimalist design but powerful hardware, the YI Technology camera was our go-to device for checking our house. It streamed live videos to our smartphones, alerted us when movements were detected, stored videos locally and in the YI cloud, and even gave us the ability to talk to guests through two-way audio. The 1080p video quality produced superb videos during the day, while infrared sensors vision made nighttime videos more clear. Our only qualm about the camera was its limited field of vision. We placed it in our living room, and it always left a pretty large blind spot no matter how we positioned it. Digging further, we noticed that it only had a 112 degrees diagonal field of view, a bit more narrow than we would normally like. We recommend at least a 120-degree viewing angle when choosing a security camera to avoid those pesky blind spots.
Kami Outdoor Camera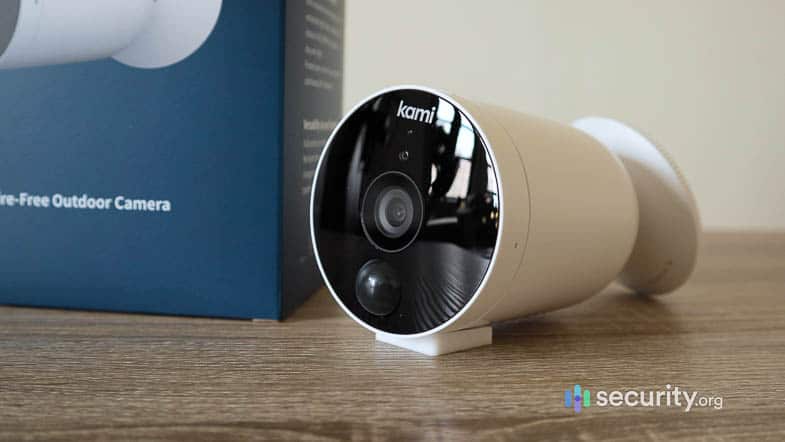 Although we used the indoor camera more often, there were times when we needed eyes on our front yard. With a 1080p HD resolution and color night vision, the Kami outdoor camera helped us see guests, delivery persons, and door-knockers without actually opening the door. The two-way voice feature also came in quite handy. We usually used it to tell the Amazon delivery guy where to place our packages so that they didn't get stolen while we were away.
Like the indoor camera, Kami detected motion events and alerted us of such. As an added feature, the camera has an AI algorithm that can distinguish humans from pets, vehicles, and other moving objects. This feature was helpful, especially since our camera faced a busy street. With the person detection feature, we cut down on false alarms.
Installing Alder in Under 15 Minutes
Now, you're probably wondering how we managed to install all those components in 15 minutes. Well, our years of experience dealing with security systems helped, but the main factor was Alder's straightforward approach. We simply followed their three-step installation guide to set up the base system:
Plug in and set up the control panel.
Place the sensors.
Download the Alder Security app.
The first step took the longest as it involved connecting the sensors to the panel, setting the disarm PIN, and adjusting the settings. Once we finished those steps, the rest of the process was a breeze. All in all, we spent less than 10 minutes setting up the touch screen panel and sensors.
As for the cameras, we used the Alder Security app to connect them to our Wi-Fi network. Each camera took about three minutes to set up with the help of in-app instructions.
Of course, we decided to install the system ourselves. Alder offers free professional installation (another great thing about Alder, we might add), so that's an option if you prefer having a technician come over to take care of everything. We only chose not to take Alder's free installation offer to save time. Rather than waiting for the pro to show up and do a 15-minute job, we decided to take it upon ourselves, and we're glad we did, as it saved us money without requiring too much from us.
FYI: Alder's website offers useful support articles and product documentation. They also have video tutorials on how to use different features. Use those if you're having trouble with the installation.
Professional Monitoring With Alder
After setting everything up, Alder activated the professional monitoring of our security system on the same day. Professional monitoring was part of the three-year contract we signed with Alder, so all alerts going forward were sent both to us and Alder's monitoring stations.
Alder takes great pride in its professional monitoring services. They claim that in 2017, they responded to "2,376,033 medical, fire, and burglary alarms in an average of 3.4 seconds or less." That's an impressive number, and it did seem accurate. When we accidentally triggered our alarm on more than one occasion, Alder called us in less than five seconds. Other companies we tested usually responded after 30 seconds or more. Great job, Alder!
There's one thing we'd like to clarify, though. While Alder's 3.4-second average response rate is impressive, it doesn't always translate to a faster police response. The agent still has to verify the alarm and report the incident to the proper authorities. That alone could take minutes. Some cities do require alarm verification by a security guard before dispatching the police.2 The bottom line is that the police response time rests on several different factors, so don't expect cops to show up within seconds despite Alder's outstanding response rate.
Hot Tip: You can set up a Hostage Code on Alder's control panel. If you're ever in a hostage situation and the offender asks you to disarm the security system, enter the Hostage Code, and Alder will discreetly send the cops your way.
Home Automation and Integrations
Being the tech junkies that we are, we always try to find ways to integrate the systems we are testing with the products we currently own. We were happy to find out that Alder works with both Alexa and Google Assistant, similar to what we saw when we reviewed Frontpoint. With both integrations, we were able to control Alder through hands-free voice commands, using only our smartphones and the smart speakers we already had lying around.
You might notice that the Alexa skill description also mentions setting smart thermostats connected to Alder using your voice. That applies to older Alder systems that use a GC2 touchscreen control panel, which had Z-Wave capabilities, so it connected to Z-Wave smart thermostats and other home automation components. Alder's proprietary control panel that replaced the GC2 no longer has that capability.
On-The-Go Security With the Alder App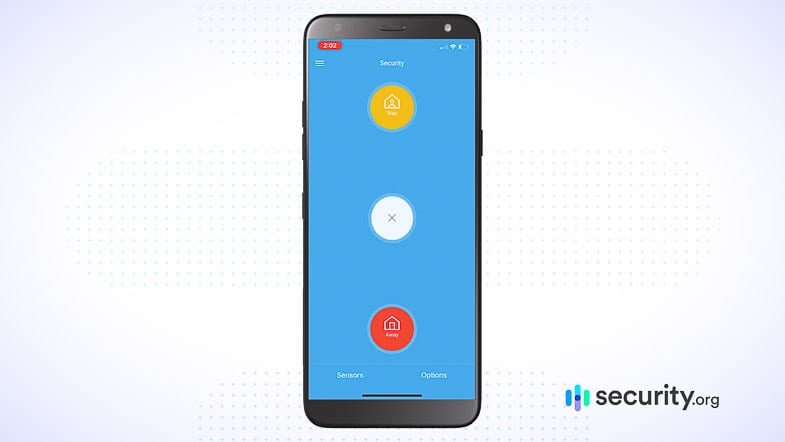 While we're on the topic of technology, Alder has a smartphone app called Alder Security, which served as our control panel away from home. We tested it both on our iPhone and our Android phone. It was a simple app that controlled our security system and showed us what's going on in our house through live video feeds coming from our security cameras. As far as functionality, the app didn't offer many features. It didn't let us automate the arming and disarming of the system through schedules or geofencing, for instance, which would have been of great help to forgetful people like us. However, the app did its job well most of the time, so we're happy.
Not all Alder customers would agree with us, though. The iOS version holds a 3-star rating, while the Android version has a 2.7-star rating. Many of the critical reviews compared the current app to an older Alder app powered by Alarm.com. It seems that the transition didn't go well for some customers, resulting in below-average ratings.
Video Review
We didn't just write about Alder Security; we also created a video review to show you exactly how it works and what the cameras' footage looks like. Watch below to see it in action!
Alder's Policies
Alder's monitoring contracts are at least three years, so we wanted to make sure their policies were not one-sided. Of course, there were policies that are really hard to justify, like early cancellation fees, but there were also good ones that benefited us (a.k.a. the customer).
For instance, they gave us a 30-day trial period with a money-back guarantee. Normally, customers use this guarantee to cancel their contract if they find that Alder is not the best fit for them. When we bid farewell to our Alder system after we were done testing it out, Alder took it back with no questions asked. They also refunded our initial payments minus the return shipping cost, which we think was a fair deal. Another policy was the price-lock guarantee. Basically, Alder promised us in writing that our rate will never increase for the first three years, one of the benefits of a long-term contract.
Customer Support
Beyond testing Alder's equipment, monitoring, and app, we also tested their customer service. We had the opportunity to try the quality of their support team when one of our door/window sensors started acting strange. The sensor showed up just fine on our control panel when we ran a connectivity test, but it couldn't set off an alarm even when the system was armed.
The agent we spoke with was very knowledgeable. He guided us on how to troubleshoot the system over the phone until we eventually found the issue. The culprit? Well, our back door opens outward, so whenever we opened it, the sensor went out of the control panel's range. We found that, although the control panel has a 100-foot range, our walls intercepted the signal. What are the chances of that happening?
In the end, the agent suggested we move the control panel closer to the back door or switch the placement of the sensor and the magnet. We followed the latter so that the sensor part (the larger piece) stayed on the doorframe, while the magnet (the smaller piece) attached to the door, and lo and behold, it solved our problem.
Our Conclusion
Looking back on our experience, we can honestly say that Alder delivered on their promise of a simple yet fast-acting security system. So what's our recommendation?
We have one final piece of advice: Before consulting Alder over the phone, prepare a list of what you want from your security system, and stick to that list. Alder's sales reps are great at their jobs. They won't hesitate to offer you additional products and services if they see an opportunity, so unless you put your foot down and say, "This is what I want," you might end up buying more than you originally wanted. Other than that, Alder is a great system to check out.
Frequently Asked Questions
Many of you have asked us more questions about Alder Security, and we're answering them below.