Xfinity Home Security Review
Our experts tested out the Base Home System from Xfinity, and here's how well it worked.
What We Like
Affordable professional monitoring: Depending on which plan you choose, the monthly monitoring cost is only $30 to $40 a month.
Works with other IoT devices: Xfinity has partnerships with other Internet of Things companies like LIFX, Philips Hue, August, Kwikset, and more, allowing for convenient home automation.
Cellular backup: Xfinity's monthly fee covers cellular backup, ensuring that your system is on even if the power is not.
What We Don't Like
No self-monitoring: There's no way to avoid monthly fees with Xfinity, even if you pay for your equipment upfront.
No integrations with voice assistants: We couldn't use Alexa or Google Assistant to control our Xfinity security system hands-free.
Professional installation required: The motion and door/ window sensors, part of all of Xfinityt's systems, need to be professionally installed for a fee.
Bottom Line
Most people know Xfinity as a cable and Internet provider, but they also offer a home security system with affordable professional monitoring. The $30 to $40 a month fee also covers cellular backup, which kept our system on even when the power went out.
When you think of Xfinity, "home security" probably isn't the first thing that comes to mind. Now, we use Xfinity for our home's cable and the Internet, so when we found out that they also had a security system available, we were intrigued if not a bit skeptical. To be honest, their Internet hasn't worked out super well in our experience, and the Xfinity streaming website is less than bug-free (which can be frustrating, especially if we're watching important content such as Bravo reality TV). But that doesn't mean the home security will be disappointing as well.
Since burglaries are more likely to occur in urban and suburban areas1 (we're writing to you from Brooklyn, New York), we knew we had to get a home security system, and stat, so we took the plunge and signed up for Xfinity's security service. Let's see if Xfinity is the right security system for you!
Quick Feature Breakdown
| | |
| --- | --- |
| Price | $360 |
| Touchscreen controller | 1 |
| Door/window sensor | 3 |
| Pet-friendly motion sensors | 1 |
| Cellular backup | Yes |
Editor's Rating
Highly-rated iOS and Android apps
Person, vehicle, and pet detection available with Home Security Plus
Professional monitoring and cellular backup for $30 or $40 a month
Our Thoughts On Xfinity Home Security
Xfinity Home is definitely an intriguing security system, mainly because of how well it plays together with other Xfinity and Comcast services. That said, if you're not currently a Comcast or Xfinity customer, you may want to look elsewhere. See why in our Xfinity vs ADT comparison page, where we compared Xfinity with our top-rated security system ADT. And see other top-rated options below.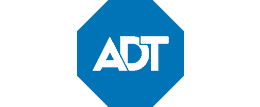 What's In The Xfinity Box?
We bought the Base Home System from Xfinity, which included a touchscreen controller, three door/ window sensors, one motion sensor plus a yard sign. Here's a little bit more info on our experience using each device.
Touchscreen Controller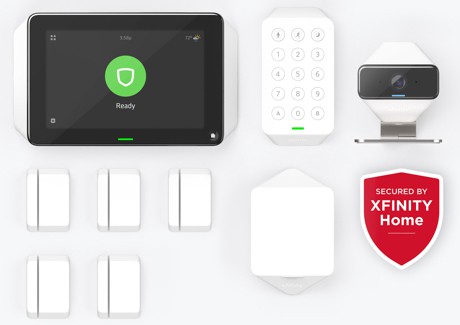 We placed the touchscreen controller right near our side door, as that's where we enter and exit our home most of the time. That way, we could disarm our system as soon as we returned home, and vice versa. But that wasn't the only thing we could do on the controller. We got notified whenever any of our sensors went off, but if we didn't want to be disturbed, we simply turned on Do Not Disturb mode. The screen also displayed the time and weather, which was helpful while we scrambled to get ready each morning. Plus, we could view recent events and control connected devices from the controller, as well (more on these later). But the most important thing the controller has is the ability to send emergency alarms. Just hold a button for two seconds and boom— the alarm will sound and the monitoring team will contact the police for you, which fortunately we didn't have to do. But don't worry; if you click the emergency button by accident, you can easily cancel it by inputting the same keypad code you used to arm/ disarm your system in the first place. No harm, no foul!
Pro Tip: Some Xfinity touchscreen controllers come with built-in cameras and microphones, so be careful when you're picking yours out.
Door/ Window Sensors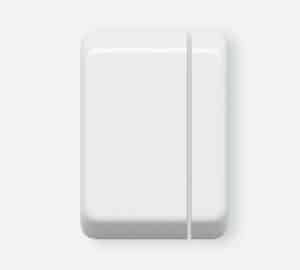 To catch intruders as soon as they entered our home, we installed door/ window sensors on the ground level so we could get alerted ASAP if they were opened or closed. Totally wireless, it was easy to stick these sensors onto the frame of the door or window, as well as the door or window itself.
Motion Sensor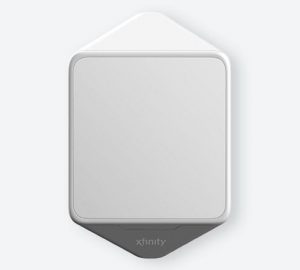 We placed the motion sensor in a corner of our front hallway for maximum coverage for 50 square feet, which covered a nice portion of the front of our home. Now, we don't personally own any pets, but if you have a pet 85 pounds or under, the motion sensor won't detect it. Rather, you'll only be alerted when people walk by when the system is armed.
Overall, this is a really minimalist system, although we could've added a number of different add-ons like cameras, keypads, and the like. But for our small house, the Base Home System was sufficient, and reasonably priced at only $360. We've seen security systems cost thousands, so this didn't break the bank too much.
Installation with Xfinity
Now, being home security experts, we're used to installing systems ourselves, a process otherwise known as DIY. But with Xfinity, things worked a little bit differently. Parts of their system, i.e the smoke detector, motion sensor and the door/ window sensor, must be professionally installed. That's pretty unusual these days, as most systems have DIY installations like SimpliSafe.
FYI: With any system, you'll have to get at least a portion of it professionally installed, so be prepared to haggle the price.
The system we bought only had one component that we could install ourselves, and that was the touchscreen controller. But since all of our other components required professional installation, we decided to roll everything over to the pros to make our lives easier. That means that, while we sat back and relaxed, a technician came and installed everything for us, testing each part as he went on. Now, this wasn't free; we paid about $100 for installation, but the price will differ based on your equipment and where you live. We wish Xfinity was more transparent about their installation pricing, but we guess you can't have it all.
Xfinity's Monitoring Options
Want 24/7 professional monitoring and cellular backup? You're reading the right review. Monitoring and backup are required with Xfinity, so you'll have to pay a monthly fee no matter what. For us, that was fine, but if you want to avoid monthly fees and self-monitor only, we'd recommend checking out Ring Alarm. But if you're okay with fees, you'll appreciate that you'll either pay $30 or $40 a month with Xfinity, which is pretty low compared to its competitors (ADT's pricing, for example, can be up to $60 a month).
Monitoring Plan Breakdown for Xfinity
| What you get | Home Security Plan | Home Security Plus Plan |
| --- | --- | --- |
| 24/7 professional monitoring | Yes | Yes |
| Smart home control | Yes | Yes |
| Notifications | Yes | Yes |
| Cellular backup | Yes | Yes |
| Live-streaming | Yes | Yes |
| App access | Yes | Yes |
| Works with Xfinity X1 | Yes | Yes |
| 24/7 video recording | No | Yes |
| Motion-activated recording | No | Yes |
| People, vehicle and pet detection | No | Yes |
| Monthly cost | $30 | $40 |
More good news: Xfinity didn't make us sign any long-term contract. Since we paid for our equipment at once, our monitoring fees were month-to-month. However, for those that did sign up for the financing option, they'll have to pay for monitoring until the equipment is fully paid for.
Of course, we don't want to bog you down with too many details, so we made a super-comprehensive guide to Xfinity's pricing if you want to learn more.
How Xfinity Worked With Other IoT Devices
One of the best things we could do with our Xfinity security system was connect it to other IoT devices in our home. We were very pleased with the sheer number of devices that Xfinity works with, which included:
Caséta lighting
August smart locks
Chamberlain garage door openers
Sengled lighting
Hue lighting
Kwikset locks
GE lighting
ecobee thermostats
Cor thermostats
LIFX lighting
Yale locks
Tile Bluetooth trackers
That's a mouthful, but it made possible tons of automations. Need some ideas? We had our Hue lighting automatically turn on in the front hallway whenever our system was disarmed, meaning we just got home. We also had our August smart locks close automatically whenever our system was armed, meaning we've left. Now, we never have to worry about leaving the door unlocked again, just one thing to cross off our list of anxieties!
But while Xfinity works with devices from third parties, it doesn't work with any voice assistants like Alexa or Google Assistant. That's a bit of a bummer, as companies we reviewed like ADT and abode work with both, but if voice assistants aren't your thing, this may not matter much to you. One saving grace is that if you have Xfinity X1, their cable, and streaming service, then you'll be able to livestream your footage on the big screen and do voice commands using the wake word "Xfinity Home". Completely hands-free, you'll be able to livestream footage and cloud storage, control scenes, or groups of connected devices like light bulbs, or even arm your system. While we didn't personally test this out as we don't have Xfinity X1, it seems like a good option for those that do.
Customer Support, Xfinity Edition
There's almost nothing as dreaded as customer support, and with a company that's known primarily for cable and Internet, we don't have high hopes when it comes to Xfinity. But, keeping an open mind, we checked out the options at hand. There's an online support center as well as a live chat feature. Plus, for the more social among us, you can even get help over Twitter, Facebook or Reddit, as well as Xfinity's user forums. But for the more old-fashioned people reading, you'll be able to request a call or call them directly if you prefer.
Call us anti-social, but we opted to use the live chat feature after not being able to find some information on the online help center. After going back and forth with what was clearly a robot, we were siphoned into the sales queue, where we were 36th in line. There was no option to have them email us, which was a bit annoying, so answering our single question took about an hour. Overall, it's safe to say that customer support isn't Xfinity's strong suit.
The Xfinity Home App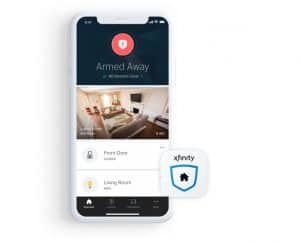 Sure, all Xfinity systems come with professional monitoring, but that doesn't mean that we didn't want to get in on the action too. From the Xfinity Home app, available on the Apple and Google Play stores, we could remotely arm and disarm our system (useful for when the house sitter had to get in the house to water our plants), control and automate connected devices, and receive notifications if any of our alarms had gone off. If we had the camera, this is also where we would've been able to livestream footage.
If you are interested in an Xfinity camera, it's good to know that this one was made specifically for Xfinity and is built to record in up to 1080p HD quality. This was a simple, plug-in, indoor/outdoor device that you can control with ease from the Xfinity Home app, and it doesn't require that you buy a larger Xfinity system with professional monitoring. Instead, you can opt for a Self-Protection Plan and pay up to $10 per month for cloud video recording and storage.
In general, we had an easy time using the Xfinity Home app, and other customers seemed to agree; the app has 4.5 stars on the Google Play store and 4.4 stars on the Apple store, which is really impressive. Whether you're an iPhone or an Android user, Xfinity's security and smart home app works well.
Find out if Xfinity can protect your home like other security systems
Wondering if Xfinity is right for you? We squared it up with the best systems available to help you make a smart decision.
Closing Thoughts
For many people, Xfinity's security system could work well to protect their homes, but it's probably a better option for those who actively want professional monitoring and cellular backup. On the other hand, if you want to save some money and self-monitor, Xfinity won't make much sense. Here's a breakdown of exactly who we think it would be good for:
While we wish Xfinity gave its customers some more flexibility and options when it comes to monitoring, installation, and voice assistants, this smart security system will still keep your home safe, which in the end, is the most important thing. Even just having a good home security system will increase your home's protection2, so Xfinity will at least make intrusions less likely.
Frequently Asked Questions
Many people aren't aware that Xfinity offers home security, so when they found out, questions abound.