Vivint Outdoor Camera Pro Review
Although Vivint's outdoor camera is expensive, we were more than impressed with its 4K HDR sensor, person detection and 85-decibel siren.
What We Like
Vivint compatibility: If you're already in the Vivint security system and want to control everything from one app, then this camera makes sense.
Professional installation: If you're not a DIY type of person then you'll appreciate Vivint's full service, included in the $399 price tag.
Person detection: Not only can the Vivint Outdoor Camera Pro detect people, but it can also tell when they're loitering on your property, prompting the red light ring, warning tones, and a notification for you with the person's image.
What We Don't Like
Affordable price: At $399 for the camera and professional installation, this is one of the more expensive outdoor cameras that we've come across.
Free storage: While some companies provide both cloud and local storage for free, Vivint will charge $5 a month for 14 days of 30-second video clips— not the most generous offer in the world.
DIY installation: This ties in with the price in general, as professional installation makes the camera more expensive than it would've been without.
Bottom Line
The Vivint Outdoor Camera Pro didn't just alert us when it detected a person. It also shone a red LED light and sounded an 85-decibel siren, which made robbing our house difficult, if not impossible.
Vivint is a well-known name in the home security game, thanks in no small part to its well-rounded range of products. One of these products is an outdoor camera, aptly named the Vivint Outdoor Camera Pro. Of course, in order to use this camera, you must have a Vivint security system, so it's definitely not for everybody.
In this review, we look specifically at the Vivint outdoor camera in terms of video, audio, night vision, and more; basically, all the important factors that make for a smart outdoor camera. Is the Vivint Outdoor Camera Pro worth its $399 price tag? We'll find out.
Before we start, though, we'd like to point out that the unit we reviewed was the first-gen Vivint Outdoor Camera Pro, which was impressive in its own right, but not as nice as the second-gen Outdoor Camera Pro. (We'll mention the differences between the two models throughout.) Also, if you buy a Vivint Outdoor Camera Pro now, what you'll most likely get is the second-gen model, which hit the shelves in 2022.
Editor's Rating
4K HDR sensor and 1080p HD video
30-days of continuous recording with Vivint Smart Drive
Choice of cloud or local storage
Person detection and activity zones
Video Review
More of a visual learner? Check out our video review of the first generation Vivint Outdoor Camera Pro.
The best defense is a good offense, which means that outdoor security cameras are essential. See how much the Vivint Outdoor Camera Pro costs here.
Camera Features
Vivint Outdoor Camera Pro Features Breakdown
| Camera | Vivint Outdoor Camera Pro |
| --- | --- |
| Price | $399 |
| Field of vision | 140° |
| Resolution | 1080p |
| Zoom | 10x |
| Two-way audio | Yes |
| 24/7 recording | Yes |
| Night vision | Yes |
| Cloud storage | Yes |
| Local storage | Yes |
| Battery or wired | Wired |
| Learn More | View Packages |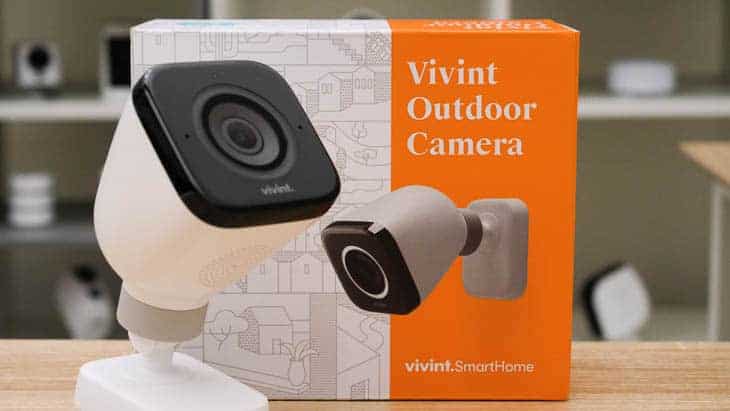 Even on paper, the Vivint Outdoor Camera Pro's features were impressive:
4K sensor: While most cameras are content to be at the industry standard of 1080p HD, the Vivint Outdoor Camera Pro takes it a step further with 4K sensors and HDR for incredibly clear footage.
Two-way audio: A necessary feature, the Vivint Outdoor Camera Pro allows you to speak with whoever's in the camera's vicinity through its speaker and microphone.
Smart Sentry: If anyone is loitering around your home, the camera's LED lights light up automatically and the camera plays a tune to prevent crimes before they happen.
Let's get into a close inspection though.
First Impressions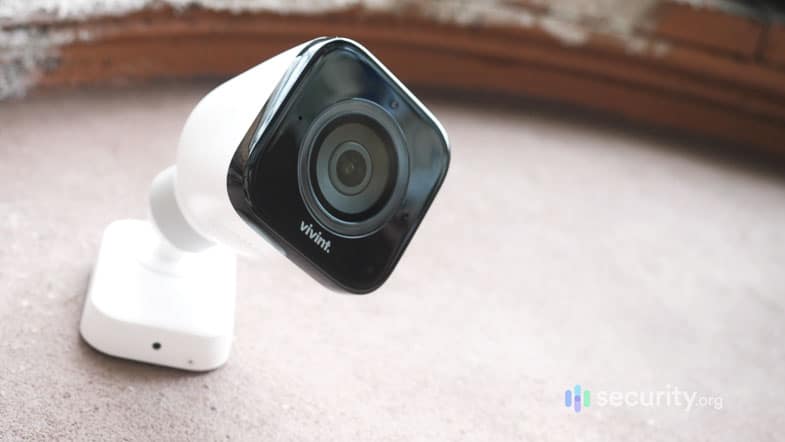 The camera itself was sleek, modern, and minimal in black and white, which seems to be the trend nowadays. While the base and outside of the camera were a shiny white, the face of the camera was black, square with rounded edges, with the round camera lens dead center.
As far as power goes, we had to plug in the camera to a power outlet, which meant we never had to worry about batteries. However, if we hadn't happened to have a plug near where we were mounting the camera, this could have made installation a bit more complicated (more on this later). The camera also used Wi-Fi to connect to the Smart Hub Panel and the other devices on our Vivint system. Read more about the security system in our Vivint home security review.
One of the most unique features of the Vivint Outdoor Camera Pro was the red LED ring around the camera lens, coupled with the camera's 85-decibel siren. For reference, 85 decibels is about as loud as a passing diesel truck or snowblower. Those two features played a vital role in the Outdoor Camera Pro's Smart Sentry function.
With Smart Sentry, whenever the camera detected someone lurking within our property for too long, the LED ring lit up and the siren played a warning tone. Simultaneously, we got a clear thumbnail image of the person it detected sent directly to our phone, which made it easy to monitor our home.
Now, we installed the camera outside our Brooklyn apartment, facing a moderately busy street. Naturally, Smart Sentry activated a lot; one time, it activated when a man stopped to tie his shoe in front of our apartment. Luckily we were in complete control of the Smart Sentry feature.
The first thing we did was adjust the detection zone. We set the camera to activate Smart Sentry only when there are people at our front stoop. We also set Smart Sentry to start detecting only whenever we armed our security system, and when we didn't want to use the feature at all, we simply turned it off. The camera also gave us the option to set how long the warning tone played, from one to 90 seconds, or as long as the person stayed in the detection zone.
Of course, the Outdoor Camera Pro is an outdoor camera, so it needs to be able to withstand wind, rain, sunshine, or snow. To ensure durability, we checked its IP ratings, a two-digit number that represents how susceptible an electronic object is to solids (the first digit) and liquids (the second digit).
| IP Ratings | Solids | Liquids |
| --- | --- | --- |
| 0 | Not Protected | None |
| 1 | A large body surface like the back of a hand, but no intentional contact with a body part | Dripping water falling vertically |
| 2 | Fingers or similar objects | Dripping water falling from 15 degree tilt |
| 3 | Tools, thick wires, etc. | Spraying water |
| 4 | Most wires, screws, etc. | Splashing water |
| 5 | Dust protected | Water jets 6.3mm & below |
| 6 | Dust tight | Powerful water jets 12.5mm & below |
| 7 | N/A | Immersion up to 1m |
| 8 | N/A | Immersion over 1m |
The Vivint Outdoor Camera Pro had an IP rating of 65, meaning it's dust-tight and can handle water jets 6.3 mm and below, which should be durable enough for most climates. As long as we didn't blast it with powerful water jets or immerse it in water, we knew it would keep going.
Necessary Features
In case you haven't read any of our security camera guides before, we always perform our necessary features test on all our security cameras, indoor or outdoor. This test ensures that the camera's technical specifications match up with our actual experience and that our experience matches up with our very high standards. For $399, we figured the Vivint Outdoor Camera Pro would have to blow us away to justify its price. Were we blown away?
Video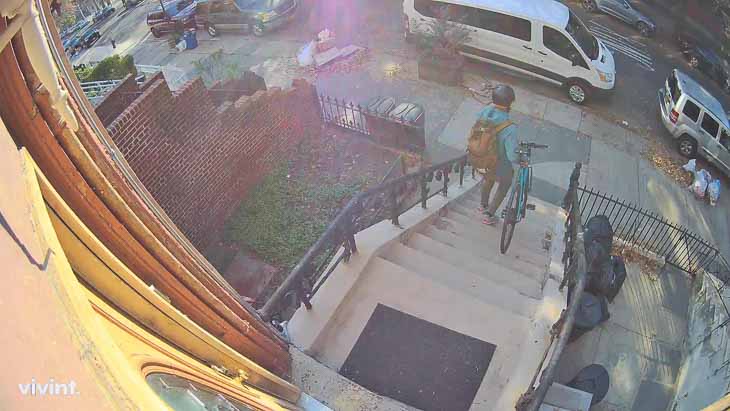 1080p HD is the standard video quality for security cameras, but the Vivint Outdoor Camera Pro went even further with 4K, HDR sensors. HDR is really useful for outdoor cameras in particular as the lighting can be a bit tricky. Basically, the Outdoor Camera Pro knew how to look at outdoor light in a way that didn't create glare or too much brightness, a problem with many outdoor security cameras.
4K means that it's even clearer than 1080p HD, which is already really impressive. We could also zoom in three times optically and ten times digitally for capturing the finer details.
Plus, the camera had a 140-degree field of view, which is very wide. Overall, the Outdoor Camera Pro's video quality blew us away. So far, it has two thumbs up!
Night Vision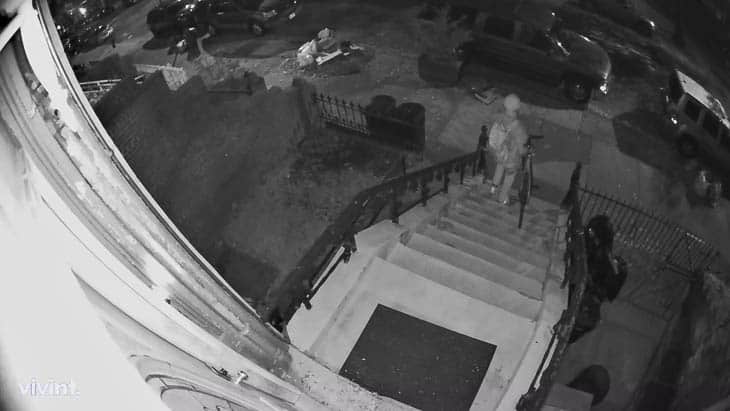 Remember those LED lights we mentioned? They also emitted invisible infrared light at night, which, coupled with the camera's infrared sensors, allowed the camera to see in the dark. The camera had a night vision range of about 55 feet.
While that's not nearly as impressive as the Lorex outdoor cameras we reviewed, 55 feet is enough whether you live in an apartment like us or in a house with a wide front yard. Another full mark for the Vivint Outdoor Camera Pro!
Now, here's one area where the second-gen Outdoor Camera Pro improved. Aside from infrared night vision, the newer camera supports color night vision through an accessory called the Vivint Spotlight Pro. It's a separate device — a spotlight — that attaches to the camera's base and provides lighting whenever necessary.
If someone walks into the camera's frame, the spotlight can shine its white LED lights straight at the potential intruder. It can even follow the person's movement, ensuring that the camera gets a good look at whoever the person is. As impressive as that is, though, the Spotlight Pro comes at a steep price of $249.99. That's on top of the camera's $399.99 price tag, so it's not exactly an affordable pairing. We've seen more affordable spotlight-equipped cameras like the Ring Spotlight Cam Battery we reviewed, which costs around $200.
Audio Quality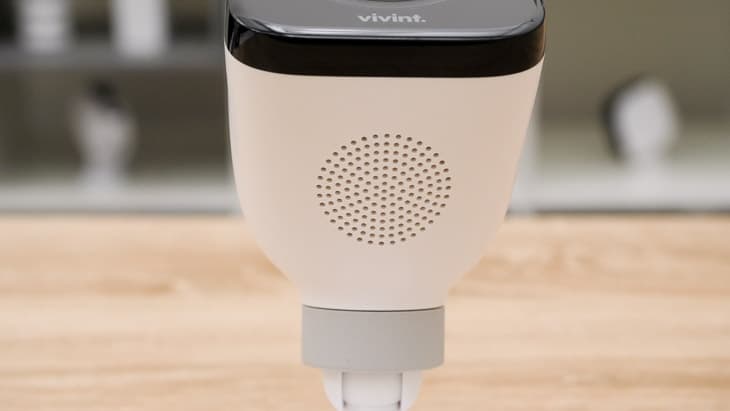 As we said before, the camera had a speaker and microphones, which allowed for two-way audio. We could scare away intruders, say hi to our neighbor when he was walking past, or haggle with a Girl Scout over cookies, all from the comfort of the Vivint app (more on this later).
Now, we'd like to point out that the two microphones on the Outdoor Camera Pro were far-field microphones equipped with echo cancellation. As such, they picked up audio clearly even when the persons we were talking to were several feet away from the camera. Two thumbs up!
Storage
Video storage wasn't Vivint's strongest suit. During our initial review of the Vivint Outdoor Camera Pro, Vivint charged us $5 per month for 14 days of cloud storage on top of the $39 per month monitoring fee we were already paying. Keep in mind that these charges are necessary; we couldn't just drop the monitoring subscription and just pay the $5 monthly cloud storage fee.
As for local storage, Vivint offered us the Smart Drive, a $249 NVR of sorts. It's designed to connect to our Vivint cameras wirelessly and store running videos from them. We didn't take up the offer, but if we did, it would have allowed us to store 1 TB of continuous videos from up to four Vivint cameras.
The new Outdoor Camera Pro supports the same recording options, but in addition, it has a microSD card slot. You can use it to store alert videos locally and skip the Smart Drive, although you can also still use a Smart Drive or pay the monthly cloud storage fee as each option serves a different purpose. The cloud storage allows for the storage of 30-second alert videos in the cloud, while the Smart Drive makes continuous recording possible.
Smart Platform Integration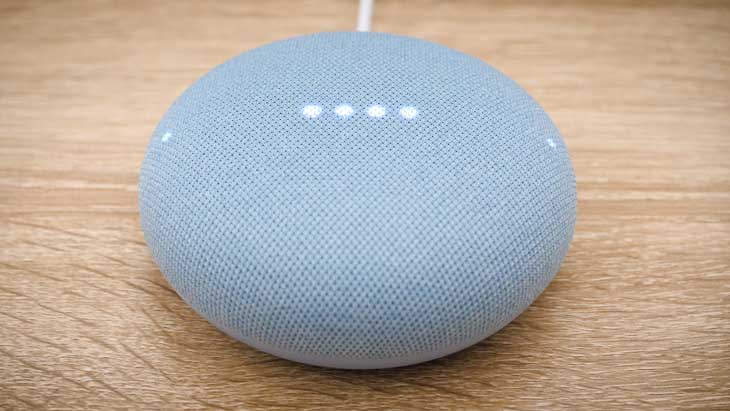 On a more positive note, the Vivint Outdoor Camera Pro worked with Amazon Alexa and Google Assistant, enabling voice commands for those times when we simply don't have our hands free. We liked that Vivint home automation worked with both of the most popular voice assistants, as Vivint customers are in both the Amazon and Google ecosystems. Full marks here!
Related: Google Nest Mini Review
Artificial Intelligence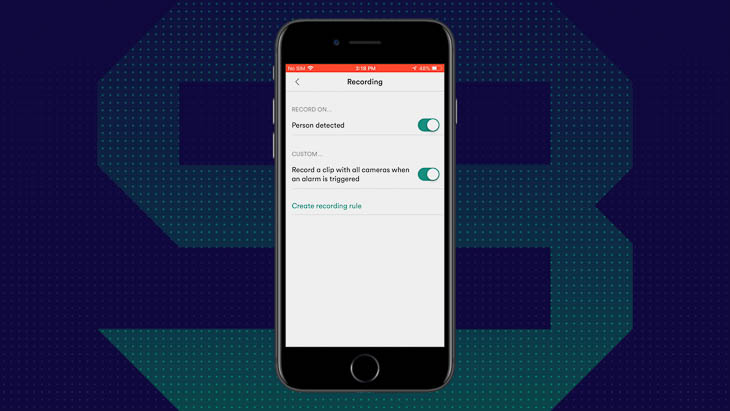 We've mentioned Smart Sentry once or twice already. It's the feature that alerted us if someone was loitering on our property. But this feature wouldn't have been possible without person detection, which allowed the camera to differentiate between people and other moving objects like animals, trees, cars, and more. This was essential in making sure that our notifications were about real people at our door and not just about the fact that our neighbors backed out of their driveway.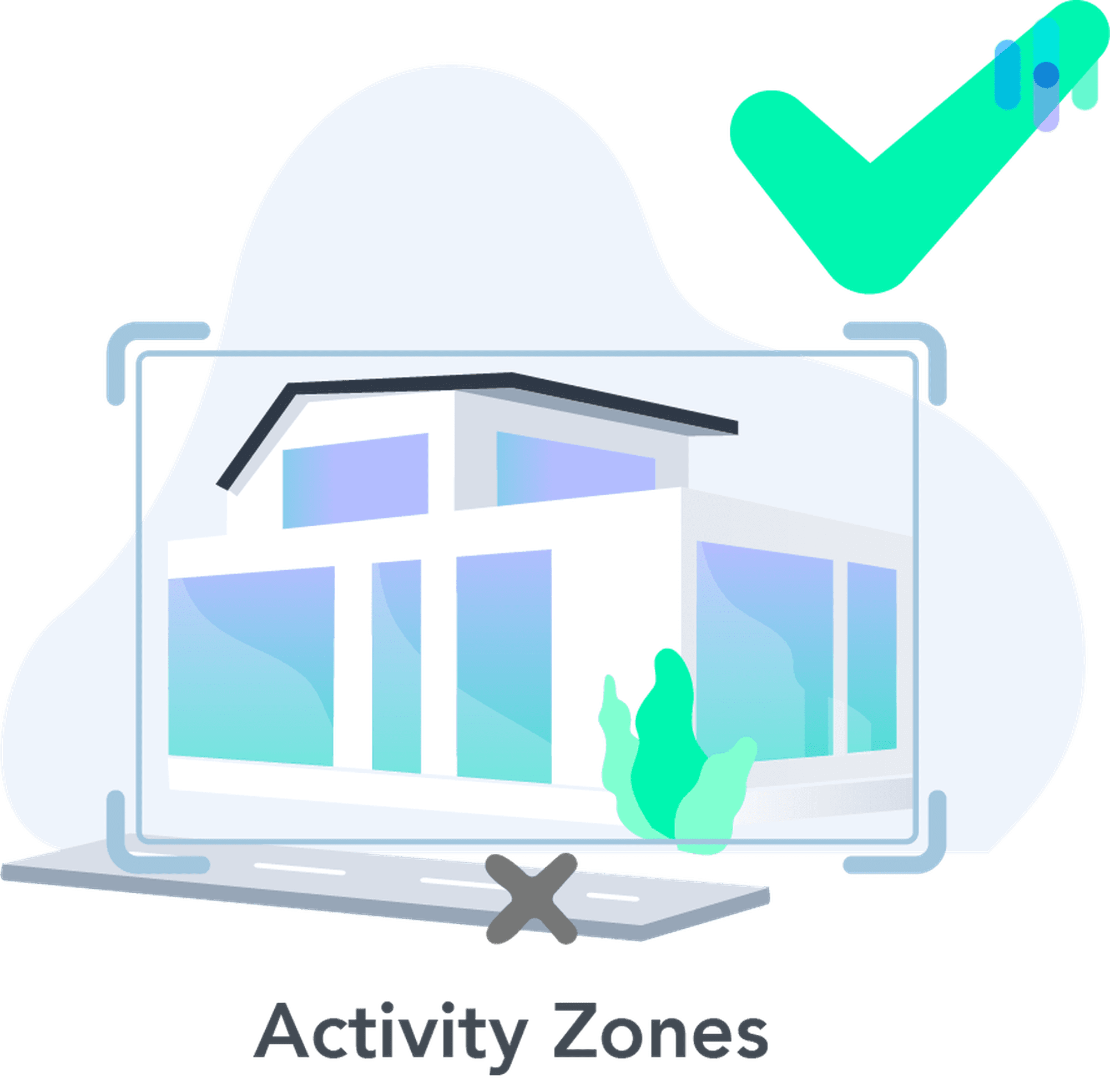 On top of that, the Vivint Outdoor Camera Pro had activity zones so we could tell our camera exactly which areas to pay attention to. That meant we only got notifications about activity on our property and not our neighbor Steve's. Not that Steve isn't great, but in this case, su casa es su casa. Full marks for artificial intelligence!
Convenience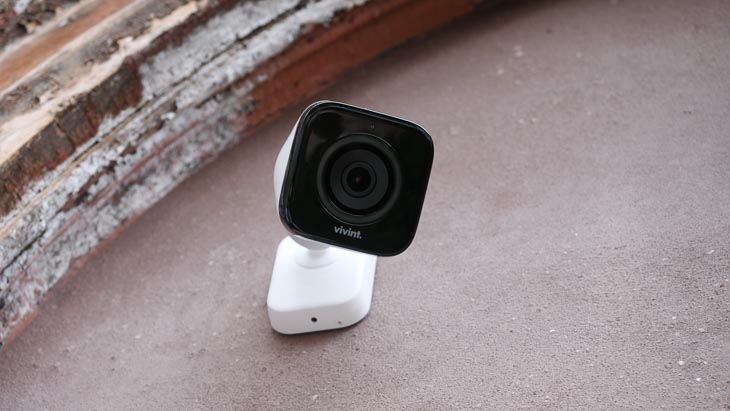 Vivint was one of the only security companies we've tested that required professional installation. The good news is, the installation service was free. We paid $399 for the camera already, so it made sense that Vivint had technicians install it for free. In fact, the company did the same when we first bought our Vivint security system.
That's not a common sight in the home security business; for instance, when we reviewed ADT, the company charged us $99 for the installation. Still, we didn't like that there's no DIY option at all with the Outdoor Camera Pro. We're pretty handy with tools and we know our way around security cameras, so it would have been better if Vivint offered a DIY version of the Outdoor Camera Pro with a lower price tag.
However, once the professional Vivint employee came to our house, we were very pleased. He did everything for us, from drilling to cabling to testing, all while answering our questions along the way. So even though it took a while to schedule, this was a very painless and informative installation process. Full marks for convenience.
Value
Although this camera is very pricey at $399, it's one of the best security cameras we've ever seen in terms of its 4K HDR video, amazing infrared night vision, storage options, smart platform integrations, and person detection. And it's worth noting that for that price, Vivint installed the camera for us with no additional charges. We were already in the Vivint ecosystem, so this camera made a great addition, well worth our money. Again, it wouldn't have been of much use otherwise.
As for the newer model with the same price tag, we're happy with the addition of the microSD card slot as a cheaper local storage option. Of course, it retained all the great features we loved about the first-gen model, so even though we haven't tested the newer model yet, we're quite confident that it's a solid value.
The Vivint Outdoor Camera Pro came with helpful features like a red light ring, warning tones, and person detection. Get it for your home now.
The Vivint App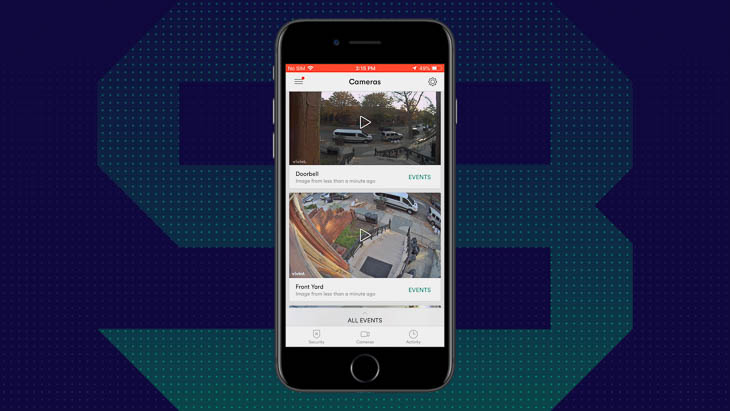 The Vivint app, formerly the Vivint Smart Home app, was where we:
Armed and disarmed camera
Live-streamed footage
Viewed our cloud storage
Received notifications
Spoke through two-way audio
Set up smart platform integrations
Vivint users rate the app with flying colors, with a 4.6 rating on the Apple App Store and a 4.4 rating on the Google Play store. We found it super easy to control our Vivint Outdoor Camera Pro using the app, which is an essential component of any good smart security camera.
Comparisons
Now, let's look at how the Vivint Outdoor Camera Pro stacks up against some other outdoor cameras.
Vivint Outdoor Camera Pro vs. Nest Cam Battery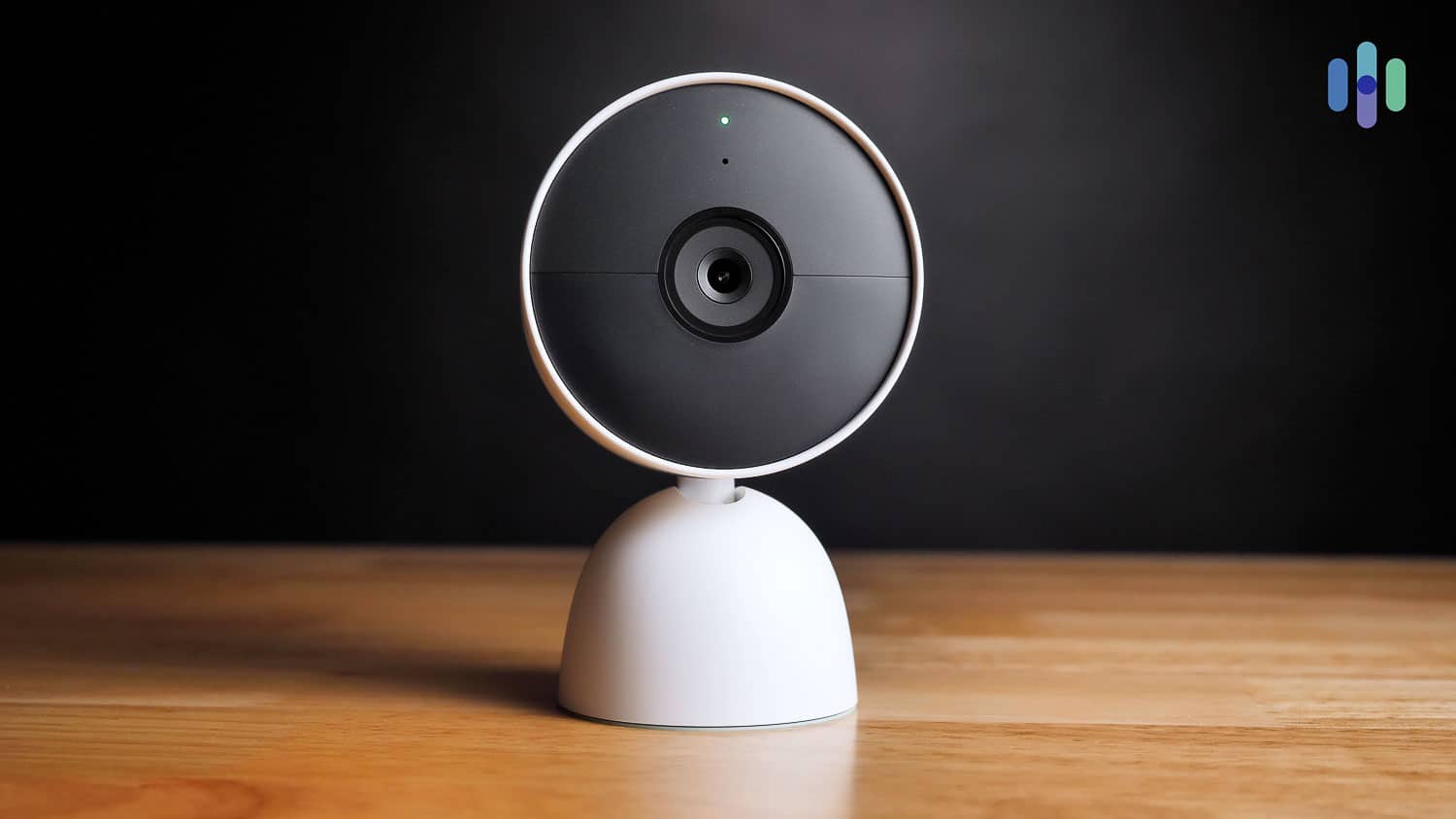 The Nest Cam Battery is a $179.99 indoor/outdoor Nest camera and the latest camera from Google Nest, since the Nest Cam IQ Outdoor has been discontinued. For starters, it has person detection built-in, as well as facial recognition if you add a Nest Aware subscription to it. The facial recognition option instantly puts it ahead of the Vivint Outdoor Camera Pro in terms of artificial intelligence, as the Vivint camera lacks facial recognition.
Also, the Nest Cam Battery runs on batteries, as the name suggests, so you can install it anywhere within your property whether or not there are power outlets nearby. That's a lot of value for a camera that costs less than $200.
Not backing down, though, the Vivint Outdoor Camera Pro wins in terms of video quality. Its 4K HDR sensor captures clearer videos than the Nest Cam Battery's 1080p HD with HDR. Also, the Vivint outdoor camera has a slightly wider field of view at 140 degrees compared to the Nest Cam Battery's 130 degrees viewing angle.
In terms of toughness, the Vivint Outdoor Camera Pro's IP 65-rated housing offers better protection against dust and moisture than the Nest Cam Battery's IP 54-rated housing. And of course, the Vivint Outdoor Camera Pro's built-in Smart Sentry feature trumps the Nest Cam Battery's person detection, as it can deter loiterers and potential burglars actively. Overall, both are great cameras, but the Vivint camera's better-built hardware and Smart Sentry make up for the $220 price difference.
Vivint Outdoor Camera Pro vs. Deep Sentinel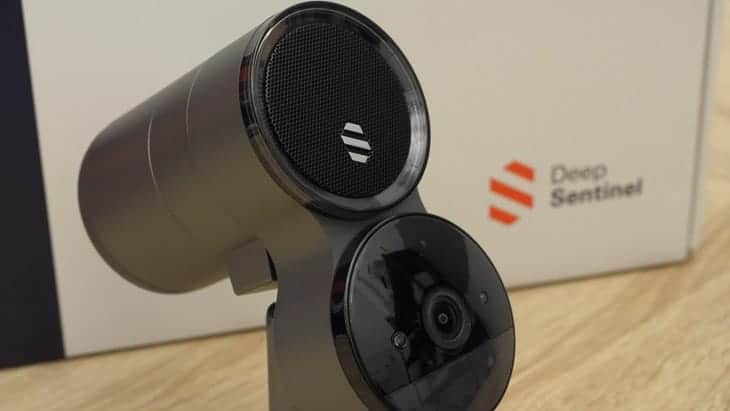 The only other camera we've tested with a feature similar to Vivint's Smart Sentry was the Deep Sentinel camera. In terms of price, the two cameras are on the expensive end. A one-camera kit from Deep Sentinel costs $399, the same as the cost of the Vivint Outdoor Camera Pro.
The kit includes a camera and a hub with 64 GB of local storage, which is necessary to the system. The system also requires a subscription to LiveSentinel, which costs $60 a month for one camera, $100 for three cameras, and $160 for six cameras. So when it comes to subscription costs, Deep Sentinel is more expensive than Vivint.
Now, let's talk about the features. Deep Sentinel's LiveSentinel subscription enables the cameras' AI to detect lurkers and potential thieves, similar to Vivint's Smart Sentry feature. The Deep Sentinel cameras also play warning tones and flash alert lights when they detect possible threats.
In addition, Deep Sentinel one-ups Vivint with live human intervention. Monitoring from Deep Sentinel's central station, a live agent will speak through the cameras' speakers to ward off intruders. That's the reason why LiveSentinel plans are expensive.
On the hardware side of things, though, the Vivint Outdoor Camera Pro still wins. As we pointed out in our Deep Sentinel review, the Deep Sentinel cameras only have a 1080p HD resolution and 130 degrees field of view. The Deep Sentinel cameras don't work with door sensors and motion detection sensors, so you'll need to rely on the cameras alone for your entire home security.
Can Vivint stand toe-to-toe with other brands? Find out below.
We tested Vivint and compared it side-by-side with other brands to give you the full picture.
Recap
Overall, the Vivint Outdoor Camera Pro was impressive! It's hard to match in terms of quality, and it's even worth its high price tag.
To explore other options, check out the best outdoor cameras of 2023 or let us know if you have any questions – I'd be happy to give a personalized recommendation.
Getting our Vivint Outdoor Camera Pro installed by a professional was easy and free. Install yours now.