Brinks Home Security Review
Brinks Review: What Our Experts Think of Brinks
What We Like
Google Assistant and Alexa integrations: If you're already in the Google or Amazon smart home ecosystems, Brinks could fit right in.
DIY installation over free professional installation: With over the phone support, it only took us about 35 minutes to put Brinks together. However, if you sign up for the top-tier plan, your system will be installed on the house.
Cellular backup and professional monitoring included: Everyone who signs up with Brinks pays monthly for 24/7 professional monitoring and cellular backup.
What We Don't Like
Expensive monitoring: Starting at $39.99 a month, Brinks doesn't have the lowest monthly fees around.
Long-term contracts: We had to sign three-year, binding contracts with Brinks, although there is a monthly option available if you use Nest Secure.
Bottom Line
Brinks is a good option whether you're in the Amazon or Google smart home ecosystems. Plus, with support over the phone, we put together our system in less than 40 minutes.
Update: Nest Secure is no longer sold by Brinks or by Google Nest.
Although Brinks certainly doesn't have the name recognition of some other security brands, it's actually been around since 1859,1 believe it or not. What started as bullet-proof trucks to transfer valuable goods (among them the Hope Diamond) became the Brink's Home Security we know today. Today, Brinks products and services are available in over 100 countries. We let our experts loose on Brinks and here's what they thought!
Pro Tip: Brinks isn't the only player in the home security industry from the 1800s. Find out all the cool smart home security tech ADT brings to the table in our unique ADT take.
Key takeaways
| | |
| --- | --- |
| Installation | DIY or professional |
| Control panel | Brinks Home Touch |
| Security sensors | Contact, motion, glass break |
| Environmental monitoring sensors | Smoke, CO, flood, freeze |
| Security cameras | Indoor and outdoor |
How Brinks Compares To The Top Security Systems
Brinks is a strong home security option, but it does have a few flaws. The long-term contract that we had to sign made the system less flexible than SimpliSafe. The smart home integrations weren't as good as Vivint's. And as we share in our Brinks vs ADT comparison, Brinks' monitoring service isn't the best. Check out these top three security systems we've tested for a more well-rounded home security experience:
Editor's Rating
150+ years in security industry
Wireless systems with 24/7 monitoring
Advanced home automation features
More Security.org Recommendations
Check out more of our favorite home security systems.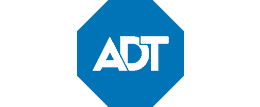 Installing Brinks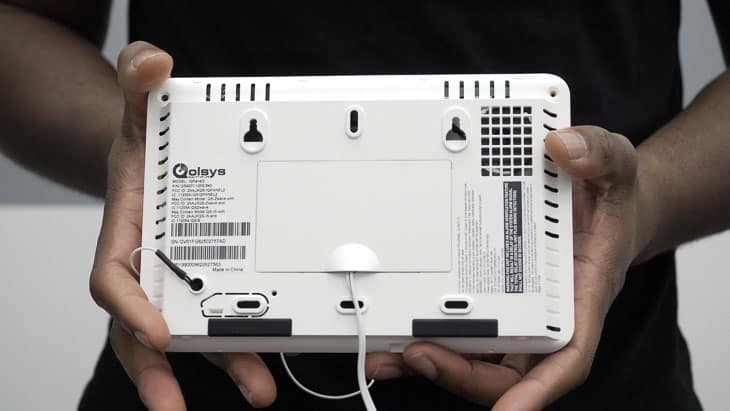 Being a more old-school security company, Brinks uses installation experts to set up their security systems over the phone. However, if you sign up for the Smart Security Ultimate package, you'll get free professional installation.
But we digress. Our installation expert (let's call her Maude) called us and took about 10 minutes to explain how my system is set up. Next, she wanted to do a practice medical alarm call. After about 12 minutes and five failed attempts, she rebooted the system. The call worked…and another 15-minute explanation of the panel itself.
FYI: Although most of Brinks' systems are technically DIY, you'll get support over the phone on the house.
In general, Maude was very patient and understanding. She was willing to go through every detail with us, but also willing to move fast if we already understood something. All in all, the process took about 35 minutes, but we'd imagine it would take three times longer for someone unfamiliar with the system. Afterward, Maude sent us a very nice follow-up email giving me her contact information as well as a link to Brinks' helpful Youtube channel. All in all, it was a nice, personable experience, especially compared to most traditional security companies!
Brinks Video Review
To see Brinks in action, watch our video review embedded below.

What Does the Brinks Home Complete with Video Package Include?
| Brink packages | Components | Package price | Monthly price for monitoring |
| --- | --- | --- | --- |
| Smart Security Essential | IQ 2.0 control panel, 1 motion sensor, 2 door sensors, yard sign and stickers | $360 | $39.99 |
| Smart Security Complete | IQ 2.0 control panel, 1 motion sensor, 2 door sensors, SkyBell Slim Line Video Doorbell, yard sign and stickers | $519 | $44.99 |
| Smart Security Ultimate | IQ 2.0 control panel, 1 motion sensor, 3 door sensors, SkyBell Slim Line Video Doorbell, outdoor camera, yard sign and stickers | $799 | $49.99 |
We ordered the Brinks Home Complete with Video Package which included a Home Touch screen panel, a video doorbell from SkyBell, a glass break detector and a cellular communicator, along with the Brinks Home Indoor Camera, although they've changed their packaging since. They also offer door sensors, motion sensors, and smart detectors for smoke, carbon monoxide and water leaks, but we'll focus on the package we purchased and tested.
Brinks Home Touch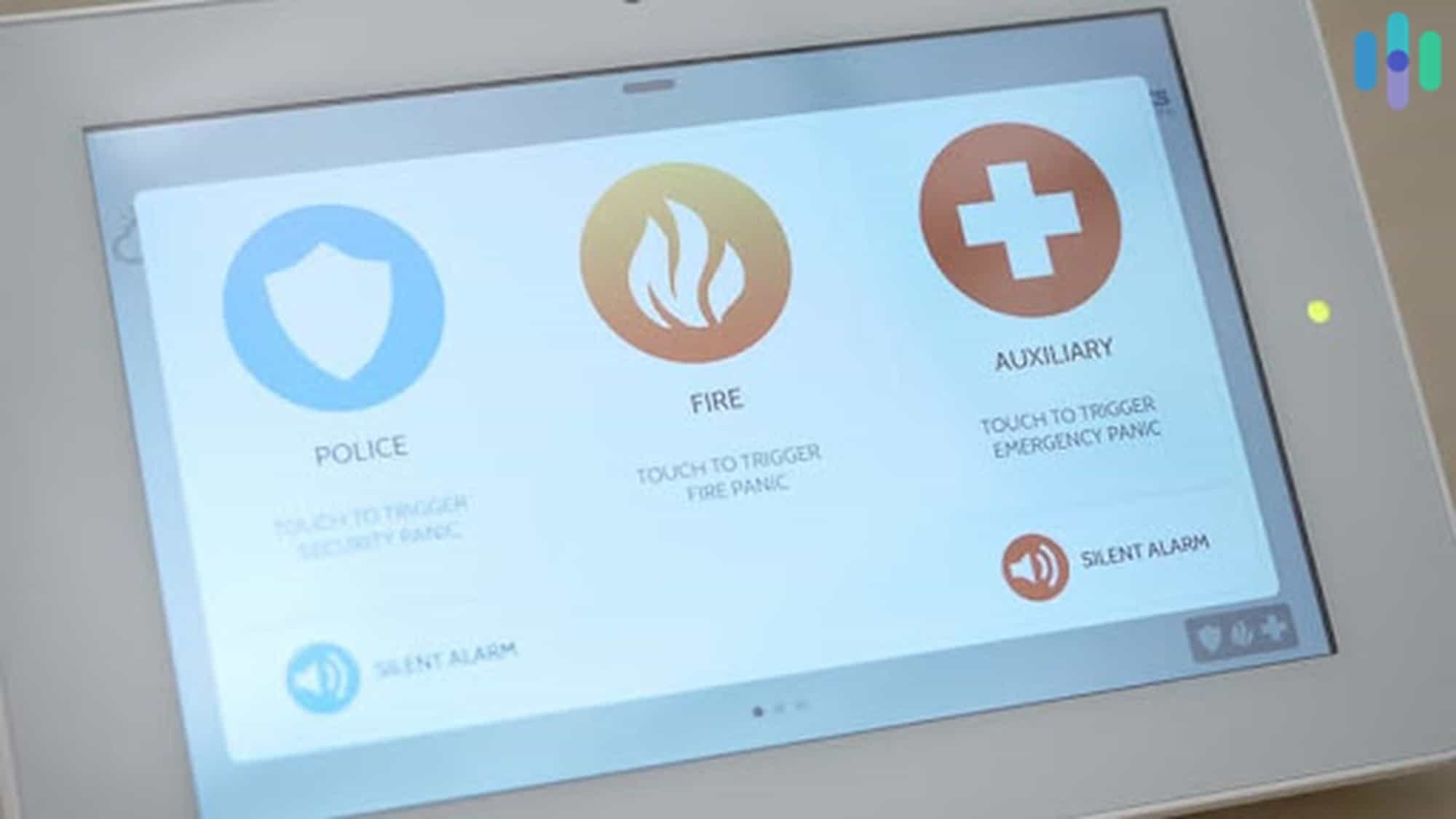 The Home Touch is basically a panel that integrated our entire security system and allowed us to control it on the touchscreen, hence the name. Here, we armed and disarmed our system and even spoke through two-way audio, which was really helpful for communicating with people in different rooms (without yelling, of course). Aside from a speaker and microphone, the Home Touch Smart Home Hub, to use its full name, also has a front-facing camera which let us basically video chat with the kids, much more threatening than just a disembodied voice (kidding!). It even has a slot for a micro-SD card, which stored camera snapshots every time someone disarmed the system via the control panel. If the alarm goes off, the Home Touch plays an 85-decibel siren, which is as loud as if a diesel truck drove through our home. Believe us, we were very startled when we forgot to disarm the system one time!
It's also the Home Touch where the cellular ship is stored, and keep in mind that's there whether you sign up for Brinks Home Complete, their monthly plan, or not. We're really happy that Brinks included cellular backup for its security system, as this means it'll stay on even if the power or your internet goes out. While this may seem like it should be standard, this isn't usually the case, as we've seen from more traditional companies whose systems we've tested.
Skybell Slim Line Video Doorbell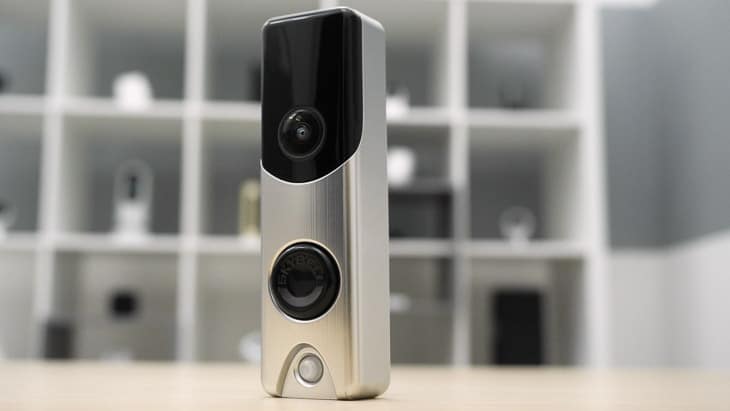 While Brinks doesn't make its own video doorbell, they do offer the SkyBell Slim Line Video Doorbell, a wireless doorbell camera with a battery life of three to five years. We've tested a bunch of different doorbell cameras and finding one that doesn't require an existing doorbell setup is rare, so kudos to Skybell on that. Plus, the doorbell has an incredibly large temperature range. It works in temperatures from negative 40 all the way up to 140 degrees Fahrenheit, which was more than enough for our pretty temperature New York weather.
On the flip side, the Slim Line didn't provide footage that was as clear as we would've liked. It's only 720p HD, which is not up to the industry standard of 1080p HD. And while the shot was extremely wide (180 degrees, to be exact), in our opinion this doesn't make up for the pixelated video display.
Of course, the Slim Line has two-way audio, which lets us actually greet our visitors. We did this either through the Alarm.com app or through the Home Touch. This was especially helpful as we received countless online deliveries and could give the delivery people instructions straight from the source. But at night, we weren't too pleased with the Slim Line's bright white light resulting in color night vision.
Not that we're spies or anything, but a spotlight on a camera is a bit obvious, especially compared to the LED sensors on other video doorbells. Sure, their night vision is in black and white instead of color, but it's less conspicuous, which is important for our home's security. After all, if an intruder noticed a doorbell camera on the front door, he may just sneak around to the side.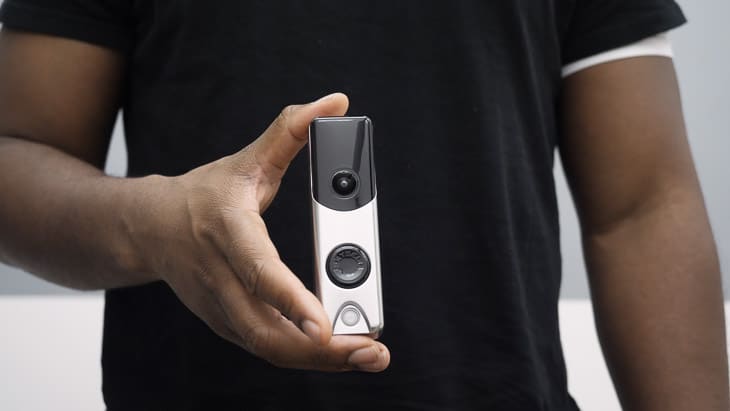 Now, since Brinks is partnered with Alarm.com for their app, we had to store our cloud footage on our Alarm.com account. It was a bit annoying to have to set up what is essentially a third-party account to use Brinks; we would have preferred if everything was under one centralized app. But nonetheless, we got 1,000 video clips stored per month (5,000 more clips would've cost an extra $5 a month, which we declined). In general, we like to have both cloud and local storage, but the Slim Line lacks a slot for a micro-SD card, so instead, we had to download the footage from Alarm.com manually and import it onto a separate hard drive. Again, this wasn't the most elegant process in the world, another drawback of the Slim Line.
Tip: Make sure to backup your footage from Alarm.com onto local storage like a hard drive or micro-SD card.
On top of that, the Slim Line only recorded when it detected motion of any kind, unable to differentiate between people and other moving objects like cars, animals or another inanimate, moving objects. Since our Slim Line Doorbell Camera faced a fairly busy New York street, we received a ton of false notifications, mostly from strangers passing by on the sidewalk and cars driving by, along with the occasional squirrel (yes, there is wildlife in NYC, believe it or not!). It was pretty annoying to have to sort through hundreds of clips of cars, only to find the few clips of actual people visiting or dropping off packages at our house. Overall, the Slim Line isn't the best Doorbell Camera, but it might work better for someone that lives in a more suburban or rural area.
Glass Break Detector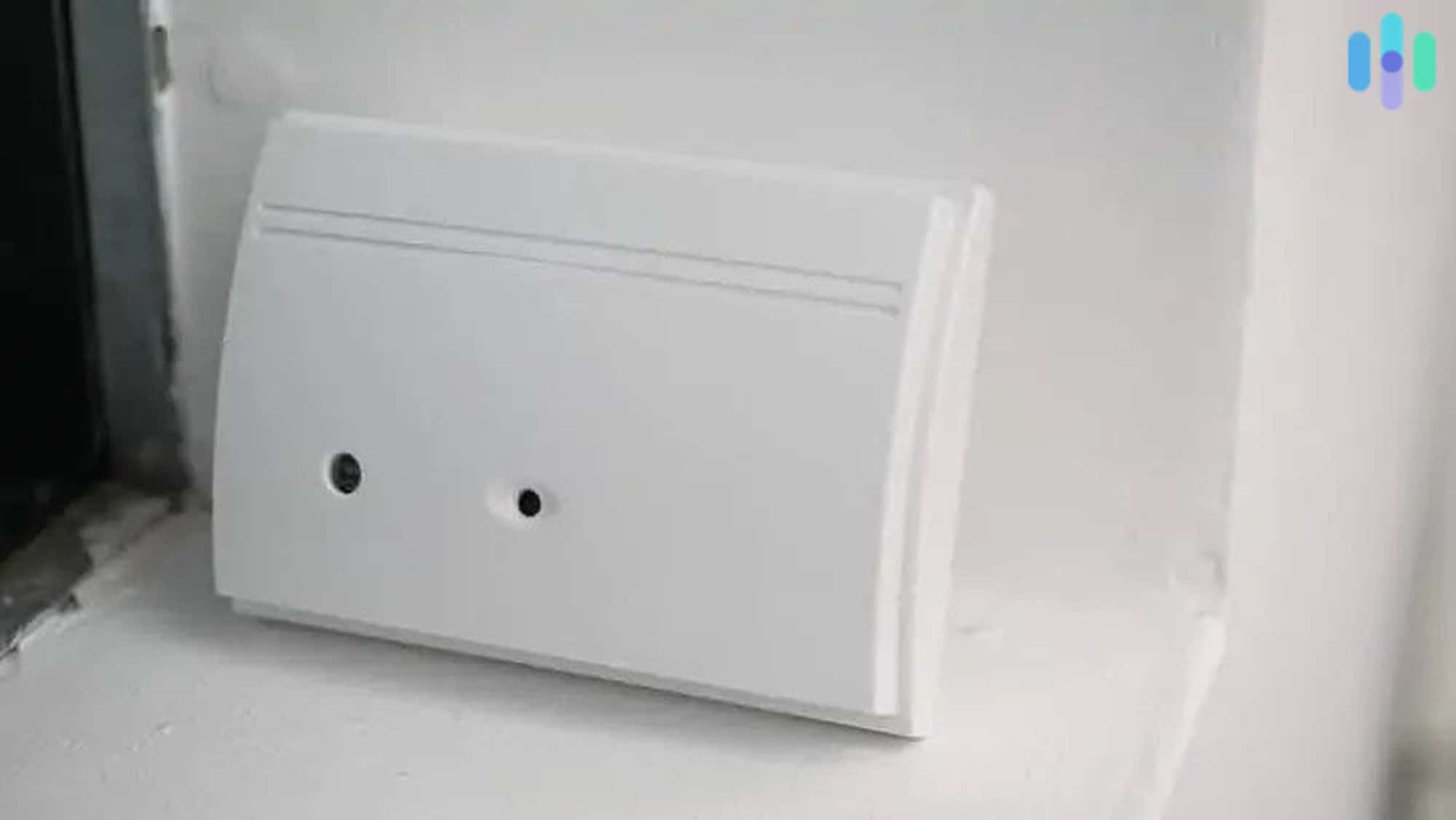 The glass break detector can detect, you guessed it, glass breaking within a 20-foot range. Many intruders will simply break through a window to avoid setting off window sensors, so this wireless device was a welcome addition to our security system. We recommend using it on first-floor windows in particular.
Cellular Communicator
Even though it's 2023, our home's Wi-Fi can be about as consistent as Netflix's original programming, which is to say, spotty at best. On top of that, we definitely don't want our security system to go off with the power, as that'll leave our home completely unprotected. But no fears, as our Brinks system included a cellular communicator from Simon, which makes sure that our system stays on no matter the circumstances. This came in handy when we accidentally cut off power to the house during a renovation.
Brinks Indoor Camera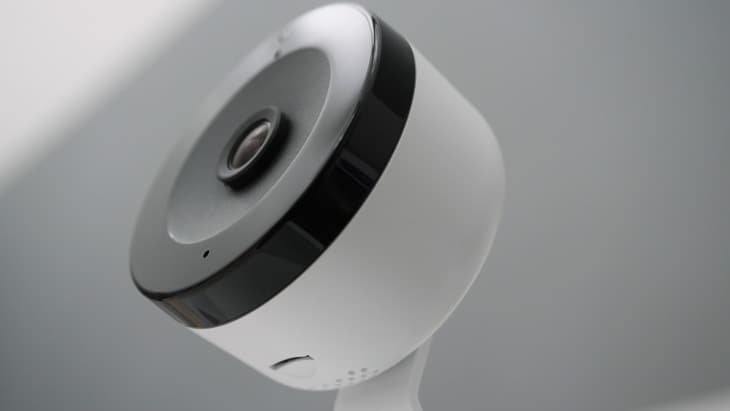 In our opinion, an indoor camera is an essential part of any security system, so we were pleased to see that the video quality was much higher than that of the Skybell Slim Line, at that 1080p HD level we like.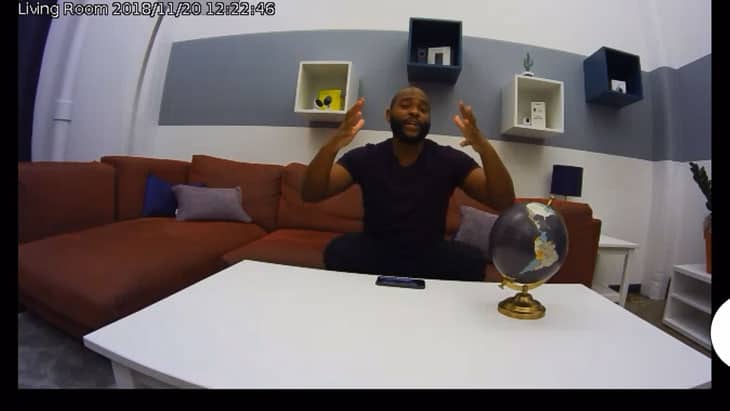 While the field of view was a bit narrow at 113 degrees, ultimately the camera let us see more clearly as to what our kids were doing when we weren't home, especially in regards to homework.
Another advantage is that the indoor camera has that infrared night vision we look for, which as you can see holds up even in the windowless room that we test in. Although our kids wouldn't like it, this let us see them sneaking midnight snacks, although we ultimately decided to let it slide.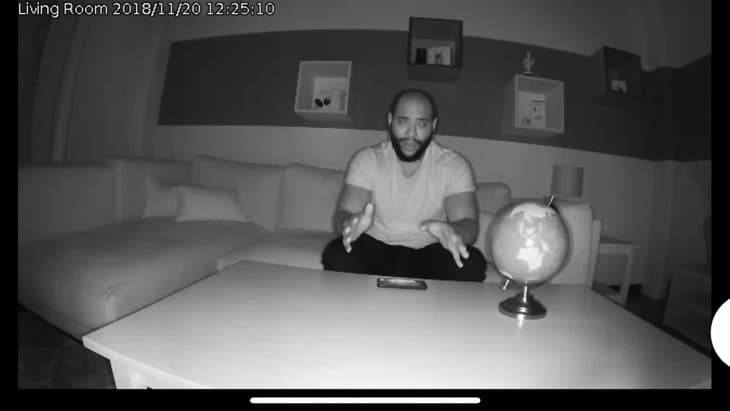 However, that doesn't mean we couldn't tell the kids to get moving on stuff through the camera's speaker and microphone! Storage is the exact same deal as Alarm.com, and unfortunately, the motion detection is the same, with no person detection or facial recognition. However, since this was an indoor camera, we received way fewer false notifications, as not much is going in our living room when no one is home. This certainly made backing up video clips easier, as there were way less to go through. And that's it for the Brinks security system components!
Brinks and Our Smart Home
If we haven't already made it clear, we're obsessed with optimizing our smart home, which is why we're happy that Brinks works with the Alarm.com Amazon skill and Google Assistant2 action.
With Google Assistant, we were able to tell Alarm.com to arm our security system, show us different cameras, and even control connected devices, like smart locks. We enjoyed showing our Brinks footage on Nest smart displays like the Nest Hub Max, almost like a streaming service of our home life!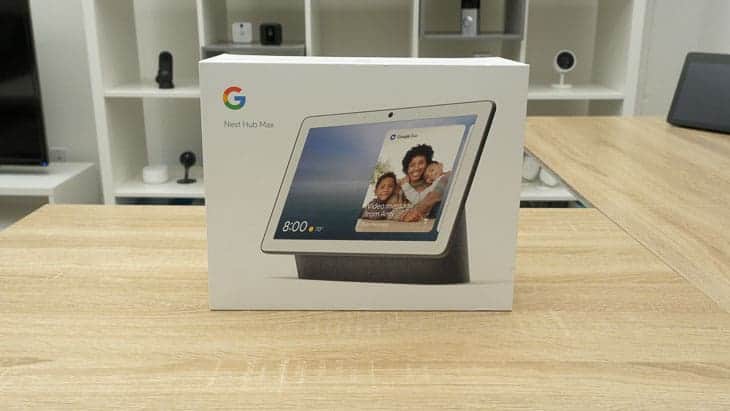 Alexa worked similarly; completely hands-free, we could arm or disarm our system, ask about its status, or control our garage door, thermostat or smart lights. Note that only Alexa let us disarm our system, so if you want to be able to enter your home and turn off your alarms without having to put down all the stuff you're holding, Alexa might be a better option, especially if you already have Echo Show smart displays in your home. But if you have Apple TV, don't fret; Brinks will integrate as well.
Overall, we're very pleased with how easily Brinks fit into our smart home, and if you buy Nest Secure, the options are even more vast. And good news for your wallet, it doesn't cost anymore more money to set up these integrations; they're included with every package.
What Will We Pay Monthly with Brinks?
Let's get straight to it: Brinks tacks on monthly fees with every system, but they will vary based on what system you buy. We covered all of those options in our Brinks pricing and packages guide, but to sum it up, professional monitoring will cost at least $39.99 a month with any of Brinks' proprietary packages. Contracts are three years long.
Brinks Monitoring Overview
| | Home Complete | Home Complete with Video |
| --- | --- | --- |
| 24/7 Professional Monitoring | Yes | Yes |
| Tamper Protection | Yes | Yes |
| Live Voice Assist | Yes | Yes |
| Smartphone Control | Yes | Yes |
| Home Automation | Yes | Yes |
| Live Video Streaming | No | Yes |
| Cloud Video Storage | No | Yes |
| Monthly Price | $29 | $39 |
All of Brinks' Smart Security packages include professional monitoring for either $39.99, $44.99, or $49.99 a month. To be honest, these prices are at the higher-end of the market compared to newer security companies which charge as little as $10 a month for the same features, making monitoring a definite drawback of Brinks. On top of that, we had to sign a three-year contract, and given our commitment issues, this was not ideal. However, Brinks isn't the most expensive company we've reviewed in terms of monitoring; we've seen traditional security competitors charge as much as $60 per month, so compared to this, Brinks is reasonable if not middle of the road.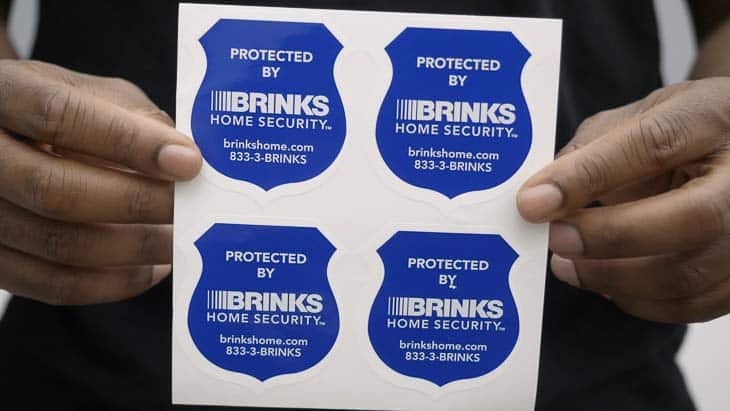 Getting Support from Brinks
We had quite a few options when it came to getting help with Brinks, from live chat to their online help center or by phone. Being the anti-social millennials that we are, we typically opted for live chat, which reminds us of the AIM of simpler times. We are happy to say that we got prompt, informative responses. The only thing and this is nit-picky, is that when we clicked to another page on the website, the chatbox disappeared and we had to start a new conversation with another rep. Just make sure you stay on the same page if you're using the live chat feature.
Similarly, our post-purchase phone call only took about ten minutes, about half the time of other security companies.
The Alarm.com App
To use Brinks, we had to download the Alarm.com app, which we've also had to use in a few other security systems. When we were away from home, it was easy to use the Alarm.com app to check the status of our system, arm or disarm it remotely, speak through two-way audio, receive notifications, and more.
With Brinks, we would have preferred if everything was under one centralized app, like the way Frontpoint and Vivint security systems are structured. With Vivint, all we needed to do was download the Vivint app to access our cameras and store video footage; no third-party account needed. It was a similar process with Frontpoint's system, too. Nonetheless, the Alarm.com app has a 4.7 on the Apple store and a 3.8 on the Google Play store, making Brinks a better choice for iPhones-users.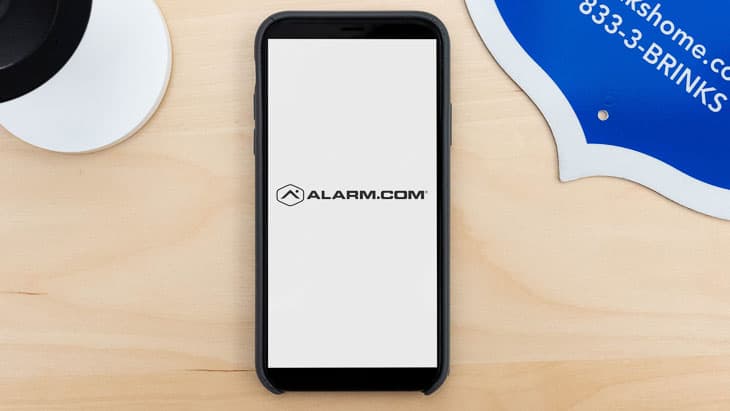 See how Brinks measures up in the industry
Wondering if Brinks is right for you? We squared it up with the best systems available to help you make a smart decision.
Recap of the Brinks Security System
Since we reviewed their system last, Brinks has changed a ton, and it's all for the better; the company has added flexible contracting, an Alexa integration, and even a free, professional installation option, making for a more customizable system overall. They definitely make the list of our top 10 best security systems of 2023. That being said, we think it would work for some people more than others.
If you're not sure about Brinks, you can sign up and get 30 days to change your mind; the three-year contract only locks you in after the first month. But with so many awesome features, we think you're gonna like having Brinks protect your home.
FAQs
Want to learn more about Brinks? We've got it covered.