Frontpoint Home Security Review
The most streamlined home security and automation systems available
What We Like
Integrations with Alexa and Google Assistant: Using our voices alone, we controlled the Frontpoint security system and other connected devices.
DIY installation: It only took us about an hour to set up Frontpoint.
Great customer support: In our opinion, Frontpoint has some of the best customer support of any security company in the United States.
What We Don't Like
No self-monitoring option: All Frontpoint systems come with 24/7 professional monitoring.
Expensive monthly fees: Users will have to pay $49.99 for professional monitoring and cellular backup.
Bottom Line
It's no wonder that Frontpoint is one of the more popular security systems on the market today. Their systems offer easy DIY installation combined with great customer support, a rarity when it comes to home security.
Recent Update: 1 month ago
Frontpoint is running a deal that takes 40-percent off security system packages. The discount applies to pre-customized packages as well as Build Your Own systems.
There's a certain reputation attached to the Frontpoint brand. It may be a newcomer relative to long-standing home security leaders like ADT, but Frontpoint is known as an innovator with a strong customer-first culture.
Frontpoint shot to popularity in the 2010s when it introduced fully-wireless security systems. Wireless sensors were already a thing at the time, but Frontpoint took things a step further by opting to offer security systems that use only cellular signals for communication instead of landline, which was the norm.
Of course, things change. Frontpoint may have been a pioneer of wireless, cellular home security systems, but we see a lot of those now from almost any security brand. Is Frontpoint still competitive today? Is it still good for home security?
Read on for our full Frontpoint review, which touches on the system's features, pricing, equipment, monitoring, and everything you'll need to know before buying a Frontpoint system.
Editor's Rating
Fast and easy DIY installation
Smart home features and integrations
Industry's best customer service
Frontpoint's Competition and How It Compares
Frontpoint scored 8.9 out of 10 in our tests, which is solid, but not the best. We would have liked to see more monitoring options and better equipment design from Frontpoint. So our highest scores went to SimpliSafe, ADT, and Vivint. For a closer look, read our in-depth comparisons of Frontpoint vs SimpliSafe, Frontpoint vs ADT, and Frontpoint vs Vivint.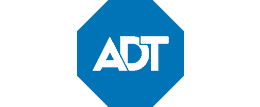 What's Included with Frontpoint?
Frontpoint makes up for its lack of monitoring options by offering a wide range of equipment options, and Frontpoint is as customizable and scalable as security systems come.
A basic security system, which is perfect for apartments or condos, includes a hub and keypad, a couple of entry sensors, and a motion sensor. If you need more, you can customize the package and add security cameras or home automation products. There are dozens of devices to choose from.
Since Frontpoint is a DIY security system, you can also add components later on rather than buy everything up-front to lower the initial cost. Of course, you can also buy everything that you need and pay in installments. Frontpoint offers payment plans for up to three years.
As for us, we decided to test as many components as possible, so we used the Build Your Own System feature on Frontpoint's website to buy ourselves a complete kit. We ordered almost everything except an outdoor camera.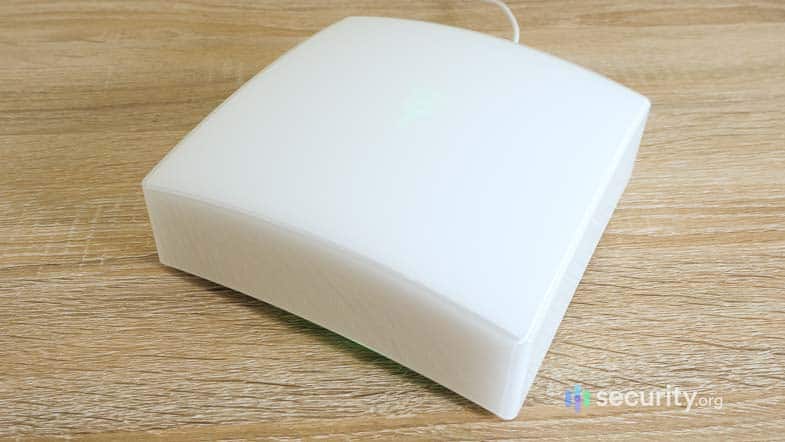 The hub and keypad are the essential components of our Frontpoint security system. While the hub is the "brains" of the system, connecting all of our components to the Frontpoint app and monitoring team, the keypad is where we armed and disarmed our system using our passcode.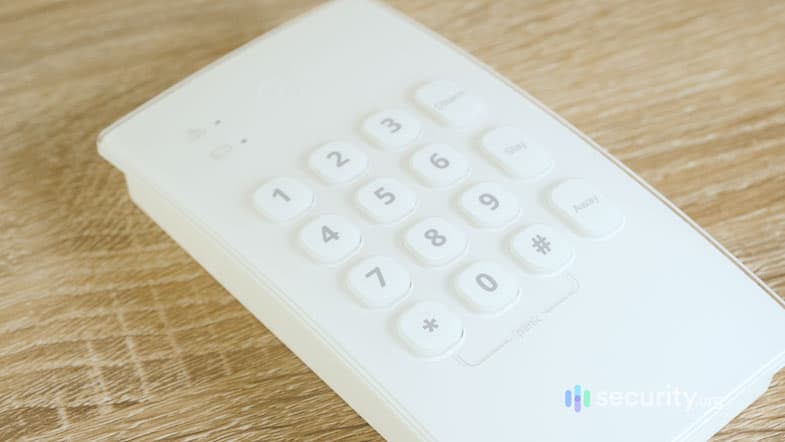 A major concern we had upfront was, "What if someone smashes our hub? Would the whole system be as useless as a battery that's run out of charge?"
Fortunately, we found that Frontpoint put countermeasures in place.
First of all, the hub and keypad are separate, and even if the keypad is smashed to pieces, the hub can still generate alarms.
Secondly, it has a feature called Crash and Smash Protection. The hub is constantly transmitting a soft signal to the monitoring center. If it's crashed or smashed, the signal stops, and that will prompt the monitoring center to trigger an alarm response.
Lastly, we found that the hub has several backup measures so it won't go dark even if your power, internet, or landline is cut. It has battery backup that can power the device for 24 hours on a single charge, and it uses cellular signals instead of Wi-Fi or landline to send alerts.
Pro Tip: Place the keypad within 100 feet of the hub.
Door/ Window Sensor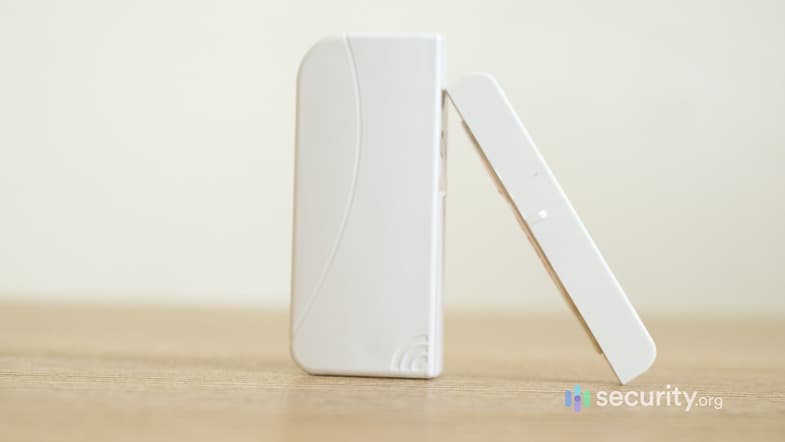 We placed these two-part sensors on the frames of doors and windows and on the doors and windows themselves to see when they had been opened or closed. Installing and using these wireless contact sensors was a breeze.
Besides the classic door and window sensors, Frontpoint also sells recessed door sensors. Unlike the former, recessed door sensors are bored into the door and doorframe, so there are no visible signs of a sensor after the installation.
Motion Sensor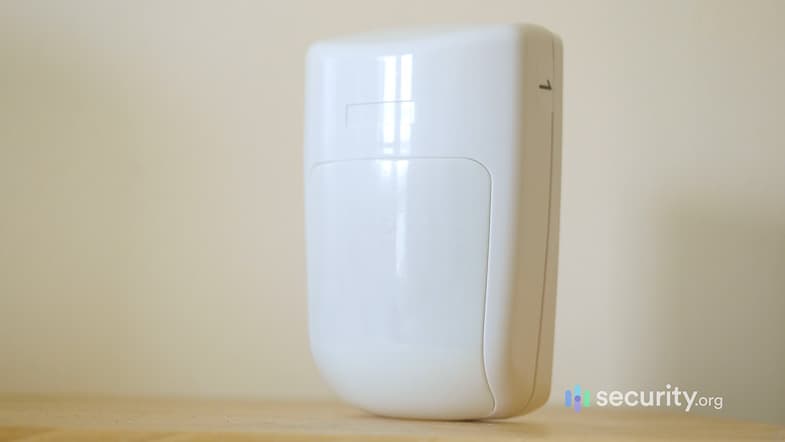 The motion sensor we got from Frontpoint covered a 30-by-35-foot range, which was more than wide enough for our living room; however, its field of view was a bit narrow at only 80 degrees, so we decided to place it in a corner for maximum effect. While our home is pet-free, many pet owners will be thrilled to hear that this motion sensor won't detect pets under 40 pounds, preventing many unnecessary (and annoying) notifications.
The motion sensor is also wireless and has an impressive battery life of two to four years. This was great for us, as we could just set it and forget it!
Glass Break Sensor
Not every intruder will be so polite as to open a door or window; rather, some will just smash through your glass, and for those instances, there's the glass break sensor. With a 20-foot radius and a five-year battery life, the glass break sensor made us confident that if someone broke a window in our home, we'd know about it ASAP.
Keychain Remote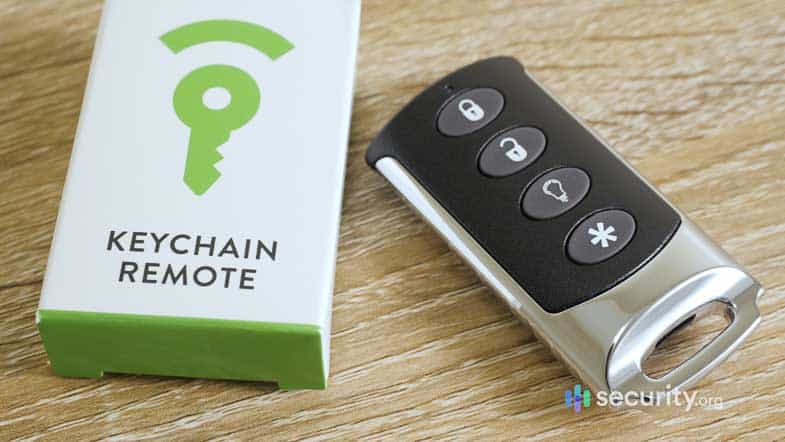 We'll admit it: Sometimes we're lazy and the keypad is just too far for us to get to, especially when we're cuddled up in bed watching a movie. For those instances, we used the keychain remote, which let us arm and disarm the system without even entering the passcode. It also included a panic button that would have triggered our alarm if we ever had to press it. Like the sensors, the keychain remote is wireless with an insanely long battery life (five to eight years).
FYI: Get a keychain remote for every member of your household and any hired help!
SkyBell Slim Line Video Doorbell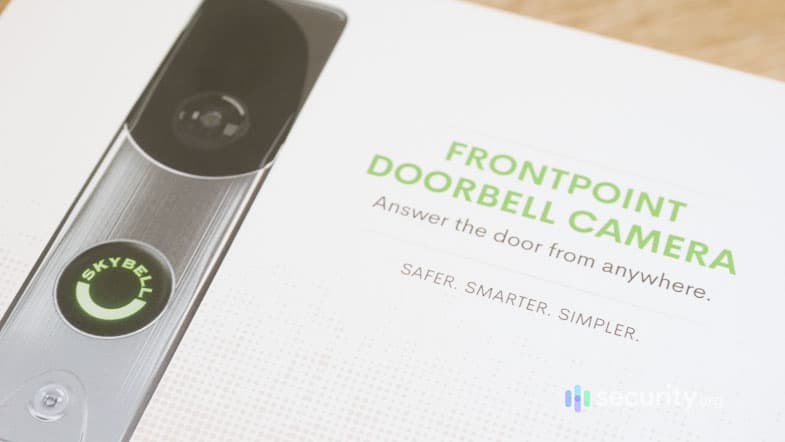 While Frontpoint doesn't make their own video doorbell, we did review the SkyBell Slim Line Video Doorbell which works with their system. We were really happy that the Slim Line is totally wireless, a rarity for a video doorbell, with a super-long battery life (three to five years). Plus, it has a temperature range of minus 40 to 140 degrees Fahrenheit, which was more than enough for our testing in Brooklyn, New York.
Unfortunately, the Slim Line didn't impress us as much as we would've liked. While it has the two-way audio standard of any video doorbell, its video quality was not the clearest at only 720p HD. Normally, we prefer 1080p HD, which produces a much better picture. However, we were happy that the field of view was as wide as mathematically possible at 180 degrees.
Another negative of the Slim Line was the night vision. Our night vision was in color due to the camera's bright white light. While this produced a pretty nice picture, we prefer cameras with infrared night vision, as it's much less conspicuous. We don't want bright lights blinding our guests at night!
Storage required us to create a subscription on Alarm.com, which was a bit annoying; we'd much rather do everything within the Frontpoint app (again, we're lazy!). Still, we got 1,000 motion-activated clips per month.
Now, since the Slim Line lacks person detection of any kind, a lot of these clips (and, by extension, alerts) were unnecessary for keeping our home secure. For example, we had a bunch of clips from a windup car whizzing by, which wasn't exactly essential footage. Plus, the Slim Line lacks a slot for a micro-SD card, so we had to manually back up our cloud storage onto a local hard drive. An additional 5,000 clips cost $5 a month, which we passed on.
All in all, we're less than happy with the Slim Line Video Doorbell, but now that it's included free in every security package, we still might recommend it over no video doorbell at all.
Yale Z-Wave Smart Lock
Another third-party item we bought with Frontpoint was a Z-Wave smart lock from Yale, a leading lock manufacturer. It was really convenient to be able to lock and unlock our doors remotely, whether that was as we got home from work or at night to make sure that everything was safe and secure.
On top of that, we gave entry codes to people so that they could access our home when it was empty, which is much safer than leaving a key under our welcome mat like we used to.
Indoor Camera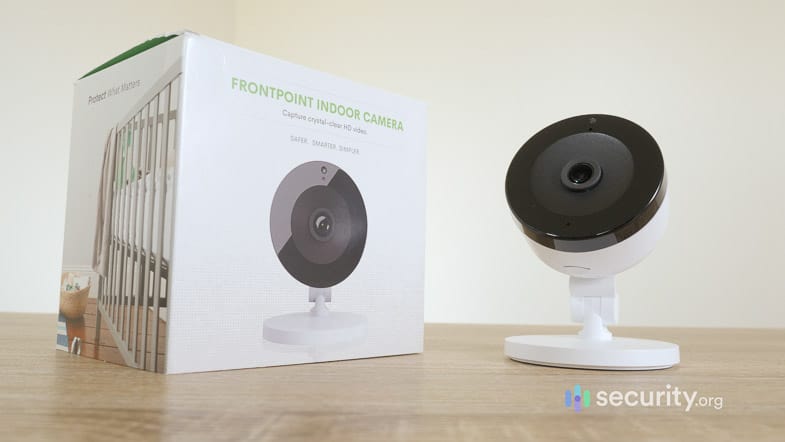 Finally, we got Frontpoint's indoor camera, which fortunately had that clear, 1080p HD display we missed in the video doorbell, plus infrared night vision and two-way audio. The camera's video quality was similar to video we've seen in Ring's suite of cameras, all of which record in 1080p HD.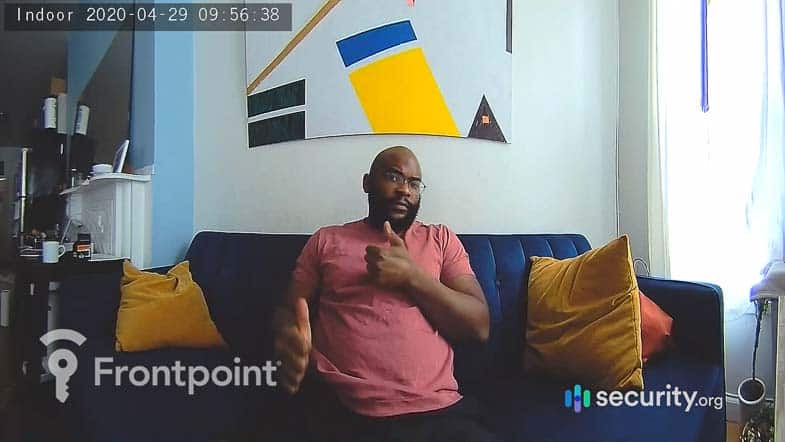 This made our camera way more hidden; most people who went into our house didn't even notice it! Unfortunately, the camera doesn't zoom in at all, and with a 113-degree field of view, it didn't cover quite as much ground as we'd hoped.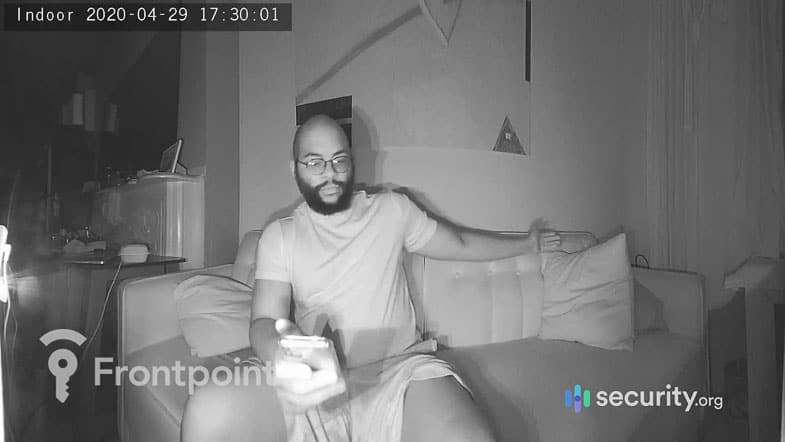 Again, the camera had only motion detection, so we got a ton of false alarms, and the storage was the same free 1,000 clips. While we appreciated the camera's video quality, audio, and night vision, it still fell a bit short of expectations when it came to AI.
Frontpoint Review: Video Edition
If you're more of a visual learner, check out our video review below to see Frontpoint in action. You'll also see some of its cool features, like voice control integration, at work.

Control your Frontpoint security system hands-free with Alexa or Google Assistant. Find out how you can get started.
Was Frontpoint Easy to Install?
Frontpoint is a wireless security system that you can install yourself. That means there are no installation fees. But is it easy to install?
First of all, Frontpoint puts a premium on customer service, and one of the things we liked was they had a support team in place to assist new customers in installing their systems. They were easy to reach, and they helped make sure we were installing and testing the system correctly.
Overall, the setup was very simple, not requiring drilling or nails, and once the system was up, it worked without a hiccup. It was also easy to integrate it with voice assistants, allowing for remote control. You don't need to be a security expert like us to install Frontpoint; it's designed to be as painless as possible, with wireless, peel-and-stick sensors and pre-programmed devices. Out of the box, the sensors were ready to connect to the hub. We just pulled the battery tab to turn them on, and voila! That's why Frontpoint is one of the best DIY home security systems.
That said, Frontpoint also works with third-party home automation devices, particularly those that use Z-Wave as their wireless standard. If you're planning to integrate Z-Wave smart devices with Frontpoint, you may have to do a bit of research to learn how to pair the specific devices that you own. The pairing process is generally easy, but some third-party devices require additional steps.
How Frontpoint Fit Into Our Smart Home
Being as into our smart home as we are, we were very pleased to see that Frontpiont worked really well with Alexa2 and Google Assistant.3 Here's how we commanded Frontpoint with each voice assistant.
Alexa
Using Alexa, we were able to arm and disarm our security system, check its status, and control connected devices like smart locks, smart thermostats, and smart lighting. We didn't have quite as many automation options with Frontpoint as we did when we reviewed Vivint's security system, as Vivint is a more robust system that can pair with a greater number of third-party devices like smart locks and smart speakers. But we were pleased that we could still use Alexa to record video with our Frontpoint indoor camera.
Google Assistant
Integrating Frontpoint with our Google ecosystem was a tad more arduous. After failing to find the Frontpoint action on Google, we finally figured out that we had to download the Alarm.com action instead, then log in with our Frontpoint credentials. From there, we could ask Google to tell Alarm.com to arm our system, check its status, and control smart lights, locks, and thermostats.
Was Frontpoint Easy to Use?
Once we got it up and running, our Frontpoint system worked well. We were alerted of any motion straight to our phones, and the monitoring team always responded quickly as well. While most of the components are made of plastic, they're still hardy and durable. However, since Frontpoint is mostly wireless, most of its components come with adhesives that actually ripped the paint off some of our walls, particularly the keypad.
We think Frontpoint is the best security system for renters, but keep in mind that your Frontpoint equipment could damage your walls. If that's a dealbreaker, check out our best apartment security systems for six other DIY options.
Frontpoint's Security Packages and Monthly Monitoring Plans
Frontpoint offers some of the most customizable equipment packages on the market. Not only can you create a custom package or add equipment to one of Frontpoint's ready-made packages, but you can also add equipment to an existing Frontpoint system without hassle thanks to its DIY setup.
If you're only getting started, though, Frontpoint offers three packages that you can use as foundation for your custom security system: The Starter Pack, The Home Shield, and The Family Lookout.
Each of those three packages include a Frontpoint Hub and a keypad, and they also come with varying numbers and types of components. We've made this table to show you what each package includes, as well as their total cost and their monthly cost should you decide to finance them. Take note that everything is 30-percent off right now.
| Packages | The Starter Pack | The Home Shield | The Family Lookout |
| --- | --- | --- | --- |
| Total price (with promo) | $99 | $269 | $349 |
| Monthly price (with promo over 36 months) | $3.19 per month | $8.68 per month | $11.26 per month |
| Frontpoint Hub | 1 | 1 | 1 |
| Keypad | 1 | 1 | 1 |
| Door and window sensors | 1 | 3 | 3 |
| Motion sensors | 1 | 1 | 1 |
| Smoke and heat sensor | 0 | 1 | 0 |
| Flood sensor | 0 | 1 | 0 |
| Indoor camera | 0 | 1 | 1 |
| Video doorbell | 0 | 0 | Free |
Once you have a foundation, you can build out your system by adding components. Frontpoint offers a great number of options — we counted 22 different pieces of equipment — from security and hazard sensors to security cameras and smart home equipment.
We recommend mapping your house out before proceeding to the part where you select additional components, and make sure you get all the sensors and cameras you need. For example, it's a good idea to place an entry sensor on every first-floor door and window.
Of course, you can always order additional hardware from Frontpoint if it turns out that you need more, but buying everything you need upfront means you'll get the 30-percent discount for all of your components. For instance, the outdoor camera which normally costs $200 is now only $139.99 thanks to the discount. Don't miss out on this chance to save!
Monitoring and Fees Breakdown for Frontpoint
Professional monitoring is required with a Frontpoint system, and the catch is, there's only one Frontpoint monitoring plan and it costs $49.99 per month. Whether you're a renter with just a couple of entry sensors and motion sensors or living in a mansion with dozens of Frontpoint devices, you'll pay $49.99 per month.
It's not off-the-charts expensive (we've seen companies charge $60 per month), but it's a bit unfair for those looking for something simple and affordable. If that's you, there are other options like SimpliSafe and Cove. You can read our SimpliSafe pricing breakdown and our guide to Cove's pricing for more details.
Back to Frontpoint. Its simplified single-plan structure works best for those looking for an affordable smart security system, as its best features include smartphone access, app alerts, home automation, live feed streaming, and cloud video storage. Having all those for $49.99 per month is a steal. Not to mention, every Frontpoint system is 100-percent cellular, meaning they don't need internet access to operate. Even during power outages, Frontpoint can protect your home thanks to the hub's battery backup.
Check out this breakdown of Frontpoint's features below:
| Plan | Ultimate |
| --- | --- |
| Price | $49.99 per month |
| 24/7 professional monitoring | Yes |
| 100% wireless and cellular | Yes |
| Automated system check | Yes |
| Expandable and portable | Yes |
| Unique user codes | Yes |
| Crash and smash protection | Yes |
| Geolocation services | Yes |
| Mobile alert and notifications via email and text | Yes |
| Remote access and control | Yes |
| Sensor history | Yes |
| Live video streaming | Yes |
| Video and image history | Yes |
| Motion-triggered alerts | Yes |
| Night vision enabled | Yes |
| Light control | Yes |
| Smart lock control | Yes |
| Mobile app | Yes |
| Video monitoring | Yes |
Frontpoint's Customer Support
When we needed help with our Frontpoint system, we could check out their online help call support, email support, or fill out an online form. In researching, installing, and testing the Frontpoint security system, our team of experts contacted Frontpoint twice over email and didn't receive a response either time, which was disappointing, obviously.
However, we found that phone support was excellent, with knowledgeable representatives happy to answer our questions. This really came in handy during installation! Despite the poor email support, Frontpoint has some of the best phone support we've seen from a security company.
The Frontpoint App
When we weren't home, it was easy to use the Frontpoint app to arm and disarm our system, livestream footage, speak through two-way audio, control connected devices, and receive notifications. Watch our video review to see us using the app, which, overall, we'd say was pretty well designed and bug-free.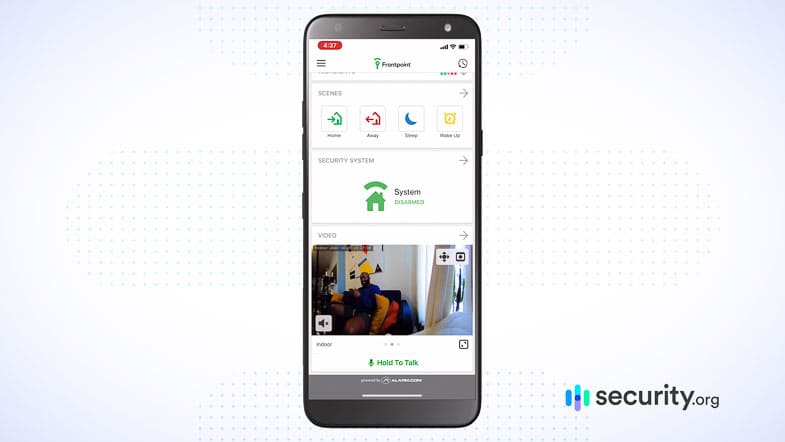 Is Frontpoint Worth It?
All in all, we'd definitely recommend Frontpoint as a home security system, particularly if you're an established homeowner. With 24/7 monitoring required, Frontpoint gives all of its customers the most security, although this also requires high monthly fees. Still, with easy DIY installation, great customer support over the phone, and integrations with Alexa and Google Assistant, it's no surprise that Frontpoint works well for so many customers, ourselves included. Here's a breakdown of the needs we think Frontpoint serves well:
Frontpoint FAQs
How much does Frontpoint cost per month?

Frontpoint costs $49.99 a month on the Ultimate Plan. This plan gives users 24/7 professional monitoring, cellular backup, notifications, remote control, live streaming, cloud storage, night vision, control of lights and locks, and more.

Is Frontpoint a good security system?

Frontpoint is a good security system. Although it's not the most affordable option around, Frontpoint provides home security you can trust, with 24/7 professional monitoring and cellular backup to boot. However, users who want to self-monitor their security system and avoid monthly fees should look elsewhere.

Which is better, SimpliSafe vs. Frontpoint?

In testing out SimpliSafe and Frontpoint, we recommend SimpliSafe over Frontpoint because of its more affordable professional monitoring options at $17.99 to $27.99 per month, as opposed to Frontpoint's $49.99; it also offers the option to self-monitor, plus it's a simpler installation. However, Frontpoint does have better customer support and a higher-rated app.