Minut Point Smart Alarm Review
Minut Review: Alternative DIY Security
What We Like
No monthly fees: Once we paid $130 for the Point Smart Alarm, we didn't pay another penny to Minut.
Alexa and Google Assistant integrations: Minut fits into the Amazon and Google smart home ecosystems.
Minimalist system: Minut's entire security system is built into one device with multiple capabilities.
What We Don't Like
No professional monitoring option: All users will be 100% responsible for their homes' security.
No cameras: Keep in mind that as Minut doesn't offer any cameras, you'll have to buy them from third parties.
No cellular backup: Since the Point connects to the Minut app over Wi-Fi or Bluetooth, we weren't able to get alerts during a power outage.
Bottom Line
One of the most unique security systems we've seen, the Minut Point Smart Alarm combines motion, glass break, temperature, humidity, mold, light, and noise sensing into one simple device. We were able to get notifications about our home from anywhere without paying any monthly fees whatsoever.
Minut is one of the most unique security systems we've ever reviewed, in our opinion. Without a camera, individual sensors or any professional monitoring option, it encompasses all of your home's security features in a single device. Founded in 20141 by former employees of Apple and google, Minut is a Swedish company that's sold 10,000 units worldwide. Naturally, we were very excited to test it out and see if it's really possible to protect a home with an $130 device. Let's get started now!
Features
Motion detection
Yes
Loud noise detection

Yes

Occupancy sensor
Yes
Glass breaking sound detection
Yes
Temperature monitoring
Yes
Editor's Rating
Entire security system in one device for $129.99
No mandatory monthly fees
Currently works with Alexa, Google Assistant and IFTTT
Don't Want a Security System Without a Camera? (Neither Do We.)
Minut is the most minimal security set-up we've ever tested. It's just a single disc. And after you pay for your equipment, it's completely free. What's not to like? Well, no camera, for one, and no professional monitoring. So if you want a security system that keeps watch over your property, you should go with of these home security brands that we've personally tested and recommend: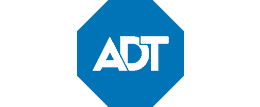 Our Video Review of Minut
If you want to see Minut in action, watch our full video review on Youtube, embedded below.
Setting Up the Point Smart Alarm
Since the Point is the only component of Minut and it's wireless, there's really very little installation process, in our opinion. We simply placed it on our coffee table, downloaded the Minut app and created an account. From there, we added the Point to our Wi-Fi and the app guided us through the rest. All in all, we had Minut up and running in less than 10 minutes, which has to be a record for us.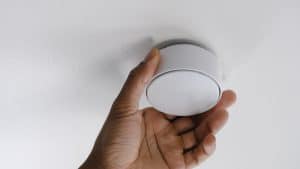 The Point Smart Alarm: What Can It Do?
So what is the Point, exactly? Well, it's a wireless device that covers a room of 530 square feet or more. For some people, it may make sense to put multiple Points throughout their homes, but one was more than enough for our very small New York apartment. Now, using this one device, we got notified whenever the Point detected changes in:
Motion
Glass breaking
Temperature
Humidity
Mold
Light
Noise.
The Point even recognized our existing, hardwired smoke and CO alarms, alerting us if they went off. It even sounded a siren, which would be really useful if we, god forbid, ever have an intrusion.
Tip: If you don't have smart smoke and CO detectors, the Point can recognize them and alert you if they go off.
Now, we know what you're thinking: what if someone just up and smashes the Point? Since the entire security system is in one, wireless device, we sort of put all of our eggs in one basket. However, the Point does have tamper protection, so we were alerted when some of our experts tried to move it. With the siren blaring, intruders won't be able to easily remove or mess with the Point.
Now let's talk power. Since the Point is wireless, it's dependent on a rechargeable battery, which we could charge with a USB cord. But even when we forgot to recharge our battery, the backup battery kicked in and would've lasted six months, had we never recharged.
While this device is cool and has tons of capabilities, it obviously doesn't have it all, like a camera, for instance. However, since Minut works with IFTTT, we were able to hook up an IFTTT-compatible camera from a third party to the system, which brings us to our next point…
How Did Minut Work with Our Smart Home?
Even though Minut is a standalone device, it actually worked with Alexa, Google Assistant, and IFTTT. That not only meant that we could command it with our voices, but it also meant that it worked with other connected devices from hundreds of smart home brands, creating automated triggers so that the devices work with each other without even having to direct them. Let's take a closer look at how Minut fit into our smart home.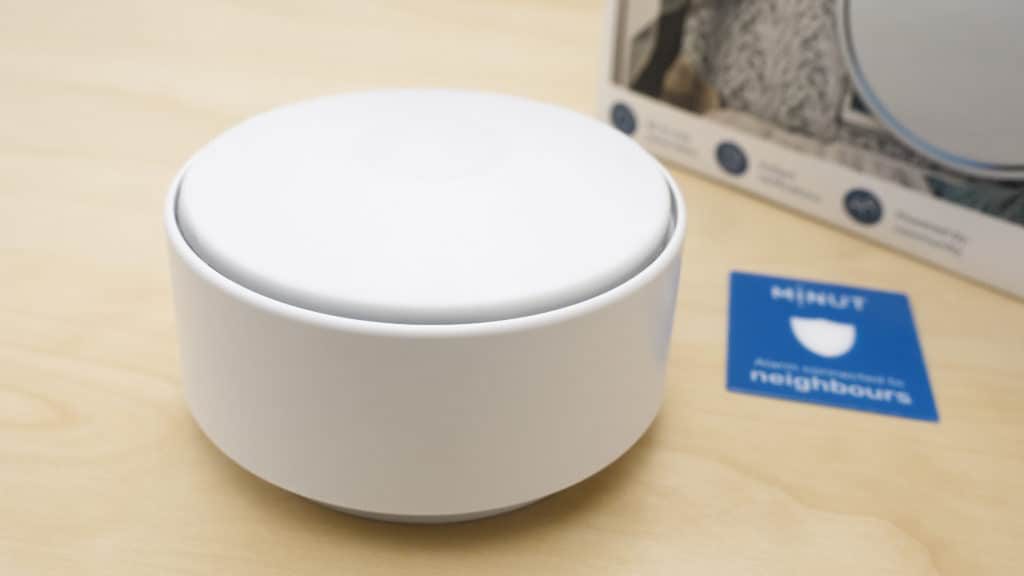 | Voice assistant | Minut capabilities |
| --- | --- |
| Alexa | Arm and disarm system using PIN code |
| Google Assistant | Arm system, ask for temperature |
Alexa
We told Alexa2 to arm and disarm our security system, but don't worry— for disarming, we had to say our pin code out loud.
Google Assistant
The Google action for Minut is called Point Home.3 While we could tell Google Assistant to arm our Point, we weren't able to disarm it using voice commands. But, one feature that Alexa lacked was the ability to ask the Point for the temperature, which was pretty nice.
IFTTT
IFTTT, which stands for If This Then That, lets us connect devices from different companies to each other, creating actions that occur automatically. For example, we had our Arlo cameras arm when Minut arms without having to do it manually every time we left the house. By automating our home security, we ensured that we are always protected. Many cameras and other smart home devices work with IFTTT, which made it easy to integrate Minut into our smart home.
FYI: Since Minut works with IFTTT, you can connect the Point to other IFTTT-enabled Internet of Things devices and automate your smart home.
Does Minut Require Monthly Fees?
Since Minut doesn't offer professional monitoring, we didn't pay anything extra after buying Minut in the first place. However, if you have multiple properties, you can choose to pay Minut a subscription fee that'll get you unlimited sensor history, plus the ability to add multiple users to your Minut account for $7.99 a month. If avoiding monthly fees are on your mind, we've put together a list of what we believe are the top home security systems without monthly fees for you.
| | Basic | Plus |
| --- | --- | --- |
| Sensor history | 90 day | Unlimited |
| Multiple homes | No | Yes |
| Multipe users | No | Yes |
| Add friends and family to home | No | Yes |
| Monthly Price | $0.00 | $7.99 |
Minut's pricing is pretty reasonable, but for most people, they won't pay anything monthly or yearly to use Minut. However, if you are looking for professional monitoring, we'd recommend checking out Ring Alarm, which offers it for only $10 a month or $100 a year, or abode, which offers it for $8.33 a month or $100 a year, among the lowest prices around. Learn more in our Ring Alarm pricing or abode pricing pages.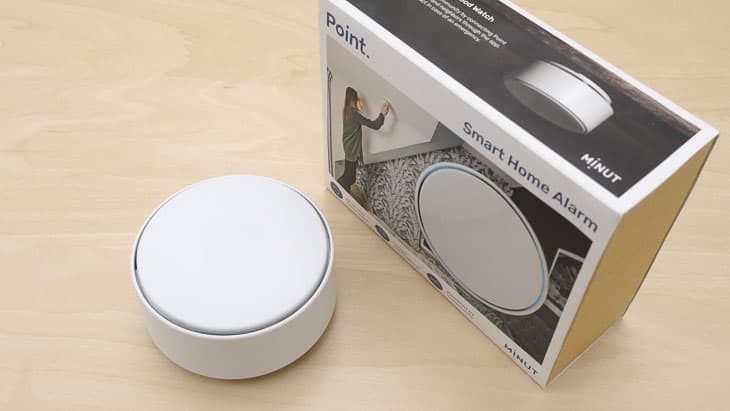 Getting Support with Minut
We didn't need much help with Minut, but if we did, we used the online support center4, live chat or email. When we did have questions and emailed Minut, we got responses back in the same day, which is even more impressive when you consider the major time difference between New York and Sweden. But for those that want phone support, Minut may not be up to your standards.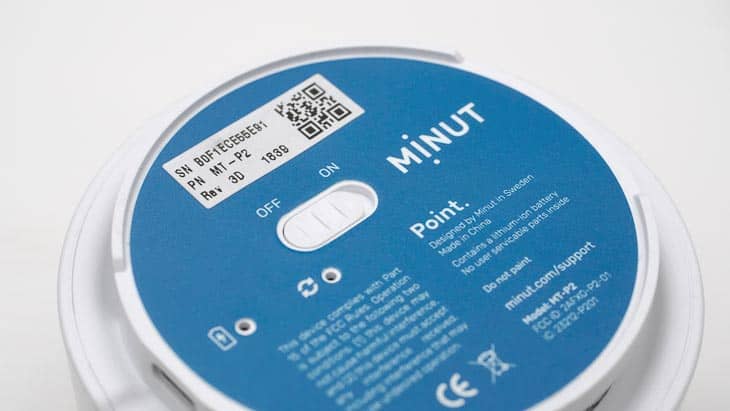 The Minut Smart Home Alarm App
Using the Minut Smart Home Alarm app on iOS5 and Android6,  it was really easy to receive notifications, view and change settings, and view that 90-day sensor history. Other Minut customers agreed with us, as the app has a 4.2 star rating from Android users and a 4.8 from iPhone users.
One really unique feature of the Minut app is that it connects you with other Minut-users in your neighborhood so that you can watch out for each other. Now, for us, this didn't end up being super useful as there were very few Minut-owners in our area, but we could see this feature, akin to the Ring Neighbors app, coming in handy in the event of an intrusion or string of intrusions. Communication is key!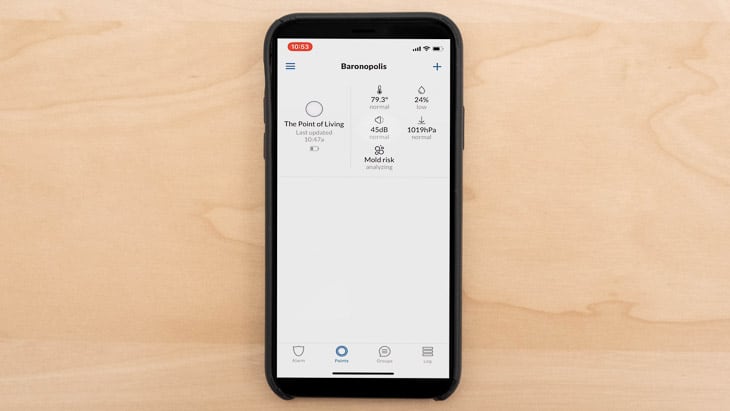 Find out how Minut compares to other security systems
We tested Minut and compared it side-by-side with other brands to give you the full picture.
Summary of Minut
Minut is a really cool idea and it's great for those that want totally DIY, cutting-edge security. We'd recommend it specifically for those that live in small homes or apartments, as it doesn't require a million different components. It's also great for someone on a budget, as you can avoid monthly fees by self-monitoring. But for the majority of homeowners, Minut probably isn't the best choice. Let's break it down.
Minut is super unique and we're excited to see what the company will do next.
Minut FAQs
What is Minut?

Minut is a smart home security based in Sweden. Their product the Point is a wireless sensor that can cover a room up to 530 square feet. You should put the Point in a central location, like a front hallway or living room. While most security systems have separate sensors, the Point can detect motion, glass break, temperature, humidity, mold, light, and noise. It can also recognize other alarms, so you can have it notify you when your existing smoke or CO detector goes off. The Point comes with tamper protection, meaning that you'll be notified if someone tries to remove it. Plus, it comes equipped with a built-in siren, great for scaring away intruders.

How much does Minut cost?

The Minut Point system costs $149.

Does Minut have monthly fees?

No, Minut does not have any monthly fees. You'll self-monitor your system through the Minut app, as there is no professional monitoring available.