Best No Monthly Fee Home Security Systems
Looking for home security with no monthly fees or long-term contracts? We've got it covered.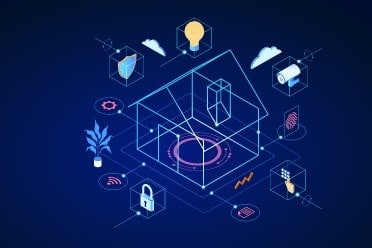 10,000+ research hours
60+ systems tested
150+ simulated break-ins
40 systems reviewed
4 systems recommended
Most alarm companies require a monthly fee, but there's a handful of security systems that don't.
Monthly fees cover professional monitoring; skipping it means monitoring your home yourself.
The next best thing to "no fees" is affordable professional monitoring. SimpliSafe's contract-free plans are surprisingly low-cost and efficient.
Yes, you read that right. There are security systems without a monthly fee – or rather, security systems that don't require a monthly fee. Traditionally, if you buy a security system, you'll pay an equipment fee that can range up to several hundred dollars and a monthly fee for the professional monitoring service. Security systems that don't require a monthly fee, however, don't necessitate users to pay for the monitoring service. They are called self-monitored security systems.
Self-monitored systems give you the option to skip the monthly fee and DIY the monitoring. They come with a set of security features right out of the box, and with the help of reliable equipment, they give you the power to take full control of your home security.
Take note that while these options offer self-monitored solutions, you can always upgrade to professional monitoring with monthly fees.
Pro Tip: With nine monitoring facilities (the most in the country!), ADT offers the best professionally monitored systems. Here's another thing you should know: it's not free, but ADT's monthly pricing is lower than most people think.
All right, without further ado, let's dig right in.
How We Test Security Systems
| | |
| --- | --- |
| Number of systems tested | 4 |
| Number with free notifications | 4 |
| Number with free livestreaming | 4 |
| Number with free cloud storage | 1 |
Comparison of the Best No Monthly Fee Home Security Systems
| System | SimpliSafe | abode | Ring Alarm Security Kit | Arlo |
| --- | --- | --- | --- | --- |
| Ranking | 1st | 2nd | 3rd | 4th |
| Ratings | 9.2/10 | 8.0/10 | 7.7/10 | 8.8/10 |
| Push notifications | Yes | Yes | Yes | Yes |
| Installation | DIY or professional | DIY or professional | DIY or professional | DIY |
| Smart platform integration | Google Assistant, Alexa | Google Assistant, Alexa, Apple HomeKit | Google Assistant, Alexa | Google Assistant, Alexa, Apple HomeKit |
| Free live streaming | Yes | Yes | Yes | Yes |
| Free cloud storage | No | No | No | 7 days |
| Free local storage | No | No | No | Yes |
| Equipment package prices | $232-$292 | $200-$330 | $160-$342 | $99-$1,230 |
| Read Review | SimpliSafe Review | abode Review | Ring Alarm Security Kit Review | Arlo Review |
Summary of the Best No Monthly Fee Home Security Systems
Detailed List of the Best No Monthly Fee Home Security Systems
Methodology
We use a variety of factors to compile our best lists. In the case of comparing security systems with no monthly fees, these factors include monitoring options, ease of installation, video quality, and how well each system works with its respective mobile apps. Below, we go through the complete set of criteria we used to create this list.
Monitoring
All systems with no monthly fees use self-monitoring. Unfortunately, no company offers 24/7 professional monitoring for free. However, we like systems that at least offer the option to upgrade to 24/7 professional monitoring. You never know when you may want an extra set of eyes on your home.
>> Learn More: Find the Best Home Security System
We're keenly aware that some self-monitored systems don't come with all the perks of professionally monitored systems. With this in mind, we look for self-monitoring systems without monthly fees that still provide the essential security tools, like mobile notifications, remote control, and short-term video storage.
Connectivity
For a smart security system to work, there needs to be a strong connection between all the system's components.
These days, most security systems don't use landlines. Most use Wi-Fi to communicate instead. Some companies, however, offer cellular security systems or landline security systems as backups. We prefer this safety measure, since we never know when our Wi-Fi might go down.
Equipment
We consider each brand's equipment from several angles, such as camera features, customization, and durability. In particular, we examine these factors:
Camera features: We prefer cameras that meet or exceed industry standards. Specifically, we want 1080p HD video resolution, infrared night vision, two-way audio, cloud and local storage, smart platform integrations, and artificial intelligence capabilities like person detection and facial recognition.
Durability: If we're installing outdoor cameras, we want them to function in extreme temperatures, such as above 100 or below 0 degrees Fahrenheit. The best outdoor security cameras have IP ratings of 65 or higher, which means that they are dust-tight and can withstand low-pressure water jets. A 65 rating lets us hide our outdoor security cameras anywhere without worrying they might get damaged. Check out our list of the best outdoor security systems to find out more.
Wireless vs. wired: For wireless components, we consider battery life to be of the utmost importance. A wireless camera backup battery should last one to two years. Wire-free cameras, which rely on battery power solely, can last up to six months, but that length depends on how frequently the camera is triggered. The batteries actually last 48 to 72 hours, but because they operate for only seconds whenever they are triggered, that 48 to 72 hours might stretch over six months. Rechargeable batteries or alternative charging methods such as solar power gain extra points with us. For hardwired systems, we begin by seeing if the components are easy to install. Next, we consider if the systems have some built-in backup. If they have Wi-Fi, we like them to have either landline or cellular backup in case the Wi-Fi is down.
Storage options: Finally, we consider whether the systems feature any storage options. Some, for instance, provide small amounts of cloud storage on the house. Others offer local storage for free through an included hard drive or micro-SD card.
We also appreciate brands that offer a variety of equipment packages and bundles. We especially like companies that manufacture systems for different home sizes. We live in apartments, but we understand that some people need security systems for large homes.
Installation
When you think about how to secure your home, you can't just think about the price of equipment. Installation can cost money upfront as well if there's no DIY option. However, most home security systems that are free of monthly fees offer DIY installation only.
A few security companies provide professional installation for a fee. In those cases, the lower the fee, the better. Usually, you can expect to pay around $80 to $100.
Pricing
None of the systems on this list require monthly fees, but that doesn't mean they're free. We have to take equipment costs into account. We're always looking for the most affordable security cameras and the most affordable security systems.
How much is a home security system? There are lots of factors to consider, from the cost of home security system permits to potential home security system tax deductions (in certain cases when you run a business from your home). When you take everything into account, security systems can range in price from $30 to thousands of dollars. We tend to prefer systems in the $200-$300 price range, but it depends on the size of your house and your security needs.
Mobile Application
The best mobile apps are easy to use, free of bugs, and reliable. We always investigate the apps' ratings on the Apple and Google Play stores, aside from testing them ourselves.
Company Policies and Reputations
Generally, we choose companies that have long or extended warranties, free trials, and flexible return and cancellation policies. We also want the companies we buy from to have reputations for dependability and customer service. Finally, we try to steer clear of companies that have suffered data breaches or hackings.
Recap
It's not easy these days to find home security systems that don't charge any monthly fees. However, we've found and tested the cream of the crop. We're always willing to do a little extra research to save a little money. For additional savings tips, check out our page on home security deals and our page on Black Friday and Cyber Monday home security deals.
Video Review
To see all of the security systems that don't charge monthly fees in action, watch our video review below.
FAQs
To round out this article, we've taken the time to answer some of your most frequently asked questions about home security systems with no monthly fees.