Scout Alarm Review
Scout redefines DIY home security with basic and affordable options
What We Like
DIY installation
Integration with Amazon Alexa, Google Assistant, Yale Z-Wave Locks, Kwikset Z-Wave Locks, Nest, LIFX, Philips Hue, and IFTTT
1080p HD video resolution
What We Don't Like
24/7 professional monitoring, 4G cellular backup, and power backup included only in paid plans
Lack of advanced security features such as two-way audio, local storage, and wider field-of-view angle
No outdoor camera
Bottom Line
Already have tons of smart home tech in your home? Scout will fit right in, integrating with Alexa, Google Assistant, Yale, Kwikset, Nest, LIFX, Hue, and IFTTT, to name a few.
What started as an independent crowdfunding campaign—which surpassed its goal by selling over $500,000 worth of systems within a month—soon became a contender in home security. Based in Chicago, Illinois,1 Scout was born out of a desire to produce a home security product that wasn't outdated or expensive, a noble cause for sure. With a growing list of components and accessories to complement the hub, Scout fortifies its defenses the more you build it up. But does more mean better? Additional components certainly improve your home's security, but they also raise costs. But some good news for your wallet, whether you require a sensor on every door and window or you just need the basic essentials, Scout's appeal stems from its customization—how much customers are willing to spend on building it to meet their needs. In our review, we lay out our impressions and findings of the Scout Alarm security system in detail.
Breakdown of Scout's System Components
| Package | Price |
| --- | --- |
| Small | $229 |
| Large | $319 |
| Elements | $349 |
| Architect | $549 |
Editor's Rating
No long-term contracts
Award-winning monitoring
60-day money-back guarantee
Initial Findings: Does Scout Offer Enough?
Scout relies on sensors to detect dangers, and while it offers enough equipment to monitor a small house or apartment, it has a hard time securing midsize or large homes. It lacks vital components like glass door sensors and outdoor cameras, and the ones it offers are just not advanced enough. Its indoor cameras still rely on just motion detection, for instance, while the industry norm now uses AI-based detection. So check out these security systems we tested that do better than Scout in the equipment department: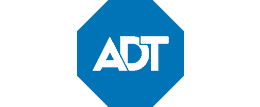 The Pros and Cons
What We Love
DIY installation
Integration with Amazon Alexa, Google Assistant, Yale Z-Wave Locks, Kwikset Z-Wave Locks, Nest, LIFX, Philips Hue, and IFTTT
Low maintenance hardware
Affordable hardware pricing
System customization
Great customer service
1080p HD video resolution
No long-term contracts
What We Don't Love
24/7 professional monitoring, 4G cellular backup, and power backup included only in paid plans
Lack of advanced security features such as two-way audio, local storage, and wider field-of-view angle
Clunky installation with the indoor camera and syncing up products with the mobile application
Hardware price can add up for larger homes
No outdoor camera
We mentioned that one of Scout's strong points is the customization, but to expand on this, Scout integrates with other third-party smart home devices — not just theirs. These integration platforms include Amazon Alexa, Google Assistant, Yale Z-Wave Locks, Kwikset Z-Wave Locks, Nest, LIFX, Philips Hue, and IFTTT (some of which we already own and tested with our customized Scout Alarm pack). That's a good thing because by 2024, there will be over 375 million smart homes in the United States.2 We liked the convenience of syncing up the Scout Alarm system with other brand products. Think of it as a hybrid—putting together mixed pieces to produce a better system.
Another strength that we came across from Scout is the 4G cellular backup and power backup with the monthly plans. If the telephone or power lines go out, we'd still receive SMS, email, or push notifications that something went wrong with our house's security. The caveat is that these features only come in Scout's paid plans. But with that comes professional monitoring, available in the Always On + plan. It's always reassuring to know that there is a team of professionals looking out for our home when we're too busy to self-monitor, which happens more often than we'd like (Work! Kids! Responsibilities abound!).
With that said, Scout markets their installation as DIY, and while setting up the system wasn't the most difficult for us, it definitely leaned toward frustrating for the Indoor Camera. But we think this is a small price to pay given that Scout does what it can to provide the ultimate customizable home security system.
Our Video Review
Curious about our first impressions and test performance with our personalized Scout security system? We cover everything outlined in this review in video format:

With tons of smart home integrations, we had our Scout security system trigger IoT devices from Nest, Philips Hue, and more. Get more info on Amazon.
How Well Did Scout Work?
When it comes to controlling our Scout security system, the Scout app was our mobile command center. Options on the app included arming and disarming our system, checking our home's recent activity, and controlling all connected components. Whenever we opened the front door where we installed the door panel, we'd disarm it through our phone. Because the door panel came with two key fobs, we tested out how well they'd work when we couldn't use our phones to arm or disarm. We discovered that the key fob is a convenient alternative for those whose phone battery died or prefer key fobs over keypads. This device is a great option for the less tech-savvy among us, which for us meant the elderly members of our family.
One component that stood out upon the initial setup is the motion detector, which prompted a performance test. On the app, it told us to walk in front of the detector so that it could register movement and notify us that the component is functioning properly. We felt secure knowing we'd already tested the motion sensor, and it worked correctly.
REMINDER: Although Scout's products are affordable individually, you have to consider the additional costs for building your system and signing up for one of the monthly paid plans. If you want to self-monitor with the indoor camera, you still have to pay $9.99 per month to get notifications, while cloud camera storage costs $2.99 per month for the second camera on, if you have multiple.
Installing Scout Security System in Our Home
Let's dive into more detail on our experience with installing each component, starting with the hub. We plugged in the power adaptor and ethernet cable before starting up the mobile app and inputting the activation code. Simple enough, right? From there, we were able to pair the door panel, access sensor, and motion detector with the hub and app, and shortly after, we physically installed each component by removing the adhesive tape and setting them up at various zones. We covered this earlier, but the motion detector prompted us to walk in front of it as part of a performance test. We really appreciated this aspect of the component and wished it was available for the others.
As for the indoor camera, this particular component required a bit more effort than the others. Plugging the power adaptor to the back of the indoor camera was no easy feat, and it took a few twists and turns of the lens before the adaptor connected. It also took us a few repeated attempts to sync the camera with the professional monitoring team, mainly because we messed up on inputting the password, and the process reset several times (although that may say more about our memories and less about the camera itself). Setting up the indoor camera took us approximately 15 to 20 minutes. That's longer than we would've liked, especially for one component. But while we can't necessarily sing praise for the indoor camera installation, everything else ran as smoothly as it could have.
Of course, you can always pay for professional installation from a third-party provider, which costs $316 to $1,119, according to HomeAdvisor,3 so for the sake of your wallet, DIY installation is preferred.
Pro Tip: During setup, be patient and link each component to the mobile app one-by-one. This way, you'll avoid rushing through and inputting your password incorrectly, which forces the app to reset the entire process.
Breakdown of Scout's System Components
When our team received our customized Scout pack, our first impression of the boxing was that it was very smooth, and the simple colors helped to differentiate the components. Our pack included the hub, door panel, access sensors, motion sensors, glass break sensors, and door lock; we ordered the Indoor Camera separately.
Hub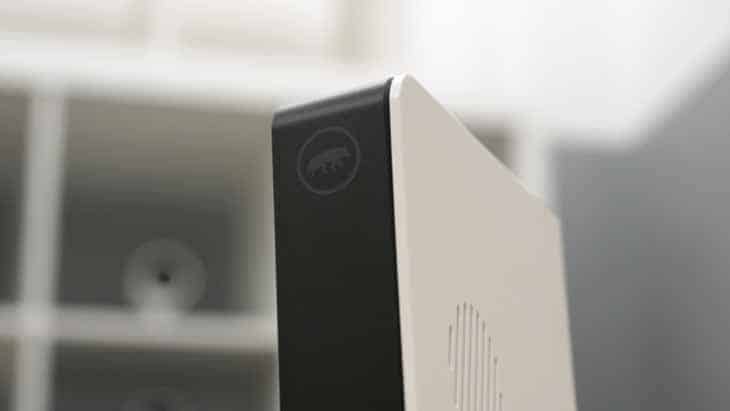 Consider the hub as the heart and brains of our security system. Because it's connected with an ethernet cable, the hub ensured that the wireless communication with Scout sensors is never disrupted. Should the power or telephone lines ever go out, the hub has 4G cellular data backup and a power backup. If there's an intrusion, a 105 dB siren will go off, about as loud as a table saw (we could hear it from even the furthest corners of our home).
Door Panel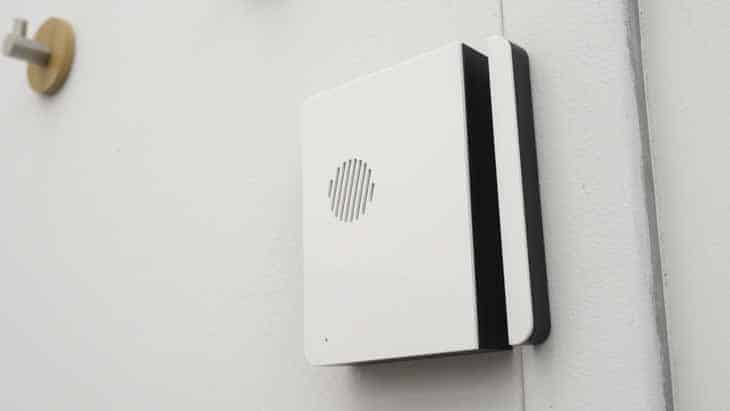 Move over keys and keypads: Scout's door panel is here to prove that entering and exiting our homes has never been easier. Installing the door panel was simple; the mounting tape allowed us to stick it on the door without drills or hammers. The box included two key fobs and two RFID stickers, which we registered on the mobile app. We tested out the three options to see which we preferred. The key fobs worked perfectly as an alternative if our phones died. As for the RFID stickers, we placed one of them on a potted succulent by our front door. No more hiding our keys under the doormat! Needless to say, it was either a simple press or swipe to arm and disarm our security system on the door panel. What's more, the door panel can also emit a loud siren to scare off intruders. You won't need to rely on Fido anymore, although we certainly love our furry friends.
Access Sensor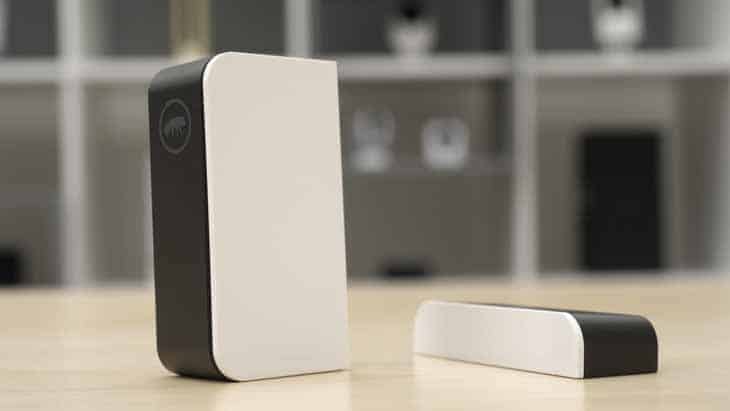 Much like the door panel, the access sensor is wireless and didn't require any drilling or hammering thanks to the mounting tape. With the access sensor, we could monitor anything that opens or closes, including kitchen cabinets and wardrobes, if you have a particular garment you want to keep away from your teenage daughter. To test it out, we set our access sensor on the bedroom door, and when one of our team members entered, we instantly received a notification. Scout's access sensor can also monitor the temperature in the area or room, so on the off chance that your thermostat isn't working properly, you can always check the access sensor for the current temperature. This feature was handy for us as our bedroom tends to get a little draftier than the rest of our house. Versatile indeed!
Motion Sensor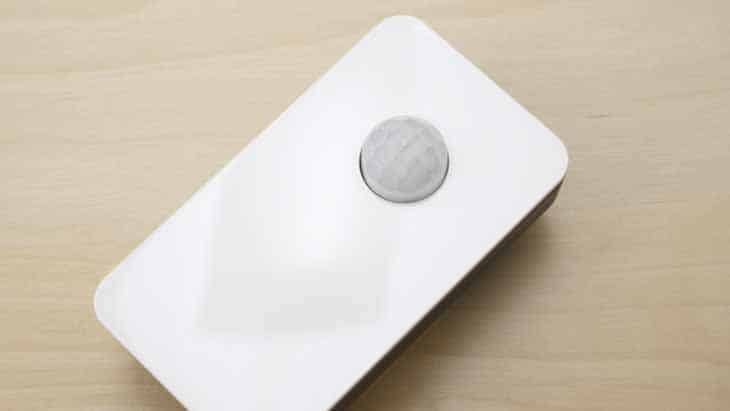 A curious thing, Scout's motion sensor. There's a honeycomb bulb on it that protrudes from the rest of the component, which isn't exactly subtle. We had the option to use the adhesive tape or screw the sensor in. We stuck with the tape since it saved us time, not to mention screws. Our concerns with the motion sensor were the 90-degree field-of-view and 25-foot range detection. Placing this in a large home wouldn't be very effective, which means you might need more than one to grasp the full scope of your house. Otherwise, the sensor is a solid choice for apartments and small rooms. For the most impact, we recommend placing it in a corner as we did.
Glass Break Sensor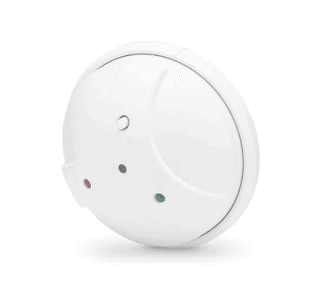 For an extra layer of protection, the glass break sensor detects intruders who break in through the windows. While we didn't have an actual intrusion during testing, fortunately, we were able to test out the glass break sensor when we accidentally broke a glass, and we got a mobile notification immediately.
Door Lock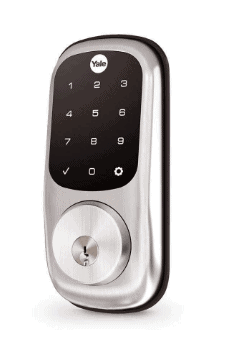 Visually, the door lock is an anomaly, with a steel finish absent from other Scout components. Much like the door panel, we could control the lock with the mobile app. It's tamper-resistant, which means if an intruder tried to dislodge the lock, we would receive a notification. It was particularly convenient to be able to control our lock via our phones. When we left our keys at work, we were still able to get home and avoided having to call an expensive locksmith.
Indoor Camera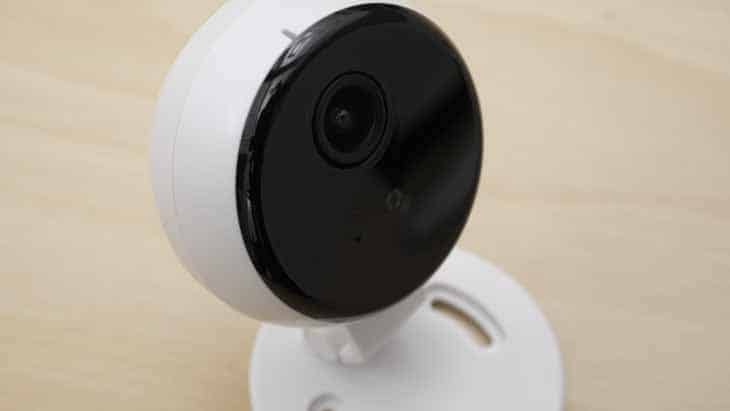 For all its mischief when we tried to set it up, the indoor camera is not without its charms. When we checked the live video feed, we were happy to see that the 1080p HD resolution was super crisp. We held up a book and could discern the title and illustration without any blurriness, which came in handy when we had to check if our kids were doing their homework or looking at comic books. The pinch zoom also allowed us to get a closer look at the smaller text on the front cover. As you can see below, the 115-degree field of view encompassed a pretty good portion of the room, although it could've been better, as we prefer fields of view of at least 130 degrees.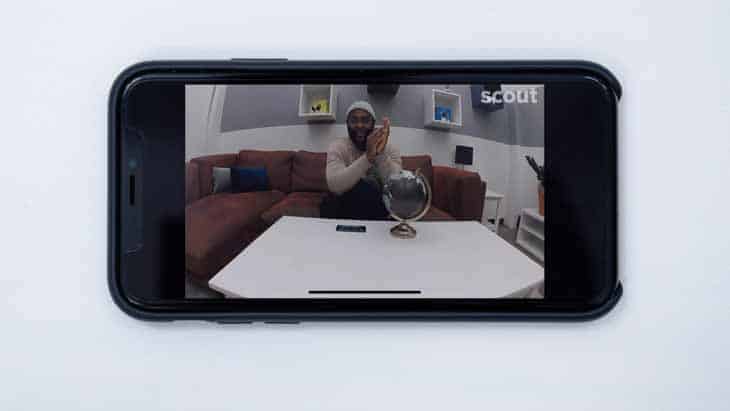 The night vision was a different matter. Even though the camera only had one infrared LED sensor, we still had a clear view in the dark. We guess sometimes less is more!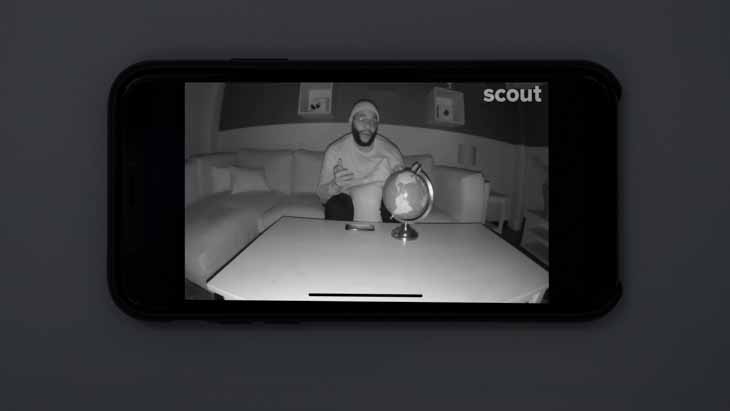 Storage-wise, we got 14 days of cloud storage on the house, although we would've had to pay $2.99 for each additional camera's storage, which wouldn't exactly break the bank. The camera didn't have local storage in the form of a slot for a micro-SD card, but we were able to download our footage from cloud storage and back it up on a hard drive for safe-keeping.
The indoor camera also does not have two-way audio, so we could only hear sounds from the room but couldn't communicate with anyone who was in it (which would've been useful if we caught our kids not doing their homework). We wish the camera had two-way audio like Ring's cameras, but overall we were satisfied with its features.
How to 'Scout' Your Home
For an in-depth overview of Scout's professional monitoring plans, we mapped it out on the pricing page. If you'd like the short and sweet version, you can refer to the chart below:
Monitoring Pricing Snapshot for Scout
| | Always On | Always On+ |
| --- | --- | --- |
| Cellular and Battery Backup | Yes | Yes |
| Email, Mobile, and Push Notifications | Yes | Yes |
| SMS Alerts | Yes | Yes |
| Professional Monitoring | No | Yes |
| Monthly Price | $9.99 | $19.99 |
| Monthly price per camera of 14 days of cloud storage | $2.99 | Free for the first camera, then $2.99 |
| Yearly Price | $107 | $215 |
| Yearly Savings | $12.88 | $24.88 |
Scout's paid plans both include cellular backup and notifications whenever an alarm goes off. Get started on Amazon.
There are two plans: Always On ($9.99 per month) and Always On+ ($19.99 per month), both of which do not require an annual contract. The latter offers professional monitoring but both include email, SMS, and push notifications, cellular backup, and power backup. We signed up for Always On+ to test out the professional monitoring, and as we went about our busy day, we'd still receive notifications about detected movements in the house. On top of that, our monitoring team also received the alerts and let us know if anything was taken care of with the police or fire department on our behalf, which didn't end up being needed, lucky for us. Talk about having our backs (and eyes)! Free cloud storage of 14 days was also included in our plan, but every camera after that costs $2.99 per month, as we mentioned before.
There is the option to self-monitor, but you'll still need to pay $9.99 a month for notifications, a feature we consider to be essential. What we liked most about these plans is if we signed up for professional monitoring for one year and we broke the contract, Scout would give us a prorated refund, which is good to know if you want to test out professional monitoring for a bit.
Scout Smart Home Integrations
Scout is probably the home security system with the most smart home integrations in the market, at least that we've tested. It works with Amazon Alexa, Google Assistant, Yale Z-Wave Locks, Kwikset Z-Wave Locks, Nest, LIFX, Philips Hue, and IFTTT. Whew, that was a mouthful!
Scout and the Voice Assistants
When we integrated our Alexa4 with Scout, we were able to issue commands such as "Alexa, disarm" and "Alexa, ask Scout what mode is armed?" Alexa could keep us updated, let us know Scout's status, and alert others. In the same vein, when we tested out our Scout system with Google Assistant,5 we simply asked, "OK Google, ask Scout if the alarm is on?" and "OK Google, tell Scout to activate Vacation mode." Google Assistant was able to arm, disarm, and let us know the status of our system, a bit more comprehensive than Alexa. In general, Google Assistant works better than Alexa, coming in first in intelligence tests.6
Automating Scout
We have a LIFX Mini White bulb for one of our lamps in the office room, so as soon as we integrated it with Scout, we created automated triggers in the app and tested them out. As soon as Scout picked up suspicious activity while one of our team members sat in the office, the LIFX light flashed red, signaling that there's an intruder in the house. This feature was useful for our family members that are hard of hearing and may not hear the siren.
Since Scout has so many partnerships with other companies, the automation possibilities abound. You don't have to be a purist when it comes to Scout, and a system composed of mixed components makes for more adaptable and robust home security.
Our Experience With Scout Customer Support
Contacting customer service is more often than not a "rubbing your temples" or "pinching the bridge of your nose" triggering task. As with most home security systems' websites, Scout's website was easy to navigate. For troubleshooting or a refresher on how to utilize our Scout Alarm system, the website provided us with video tutorials, a Knowledge Base, essentially an FAQ section, a customer support email and phone number, and a contact form.
When we called Scout's customer support, we received informative and straightforward answers without any beating around the bush, a welcome departure from most security companies that tend to employ high-pressure sales tactics. With multiple modes of reaching out to their customer support, Scout proved to us that they are receptive to customer feedback, questions, and concerns about their products, which is a plus in our book.
Using the Scout App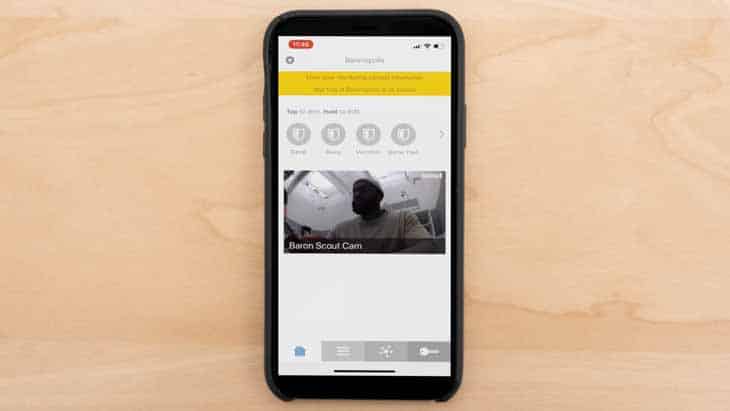 Our experience with the Scout Alarm app7 was just okay overall (not as good as the award-winning Vivint app), with a friendly user interface simple enough for even the least tech-savvy among us. The main issue that we encountered was the delay in video feedback as there were jumps every now and then, although that'll depend mainly on your Internet connection.
We wanted to see what other Scout customers thought of their app, so we turned to the iOS and Android app reviews. Currently, the app has a 3-star rating on Apple and a 3.5-star rating on Google Play. Many customers seemed to take issue with the delays in notifications from the sensors, just like us. Connectivity issues have also surfaced after customers upgraded their service. Overall, we're lukewarm about the Scout Alarm app but can see that Scout has released and continues to release updates for bug fixes and crashes.
See how Scout measures up in the industry
Wondering if Scout is right for you? We squared it up with the best systems available to help you make a smart decision.
Our Verdict on Scout
Scout's customizability can either simplify or fortify your home's defenses. We're a huge fan of the smart home integrations as it encompasses the most we've ever seen from a home security brand. We also liked that there's no commitment to a long-term contract, so we could quit our monthly plan at any time—no strings attached. Still, Scout has a long way to go when it comes to incorporating advanced features for their indoor camera, such as two-way audio. We also didn't have the best time with installing the camera, as it took longer than expected.
If you live in an apartment or a small home, don't require too many components, and are on a budget, then we'd recommend going with Scout. If you own other security brand products that can integrate with Scout, then you'll enjoy the wide scope accessibility. For homeowners with large houses, Scout could work if you don't mind spending more money on multiple sensors and cameras.
Overall, Scout is a great choice for those who really prize the customizability aspect. It can be affordable, depending on your build. Although there are cheaper alternatives out there, we truly can't recommend Scout enough for its unique customization and multitude of smart home integrations, along with its monitoring options and DIY installation.
FAQs
We've got even more information about the Scout Alarm security system here in our FAQ section.