SimpliSafe vs Vivint
Vivint and SimpliSafe have a lot in common, but their pricing is pretty different. Which one leaves more money in your pocket?

Best with Pro Installation

Advanced smart home capabilities
Professional installation
Cellular monitoring
Best Home Security System Overall

Monthly subscription plans
Fast and easy DIY installation
Reliable professional monitoring
Professional monitoring costs $17.99 or $27.99 per month
Camera recording on five cameras costs as little as $9.99 per month
Packages range from $250 to $700
SimpliSafe and Vivint need no introduction. They are two of the top security companies right now, and they both offer the most cutting-edge features, equipment, and monitoring.
While they are similar in many areas, SimpliSafe and Vivint are opposing forces. SimpliSafe created one of the best security systems for renters with its DIY installation, optional professional monitoring, and wireless equipment. On the other hand, Vivint offers a more traditional system — professionally installed and monitored — but with premium smart home features that will make you feel like you're living in the future.
In this comparison page, we're putting them head-to-head to compare their features, pricing, equipment, and so much more. Which system is better suited for you? Let's find out together.
Key Similarities
First, we'd like to give you an overview of what the two security systems have in common, and what they have that's different. Let's start with the similarities:
Wireless equipment: SimpliSafe and Vivint offer equipment that connects to the system wirelessly.
Security and safety equipment: It's not just that they are both wireless, but they also offer similar pieces of equipment, including entry sensors, motion sensors, glass break sensors, and security cameras.
Professional monitoring: With either company, you can have help from professionals in monitoring your security system. That includes police, fire, or medical emergency dispatch when necessary.
Key Differences
Installation: While Vivint offers professional installation, SimpliSafe is DIY.
Self-monitoring: In addition to professional monitoring, SimpliSafe gives users the option to self-monitor their system; Vivint doesn't.
Smart home capabilities: Vivint has far more advanced smart home capabilities since it can connect to Z-Wave smart home devices even from third-party brands. SimpliSafe lacks that, and it can only pair up with select smart home products.
If that all sounds good, we can move on to system components.
SimpliSafe Vs. Vivint System Components
| Feature | SimpliSafe Summerfort System | Vivint Basic Security System |
| --- | --- | --- |
| Base Station | Yes | No |
| Control Panel | No | Yes |
| Keypad | Yes | No |
| Entry Sensor | Yes | Yes |
| Motion Sensor | Yes | Yes |
| Glass Break Sensor | Yes | Yes |
| Security Camera | Yes | Yes |
| Panic Button | Yes | No |
| Key Fob | Yes | No |
| Auxiliary Siren | Yes | No |
| Smart Lock | No | Yes |
| Video Doorbell | No | Yes |
| Smoke Monitor | No | Yes |
| C.O. Monitor | No | Yes |
The SimpliSafe Summerfort System and the Vivint Basic Security System include entry, motion, and glass break sensors and security cameras (SimpliSafe calls their indoor camera the SimpliCam). SimpliSafe also gives you a base station, panic button, key fob, and auxiliary siren, while Vivint throws in smoke and C.O monitors, a video doorbell, a smart lock, and a control panel.
>> Learn More: The SimpliSafe Outdoor Camera
SimpliSafe Vs. Vivint Installation
While all Vivint systems come with free professional monitoring, it'll cost $79 with SimpliSafe, or, you can do it yourself for free. I did it myself, so let's take a closer look.
Installing SimpliSafe
Installing SimpliSafe requires no tools, no drilling, and no knowledge of security systems at all.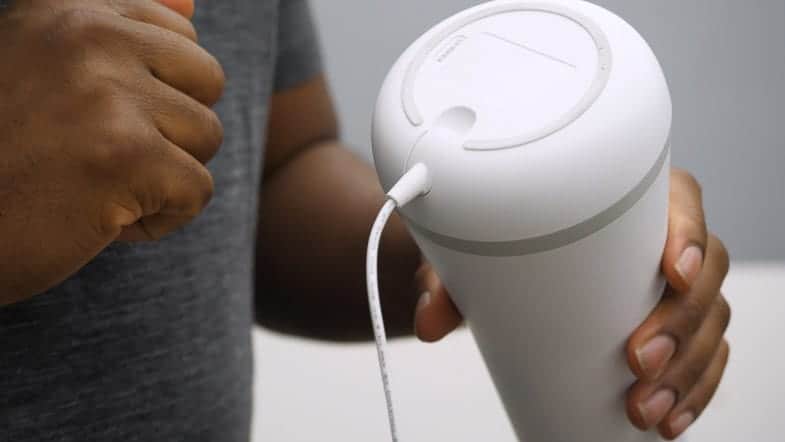 The majority of the system is peel-and-stick, which a literal child could handle. Once the sensors are up, all I had to do was plug in the base station and sync everything in my SimpliSafe app. From start to finish, installing SimpliSafe took only a few minutes, so I'm super pleased. However, if you're not a DIY person, professional installation is available for $79.
Installing Vivint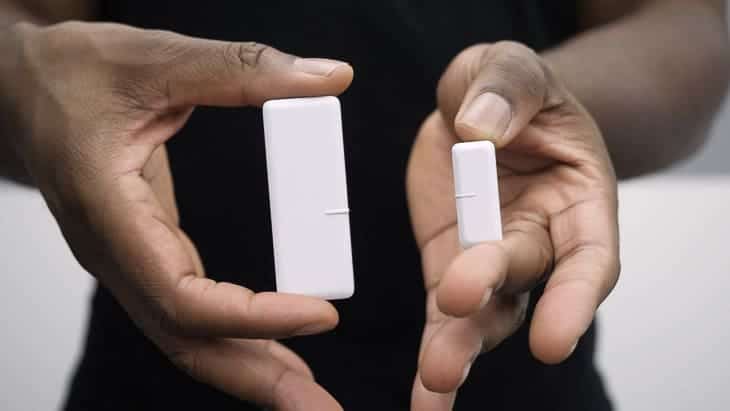 For free, you'll get your Vivint system professionally installed by the same person who delivers it. My technician was very polite and courteous, putting booties around his shoes as to not track in dirt into my home. He also clearly knew what he was talking about with the system, making me feel very confident that it was set up correctly.
Top System Installation
Vivint clearly has the best possible installation, free and professional. However, SimpliSafe's options aren't bad at all, so you're in good hands with either system.
Professional Monitoring with SimpliSafe Vs. Vivint
When it comes to home security monitoring, there are two main options available: self-monitoring through your mobile app or 24/7 professional monitoring. If you choose the latter, you'll get a team of people monitoring your system at all times. If one of your alarms goes off, it's the professional monitors that will contact emergency services for you, if need be. This can be especially helpful if you're on vacation or simply preoccupied. I recommend getting professional monitoring whenever it's offered, but SimpliSafe does give you the option to self-monitor. Let's get into more detail.
SimpliSafe Vs. Vivint Monitoring Options
With SimpliSafe, the cost of your monitoring will depend on the services you get, whereas Vivint bases it on the amount of cameras you have. Let's start with SimpliSafe.
SimpliSafe Professional Monitoring Options
| Feature | Standard Plan | Interactive Plan |
| --- | --- | --- |
| 24/7 Live Alarm Monitoring | Yes | Yes |
| Cellular Connection | Yes | Yes |
| Environmental Monitoring | Yes | Yes |
| Remote Control | Yes | Yes |
| Notifications | Yes | Yes |
| Secret Alarms | No | Yes |
| Video Verified Alarms | No | Yes |
| Professional Monitoring | No | Yes |
| 30 Days of Cloud Storage | No | Yes |
| Smart Home Integrations | No | Yes |
| Monthly Price | $17.99 | $27.99 |
Both the Standard and the Interactive Plans include 24/7 professional and environmental monitoring as well as cellular backup, ensuring your system will stay on in a power outage. You also get remote control of your system and smartphone notifications, both courtesy of the SimpliSafe app.
As for the Interactive plan, you'll get all those plus video verification, secret alarms, and cloud storage. Now let me explain a couple of SimpliSafe features that may not be super-obvious.
Secret Alarms allow you to receive a notification without the alarm physically going off, which could be useful for a liquor cabinet or safe.
Video Verified Alarms send a one-minute clip of your livestream footage to the professional monitoring teams, allowing them to verify that a crime has taken place. With evidence in hand, video verified alarms lead to higher arrest rates, according to the SimpliSafe website.
SimpliSafe also offers cloud storage separate from any monitoring, if you prefer.
SimpliSafe Cloud Storage Options
| Number of Cameras | Monthly Cost for 30 Days of Cloud Storage |
| --- | --- |
| One | $4.99 |
| Two to Ten Cameras | $9.99 |
Vivint makes it a lot more simple, basing your monitoring cost on the number of cameras you have.
Vivint Smart Home Video Service
| Number of Cameras | Monthly Price |
| --- | --- |
| Two | $49.99 |
| Three | $54.99 |
| Four (Maximum on One Account) | $59.99 |
Vivint's prices aren't terribly cheap, especially when you consider that you'll likely also pay a monthly fee for your equipment. Vivint offers financing options where you pay for your equipment over four or five years, which is actually a good thing because Vivint security systems can be quite expensive.
That said, if you want to keep your monthly expenses low, you can actually pay up-front for the equipment, but it will run you at least $800.
Vivint Package Offerings
| Eligible Products | Smart Security Service ($29.99/month) | Smart Home Service ($39.99/month) | Smart Home Video Service ($49.99/month for first two cameras) |
| --- | --- | --- | --- |
| SkyControl Panel | Yes | Yes | Yes |
| Glance Display | Yes | Yes | Yes |
| Google Home | Yes | Yes | Yes |
| Google Home Mini | Yes | Yes | Yes |
| Smart Sensor | Yes | Yes | Yes |
| Motion Sensor | Yes | Yes | Yes |
| Recessed Door Sensor | Yes | Yes | Yes |
| Glass Break Sensor | Yes | Yes | Yes |
| Smoke Detector | Yes | Yes | Yes |
| C.O. Detector | Yes | Yes | Yes |
| FireFighter | Yes | Yes | Yes |
| Flood/Freeze/Heat Sensor | Yes | Yes | Yes |
| Panic Pendant | Yes | Yes | Yes |
| Key Fob | Yes | Yes | Yes |
| Smart Lock | No | Yes | Yes |
| Garage Door Controller | No | Yes | Yes |
| Nest Thermostat E | No | Yes | Yes |
| Nest Learning Thermostat | No | Yes | Yes |
| Vivint Element Thermostat | No | Yes | Yes |
| Lamp Module | No | Yes | Yes |
| Doorbell Camera | No | No | Yes |
| Ping Camera | No | No | Yes |
| Outdoor Camera | No | No | Yes |
| Smart Drive | No | No | Yes |
If you have more than two cameras, your monthly fee will simply increase. All Vivint plans include cellular backup, which is a good thing.
Clearly, SimpliSafe has more reasonable prices, with its highest option at $27.99 a month being less money than Vivint's lowest option at $29.99 a month. Keep in mind that the Vivint equipment itself was $844 compared to the $559 I paid for the Summerfort system so overall, you're going to spend a lot more money with Vivint than with SimpliSafe.
SimpliSafe Vs. Vivint Contracts
While all SimpliSafe contracts are month-to-month, Vivint requires you to sign either a 3.5 or a five-year contract. However, you can cancel Vivint anytime—you just need to finish paying for your equipment.
SimpliSafe Vs. Vivint Moving Policies
As SimpliSafe has DIY installation, if you're moving, just pick up your system and install it in your new home. Or, you can get it professionally installed again for $79. With Vivint, on the other hand, they'll reinstall it for you, but they'll bill you unless you qualify for the free movers' program.
Top System for Monitoring
To me, the choice is clear. SimpliSafe's monitoring is more affordable and flexible than Vivint's, with monthly contracting and lower monthly prices. Okay, now it's SimpliSafe one, Vivint zero. The next two rounds should be interesting.
Customer Support with SimpliSafe Vs. Vivint
| Method | SimpliSafe | Vivint |
| --- | --- | --- |
| Phone | Yes | Yes |
| Email/Form | Yes | No |
| Online Help Center | Yes | Yes |
| Livechat | No | Yes |
| Google Rating | 3 | 3.8 |
WINNER: Vivint
Both SimpliSafe and Vivint offer customer support in the form of phone lines and online help centers. SimpliSafe lets you send support an email or submit a form online, while Vivint has a live chat feature. To see what real customers thought of SimpliSafe and Vivint's customer support, I turned to Google reviews. Google combines customer reviews from many different websites to bring you one comprehensive rating. While SimpliSafe received a three-star rating, Vivint received a 3.8.
"Absolutely love this company. Equipment has only had one hiccup and a technician was out the next day to fix it free of charge. Customer service is always great even with small holds during busy hours (normal for any company though),"
wrote James Ballard of Vivint in a five-star review.
Top System for Customer Support
The algorithms don't lie— Vivint has better customer support than SimpliSafe, as evidenced by their higher rating on Google. I also prefer live chat to email, as it typically yields faster response times. Ladies and gentlemen, we have a tie, and you know what that means— it's all going to come down to the apps.
SimpliSafe Vs. Vivint Apps
| | Features | Google Play Rating | Apple Store Rating |
| --- | --- | --- | --- |
| SimpliSafe App | Arm/disarm system, control connected devices, get notifications, livestream & download footage with interactive plan | 4.5 | 4.8 |
| Vivint Smart Home | Arm/disarm system, control connected devices, speak to & see visitors with doorbell camera, get notifications, livestream footage | 4.5 | 4.6 |
WINNER: SimpliSafe
Now it's time for the final round, the apps. We're talking smart security here, so a user-friendly app is essential to monitoring and controlling your security system. Who will break the tie and reign supreme?
The SimpliSafe App
From the SimpliSafe app, you can arm and disarm your system, control any connected devices you may have, receive notifications, and if you have the Interactive Plan, livestream and download footage.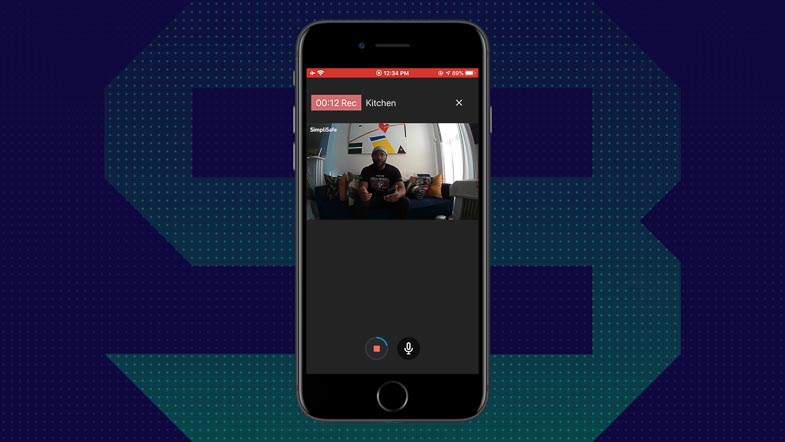 The app has amazing ratings, a 4.8 from the Apple store and a 4.5 from the Google Play store.
The Vivint App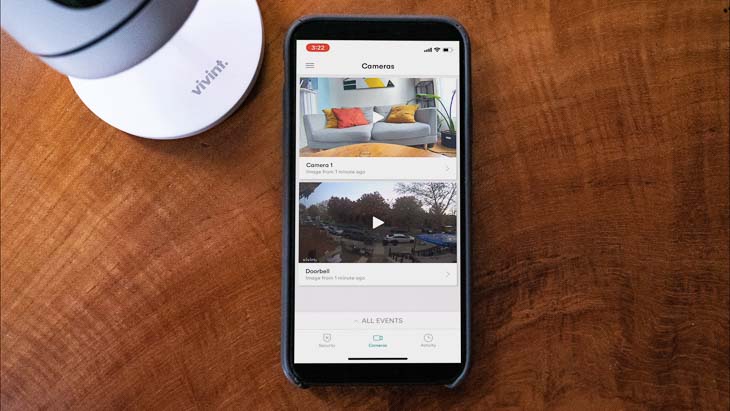 The Vivint app has the exact same capabilities of the SimpliSafe app, plus it allows you to see and speak to visitors through your video doorbell. With ratings of 4.5 from Android users and 4.6 from iPhone users, the Vivint app is one of the highest-rated in the app store.
Top System App
Both of these systems have some of the best apps in the security games, but overall, SimpliSafe's is ranked higher by only .2 stars. SimpliSafe for the win!
Recap of SimpliSafe Vs. Vivint
While SimpliSafe has more affordable, flexible professional monitoring and a better app for iPhone users, Vivint won for customer support and installation, it being free and professionally done. Overall, I'd choose SimpliSafe, but let's break it down even further.
Want to learn more about Vivint? Check out our review of the Vivint home security system.
SimpliSafe vs. Vivint FAQs