SimpliSafe Outdoor Camera Review
What We Like
Built-in siren: The SimpliSafe Outdoor Camera came with a built-in siren so we could startle any would-be intruders.
Color night vision: With a motion-triggered spotlight, the SimpliSafe Outdoor Camera can record in crystal clear color night vision.
Person detection: The camera could tell the difference between cars, animals, and people, helping to eliminate false alarms.
What We Don't Like
Local storage options: The SimpliSafe Outdoor Camera doesn't have any storage options, so we had to pay if we wanted to save video clips.
Facial recognition capabilities: Facial recognition is fast becoming the hottest feature in security cameras, but SimpliSafe hasn't yet gotten on board.
Reliability in climates over 113 degrees: It doesn't usually get up to over 113 degrees here in Brooklyn, but that's not true for everywhere in the world.
Bottom Line
The SimpliSafe Outdoor Camera is an important new addition to the SimpliSafe family of products: a true outdoor camera with 1080p HD resolution, color night vision, an IP65 weather rating, and a built-in siren. While we'd love to have local storage options, SimpliSafe does make its cloud storage options affordable.
SimpliSafe ventures outdoors in a serious way.
We've been fans of SimpliSafe security systems for a while now. One of the things that has been missing from those systems, though? A high-quality outdoor camera. Indoor cameras are important to any security system, of course, but we want to be able to protect the perimeter of our property too. That means we need to have eyes on the outside of our home as well as the inside.
The big question is – how does this new outdoor camera from SimpliSafe measure up? We put it through its paces, and we have all the important details on how it performed. Read on to discover more.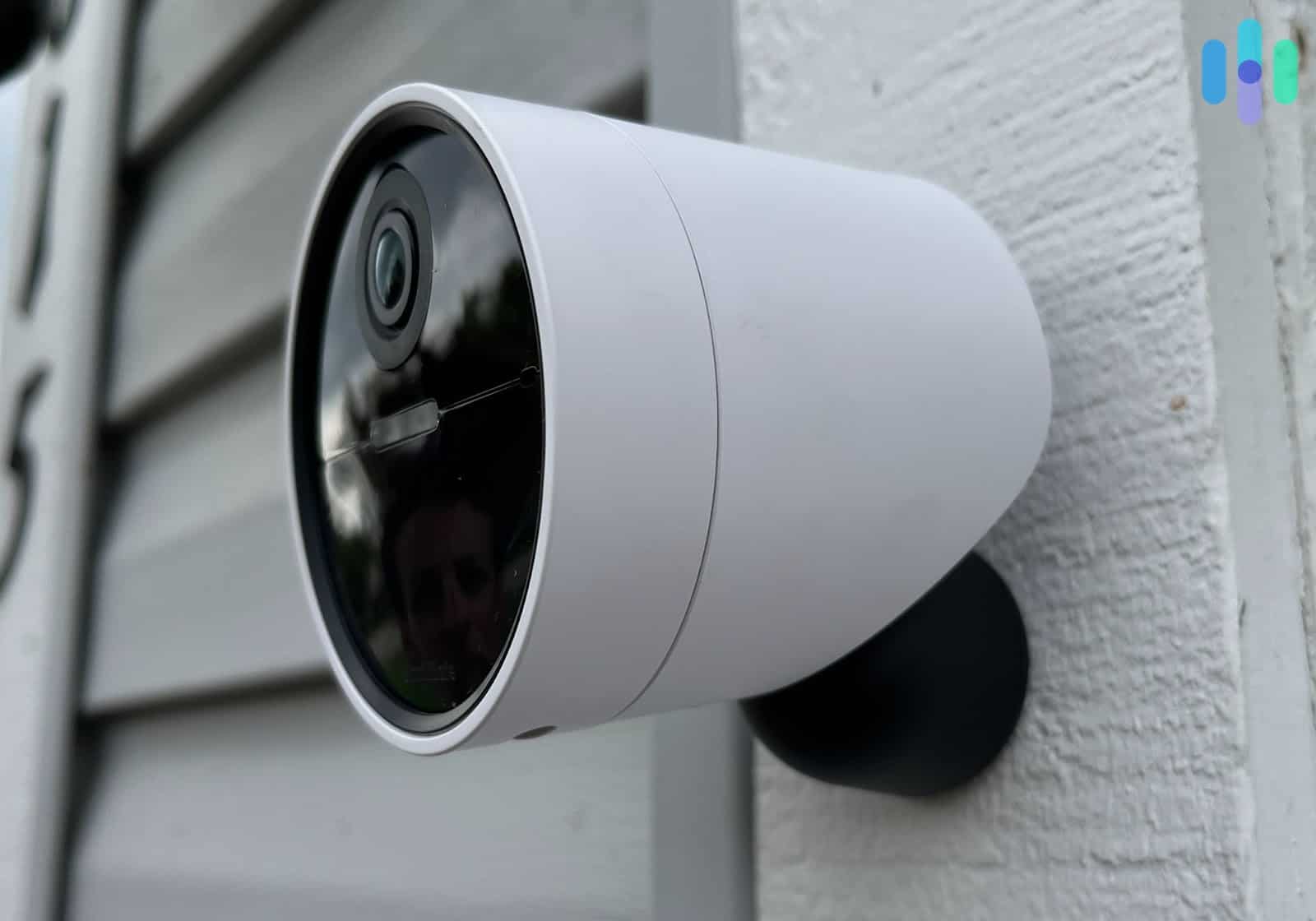 Editor's Rating
Easy DIY installation
Battery-powered
Built-in siren
Key Features
The SimpliSafe Outdoor Camera is definitely a good-looking device. The camera itself is a white cylinder with a black face. It rests on a black, rounded mount with a unique look that is sleek and modern.
Of course, looks are great, but this camera is more than just a pretty face. It comes with several outstanding features.
Outdoor Rated
Let's start with the most important feature of this camera: its ability to work outdoors. SimpliSafe has sold its SimpliCam for years, and that camera has always been a decent option for indoor recording. Up until now, though, if we wanted outdoor monitoring, we had to purchase a kit to turn the indoor camera into an outdoor camera. That wasn't exactly the best solution. But now that SimpliSafe has an outdoor camera, is it really an outdoor camera?
The answer is a resounding yes. How do we know? For starters, we didn't need a kit. The outdoor camera mounts on an outdoor surface and works great as-is. More importantly, this camera is outdoor rated at IP65. That means it is completely dust-tight and can withstand low-pressure water jets (think heavy rain). In addition, the SimpliSafe Outdoor Camera works in temperatures ranging from minus 20 degrees to 113 degrees Fahrenheit. That might not be enough for Arizona in July, but it'll do the job for us in Brooklyn all year round.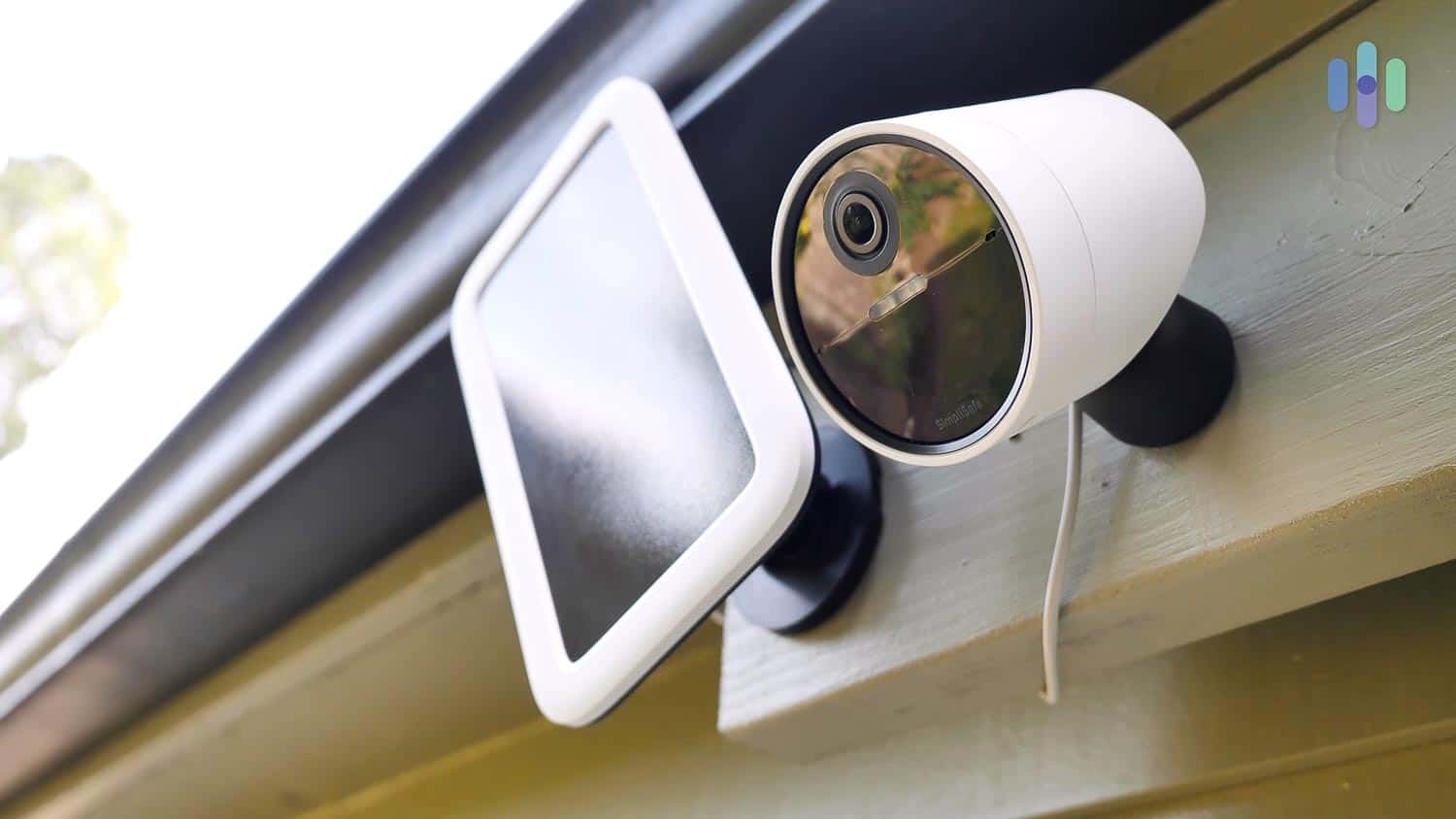 Built-in Siren
The new outdoor camera from SimpliSafe comes with a built-in siren. We liked the fact that we had a choice of how to use it. We set it up to go off any time the camera detected motion, which made it handy for scaring off any potential intruders. We could have set it to silent mode too. Sometimes we want to capture what's happening on our front porch without letting anyone know we're filming.
Image Quality
The SimpliSafe Outdoor Camera features 1080p HD video resolution. That's the industry standard these days. There are some great cameras out there with resolution as high as 4K, such as the Arlo Ultra, but 1080p HD provides crystal clear images, and we don't need a 4K screen to see them.
The SimpliSafe Outdoor Camera also offers a 140-degree field of view. We expect our cameras to see at least 110 degrees. All in all, we were pretty pleased to have wide-angle viewing. The camera also features 8x digital zoom. That meant we could tell exactly what costumes trick-or-treaters were wearing as they strolled up the sidewalk to our door this past Halloween.
Night Vision
We expect our security cameras to work just as well at night as they do during the day. After all, according to the latest FBI statistics, 39 percent of all burglaries happen in the dark.1 The SimpliSafe Outdoor Camera includes a built-in spotlight that turns on the moment it detects any motion. And we didn't just have night vision; we had full-color night vision plus HDR. For those who don't know, HDR stands for high dynamic range. Cameras with HDR technology actually take three pictures at once, which together provide more detail in darker and lighter areas than a single image.2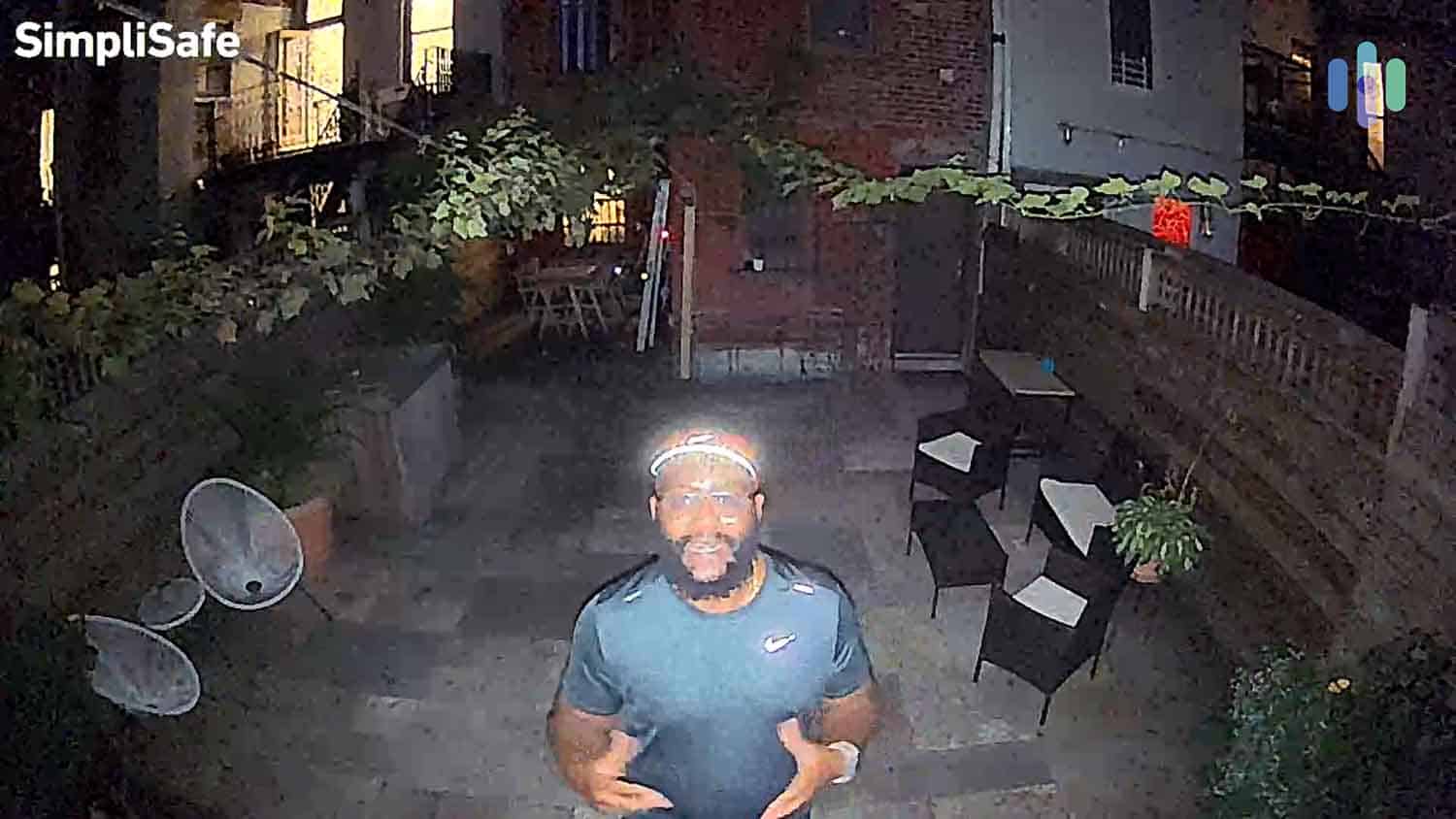 Two-way Audio
We're not always looking to scare people off with a siren. Sometimes it's nice to be able to have a chat with whoever happens to be on our doorstep. Luckily, the SimpliSafe Outdoor Camera comes with two-way audio, another feature we're always looking for in security cams. Last week, we were able to ask our mail person about two-day shipping without even getting out of bed.
Smart Detection
The SimpliSafe Outdoor Camera let us set up custom detection zones so we captured only what we needed to. Even better, the camera uses artificial intelligence to differentiate between people, animals, and vehicles. That cut down on the number of false alarms we were getting from our neighbor's wandering dachshund. Was this feature always accurate? Unfortunately not. But we didn't experience too many false alarms during our tests.
Smart Platform Integration
The SimpliSafe Outdoor Camera works with both Google Assistant and Alexa. That meant we were able to activate the camera and change settings using only our voices. Although SimpliSafe isn't known for the best home automation options, the company is actually coming around and offering some super-smart features as of late. (The SimpliSafe home security system now works with Apple Watch and August Smart Locks, too.)
Security System Integration
One of the best things about SimpliSafe's new outdoor camera is simply that it's from SimpliSafe. As a result, it integrates seamlessly with all of SimpliSafe's other security products, including cameras, entry sensors, and keypads. All we had to do was install the camera, and our SimpliSafe system detected it immediately.
Battery Powered
The SimpliSafe Outdoor Camera is wireless, meaning it runs on battery power. Luckily that battery can last between three and six months between charges, depending on usage. When we did need to charge it, it was simply a matter of plugging it into a wall outlet and leaving it there for five hours. That's pretty good, especially when compared to the eight hours required to charge batteries on Ring security cameras. For those who don't want to leave their cameras off, even for five hours, SimpliSafe sells a backup battery you can slip in while you're charging the primary battery. You can even eliminate charging altogether by investing in one of the company's solar chargers. Not every security company out there offers a solar option for its cameras. The abode security system doesn't come with one, for instance. We always like it when companies push the boundaries to make life just a little easier.
Wi-Fi
One of the nicer features of the SimpliSafe Outdoor Camera is that it includes two Wi-Fi antennas. That meant we could position it on the opposite end of the house from the router and still get a strong connection. Nothing frustrates us more than having to spend money on an antenna booster to make sure all our videos make it safely to the cloud. We loved the fact that we got that kind of coverage without having to buy additional equipment.
DIY Setup
We had no trouble setting up our SimpliSafe Outdoor Camera. It took all of around five minutes, and most of that time was spent deciding where to place it. As we note in our guide to installing video cameras, it's always best to place cameras out of easy reach so no one can tamper with them. Of course, that meant pulling the ladder out of the garage, which added a couple of minutes to our installation time. Luckily, though, all we had to do was screw the mount on. The camera itself attaches to the mount using magnets, so all we had to do was stick it on. Those magnets also made it an easy matter to adjust the camera so we could get just the right view of our front yard.
Storage Options
As with all SimpliSafe cameras, all storage is cloud storage. That's a little disappointing. We like having local storage options so we don't have to purchase a storage plan if we don't want to. Still, SimpliSafe offers a low-cost storage plan. For just $4.99 a month, we got unlimited recording, and videos were stored for up to 30 days. You can see more on pricing below. Of course, because the SimpliSafe Outdoor Camera is wireless, it doesn't have the battery power to record non-stop. However, when the camera detects motion, it records for a minimum of five minutes, and longer if it continues to detect motion.
SimpliSafe Outdoor Price
SimpliSafe prices its outdoor camera at $169.99. That's $70 more than the SimpliCam, but this is a hardier camera, engineered specifically for outdoor use. In fact, as outdoor cameras go, the SimpliSafe Outdoor Camera is at the lower end of the price spectrum. Arlo Pro cameras cost $10 more, and Ring's Spotlight Cam costs $199.99.
Of course, there are savings to be had if you bundle your camera with other SimpliSafe products. There's no discount specifically for the outdoor camera, but if you buy a camera as part of a security system package, SimpliSafe throws in its base station and a keypad for no charge.
In addition, you can find SimpliSafe deals and discounts throughout the year. For Father's Day this year, the company offered all its systems for 25 percent off and threw in a free SimpliCam. For Prime Day, everything was 40 percent off, including cameras. Here's hoping that SimpliSafe will include the outdoor camera in future sales.
Finally, you should know that the SimpliSafe Outdoor Camera comes with a 60-day return policy. That includes free shipping. Basically, you can give the camera a try for two whole months without risk. That's pretty generous. Most companies' satisfaction guarantees max out at 30 days or less.
Monitoring
SimpliSafe's monitoring plans can be a bit confusing, but it's worth taking the time to understand them before you commit to buying a camera.
First, you can use the camera in a limited capacity for free. Obviously, the free plan doesn't include any professional monitoring or video storage. However, it does provide real-time alerts, and you can use your app to view the live feed. In addition, you can control your camera using your mobile device, and the app includes a system timeline that describes the last seven days of activity.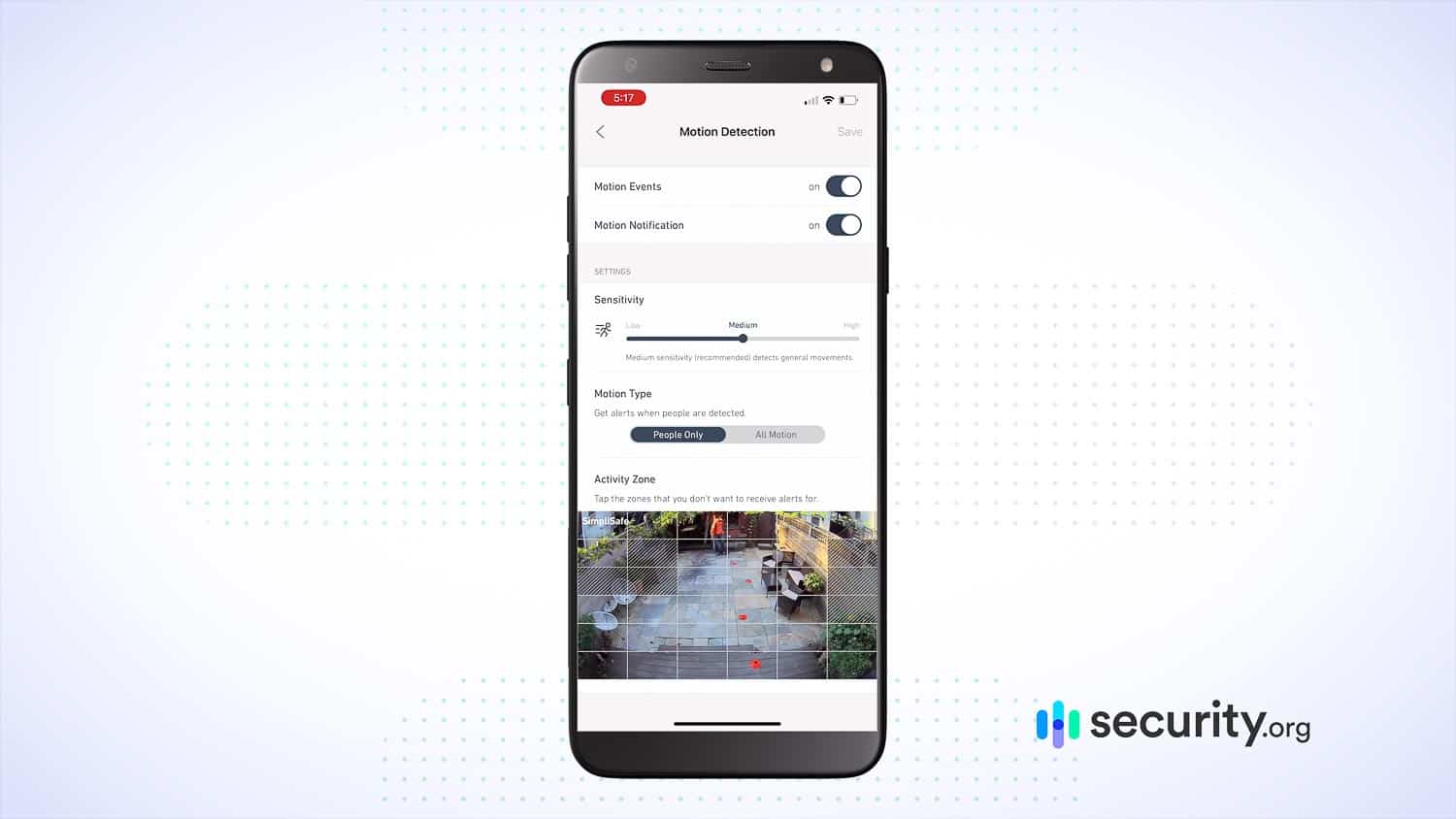 If you want to add just storage, you can do that for one camera or up to five. Both storage plans allow for unlimited recording, and you can keep videos for up to 30 days.
We encourage you to sign up for 24/7 monitoring with whatever security cameras or system you use. The reason is simple: unless you're a superhero, you can't possibly monitor your cameras all the time. With monitoring plans, you don't have to. SimpliSafe will check your feeds any time there is an alert and call you if there's a problem. It will even call emergency services for you if you aren't available. SimpliSafe offers two kinds of monitoring: monitoring with and without video storage.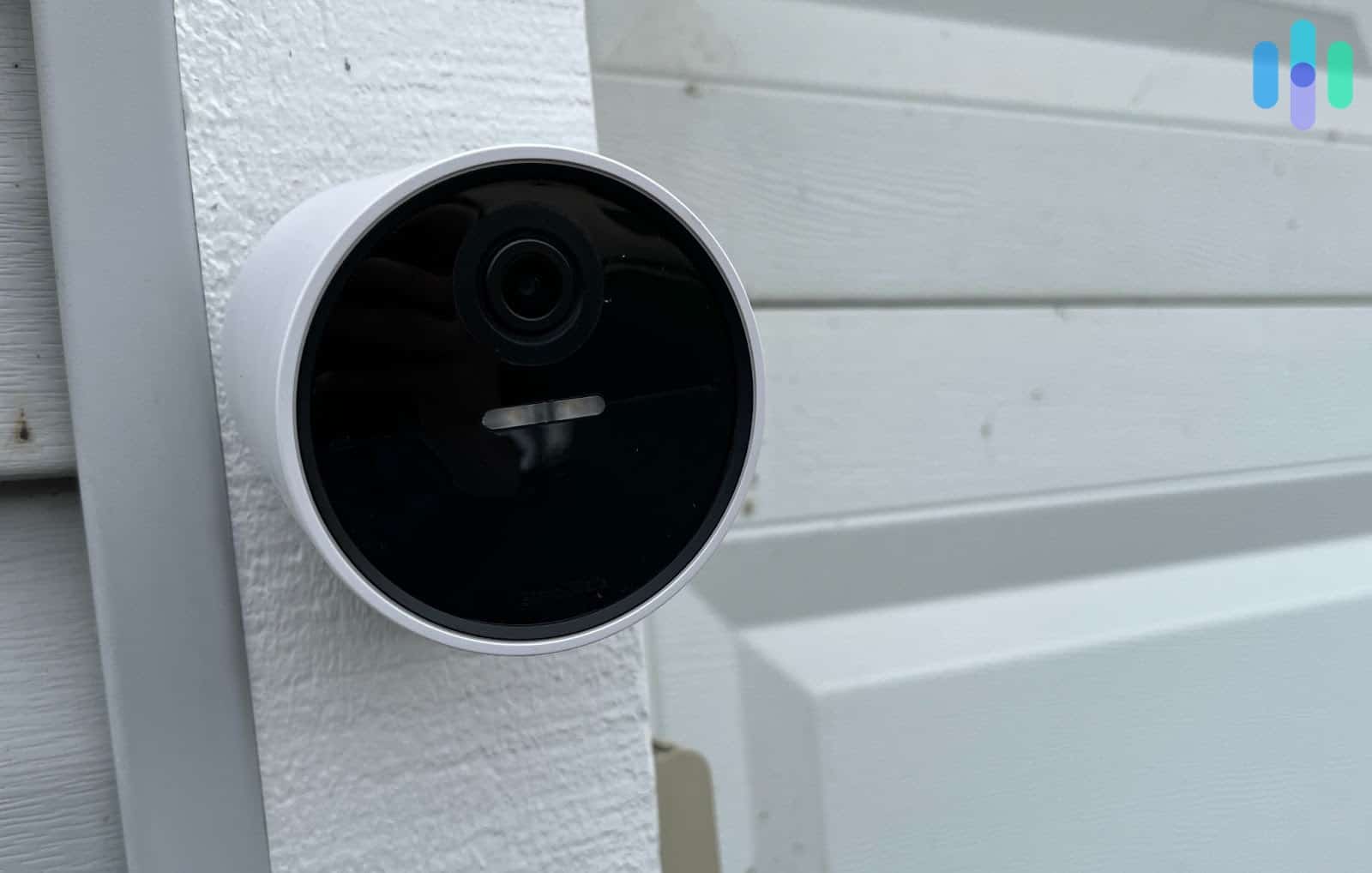 SimpliSafe Monitoring Plans and Prices
| Plan | Unmonitored | Self-monitoring storage, 1 camera | Self-monitoring storage, 5 cameras | Professional monitoring with no storage | Professional monitoring with storage |
| --- | --- | --- | --- | --- | --- |
| Real-time alerts | Yes | Yes | Yes | Yes | Yes |
| Live video feeds | Yes | Yes | Yes | Yes | Yes |
| Unlimited storage for 30 days | No | Yes | Yes | No | Yes |
| Person detection | No | No | Yes | Yes | Yes |
| Built-in cellular connection | No | No | No | Yes | Yes |
| Dangerous temperature detection | No | No | No | Yes | Yes |
| Water leak detection | No | No | No | Yes | Yes |
| 24/7 fire, police, and medical dispatch | No | No | No | Yes | Yes |
| Price per month | Free | $4.99 | $9.99 | $19.99 | $29.99 |
SimpliSafe Outdoor Camera vs. Arlo Pro 4
How does the SimpliSafe Outdoor Camera stand up against the competition? Well, we put it head-to-head against a comparable outdoor-rated camera, the Arlo Pro 4. We considered how each camera performed in a variety of categories, and here's what we discovered.
Resolution: The SimpliSafe Outdoor Camera offers the industry-standard 1080p HD resolution. That's not bad. However, the Arlo Pro 4 has a maximum resolution of 2K. Side by side, the images from these two cameras won't look much different. However, if you zoom in, the 2K will be sharper every time, with the Arlo Pro 4 winning by a nose.
Field of view: Here again, the SimpliSafe Outdoor Camera exceeds expectations, with a 140-degree field of view. However, the Arlo Pro 4, with its 160-degree field of view, still manages to outdo SimpliSafe, if only by 20 degrees.
Night vision: When it comes to night vision, the SimpliSafe Outdoor Camera and the Arlo Pro 4 are remarkably similar. Both feature full-color night vision images and both accomplish this by using a built-in, motion-activated spotlight.
Artificial intelligence: Both cameras include person detection, which can help eliminate false alerts. However, neither provide facial recognition, which is an up-and-coming technology in the security camera world.
Smart platform integration: Here again, SimpliSafe and Arlo run neck and neck. Both outdoor cameras work with Alexa and Google Home. Neither works natively with Apple Homekit, but you can get around this deficiency by purchasing an Apple Homebridge hub.
IP ratings: The Arlo Pro 4 and the SimpliSafe Outdoor Camera are advertised as outdoor cameras. How well do they live up to this claim? Both are rated IP65, which means they are dust-tight and capable of withstanding water from a nozzle. In addition, both cameras are capable of operating in temperatures up to 113 degrees Fahrenheit. When it comes to low temperatures, though, SimpliSafe has the edge. It can operate in temperatures as low as minus 20 degrees Fahrenheit, while the Arlo Pro 4 only works to minus 4 degrees Fahrenheit.
Battery: Both companies claim their cameras' batteries can last up to six months. Of course, claims are just that: claims. The truth is that battery life depends a great deal on how you use your camera. In the end, this one is another toss-up.
Storage: We like the option of local storage, and both the SimpliSafe Outdoor Camera and the Arlo Pro 4 let us down in this regard. Both offer cloud storage, although they each require you to pay for it. Arlo's cloud storage plan is just a tad cheaper at $2.99 a month for a single camera versus SimpliSafe's $4.99 per month price tag.
Price: Finally, how do the two cameras compare when it comes to the all-important issue of price? The SimpliSafe Outdoor Camera takes the prize at $169.99, which is $10 cheaper than the Arlo Pro 4.
In the end, which camera offers the best features for the best price? The truth is there's not a lot of difference between them. Both include a built-in siren, both use magnetic mounts, and both are rated for outdoor use. The decision, then, really comes down to what you want in a camera. If you're looking for the sharpest, widest views, the Arlo Pro 4 is probably the way to go. However, if you're looking to save a little money and enjoy ultra-fast installation and ease-of-use, the SimpliSafe Outdoor Camera is something to consider.
The Bottom Line
Taking everything into account, we think the new SimpliSafe Outdoor Camera is a great buy. For just $169.99, we got an IP65 rated device that delivered excellent video quality, rain or shine, day or night. The 140-degree field of view isn't the widest on the market, but it's far from the smallest.
We loved having a siren we could turn on or off to suit our needs. We thought the person detection did a great job of cutting down on annoying false alarms. Most of all, though, we were impressed by the fact that SimpliSafe is able to offer an affordable outdoor camera without skimping on extras like a second antenna. All in all, we think this camera makes for an excellent addition to the SimpliSafe family of products.
Looking for more options for outdoor cameras? Check out our list of the best outdoor security cameras, the best wireless outdoor security cameras, and the best outdoor security systems.
FAQs
Want even more information about the SimpliSafe Outdoor Camera? Check out our FAQs below for answers to some of your most popular questions.