The Best SimpliSafe Alternatives of 2023
Looking for home security options? We've got them.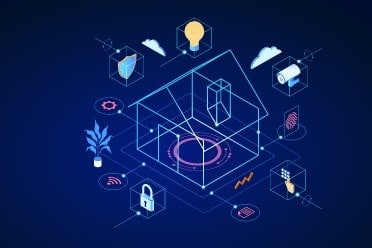 We like our SimpliSafe system so much that it ranks at the top of our list of the best home security systems. No home security system is perfect, though, and we recognize that not every security system is for everyone. You need a system that fits you, and there are plenty of reasons why SimpliSafe might not be that system. So we've taken the time to create this handy guide exploring all the best home security alternatives to SimpliSafe.
Top 3 SimpliSafe Alternatives
We rate SimpliSafe 9.8 out of 10, but at 9.6 out of 10, ADT's rating isn't too shabby either. Given its 140-year history in the security business,2 it's not surprising that ADT tends to do things in an old-school way. But what does that mean?

It means, for instance, that the company doesn't publish its equipment prices. When we bought our system, we had to haggle. In addition, ADT insisted on installing the system itself. No DIY options here.

The same goes for monitoring. When we went with ADT, we had no choice but to sign up for professional 24/7 monitoring. Monitoring with ADT costs $40 to $60 a month.

Here's the thing, though: We advocate for professional monitoring. And as for the professional installation, it was kind of nice to lean back in our easy chairs and let someone else do all the work while we watched college football.

Despite its long history, ADT is on the cutting edge when it comes to technology. The ADT Pulse app is one of the most intuitive, user-friendly home security mobile apps out there. That's probably why Apple users rate it 4.8 out of 5 and Android users rate it 4.6 out of 5.

ADT also integrates well with both Alexa and Google Home. That meant we could use our voices to activate and deactivate our system, otherwise known as voice control. It also meant our security system worked with our smart lights, smart locks, and smart thermostats, otherwise known as home automation.

If we have a complaint about ADT, it's with the quality of its security cameras. None of the company's cameras use the industry-standard resolution of 1080p HD. Instead, their resolutions are a much fuzzier 720p HD. Also, while the video doorbell offers a 180-degree field of vision and the indoor camera features a healthy 130 degrees, the outdoor camera's field of view is just 95 degrees.

Still, you can't put a price on trust, and with almost a century and a half of a solid reputation, we knew we could trust ADT to take care of our homes.

2. Vivint

Vivint is yet another highly rated home security system that shows up frequently on our list of the best home security systems. As a starting point, we loved that the company provided professional installation for free. Who else does that?

Even better, Vivint put all the power of our home security system in the palm of our hands with a user-friendly app that sent us real-time alerts and let us livestream footage wherever we were. We made adjustments to the system even while enjoying a cup of joe at the corner coffee shop. And with full integration with both Alexa and Google Home, the Vivint system allowed us to activate components like the door sensors using just our voices.

Vivint also earned points from us for the quality of its cameras. Vivint's outdoor camera is among the best we've reviewed. It had a crystal-clear, 1080p HD display with 4K sensors and HDR, which reduced glare and shadow. We had a 140-degree field of view, three times zoom in HD, and 10 times digital zoom. That was good enough for us to read labels on the packages the delivery person left on our front porch.

FYI: High-dynamic range (HDR) resolution balances out the dark and light areas of an image, providing more gradations between the two. This helps eliminate shadow and glare.

Finally, since we had person detection, we didn't have to worry about false alerts from the neighbor's cat.

Vivint is another system that doesn't allow for self-monitoring, so if you need that option, you should look elsewhere for self-monitored home security.

However, for around $40 a month, we had the security of knowing someone had eyes on our home at all times and would call us and emergency services if there were a problem. Vivint may be a little more expensive than some other companies, both in terms of equipment and monitoring, but it's certainly not overpriced, given just how good a system it is.

3. Cove

Founded in 2017,1 Cove is a relatively new player in the home security business, but the company has already made a name for itself with affordable monitoring and exemplary customer service.

We customized our own Cove system and managed to get everything we needed for our Brooklyn apartment for just over $200, including indoor and outdoor cameras, entry sensors, a motion sensor, and a control panel.

Cove even included a free indoor camera, which costs $50 normally. That camera had clear 1080p HD resolution, so we could see exactly what our cat was up to while we were at work. (Spoiler alert: his routine involves a lot of napping.)

At only 110 degrees, the camera's field of view was a little narrower than we like. The outdoor camera is better at 140 degrees, though, and both cameras feature two-way audio and person detection.

THE MORE YOU KNOW: Person detection is a form of artificial intelligence available on newer security cameras. With this feature, the camera can differentiate between people, animals, and moving objects, eliminating false alarms.

| Cove equipment | Price |
| --- | --- |
| Cove Touch Alarm Panel | $124.50 |
| Door/window sensors | $7.50 |
| Motion detector | $15 |
| Glass-break detector | $17.50 |
| Smoke and CO detector | $27.50 |
| Flood sensor | $10 |
| Key fob | $12.50 |
| Indoor camera | $49.50 |
| Outdoor camera | $99.50 |

We had a choice between two Cove monitoring plans. The first of these, the Cove Basic plan, is just $15 a month. For that price, we had 24/7 professional monitoring, text and email alerts, and cellular backup.

In order to control the system from our phone, though, we had to go with the pricier Cove Plus plan, which costs $25 a month. If self-monitoring is your thing, Cove isn't for you. The company doesn't offer any self-monitoring options.

We always go with professional monitoring, though, and Cove's plans are definitely affordable. Also, its monitoring responses are among the fastest in the business — three to eight minutes faster than the average time of 11 minutes. Ultimately, we felt like Cove really cared about us, and that's exactly what we want in a home security system company.
Recap
When it comes to top-tier security systems, you have choices. SimpliSafe is a great system, and we recommend it highly. You can get just as good protection from many other systems, though. Read our Cove review, ADT review, and Vivint review to learn more about each system.