Vivint vs Nest Comparison
Our pick is Vivint! Read below to find out why.

Best Features

Advanced smart home capabilities
Professional installation
Cellular monitoring
Easiest Installation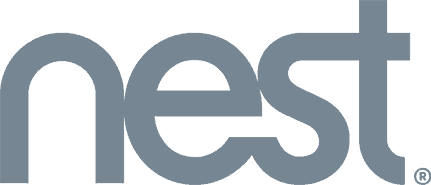 No longer sold by Nest
Google Home automation features
A range of no-contract plans
Our experts compared Vivint and Nest, both leaders in security and smart automation, before Nest discontinued Nest Secure. That being said, find out which one came out on top.
Key Takeaways from Our Vivint vs Nest Comparison:
Nest used to offer a DIY home security system
Both companies sell wireless, cellular systems (no landline required)
Vivint and Nest are leaders in innovation
Nest is owned by Google, so their devices are constantly improving
Both systems include high-quality equipment at reasonable prices
Our Vivint vs Nest comparison is the most comprehensive resource on these two popular home security systems. Read on to learn about the key differences and similarities between Vivint and Nest.
Vivint vs Nest Comparison Overview
Key Differences: Vivint vs Nest
Nest offered DIY systems, while Vivint requires professional installation
Vivint has been in the home security market for 15 years longer than Nest
Vivint requires long-term contracts, while Nest is month-to-month
Nest offered cheaper monthly monitoring plans, starting at $19.99 per month.
Vivint offers high-tech home security cameras that are sure to impress
Key Similarities: Vivint vs Nest
Both home security systems are cellular-powered and wireless
Vivint and Nest offer total home automation
Both systems offer reliable 24/7 monitoring with fast response times
Vivint and Nest both deliver great value for the price
Both companies offer great customer service
Now let's dig deeper into the different categories to see how Vivint and Nest measure up to one another. Remember, when the dust settles, there can be only one winner.
Home Security Categories We Compare:
Age and Influence 
Features and Technology 
Monitoring Options
Emergency Connections / Response Times
Security Equipment Included 
Quality of Equipment 
Home Automation 
Ease of Installation 
Customer Service 
Contracts 
Cost and Value
Age and Influence
Vivint — Vivint got its start in 1999, and over the past 20 years, the home security company has worked hard to build a stellar reputation. Their efforts have not been in vain. Here they are today, with approximately 1.5 million customers and a penchant for innovation. While Vivint is not the biggest name in home security, it's certainly giving the big players a run for their money.
Nest — Founded in 2010 by former Apple Engineers, Nest has had a laser-focus on smart home automation devices. It wasn't until 2015, shortly after Google acquired the company, that Nest really broke into the home security space. Today they offer all things home security and automation, and their momentum continues to build. Since the company's inception, they have sold over 11 million devices and counting.
Age and Influence Category Winner: Vivint
Vivint has been serving up home security for 15 years longer than the relative newcomer Nest. It's true that both have tremendous influence in the home security market. But Vivint has slowly built an impressive reputation and the customer base to show for it. Vivint edges out Nest for age and influence.
Features and Technology 
Vivint — Vivint offers landline and cellular home security systems. And their systems are stacked with the latest in innovative technology. Vivint customers enjoy features like voice recognition, electronic smart locks, indoor/outdoor video cameras, doorbell cams with all the bells and whistles, and the list goes on. Vivint is a leader when it comes to smart features and tech.
Nest — Similar to Vivint, Google-owned Nest offers impressive features and tech with their wireless security systems. We're talking DIY home security with incredible smart home automation capabilities like the ever-popular Nest Learning Thermostat. Customers can get indoor/outdoor HD cameras, voice alerts, a powerful mobile app, and more. Nest's 2-in-1 home security and automation is sure to impress.
Features and Technology Category Winner: Vivint
Both companies are at the cutting-edge of home security innovation, but Vivint has a slight edge. And they don't stop at home protection. Vivint and Nest continue to innovate and release smart home devices to make your life just a little easier and more efficient. In fact, both companies pride themselves on having the latest and greatest features and tech. It's what customers have come to expect.
Monitoring Options
Vivint — Vivint has a few monitoring plans to choose from. Packages start at just $29.99/mo. for basic 'Smart Protect'. The next best plan increases to $39.99/mo. for 'Smart Protect + Control', which delivers home security, environmental monitoring, and home automation. Finally, Vivint's premium plan 'Smart Complete' costs $49.99/mo. and delivers advanced home protection with home automation, live streaming video, and specialty features of your choice. All prices include equipment financing. And unfortunately, the company requires a long-term (4-5 year) contract.
Nest — Nest Secure costs $19.99/mo. with a 3-year contract. But you can get month-to-month protection for $29.99/mo. The nice thing about Nest is that 24/7 monitoring is optional. So you could forego the monitoring package altogether to save some money. Any way you cut it, these prices are incredible and the reason why Nest is exploding in popularity.
Monitoring Options Category Winner: Vivint
Vivint has the edge when it comes to quantity and quality of plans. Total home protection plus home automation? Talk about a deal.
Emergency Connections / Response Times
Vivint — Vivint offers 100% wireless home security, powered by cellular connection. Instead of hardwiring your system to a landline, Vivint's systems communicate with local cell towers, making for ultra-fast response times and reliable home protection. Vivint also offers a landline option. All in all, Vivint makes the grade with their emergency connections.
Nest — Similar to Vivint, Nest offers wireless home security systems. They do not require a landline, just be sure you have cellular service in your area. Unlike Vivint, you can 'DIY' your Nest system by installing it yourself. But we'll discuss installation and setup in just a bit.
Emergency Connections Category Winner: Tie
Vivint might take a slight edge, but both companies have a winning approach to emergency connections. Whether you go with Vivint or Nest, you're sure to receive quality service and a reliable cellular connection when you need it most.
Security Equipment Included 
Vivint — Included with Vivint's standard package, you'll receive a modern touchscreen control panel, a handful of sensors of your choice (entry sensors, motion detectors, glass break sensors, etc.). And Vivint's upgrades and add-ons include a sleek doorbell camera with two-way voice, a smart thermostat, loads of smart feature options, and more. There is no upfront equipment price, as the cost is included in the monthly monitoring fee.
Nest — Nest Secure includes the Nest Guard (hub station and motion sensor), modern control panel, entryway sensors, and two Nest Tag keychain remotes. If the standard equipment isn't cutting it, you can always upgrade to your heart's content. Equipment upgrades include everything from smart environmental protection devices, to the Nest Doorbell, security cameras, a smart thermostat, and more. Nest's base package costs $399 upfront.
Security Equipment Category Winner: Vivint
Vivint and Nest both include everything needed to get up-and-running with home security. But Vivint does it without charging an upfront fee. However, this is a double-edged sword, as you certainly pay for the equipment over time in the higher monthly costs.
Equipment Quality
Vivint — Most home security companies don't manufacture their own equipment. But Vivint isn't most companies. These guys make much of their gear in-house, which allows them to focus on R&D, quality control, and constant improvements. All of the security equipment they offer is top-of-the-line and dressed to impress.
Nest — Nest and quality go hand-in-hand. After all, it's Google! The equipment is well-designed, built with the best materials, and incredibly functional. If they weren't going head-to-head against the likes of Vivint, Nest is almost a guaranteed winner.
Equipment Quality Category Winner: Vivint
Vivint takes the slightest edge in this category. Their equipment is some of the best in the business. And seeing that it's manufactured behind their own doors, they have complete control of the final product. At any rate, we can expect to see great products from both companies well into the future.
Home Automation 
Vivint — Nobody does home automation quite like Vivint. Vivint's smart features and tech include fixed and panning surveillance cameras, HD doorbell cams with two-way communication, smart door locks, and much more. Vivint also brings its customers into the future with biometric voice recognition. The smart home systems work seamlessly with Amazon's Alexa, allowing users to speak their automation commands. Finally, Vivint's systems are compatible with a range of platforms. All in all, Vivint delivers big with home automation.
Nest — Similar to Vivint, Nest pulls no punches when it comes to home automation. Nest Secure works with third-party smart platforms, and Nest offers a range of its own smart devices. Customers can upgrade to enjoy the Nest Doorbell, smart locks, smart environmental monitoring devices, the top-selling Nest Learning Thermostat, and much more. Needless to say, Nest stands out as a top provider of smart home automation systems.
Home Automation Category Winner: Tie
Vivint and Nest are neck-and-neck in this category. We could give the slight edge to Vivint for their high-tech cameras, but Nest offers best-in-class smart devices, too. It's too close to call.
Ease of Installation
Vivint — Unfortunately, Vivint doesn't offer DIY systems. The company requires professional installation on all of their systems across the board. They claim their technology is just too advanced for DIY install (which seems a bit insulting to us techies). The good news is that a) you know your system will be installed correctly, b) they don't charge an installation fee, and c) you don't have to break a sweat. Sounds like a win-win in our book.
Nest — Unlike Vivint, Nest only offers DIY home security systems. And good thing! Today's buyers are looking for easy-to-install systems that can be setup in a matter of minutes. And that's exactly what you get with Nest. If you're not handy, no problem. The nifty mobile app has a detailed guide that shows you step-by-step the entire installation process. It couldn't be easier.
Ease of Installation Category Winner: Nest
With Nest, you don't have to wait around for a technician to visit your home. You simply unbox the system, mount the sensors, and pair the devices to the hub. Some might argue that DIY installation is the 21st century way of doing home security.
Customer Service
Vivint — Vivint had problems in the past with customer service. The company was tied up in illusory sales tactics and shady pricing. Over the years, however, Vivint made all the right moves to clean up their act. Today, Vivint's customer service is on-par with the best in the business. While some complaints still trickle in here and there, it's no longer the deluge it once was.
Nest — Nest has a solid track record of customer service. You can get help via their website with articles and video guides, and the company puts out easy-reference tutorials on all things Nest products. There's also a vibrant Nest community that customers can plug into and get answers to all their burning questions. Nest gets an A+ for customer service, and always has.
Customer Service Category Winner: Nest
A rash of mild corruption in the past has circled back to hurt Vivint. Nest has been there for its customers since day one. And for that reason alone, Nest takes the 'W' when it comes to customer service.
Contracts
Vivint — Unfortunately, Vivint requires 3.5- to 5-year contracts on all systems. If you want access to Vivint's month-to-month no-contract service, then be ready to fork out $1,000 or more out of the gates to purchase equipment upfront. It's important to note, however, that Vivint offers one of the best home security experiences, so most people are perfectly happy signing a long-term contract. Finally, Vivint offers a 30-day money-back guarantee.
Nest — Nest not only delivers A+ home security, but they also do it without requiring a contract. That's right, Nest offers month-to-month plans, allowing you to cancel anytime. You just have to purchase the affordable home security equipment upfront, and you're good to go. Now, if you want the service even cheaper ($19.99/mo.), a three-year contract will get you the goods. Nest is all about options, making home protection a reality for renters and homeowners alike.
Contracts Category Winner: Nest
Nest customers get all the home security benefits, but without the burden of a long-term contract. We hope to see Vivint offer a low-price package and/or no-contract option that makes sense for the average person. Until then, Nest takes the easy win in this category.
Cost and Value
Vivint — Vivint offers exceptional value, with packages ranging from $29.99 to $49.99 monthly. The standard plan delivers everything you need to protect your home and family from burglars and thieves. Or purchase an upper-tier package to access smart home features and video. With Vivint, you don't have to pay for your equipment upfront. Overall, Vivint offers tons of bang for your buck — especially if you're looking for smart home functionality.
Nest — Nest is another value-packed home security system. Unlike Vivint, Nest requires an up-front purchase of the equipment. This will set you back $399, but then you own the system outright. Nest's monthly monitoring plans are only $19.99/mo (with a 3-year contract), or $29.99 without a contract. Either way, you slice it, that's cheaper than most security systems, and much cheaper than Vivint. On top of it all, Nest offers a lineup of great add-ons and upgrades. But go easy, as these additional devices can add up quickly.
Cost and Value Category Winner: Tie
So there it is! Our Vivint vs Nest comparison. Both home security systems offer everything you need to get started with home protection. But remember, the difference is in the details. See below for our at-a-glance analysis of the category winners.
Age and Influence: Winner – Vivint
Features and Technology: Winner – Vivint
Monitoring Options: Winner – Vivint
Emergency Connections: Winner – Tie
Security Equipment Included: Winner – Vivint
Quality of Equipment: Winner – Vivint
Home Automation: Winner – Tie
Ease of Installation: Winner – Nest
Customer Service: Winner – Nest
Contracts: Winner – Nest
Cost and Value: Winner – Tie
Overall Winner – Vivint
The Bottom Line
You can't go wrong with either of these home security solutions. Both Vivint and Nest are leaders in innovation, always creating and releasing new devices to secure your home and make your life a little easier.
Go with Vivint if you're looking for high-quality equipment out-of-the-box. The prices are standard and what you'd expect from a company of their caliper. But be ready for professional installation (required) and long-term contracts (also required). All in all, Vivint is a solid option for home security.
Or choose Nest if you're looking for some of the cheapest home protection around. Much like Vivint, Nest offers total home protection and automation. But at only $19.99-$29.99 per month, you get it on-the-cheap. Nest DIY home security is easy to install, doesn't require contracts, and offers best-in-class customer service. It's easy to see why Nest is growing in popularity.