Nest Cam Outdoor Review
Nest offers two outdoor cameras, the Nest Cam Outdoor and the more expensive and advanced Nest Cam IQ Outdoor.
What We Like
Great video, night vision, and two-way audio: The Nest Cam Outdoor hits or exceeds industry standards for these three categories.
Integrations with Alexa, Google Assistant, and more: Whether you're in the Google or Amazon ecosystem, the Nest Cam Outdoor will fit right in.
Highly-rated app for Android: The Nest App has a 3.8 rating on the Google Play store.
What We Don't Like
No local storage: You won't be able to have the footage automatically upload to a micro-SD card.
Only paid person detection: Although artificial intelligence capabilities are available for the Nest Cam Outdoor, you'll have to pay a minimum of $6 a month to get them.
Discontinued: Nest no longer sells the Nest Cam Outdoor. Instead, you'll have to buy it from a third-party seller. If you like what you see in the Nest Cam Outdoor, though, you'll likely think the same about Nest's newer and more affordable cameras.
Bottom Line
Want to save money but still get the high quality of Google Nest cameras? Meet the Nest Cam Outdoor, which has 1080p HD video, integrations with Alexa and Google Assistant plus optional person detection to boot.
Nest started out as a smart thermostat brand, but ever since it acquired Dropcam in 2014, it evolved into one of the leading home security companies. Over the years, Nest has released a number of security cameras, including the Nest Cam Outdoor, that propelled the brand into the spotlight thanks to their superior technology and premium features.
Now, the Nest Cam Outdoor is no longer in Nest's lineup, but the camera still works and it still has all its top-notch features. It's also still available from some brick-and-mortar stores and third-party online sellers. So the question we should be asking now is, is it still a good camera to buy in 2023?
Our Take On The Nest Cam Outdoor
Given that it still delivers its original features, the Nest Cam Outdoor is still a solid camera today feature-wise. That said, at $199 for the device, it may not be a smart choice budget-wise. We recommend checking out one of these brands we've tested, which offer exceptional smart features at lower prices than the Nest Cam Outdoor: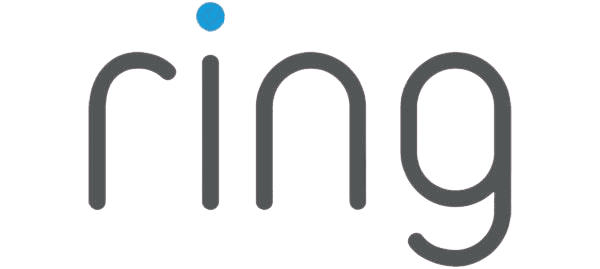 Editor's Rating
Works from temperatures of -4 to 104 degrees Fahrenheit
Nest's lowest priced outdoor camera at $199
1080p HD video and a wide, 130-degree field of view
Promised Features
Nest Outdoor Camera Features Breakdown
| Camera | Nest Outdoor Camera |
| --- | --- |
| Price | $199 |
| Field of vision | 130° |
| Resolution | 1080p |
| Zoom | 8x |
| Two-way audio | Yes |
| 24/7 recording | Yes |
| Night vision | Yes |
| Cloud storage | Yes |
| Local storage | No |
| Battery or Wired | Wired |
| Learn More | View on Amazon |
The Nest Cam Outdoor looks promising right off the bat. It has the features that we want to see in security cameras, such as:
1080p HD video: Not shockingly, the Nest Cam Outdoor has the industry standard in video display.
Integrations with Google Assistant and Amazon Alexa: No matter which ecosystem you're in, you can vocally command your Nest Cam Outdoor and set it up for some home automations.
Artificial intelligence capabilities: With Nest Aware, you can buy person detection for the Nest Cam Outdoor, in addition to cloud storage.
This is all tech talk, but let's take a closer look at the Nest Cam Outdoor and discuss what it can really do.
Design and Aesthetics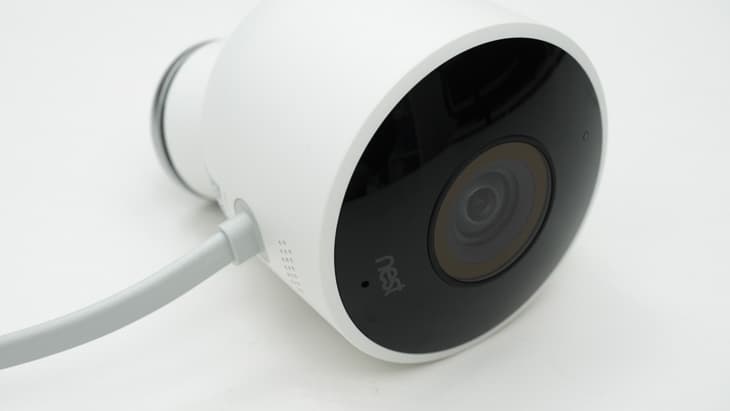 The Nest Cam Outdoor is as sleek-looking as the other Nest cameras released after the second generation Nest Cam Indoor. In fact, it still sort of looks like the other cameras in Nest's current lineup. Take a look at them in our full Nest camera lineup review.
Being an outdoor camera, it works in temperatures from negative four to 104 degrees Fahrenheit, which may work for some people, but not others. The camera also has an IP rating of 65, meaning it's dust-tight and can even be sprayed with a 6.3 mm water nozzle without any damage. Just don't spray it with anything bigger or immerse it in water and it'll keep working. The camera plugs-in via a cable and adapter, which means you'll never have to replace its batteries.
Necessary Features
The Nest Cam Outdoor passed our standards with flying colors when we first tested it, but it has been a couple of years since then and a lot has changed. For instance, 720p was still the industry standard when the Nest Cam Outdoor came out, but now it's 1080p HD. Was the Nest Cam Outdoor able to keep up with the times?
Video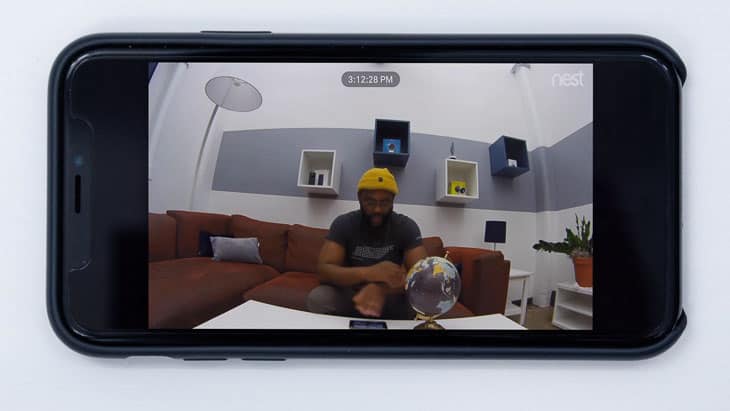 First, let's talk about the video quality. The Nest Cam Outdoor has 1080p HD video, the ability to zoom in eight times, and a wide field of view of 130 degrees. Those figures are still impressive today, although less so than they were in 2016, the year the Nest Cam Outdoor was launched. 1080p HD cameras are now commonplace. In fact, we're seeing a surge of 2K and 4K cameras, which have twice and four times more pixels than 1080p HD, respectively. An example is the 4K Lorex camera system we reviewed.
Still, an older 1080p HD may have some advantages over ones with higher resolution. For starters, they consume less data. Because of the lower resolution, 1080p HD cameras don't put as much strain on Wi-Fi networks than 4K or 2K cameras. For the same reasons, 1080p cameras are also more reliable. They can livestream and record to the cloud faster and without much lag. Of course, if your network can support multiple 4K security cameras and you want high-quality surveillance videos, you should go with a 4K model. But if you want something that can capture details well without gobbling up bandwidth, a 1080p camera like the Nest Cam Outdoor is a solid choice.
Night Vision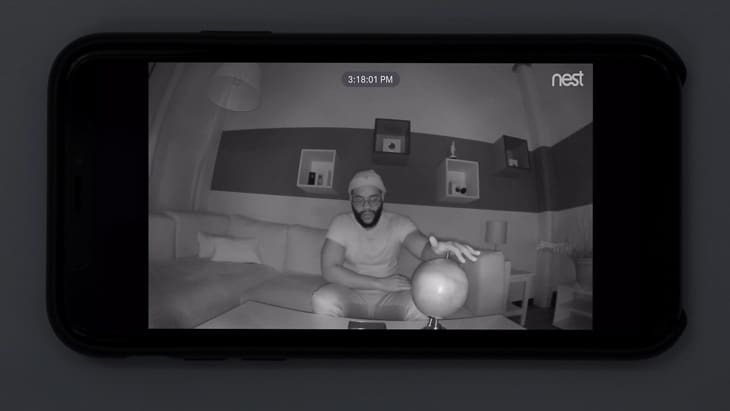 Like the other Nest cameras, the Nest Cam Outdoor has infrared night vision through eight LED sensors. I prefer infrared night vision as compared to color night vision from bright white light because it's more stealthy. While a bright white light in the middle of the night (excuse the rhyming) is something that you just can't miss, infrared sensors are way more subtle. And if I'm using a security camera, I don't want anyone to know that but me! That said, the Nest Cam with Floodlight, one of Nest's newer cameras, can be an effective deterrent because it uses both infrared and color night vision. The bright flood lights turn on automatically when the camera detects motion, and that "surprise factor" can effectively dissuade thieves and intruders.
Audio Quality
The Nest Cam Outdoor has two-way audio, which means that you can speak through your Nest app to whoever your camera is pointing at. This feature is also common now, but there was a time when security cameras only had microphones but no speakers. That means they can record audio but you can't speak through them. With two-way audio, you can actually tell intruders to scram if you catch them trudging across your lawn.
Storage
| | Nest Free | Nest Aware | Nest Aware Plus |
| --- | --- | --- | --- |
| Event Video History | 3 Hours | 30 | 60 |
| 24/7 Video History | 0 | 0 | 10 |
| Monthly Price | $0 | $6 | $12 |
| Yearly Price | $0 | $60 | $120 |
| Yearly Savings | N/A | $12 | $24 |
Storage is where things get a little wonky. Unfortunately, the Nest Cam Outdoor has no local storage options and only gives you free cloud storage of snapshots of events that took place three hours ago. There's no way to get cloud video storage without paying a subscription fee, something similar we saw in our Ring security camera review. We'll talk more about Nest camera subscription costs and the other things it includes below.
Smart Platform Integration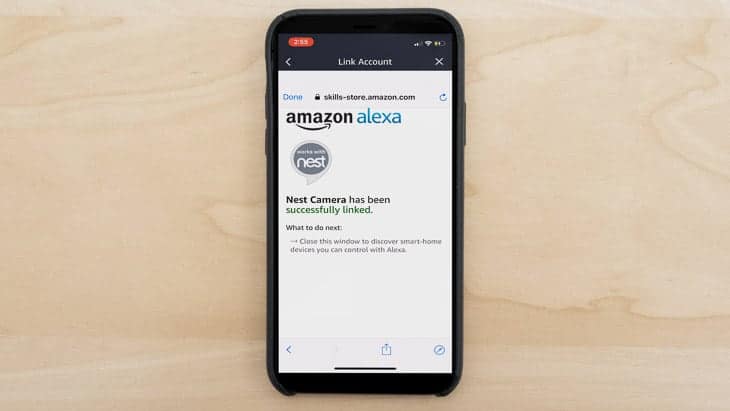 As Google owns Nest, it didn't surprise us that the camera integrates with Google Assistant and Chromecast, but we were pleasantly surprised to see that the Nest Cam Outdoor also integrates with Amazon Alexa and Fire TV. So not only can you command the cameras with your voice and livestream your footage on the big screen, but you can also hook the cameras up to the other connected devices in your ecosystem and make some convenient home automations.
Artificial Intelligence
The Nest Cam Outdoor doesn't actually have artificial intelligence built-in. It detects motion and lets you identify specific zones within the frame to focus monitoring, but that's it. That is, if you don't get a subscription. With a Nest Aware subscription — that's what Nest's subscription service is called — the Nest Cam Outdoor becomes exponentially smarter. First, you'll get person detection, which gives the camera the ability to identify whether a movement is caused by a person or object (like a car). You'll also get dog barking alerts and person speaking alerts.
Those features are going to create way more meaningful and specific notifications. For example, the Nest Cam Outdoor will be able to tell you not just that it heard a noise, but that it heard your dog (or technically a dog) barking, or that a person is at your door instead of just that it detected movement.
Unfortunately, the Nest Cam Outdoor lacks facial recognition, which means it can't tell you who the person it detected is; just that it's a person. If you're looking for a camera with facial recognition, two outdoor cameras in Nest's current lineup fit the bill. First is the Nest Cam Battery we reviewed, which is a battery-powered indoor/outdoor camera. The second one is the Nest Cam with Floodlight, which, again, is a floodlight-equipped outdoor camera. The current generation Nest Cam Indoor also has the feature, but it's an indoor camera. All those cameras require a Nest Aware subscription to unlock the facial recognition feature.
Convenience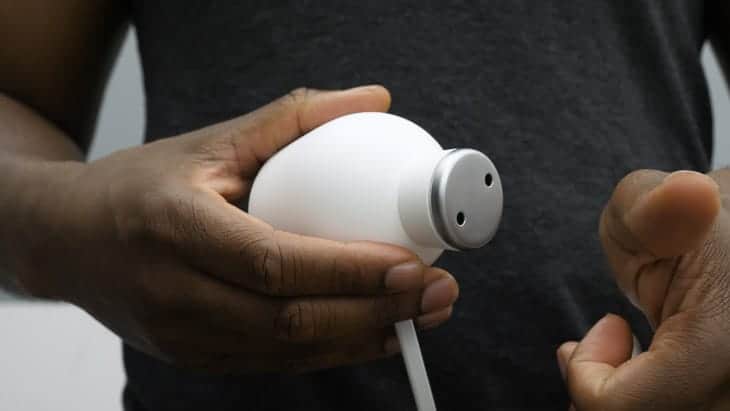 The first thing you do to set up your Nest Cam Outdoor is plug it in. From there, you'll scan the QR code in the Nest app and connect the camera to Wi-Fi. Now it's time to install your camera. Now, the Nest Cam Outdoor has a magnetic mount, allowing you to easily place it onto any magnetic surface. If that's not an option for you, you'll just screw it into a wall. The camera has a 10-foot long cord and an extra 15-foot long extension cord, so make sure you place it within 25 feet of an outlet. Overall, the Nest Cam Outdoor is very easy to use, especially if you already have Nest products.
Value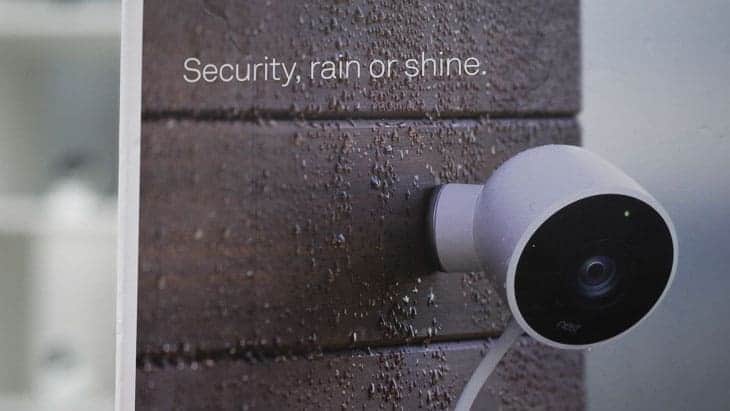 The Nest Cam Outdoor costs $199, even today. That's a tad expensive for a security camera but only by about $50. But when you think about the Nest Cam Outdoor's features, its durability, temperature range, smart platform integrations, video quality, and more, you're getting a lot of bang for your buck. It's even enough to outdo the pricey storage and artificial intelligence through Nest Aware, so overall, we think the Nest Cam Outdoor is a great value.
Video Review
We made this video review when we first took the Nest Cam Outdoor for a test ride. A lot has changed since then. For instance, the subscription cost for Nest Aware is now down to $6 per month for all cameras, not just one. That said, the way the camera works and all its features remain the same, so if you want to see the Nest Cam Outdoor in action, check out our video review.
Nest Aware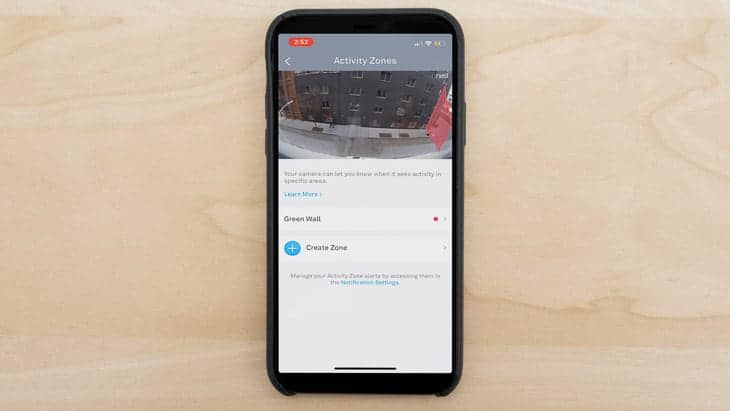 Now let's talk more about Nest Aware. Aside from giving you cloud storage plus artificial intelligence capabilities, it will also give you activity zones. This is particularly important for outdoor cameras, in our opinion, because the camera may cover an area that's not your property, like the street. Activity zones let you tell the camera what to focus on and what to ignore, creating even more specific notifications.
As for the cost, you have two options. Nest Aware costs $6 per month for all your Nest cameras. Whether you have one or ten, they'll all be covered. Nest Aware gives you all the features we mentioned and a cloud storage plan that stores event videos for 30 days. The more expensive Nest Aware Plus costs $12 per month, but it doubles the cloud storage to 60 days and gives your cameras 10 days of storage for continuous videos. That means whether there's an event or not, you'll have a recording of everything that happened in the past 10 days.
Mobile Application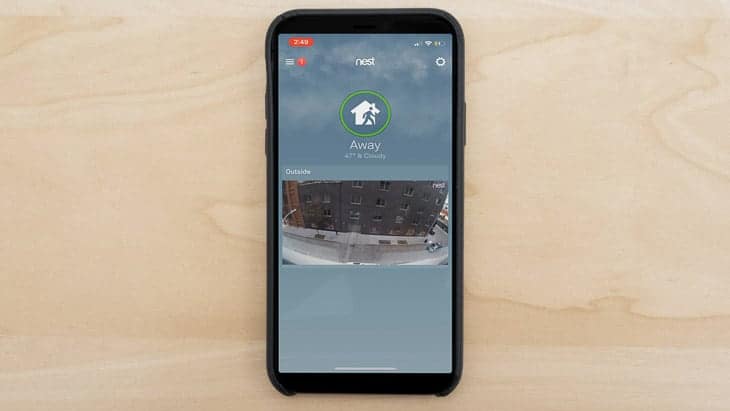 The Nest app is your mobile command center where you'll arm and disarm your camera, view cloud storage, receive notifications, and livestream footage. Both the iOS and Android versions have stellar ratings of above 4 stars each, and based on our experience, the app is designed with user-experience in mind.
Comparisons
Now I want to compare the Nest Cam Outdoor to two indoor/ outdoor cameras, the Arlo Pro 2 and the Logitech Circle 2.
Nest Cam Outdoor vs. Arlo Pro 2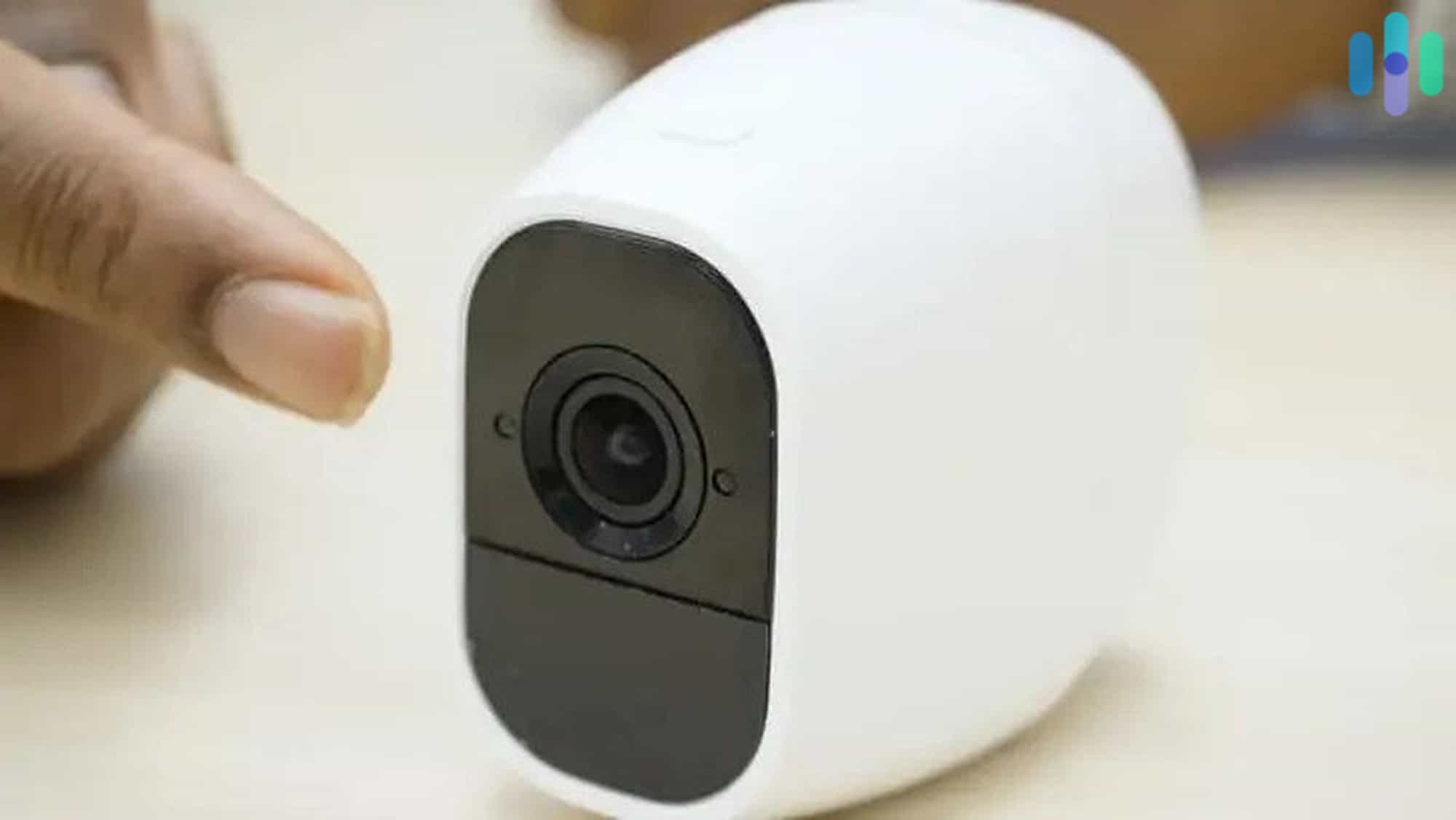 The Arlo Pro 2 and the Nest Cam Outdoor are similar in many ways, with the exact same video specifications. Both have two-way audio and integrations with Google Assistant and Amazon Alexa, while the Arlo Pro 2 also works with IFTTT, Apple HomeKit Stringify. Neither camera has any A.I features included, but both offer person detection through paid subscription programs. Both are also no longer offered by their respective manufacturers, but you can still buy them somewhere else and both still work today.
That's where the similarities end. Although both cameras have infrared night vision, the Nest Cam Outdoor's is superior. In a reversal, the Arlo Pro 2 gives you both local and free cloud storage for a week, while the Nest Cam Outdoor has no local storage and only three hours of free cloud storage. The Arlo Pro 2 costs $20 more than the Nest Cam Outdoor when it launched, which is pretty negligible when it comes to your home's security.
Because the Arlo Pro 2 is battery-powered, we'd recommend it to those looking for cameras that can go almost anywhere. It does require a Wi-Fi connection, so keep that in mind when installing the camera, but other than that, the camera is untethered. On the other hand, we think the Nest Cam Outdoor is the more superior one. It's more durable and it has better features and integrations.
For more information, read our full review of the Arlo Pro 2.
Nest Cam Outdoor vs. Logitech Circle 2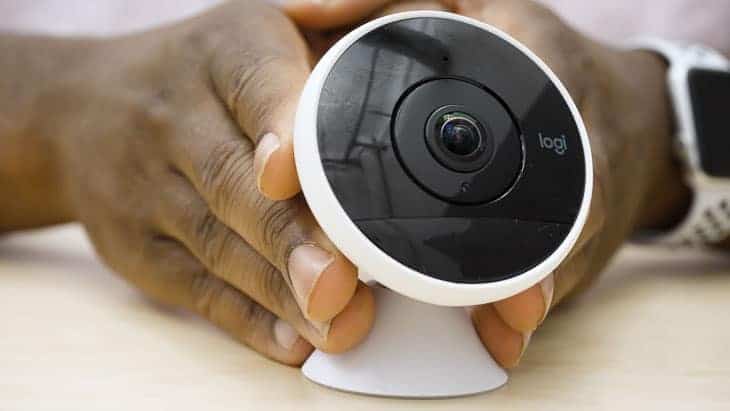 Now let's talk about the Logitech Circle 2, an indoor/ outdoor camera $20 cheaper than the Nest Cam Outdoor at $180. Both cameras have 1080p HD video, but while the Nest Cam Outdoor can zoom in eight times, the Logitech Circle 2 can't zoom in optically at all. But, it makes up for it with an 180-degree field of view, 50 degrees more than the Nest Cam Outdoor, so they end up being kind of equal for video. Unfortunately, neither camera has local storage.
Both cameras integrate with Amazon Alexa, Google Assistant, and Fire TV, but the Circle 2 also works with Apple HomeKit. Keep in mind that the Nest Cam Outdoor works with Chromecast and Philips Hue light bulbs, so it will definitely come down to your personal preference. Neither camera comes with person detection, but they both offer it in paid subscriptions, the Circle 2 at $9.99 a month. Both cameras have two-way audio, but I preferred the Nest Cam Outdoor's night vision to the Circle 2's. Overall, I'd choose the Nest Cam Outdoor over the Logitech Circle 2. Even though it's more expensive, the night vision is better which is particularly important for an outdoor camera.
To learn more, read our full review of the Logitech Circle 2.
See how Nest stacks up against the competition
It's good to have options. See how Nest compares to these top security system picks.
Recap
Overall, we'd recommend the Nest Cam Outdoor even today. It's still a solid camera with features that even newer cameras are struggling to match. That's one of the things we like about Nest cameras — their longevity. Did you know that the original Nest Cam Indoor was taken out of Nest's lineup only last year despite being launched in 2015?
It's the same for the Nest Cam Outdoor. It's an old camera, but it's not outdated. Therefore, here's our bottom line.
With all that being said, we'd like to point out that the newer Nest cameras have a lower price tag compared to the Nest Cam Outdoor, but they have even more superior features. The Nest Cam Battery, for instance, costs $179.99, but has a 4K image sensor (although the resolution is still 1080p), person detection built-in, optional facial recognition, and completely wireless setup, just to name a few. If you like what you see in the Nest Cam Outdoor, then the Nest Cam Battery is definitely worth considering.