Nest Secure Review
Google-owned Nest is a go-to choice for smart home security and automation
What We Like
DIY or professional installation: With help from the Nest app, you don't need to be a tech genius to set up Nest Secure, but it only costs $99 to get it set up by a professional.
Great smart home integrations: Whether you are in the Google or Amazon ecosystem, Nest cameras can be commanded using your voice alone.
Top-notch devices: From their high-quality cameras to their uniquely designed entry sensors, Nest does things differently than most security companies we've reviewed.
What We Don't Like
Affordable equipment: Although you get quality devices, Nest's prices are a bit on the higher end, especially when it comes to their security cameras.
Lower monitoring costs: You'll pay a minimum of $19 a month for professional monitoring and cellular backup, certainly not the lowest price we've seen.
Bottom Line
Perhaps one of the most aesthetically-pleasing security systems we've tested, Nest Secure gave us a ton of options, be it DIY installation, professional installation, self-monitoring, or 24/7 professional monitoring for added security. It's integrations with Alexa and Google Assistant plus LIFX, Hue and more didn't hurt, either!
Disclaimer before we start: Google stopped selling the Nest Secure in 2020, but so far, existing customers have been able to use the system. However, Google has announced that it will officially drop support for the system on April 8, 2024, which will render the Nest Secure hardware inoperable.
Google offers existing Nest Secure users either a free ADT Self Setup security system (which uses Google Nest Cams for video monitoring) or a $200 voucher to use on the Google Store. Google has been partners with ADT since 2021, and ADT systems work well with Google Nest equipment, as we pointed out in our ADT review.
If you're planning to buy a Nest Secure system from a third party, we'd advise against doing so. Instead, go with the top-rated home security alternatives we'll list below.
Pro Tip: SimpliSafe is our top-recommended alternative to Nest. It offers easy DIY installation, and you'd be surprised by how smart it is. See our SimpliSafe review for more details.
Nest Secure main components
| | |
| --- | --- |
| Nest Guard | Hub, keypad, motion sensor, panic alarm, speaker |
| Nest Tags | Arm and disarm system |
| Nest Detect | Contact sensor, motion, tamper detection |
Editor's Rating
No longer sold by Nest
Google Home automation features
A range of no-contract plans
Is Nest Secure Worth It?
With the Nest Secure being discontinued, the brands below are some of the best Nest Secure alternatives we've tested, as they offer reliable monitoring, great-quality equipment, and affordable prices. You can also see how Nest compares in our Nest Secure vs ADT and Nest Secure vs Vivint comparison pages.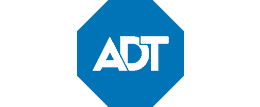 Quick Overview: What We Liked & Disliked about Nest
Nest has a lot of good qualities, but among the most important is the actual quality of their devices. From cameras with facial recognition to sensors that light up for you at night, Nests' products worked well and integrated super nicely into our existing smart home. We were able to install everything ourselves easily (although professional installation was an option) and could choose to self-monitor or pay for professional monitoring (we opted for the latter). But of course, quality comes at a price and Nest reflects that as well, with pretty steep device costs. But once we get into the actual components of the system, you'll see why the prices are the way that they are (like in most cases, you get what you pay for!).
The Components of Nest Secure
We bought a Nest Secure system which included a Nest Guard, two Nest Detect Sensors and two Nest Tags. We also had the Nest Cam IQ Indoor, which we hooked up with Nest Secure, so we'll be covering that as well. Now, not to get too heavily into cost, but our Nest Secure system costs $399, which is only about $10 more than the average people spent on a security system according to a survey from Porch.1 However, the Nest Cam IQ Indoor cost $299, a bit higher than the $276 average but not bad. Now, let's see what these devices can actually do.
Nest Guard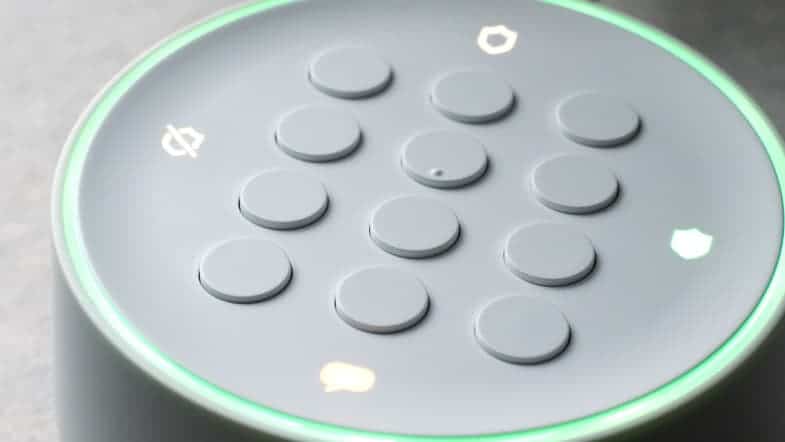 Think of the Nest Guard like your central command center. It's where we armed and disarmed our system, either by pushing numbers on the keypad or by tapping the Nest Tag over it. The Nest Guard basically connected everything in our Nest ecosystem as well as the Nest app.
Nest Detector Sensors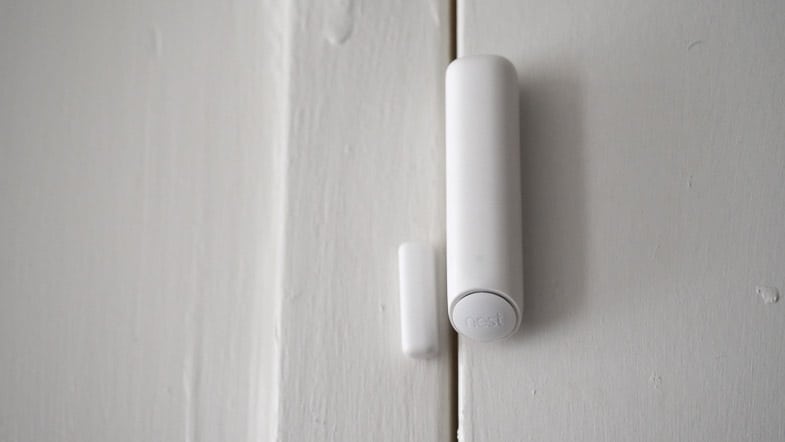 Otherwise known as entry or contact sensors, we put the Nest Detect Sensors on our door frame and the door itself so we could get alerted every time the door was open when our system was armed. Now, what was really cool was that when we added more sensors to the systems, we could set it up so some sensors could be armed and some could be disarmed; this was really useful for when we were upstairs showering but wanted the bottom floor protected, for example. We could even make some sensors silent if we wanted to guard something like a liquor cabinet. Plus, pet-owners will appreciate that the sensors are pet-sensitive so you don't get notified every time Scruffy runs by.
But the nicest thing about the Detect Sensors were the Pathlight, a ring of LED light at the bottom. This really came in handy when we were sneaking to a dark downstairs for a midnight snack. All in all, Nest really went above and beyond when it came to the Nest Detect Sensors, no surprise coming from this quality company.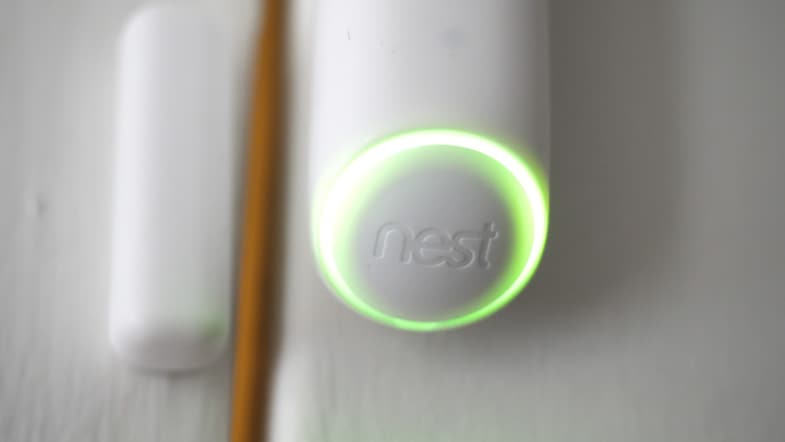 Nest Tags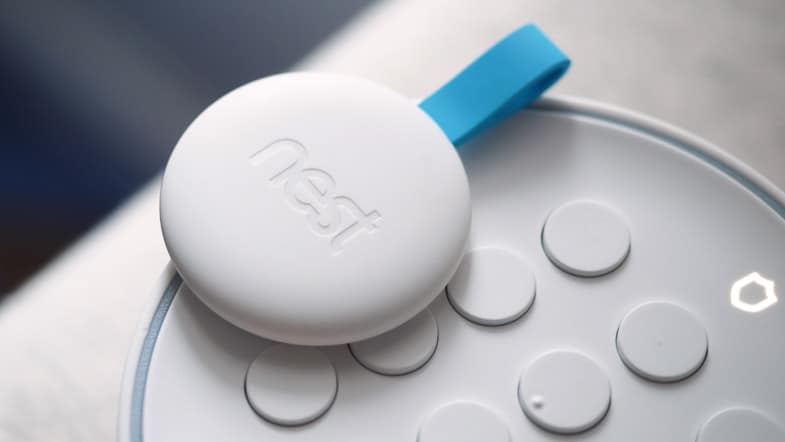 Like we mentioned earlier, you'll wave the Nest Tag over the Nest Guard to arm or disarm the system. Although our system only came with two Nest Tags, we ended up buying more and distributing them to our close friends, family, and even some domestic workers. For example, we were able to set it up so our house sitter could access the Nest Guard during specific time periods, allowing her to keep our home protected even when we weren't there. But don't worry; if something goes south, we could always disable the Tag in the Nest app.
Nest Cam IQ Indoor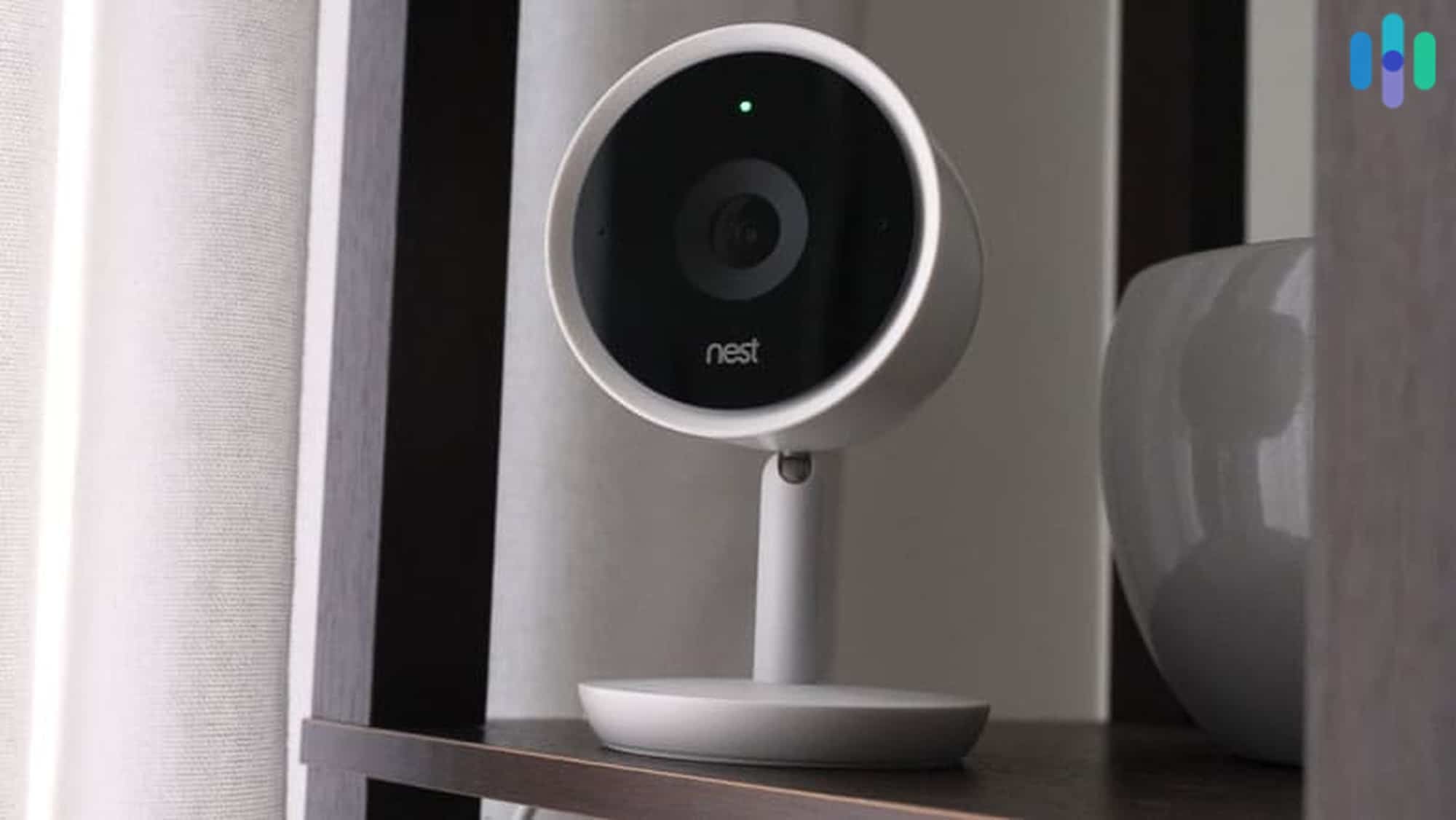 Nest has four different cameras available, but their latest indoor camera is the Nest Cam IQ Indoor. Now, we had the option of either plugging it in or going wireless, but since it's an indoor camera, we opted to plug it in so we didn't have to worry about the battery running out of juice. The camera itself shoots in 1080p HD, which is very clear, in a wide, 130-degree field of view.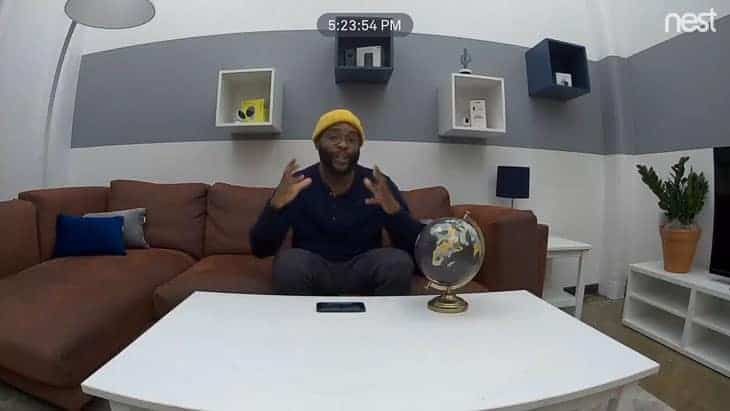 We were also able to zoom in up to 12 times, which really helped us to see those small details (like whether or not our plants looked properly hydrated). We were also able to speak to our house sitter through the camera's speaker and microphone, which, although it gave her a bit of a fright, ended up being super convenient compared to calling her on the phone.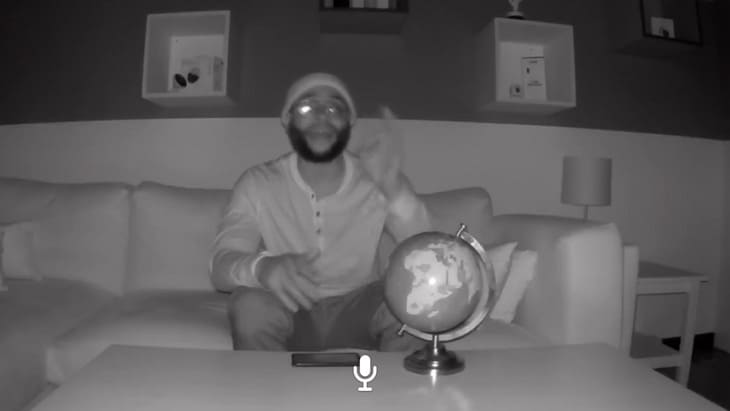 Even at night, we could see very clearly due to the Nest Cam IQ Indoor's 16 infrared LED sensors which was really cool. Most of the cameras we've reviewed have about two of those sensors, so this is just another way Nest goes above and beyond.
Another way is through artificial intelligence. We didn't get notified whenever the camera detected motion, but only when it detected people, preventing a lot of unneeded notifications from going through. And let's be honest, we get a lot of unnecessary notifications already, so this was a relief, but on top of that, Nest even let us name our friends or anyone the camera recognized through Nest Aware. So instead of being notified that a person was detected, we got notified when Katie our house sitter was detected, which saved us the trouble of having to look at the livestream. Nest Aware also offers cloud storage, which thankfully Nest has made a lot more affordable since last year.
| | Nest Free | Nest Aware | Nest Aware Plus |
| --- | --- | --- | --- |
| Event video history | 3 hours | 30 days | 60 days |
| 24/7 video history (in days) | 0 | 0 | 10 |
| Monthly Price | $0 | $6 | $12 |
| Yearly Price | $0 | $60 | $120 |
| Yearly Savings | n/a | $12 | $24 |
Once we had our cloud storage, we were able to download it and back it up on our own hard drives, as the camera doesn't have a slot for a micro-SD card or any other form of local storage. Overall, the Nest Cam IQ Indoor is one of our favorite indoor cameras on the market, so we'd definitely recommend adding one to your Nest Secure system.
Video Review: Nest Secure
Did you know that Security.org is on Youtube? If you want to see our Nest Secure system working, check out our video review:

Nest definitely impressed us in terms of the quality of their cameras. Learn more about your options here.
Does Nest Secure Work Well?
Once it's set up, Nest worked like a charm, with an app that was easy for us to navigate. It was also easy to add more components to the system, and considering we have nearly everything Nest offers, this came in handy. We really appreciated the multi-functional nature of many of their products, particularly the Nest Guard and Nest Tags. More functionality meant fewer devices to set up, which is always a good thing in our book. We found the Nest products to be very durable and well-made, not sacrificing durability in their quest for minimalism. So in a word, yes, Nest works very well!
What's Installing Nest Secure Like?
Nest has DIY installation which didn't take us long. First, we plugged in the Nest Guard and downloaded the Nest app, which gave us step-by-step instructions. Next, we assigned our Nest Tags to people, set up the Detect Sensors on the app and then stuck them on the door.
Pro Tip: Set up your sensors in the Nest app before placing them on the door or window.
As the camera was plug-in, it didn't take long to add it to the app and connect to Wi-Fi. Overall, the process was finished in less than 20 minutes, and we were very impressed with how helpful the app was. However, if you prefer professional installation, Nest offers it for $99 through OnTech, a reasonable price.
Monitoring Options
You can learn more about Nest's monthly fees on our Nest pricing page, but we'll give an overview here. First of all, you don't have to pay anything to Nest monthly if you don't want to; you'll still be able to receive notifications, livestream footage and control your system remotely with or without Nest Aware. But, if you want facial recognition plus more cloud storage, get a Nest Aware plan as we did. Get 30 days of storage for $6 a month or $60 a year or 60 days of storage for $12 a month or $120 a year, very affordable prices.
| Days of storage | Cost |
| --- | --- |
| 30 | $6 a month or $60 a year |
| 60 | $12 a month or $120 a year |
We also opted to pay more for cellular backup and 24/7 professional monitoring, which Nest actually outsources to Brinks Home Security. If you sign up for three years, the cost is only $19 a month, or $29 if you went monthly like us.
Explore Nest's high quality sensors, cameras and video doorbells here.
Customer Experience with Nest
For help with Nest products, we could check out Nest's online support articles or contact a customer support representative via live chat, phone, Facebook Messenger or Twitter. Since we got most of our answers online, we only had to call Nest one time, and it wasn't a great experience. The person we spoke to really didn't know much about Nest and was clearly looking up all his answers on the website we were already looking at, which wasn't super helpful. Overall, we'd recommend trying to use the online help center before calling Nest directly.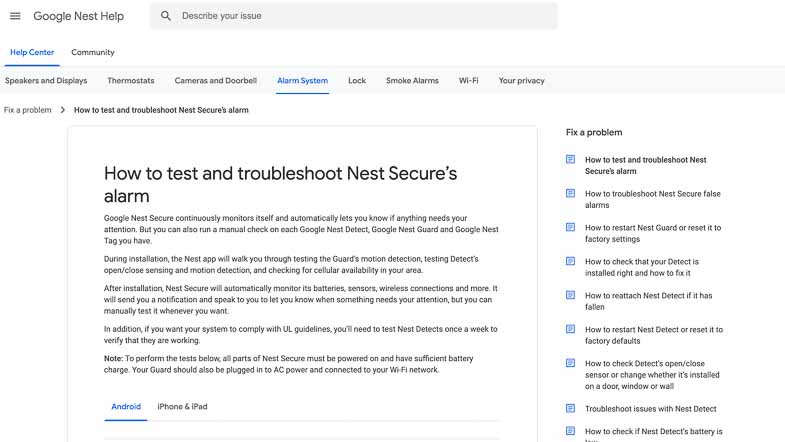 The Nest App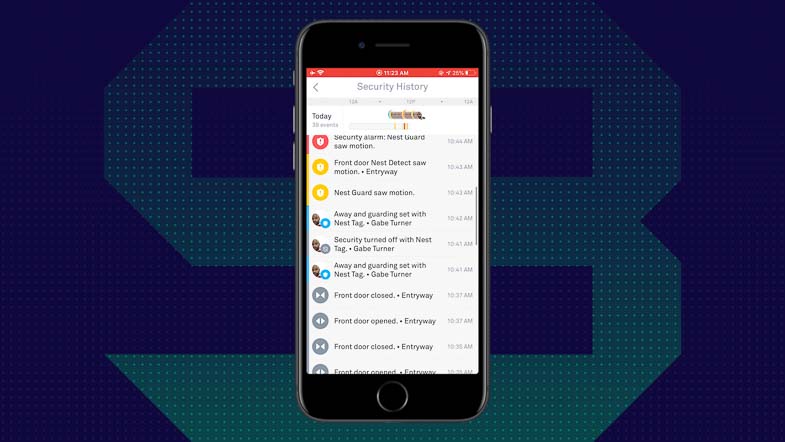 Maybe we weren't home or maybe we were simply too lazy to go downstairs to our Nest Guard. Either way, the Nest app was our home away from home (there's no place like it, really!). Remotely, we could arm and disarm Nest Secure, review cloud storage, receive notifications, livestream footage, talk through two-way audio, and control connected devices.
Again, the app is really easy to use from installation to simply checking in at home, and other Nest customers agree; the app has gone way up in ratings with a 4.3 on the Google Play store and a 4.7 on the Apple store. Nest made a lot of software updates, thankfully, making it easy to stay on top of our smart home from anywhere.
How Nest Fit In Our Smart Home
Now let's talk more about the smart home itself. Google owns Nest (now technically called Google Nest, if you can believe it), so it's not shocking that Nest Secure works with Google Assistant. But the integrations don't end there; Nest also works with Alexa under the Google Nest skill, along with a ton of devices from third parties.
Google Assistant
Let's start with Google Assistant. Using the Assistant, we could control all Nest devices, such as casting our living room Nest Cam IQ Indoor footage to our TV via Chromecast or even arm Nest Secure. Now, one thing that we couldn't do was disarm our system with our voice, which is definitely a good thing for security's sake.
Alexa
Alexa is by far the most popular voice assistant and is expected to remain so with 70% of the smart speaker market share in 2021.2
The Google Nest Alexa skill has the same capabilities as the Google Assistant action, save for arming the system. However, we could tell Alexa to show our livestream on Echo Show devices and Fire TV, which was nice. But if you have more Nest products, you might be a bit disappointed to find out that not all Nest products work with Alexa, only the smart thermostats, cameras and video doorbells, which is why there's no voice command arming and disarming.
FYI: Alexa works with Nest cameras but not the Nest Secure system itself, so you can't arm or disarm it with voice commands.
Works with Nest
Aside from the voice assistants, Nest Secure also works with LIFX, Philips Hue, and Kasa. While LIFX and Philips Hue make smart lighting, Kasa makes everything from smart plugs to security cameras. With these integrations, it was fun and easy to trigger connected devices automatically. Let us give you an example: we hate leaving our lights on when we're out of the house, as it's a waste of electricity. However, having the house totally dark is a good sign that no one's home, which could attract intruders. Our solution? We set our Philips Hue bulbs on home mode, meaning they'd turn off and on periodically, and we had home mode turn on automatically when the Nest Guard was armed. Convenient, safe, and smart, Nest fit into our smart home really well.
Can Nest Secure stand toe-to-toe with other brands? Find out below.
For a closer look at how Nest Secure performs, we compared it with other popular security systems.
Recap— Is Nest Good For My Home?
The Nest Secure was a good home security system overall, but Google's plans to streamline its smart home security offering landed the security system on the chopping block. Still, we're keeping this review up to show you what's possible with a security system that integrates well with smart home devices and security cameras.
If you liked what you saw from Nest Secure, don't worry, there are a number of alternatives available, especially DIY security systems. Here are some of them:
| DIY home security systems | Editor's rating |
| --- | --- |
| SimpliSafe | 9.2 |
| ADT Self Setup | 9.0 |
| Frontpoint | 8.9 |
| Cove | 8.7 |
| abode | 8.0 |
| Deep Sentinel | 7.9 |
The closest security system to Nest Secure is ADT Self Setup, particularly because this DIY security system from ADT uses Google Nest equipment for video monitoring and smart home features. Google has entered a partnership with ADT in 2021 to make that possible, and all signs indicate that Google will keep this partnership for the foreseeable future.
You can check out our ADT Self Setup review to learn more.
We loved using Nest Secure to protect our home and make our lives more convenient. Find out how to customize a system here.