Vivint Frequently Asked Questions
Our experts get a ton of questions about Vivint, and boy do we have answers.
Advanced smart home capabilities
Professional installation
Cellular monitoring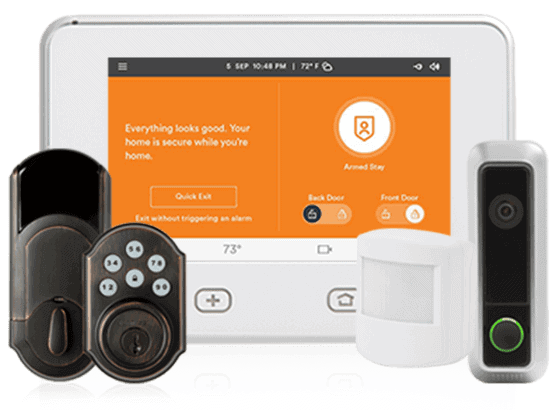 All of our content is written by humans, not robots.
Learn More
By

&

Last Updated
Dec 16, 2022
Vivint is one of the most popular security systems on the market today. With optional professional monitoring, required professional installation, and useful smart home integrations, there's a lot to learn about Vivint, from its security system to its outdoor camera to its video doorbell. Here are the questions our experts get the most:
How much do I pay for a Vivint system?

Vivint offers three levels of 24/7 professional monitoring.

The Smart Protect is $29.99 per month, which covers basic home security monitoring and the option to finance your equipment.
The Smart Protect + Control adds Vivint home automation to your plan for $39.99 per month.
The top tier plan, called Smart Complete for $49.99 per month, provides you with video surveillance through the Vivint Outdoor Camera Pro and the Vivint Doorbell Camera and gives you the opportunity to add two special security features that you select for your system.

Vivint Outdoor Cam Pro Day Vision

You pay for the equipment separately. If you have any plan but the Smart Protect, you can get the equipment costs financed over five years. It's added to your monthly bill. Vivint has a lot to offer when it comes to home security and smart home equipment. The Vivint representatives help you put together the equipment package that meets your home security goals and stays within your budget. The typical package ranges from $700 to $1,800. To learn more about the different packages offered, check out our Vivint pricing page.

Can I use Vivint without a subscription?

You can use Vivint equipment without a subscription, but you wouldn't have the benefit of professional monitoring, couldn't access the mobile application, and won't be able to use the 24/7 technical support service.

What type of connection does Vivint equipment use?

This home security can use landline connections and/or cellular to keep you connected to the monitoring center.

Does Vivint support third-party devices?

As you can see on our Vivint security system review, Vivint has a heavy focus on allowing its customers to have the high-tech home that they desire. Many smart home devices are compatible with this system, although Vivint does a great job at supplying its own versions of this equipment.

Can I control Vivint through a smartphone?

Vivint Motion Zones on App

Vivint's mobile application allows you to control home security and home automation devices through it. It's easy to check in on all of your devices even when you're not at home.

What type of installation does Vivint offer?

The high-end home security and home automation equipment require professional installation. The installation fees begin at $49.99 but vary based on your equipment package and the complexity of the installation.

Can I take Vivint with me to a new home?

Vivint offers several options if you're moving to a new home. You can set up a new contract and get all new equipment at your new place. If you like your current equipment, you can take everything with you except for the starter equipment.

Some smart devices are difficult to move without an extensive process. Vivint replaces these devices at your new location. If you'd rather take everything to avoid waiting for new starter equipment, then you can do that instead.

Does Vivint check my credit score?

Vivint checks your credit score if you're using the FlexPay financing option for equipment costs. If you're purchasing your equipment upfront, then it doesn't need to pull your credit.

Do I need a contract with Vivint?

Vivint offers month-to-month payments for people who buy their equipment outright. If you're financing the equipment, you have a five-year contract with this home security company.

Can I transfer my Vivint service?

Yes, you can transfer your contract to a new person for a $99 transfer fee. This fee is waived if that person chooses to sign a brand new contract with Vivint. Transferring your contract is a good idea if you still have a long time before your contract finishes.

Do I have to pay for a Vivint service visit?

Service visits are covered if you pay for Vivint's premium service. Otherwise, after the first 120 days, you are responsible for paying a fee for each visit. This cost may vary based on your location and the problem you're having with your equipment.

Does Vivint equipment come with a warranty?

Your Vivint equipment comes with a lifetime warranty to ensure that you're always receiving the same quality of service.

Does Vivint support Apple HomeKit?

Vivint does not support Apple's smart home technology, although the application does work on Apple's mobile devices.

Will Vivint buy out a contract of another home security system?

If you already have a home security system but you want to switch to Vivint, the company can choose to buy out your current contract for up to 12 months. The exact amount they'll offer to buy out depends on many factors.

Does Vivint have voice control capabilities?

Vivint has built-in voice recognition. You can speak commands for hands-free operation.

Is Vivint equipment secure?

Vivint uses strong encryption to prevent your video camera footage from being accessed by unauthorized people. The company has many measures in place to protect your privacy and data security.

Can I control Vivint on my computer?

Yes, Vivint allows you to control the home automation and home security features from your computer. You can easily look at the system status, check live video feeds, control smart home devices, and arm and disarm the security system remotely.

Does Vivint offer cloud storage for security photos and videos?

Vivint Outdoor Cam Pro

Yes, Vivint offers cloud-based storage for clips and photos on its own servers. You can also save data locally through an attached storage device accessory.

Do I need a landline to use Vivint?

No. You can choose a landline option if you prefer, but Vivint has cellular capabilities built into the home security system.

What is Vivint's company history?

Vivint is a well-established home security company that got its start in 1997. It was known as APX Alarm Security at that point.1 The Blackstone Group acquired Vivint in 2012, and the company has since expanded into offering internet services and solar power solutions.

What does Vivint do better than other home security companies?

Vivint is a mid to high-end home security system provider. This company does an excellent job of offering you comprehensive home security and home automation packages designed with a sleek and feature-rich focus. It's an elevated experience that comes with a higher price tag.

Do I own Vivint equipment once it's paid off?

Yes, this equipment is yours once you pay for it in full. If you use the financing option to pay over time, you typically pay off the equipment within three to five years.

Does Vivint offer environmental sensors and alarms?

Vivint has a full range of sensors that protect your home against environmental dangers, such as fire and floods. You get alerts if these sensors detect anything unusual, and the monitoring center will be there to assist you.

Do Vivint cameras have pan and tilt capabilities?

Yes, you can pan and tilt the cameras to get a better view of the on-screen action. This feature is important when you're trying to keep a close eye on something and it's moving outside of the center of the frame.

How long does it take Vivint to respond to an alarm?

It takes 10 seconds to get a response to an emergency call from your home security system. This fast response rate is vital in emergency situations, such as fires or burglaries.
Recap
These are the most commonly asked questions we get about Vivint, but if you have anymore, be sure to check out our reviews. We test out all of Vivint's products to make sure they're up to snuff, so you can trust our home security experts to steer you in the right direction.