Vivint Home Automation and Voice Control
All of our content is written by humans, not robots.
Learn More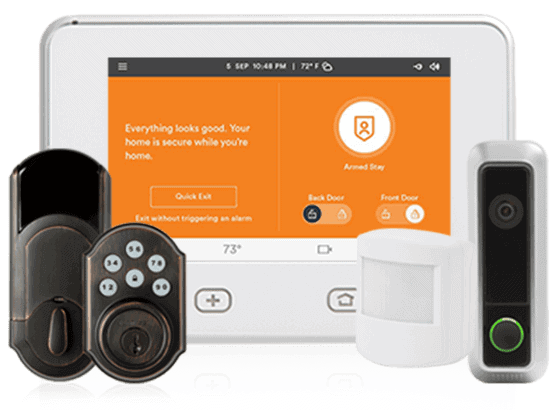 Vivint is one of our favorite smart home security systems for many reasons, from its easy professional installation to its large selection of security and environmental monitoring devices. But here, we're focusing on how Vivint fits into our smart home. Spoiler alert: Home automation is one of Vivint's strongest points.
Vivint works with several third-party Internet of Things (IoT) devices, including Nest thermostats, Kwikset smart locks, and Philips Hue smart lighting. Vivint also automates with Echo and Google Home smart speakers for hands-free voice assistance. In our tests, we enjoyed watching the devices trigger one another. We'll explore more of Vivint's home automation capabilities below.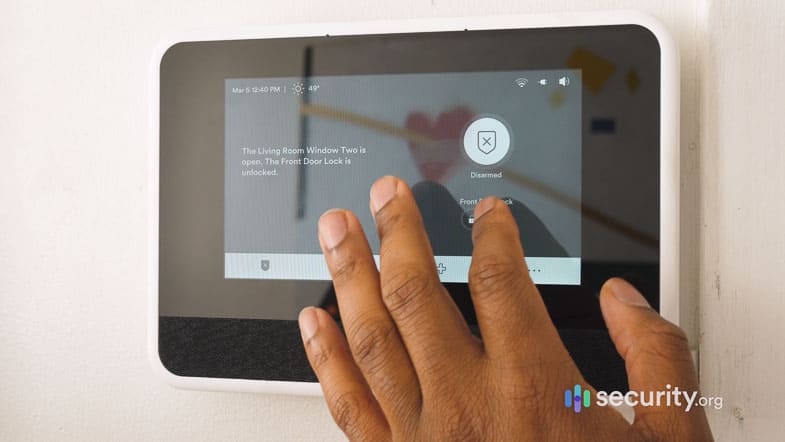 Third-Party Devices
As we said, Vivint works with devices that it doesn't manufacture, from smart speakers to smart thermostats, smart locks, and smart lighting. We created various automations through our Vivint security system devices, which then triggered other devices in our home.
Google Nest Mini:Google's Nest Mini is a smart speaker that automates with Vivint seamlessly. We used our Nest Mini to ask Google Assistant about our Vivint system. We also used it to arm and disarm our security system. By saying, "OK Google, show the backyard camera on the Nest Hub Max," we got a clear view of our backyard from our Vivint cameras. For $49, the Nest Mini is Nest's most affordable smart speaker.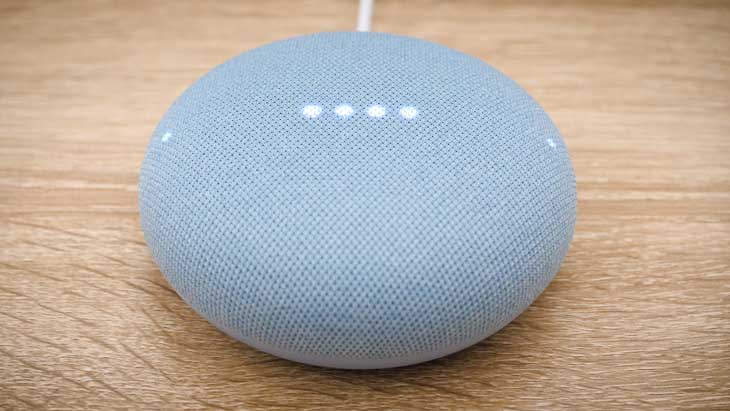 Nest Thermostat E: Our Nest Thermostat learned our favorite heating and cooling schedule over time. The device also learned to recognize whether or not we were in the room. We controlled our thermostat using both Alexa and Google Assistant, but we also hooked it up to the rest of the Vivint system. For example, during the summer, we had our thermostat turn off the central air conditioning whenever our system was armed. This way, we didn't have to worry about turning the thermostat down manually every time we left the house, which ended up saving us around 15 percent on cooling that same summer!
Money Saving Tip: On average, Nest thermostats save users between 10 percent and 12 percent on heating and 15 percent on cooling, which amounts to a savings of about $131 to $145 a year.1 Given that the Nest Thermostat costs $129, this meant it could pay for itself in about a year!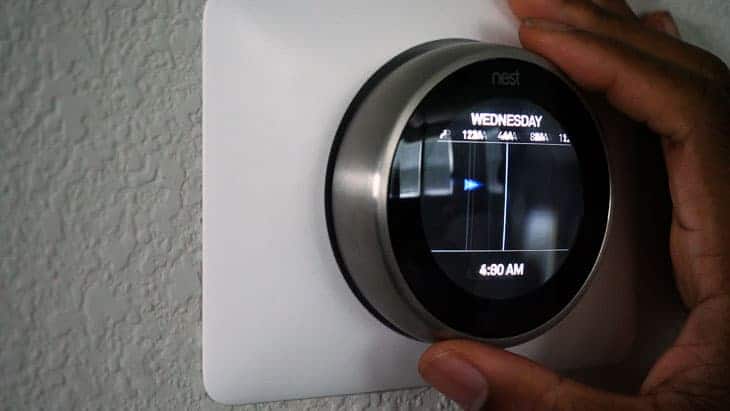 Kwikset Smart Lock: Once you go smart locks, you never go back. The best smart locks are some of the most convenient IoT devices, in our opinion. Rather than fumbling around a big handbag looking for a house key, we unlocked our door via a numerical code. If we were at work and weren't sure if we remembered to lock the door, we could pull out the Vivint Smart Home app and do it remotely. The Vivint app even notified us when we left it unlocked! To let in people when we weren't home, we created up to 30 unique access codes in the same app, which came in handy when we had friends visiting. And, we made sure that as soon as our security system was armed, our doors would lock automatically. Automating the system this way took out the anxiety of worrying if we'd protected our home adequately. As long as Vivint was armed, we were in good hands.
Philips Hue smart lighting: Nothing sets the mood quite like lighting, whether it's the fluorescent bulbs of a boring office or the soft, yellow hues of a living room. We have a ton of smart bulbs from Philips Hue, so just like the smart lock, we had all of our lights go on "away mode" when our Vivint system was armed. What exactly is away mode? Well, given that most burglaries occur between 10 a.m. and 3 p.m.,

2

we wanted to make it seem like we were home during those hours, even when we weren't. But rather than just leaving our lights on all day, we set up the away mode to turn them on and off periodically, which mimics someone being home more realistically.
Aside from hooking up our Vivint components to other IoT devices in our smart home, we also controlled everything using our voices alone when we were too lazy to reach for the Vivint app.
Tip: Since Vivint works with both Alexa and Google Assistant, it'll make a great addition to your smart home whether you're in the Amazon or Google ecosystem.
Alexa
Alexa, Amazon's voice assistant, worked nicely with our Vivint system and its connected devices. We could have Alexa perform the following tasks for us, without having to lift a finger:
Turn off smart lights
Control smart thermostats
Close the garage via a smart garage door controller
Lock doors
Show our footage on different devices like the Echo Show 8 or Fire TV
Arm our security system.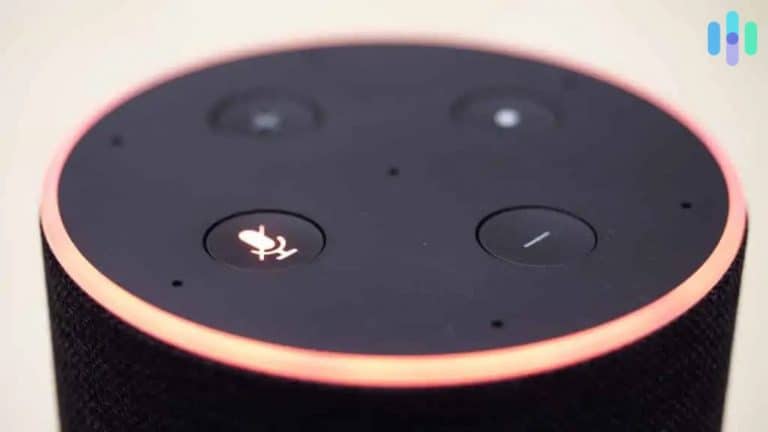 Google Assistant
We had similar capabilities with Google Assistant, like:
Controlling our smart thermostat
Unlocking our doors
Arming our security system
Showing our footage on devices like the Nest Hub.
The Catch: Monthly Fees with Vivint
While that all sounds well and good, Vivint's not exactly the most affordable system around. Aside from the costs of the devices themselves, we had to pay a month-to-month service fee to control our system remotely in the first place. Also, we had to pay a separate fee to use our cameras and a fee on top of that for cloud storage, according to a Vivint representative we spoke to.
While technically, we weren't required to pay any monthly fees, our system would become local-only without them. We wouldn't be able to control it remotely, watch footage from the Vivint app, or receive notifications about our alarms. So, we broke down Vivint's fees into three categories, attempting to make the system's fee structure as straightforward as possible.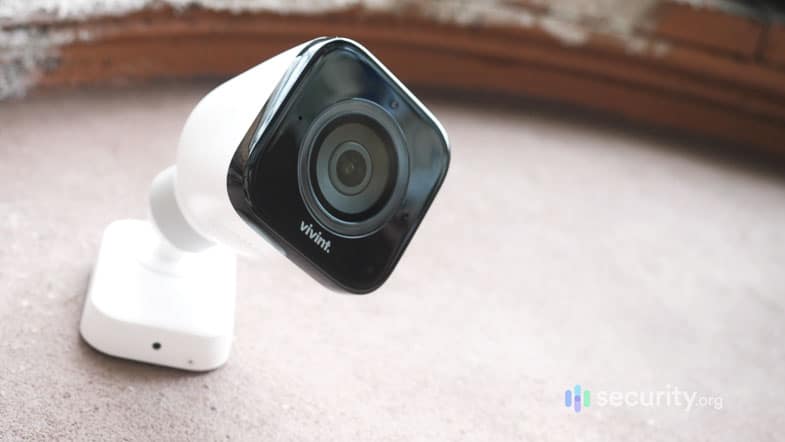 Vivint Fees: A Breakdown
We had to pay a minimum of $39.99 a month for a package with Vivint, which was a bit steep. Some newer companies, such as Ring, charge half of what Vivint charges for professional monitoring, cloud storage, app control, and basic home automation. The keyword there is "basic." Vivint's automation features are pretty advanced compared to these companies, so we think its pricing is justified.
With Vivint, we chose to pay for equipment upfront. But if that won't work for you, financing is a popular option, too. If you choose to finance, expect monthly costs to be higher for the first five years (that's the maximum time you have to pay off equipment).
The financing option also means you'll pay one monthly fee that includes equipment and monitoring. Since we paid upfront for our equipment, our monthly costs ended up a bit lower than ADT's costs, which can go up to $60 a month. Read our full ADT vs. Vivint comparison page for more information.
Here's a snapshot of those monthly costs:
| Monthly Breakdown | Individual Costs |
| --- | --- |
| Regular monthly cost | $39.99 |
| Discounted monthly cost(s) | $14.99, $19.99, $29.99 |
| Monthly price of Car Guard Service for first device | $9.99 |
| Monthly price of Car Guard Service for additional devices | $4.99 |
| Maximum number of cameras with Vivint Smart Hub | 7 |
Although six was the maximum we could've had under one account, we had three cameras in our tests. Given our addition of the Vivint Outdoor Camera Pro, the Vivint Doorbell Camera, and the Vivint Ping Indoor camera our system came with initially, that brought our cost up to $65 a month, which included all our cameras and IoT devices.
But we'll be honest: when we bought our Vivint system, the company had a different pricing structure than it does now. It's a bit harder to pin down costs with Vivint these days, but here's a breakdown of the company's equipment costs:
| Component | Retail price | Cost per month with 60-month financing plan |
| --- | --- | --- |
| Smart Drive | $250 | $4.17 |
| Car Guard | $200 | $3.33 |
| Smoke Detector | $100 | $1.67 |
| CO Detector | $100 | $1.67 |
| Smoke and CO Monitor | $100 | $1.67 |
| Smart Lock | $180 | $3 |
| Garage Door Controller | $100 | $1.67 |
| Vivint Smart Thermostat | $170 | $2.83 |
| Lamp Module | $50 | $0.83 |
| Vivint Doorbell Camera Pro | $250 | $4.17 |
| Outdoor Camera Pro | $400 | $6.67 |
| Outdoor Camera | $300 | $5 |
| Vivint Ping Indoor Camera | $200 | $3.33 |
| Water Sensor | $50 | $0.83 |
| Flood/ Freeze/ Heat Sensor | $50 | $0.83 |
| Smart Sensor | $50 | $0.83 |
| Panic Pendant | $50 | $0.83 |
| Key Fob | $50 | $0.83 |
| Tilt Sensor | $50 | $0.83 |
| Smart Hub Panel | $400 | $6.67 |
Monitoring Costs
With storage, we could have gone one of two ways. The first way was to shell out $250 for the Vivint Smart Drive, which would've had our cameras recording 24/7. We recommend the Smart Drive for the most coverage, even though it's more than a little pricey. On the plus side, the Smart Drive purchase is a one-time cost, and it gave us 1 TB to store video.
The second option was to roll the cost of the Smart Drive into our monthly total, which would add $4.17 to our monthly cost. All told, Vivint's monthly costs are among the most expensive we've seen. If you're on a tight budget, Vivint is not the system for you. Learn more about Vivint pricing here.
Another Option: Vivint offers 60-month financing if you'd rather not pay for the equipment up front. After you've paid off the equipment, all you'll need to pay are Vivint's monitoring costs to keep the system up and running.
The Vivint App
Whether we were having our system trigger our smart lights or our smart locks, we created all the automated actions in the Vivint app, available on iOS and Android. We also used the app to live-stream footage from our cameras day or night.
We received notifications when our cameras detected motion from either the Vivint Outdoor Camera Pro, the Vivint Doorbell Camera, or the indoor camera. We also used the Vivint app to control our IoT devices from anywhere, as long as there was a Wi-Fi connection. It was super convenient to handle so many different IoT devices in one app, and setting up the triggers was easy and fun.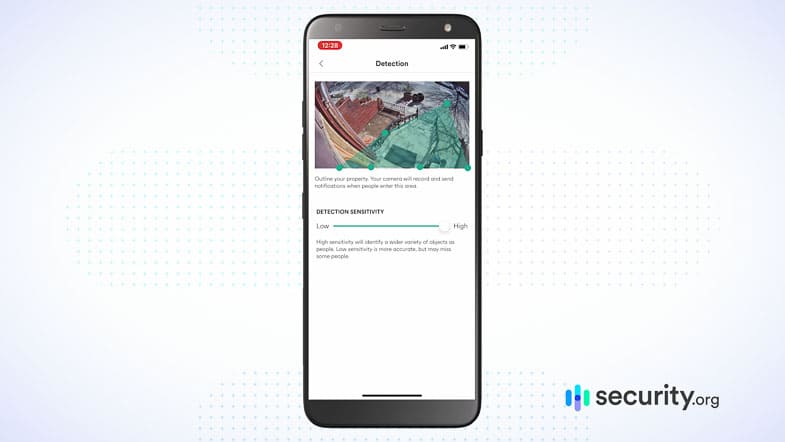 Recap
In terms of smart platform integrations, Vivint is at the top of its game. We found easy integrations with Alexa, Google Assistant, and a slew of other third-party devices in our tests. Although Vivint isn't one of the most affordable security systems around, given the quality of its devices and how nicely they fit into our smart home, we think it was worth every penny. To learn more, visit our full Vivint security system review.
FAQ
Well, that's a wrap. But before we end this review, let's answer some frequently asked questions about Vivint home automation.