What To Do If You Lose Your Social Security Card
All of our content is written by humans, not robots.
Learn More
While losing your Social Security card sounds like a dire situation, with the right information, you can protect yourself from identity theft, even if someone has stolen or found it. In some cases, you may not even need to get a replacement card. Let's talk about what to do if your Social Security card is lost or stolen.
The Critical First Step
Losing your Social Security card doesn't spell the end of the world, but with your information out there, it could lead to identity theft. That's why signing up for an identity theft protection service is the first thing you should do. That way, you'd be informed if someone tries to use your Social Security Number to take out a loan or open new credit lines. Here are the identity protection services we recommend for their meticulous identity and credit monitoring:
Do I Need a Physical Social Security Replacement Card?
A Social Security number (SSN) is what helps you get jobs and collect Social Security benefits and other government services. An SSN is essential; the physical card is less so. In most cases, according to the U.S. Social Security Administration (SSA), knowing your SSN is sufficient. For example, if you want to get a Real ID to fly domestically or access certain federal facilities, an SS card isn't necessary. Rather, you could use a recent pay stub, a W-2, an SSA-1099 (the SS Benefit Statement), or other tax documents that show your full name. Even just knowing your SSN can serve as proof, believe it or not.
How Thieves Can Profit From Your Social Security Card
That being said, if your SS card has fallen into the wrong hands, you may be at risk of identity theft. Thieves can use your SSN to:
Apply for credit in your name and then not pay the bills, which can damage your credit score

1

Apply for jobs
Apply for passports
File taxes
Open financial accounts
Get medical care
Enroll in health insurance
Commit crimes
Get a driver's license
Steal your benefits

2
What To Do if Your Social Security Card Is Lost or Stolen
Even though having an SS card may not be necessary, many people will want to replace it, and you can complete that process online or offline.
Request a New Social Security Card Online
To request a new SS card online, create a My Social Security account3 or log on to your existing account. This applies to residents of all U.S. states except five:
Minnesota
Nevada
New Hampshire
Oklahoma
West Virginia
If you live in any of the above states, go to the next section (about requesting a new SS card offline).
NOTE: Was your driver's license or ID card issued by a U.S. territory like American Samoa, Guam, the Northern Mariana Islands, Puerto Rico, or the U.S. Virgin Islands? If so, you can't request a new SS card online; you must do it either over the phone or in person.
If you live in an eligible state, there are a few more requirements to request a new SS card online:
You are a U.S. citizen age 18 or older.
You have a U.S. mailing address, which includes APO, FPO, and DPO addresses.
You aren't requesting any changes to the card, just a new card.
Your driver's license or state identification card is from one of the 50 U.S. states or Washington, D.C. (In Alaska, Delaware, and Washington specifically, you'll need a driver's license.)
After you request a new card, you should get a replacement within 10 to 14 days.4
Request a New Social Security Card Offline
You don't need to use the internet to request a new SS card, however. You can also:
Call 1-800-772-1213.
Visit your local SS office.
If you're deaf or hard of hearing, call 1-800-325-0778 between the hours of 8 a.m. and 5:30 p.m. on a weekday.5
Other Steps To Take
Protecting your identity doesn't end there. Here are a few other precautions to take after losing your SS card:
Check your credit. Check your credit reports from all three bureaus for any unusual activity. If your report is inaccurate or incomplete, notify either the lender or creditor using the contact information below.

6

Place a freeze on your credit. A credit freeze means that identity thieves can't use your SSN or any of your other personally identifiable information (PII) to open new accounts or take out new loans. Banks and lenders won't be able to access your credit report, making them less likely to give out credit or loans to the thief. You can keep the credit freeze on as long as your SSN is at risk, or until you need credit or a loan yourself. To request a credit freeze, use the contact information below for the three major credit bureaus.
Follow these steps if you're concerned about identity theft:
File a police report. Report the loss of your SS card to your local police station.
File a fraud alert. Fraud alerts make it harder for identity thieves to open accounts using your PII.7 To report fraud to the Federal Trade Commission, contact one of the three major credit bureaus using the contact information above and ask to put a fraud alert on your credit report. That bureau will contact the other two bureaus, and the fraud alert will stay on your report for a year.
File an extended fraud alert. After the first 90 days of your fraud alert, you can apply for an extended fraud alert that will last for seven years. However, you'll need to contact each bureau separately, submitting a copy of your Identity Theft [/citation id="8"]Report.[/citation]
Call the IRS. You may have received a notice or letter from the IRS saying that it thinks someone used your SSN fraudulently. If that's the case, call the number listed on the notice. If you didn't receive a notice, you can contact the IRS by either calling 1-800-908-4490 or completing Form 14039,9 the Identity Theft Affidavit.10
To learn more, read our complete identity theft guide.
Requesting a Social Security Card for Your Child
Children are prone to losing things and, unfortunately, to identity theft. In fact, our child identity theft research showed that 14 percent of kids have had their identities stolen, which is a concern of over 70 percent of U.S. parents. To get your child a new SS card after it has been lost or stolen, you'll need documents proving:
Your child's identity
Your child's U.S. citizenship, or immigration status if they're not a U.S. citizen
Your identity
Your custody of or relationship to the child
All of these documents must either be originals or certified copies by the issuing agency. Once you've collected all the necessary documents, complete an SS card application11 and mail it, along with the documents, to your local SSA office or card center.12 Within 10 business days from the date on the receipt, you'll receive your child's new SS card.
How To Protect Your Social Security Card Moving Forward
In general, these are some best practices to protect yourself from identity theft, particularly regarding your SS card and your SSN number:
Create a My Social Security account. First, create a My Social Security account on the SSA website to prevent others from doing the same if they have your SSN. Aside from choosing a strong username and password, you can strengthen this account by using your cell phone, email, or a financial question for verification. That means you'll either use the last eight digits of your credit card (Discover, Mastercard, or Visa), W-2 info, or info from your 1040 Schedule SE (self-employment) tax form. To add extra security:

Log on to My Social Security.
Click on Security Settings.
Click Add Extra Security.
Follow the instructions.

You'll receive an upgrade code by mail at your home address in five to 10 business days.

Don't carry your card around. There's no reason to have your SS card with you at all times. Rather, store it in a secure place at home like a locked safe or safe deposit box.
Only share your SSN when it's needed. Only share your SSN when it's absolutely necessary, and don't be afraid to ask why the requesting organization needs it, even if it's your employer.
Block electronic access. You can block electronic and telephone access to your SS record. This means that no one can see your PII on the internet or through the SSA's automated telephone service, including you. To block electronic access, either go into your local SSA office or call 1-800-772-1213 (available 24/7) and ask for Form SSA-1099.
Use identity theft protection. Identity theft protection services with fraud detection monitor criminal and financial areas for your SSN, along with all of your PII. If you have children, sign up for identity theft protection for families to get discounts and deals.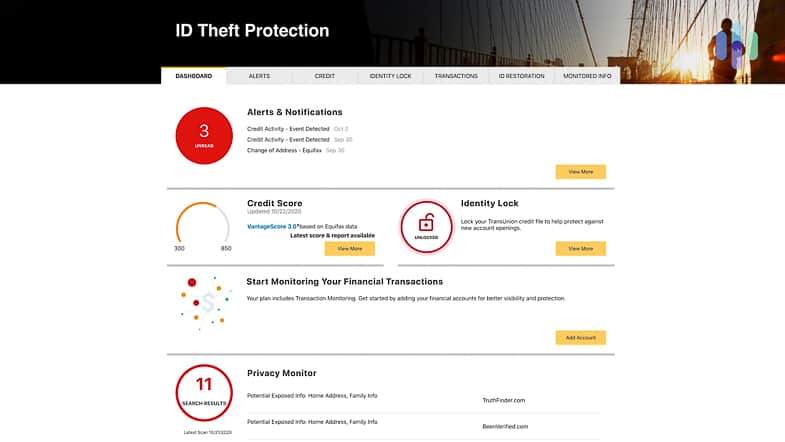 Recap
While losing your SS card is a stressful incident, a few simple steps can protect your identity now and beyond. Of course, since there's no guaranteed way to prevent identity theft, you should learn what to do if your identity is stolen. From data breaches to misplaced SS cards, identity theft is always a possibility, but with the best practices, you can decrease your risk significantly.
FAQs
Identity theft is a huge topic, particularly concerning SS cards. Here are answers to some of your most common questions.